On Monday 2nd November, Class 33 'Cromptons' D6566 (33 048) and D6575 (33 057) are going to be in action on the West Somerset Railway and will be running in MULTIPLE via the newly-restored Blue Star multiple unit connections.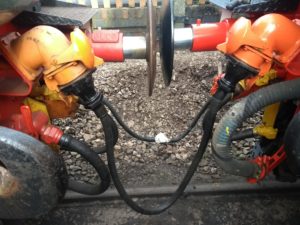 The Special Notice issued by WSR Operations Dept calls for the pair of 'Cromptons' to come off shed at 0900 on Monday for shunting duties within the Williton station limits before departing for Bishops Lydeard at 1000 with the "Quantock Belle" dining set (4 x Mk 1) and several hopper wagons in tow.
If you are able to capture this event, either by photo or video, please post your work on this thread so that we can all share the moment. Thanks!
Please remember that the stations remain closed to the public and the trespassing rules are there for a reason, so make sure that you do not breach these rules when attempting that "perfect angle". 
http://www.wsr.org.uk/news.htm#2195
The two 'Cromptons' will undergo underframe and traction motor inspections over the pit at Westridge before separating, with D6566 remaining at BL and D6575 returning to Williton Light Engine.