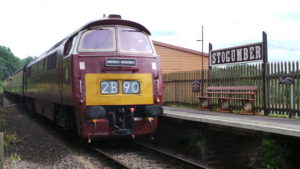 Current Status: Non-Operational (transmission and bodywork repair)
Click here for details of the restoration project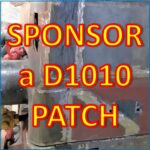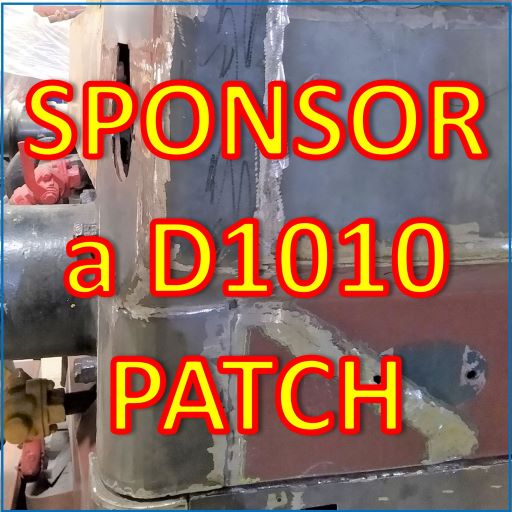 D1010 is the pride of the fleet at Williton, a beast of a locomotive powered by two Maybach MD655 engines. The loco was stored outside Merehead quarry for a number of years before being preserved by The D&EPG, firstly at Didcot and then moving to Williton. Today the loco has a dedicated team of hardy volunteers who maintain the loco with a view to keeping her in good working order.
Technical Specification
Engine: 2 x Bristol-Siddeley-Maybach MD655 V12 turbocharged and intercooled 65 litre high speed diesels
Transmission: 2 x Voith L630 hydraulic transmissions
Weight: 108 tons
Length: 68 ft
Output: 2 x 1,350 hp at 1500 rpm, total 2,700 hp
BR Power Rating: Type 4
Speed: 90 mph
Fuel Capacity: 800 gallons
Wheels: C-C
History
Manufacturer: BR Swindon Works
Built: 1962
First allocated Depot: Old Oak Common (81A).
BR Class: 52
Withdrawn from service: 28th February 1977
Role: Express Passenger & Heavy Freight
The 'Westerns' were the Western Region's diesel hydraulic flagship. Designed for express passenger work, they were equally at home on heavy freight. D1010 is one of 74 locos built from 1961 to 1963. All locos were named, each name beginning with the word 'Western'.
Built at Swindon and Crewe works, the 'Westerns' first appeared on the scene in late 1961. They were the last of the Diesel Hydraulic classes to be withdrawn from service, after being classified as non-standard. The last four examples (including D1010) disappeared from service in February 1977. Such was their popularity with enthusiasts, seven locos of the 74 built were saved for preservation and one of these, D1015 'WESTERN CHAMPION' has been mainline certified.
D1010 is currently undergoing a bodywork and transmission overhaul, after which she will be returned to service wearing her original livery of BR maroon with yellow bufferbeam.
Support D1010 via the CAMPAIGN for CAMPAIGNER by clicking this link or clicking the image below:

Go to the D1010 Restoration Appeal page
Go to the Locomotive Status page