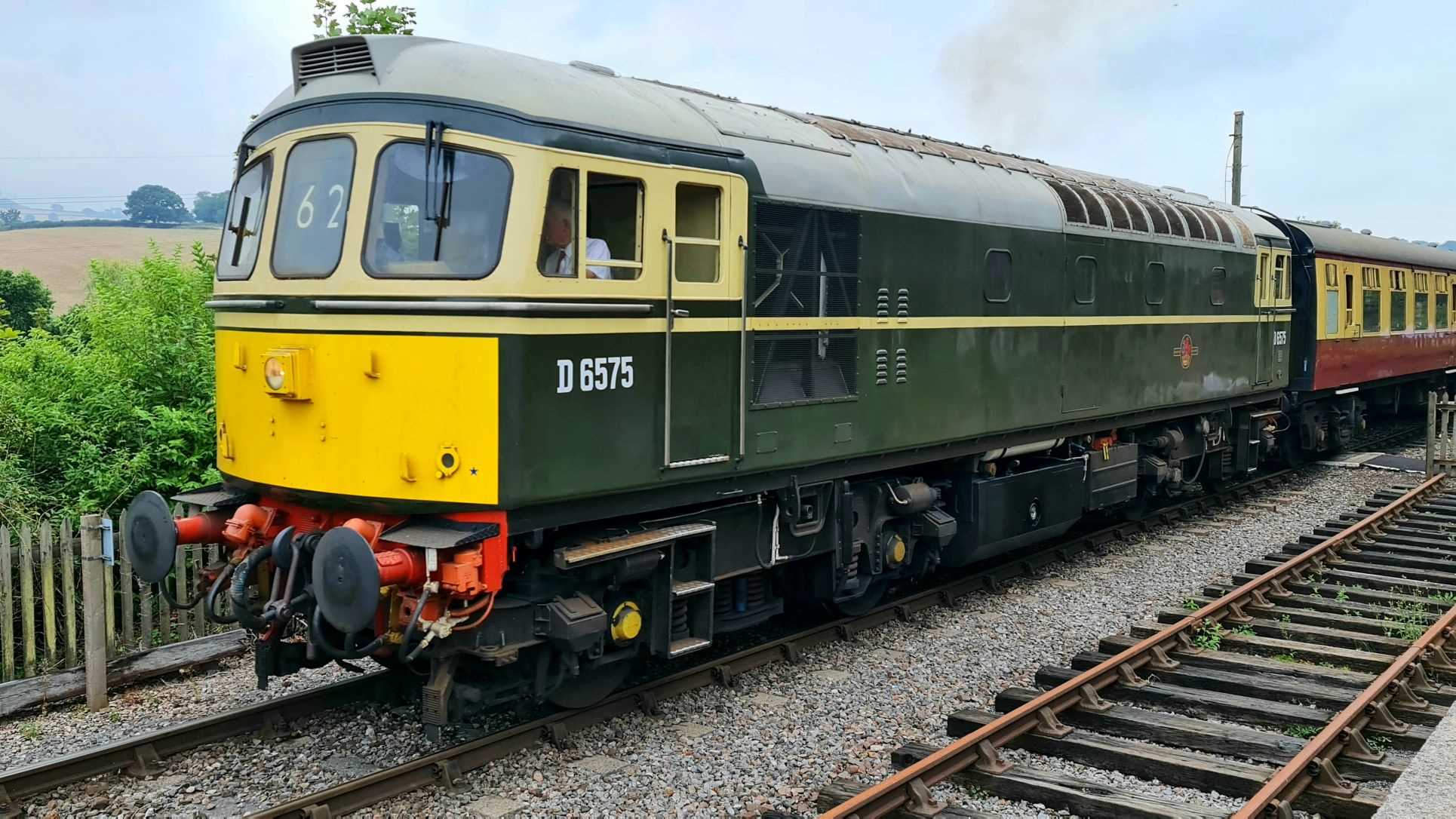 The WSR's Blue timetable was worked entirely by diesel traction during the recent period of high fire risk. Class member D6575 (33 057) was pictured hauling her train out of Stogumber on the climb to Crowcombe Heathfield on Tuesday 16th August 2022 by Mark Ireland © CC BY-NC 3.0
The WSR introduced a temporary steam ban from Monday 8th through Wednesday 17th August due to the exceptionally dry lineside conditions, so our two 'Cromptons' were pressed into service on an almost daily basis. As reported last week, we encountered some issues with Class 33 D6566 (33 048) resulting in some of her turns being worked by Class 35 'Hymek' D7018 and some by the WSR's Class 115 Diesel Multiple Unit (DMU).
After repair at Williton on Saturday 13th, all went well from Sunday onwards with both 'Cromptons' back at work, with D6566 starting from the Minehead end of the line and D6575 starting from the Bishops Lydeard end. On the Thursday, the WSR re-introduced steam on the 10:15 from Bishops Lydeard, as a precursor to returning to the normal steam-hauled pattern. Then, that afternoon, the heat exchanger in D6566 finally decided that it had held out for long enough, and the loco arrived at Bishops Lydeard with an oil stain down the side, with oily water escaping from the overflow. The engine oil pressure is higher than the water pressure, so the fracture in the heat exchanger was allowing oil to be pushed into the water – and oil floats on water, so it comes out of the overflow first !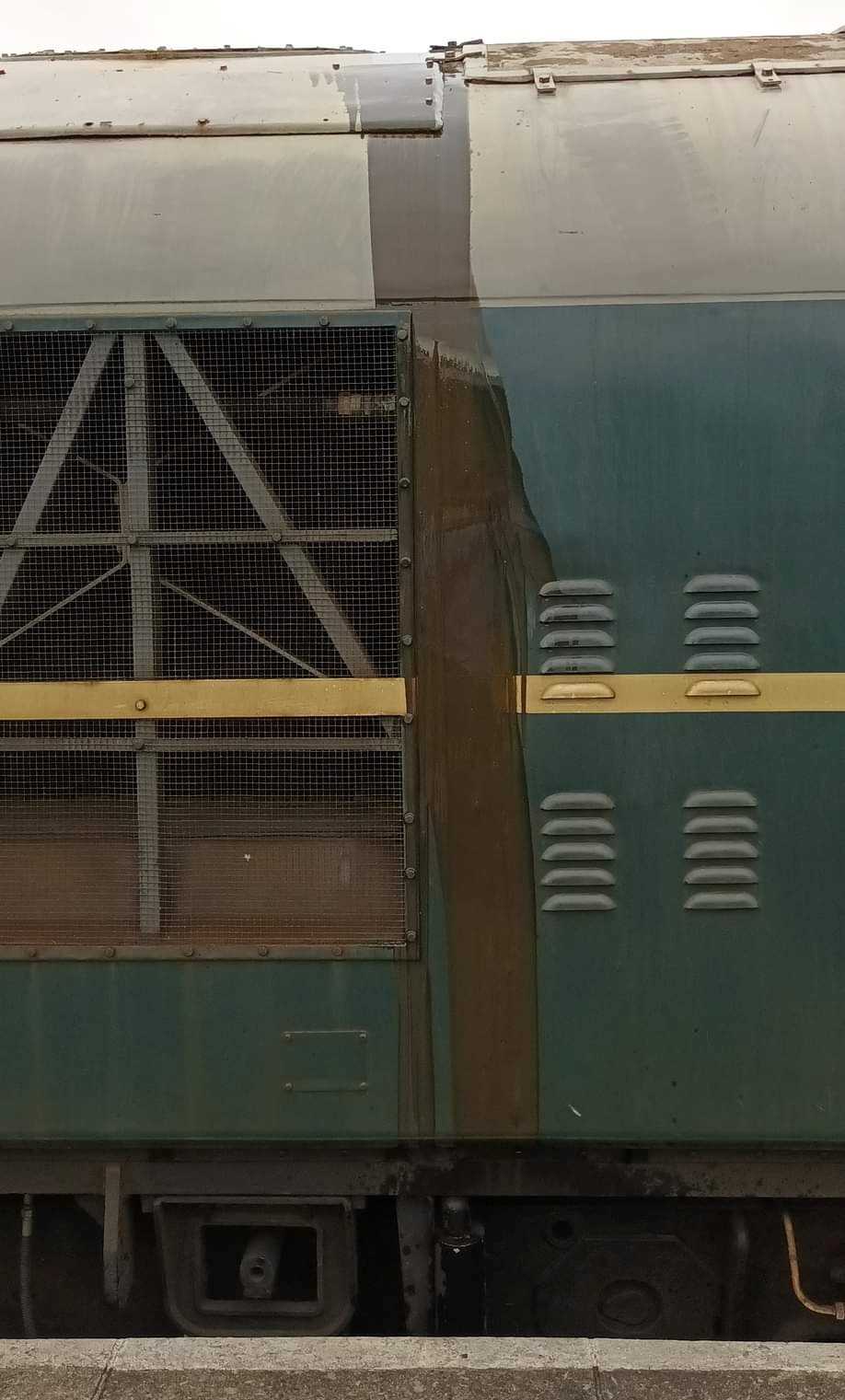 Class 33 'Crompton' D6566 (33 048) was taken out of service upon arrival at Bishops Lydeard with the 14:30 from Minehead on Thursday 16th August 2022 with oily water escaping from the cooling system overflow – the result of a fracture in the heat exchanger. Photo by Tom Courtney © CC BY-NC 3.0
Luckily, D6575 was available at Bishops Lydeard and took over the rest of the diagram which ended in Minehead – but this meant that there was no loco available at Bishops Lydeard to work the 11:00 service to Minehead on Saturday 20th, so a 'light engine' move was planned for the Saturday to move the loco back to Bishops Lydeard. This allowed Class 35 'Hymek' D7018 to be attached in front of D6575 at Williton so that D7018 could collect D6566 without any impact on the timetable.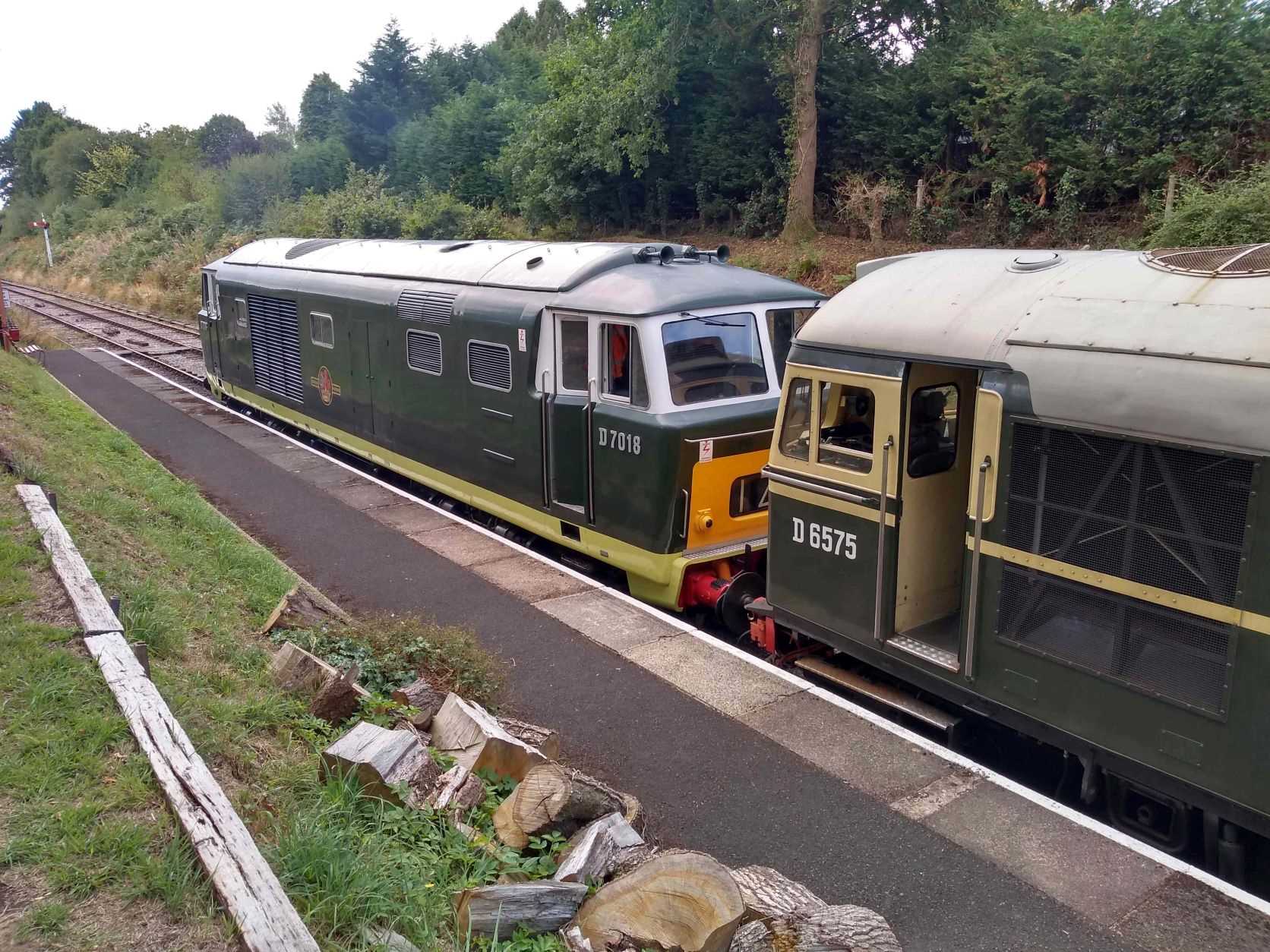 Class 35 'Hymek' D7018 was pictured at Crowcombe Heathfield leading Class 33 'Crompton' D6575 (33 057) on a 'light engine' move to Bishops Lydeard on Saturday 20th August 2022. Pictured by Ian Robins © CC BY-NC 3.0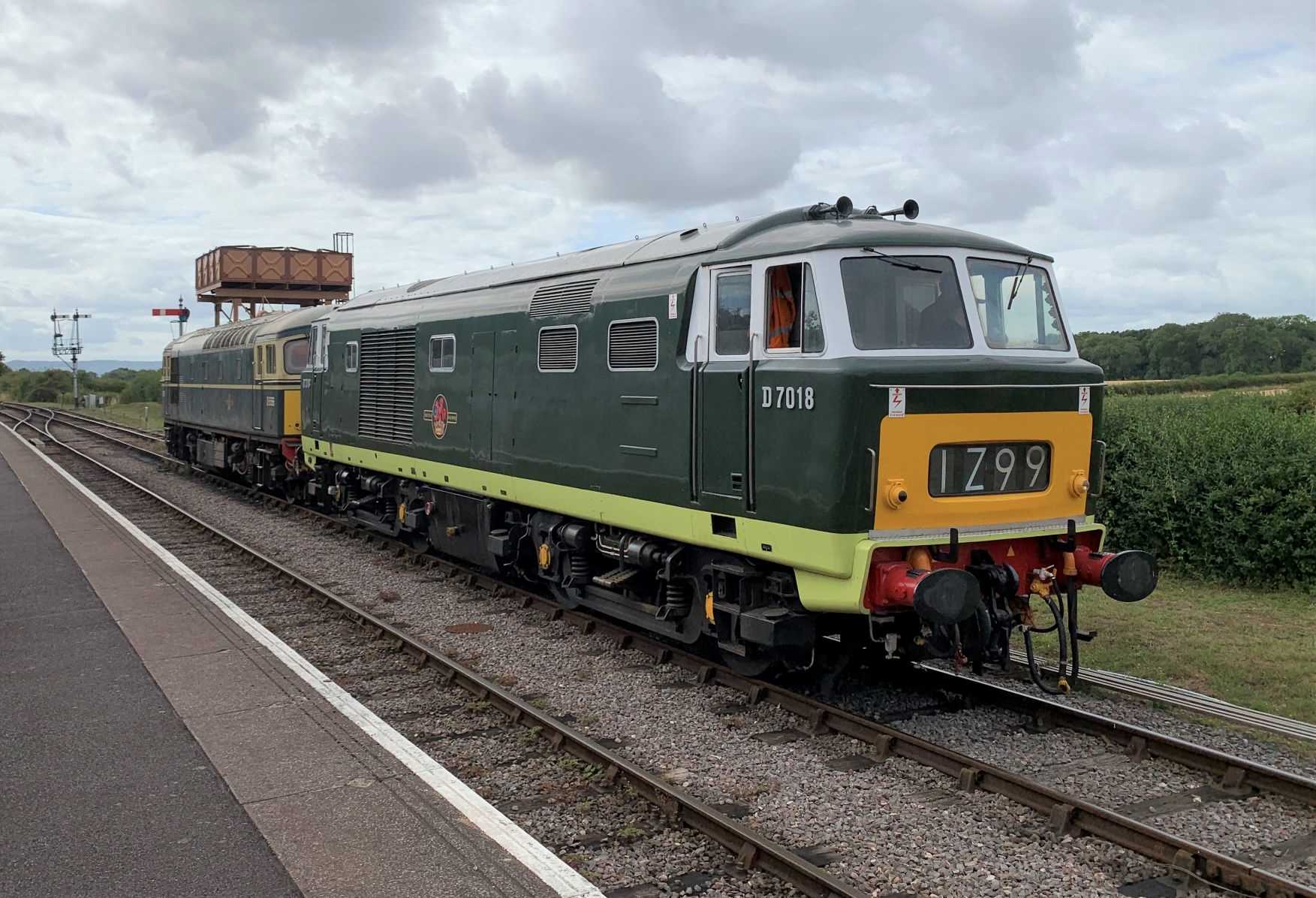 Class 35 'Hymek' D7018 was at Bishops Lydeard on Saturday 20th August 2022 to tow Class 33 'Crompton' D6566 (33 048) to Williton for repairs to her failed heat exchanger. Photo by Andy Royal © CC BY-NC 3.0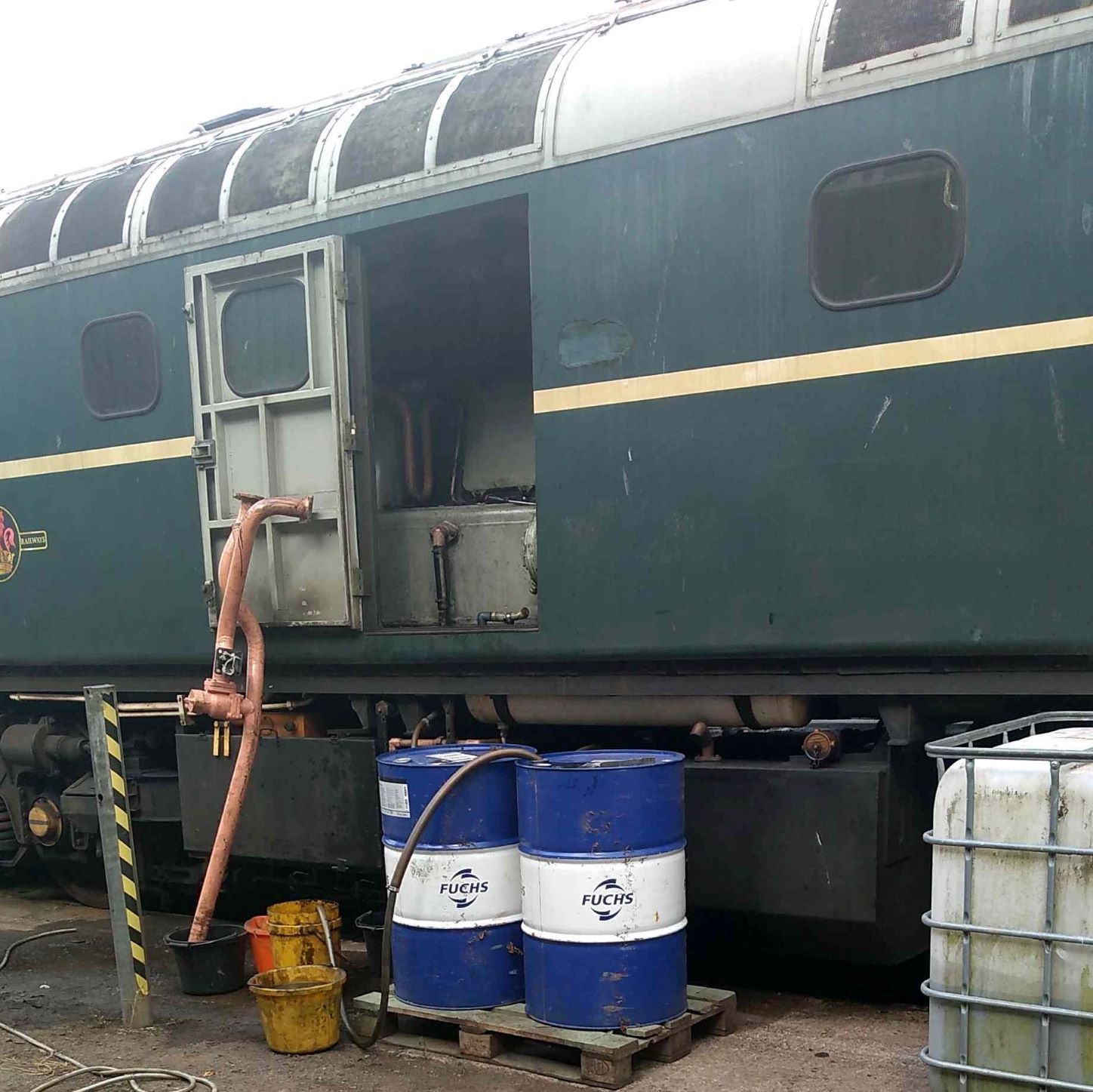 Class 33 'Crompton' D6566 (33 048) was the focus of attention at Williton on the weekend, with the coolant drained on the Saturday and the engine oil being pumped out on the Sunday. Photo by Ian Robins © CC BY-NC 3.0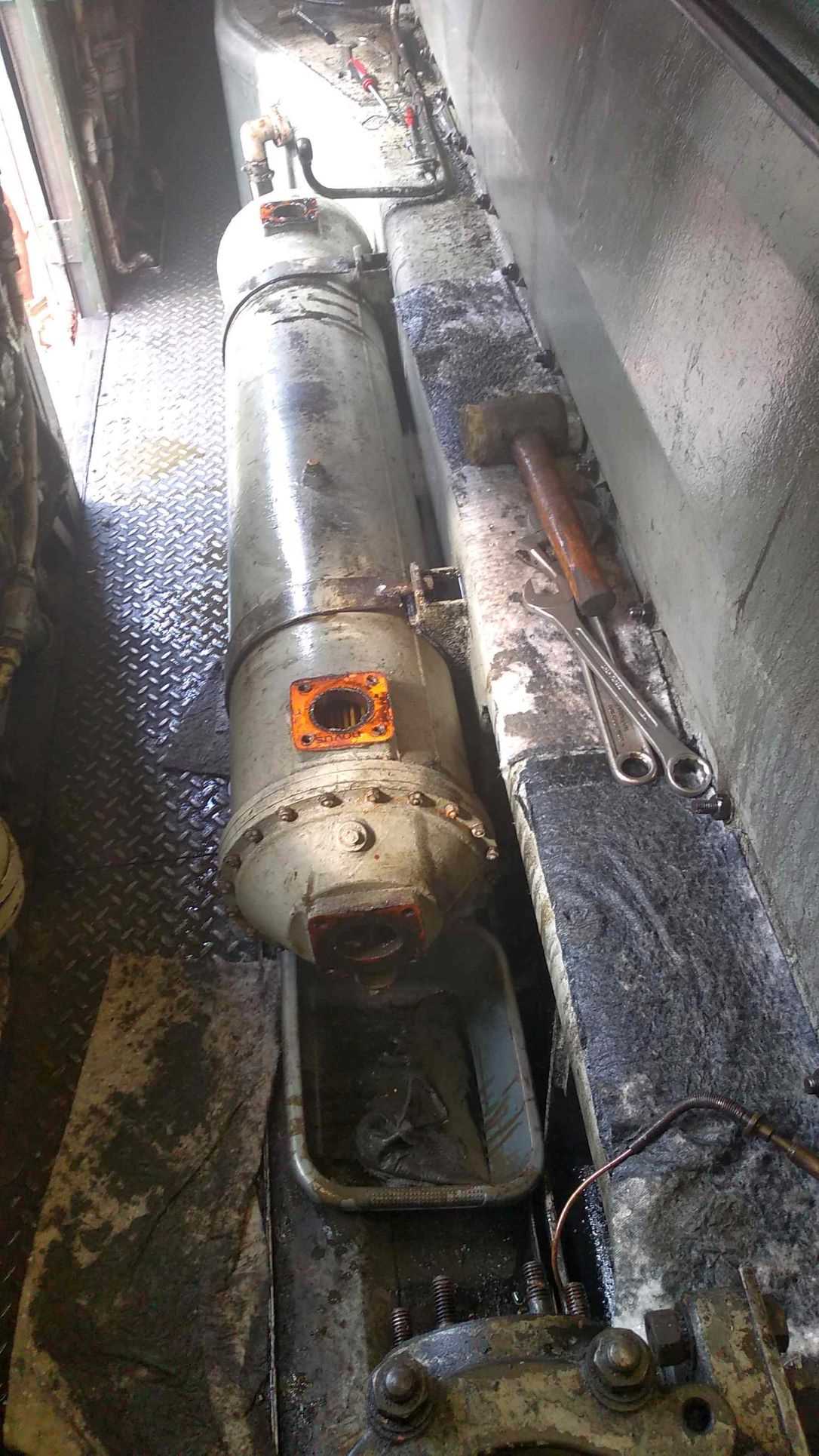 The cylindrical heat exchanger of Class 33 'Crompton' D6566 (33 048) can be seen clearly in this photo taken at Williton on Sunday 21st August 2022. The photo shows that the pipes have already been disconnected from both ends of this large and heavy piece of equipment. Photo by Ian Robins © CC BY-NC 3.0
We have kept our DIESEL RUNNING DATES page updated throughout all of the recent timetable and traction changes, with links to the WSR timetables, so this page can be used as a one-stop-shop for diesel-hauled services on the WSR. MANY THANKS TO ALL WHO HAVE TRAVELLED for supporting this year's DIESEL RUNNING program on the WSR. The season is not over yet – there is MORE TO COME so click on the banner below to visit the page and get the details:

The usual caveats of loco availability apply, but we aim to deliver the published program of running with the locos indicated and we will provide as much advance notice of any change as possible, using our DIESELGEN and Twitter feeds, so please sign up to keep up to date.
LOCO NEWS:
Class 52 D1010 'WESTERN CAMPAIGNER' – further progress on this loco this week, with the last bodyside patch being welded in place. Attention now shifts to the battery boxes and headcode boxes. Please consider SPONSORING A PATCH because there is plenty of fresh metal that needs engraving and it is in a prime location, right at the front of the loco at 'A' end ! Thank you in advance for your support !
The 'CAMPAIGNER' team continue their work on restoring this massive and complex locomotive. Although bodywork repairs have progressed well, we still have a lot of rubbing down and painting to do, so PLEASE DO COME ALONG AND HELP IF YOU CAN !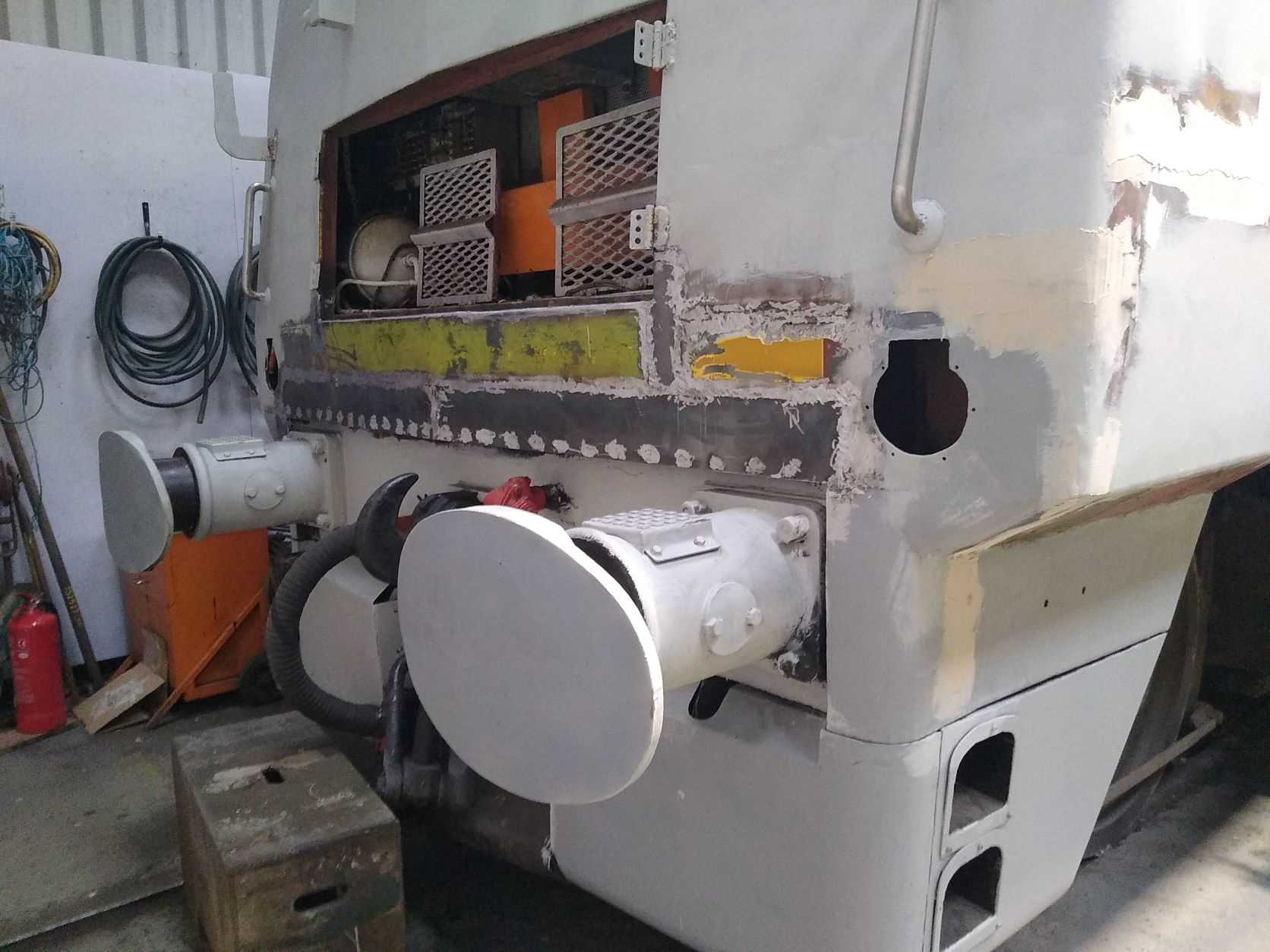 D1010 – the upper buffer beam valance panel repair at 'A' end has been dressed to remove high spots and is ready for the bodywork team to start their work of filling, rubbing down and painting. Pictured at Williton on 16th August 2022 by Colin Foxhall © CC BY-NC 3.0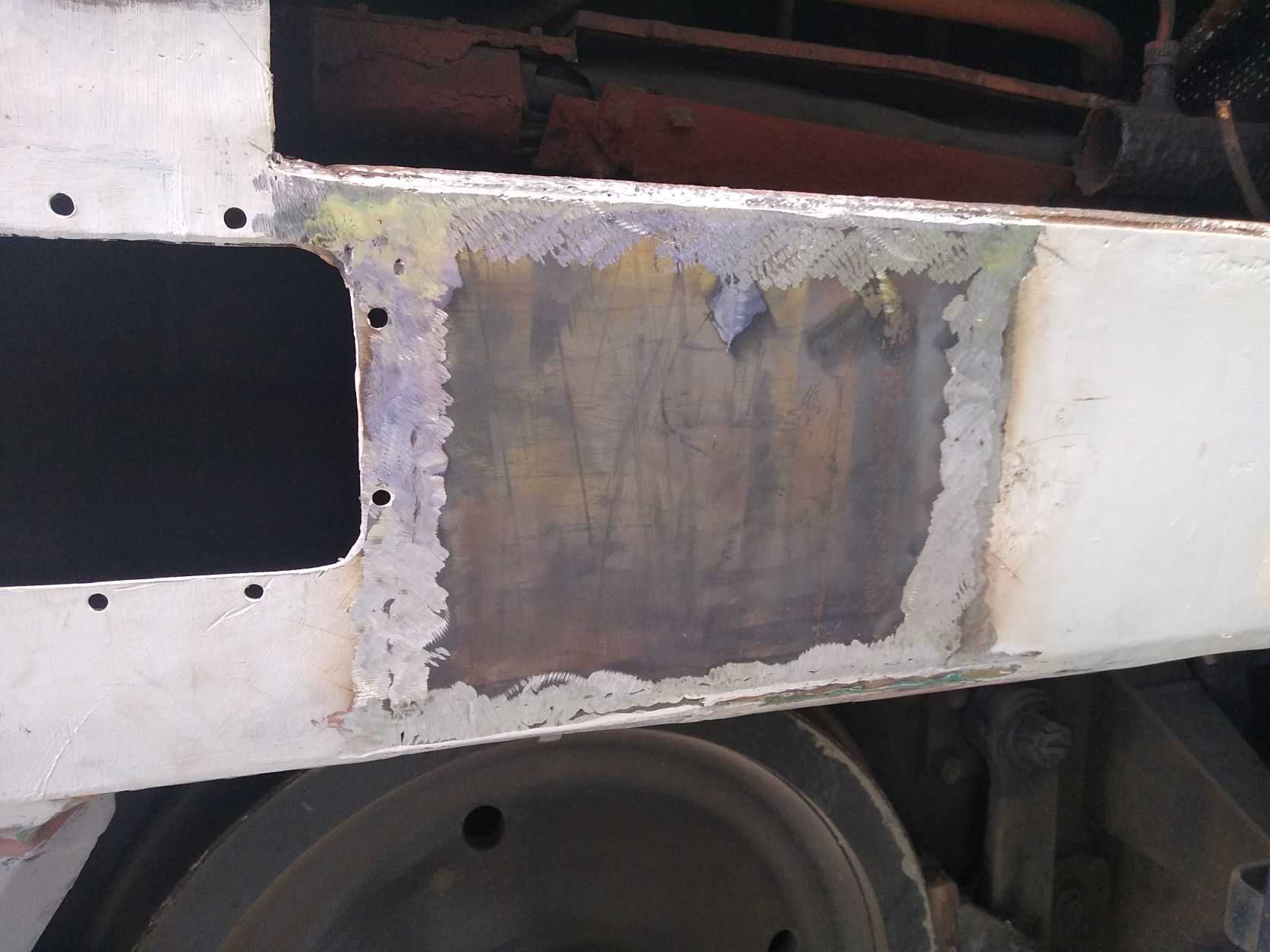 D1010 – installation of this patch near the leading sand box on 'A' side at 'A' end marks the completion of the bodyside corrosion repairs that have been needed on this locomotive. MANY THANKS to volunteers Colin F, Geoff and Tim for contributing so many hours of their time to complete this work. Pictured at Williton on 16th August 2022 by Colin Foxhall © CC BY-NC 3.0
D1010 – the bodyside welding has been completed, but some other tasks remain – such as repairing the corroded areas within the battery boxes, behind the central valances on both sides of the locomotive. Pictured at Williton on Sunday 21st August 2022 by Paul Tucker © CC BY-NC 3.0
To support the work that is progressing in multiple areas on D1010, we launched our CAMPAIGN for CAMPAIGNER by offering 'SPONSOR A PATCH' where you can donate in support of the bodywork repairs that are taking place on D1010 'WESTERN CAMPAIGNER' and HAVE YOUR NAME ENGRAVED ON THE SPONSORED PATCH or PART.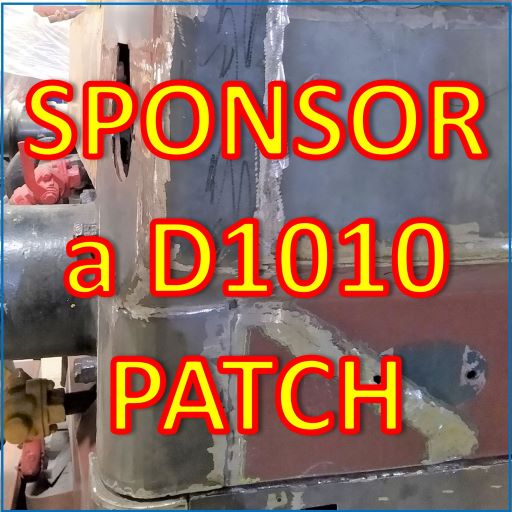 For the sum of £25, this scheme offers you a chance to sponsor the restoration of this much-loved locomotive, with your personal contribution being recorded and documented on a set of drawings that will be made available at our Williton depot on running days and open days. For those who prefer to remain anonymous, a unique reference number or code word will be allocated and engraved instead.
See our CAMPAIGN for CAMPAIGNER web page for more details !

Class 33 D6566 (33 048) – as previously reported.
Class 33 D6575 (33 057) – this loco is currently based at Bishops Lydeard and is in regular use as per our DIESEL RUNNING DATES page. In between their work on sister loco D6566, volunteer Class 33 loco manager Ian R and new Board Member Tom had to find time to attend at Bishops Lydeard on the morning of Sunday 21st August 2022 to perform an 'A' exam in recognition of the completion of yet another 50 hours of running. MANY THANKS to Ian R and Tom for their work in keeping this loco running and available for use by the WSR.
Class 35 'Hymek' D7017 – other priorities meant that there were no available volunteers to work on this loco last weekend. The engine needs to have the timing adjustments made and checked before the reinstatement of the air intake ducting and the intercoolers. When everything has been confirmed as being OK, the engine will then be test run, hopefully during the next two weeks.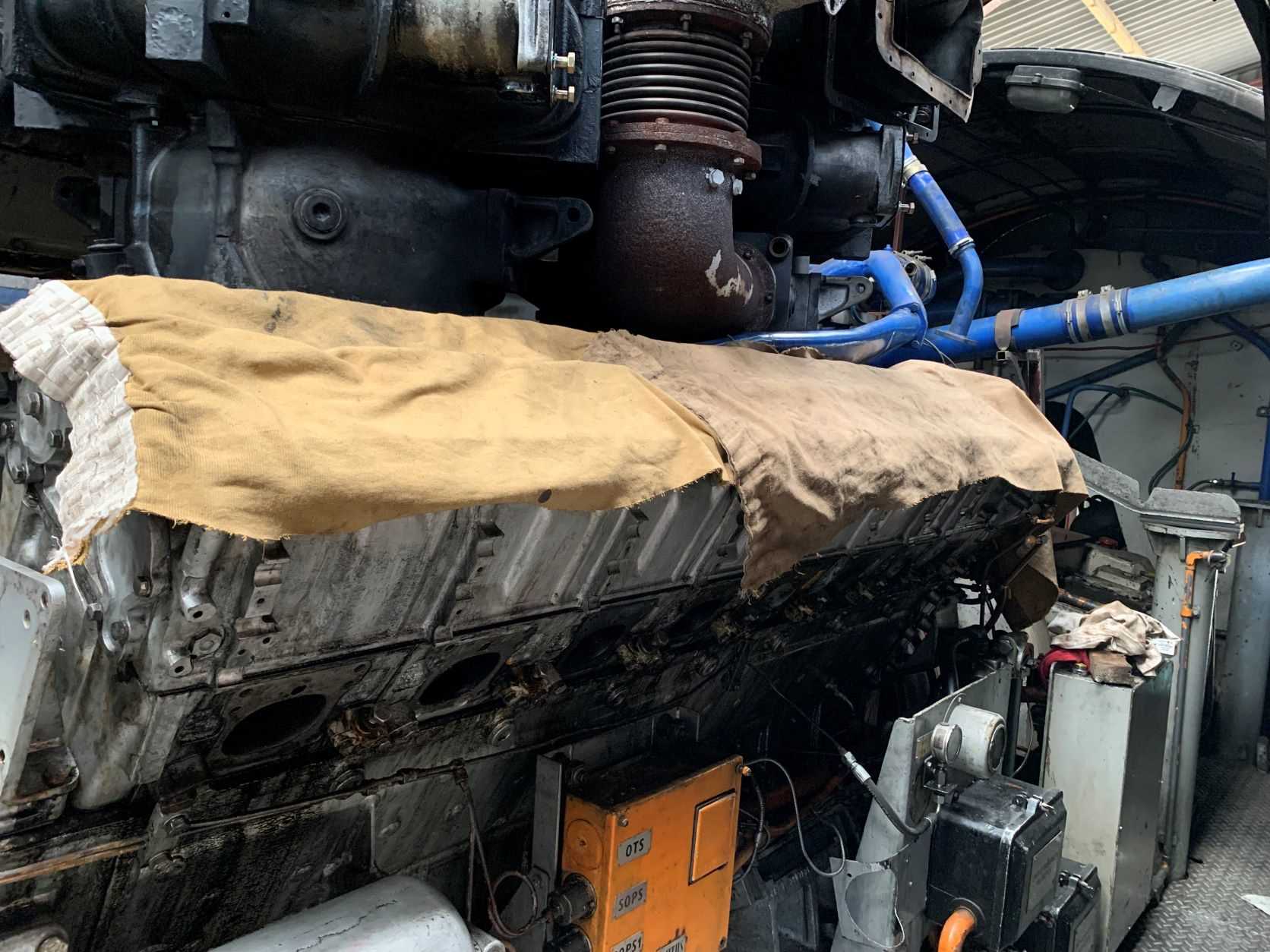 D7017 – the mighty 87-litre Bristol Siddeley Maybach MD870 V16 engine remains covered up, awaiting a timing check before re-instatement of her air intake ducting and intercoolers. Pictured at Williton on Saturday 20th August 2022 by Andy Royal © CC BY-NC 3.0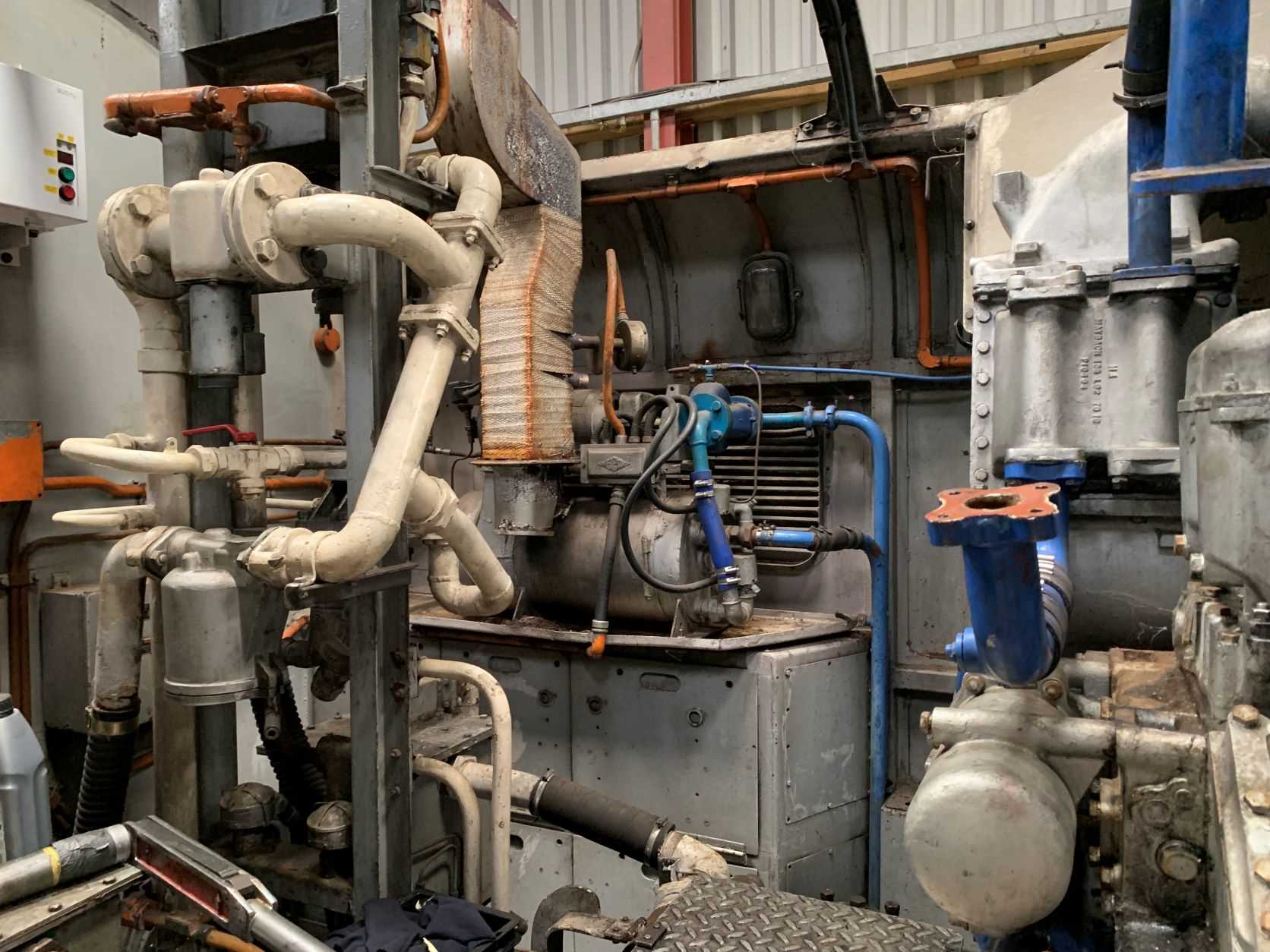 D7017 – the disassembled intercooler allows for a clear view of the preheater, mounted on a tray on the far side of the locomotive. This device ensures that the engine is warmed up prior to starting, to minimise engine wear and ensure quick and clean startups. Pictured at Williton on Saturday 20th August 2022 by Andy Royal © CC BY-NC 3.0
Class 35 'Hymek' D7018 – this loco is stabled at Williton and is ready for use. The next scheduled dates for 'Hymek' running are the 10:00 and 14:30 Minehead to Bishops Lydeard return services on Sat/Sun 3rd/4th September. Keep an eye on our DIESEL RUNNING DATES page for updates or join the DIESELGEN email bulletin group (which also includes information about non-public services, where the information is available to us sufficiently in advance).
Class 14 'Teddy Bear' D9518 – in parallel with the continuing work on brake rigging and components, the Class 14 team returned to their detailed work on the reinstatement of pipework and wiring on the brake frame, as see in these pictures: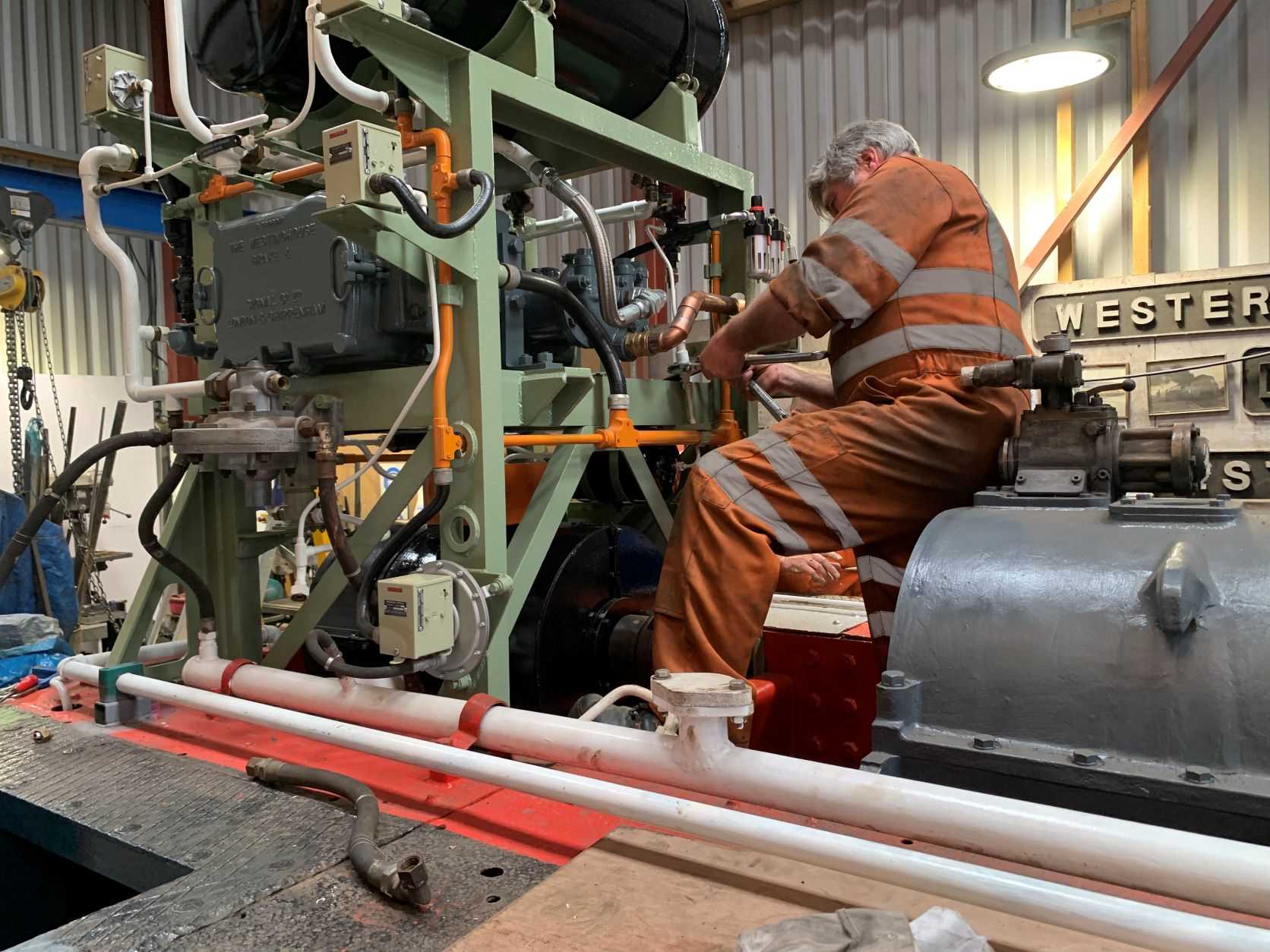 D9518 – the brake frame is located under the 'short' bonnet of the 'Teddy Bear' and is mounted directly above the generator. Volunteer Class 14 team leader Simon P was pictured at Williton on 20th August 2022 installing parts that had been restored and painted while off the loco. Photo by Andy Royal © CC BY-NC 3.0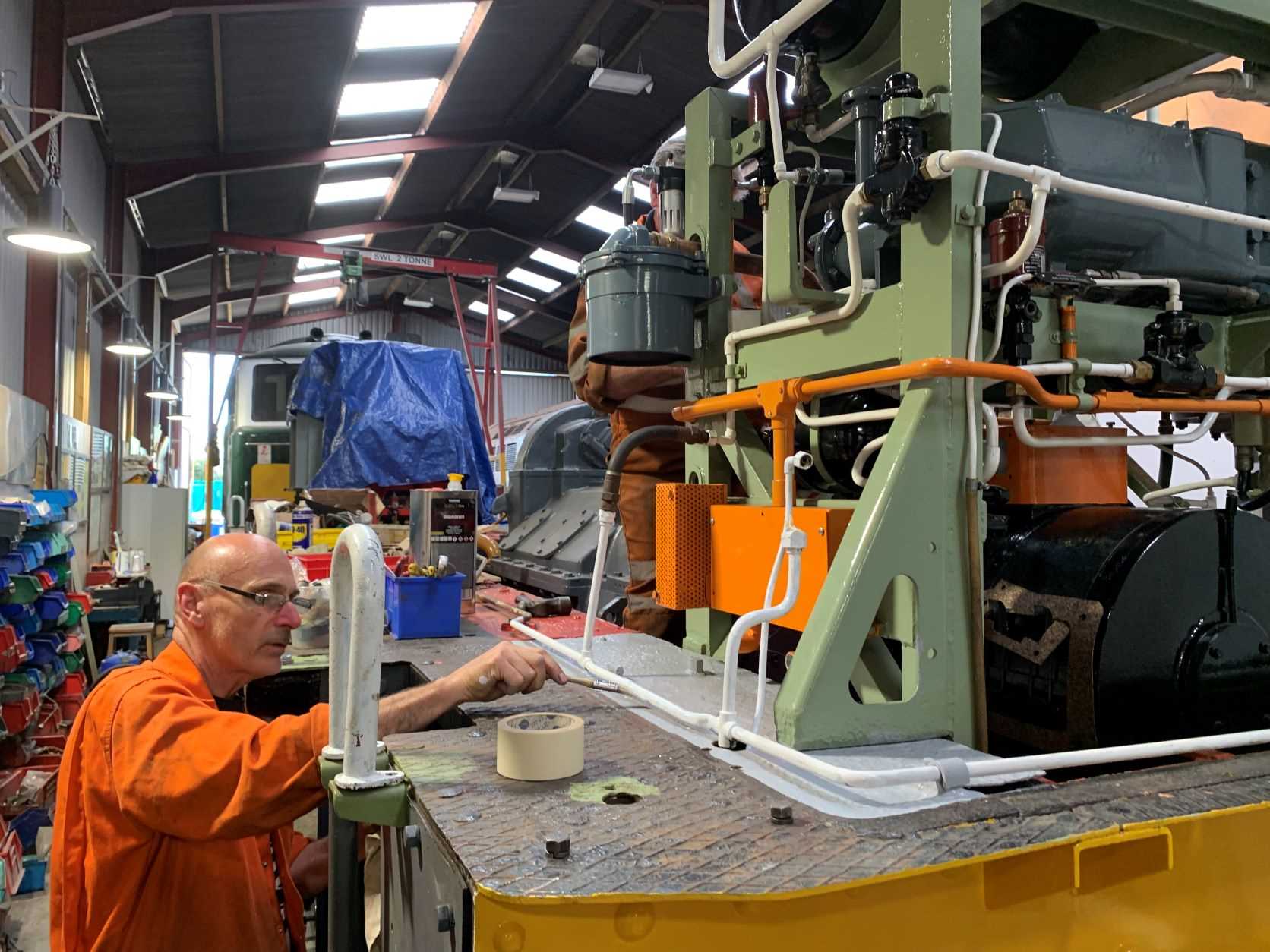 D9518 – on the other side of the brake frame, Colin G was busy painting the compressed air system pipework in the designated colour – white. Pictured at Williton on 20th August 2022 by Andy Royal © CC BY-NC 3.0
This loco is the subject of a fundraising appeal so please follow this link to find out more. We need your help ! In addition to funds, we also need plenty of HANDS. If you love the 'Teddy Bears' and you are not already a member of the DEPG, please join us so that you can become one of the team that is going to return D9518 to full operational condition as 'NCB No. 7'.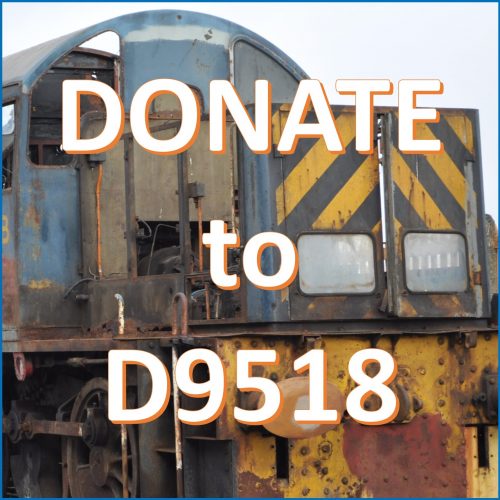 Class 14 'Teddy Bear' D9526 – this loco continues to be in regular use on the Kent & East Sussex Railway and underwent a 600 hour examination last week, marking a period of intensive use while that railway endures ongoing restrictions on the operation of its steam locomotives. To share the workload, the K&ESR have hired Class 33 'Slim Jim Crompton' 33202 (D6587) 'DENNIS G. ROBINSON' to provide timetable resilience and allow our loco to have a rest now and then !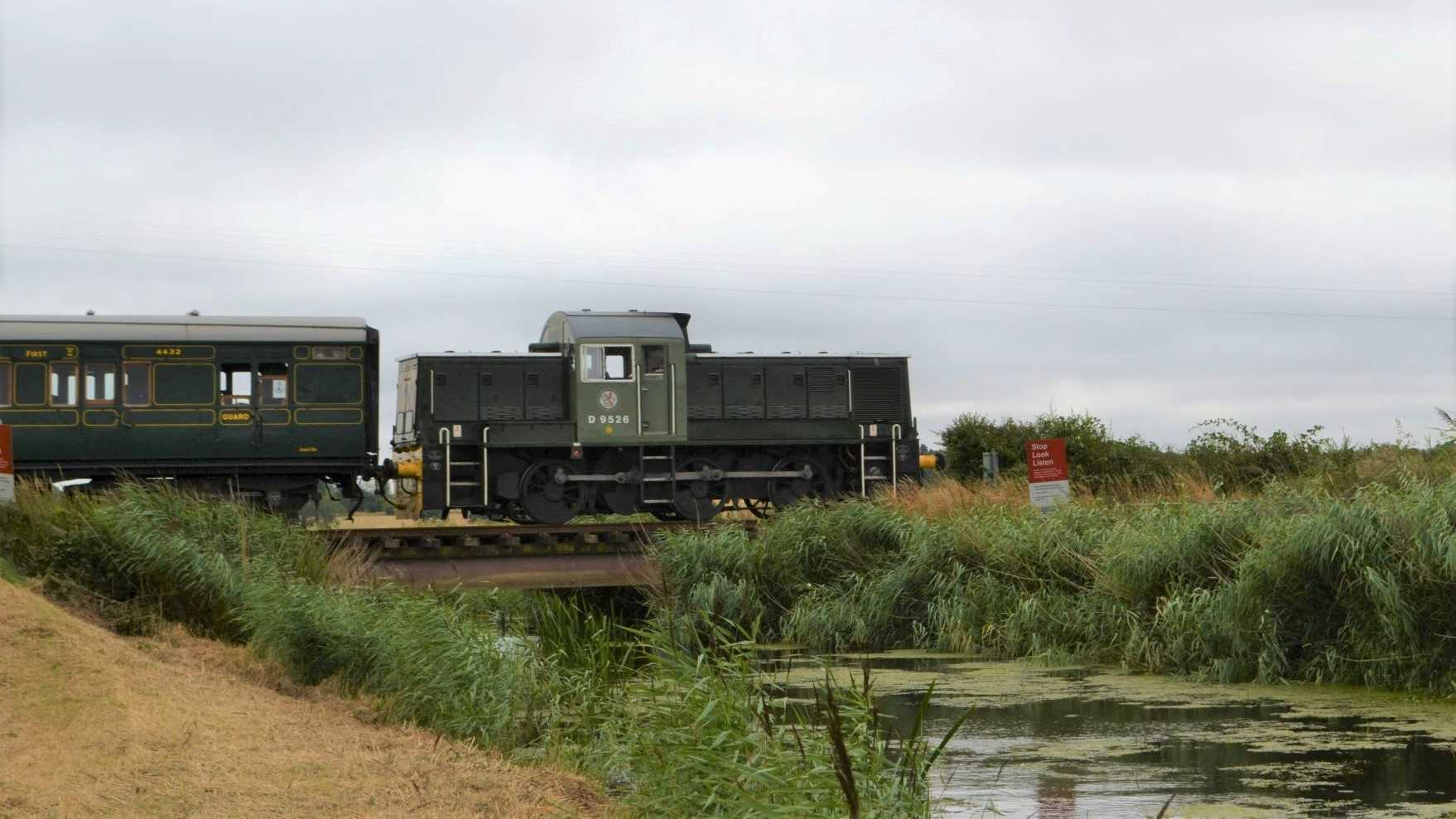 D9526 was pictured while crossing Hexden Channel on 2nd August 2022 with a service train on the Kent and East Sussex Railway. Photo by Colin Girle © CC BY-NC 3.0
Class 47 47077 'NORTH STAR' – this loco is now in regular service on the NYMR – except that last week, she lost some time due to an electrical fault in her power controller that was caused by a dirty set of contacts. This issue was quickly remedied by the local team and the loco resumed her duties.
Andrew Barclay 0-4-0DH 578 – as mentioned last week, well-known DEPG and WSR volunteer Jon Tooke is going to be completing the livery work on this locomotive, and is planning to do the work from mid-September onwards.
If you can help by donating your time, then please JOIN US and come along to the depot for an introduction to what we do and how we do it. We currently have people on site from Saturday through to Tuesday and we can open on other days if we can be sure of getting at least two volunteers on site at all times, so there is plenty of scope. We have tasks of all types to suit most capabilities, both skilled and unskilled.
Many thanks to all of our volunteers who give up so much of their time to work on the cleaning, painting, maintaining, restoring, managing and fund raising for our fleet of heritage locomotives !