Last week, we provided information about the re-opening of the WSR on Saturday 22nd May 2021 and the subsequent expansion of workings through to the summer peak, where the BLUE timetable includes a regular diesel loco-hauled service that starts on Saturday 3rd July, running from Minehead to Bishops Lydeard and back, with an additional working between Bishops Lydeard and Williton. This gives us 27 days of running with 60 miles per day, so 1,620 miles in total during which the DEPG will be providing the haulage.
In addition to this, we will of course be supporting the WSR with engineering trains, empty coaching stock moves and short-notice backup 'Thunderbird' locos in case of any issues arising with the steam locos that will be intensively working the majority of services.
The logical choice for the diesel loco-hauled services are our Class 33 'Cromptons' D6566 (33 048) and D6575 (33 057) because these locos can be crewed by both WSR and DEPG crews, offering versatility and flexibility for the WSR's Operating Department. This is especially important when changes to rostered services need to be made at short notice.
However, to provide some variety and allow some of our other locos a chance to share the workload, we intend to have 'Hymek' D7018 and Class 14 'Teddy Bear' D9526 available for as many days as possible. The reason that we are limited in the number of running days for these locos is because of availability of crews. The lack of running over the last year has prevented our trainees from 'passing out' and the WSR resources must be focused on training and passing crews in the most efficient way to address their own needs, so Class 33 drivers will be the priority.
In the background, we will be working on ways to expand the use of the diesel-hydraulics and we will keep everyone informed via our website and also via our DIESELGEN email bulletin service.
LOCO NEWS:
47 077 – Our 'celebrity' Class 47 has been getting the attention again, as we concentrate on completing the bodyside and roof overhaul and getting her ready to leave the confines of the loco shed. When 'outshopped', 'NORTH STAR' will be wearing a livery of BR blue from the late 'seventies, when she was based at Cardiff Canton and carried the BR 'double arrow' logo in addition to nameplates with a red background (she ran without the BR logo for many years after first taking on the blue livery). Last weekend, the air filters that sit behind the grilles at roof level were cleaned and reloaded with fresh filter material, getting her one step closer to a test run.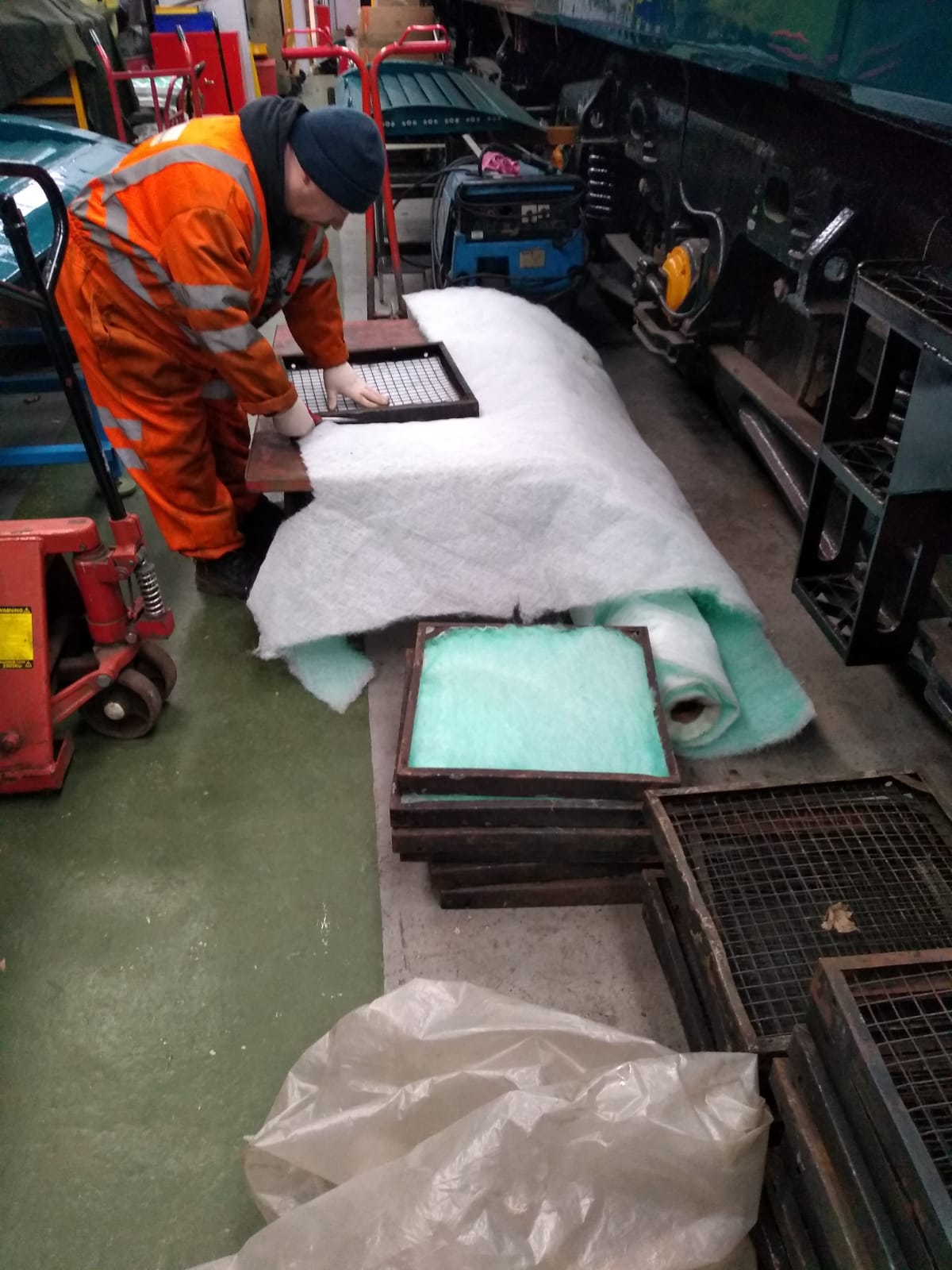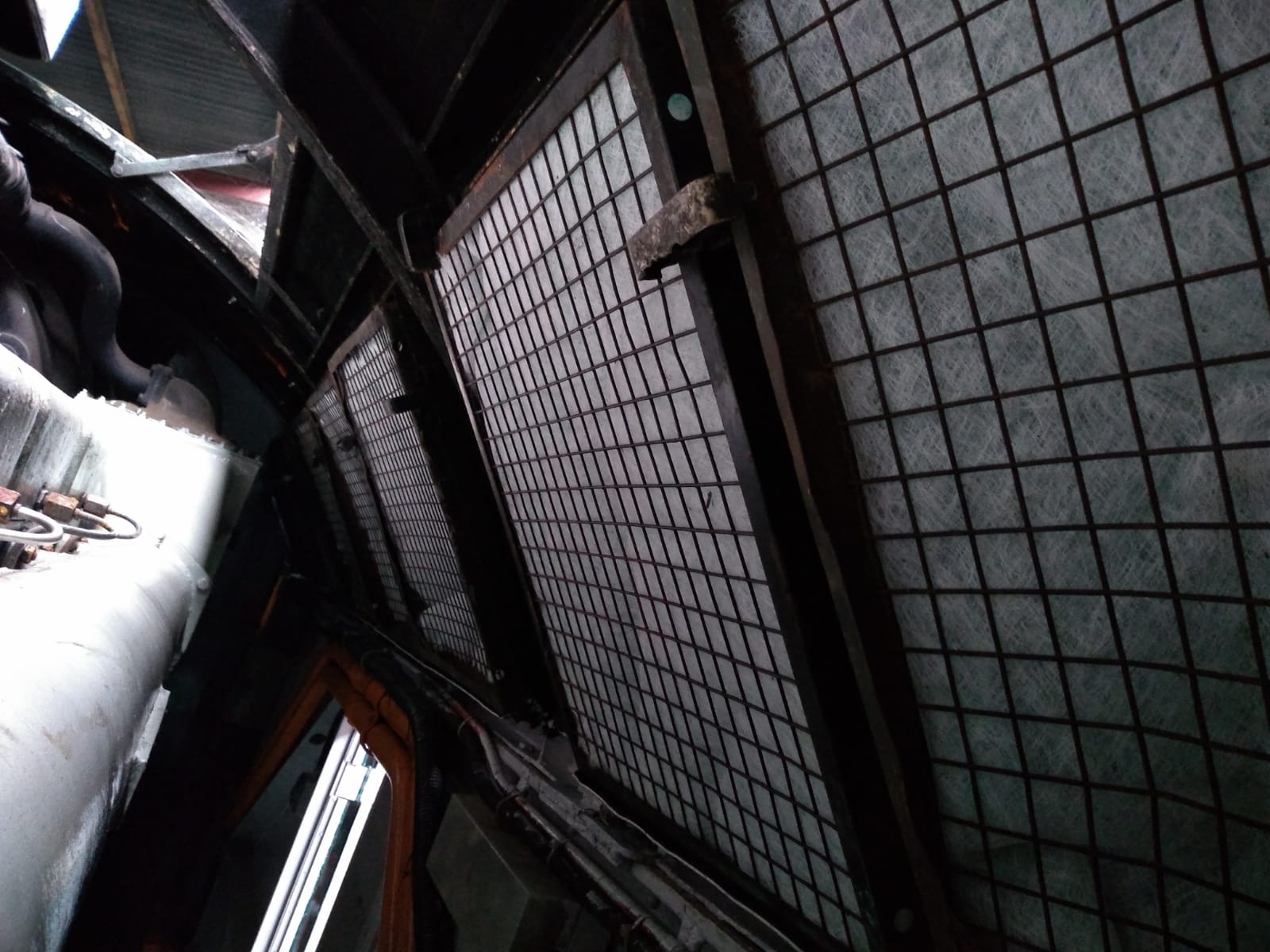 Other than reported above, the status of our locos remains unchanged this week, due to lockdown. Many thanks to all of our volunteers for their continuing dedication to keeping our locomotives in the best condition possible.
DEPG NEWS: The easing of Covid-19 restrictions is the main news this week and the Williton depot returns to 'normal' as from Monday 12th April, subject to a limit of 12 persons on site, so we can now restart work on ALL of our locos. Attendance at the depot needs to be booked in advance. New volunteers are welcome – simply email contact@depg.org or use the contact form if you would like to come along and help (remember to obtain or renew your membership first). There is something for everyone, but we do need to spread the attendance throughout the week to make sure that we keep within the limits of our facilities, and remember, all attendance has to be booked in advance.
Go to previous Depot News page