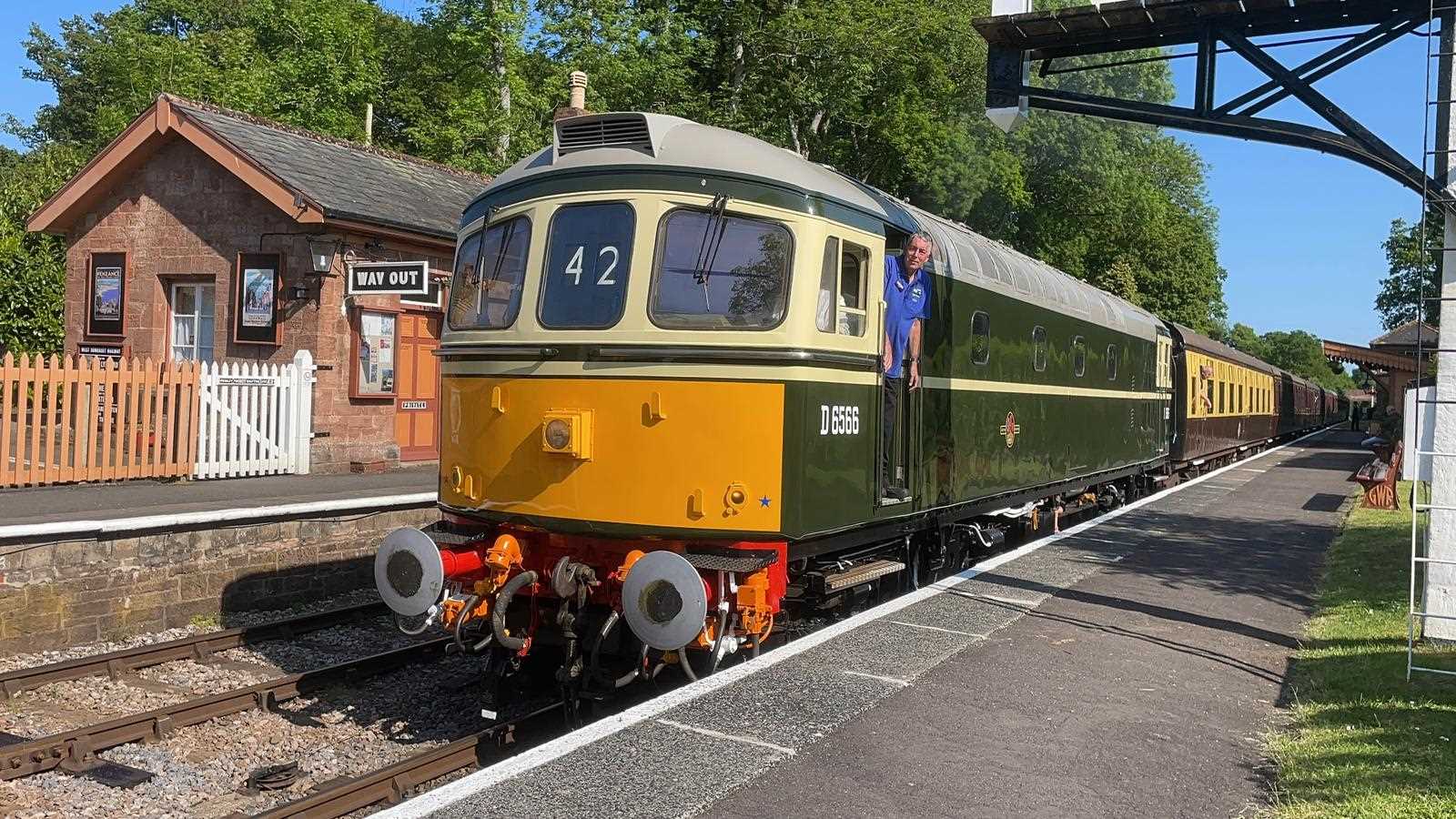 Class 33 'Crompton' D6566 (33 048) returned to action on Saturday 27th May 2023 looking absolutely top notch after a re-paint at WSR Restorations in the Swindon Shed at Williton. Pictured upon arrival at Crowcombe Heathfield station with the 16:35 Bishops Lydeard to Minehead service, photo by Josh Brinsford © CC BY-NC 3.0
On the afternoon of Saturday 27th May, resplendent Class 33 'Crompton' D6566 (33 048) ran light engine from Williton to Bishops Lydeard to take over the 16:35 diesel hauled service from sister D6575 (33 057) who remained on the back of the train, to be detached at Williton to receive her pre-gala servicing. The gleaming 'Crompton' had spent the last six weeks in the paint shop at WSR Restorations in the Swindon Shed (Williton North Yard) where she had received a thorough paintwork refresh in the hands of Harry and the team. This locomotive is an excellent advertisment for the quality of work that is available on reasonable commercial terms, so WELL DONE WSR Restorations !
The BLUE timetable runs throughout June, featuring diesel haulage each weekend, with Class 33 'Crompton' D6566 (33 048) running on 3/4th June, visiting Class 25 D7659 (25 309, 25 909) in use on Sunday 11th June and again on 24/25th June, and a Class 35 'Hymek' working in between on 17/18th June. For details of planned DIESEL-HAULED public services, see the DIESEL RUNNING DATES page on our website.

LOCO NEWS:
Class 52 D1010 'WESTERN CAMPAIGNER' – the main focus of the last week has been preparing this loco for the 'great outdoors' because she will be towed out into the yard on Wednesday 7th and placed on display for the whole of the diesel gala. Her 'A' cab will be open to visitors and we will also be engraving more names on her bodyside as we catch up with the SPONSOR A PATCH donations that have continued to come through in support of the D1010 RESTORATION APPEAL.
To continue our rate of progress requires FUNDING and we give our thanks to everyone who has supported D1010 by sponsoring or donating during these difficult times. If you are able to do so, please SPONSOR A PATCH because there is plenty of recently-added metal that still needs engraving. Photographs and certificates of sponsorship will be sent out to all who have sponsored this phase of the restoration work, and we are applying more resources to catch up with this obligation and deliver the documents. Click the image below to sponsor a patch. Thank you in advance for your support !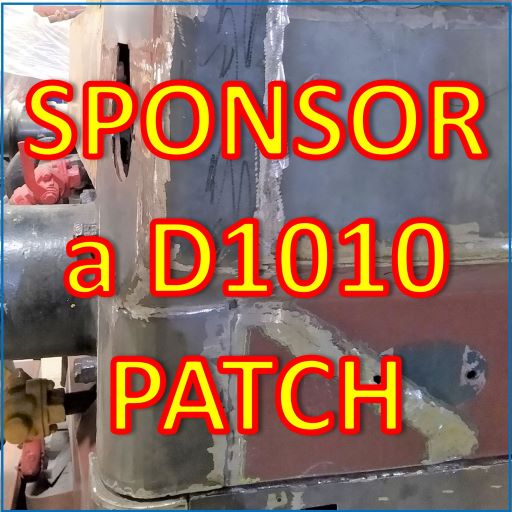 See our CAMPAIGN for CAMPAIGNER web page for more details. We still have a lot of work to do on this massive locomotive, so PLEASE DO COME ALONG AND HELP IF YOU CAN !


Class 33 D6566 (33 048) – as previously reported, this loco is back in action and looking splendid !
Class 33 D6575 (33 057) – this loco is now back at Williton so that she can be serviced and cleaned up in advance of the gala. There are no technical issues to deal with, so this loco will be available for use in the gala.
Class 35 'Hymek' D7017 – the issue that had prevented this loco from taking up her duties on Sunday 21st May received attention from Neil and John on Saturday, and fault-finding resulted in a new wire being run between two points that had become disconnected. Shortly after confirming the new wire had solved the problem, the location of the break in the old wire became apparent, which would have saved quite a bit of work had it shown itself sooner! There is one more issue to resolve this coming weekend, but the loco will be available for use in the gala.
Class 35 'Hymek' D7018 – this loco is being lavished with attention to get her looking good and working well in time for her appearance in the gala. A work-around has been defined in case the reverser fault remains unresolved, but there is no safety or operational risk associated with this issue. The loco will receive further attention during this coming weekend and undergo the necessary inspections that will allow her to perform.
D7018 was the focus of attention from Karl and Natalie at Williton on Saturday 27th May 2023, brushing off the dirt and grime accumulated from another winter spent outdoors. Photo by Andy Royal © CC BY-NC 3.0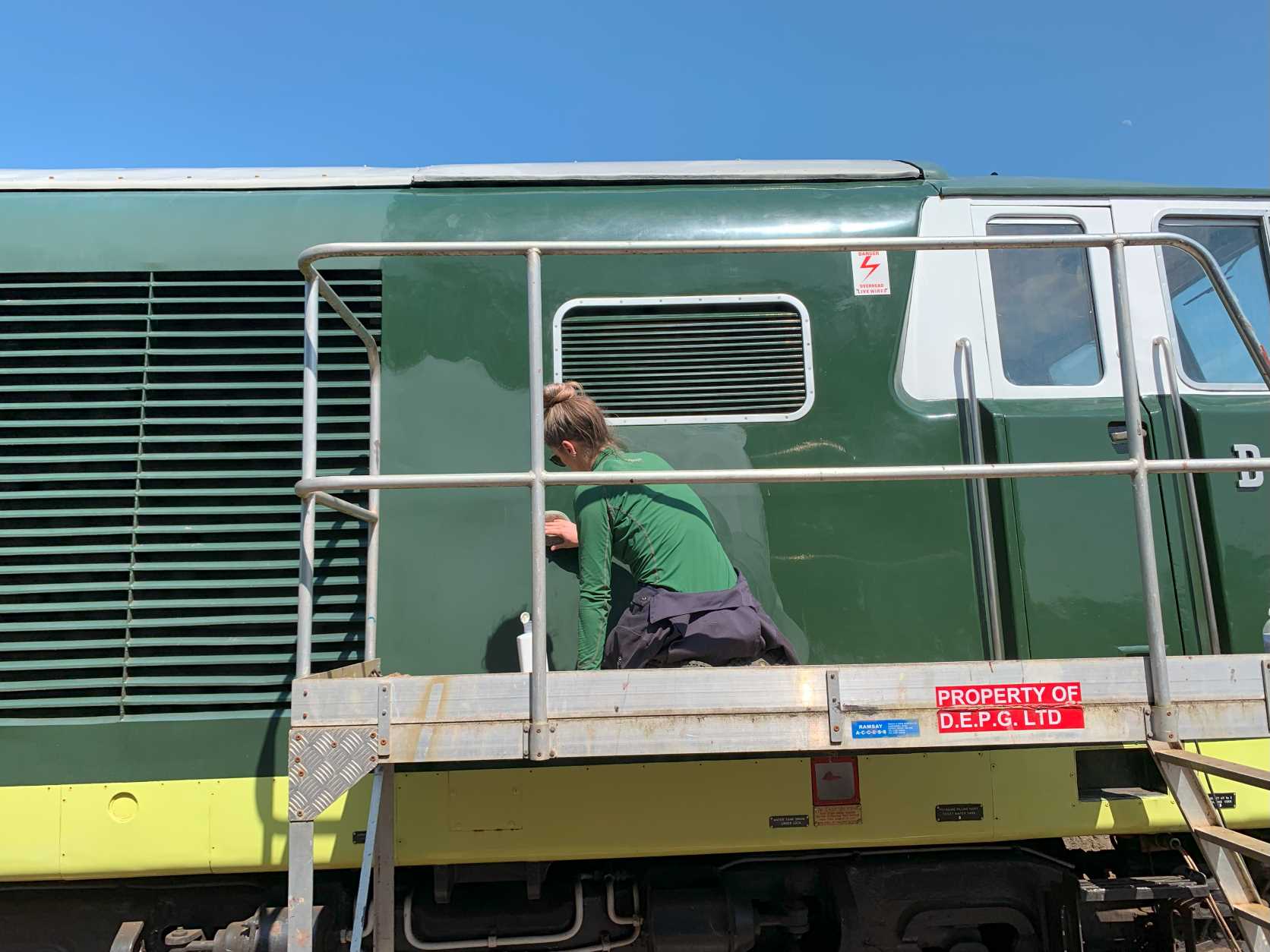 D7018 – wax on, wax off, and what a difference it makes, bringing the shine back and restoring the colour. It is very hard work, especially in the glaring sun, but it is clearly worth the effort. Pictured at Williton on Saturday 27th May 2023 by Andy Royal © CC BY-NC 3.0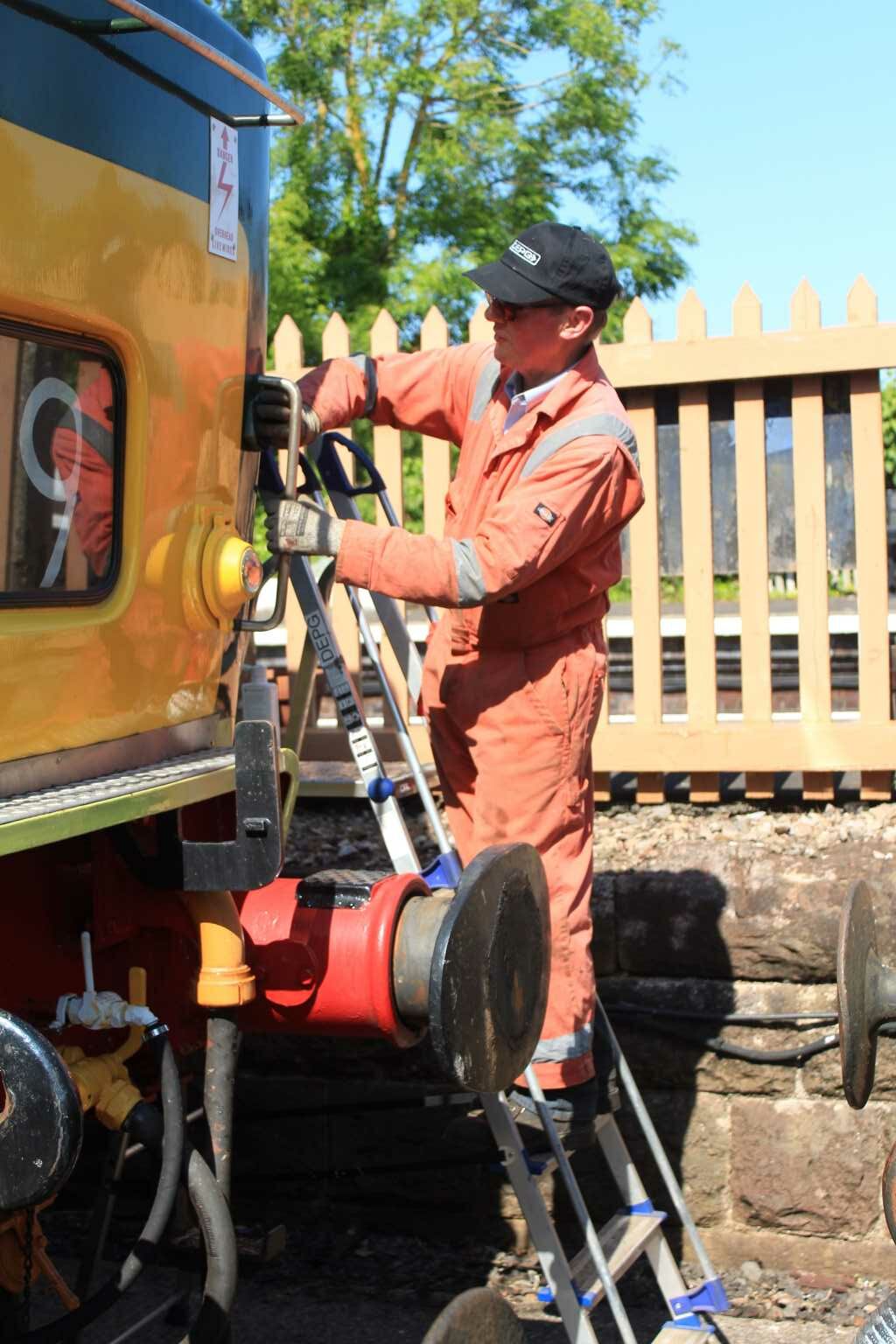 D7018 – what's this, Andy R found doing 'real' work two weeks running ? It must be fake news. Pictured at Williton on Saturday 27th May 2023 by Terry Deacon © CC BY-NC 3.0
Class 14 'Teddy Bear' D9518 – more progress in multiple areas, with Colin G preparing the newly-repaired nose end doors for a coat of primer while Andy P worked on the brake rods. Terry and Nick worked on the brake rigging while Paul C did more design work on the missing parts that need to be drawn up then fabricated by subcontractors. Busy times !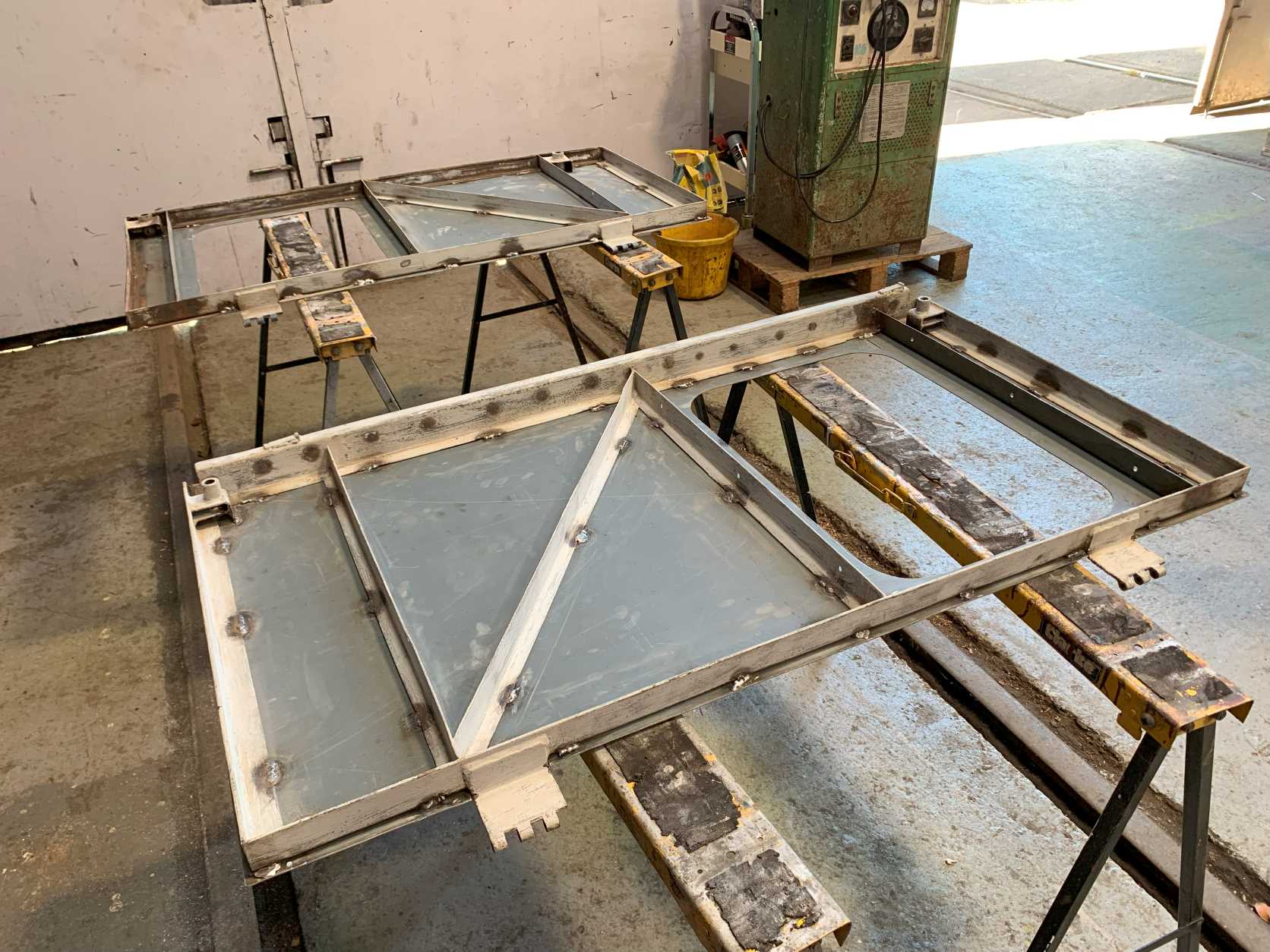 D9518 – the newly-repaired nose end doors were prepared for their first coat of primer by Colin G at Williton on Saturday 27th May 2023. Photo by Andy Royal © CC BY-NC 3.0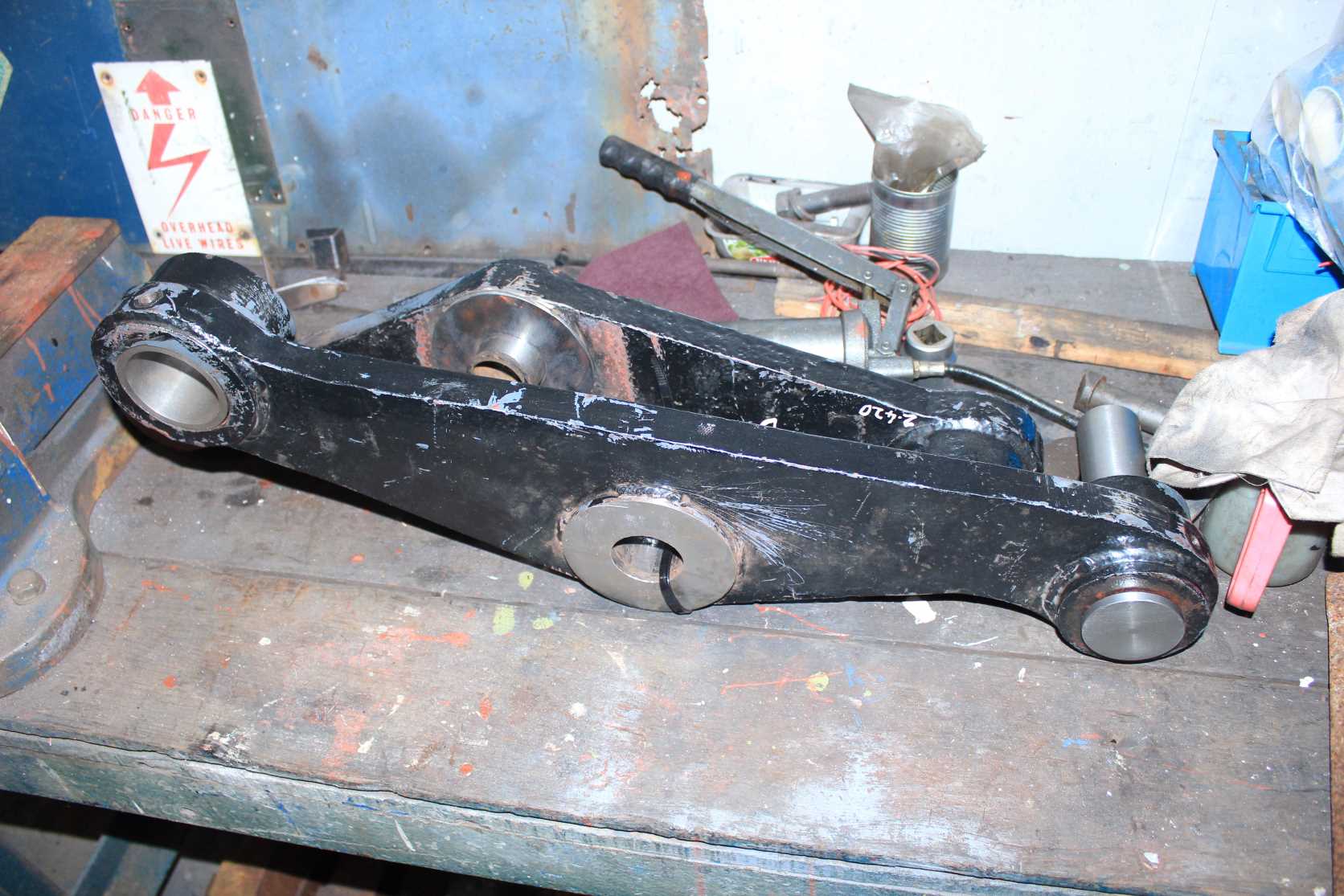 D9518 – this pair of brake hangers need some additional work done to straighten them and then trial-install them to check that the brake rigging operates freely. Some sub-contract assistance may be necessary. Pictured at Williton on Saturday 27th May 2023 by Terry Deacon © CC BY-NC 3.0
This loco is the subject of a fundraising appeal so please follow this link to find out more. We need your help ! In addition to funds, we also need plenty of HANDS. If you love the 'Teddy Bears' and you are not already a member of the DEPG, please join us so that you can become one of the team that is going to return D9518 to fully operational condition as 'NCB No. 7'.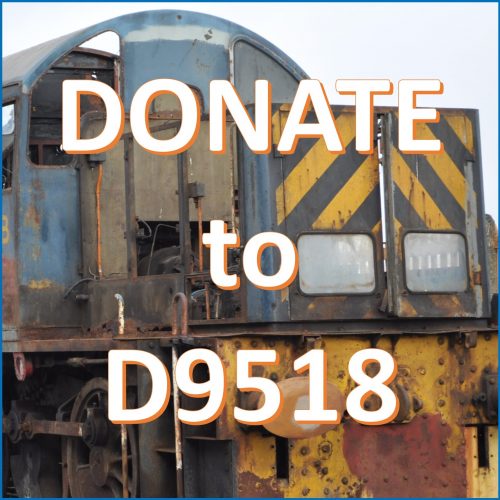 Class 14 'Teddy Bear' D9526 – this loco has been checked over and is fully serviceable and ready for use in the forthcoming SUMMER DIESEL FESTIVAL, during which she will carry a wreath and black ribbons in memory of volunteer Class 14 loco manager, the late Simon Purvis.
Class 47 47077 'NORTH STAR' – some progress has been made on the fractured cylinder head bolt that will need remedial work before the loco can return to service. The team at the North Yorkshire Moors Railway have removed the blowing cylinder head and confirmed that the bolt has fractured just above the engine block. The remnants will need to be drilled out and a helicoil fitted. This kind of issue is known to affect this type of engine so there is no major cause for concern. However, while investigating, the plenum chamber that balances the exhaust pressures before the hot gasses enter the turbocharger was found to have a corroded area with a hole right through it ! These issues are being addressed and the loco will be back in service ASAP. Many thanks to the team at the NYMR for looking after our loco so well !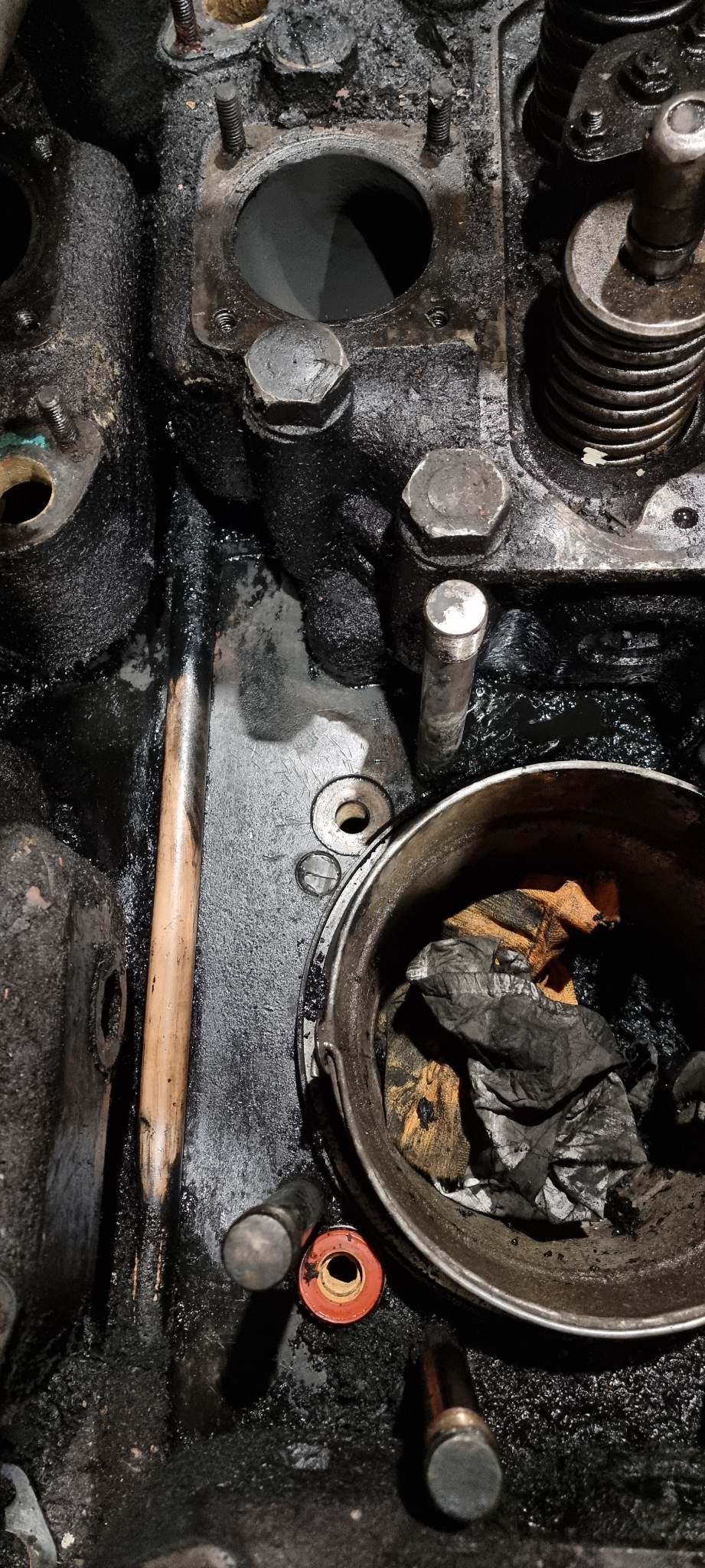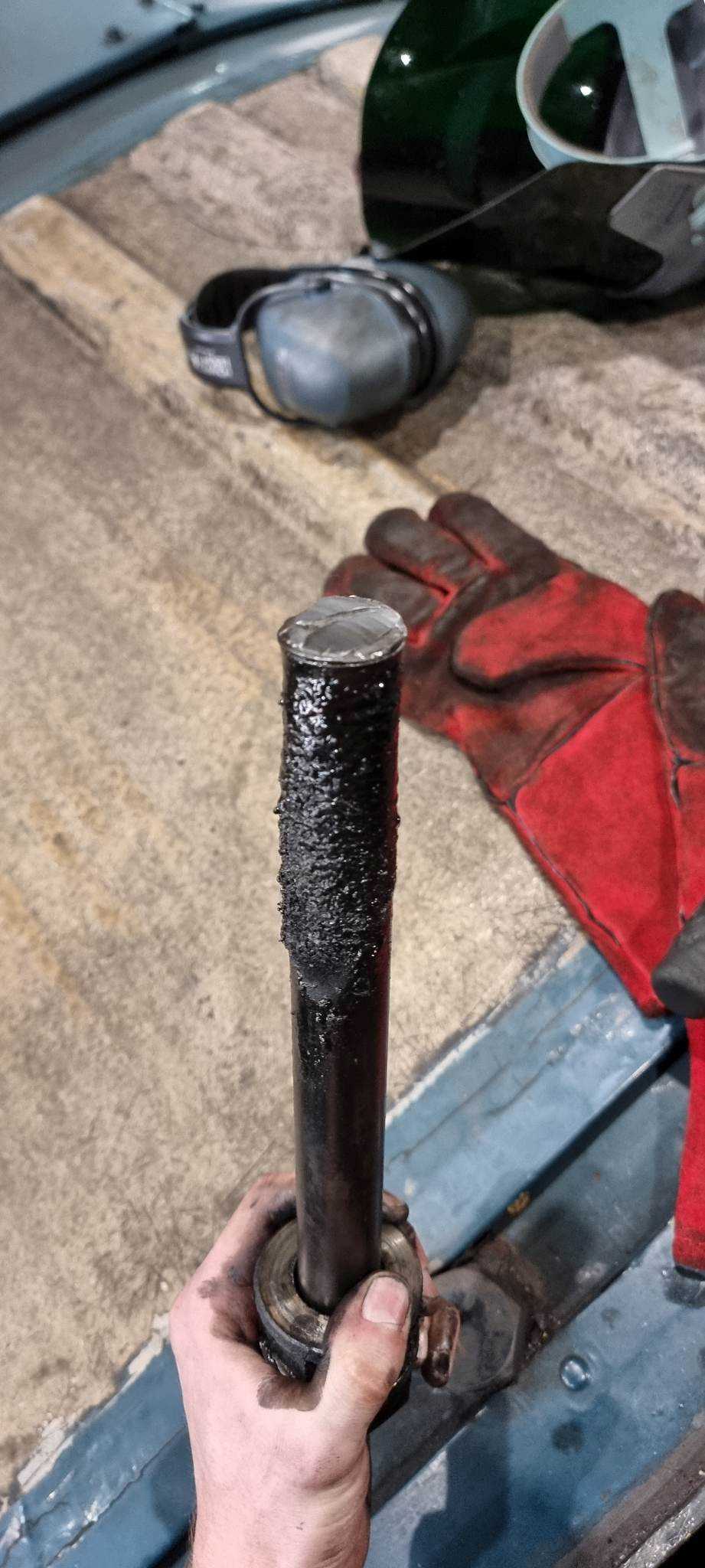 47077 – the left picture shows that one of the cylinder heads has been removed and the bore plugged by a plastic tub (it fits quite well and prevents dirt and grit from going inside the cylinder bore). The remains of the broken bolt can be seen in the 10 o'clock position. The right hand picture shows the bolt with the threaded end missing ! Both photos taken at Grosmont on 29th May 2023 by Pete Dawson © CC BY-NC 3.0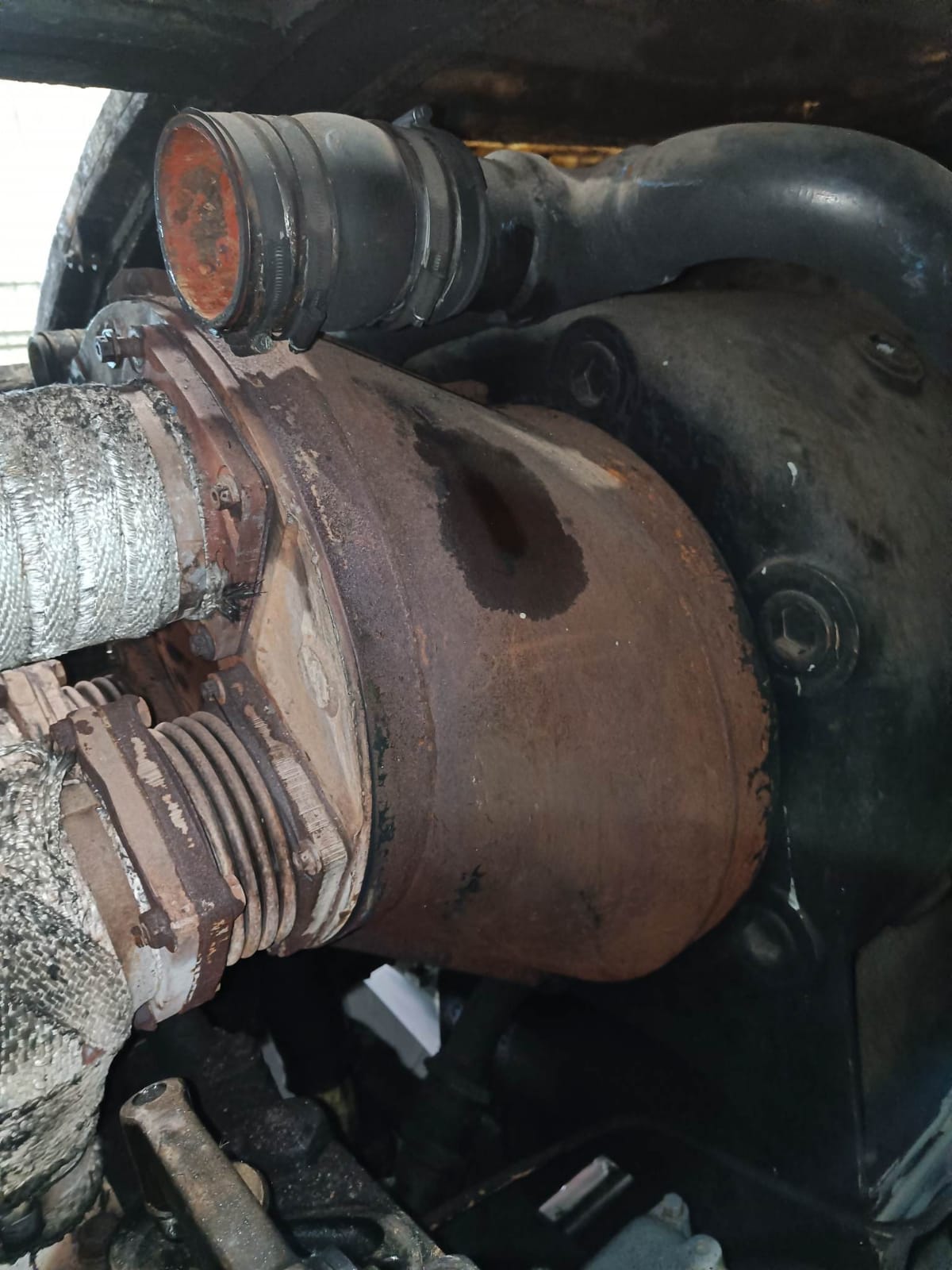 47077 – the exhaust pipes from the engine are on the left side of the rust-coloured 'plenum chamber' that performs a pressure equalising function before the hot gasses enter the turbocharger (dark coloured, on the right). Pictured at Grosmont on 23rd May 2023 by Josh Smith © CC BY-NC 3.0
Andrew Barclay 0-4-0DH 578 – this loco is in full working order and is stabled in the South Yard, ready for action. This loco will be open to visitors during the gala days.
If you can help by donating your time to any of these projects, then please JOIN US and come along to the depot for an introduction to what we do and how we do it. We currently have people on site from Saturday through to Tuesday and we can open on other days if we can be sure of getting at least two volunteers on site at all times, so there is plenty of scope. We have tasks of all types to suit most capabilities, both skilled and unskilled.
Many thanks to all of our volunteers who give up so much of their time to work on the cleaning, painting, maintaining, restoring, managing and fund raising for our fleet of heritage locomotives !