Another week of action and progress at Williton, the focus of activity being 47077 'NORTH STAR' and Class 14 'Teddy Bear' D9518. Restrictions on depot attendance remain in place but we again managed to operate on four days out of the last seven, minimising risk and making better use of facilities.
47077 'NORTH STAR' – Efforts were made to get her massive Sulzer 12-cylinder diesel engine ready to start after a long period out of use. The various tasks that were in progress around the loco had to be stopped and put in a safe condition to allow power-up and start-up. The 'triple pump' was run to prime the oil, fuel and water systems and everything was looking good. Several volunteers stood by with their cameras, ready to take a video of the event.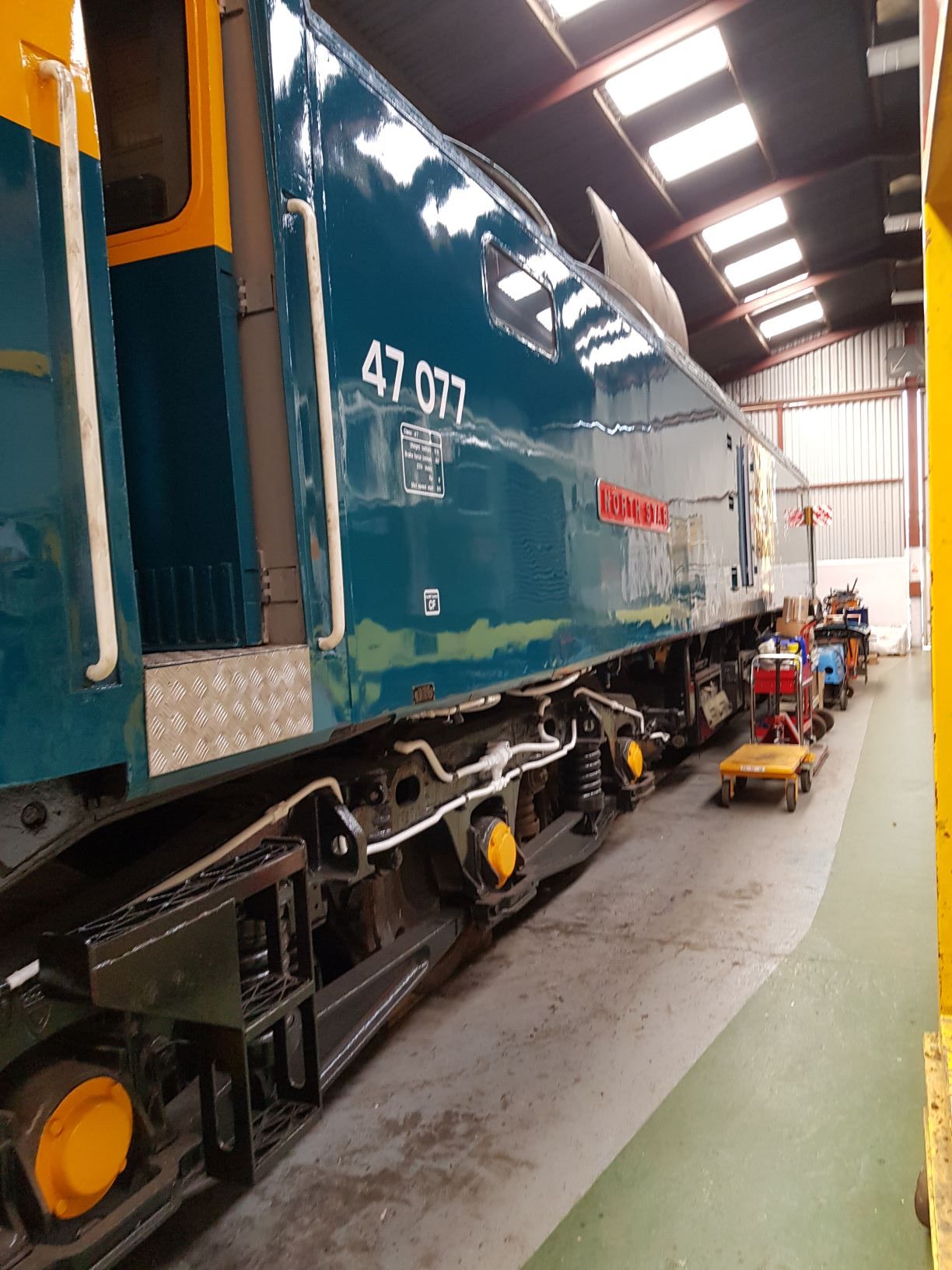 The DEPG's 1965 Crewe-built Brush 'Type 4', formerly D1661 but now Class 47 number 47077 'NORTH STAR' residing on Number 3 road inside Williton Depot on 20th April 2021. Photo by Chris Shields © CC BY-NC 3.0
Unfortunately, when the moment came to press the 'START' button, there was a click – but the engine did not turn over. The batteries had decided that they were not going to co-operate and that was the end of it. Although the batteries had been kept in a fully charged condition over the last year or so, the combination of the age of the batteries and the lack of use has meant that charging had become ineffective, leaving the batteries too weak to be able to do their job. A locomotive without batteries is useless, so we now have to replace the 48 individual batteries that make up the full set.
Undeterred, our volunteers went back to their tasks and carried on, such disappointments being part of railway preservation life. Further attempts to start-up may be made this weekend using batteries borrowed from other locos and connected in parallel to boost capacity. Once started up, we will be able to complete our assessment of the work remaining to be done to get this loco ready for service.
Class 14 'Teddy Bear' D9518 – The 'Tuesday' crew comprising Terry, Colin F, Chris and Mark continued on renovating the sandboxes and getting them ready to refit to the locomotive frames. On the weekend, Colin G continued his work on the wheelsets, filling and sanding the surfaces to provide a good smooth surface for painting. The rate of progress is very encouraging!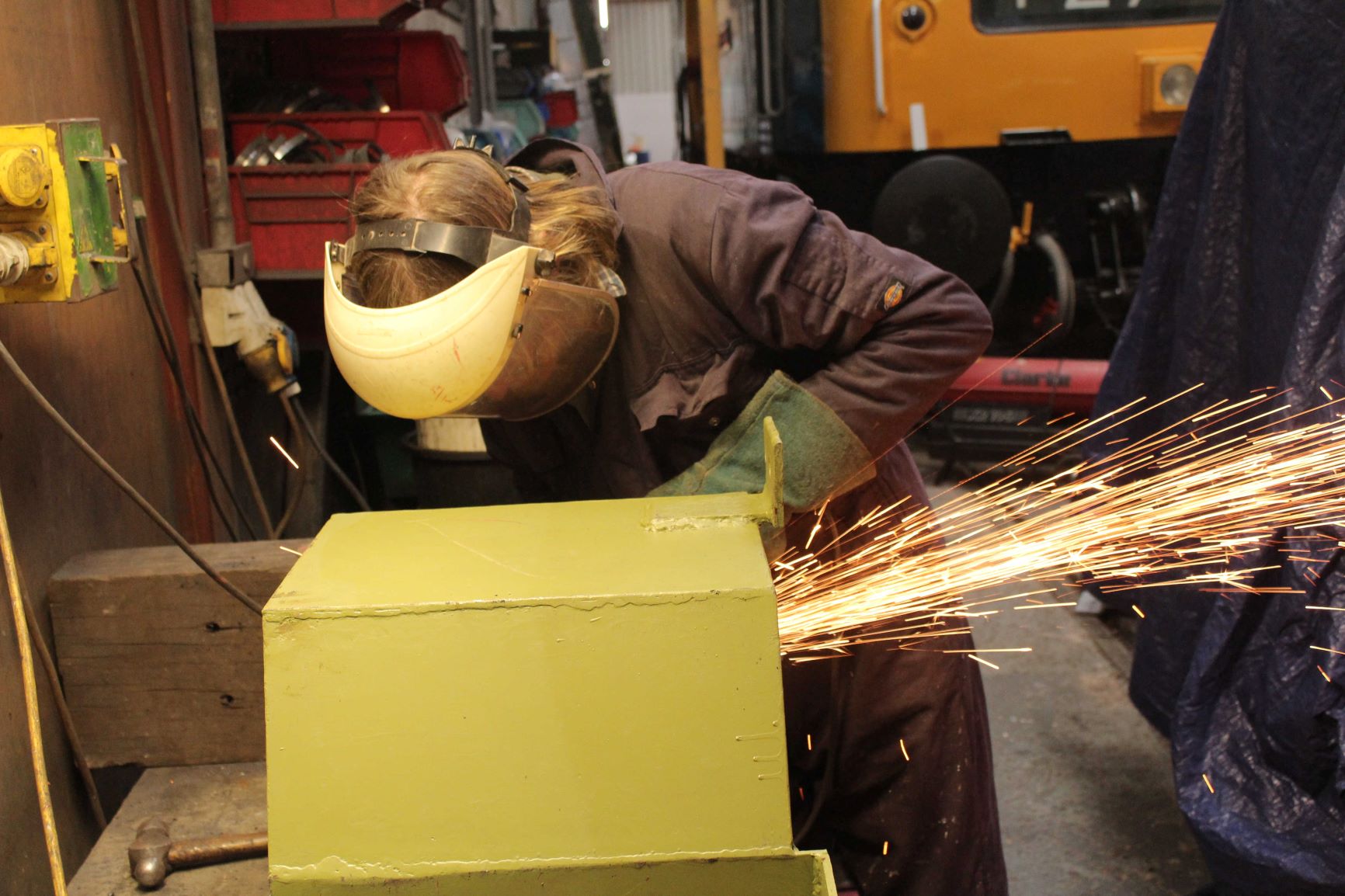 One of the sandboxes from D9518 gets some serious attention from Colin at Williton on 27th April 2021. Photo by Terry Deacon © CC BY-NC 3.0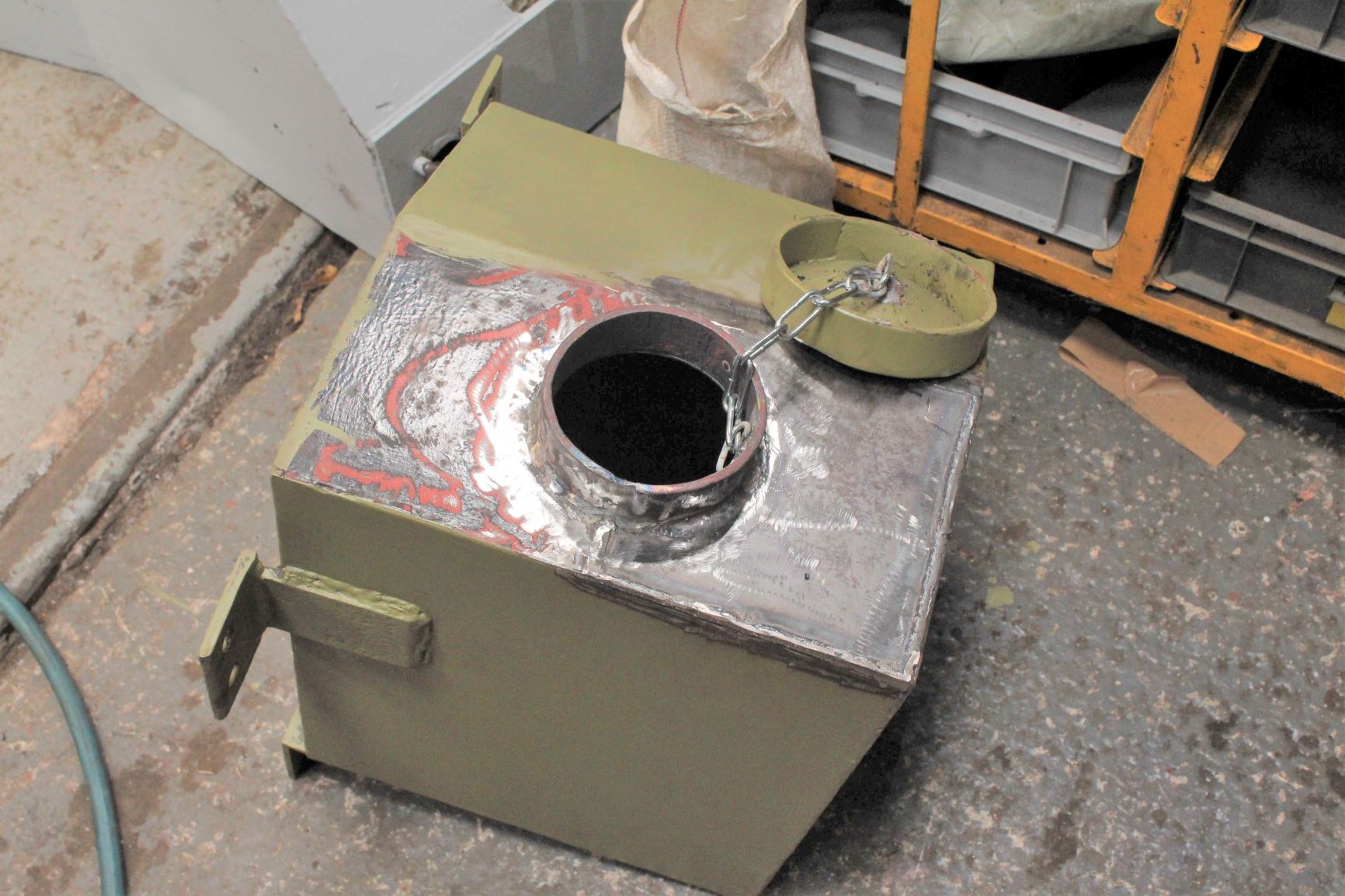 One of the sandboxes from D9518 ready for painting at Williton on 27th April 2021. Photo by Terry Deacon © CC BY-NC 3.0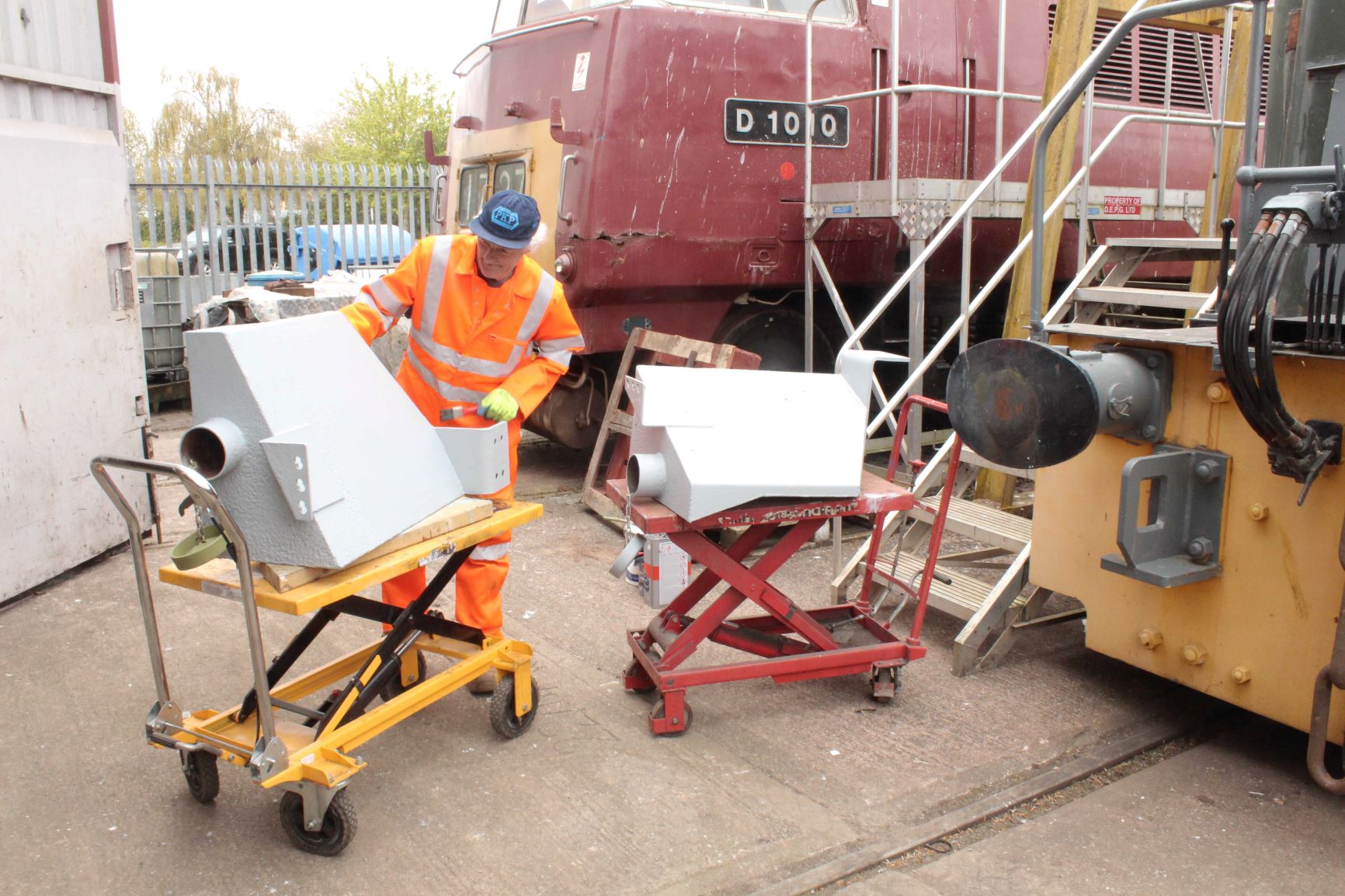 Chris makes sure that the sandboxes from D9518 get a good layer of undercoat at Williton on 27th April 2021. Photo by Terry Deacon © CC BY-NC 3.0
OTHER LOCO NEWS:
Class 33 'Crompton' D6575 is in action this weekend on crew training specials between Bishops Lydeard (BL) and Williton (WN). This news was broadcast yesterday via our DIESELGEN email bulletin service. This loco will change places with sister loco D6566 (33 048) during Saturday afternoon and D6566 will then work back to BL and will also work the crew training turns on Sunday. An additional working that is scheduled for Thursday 6th May is an Empty Coaching Stock (ECS) move from BL to Minehead, where D6566 will attach to some newly-repainted coaches and haul them to BL in conjunction with BR(W) 4-6-0 number 7828 'ODNEY MANOR'. These moves are part of the preparation for the re-opening of the WSR on 22nd May 2021.
Class 35 'Hymek' D7017 – this loco remains in the yard at Williton, having had her tarpaulins removed and having had a wash, courtesy of Ian. The plan for this loco is to be 'lifted' in late June or July so that her bogies can be rolled out so that the springs can be changed. No doubt there will be other work that will need to be done while the loco is lifted, but we hope to complete the work during the autumn so that D7017 is available for service in 2022.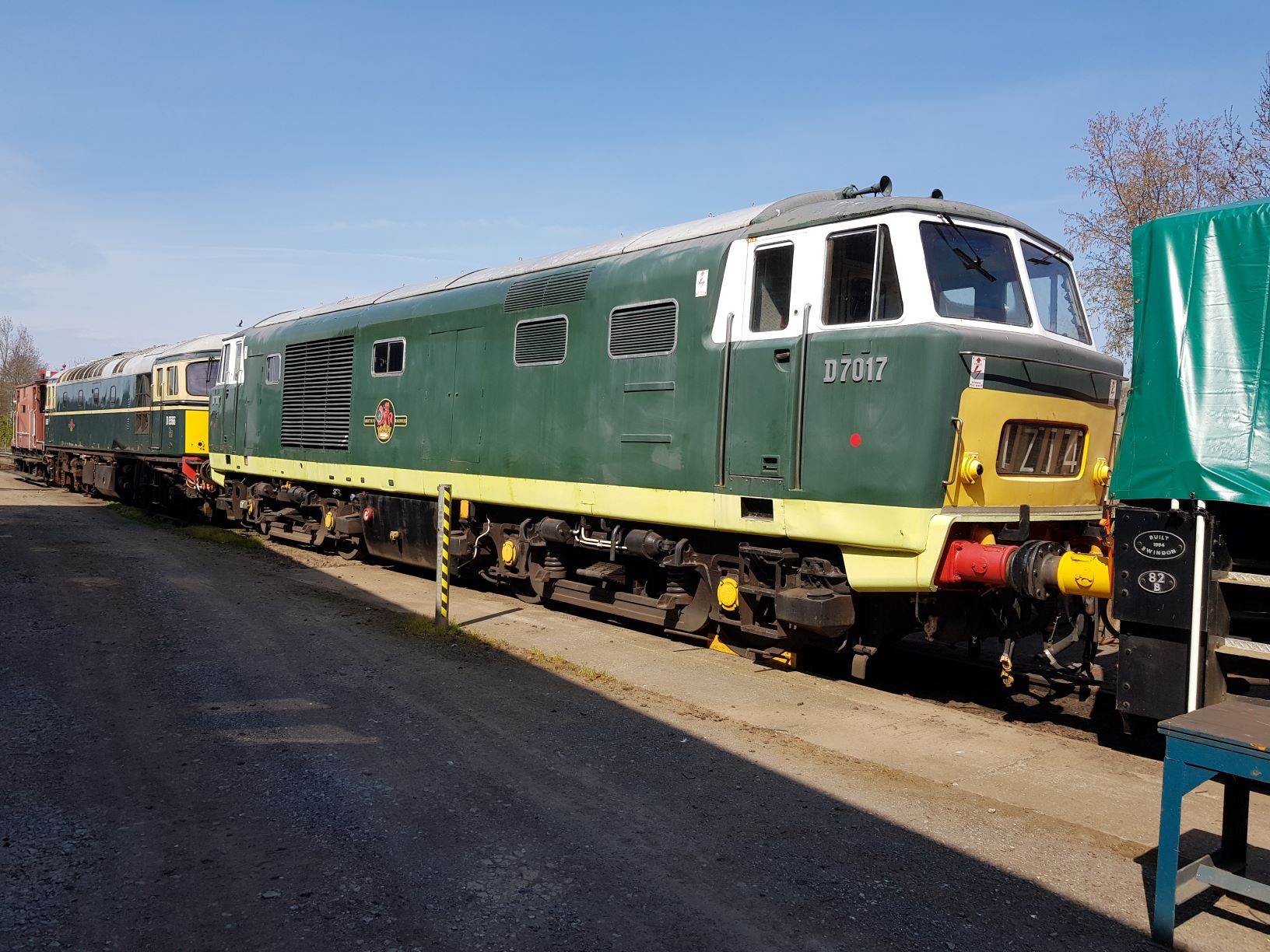 Class 35 'Hymek' D7017 stands on number 1 road in the South yard at Williton on 20th April 2021, with Class 33 D6566 (33 048) to her left and Class 14 D9526 to her right. Photo by Chris Shields © CC BY-NC 3.0
Class 35 'Hymek' D7018 – this loco is inside the shed on number 2 road and is undergoing an investigation on the control block of her Mekydro hydraulic transmission. After several attempts to get the automatic gear change function working as it should, it has been decided to switch the control block for a known good control block that was in use at some time in the past. This will hopefully resolve the problem and allow more time for the delinquent control block to be further investigated to find the blockage (or stuck valve) that is preventing proper operation. In the worst case, the transmission will be locked in second gear and she will operate on the WSR in the same way as she did in 2019.
A view of 'Hymek' D7018 through the former boiler room window of 47077 'NORTH STAR' taken on 26th April 2021 while both locos were residing in the loco shed at Williton. Photo by Natalie Royal © CC BY-NC 3.0
Class 52 D1010 'WESTERN CAMPAIGNER' – this loco is waiting patiently outside the shed on number 3 road for her opportunity to displace 47077 and enter the next phase of her own restoration. With the remedial work on her failed transmission still held up by lockdowns, volunteer effort will be focused on the cooler group renovations and long list of bodywork repairs. This loco will be the subject of a fund raising campaign to cover the cost of specialist sub-contract services that will be needed to return this loco to service. The funds generated by our new booklet "D1010 WESTERN CAMPAIGNER – FROM MEREHEAD TO MINEHEAD" will go into this fund, along with revenue from sales of pre-owned books, so please help the fund grow by buying from our online store. Thanks !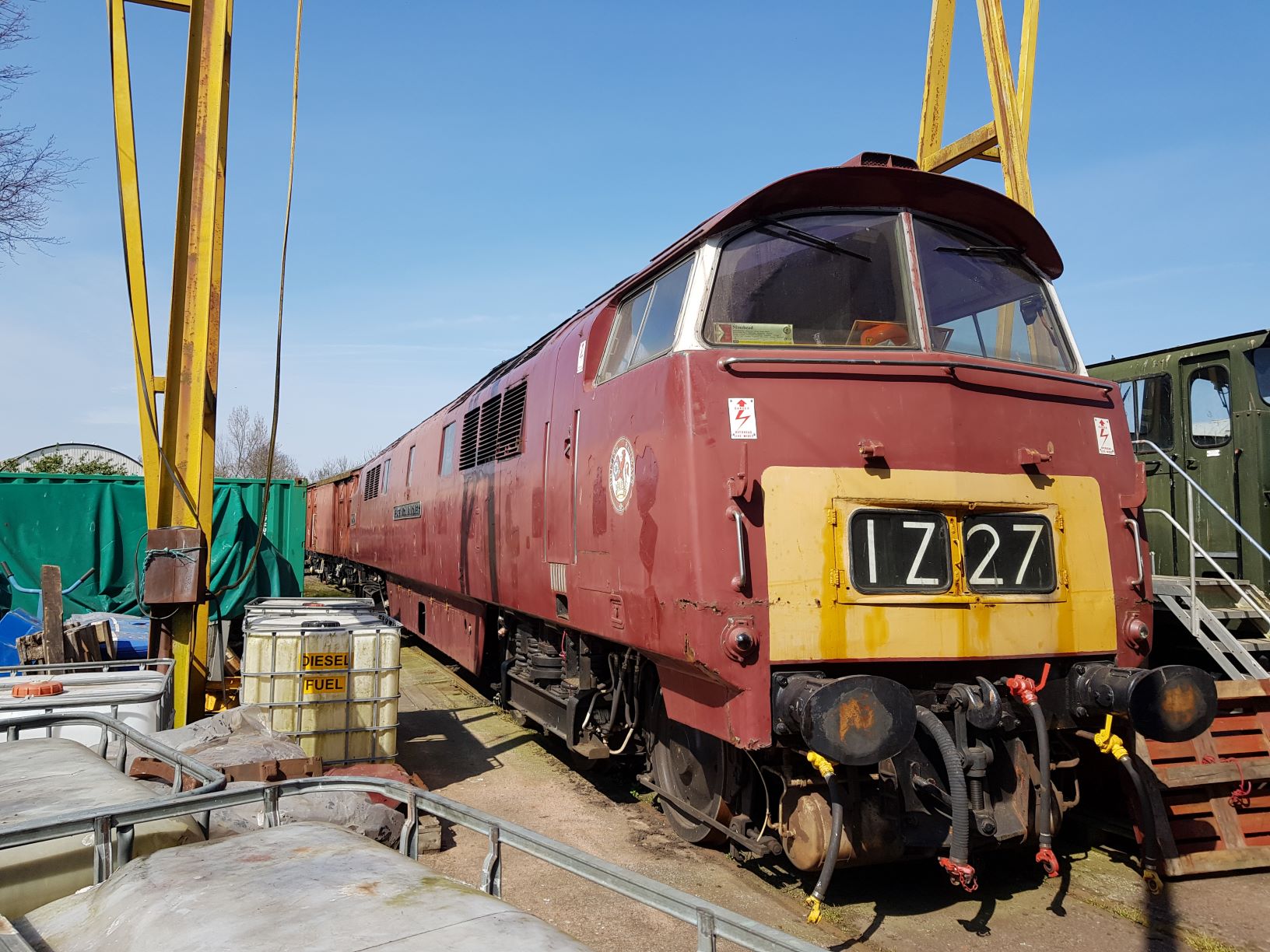 Class 52 D1010 'WESTERN CAMPAIGNER' outside the loco shed on number 3 road at Williton on 20th April 2021, minus her lower front valances (already removed for restoration) and clearly in need of some bodywork repairs. Photo by Chris Shields © CC BY-NC 3.0
Class 14 'Teddy Bear' D9518 – information that was posted on rmweb earlier this week reminded us that our loco was the LAST of the class to perform work on BR back in April 1969 and one of the last ten to be withdrawn from service. Here's an extract of some posts made by rmweb member "br2975" :
On this day in history; Saturday, 19th. April, 1969
Cardiff Canton allocated D9518 worked the following Radyr trips from Monday 14/04/1969 – Saturday 19/04/1969:
06:15 Roath Branch
09:35 Roath Branch
14:20 Maindy                                                                                                              
When D9518 returned to Radyr on the Saturday, it had completed what was the last recorded revenue working of a Class 14 loco on British Rail. Commencing Monday, 21st April 1969 this would become a Class 08 duty.
On this date in history; Saturday, 26th. April, 1969
The following reported withdrawn from Cardiff, Canton on this date:- 9500, 9502, 9514, 9518, 9527,
The following reported withdrawn from Swansea, Landore on this date:- 9521, 9524, 9536, 9538, 9555
These withdrawals rendered the class 'extinct' on B.R.
Many thanks to Neil Evans and to rmweb member "br2975" for bringing this information to our attention. After serving BR for a mere four years, our loco went on to do seventeen years of hard labour at NCB Ashington Colliery before retiring and eventually coming into our hands.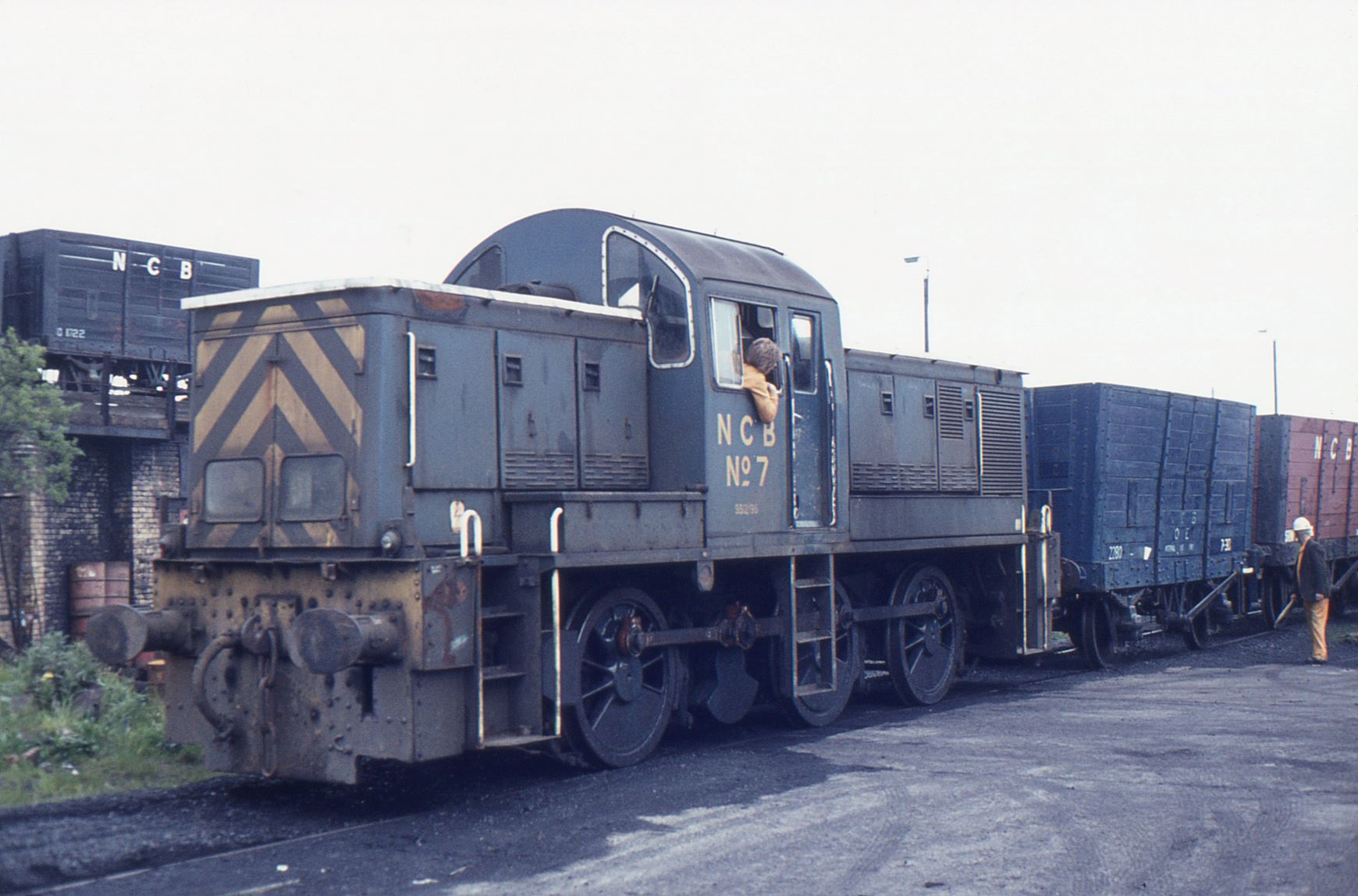 Bought from BR in full working order in 1969, NCB No. 7 (aka D9518) still had five more years of work ahead of her when seen operating at Ashington Colliery in this photo dated 25th May 1981. Photo by Colin Girle © CC BY-NC 3.0
Class 14 'Teddy Bear' D9526 – this loco remains hidden by tarpaulins on number 1 road, just outside the Old Goods Shed after being 'evicted' from its shelter because of the structural issues that are currently affecting that Grade II listed building. This loco has undergone a 250-hour inspection and is waiting for a test run to Bishops Lydeard so that she can go over the pit at Westridge shed and have an underframe examination. After that, she will be ready for service !
Many thanks to all of our volunteers who are hard at work maintaining, restoring, managing and fund raising for our fleet of heritage locomotives !
Go to previous Depot News page