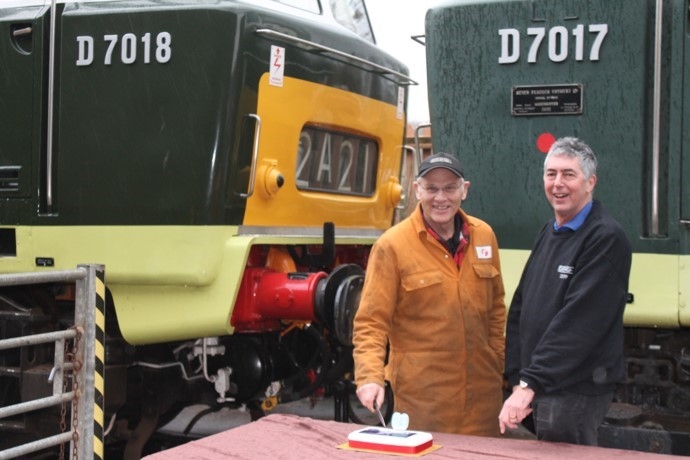 1962-vintage Beyer-Peacock Class 35 'Hymeks' D7017 and D7018 stand together at Williton during a rare break in the rain on Saturday 8th January 2022 while DEPG Chairman Martin Howard (left) and Publicity Officer Mark Bladwell prepare to cut the birthday cake. Photo by Mark Bladwell © CC BY-NC 3.0
Our two Beyer-Peacock 'Hymeks' D7017 and D7018 celebrate their 60th anniversaries this month, with D7017 turning 60 on January 8th and D7018 turning 60 on January 18th. Both locos entered service at Bristol Bath Road depot in January 1962, at a time when the depot was still being built around them. D7017 remained a Bristol loco until 1971 when she was reallocated to Old Oak Common (in West London) and D7018 remained at Bristol until 1966 when she moved to Cardiff Canton depot for a short while then back to Bristol until 1972, after which the dwindling fleet was concentrated at Old Oak.
Both locos were part of a small group of four of the originally 101-strong Class that survived in service until March 1975 when they were withdrawn and were sold for scrap. Luckily, four of these fine locos survive today, two with us at Williton plus D7029 with the Diesel Traction Group at the Severn Valley Railway and D7076 with the Bury Hydraulic Group based on the East Lancashire Railway.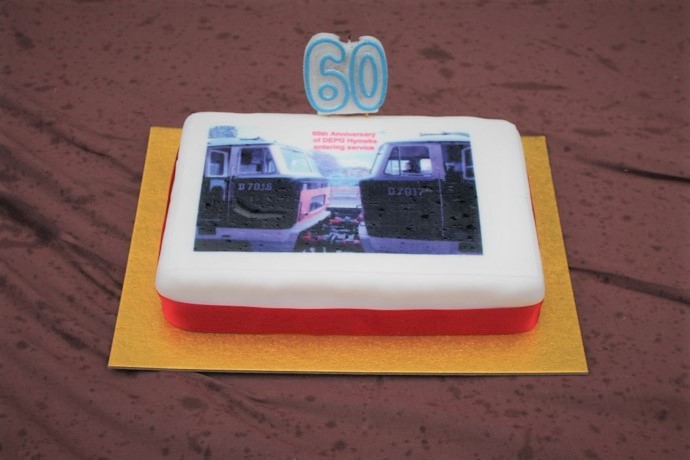 The 60th birthday cake pictured in the rain at Williton on Saturday 8th January 2022, in celebration of Beyer-Peacock Class 35 'Hymeks' D7017 and D7018, both of which turn 60 this month. Photo (and cake) by Mark Bladwell © CC BY-NC 3.0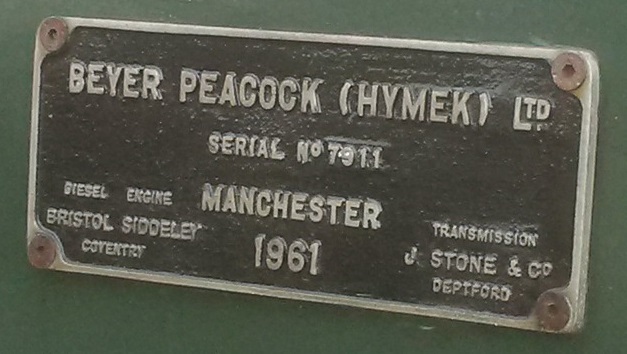 The worksplates on D7017 and D7018 both show their build date as 1961, but it is customary to determine the age of the loco based on it's first day in revenue-earning service, therefore January 8th, 1962 for D7017 and January 18th, 1962 for D7018.