BOOK REVIEW – 03-Sep-23 – here follows a detailed report by long-term DEPG member and regular contributor Neale Long, who has purchased this book from our online store and reports as follows: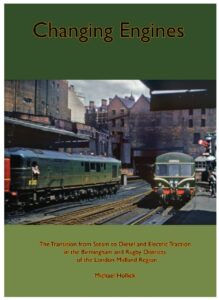 Changing Engines
The Transition from Steam to Diesel and Electric Traction in the Birmingham and Rugby Districts of the London Midland Region
By Michael Hollick
Published by the London & North Western Railway Society
ISBN: 978-0-9570158-6-9
Hardback format, A4, 140 pages
For many enthusiasts, one of the most fascinating periods in railway history was the period from the late 1950s to late 1960s when steam traction was replaced by diesel and electric traction on Britain's railways. The need for economies and dire labour shortages drove this process and over the years, several very fine publications have sought successfully to recount this often tumultuous and turbulent period and this is one such title.
Author Michael Hollick, in this particular instance, focusses on the Birmingham Division of the London Midland Region and quite wisely included the lines and establishments originally associated with the Midland and Great Western Railways in the West Midlands, thus ensuring a comprehensive account of this geographically important region.
The author has produced a beautifully written and highly detailed 'blow by blow' account of the introduction of diesel and electric traction at the expense of steam, containing 144 pages with 16 pages of full colour. This hardback book promises great things with a lovely image of Bulleid 1750HP awaiting departure from a virtually now unrecognisable Birmingham New Street with a Metro Camell Class 101 unit departing for Lichfield, both in glorious green livery on the front cover. This promise is delivered chronologically in two main parts together with some really helpful appendices at the end of the book:
Part one – The 1950's, Shunting Prototypes and Lightweight Trains
The Birmingham and Rugby District Organisations
Shunting Engines
Early Main Line Duties
Lightweight Diesel Trains
Part two – The 1960's -Electrification, Re-organisation, Reliability and Rationalisation
The impact of Electrification
Re-organisation
Reliability
Rationalisation
Depots and Future Traction Requirements
Depot Developments
Saltley and The Former Midland Lines
National Traction Plan and Future Developments
Further Rationalisation
End Game
End of an Era
Consolidating for the New Traction
Appendices
Electrical Research Section- Rugby Locomotive Testing Plant
Gas Oil to Depots
Light Engine Headcodes to Depots
Codes for Traincrew Depots
Dates of Energising Overhead Line Equipment
A thorough and comprehensive research by the author including official sources and first-hand knowledge by some of those involved has produced this superb study of the transition period in effect the Midlands area, and what a tale it is, commencing with the diesel shunting locomotives and DMUs, to Loco 10000 and the Bulleid 1750 HPs, the electrification of the West Coast Lines and gradual rundown of steam on both passenger and freight services in the area with the consequential upheavals in terms of infrastructure and manpower.
This excellent publication contains a plethora of little known information, far too much to list individually – but to give a flavour, several items are worthy of mention in this review:
Crew training and operation of Class 43 NBL Warship class locomotives from Bescot, Banbury and Tyseley depots in order to release class 47s to end steam operation elsewhere on the LMR in 1968/9;
The allocation and operation of class 03 diesel mechanical shunting locomotives in an area not generally associated with the Class;
Various class 35 & 52 workings in the area including the introduction of the Class 52 on Paddington-Wolverhampton/Birkenhead workings, and that's just the diesel hydraulics.
One particularly interesting chapter covers the performance of all the principal LM classes then newly introduced, both Sulzer and English Electric classes. This does illustrate some of the difficulties encounter with the Sulzer power units, at least initially (all turned out OK in the end though). Particularly interesting is the account of the re-organisation which was undertaken at the time, none of which would have been very palatable. Here, the effect on the actual workforce is graphically described in terms of closures and redundancies, and equally the rationale behind such painful decisions. It's all here, warts and all.
Lavishly illustrated with some rare images such as a Class 03 at Albion station, Loco 10000 at Birmingham New Street, a brand new D1068 at Tyseley, D0260 'Lion' also at Tyseley and perhaps the pick of all, a Class 27 at Alcester on the now closed Redditch to Evesham branch, this splendid publication represents excellent value.
Crammed full of information, this will appeal to not only those students of the transition from Steam to Diesel and Electric and the geographical area covered, but to the general enthusiast as well. This volume very much mirrors the struggles involved in transforming the railway from the steam to diesel and electrics elsewhere. The tables and maps are all well laid out and very much assist the reader in following this excellent account.
The title started out as an article for the London North Western Railway Society Journal but uncovered so much material, it was thought that in order to do it justice, a book should be produced. The author has clearly achieved this and everyone can now share in the fruits of his labour. This title represents excellent value and a worthy addition to any enthusiast's railway library.
A title that I can unhesitatingly recommend to all.
Many thanks to Neale Long for providing us with this book review.