With Lockdown 2.0 now upon us, the DEPG has reviewed the implications for our Williton depot and concluded that the only activities that should be performed at Williton are those that are of an essential nature, most obviously any task relating to safety and any task relating to security.
There are two other groups of essential tasks, one being tasks that are essential for the financial well-being of the DEPG, the other being tasks that are essential to support the WSR.
Our volunteers have been advised about the restricted choice of tasks and several have decided to stay at home until the end of the lockdown, so progress on the new list of priorities will be slowed down as we adjust to the lower level of resources.
The good news is that the operations that were planned for last Monday did take place and our Class 33 'Crompton' pair D6566 and D6575, running in multiple, were the trailblazers for the re-opening of the WSR. The weather was highly variable as can be seen from the photos that were taken by Martin Howard.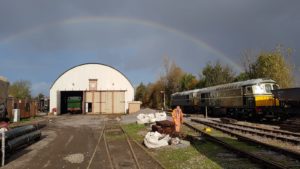 The rainbow ends with a pair of 'Cromptons' – D6566 (left) and D6575 (right) at Williton on 2nd November 2020. Photo by Martin Howard (c) CC BY-NC 3.0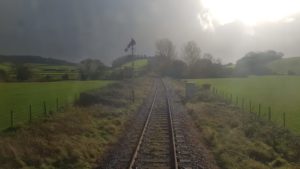 We also thank Mark Ireland for braving a soaking to capture a video of the pair climbing through heavy rain towards Crowcombe Heathfield, at Leighwood Crossing. Here's a link to Mark's video:
https://twitter.com/wsrdepg/status/1323258270686056456
Upon arrival at Bishops Lydeard, the 'Cromptons' went to Westridge shed where the pit was used to perform an underframe and traction motor inspection. The locos then separated, with D6566 remaining at Westridge as the WSR duty locomotive, and D6575 returning to Williton to support staff refresher activities that are planned for later in the month.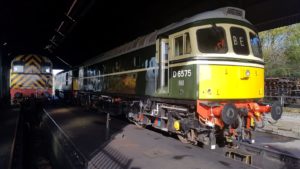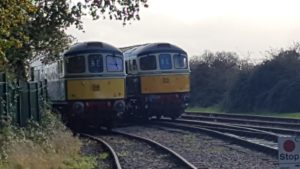 Well done to all involved in preparing these two locos for a very successful day at work on the West Somerset Railway !
D1010: Last week, we shared some photographs that showed the difference between the authentic and temporary valances around the buffer beam at one end of the locomotive. Those photos resulted in a message from former DEPG chairman Bob Tiller (now Engineering Director of GB Railfreight) and his text is copied below:
"Further to the comment on D1010 valances, I can confirm this was indeed done at Merehead due to a line of stone wagons pushing D1010 back into the stops. When getting the loco ready for movement to Didcot, I spent a lot of time at Merehead getting the loco ready to move and chopping the remains of the valance to make it safe as the air pipes and tank were also damaged behind. We had the square valance made quickly for cosmetic purposes with a view to getting them redone at a later date – just a bit later than originally thought."
Many thanks to Bob for the additional insight. The loco moved from Merehead to Didcot in 1986, so the "temporary" parts have lasted rather well, in fact !
D6566 and D6575: As stated previously, D6566 is now outstationed at Westridge Shed, Bishops Lydeard, while D6575 is back at Williton. Both locos are available for service on the WSR.
D7017: Awaiting bogie overhaul and spring replacement.
D7018: Awaiting the fitting of additional pressure gauges prior to a repeat static test of the transmission control system, after Lockdown.
D9518: Restoration work temporarily suspended due to Lockdown. Some consolidation of parts can take place to minimise storage space and ensure proper protection for both unrestored and restored parts and assemblies.
D9526: Waiting for inspection and load testing.
47077: Restoration work temporarily suspended due to Lockdown. However, a commercial opportunity to put this loco out on hire will require us to complete some of the outstanding tasks to allow the loco to undergo inspection.
The DEPG depot at Williton is classed as a workplace and is maintained Covid-safe as per Government guidelines. Work will only take place if deemed essential by the Board and our volunteers will only attend if it is necessary to do so.
Go to previous Depot News article