BOOK REVIEW – 03-Nov-23 – here follows a detailed report by long-term DEPG member and regular contributor Neale Long, who has purchased this book from our online store and reports as follows: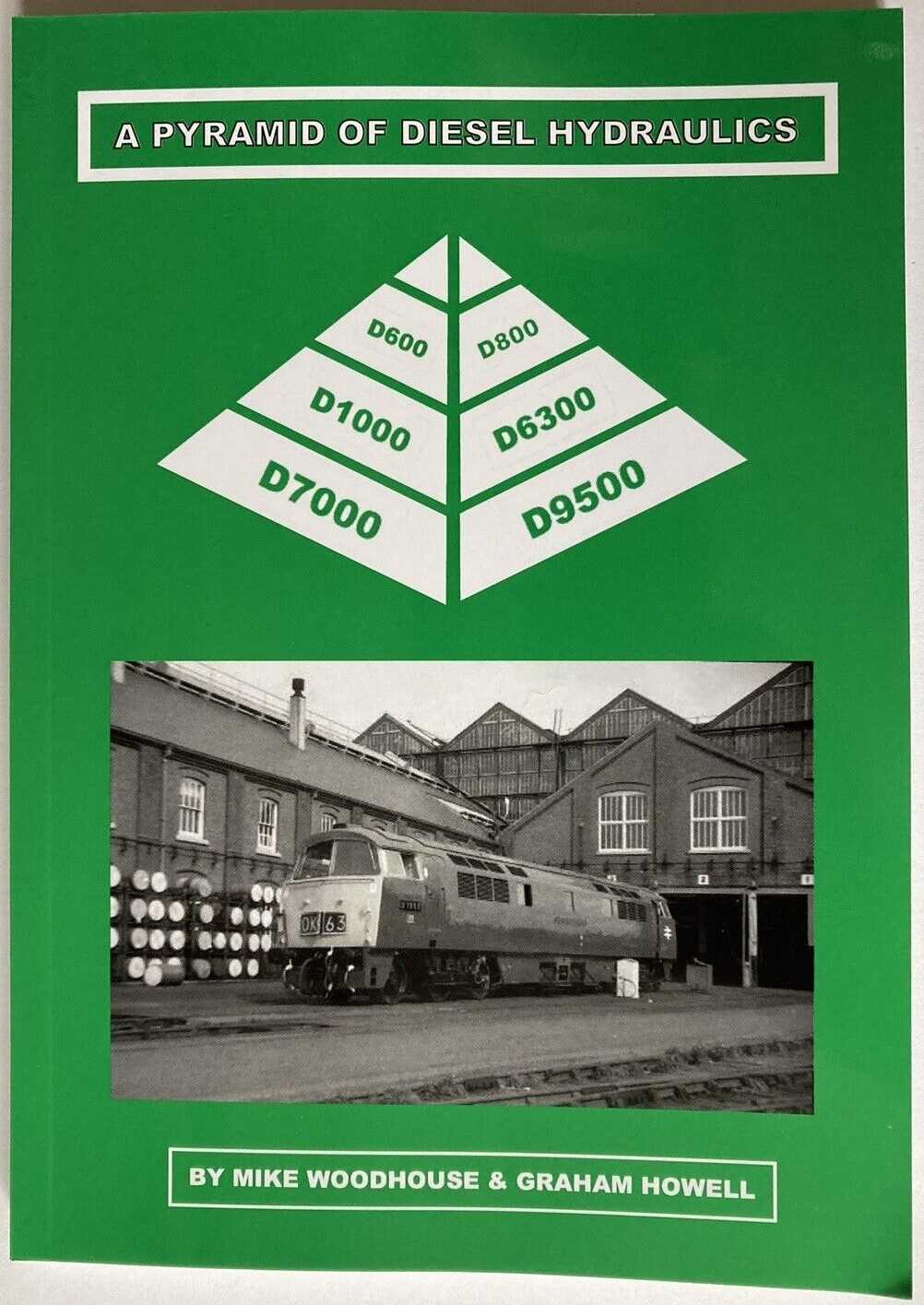 A Pyramid of Diesel Hydraulics
By Mike Woodhouse and Graham Howell
Published by Mike Woodhouse
ISBN:
Softback format, A5, 146 pages
Of the many books published about British Rail's foray into diesel-hydraulic traction over the years, very few have featured any account by staff involved in either the operation or maintenance of the fleet. This handily sized A5, 146-page softback by two ex-British Railways Engineering Limited apprentices, Mike Woodhouse and Graham Howell, sets out to redress this particular imbalance. The book tells the fascinating story from within British Rail from the planning of the diesel-hydraulic pyramid as part of the 1955 Modernisation Plan, to its final collapse in 1977. This story is presented chronologically in nineteen chapters:
1957, 1958, 1959, 1960 – Diaries of The Years
1960 The Odd Man Out – D830 'MAJESTIC'
1961, 1962 – Diaries of The Years
1962 – Ranelagh Bridge
1963, 1964, 1965 – Diaries of The Years
1965 – Swindon Works
1966, 1967 – Diaries of The Years
1968 – Double Trouble – D800s x Two
1977 – The Final Curtain
1977 – The Killing Fields of Swindon Works
1955-1965 – Dates into Traffic and Withdrawals
1977 – The Preservationists
The main focus of this fascinating and enjoyable account of the Western Regions affair with diesel-hydraulic traction is with the years 1957-1967, after which the 'pyramid' began to crumble with the removal from service of the D600 class and pilot scheme locomotive D6301. These years cover the period when this form of traction was at its peak and the rundown had yet to begin. Each year's account covers a large amount of information relating to the planning, ordering, building, maintenance and operation of all the diesel-hydraulic classes, all written in an easy-to-read style, complete with a set of fascinating previously unpublished monochrome photographs by the two authors and by Ted Reading. Each chapter is crammed full of interesting information about a form of traction that continues to fascinate to this day, more than 60 years since their inception.
Charting the ordering, building and entry into service, the two authors have undertaken some fine work in telling this story of how diesel-hydraulic traction came into existence on BR. The building and entry into service, liveries, early workings, allocations, early engineering issues, are all covered in strict date order, enabling the reader to chart for themselves what happened and when. The author's own reminiscences are particularly interesting, with perhaps Mike Woodhouse' tale of 2 x D800s on the down overnight service from Paddington to Penzance with D827 & D831 being my pick. This publication's greatest strength, however, is the detailed account of how Swindon Works operated in the diesel-hydraulic era. A quite brilliant account is given via a detailed description of what was repaired and how in that great engineering establishment, alas no longer with us. Especially poignant is the reference to some of the individuals involved and here amazingly a link with the DEPG can be discovered when reference is made to an individual who assisted with D7018 & D1010 whilst at the Great Western Society at Didcot, the late great Ernie Wiggins.
Very fondly remembered by many of those involved at Didcot, Ernie was described as a giant of a man at over 6 ft 3 inches with huge hands who occasionally worked as a nightclub bouncer in Swindon; he was of course, a highly professional engineer specialising in the testing of axles ultrasonically. Perhaps for the first time we now learn how all these complex locomotives were repaired at Swindon. It is a really marvellous account, and the book is worth purchasing for this section alone. One particularly interesting revelation is the fact that D802 was going to be fitted with polished raised stainless-steel numerals, but alas problems fixing them to the bodyside precluded this. The head foreman John Sandford managed to salvage the letter 'D' and two number '0's which thankfully remain safe.
From the Group's perspective, all of the locomotives feature, D7017 and D7018 were noted as entering traffic on 8th and 18th January 1962 and most interestingly the newly built 'Hymeks' were noted on the 1125 Taunton-Minehead and 1323 return, one of these being D7017. Both were initially allocated to 82A Bristol Bath Road. Class 52 D1010 'WESTERN CAMPAIGNER' entered traffic on 15th October 1962. D7018 was noted on a Cardiff-Leeds service as far as Gloucester in October 1962. The 26th September 1964 saw construction with D9518 and D9526 reach the point where their power units had been fitted. October 1964 saw D9518 enter traffic, January 1965 saw D9526 similarly enter traffic.
With the main focus being on the conception, building and the peak operational years, it is perhaps understandable that less focus is given to the years where the diesel-hydraulic fleet declines. This is briefly covered in the chapter describing 1967 with the demise of the class 14s and their abortive work on the Eastern Region together with the demise of classes 22, 35, 42 and 43. The chapter 'The Final Curtain' illustrated by some interesting though sad images of D600 and D601 at Barry Scrapyard, and the chapter on 'The Killing Fields' has again some interesting though similarly sad images of locomotives awaiting cutting up at 'The Works'. This is followed by a useful listing of all the builders lots for all the WR diesel-hydraulics together with their dates to and from traffic.
The book ends with a brief summary and listing of all the fortunate locomotives that survived into preservation. The summary, alas, fails to acknowledge the preservation of any 'Hymek' after mentioning the preservation of 'Warship' D821. It then refers to the WLA's successful purchases and restorations, completely bypassing the successful preservation of D7017, D7018 & D7029 (plus the much later rescue of D7076) but happily it does acknowledge the effort of all preservationists who have saved classes 14, 35, 42 & 52. Sadly, errors in relation to the preserved locomotive owners occur; I am sure that the Diesel Traction Group would be surprised to know that they also own D1010, D7017 & D7018 as indeed the Group would. Preserved Class 14s locations and owners for nos. D9500, D9525 and D9553 are also incorrect. Unfortunate as they are, these are minor details and do not detract from the book.
Overall, 'A Pyramid of Diesel Hydraulics' is a fine book recommended to all students of heritage traction on British Rail. It will appeal to not just those interested in the fascinating tale of the Western Region diesel-hydraulic locomotives, but to those interested in heritage traction in general. The co-authors are to be congratulated on producing a fine study of a subject which remains of great interest despite their withdrawal from main line service nearly 50 years ago.
In concluding this review, I have to mention that both co-authors, being ex-Swindon apprentices and railway engineers, have made major contributions to the well-being of several preserved diesel-hydraulics post BR, for which we should all be very grateful.
A book I would recommend to all, without hesitation.
Many thanks to Neale Long for providing us with this detailed book review.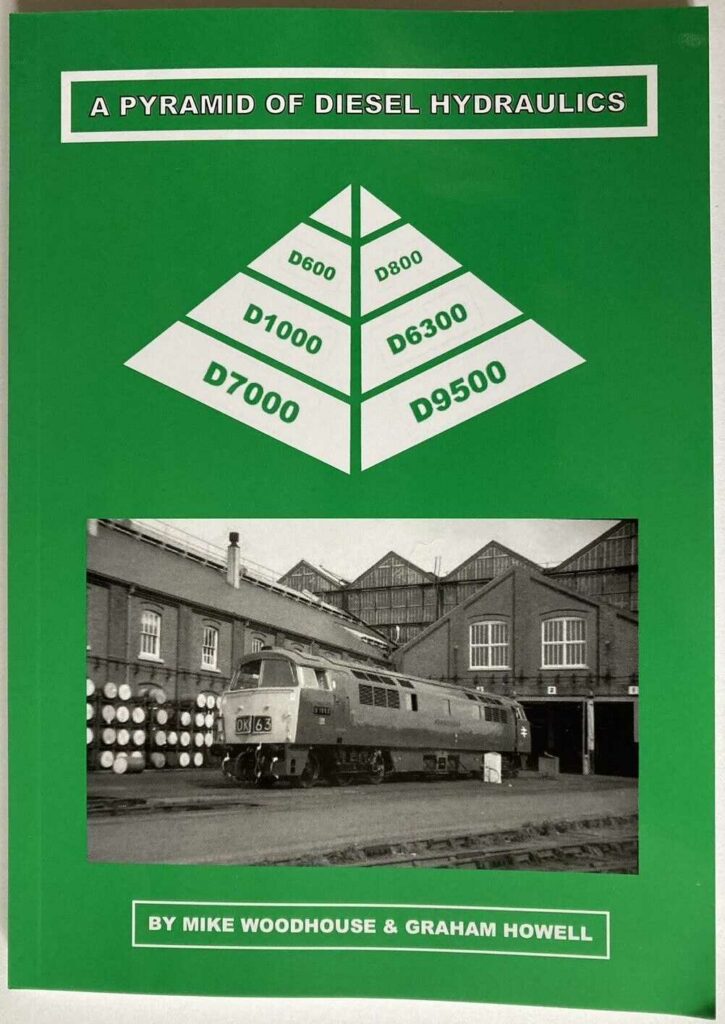 Book – A Pyramid of Diesel Hydraulics
New Book – A Pyramid of Diesel Hydraulics – by Mike Woodhouse and Graham Howell
Proceeds go to the the General Loco fund.
Click here to go to the BOOK REVIEW that has been kindly provided by DEPG member Neale Long.