An unexpected bonus this weekend was the substitution of Class 33 'Crompton' D6566 (33 048) on the 1230 Bishops Lydeard to Minehead and return steam-hauled service when ex-GWR 2-6-2T 'Large Prairie' 5199 was removed from the train at Williton due to a steam leak. The train was delayed to await the arrival of the 'Crompton' from Bishops Lydeard, crewed by WSR Chief Traction Inspector Merv Hebditch and DEPG secondman Tom Courtney. At Williton, DEPG volunteer and driver John Cooke climbed on board so that he could renew his driver 'ticket' under the watchful eye of the Chief Traction Inspector.
Here's a short video of the train departing from Williton with John at the controls:
DEPG Class 33 'Crompton' D6566 (33 048) took over the 1230 Bishops Lydeard to Minehead and return service at Williton on Saturday 9th April 2022 and was captured on video by Andy Royal © CC BY-NC 3.0
VERY IMPORTANT DATES FOR YOUR DIARY – the WSR's 2022 DIESEL GALA will take place from Thursday 9th through Saturday 11th June 2022, so keep these dates free and make a plan to attend ! Click this link to the WSR website to view the dates for other WSR events that are planned for 2022. We will be opening our depot to the public on these special event days.
LOCO NEWS:
Class 52 D1010 'WESTERN CAMPAIGNER' – our CAMPAIGN for CAMPAIGNER has now built up quite a list of sponsors and we will need to have a major session of engraving and photographing to get everyone's names on to the loco. Click on the images below for an update of fundraising status: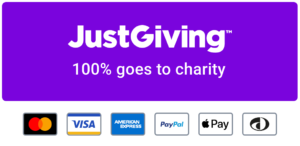 With a very reduced team on D1010 this weekend, attention was shifted to the Voith L630rV hydraulic transmission from 'B' end of the locomotive that seized up during the 2018 Diesel Gala. The turbine rail assembly (the core of the transmission) has now been separated to allow the cause of the failure to be determined, and as expected, a bearing had broken up, resulting in the shaft becoming jammed.
The following photos show some of the key parts being unpacked and prepared for inspection and measurement. The vast majority of parts appear to be damage-free, although the debris from the failed bearing is likely to have contaminated the oil and caused damage to other bearings, each of which will need to be carefully inspected and most probably replaced.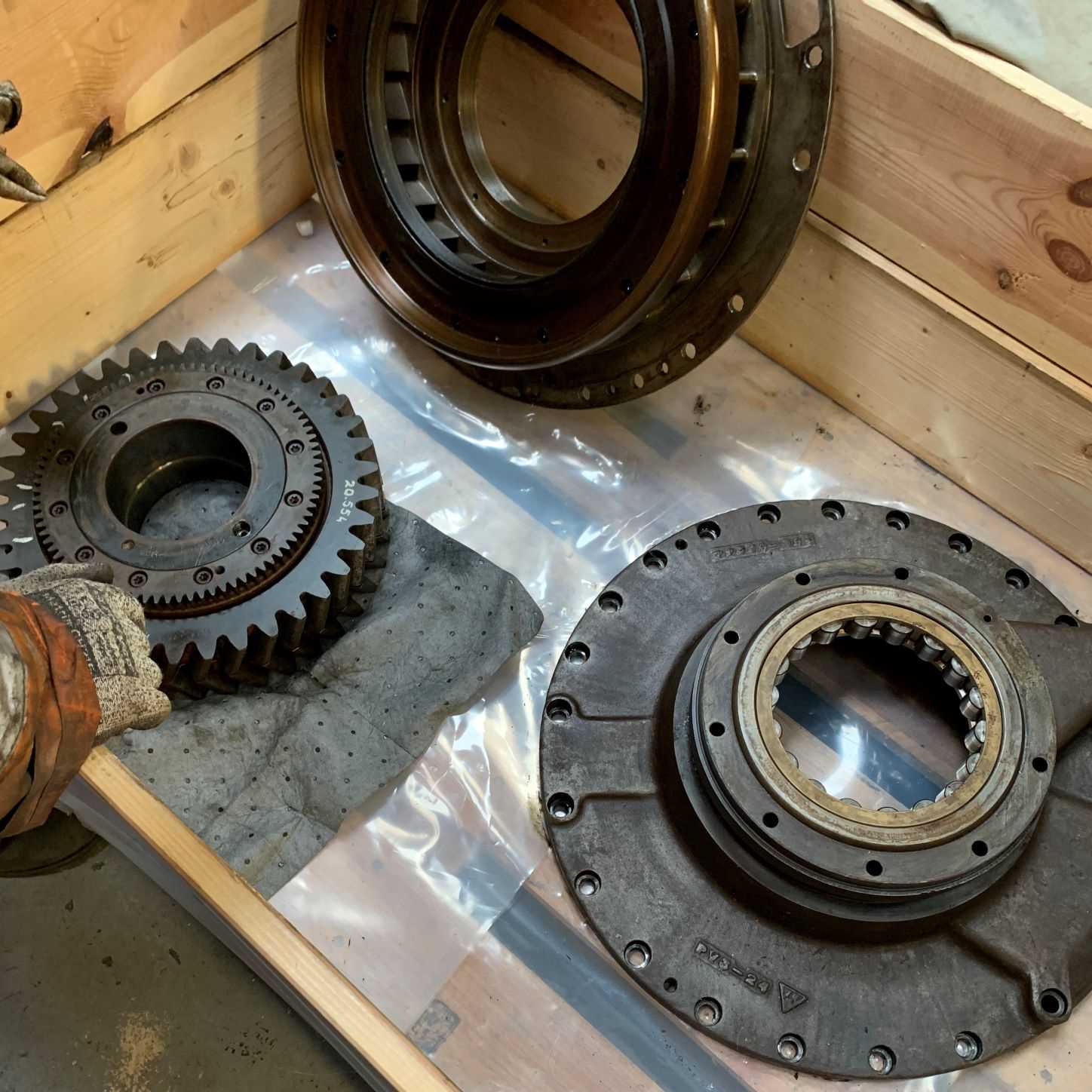 D1010 – the transmission from 'B' end has been stripped down so that the individual components can be inspected and measured. Most parts appear to be OK although some of the bearings and seals will need to be replaced. Pictured at Williton on 9th April 2022 by Andy Royal © CC BY-NC 3.0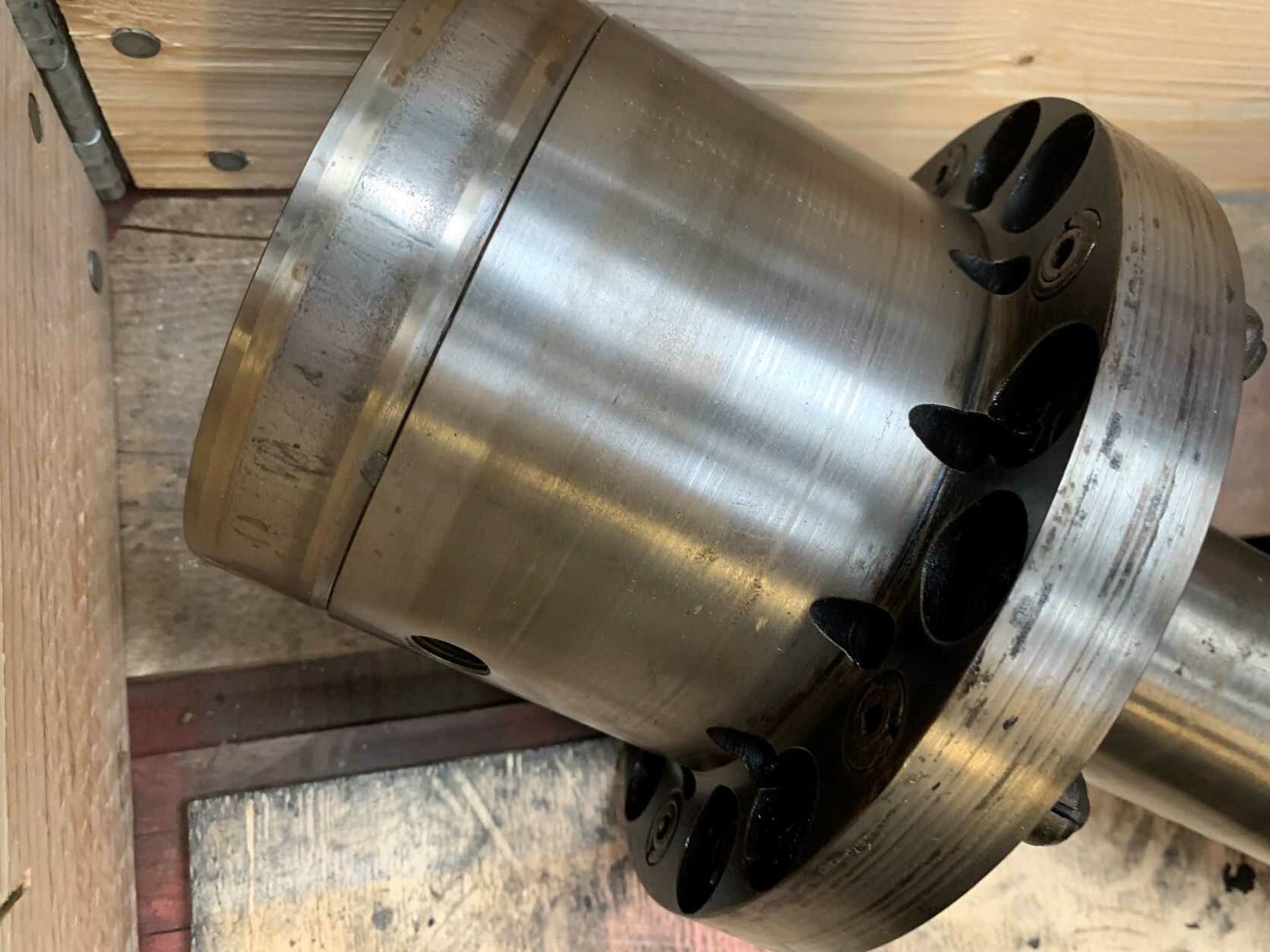 D1010 – the support bearing surface at the very end of the shaft is showing evidence of damage and will need to be replaced. These bearings are standard parts and are readily available. Pictured at Williton on 9th April 2022 by Andy Royal © CC BY-NC 3.0
Two of the complex parts that have become damaged by the bearing collapse are the impeller and runner of the second stage turbine, and these parts will need to be repaired very carefully using specialist techniques, or replaced if spare parts can be obtained. As soon as the inspection has been completed, the options for repair will be investigated and a repair plan defined.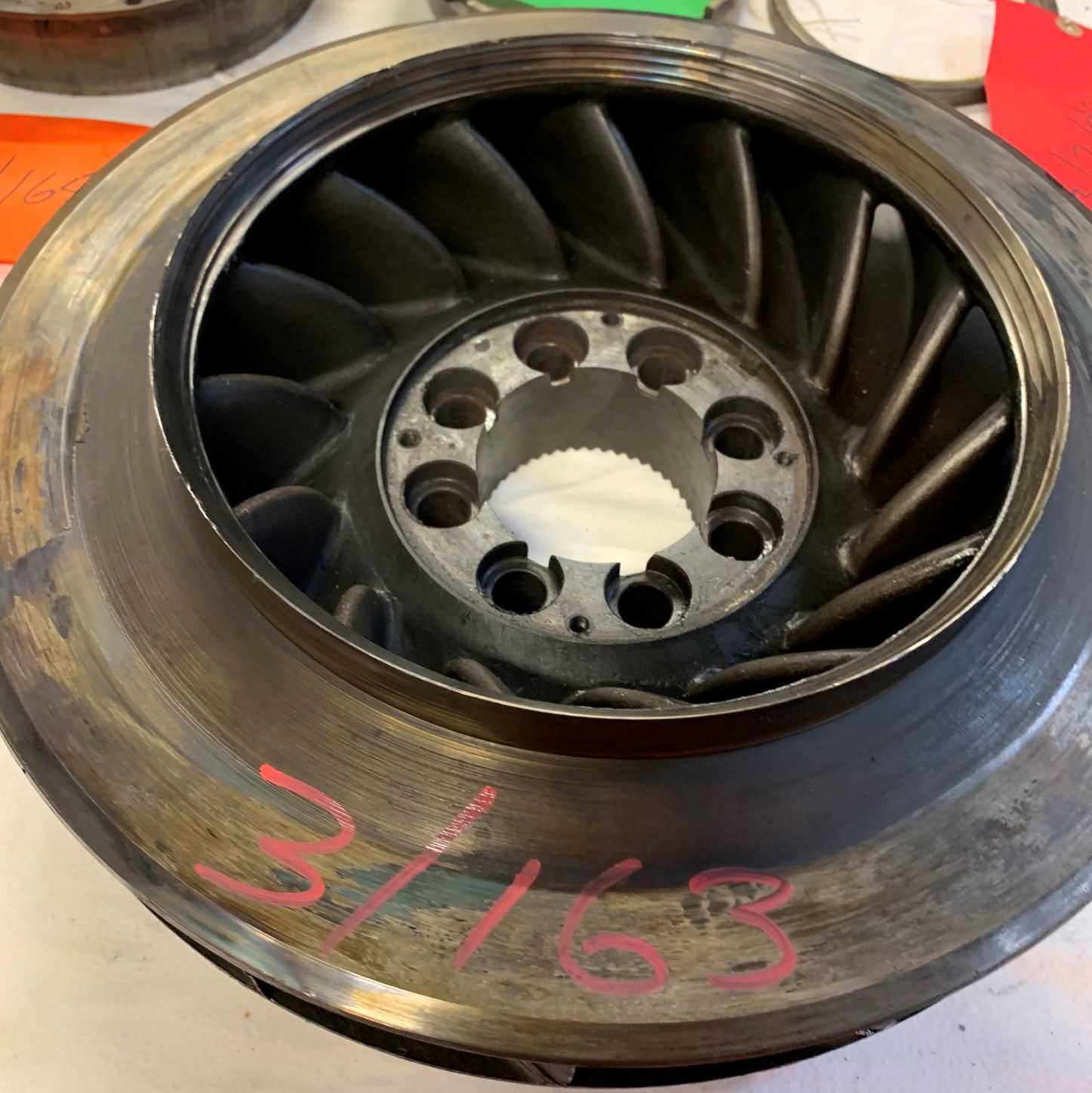 D1010 – the impeller (the part that is driven by the engine) of the second converter stage has suffered from coming into contact with other parts while rotating, and shows evidence of multiple damages sites and overheating. The damage should be repairable using modern techniques, but in the very worst case, this component may need to be replaced. Pictured at Williton on 9th April 2022 by Andy Royal © CC BY-NC 3.0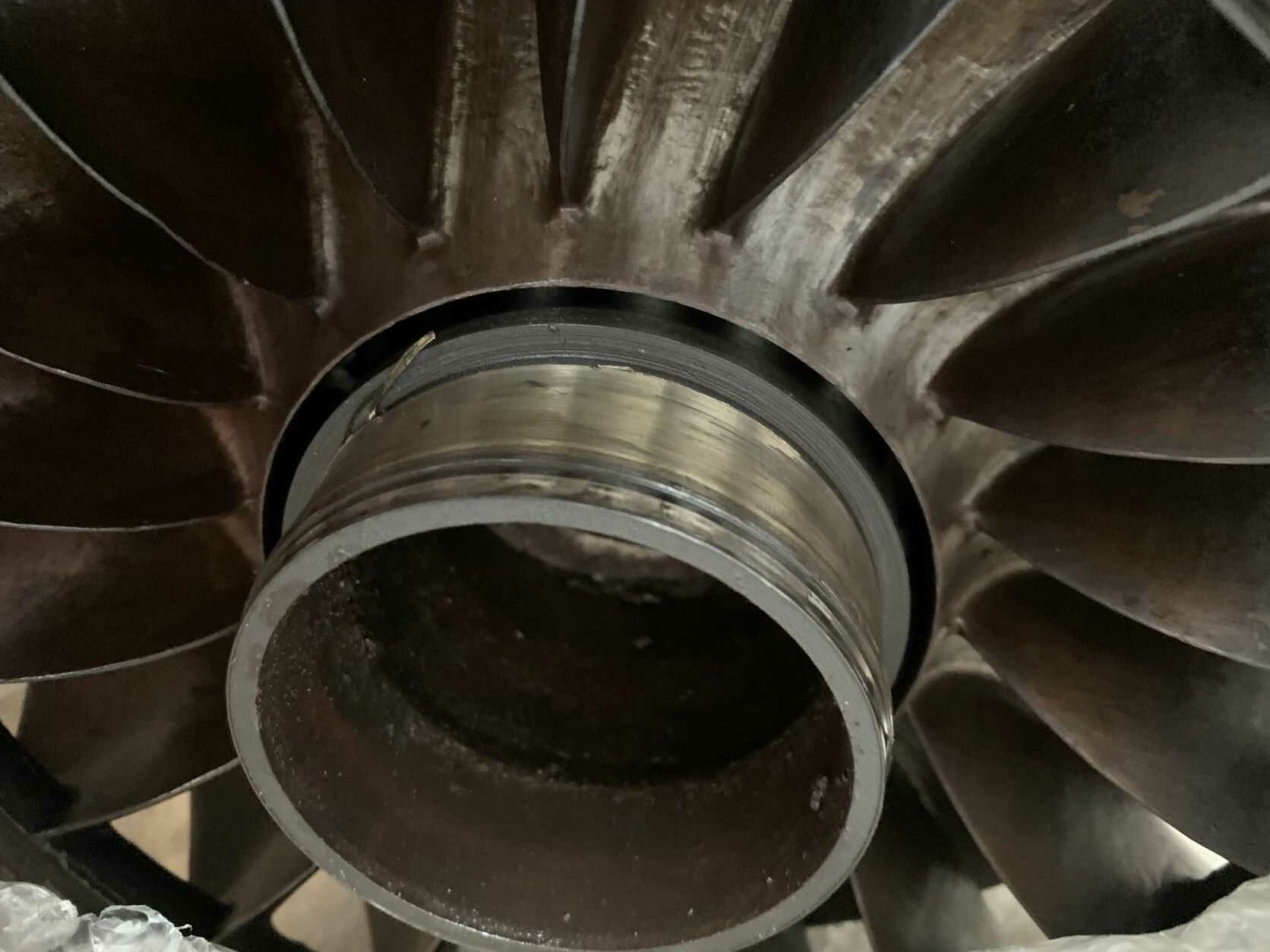 D1010 – the turbine runner (the part that is driven by the hydraulic fluid) of the second stage is generally undamaged, but the hub that forms the seal between the 'drive' and 'driven' elements has suffered. The hub is a separate part, so this repair is not expected to be a major issue. Pictured at Williton on 9th April 2022 by Andy Royal © CC BY-NC 3.0
The complete range of options for the repair or replacement of the damaged parts is being investigated so that the cost and timescale factors can be balanced. The loco is limited to heritage railway speeds so the first converter stage will be doing all of the work as previously, but the rest of the system needs to be intact and reliable to ensure that this repair will stand the test of time.
Meanwhile, work proceeds elsewhere on the loco and the plan is to move the loco from its current position on No. 3 road in the shed at Williton to No. 2 road, thereby swapping places with D9518 so that the Class 14 can get easy access to the 10-ton crane. The move will also allow welding repairs to continue on D1010 at 'A' end. Weather permitting, this move should take place on Saturday 16th April.
To support the work that is progressing in multiple areas on D1010, we launched our CAMPAIGN for CAMPAIGNER by offering 'SPONSOR A PATCH' where you can donate in support of the bodywork repairs that are taking place on D1010 'WESTERN CAMPAIGNER' and HAVE YOUR NAME ENGRAVED ON THE SPONSORED PATCH or PART.
For the sum of £25, this scheme offers you a chance to sponsor the restoration of this much-loved locomotive, with your personal contribution being recorded and documented on a set of drawings that will be made available at our Williton depot on running days and open days. For those who prefer to remain anonymous, a unique reference number will be allocated and engraved instead.
See our CAMPAIGN for CAMPAIGNER web page for more details !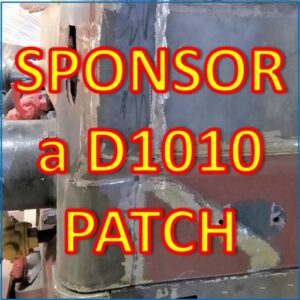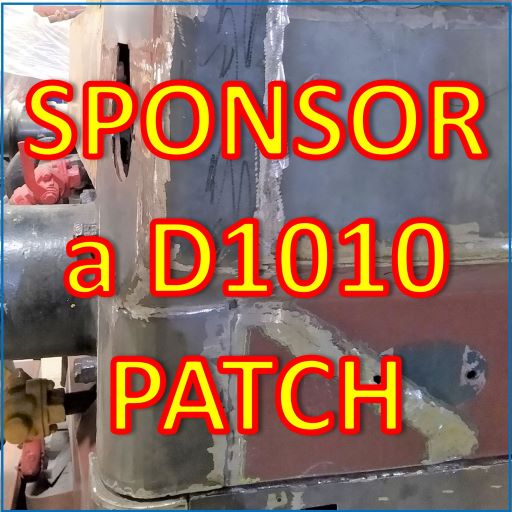 NOTE: EVERYONE WHO HAS ALREADY DONATED £25 OR MORE SINCE JULY 2021 WILL BE RECOGNISED and will be allocated an appropriate area on one of the patches or parts that have already been applied to the loco. Donations of smaller sums that accumulate to £25 are also eligible, so donate what you can when you can, and we will keep track of your total donations. Use our CONTACT FORM if you want to register your previous donations to D1010 for this campaign.
Class 33 D6566 (33 048) – this loco is currently based at Bishops Lydeard and was called into action on Saturday 9th April 2022 to take over from the service steam loco, as covered earlier. Immediately upon finding that the 'Crompton' was needed, DEPG volunteer Tom Courtney headed for Bishops Lydeard for secondman duties, to minimse the delay to the public service. The reduced turnaround time required by the diesel at Minehead allowed a significant part of the timetable delay to be recovered. Here's a photo that Tom took after returning to Bishops Lydeard: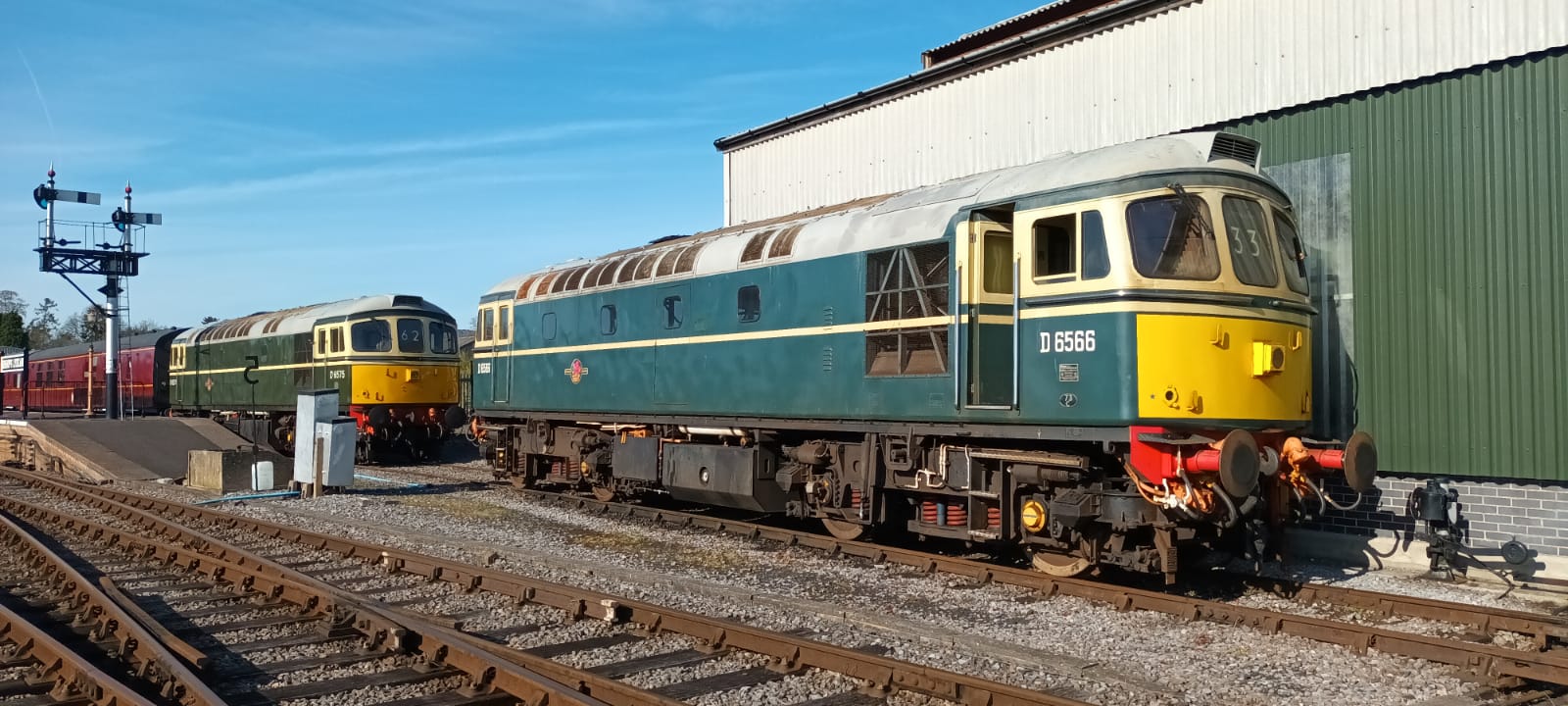 A pair of Class 33 'Cromptons' pictured at Bishops Lydeard on Saturday 9th April 2022. D6575 (33 057) is on the left, in the bay platform along with the stock of the 'Quantock Belle' dining train, while the hero of the day, D6566 (33 048) stands alongside Westridge steam shed. Photo by Tom Courtney © CC BY-NC 3.0
Class 33 D6575 (33 057) – this loco is the WSR duty loco and is currently based at Bishops Lydeard, although sister D6566 (33 048) was used in preference on Saturday 9th April 2022 because of her more convenient position.
Class 35 'Hymek' D7017 – after an intensive period of work by a small team, this loco is now back on her wheels inside the WSR Restorations 'Swindon Shed' at Williton after having all 32 of the coil springs replaced in her primary suspension system plus two of the elliptical secondary suspension springs replaced in her 'A' bogie. The remaining work is the refitting of the bogie connections so that she can safely return to the South Yard at Williton. A 5-day work session has been set up, starting on Wednesday 13th April, to get this work completed. Congratulations to all who were involved in getting this done and many thanks to the team at WSR Restorations for the use of their excellent facilities and for their invaluable help!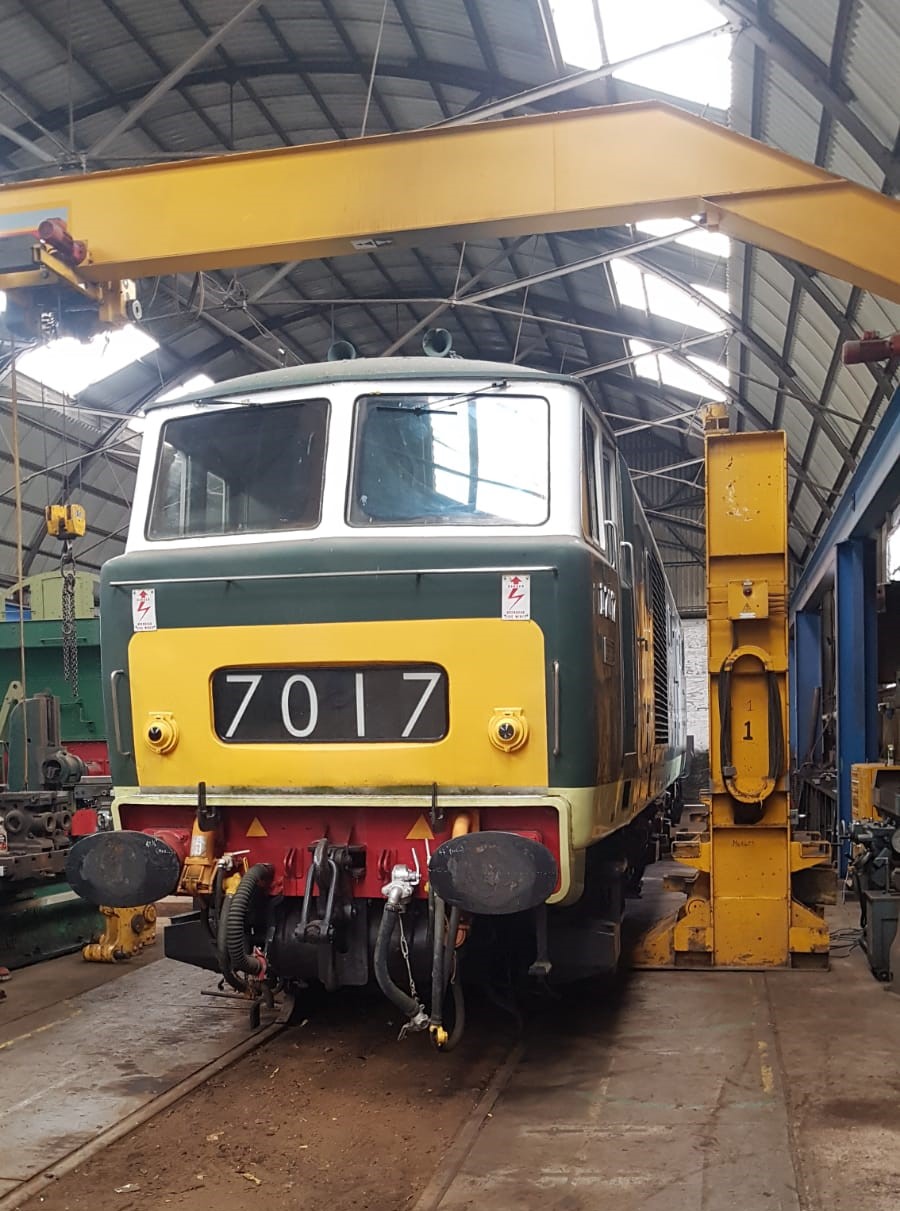 Class 35 'Hymek' D7017 was lowered back onto her bogies at the WSR Restorations 'Swindon Shed' on Monday 4th April 2022 after having all 32 coil springs on both bogies and both elliptical springs on Bogie 'A' replaced. Congratulations to all involved with this intensive effort. The photo shows that the jacks are fully retracted and the lifting brackets have been removed from the loco. Photo taken on Tuesday 5th April 2022 by Martin Howard © CC BY-NC 3.0
Class 35 'Hymek' D7018 – no change this week.
Class 14 'Teddy Bear' D9518 – there continues to be excellent progress on this loco, the next major milestone being the re-installation of the Voith L217 hydraulic transmission, which is scheduled to take place after the loco moves to No. 3 road at Williton, to allow access to the 10-ton crane. Meanwhile, preparations are continuing as shown in the following photographs: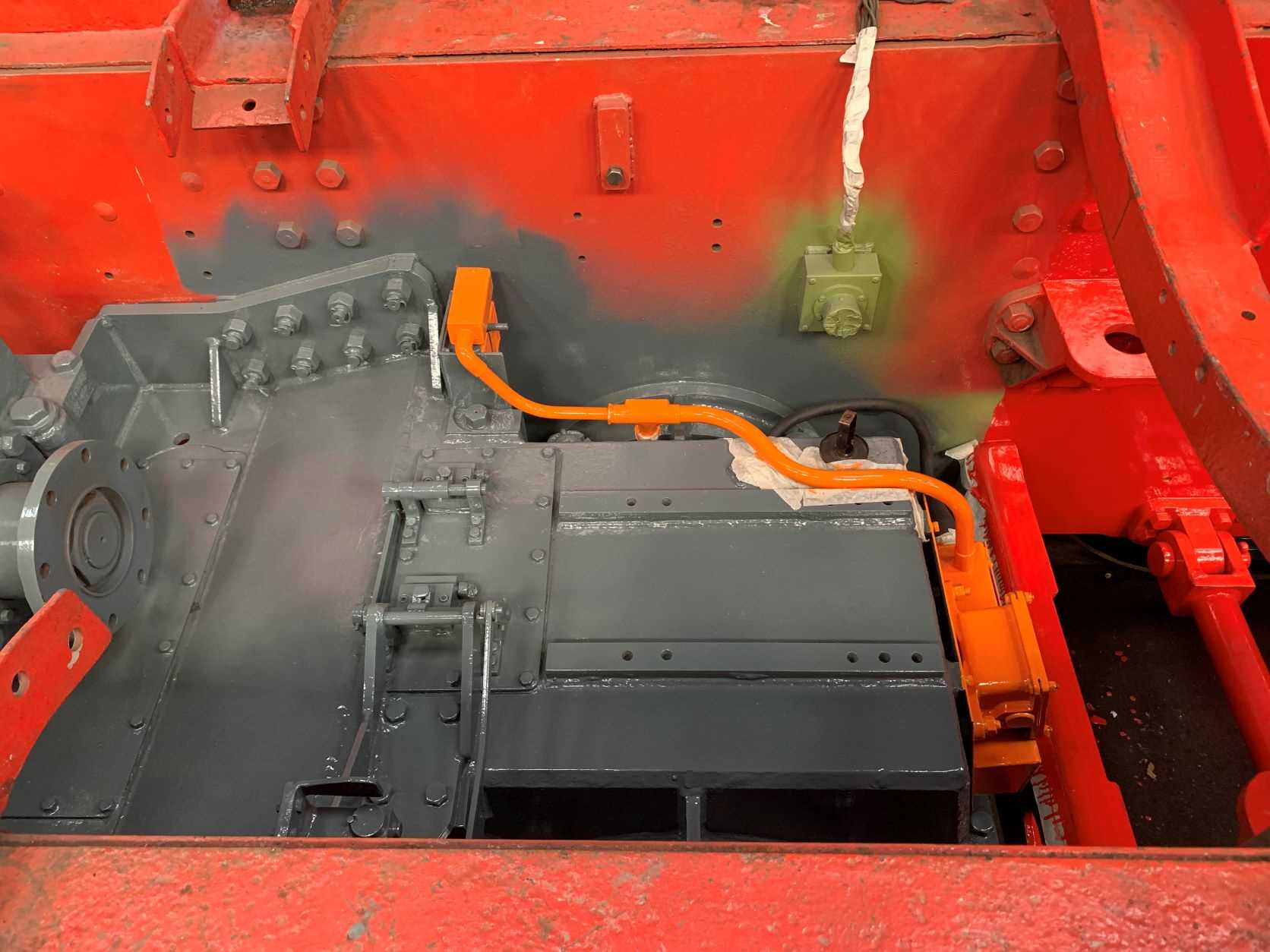 D9518 – the Hunslet final drive gearbox received another coat of paint at Williton on Saturday 9th April 2022 while the electrical conduits and equipment went into their designated 'orange' colour. Photo by Andy Royal © CC BY-NC 3.0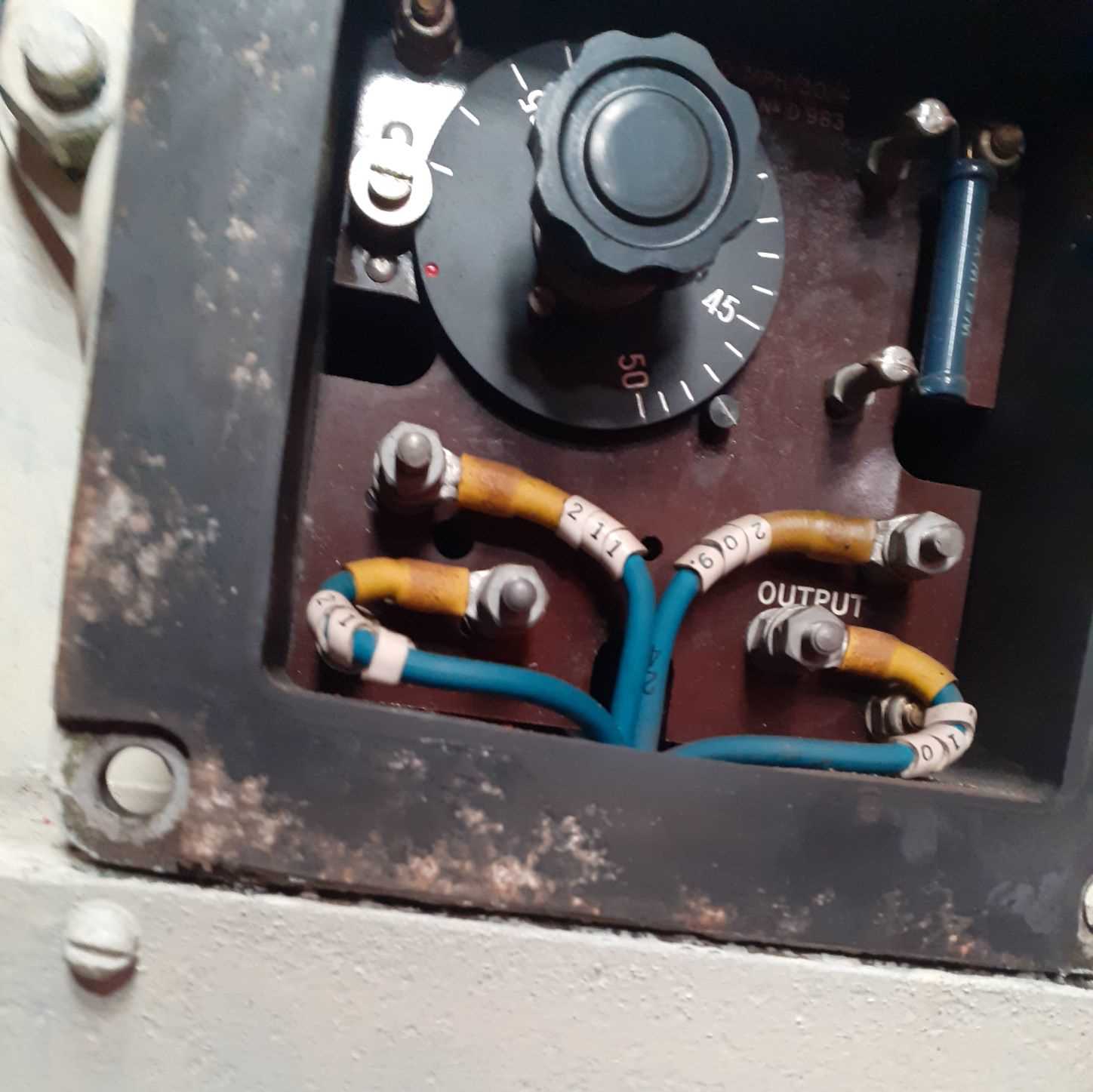 D9518 – the wheel diameter compensation device was set to '47' to correspond with the measured diameter of the newly-turned wheels (47.33 inches, therefore 1.203m) at Williton on Saturday 9th April 2022. This device ensures that the speed sensor remains accurate. It only needs to be altered after wheel turning – which is just as well, because it is almost impossible to access after the transmission has been re-installed. Photo by Simon Purvis © CC BY-NC 3.0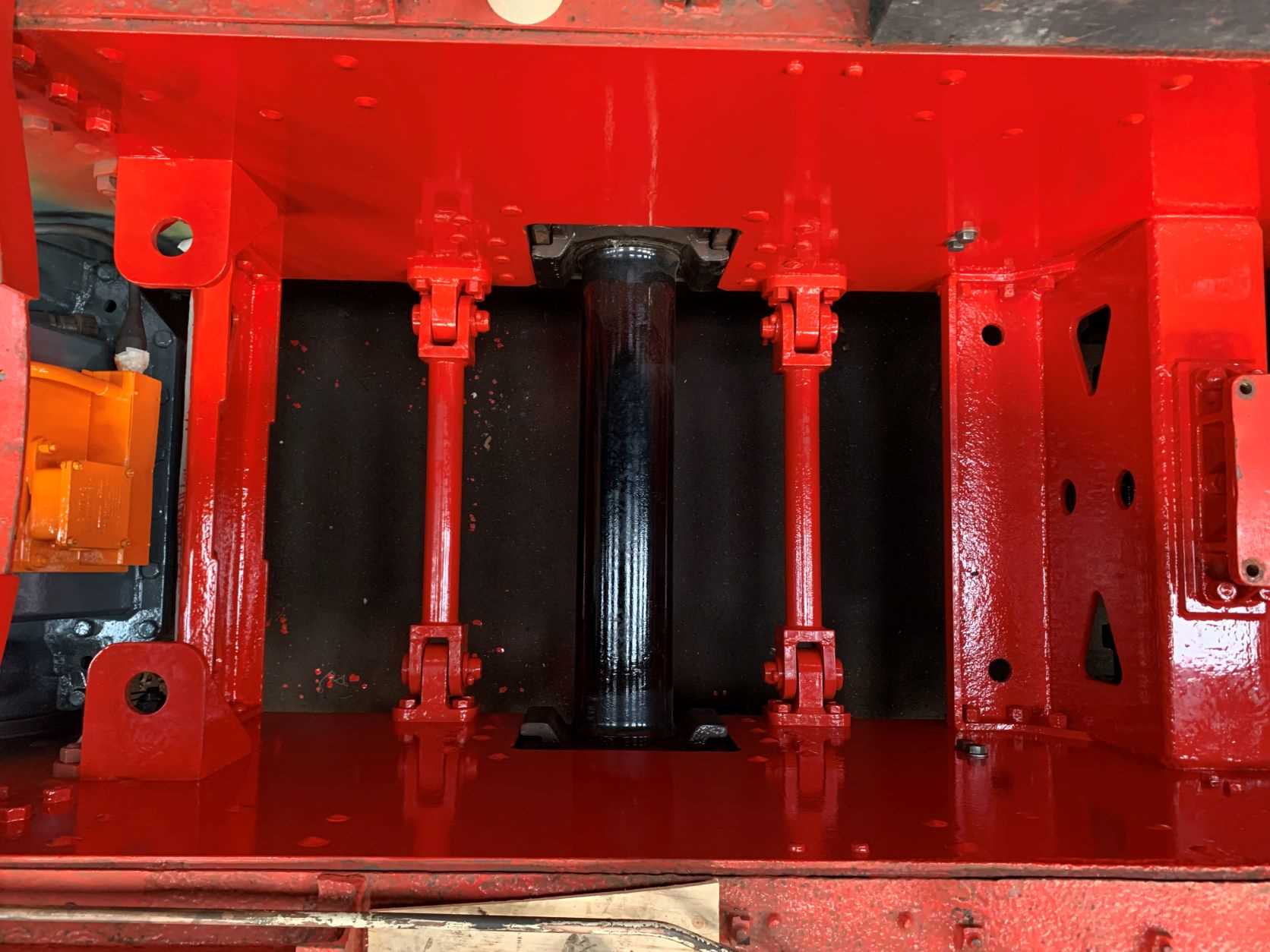 D9518 – the space between the frames has been readied for the re-installation of the Voith L217 hydraulic transmission. This is another milestone in the restoration programme, so well done team D9518 ! Photo by Andy Royal © CC BY-NC 3.0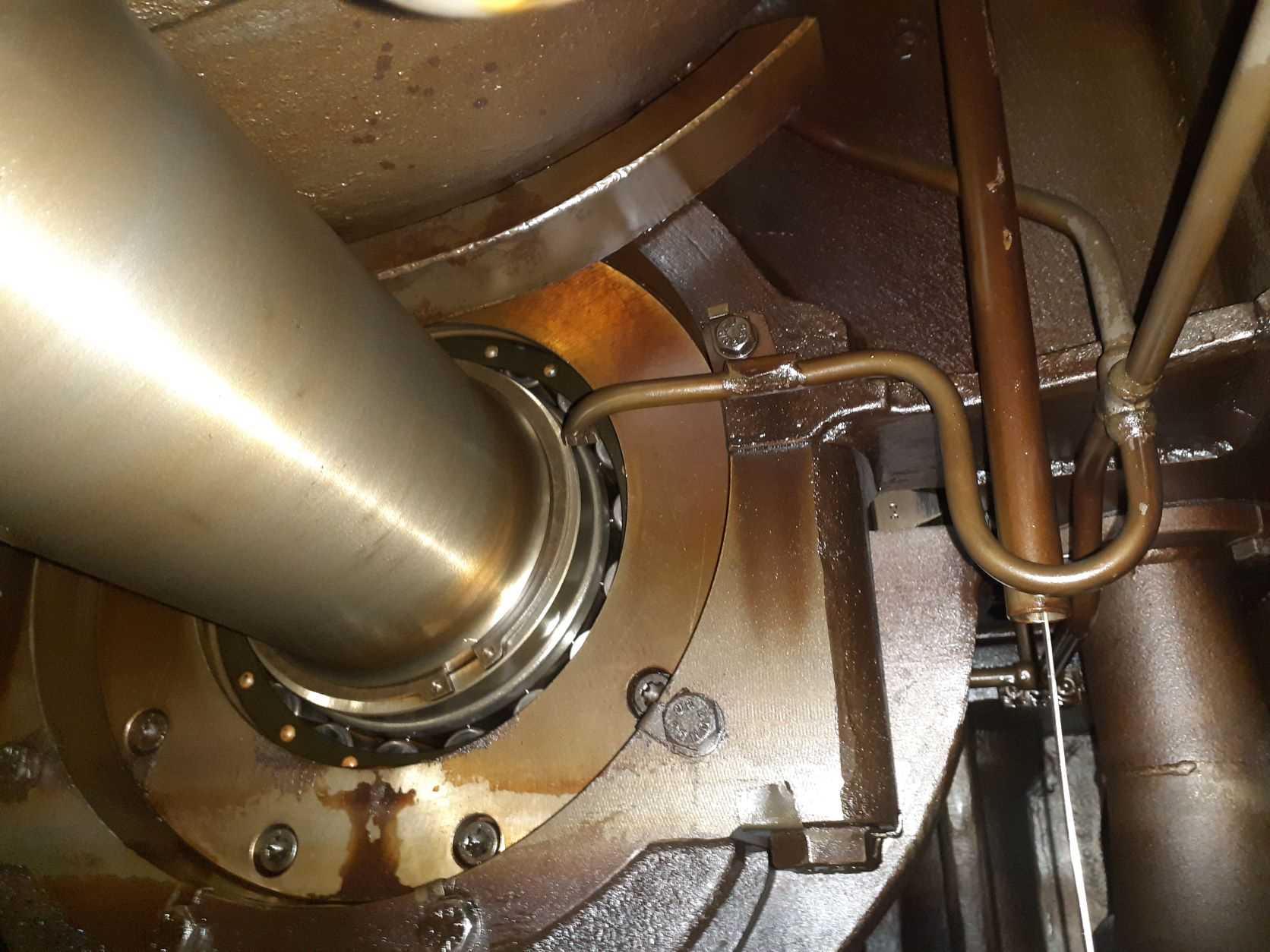 D9518 – this view of the interior of the Voith L217 hydraulic transmission at Williton on Saturday 9th April 2022 shows the output shaft supported by a roller bearing. The lubrication oil delivery pipe can also be seen on the right hand side of the bearing. Photo by Simon Purvis © CC BY-NC 3.0
This loco is the subject of a fundraising appeal so please follow this link to find out more. We need your help ! In addition to funds, we also need plenty of HANDS. If you love the 'Teddy Bears' and you are not already a member of the DEPG, please join us so that you can become one of the team that is going to return D9518 to full operational condition as 'NCB No. 7'.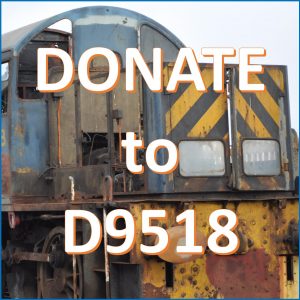 Class 14 'Teddy Bear' D9526 – this loco continues to be in regular use on the Kent & East Sussex Railway. By agreement between the DEPG and the K&ESR, this loco will now be staying at the K&ESR for the rest of this year to cover for sister loco D9504 which is undergoing a heavy overhaul.
Class 47 47077 'NORTH STAR' – this loco is currently stabled at Pickering on the North Yorkshire Moors Railway, awaiting re-opening of the line so that she can move to Grosmont to enter the loco works for completion of some overhaul tasks. The loco is expected to be readied for entering service in the summer of this year.
Andrew Barclay 0-4-0DH 578 – another photo of the loco from her early days on the WSR after arrival from ROF Bridgwater, this time from the excellent photographic archives of wsr.org.uk. These images will help us complete the repaint in the most authentic way, but we need more photos of the details to make sure that we get everything right, so if you remember seeing this loco in service, please send us your photos. Thanks !
Andrew Barclay 578 (ROF 1) was pictured at Minehead in August 1994, shortly after arrival on the WSR from ROF Bridgwater. Please contact us if you have photos of this locomotive during the period 1972 through 1994. Photo by Steve Edge © CC BY-NC 3.0
If you can help by donating your time, then please JOIN US and come along to the depot for an introduction to what we do and how we do it. We currently have people on site from Saturday through to Tuesday and we can open on other days if we can be sure of getting at least two volunteers on site at all times, so there is plenty of scope. We have tasks of all types to suit most capabilities, both skilled and unskilled.
Many thanks to all of our volunteers who give up so much of their time to work on the cleaning, painting, maintaining, restoring, managing and fund raising for our fleet of heritage locomotives !