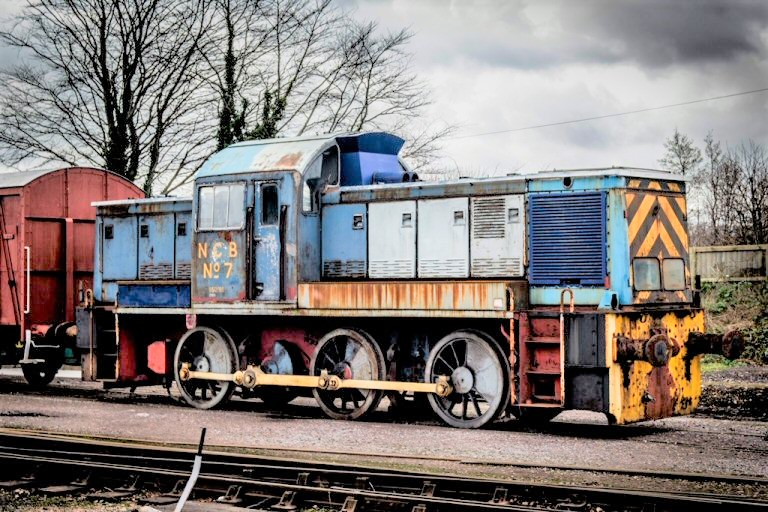 Current Status: Non-Operational – undergoing Heavy Overhaul
Click here for details of the restoration project
D9518 was one of 56 locos in this class built by BR at Swindon Works in 1964-5. Intended for pick-up and branch line freights, they were made redundant almost immediately by the closure of many secondary lines in the mid to late 1960's. Almost the entire fleet was sold for use in industry, with 23 going to Stewarts and Lloyds huge iron ore mines railway system around Corby and 19 going to the NCB's North East Area.
D9518 was one of those that went to the NCB at Ashington Colliery in Northumberland and worked there until 1986. When withdrawn due to severe wear and in a dilapidated condition, the loco moved to the Rutland Railway Museum where she was tidied up and became a static exhibit before moving to undercover storage at the Nene Valley Railway in 2006, after being robbed of parts to help restore sister locomotive D9555.
The loco was acquired by the DEPG and moved to Williton in 2011 and a complete stripdown has reduced the locomotive to a collection of parts, all of which are gradually being refurbished or renewed. Being a long-term project, there is no date set for a return to service, but it could be within five years from now, subject to funding.
Technical Specification
Engine: Paxman 6YJXL V6 turbocharged 26-litre high speed diesel
Transmission: Voith L217u 3-speed hydraulic
Weight: 48 Tons
Length: 34 ft
Output: 650 hp at 1500 rpm
BR Power Rating: Type 1
Speed: 40 mph
Fuel Capacity: 300 gallons
Wheels: 0-6-0
History
Manufacturer: BR Swindon
BR Class: 14
Introduced: 1964
Number Built: 56
Role: Branch line & shunting duties
Read about sister locomotive D9526
Go to the Locomotive Status page