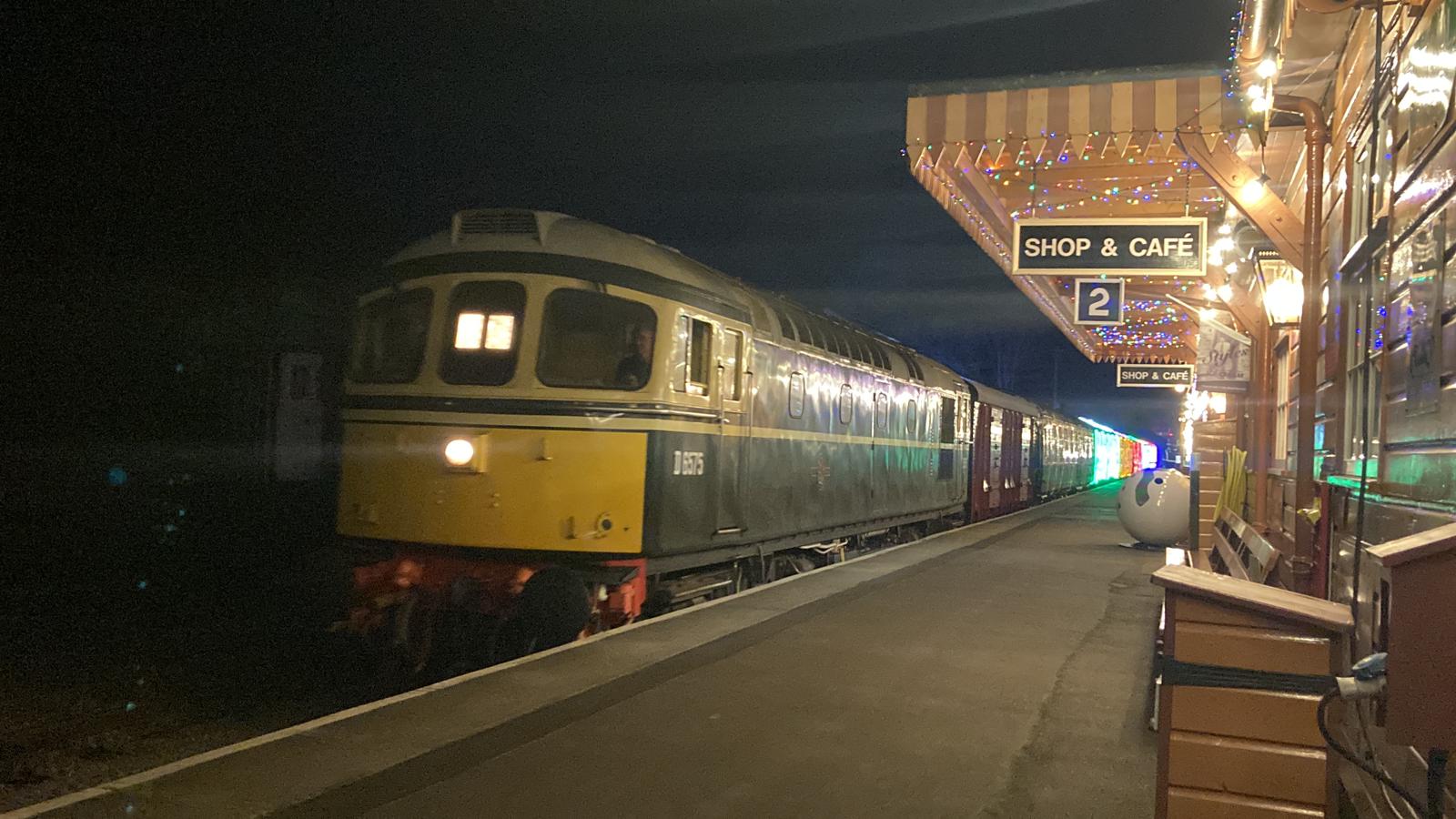 Class 33 'Crompton' D6575 (33 057) returns the 19:00 'WINTERLIGHTS' train to Bishops Lydeard on Friday 18th November, the first night of the 2022 season. Photo by Josh Brinsford © CC BY-NC 3.0
LOCO NEWS:
Class 52 D1010 'WESTERN CAMPAIGNER' – another milestone was reached as we transitioned from 'disassembly mode' to 'reassembly mode' on the 'B' end transmission, with the input shaft being reassembled with new bearings and being prepared for re-fitting into the housings. This paves the way for the first stage torque converter to be reassembled around the shaft, while allowing us to build up our knowledge and improve our build techniques in preparation for the challenging reassembly stages to come. Well done to Colin F and his team members Geoff and Tim for this achievement, and to Paul K and Andy V for their invaluable help in getting us to this level. Great progress, thank you all !!!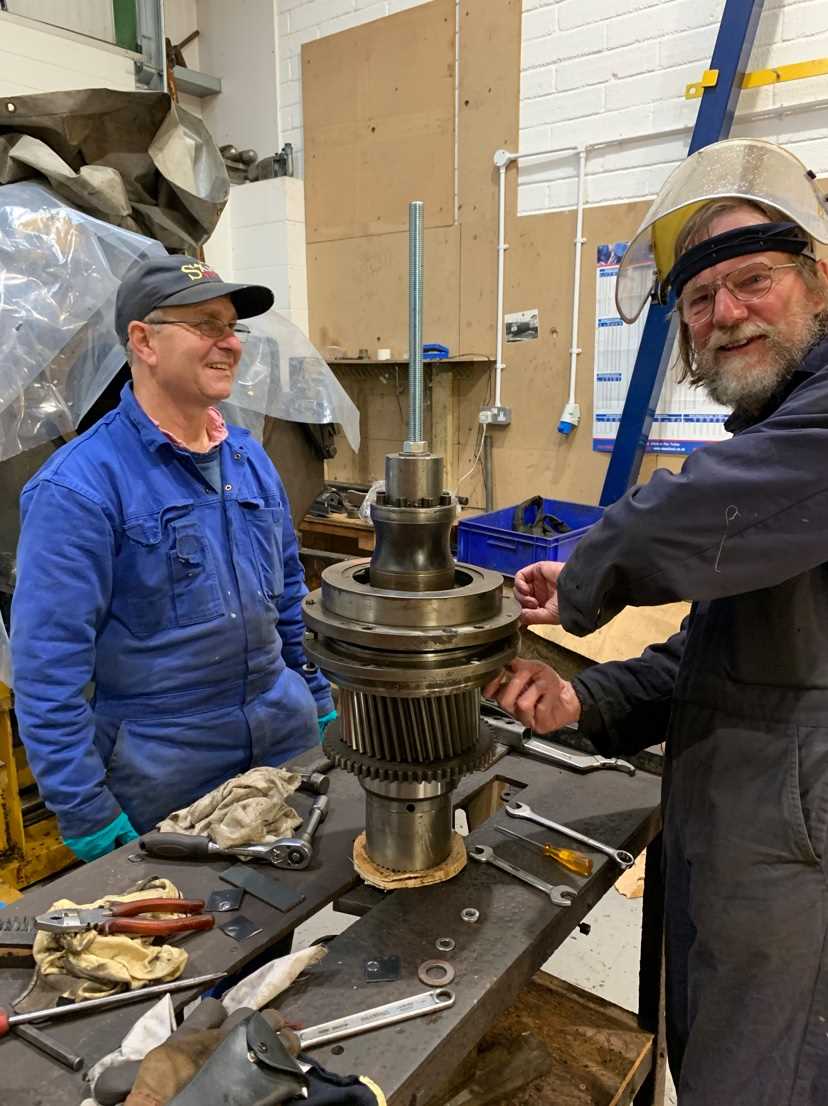 D1010 – a milestone moment as new bearings are fitted around the input shaft by Tim (L) and Colin F (R) at Williton on Tuesday 15th November 2022 after ensuring that the oilway drillings were clear of debris and fully functional. The next step will be to fit this shaft assembly into the housing and then build the first stage torque converter around it. Photo by Andy Royal © CC BY-NC 3.0
On Saturday 19th November, Gordon and Leroy refitted the headcode blind boxes to the doors at the 'A' end of the locomotive, and set them to an appropriate headcode, one that was carried by the loco from 1975 to the end of her days in BR service. At the other end of the loco, Andy R was working on reinstating the wiring that had been disconnected when welding repairs were carried out underneath the cab floor, and Chris painted two more of the battery compartments, so good progress all round !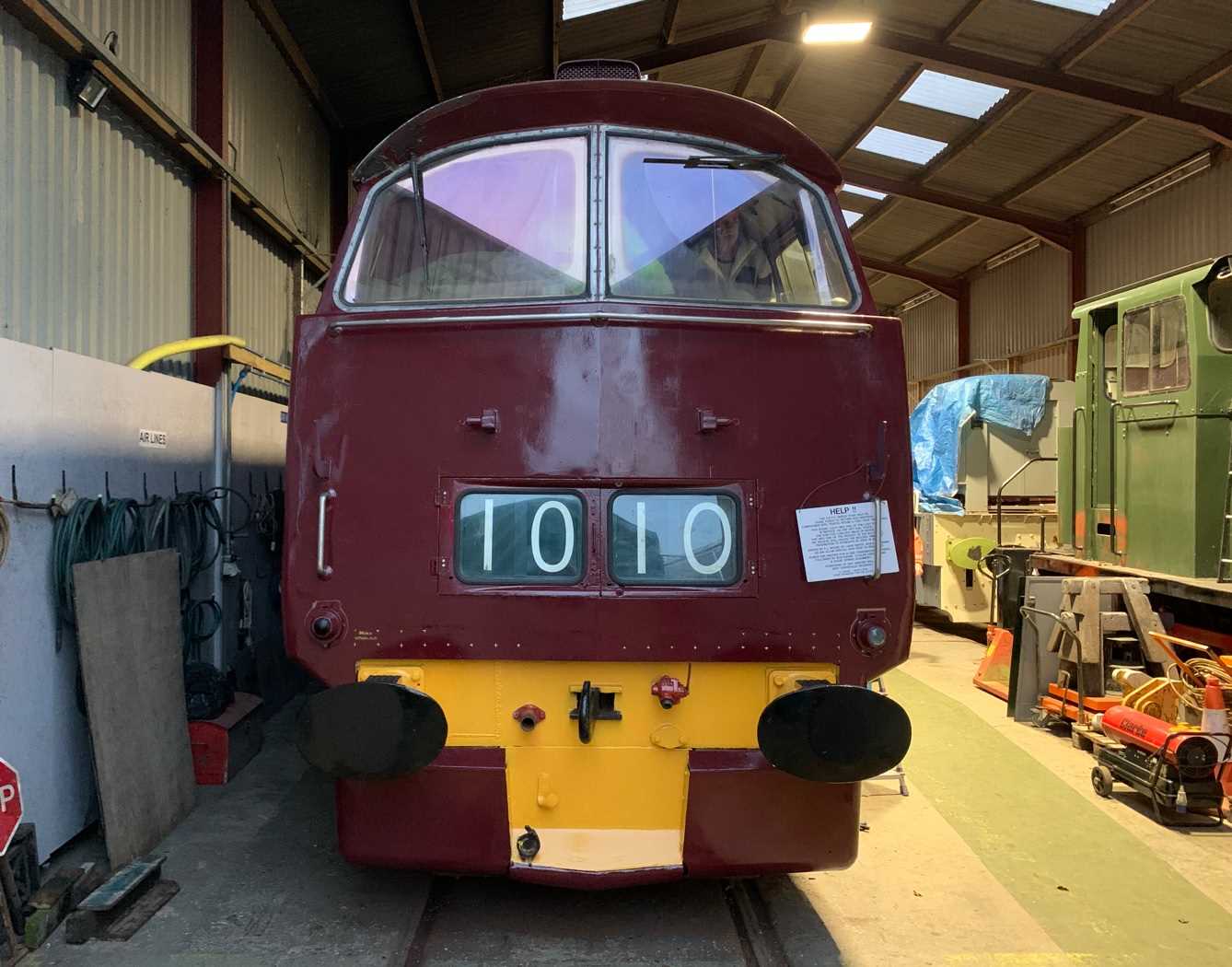 D1010 – now proudly displaying her running number in the fully-functional headcode boxes, the loco is taking on a much more 'dressed' appearance as work progresses. Pictured at Williton on Saturday 19th November 2022 by Andy Royal © CC BY-NC 3.0
D1010 – the spaces bounded by the yellow marks are patches that are waiting for their sponsors. The patches are marked using a vibratory engraver so the markings are in the metal, not just in the paint, and are still visible after sanding the paint away. To SPONSOR A PATCH, see below ! Pictured at Williton on Saturday 19th November 2022 by Andy Royal © CC BY-NC 3.0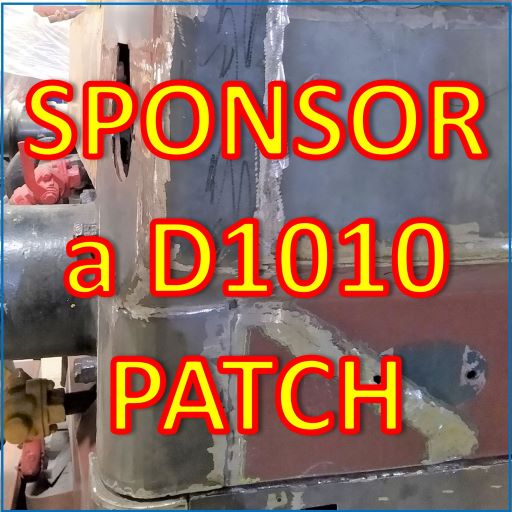 To continue our rate of progress requires FUNDING which is becoming harder to get as belts are being tightened everywhere. If you are able to do so, please consider SPONSORING A PATCH because there is plenty of recently-added metal that still needs engraving. Photographs and certificates of sponsorship will be sent out to all who have sponsored this phase of the restoration work, but please bear with us because our admin resources are severely stretched at the moment. Click the image below to sponsor a patch. Thank you in advance for your support !
We still have a lot of work to do on this massive locomotive, so PLEASE DO COME ALONG AND HELP IF YOU CAN !
See our CAMPAIGN for CAMPAIGNER web page for more details !


Class 33 D6566 (33 048) – the low water pressure issue was investigated by Ian R and Tom, starting with the water pump which was examined for signs of wear or damage but passed as OK. The next area of attention was the triple pump motor, to make sure that it was running at the proper speed. The ballast resistors that allow the motor to reach the designed speed were found to have been damaged by overheating, so they were replaced and the water pressure edged up, but was still insufficient to allow the engine to be started.
Finally, after cleaning out the pipework that connected the water pressure gauge and sensor to the pump, everything came together and the engine started !
Well done to 'Team Crompton' for getting to the stage where a test run can be planned !
Class 33 D6575 (33 057) – this loco is currently stabled at Bishops Lydeard and in regular use on the 'WINTERLIGHTS' services.
Class 35 'Hymek' D7017 – this loco is waiting for completion of her Vehicle Inspection and Brake Test (VIBT) and a test run before she can be declared fit for traffic.
Class 35 'Hymek' D7018 – with attention being concentrated elsewhere, the planned engine run was deferred to next weekend, when the transmission control pressures will be checked and adjusted if necessary. The loco will then need to have a number of small but important tasks dealt with during the winter months, in readiness for her return to service in the spring.
Class 14 'Teddy Bear' D9518 – plenty of work is taking place on multiple fronts as usual, with each member of the team engaged on different tasks. Here's some photos to show what has been taking place: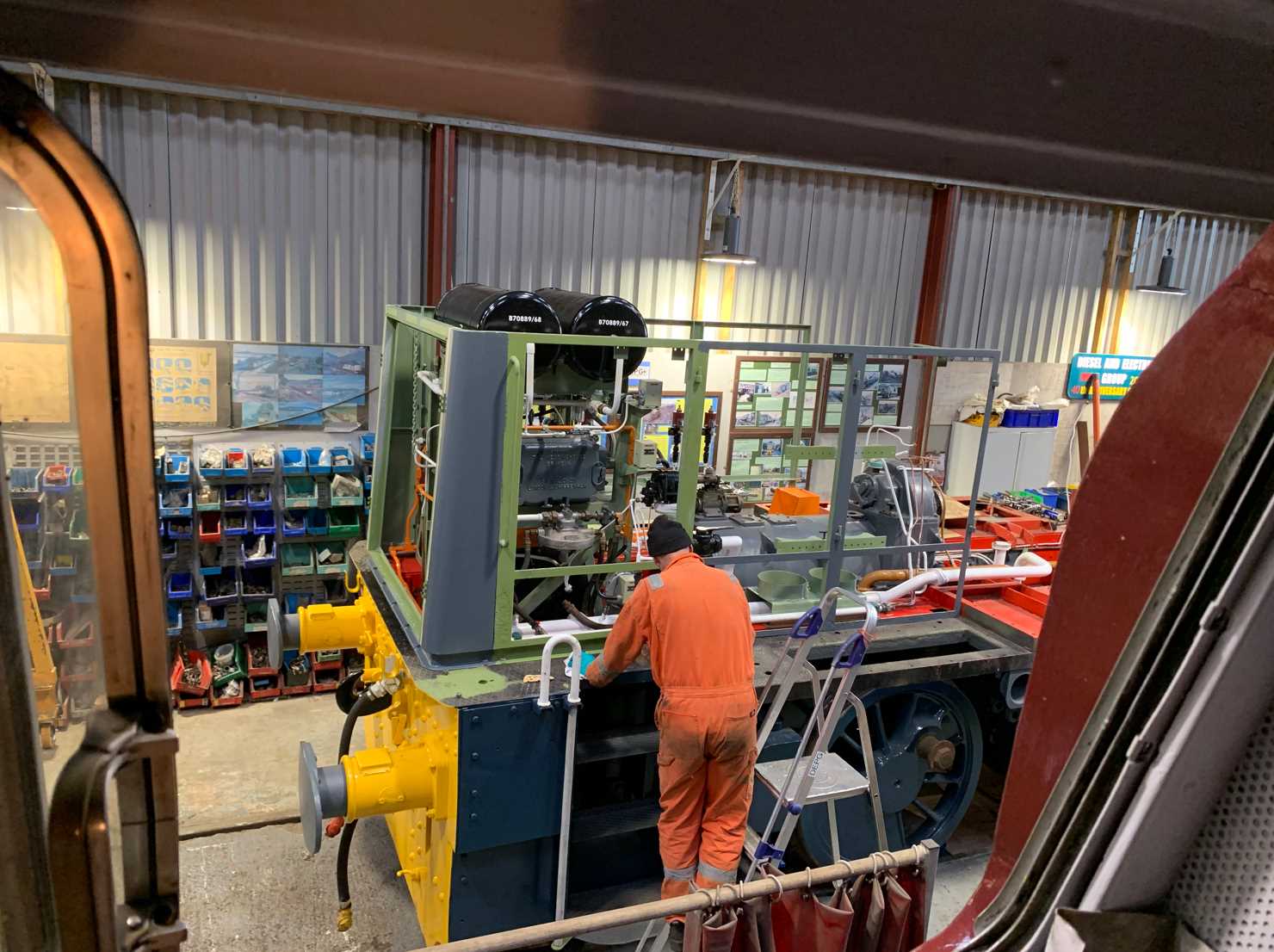 D9518 – viewed from the 'B' cab of D1010 at Williton on Saturday 19th November 2022, Colin G can be seen applying grey undercoat to the side frames of the 'B' end of the locomotive. No doubt we will see these being painted in 'NCB Ashington Blue' soon. Photo by Andy Royal © CC BY-NC 3.0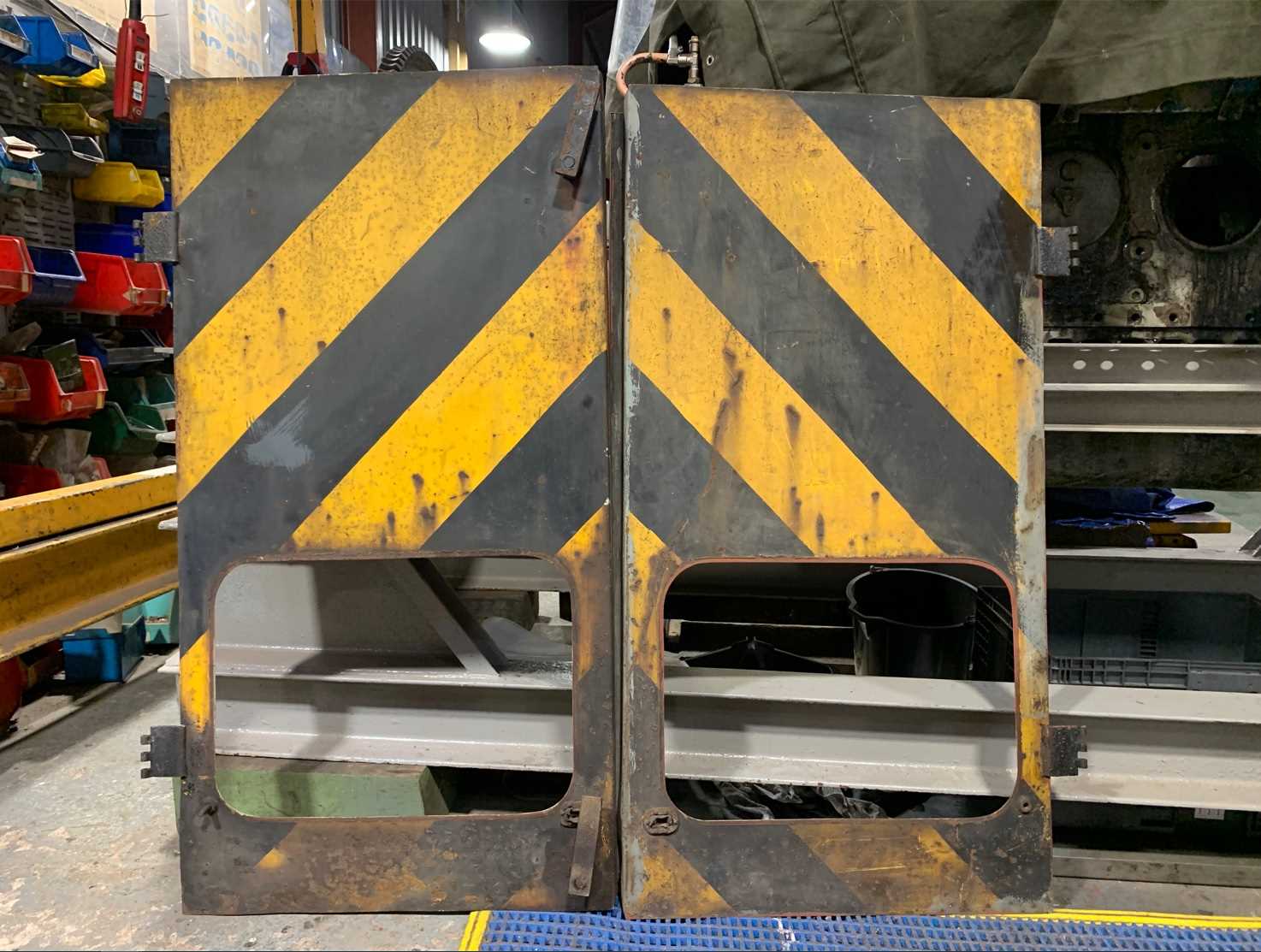 D9518 – the nose end doors of the loco are in need of some TLC, especially at the bottom, below the apertures for the glass panels. Pictured at Williton on Saturday 19th November 2022 by Andy Royal © CC BY-NC 3.0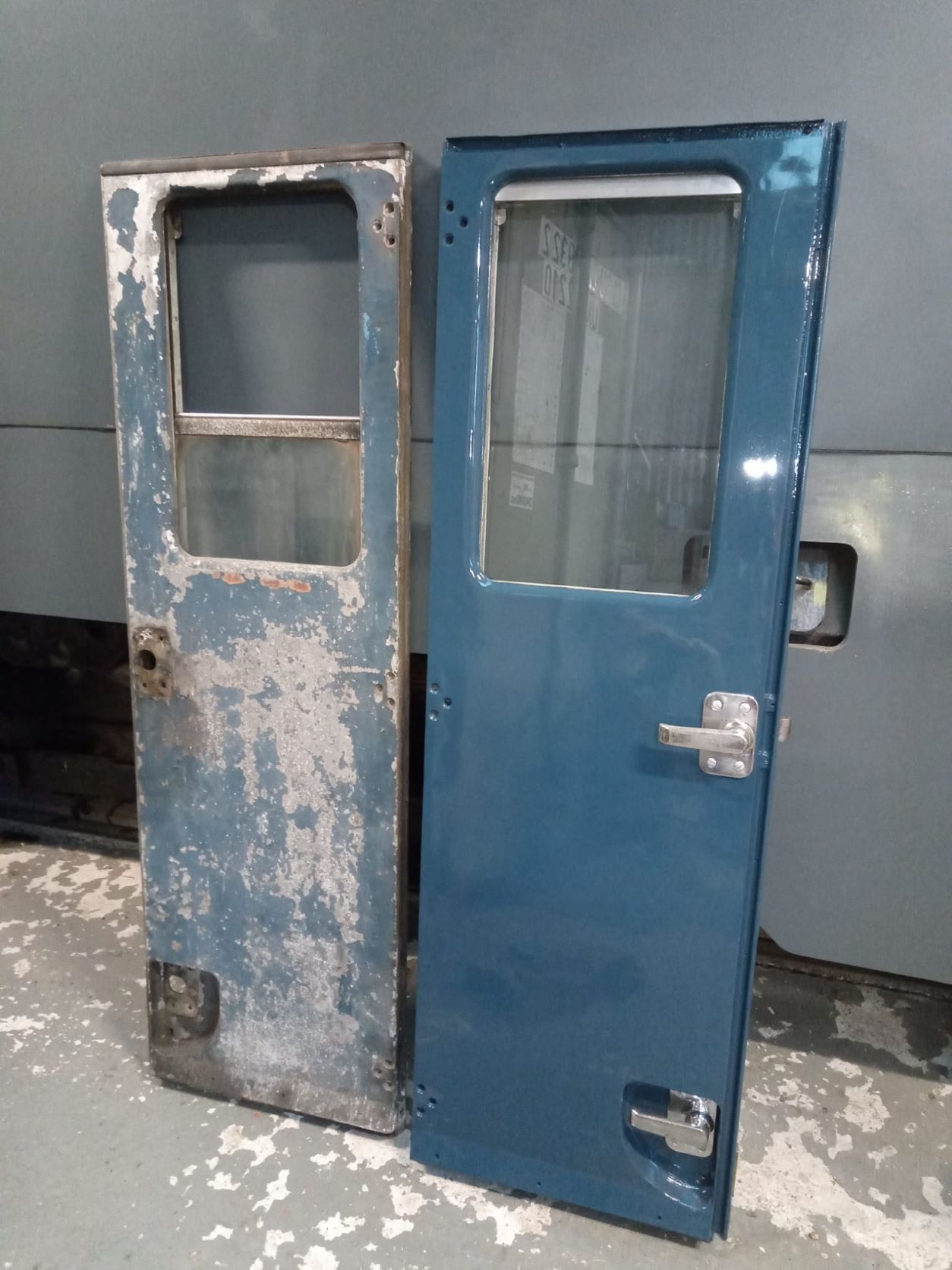 D9518 – the two cab doors, one in the 'before' condition with door furniture removed, the other in the 'after' condition, with a great gloss finish and nice shiny handles. Pictured Saturday 19th November 2022 by Colin Girle © CC BY-NC 3.0
This loco is the subject of a fundraising appeal so please follow this link to find out more. We need your help ! In addition to funds, we also need plenty of HANDS. If you love the 'Teddy Bears' and you are not already a member of the DEPG, please join us so that you can become one of the team that is going to return D9518 to fully operational condition as 'NCB No. 7'.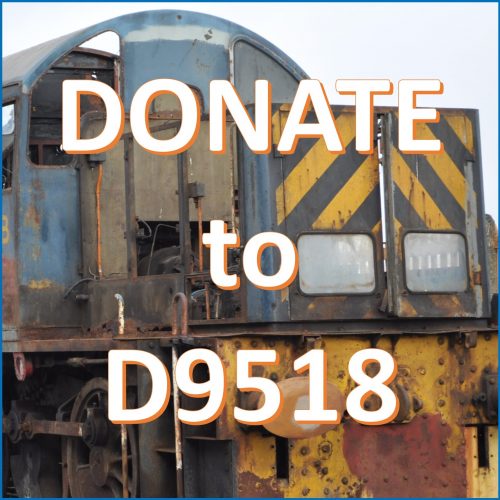 Class 14 'Teddy Bear' D9526 – this loco is currently based on the Kent & East Sussex Railway although her time in the far South-East is coming to an end because sister loco D9504 has now completed her overhaul and will be returning to work shortly. We expect that our 'Teddy Bear' will be heading home to Williton in mid-January 2023.
Class 47 47077 'NORTH STAR' – this loco has seen regular use at the NYMR though to the end of October, when public services ceased. Hopefully, the loco will see occasional use during the winter to keep her in good condition.
Andrew Barclay 0-4-0DH 578 – the fuel system of this loco is being disassembled for cleaning and to find the source of contamination that resulted in damage to the fuel injection pump. On Saturday at Williton, new volunteer Tony used his wide ranging skills to make a bracket that will be used to hold a cartridge-type fuel filter that can be replaced on a periodic basis to protect the injection pump. Thank you Tony, and welcome to the DEPG !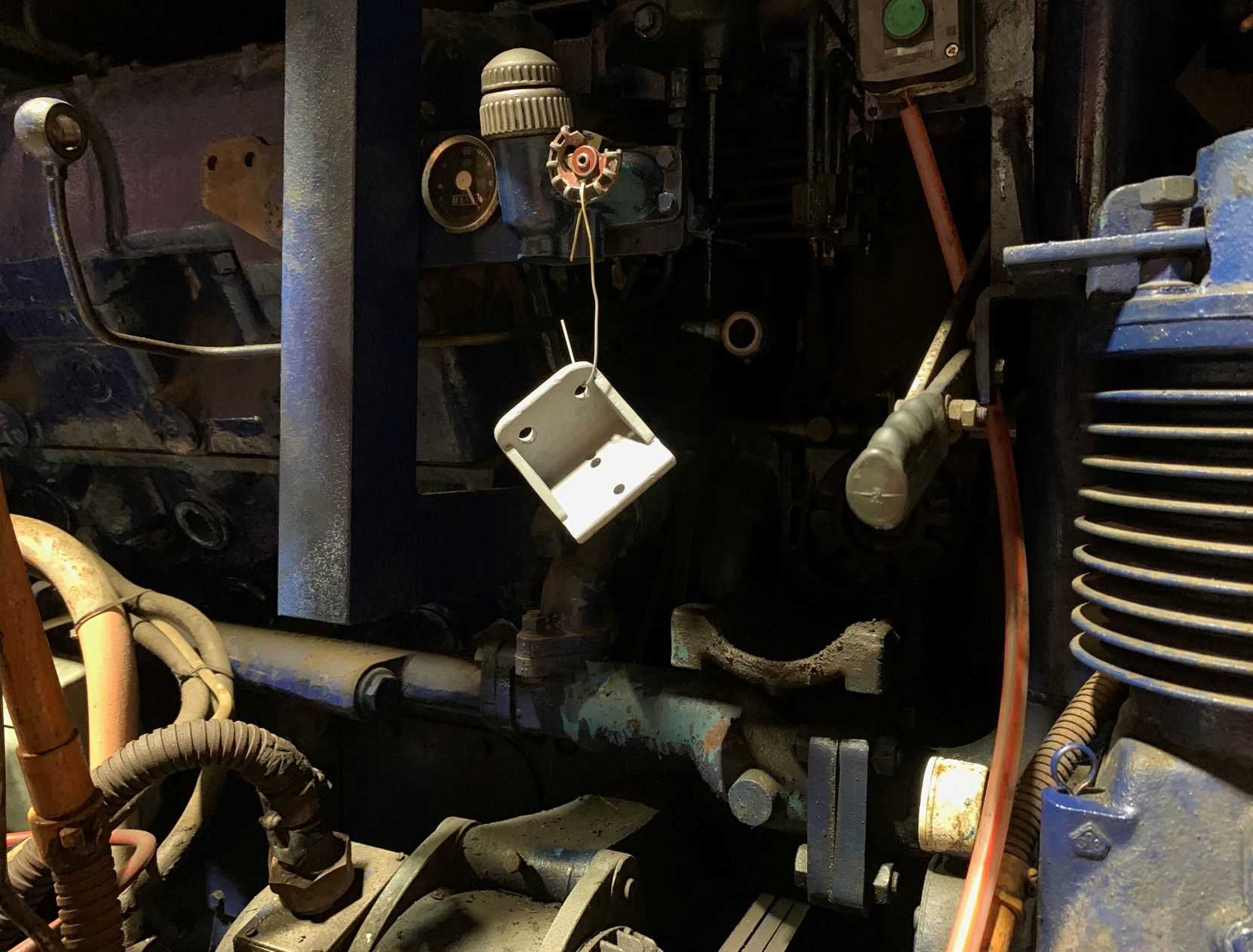 Andrew Barclay 578 (ROF 1) – the newly-made bracket is ready to be installed and will be used to support a cartridge-type fuel filter to protect the fuel injection pump from contamination in the fuel system. Pictured at Williton on Saturday 19th November 2022 by Andy Royal © CC BY-NC 3.0
If you can help by donating your time, then please JOIN US and come along to the depot for an introduction to what we do and how we do it. We currently have people on site from Saturday through to Tuesday and we can open on other days if we can be sure of getting at least two volunteers on site at all times, so there is plenty of scope. We have tasks of all types to suit most capabilities, both skilled and unskilled.
Click here for our CONTACT FORM.
Many thanks to all of our volunteers who give up so much of their time to work on the cleaning, painting, maintaining, restoring, managing and fund raising for our fleet of heritage locomotives !