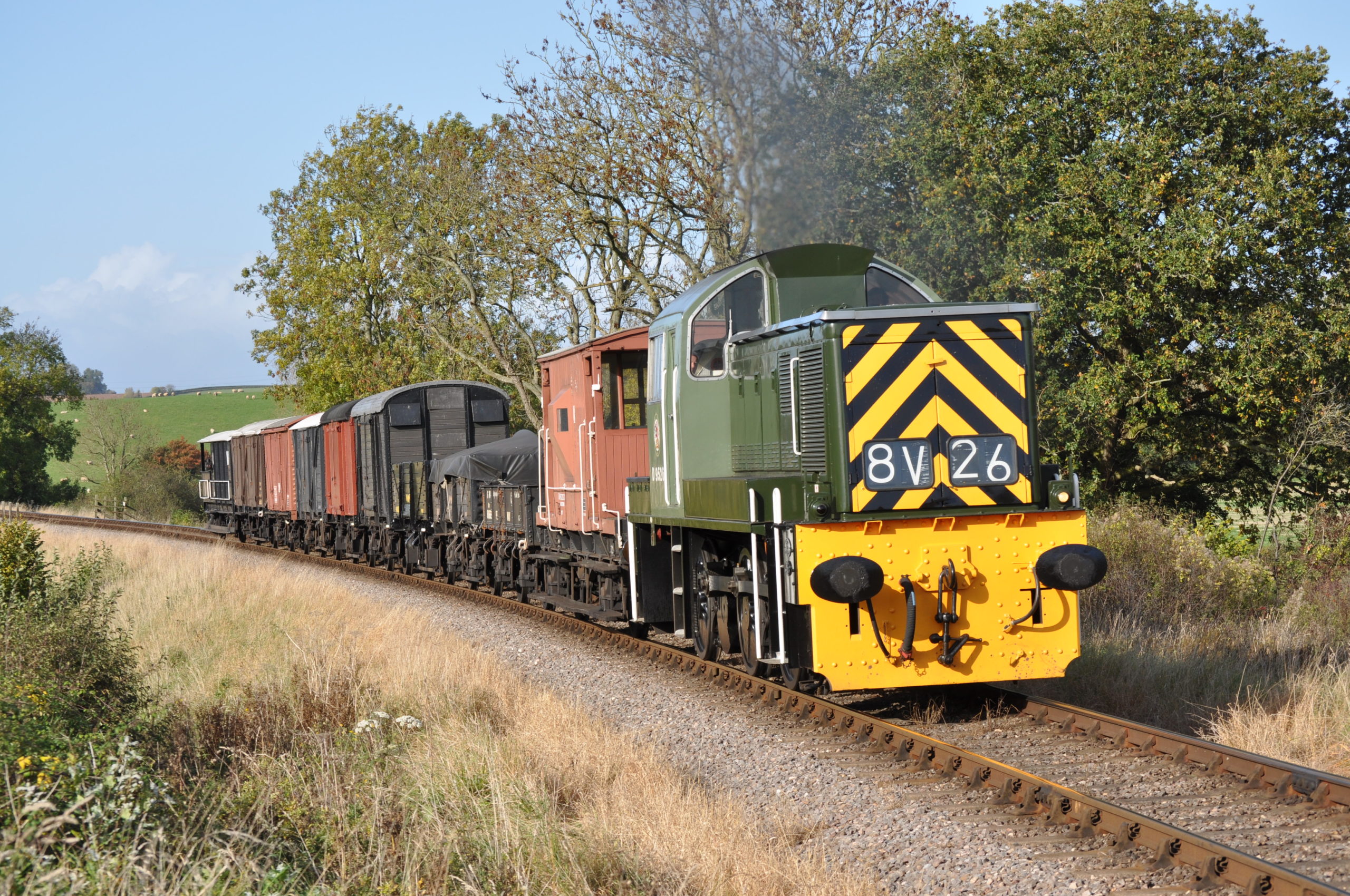 Current Status: Operational
D9526 was one of 56 locos in this class built by BR at Swindon Works in 1964-5. Intended for pick-up and branch line freights, they were made redundant almost immediately by closure of many secondary lines in the late 1960s. Almost the entire fleet was sold for use in industry, with 23 going to Stewarts and Lloyds huge iron ore mines railway system around Corby and 19 going to the NCB's North East Area.
D9526 was an exception and was sold to Blue Circle Cement at Westbury, where it worked until suffering serious engine problems in 1977. It was donated to the Group by Blue Circle and moved to Williton in 1980. After repairs and restoration work, D9526 made its preservation debut in 1984, working on the WSR for a further ten years. At the end of the 1994 season it was taken out of service with turbocharger and oil pressure problems. It re-entered service again in April 2003.
D9526 was stopped in 2017 and has now had a completely rebuilt Paxman 6YJXL engine installed. The locomotive returned to service on the WSR in time for the 2018 Diesel Gala where it provided the "DMU drag" shuttle service between Bishops Lydeard and Norton Fitzwarren. She has also worked service trains and has provided (stage 2) Diesel Driver Experience Courses during both 2018 and 2019, offering members of the public (that have completed Stage 1) a rare opportunity to haul freight on the WSR using a locomotive that was designed specifically for that purpose.
D9526 was out on loan to the KENT & EAST SUSSEX RAILWAY from 1st July 2021 to 19th January 2023 (covering for sister loco D9504 while that loco underwent an overhaul) and clocked up almost 750 hours of use there during her 18-month stay. We look forward to seeing her in use on the WSR in 2023. Click on our DIESEL RUNNING DATES page for more information.
Technical Specification
Engine: Paxman 6YJXL V6 turbocharged 26-litre high speed diesel
Transmission: Voith L217u 3-speed hydraulic
Weight: 48 Tons
Length: 34 ft
Output: 650 hp at 1500 rpm
BR Power Rating: Type 1
Speed: 40 mph
Fuel Capacity: 300 gallons
Wheels: 0-6-0
History
Manufacturer: BR Swindon
BR Class: 14
Introduced 1964
Number Built 56
Role: Branch line & shunting duties
Read about sister locomotive D9518
Go to the Locomotive Status page