D1010: The removed valances have to be cleaned up and measured for use as patterns. It has been established that neither the DTG or the WLA have drawings of the valances, but we have copies of many of the original Swindon drawings at WN, so a search will be organised to try and locate the appropriate drawings to ensure authenticity of the new parts.
D6566 and D6575: Awaiting underframe and traction motor inspection, to be performed in November at Westridge shed, Bishops Lydeard.
D7017: The full set of bogie springs are being ordered as part of a major buying package that includes springs for the DTG and the WLA.
D7018: The transmission re-assembly work has to wait until next weekend because of other priorities this week.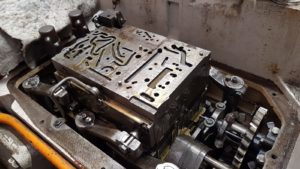 D9518: Further work on the compressor and brake frame has been captured in the photos that have been provided by Martin. Well done to all who are contributing to the significant rate of progress on D9518!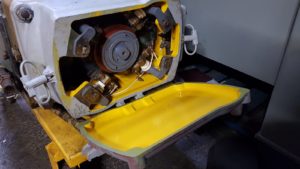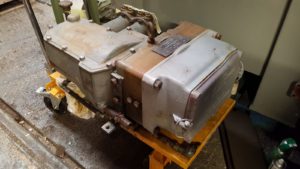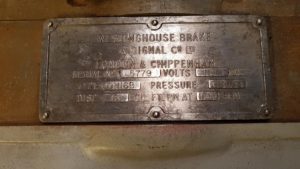 D9526: Waiting for inspection and load testing.
47077: The attached photo, again provided by Martin, shows the three fire extinguisher discharge heads lined up ready for overhaul by Ian before they get fitted onto the newly-charged fire bottles that are already installed on the loco. The safety pins can be seen at the end of the chains, and these pins are used to prevent inadvertent firing of the fire extinguisher bottles at times when the loco is undergoing servicing.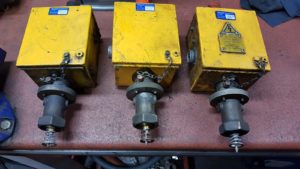 Infrastructure: The new compressor has now been fully installed and commissioned by Bob Clegg and is now available for use. The digitally-controlled machine is energy efficient and includes a dryer to ensure that the air being delivered is free from moisture. Overall, it is a real benefit for the depot, so many thanks to Bob and Neil for doing the work to get this essential piece of equipment up and running.