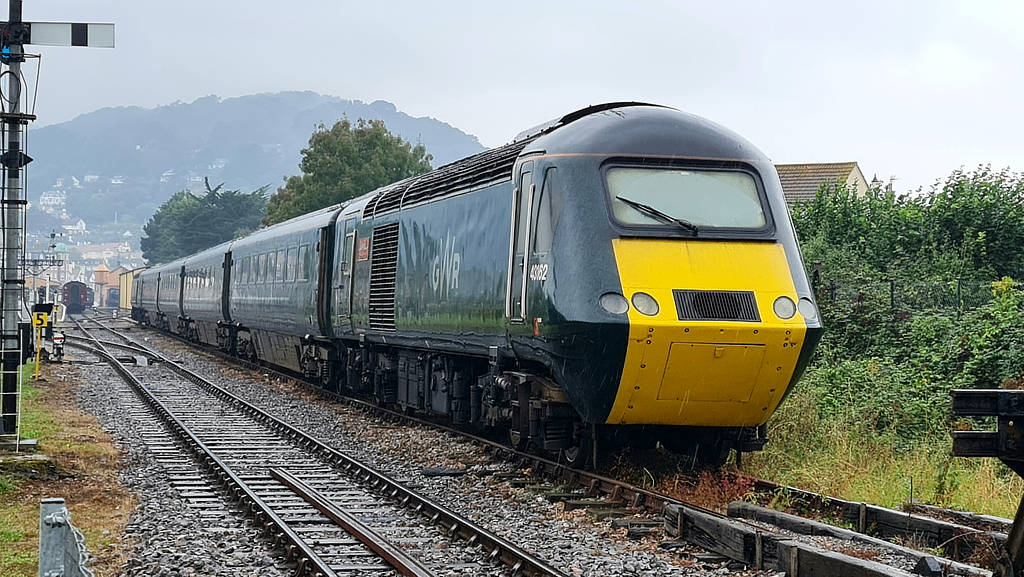 GWR 'Castle' class 43162 'Caerhays Castle' was pictured while stabled in the spur opposite the signalbox at the Taunton end of Minehead station yard on Saturday 16th September 2023, with 43042 'Powderham Castle' at the other end. This 'Castle' set will be in use for public services under the YELLOW HST timetable on the weekend of 23/24th September. Photo by Mark Ireland © CC BY-NC 3.0
Our DIESEL RUNNING DATES page is updated several times per week and is kept as accurate as we can make it. The loco allocations are subject to availability (of course), but we do try to field the allocated loco wherever possible. Click on the banner below to go to the website page:

The DIESEL RUNNING DATES pages is supplemented by our DIESELGEN bulletin service which captures non-public running such as special trains and engineering workings (where we have sufficient notice to publish such workings). Sign up for DIESELGEN emails or keep an eye on our website homepage.
LOCO NEWS:
Class 52 D1010 'WESTERN CAMPAIGNER' – significant progress has been made on the 'A' transmission with the turbine rail being the target for disassembly this week. Although the internals of the turbine rail appear to be in excellent condition, the central oilway that feeds bearing 3/152 (the bearing that failed at the 'B' end back in 2018) was found to be completely blocked with oily sludge and not capable of delivering any oil. The bearing showed signs of running hot due to lack of lubrication, but was otherwise undamaged, so it seems that we have caught this just in time and prevented a failure and the associated damage. Here are some photos showing the work that has been done: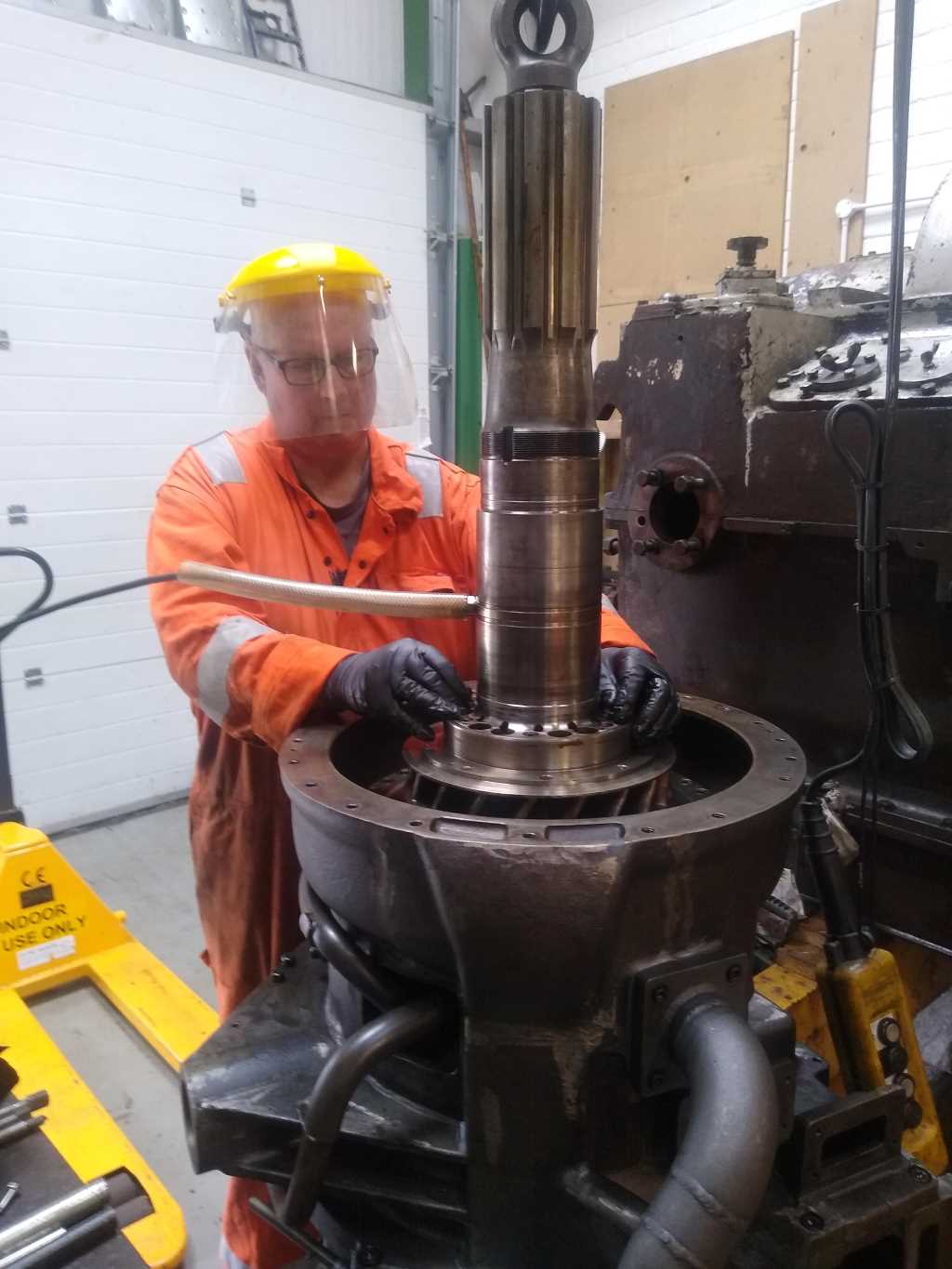 D1010 – the output end of the turbine rail from 'A' transmission was separated from the secondary shaft using the oil injection method at Williton on Monday 11th September 2023. Geoff was pictured while adjusting the fasteners on the second stage turbine to constrain the upward movement. Photo by Colin Foxhall © CC BY-NC 3.0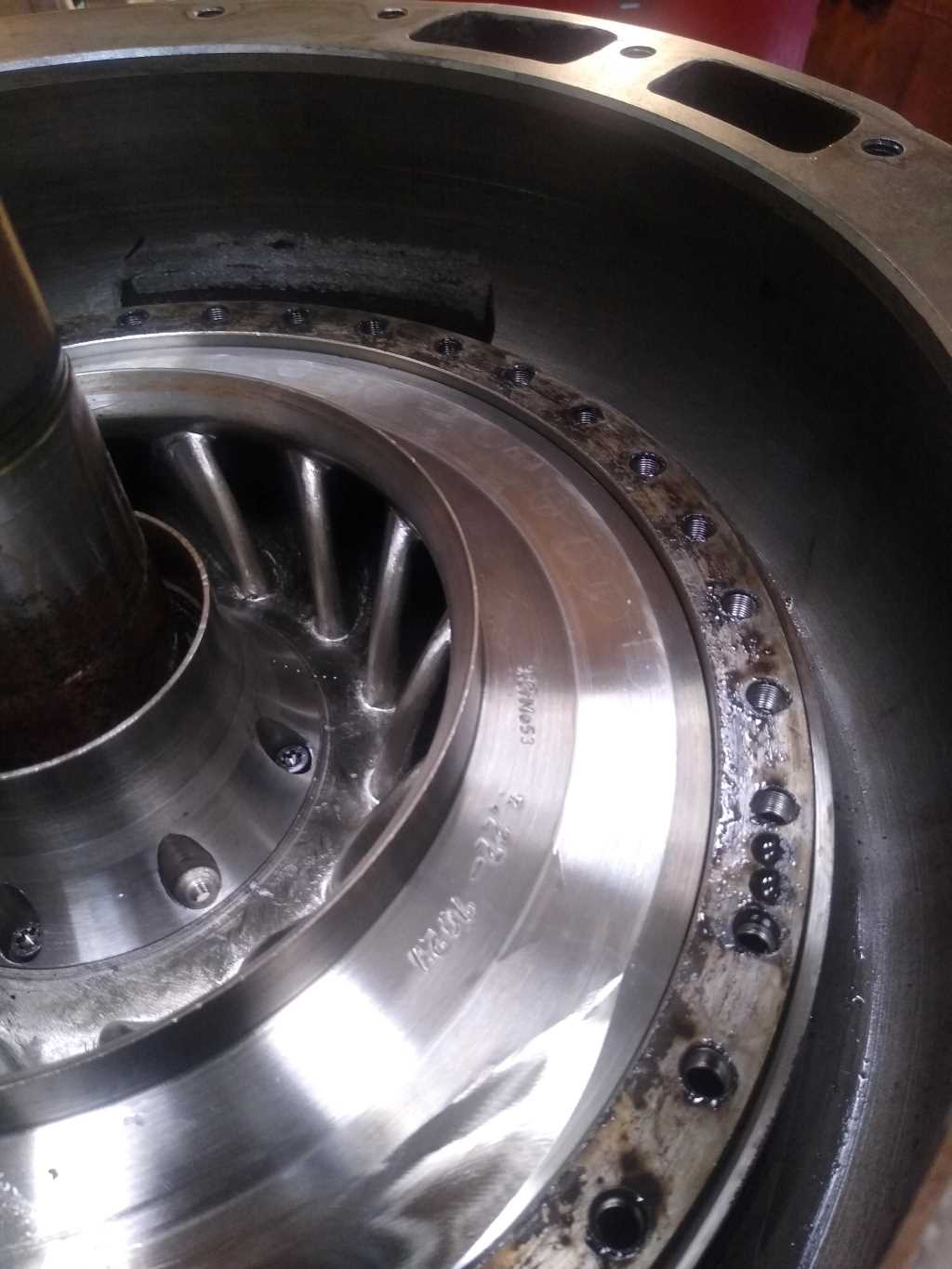 D1010 – after the removal of the second stage turbine runner, the second stage impeller was found to be bright and shiny. Pictured at Williton on 11th September 2023 by Colin Foxhall © CC BY-NC 3.0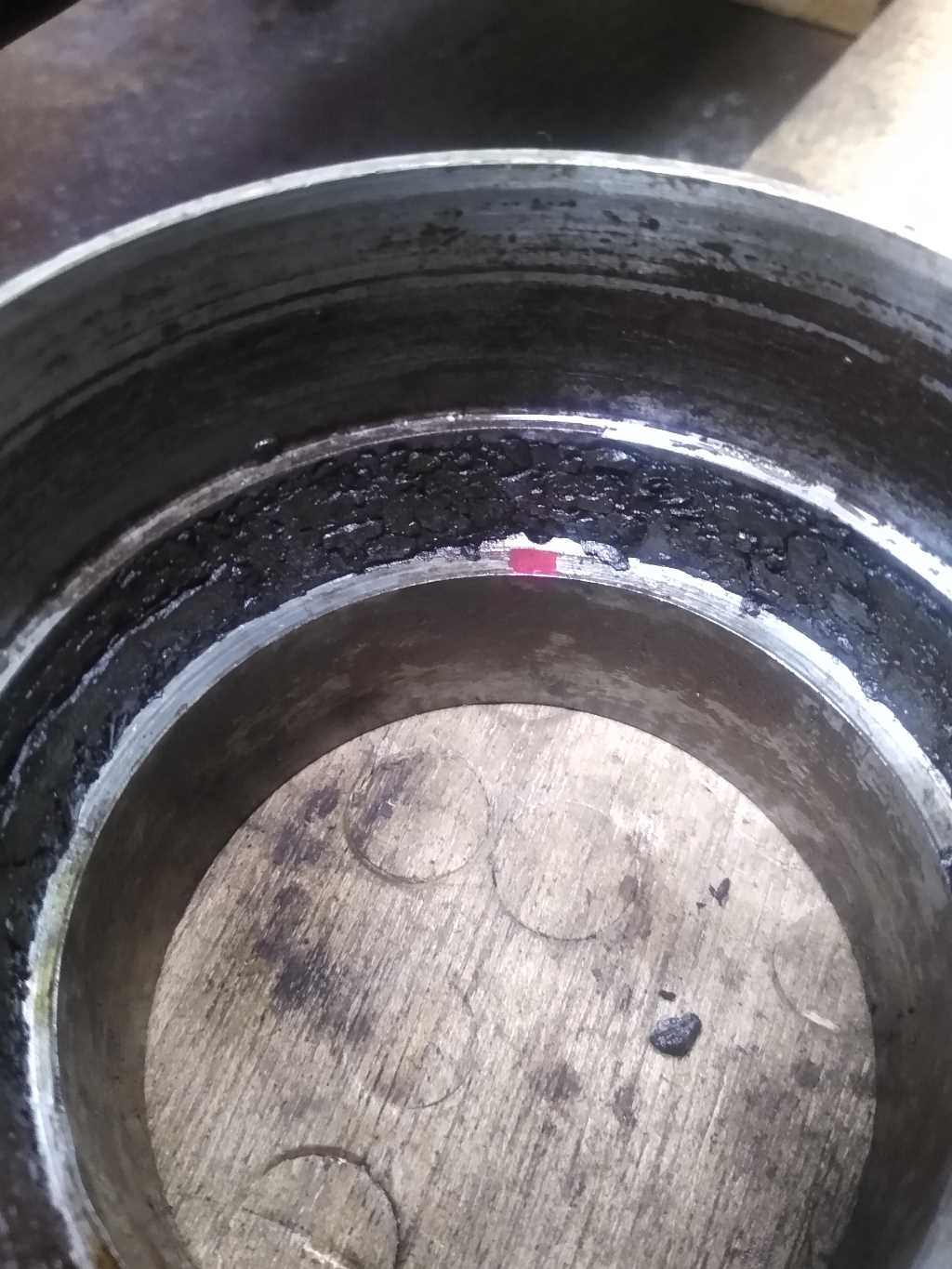 D1010 – the oilway that feeds oil to bearing 3/152 is marked in red and was found to be completely blocked with hardened sludge. Pictured at Williton on Tuesday 12th September 2023 by Colin Foxhall © CC BY-NC 3.0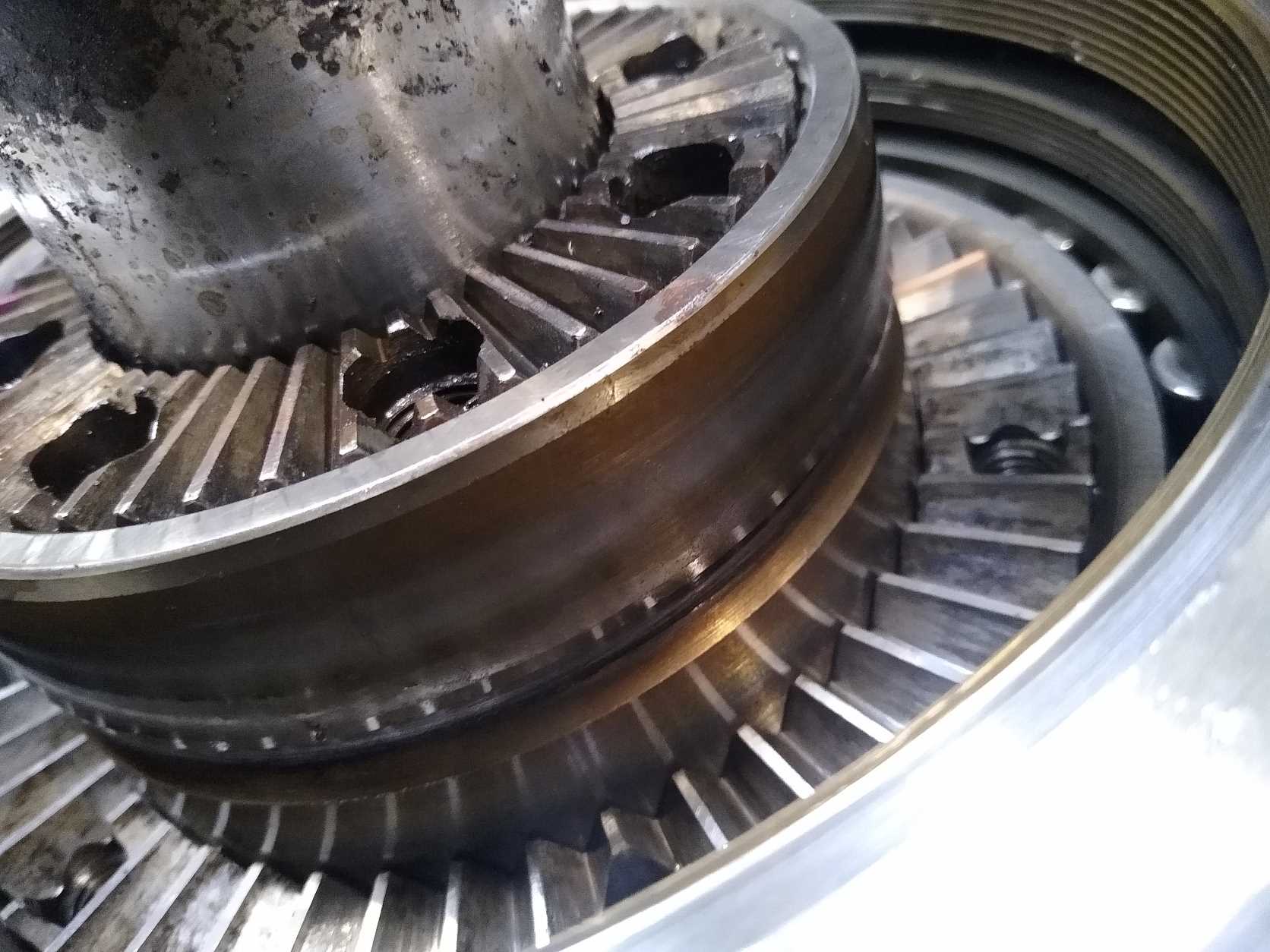 D1010 – the inner race of bearing 3/152 shows discoloration due to overheating, but has not reached the stage of seizure. The oilways will be cleaned out and the bearing will be replaced before reassembly. Pictured at Williton on Tuesday 12th September 2023 by Colin Foxhall © CC BY-NC 3.0 
The bodywork and electrical teams are trying to continue their work but the weather has other plans. The loco will be moved back into the loco shed as soon as the arrangements can be made for a yard shunt, and this will allow work to resume.
There are still some patches waiting for sponsors at the 'B' end of the loco, so GET IN QUICK TO HAVE YOUR NAME ENGRAVED before the painters reach this end. Many thanks to those who placed their orders during the last few weeks.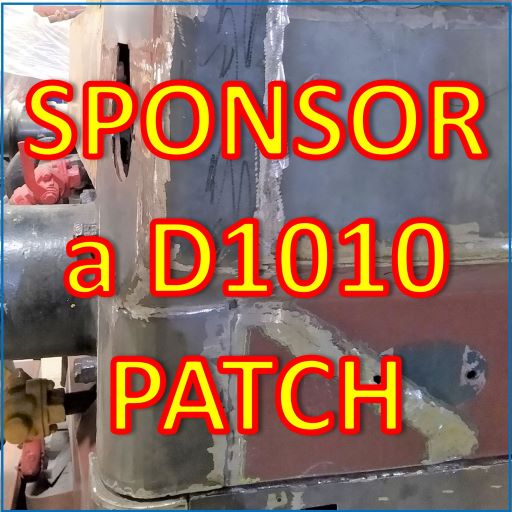 Having the loco outdoors has generated an increased interest in our SPONSOR A PATCH scheme, with several more patches being engraved with their sponsor's names or messages. This initiative remains the single most successful fund-raising activity and has allowed us to make significant progress with the restoration work. PLEASE CONTINUE TO HELP US FUND THIS PROJECT.
Photographs and certificates of sponsorship will be sent out to all who have sponsored the restoration work, but we are still short of volunteer resources and have not yet been able to catch up with this obligation and deliver the documents. Apologies for the delay, we will get it done ASAP. Click the image below to sponsor a patch. Thank you in advance for your support and your patience!
See our CAMPAIGN for CAMPAIGNER web page for more details. We still have a lot of work to do on this massive locomotive, so PLEASE DO COME ALONG AND HELP IF YOU CAN !

Class 33 D6566 (33 048) – this loco has been stabled at Bishops Lydeard but is in service on Saturday 23rd, but only for the first leg of the diagram, as she will be remaining at Minehead as the standby locomotive.
Class 33 D6575 (33 057) – this loco is outstationed at Minehead and will take over from sister D6566 on the return leg on Saturday 23rd, then work the full diagram on Sunday 24th. The intention is that this loco will be subjected to an underframe inspection and traction motor inspection during the next few weeks, while at Bishops Lydeard.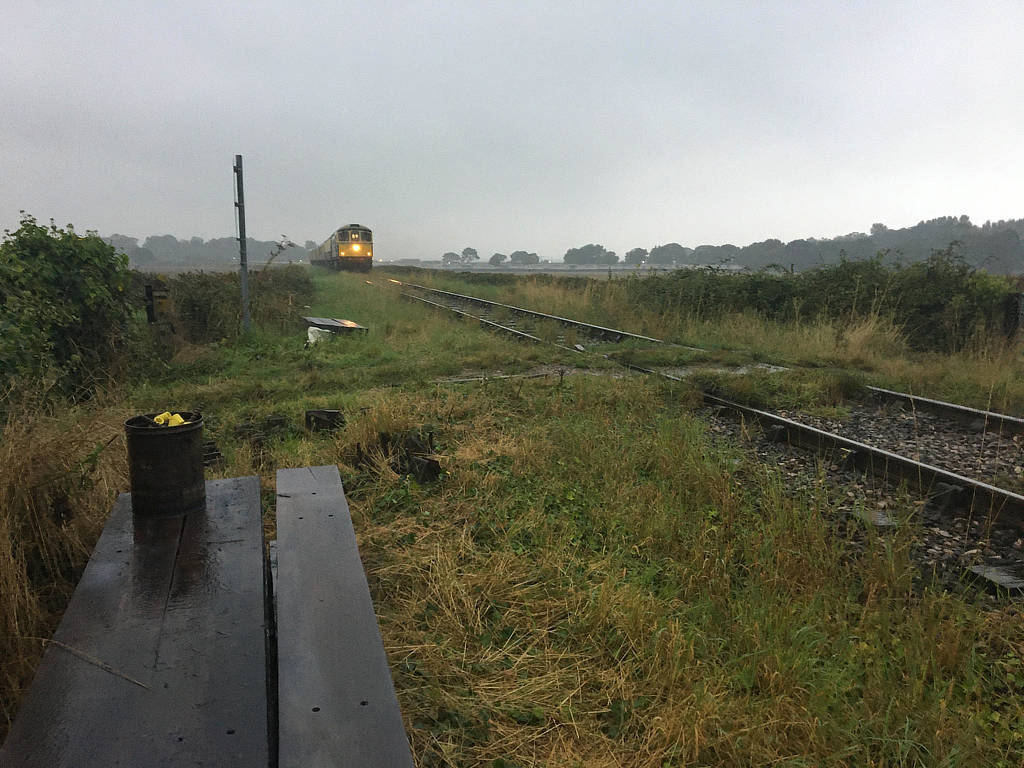 Class 33 'Crompton' D6575 (33 057) was pictured approaching Hepper's Crossing (just east of Blue Anchor) with the 10:00 service from Minehead during the period of stormy weather that affected the whole area on Sunday 17th September 2023. Services were suspended later that same day. Photo by Malcolm Anderson © CC BY-NC 3.0 
Class 35 'Hymek' D7017 – the electrical fault-finding work is continuing on the engine speeder valve circuit and the Vacuum Governor circuit.
Class 35 'Hymek' D7018 – the work taking place on this locomotive continues to be of an analytical nature as the Root Cause Analysis develops.
Class 14 'Teddy Bear' D9518 – work continues on the brake rigging, with several components still undergoing repair and restoration to allow this aspect to be completed. Progress is more visual on the cab restoration, with the driver's power and direction controller being reassembled with new component parts and replica fascia plates. The photos below show the progress on this very important piece of equipment: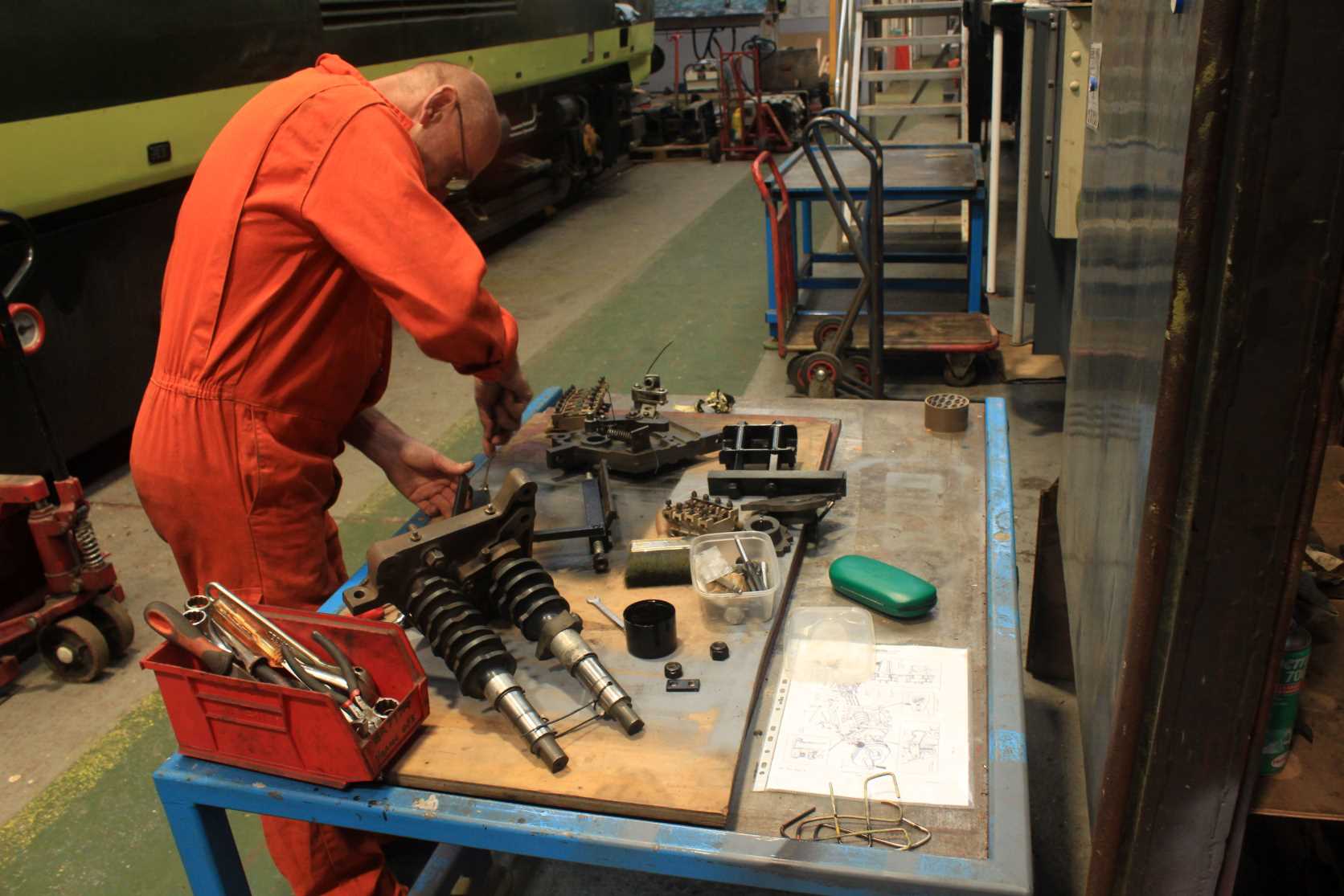 D9518 – the driver's controller has been completely stripped down for cleaning and inspection. Colin G is pictured at work on the reassembly process at Williton on 16th September 2023. Photo by Terry Deacon © CC BY-NC 3.0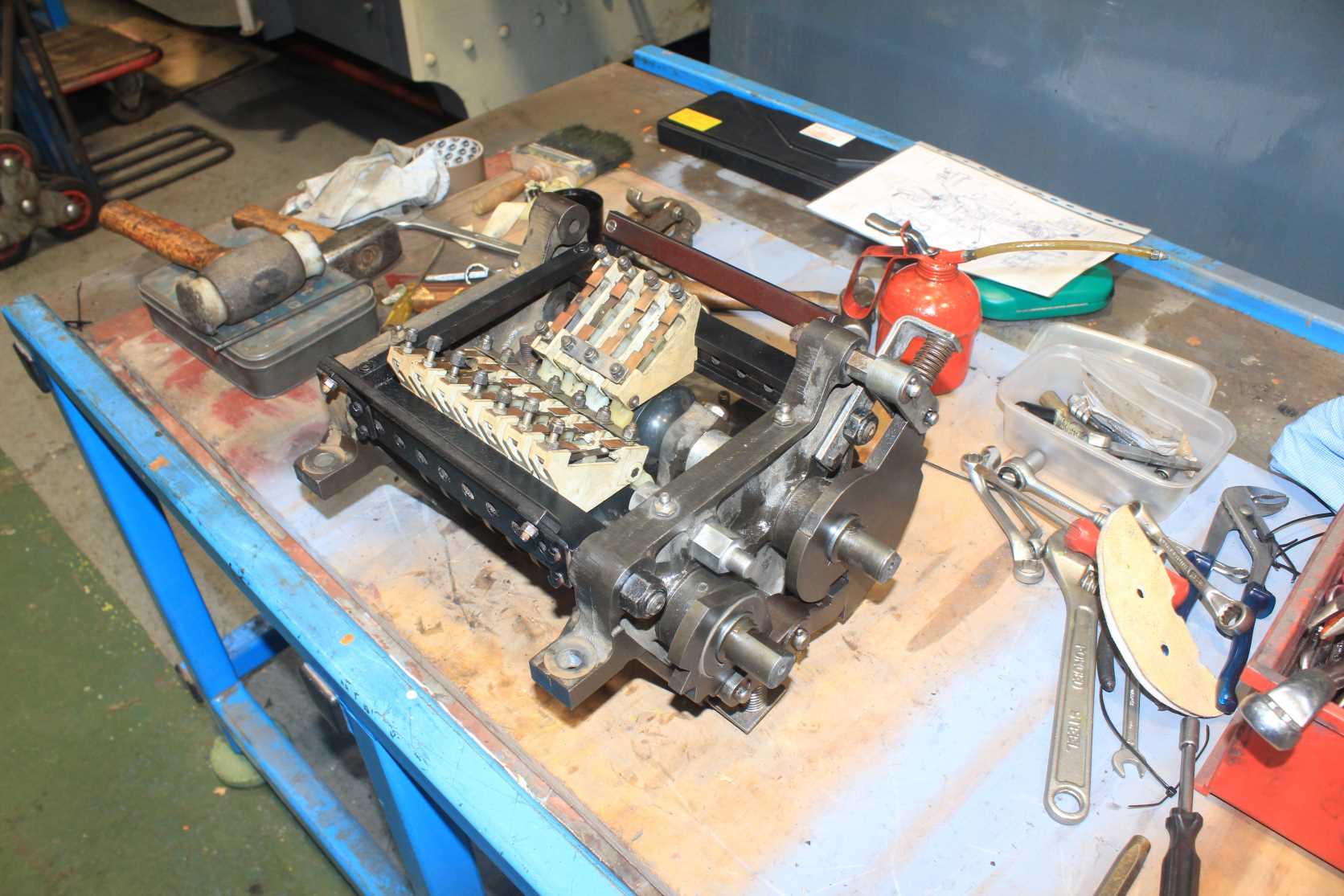 D9518 – the Brush Electrical Engineering Co. Ltd. power and direction controller was reassembled by Colin G at Williton on 16th September 2023. Photo by Terry Deacon © CC BY-NC 3.0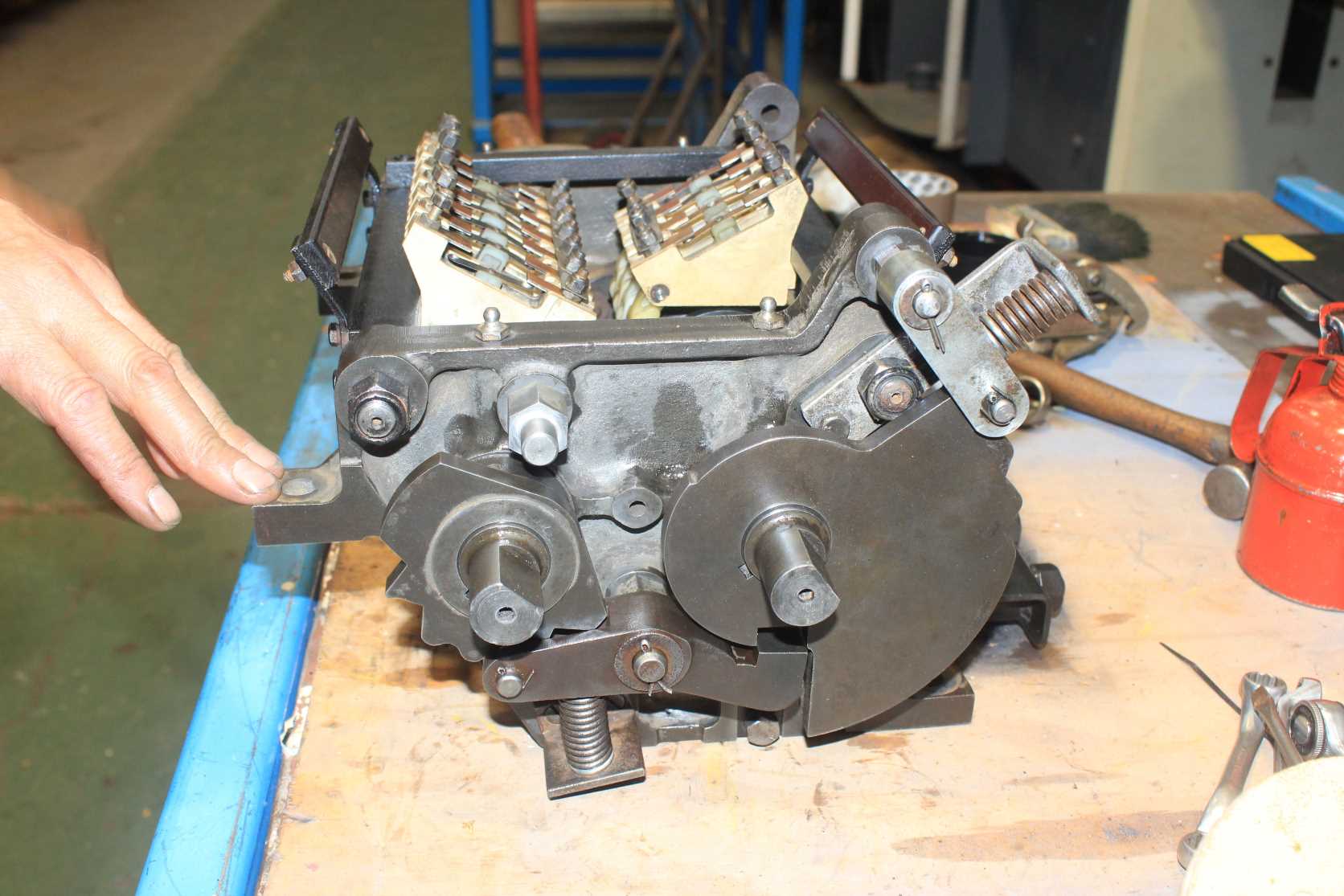 D9518 – a different view of the reassembled power and direction controller on the bench at Williton on 16th September 2023. Photo by Terry Deacon © CC BY-NC 3.0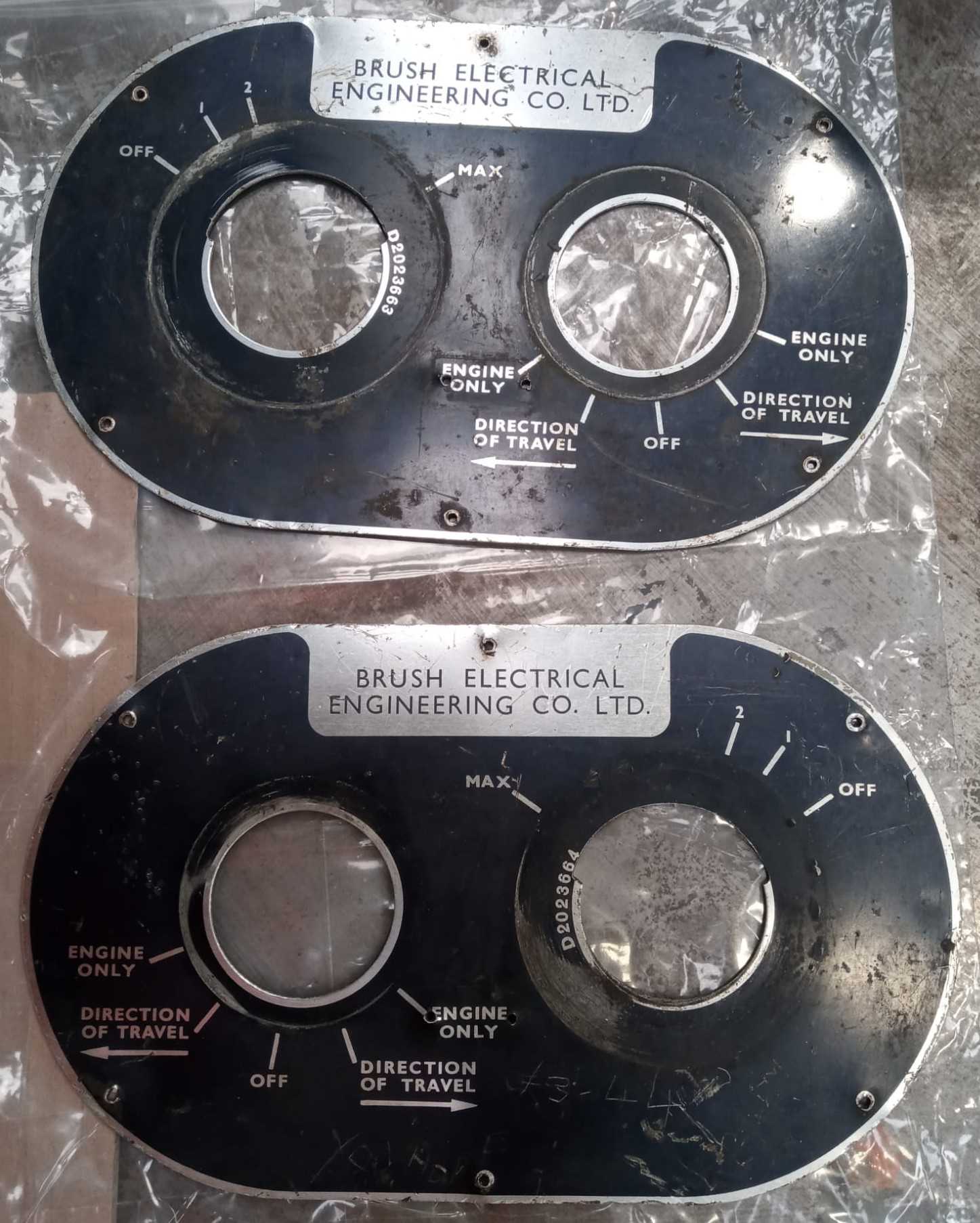 D9518 – the original fascia plates for the driver's controller were looking tatty, so the opportunity was taken to replace them with new replica parts – as below. Pictured at Williton on 16th September 2023 by Colin Girle © CC BY-NC 3.0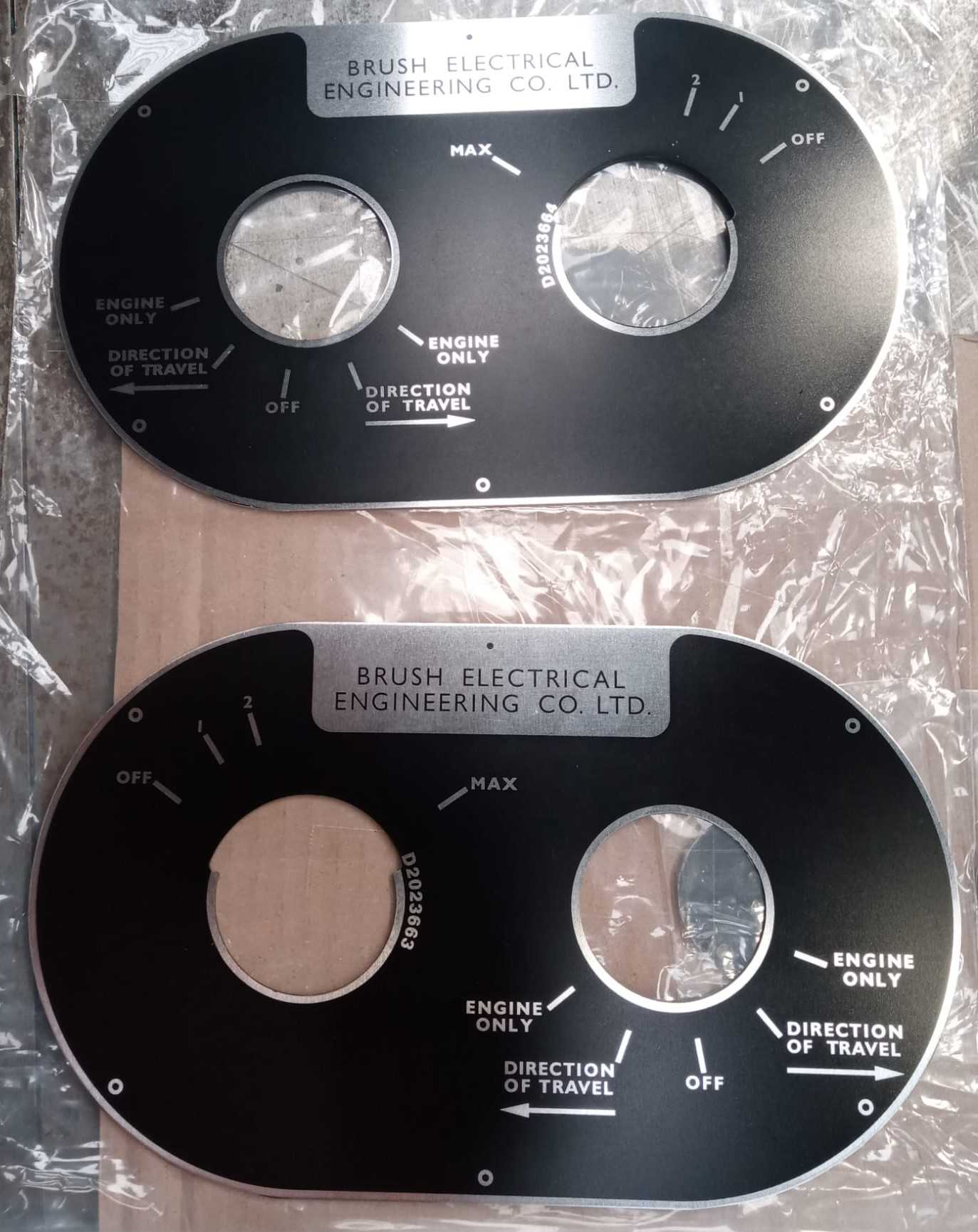 D9518 – the replica fascia plates for the driver's controller were manufactured by Vintage Brass Plates of Chesterfield. Pictured at Williton on 16th September 2023 by Colin Girle © CC BY-NC 3.0
This loco is the subject of a fundraising appeal so please follow this link to find out more. We need your help ! In addition to funds, we also need plenty of HANDS. If you love the 'Teddy Bears' and you are not already a member of the DEPG, please join us so that you can become one of the team that is going to return D9518 to fully operational condition as 'NCB No. 7'.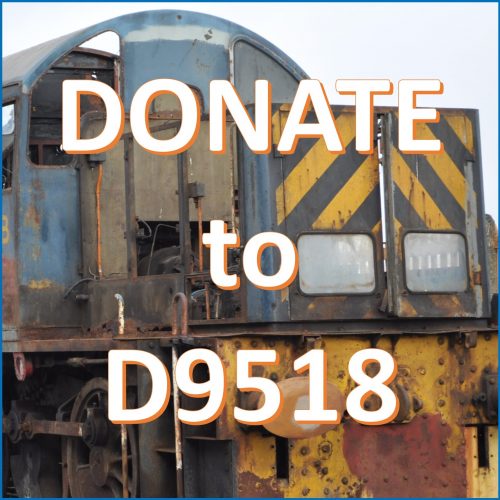 Class 14 'Teddy Bear' D9526 – now stabled at Williton and available for use at any time. This loco will be due for a 1000-hour service very soon.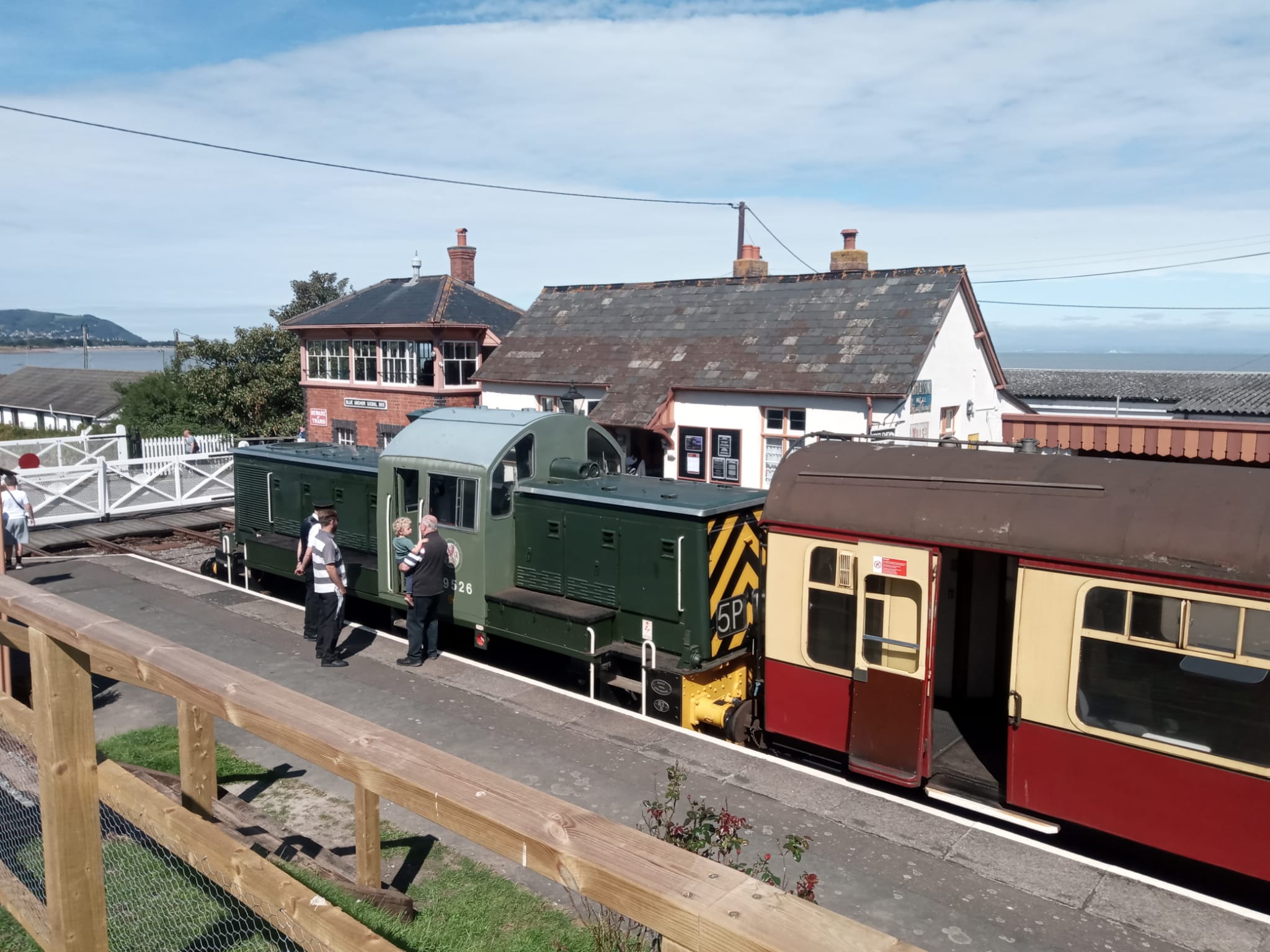 Class 14 'Teddy Bear' D9526 was pictured from the new picnic area at Blue Anchor while working the 1100 from Bishops Lydeard to Minehead and return on Wednesday 23rd August 2023, during a brief spell of very pleasant summer weather. Photo by Colin Girle © CC BY-NC 3.0 
Class 47 47077 'NORTH STAR' – this loco is undergoing a 'top end' engine overhaul at Grosmont Works on the North Yorkshire Moors Railway. Work is proceeding well, but the amount of work being done means that the loco is unlikely to emerge until after the main running season ends, but she will be in very good shape for 2024 and beyond. 
Andrew Barclay 0-4-0DH 578 – the cab of this loco is undergoing an internal repaint in the capable hands of Jon T, but the loco remains serviceable and ready for action.
If you can help by donating your time to any of these projects, then please JOIN US and come along to the depot for an introduction to what we do and how we do it. We currently have people on site from Saturday through to Tuesday and we can open on other days if we can be sure of getting at least two volunteers on site at all times, so there is plenty of scope. We have tasks of all types to suit most capabilities, both skilled and unskilled.
Many thanks to all of our volunteers who give up so much of their time to work on the cleaning, painting, maintaining, restoring, managing and fund raising for our fleet of heritage locomotives !