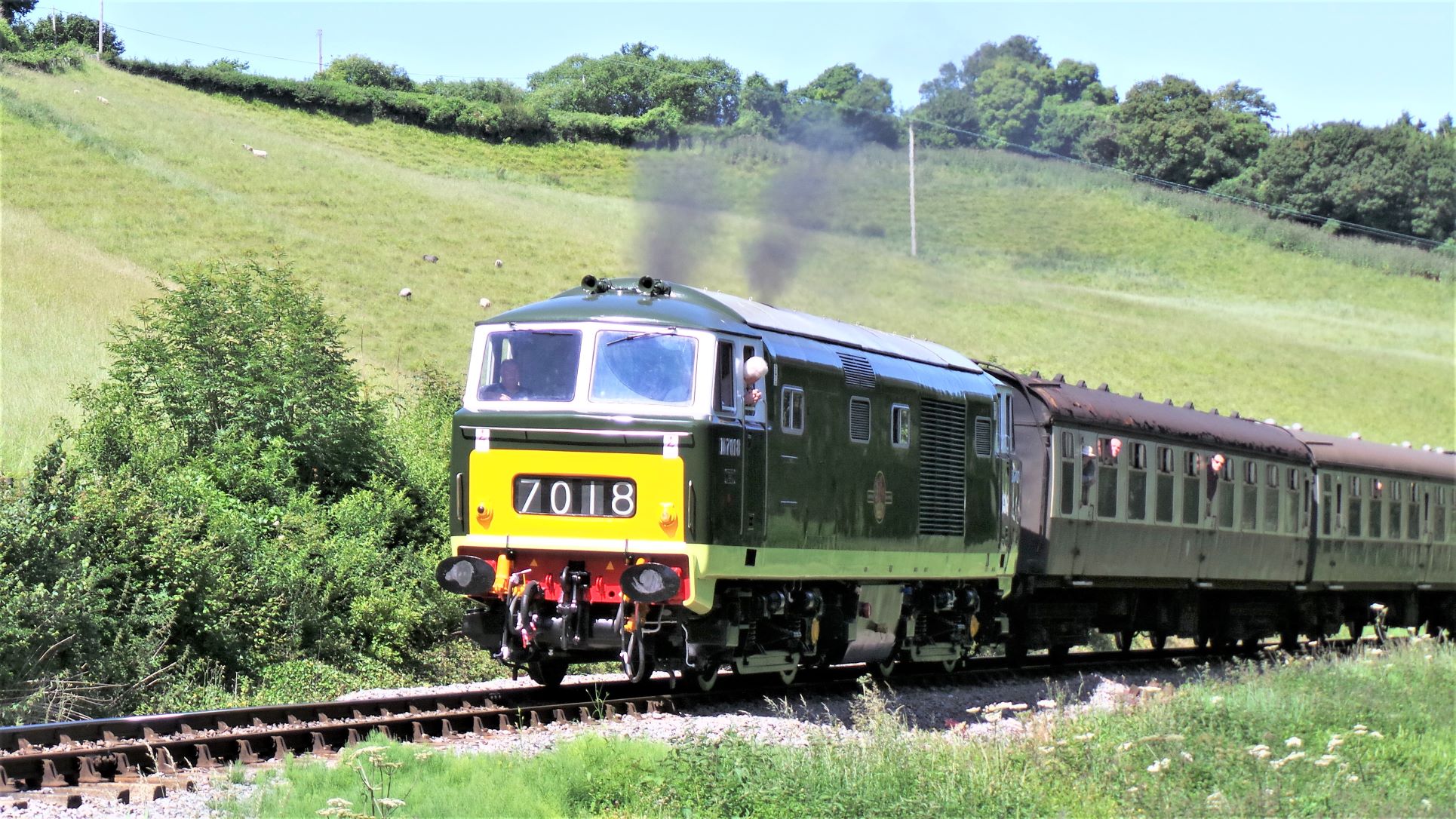 Current Status: Not available for service. Undergoing investigation into a transmission control issue.
Click the icon for  information
---
Following withdrawal by BR in 1975, D7018 was first located at Didcot Railway Centre for a number of years before moving to Williton to join sister locomotive D7017.
The loco underwent a very lengthy heavy overhaul following a major engine failure at Williton in 1995 and is currently fully operational, having returned to service on the WSR during the 2019 "Diesels To The Seaside" event.
Technical Specification
Engine: Bristol-Siddeley-Maybach MD870 V16 twin turbocharged and intercooled 87 litre high speed diesel
Transmission: Stone-Maybach-Mekydro K184 4-speed hydraulic gearbox
Weight: 73 tons
Length: 52 ft
Output: 1,740 hp at 1500 rpm
BR Power Rating: Type 3
Speed: 90 mph
Fuel Capacity: 600 gallons
Wheels: B-B
Tractive Effort: 49,000 lbs
History
Manufacturer: Beyer-Peacock (Hymek) Ltd, Manchester
Built: 1962.
First allocated Depot: Bristol Bath Road (82A) on the 18th January 1962.
Withdrawn from BR: March 1975.
BR Class: 35
Number Built: 101
Role: Mixed traffic
The 'Hymeks' were intended as a medium power mixed traffic loco, but were often rostered to deputise for some of the WR's largest steam locos on 13 and 14-coach trains in their early years. A total of 101 locos were built and were allocated all over the Western Region. They settled down to become a successful and capable fleet.
Introduced in 1961-4, the 'Hymeks' careers were cut short by BR's standardisation with diesel-electric types. The first withdrawals came in 1971, with some locos scrapped being less than nine years old. Full withdrawal of the fleet was planned for 1973 and a farewell tour, "The Hymek Swansong", ran in the September of that year. Due to loco shortages, ten 'Hymeks' soldiered on to 1975 when they were finally withdrawn. Of these, four have survived into preservation: the two D&EPG 'Hymeks' D7017 and D7018; D7029 with the Diesel Traction Group and D7076 with the Bury Hydraulic Group.
Read about sister locomotive D7017
Go to the Locomotive Status page