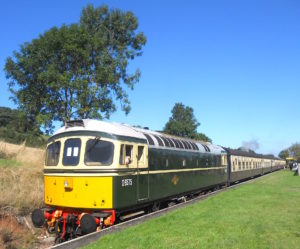 Current Status: Operational
see our  page
D6575 is a member of a class of 98 "Type 3" locomotives, later known as "Class 33", that were designed and built by the Birmingham Railway Carriage & Wagon Company (BRCW) in Smethwick, West Midlands in the period 1960 to 1962. D6575 entered service on the Southern Region (SR) of BR in November 1961. The locomotive class is of diesel-electric design concept and was the first design to incorporate dual braking (air and vacuum) and Electric Train Heating (ETH) as standard equipment.
D6575 (33 057) worked mixed traffic on the SR for 35 years until withdrawal in 1996 following a bogie fire that damaged No. 2 traction motor and the electrical wiring at No.1 cab end. The loco passed through several owners during the following nine years before being acquired by the owner of D6566 (33 048) as a source of spares for that loco, arriving at Williton in September 2005 in a dilapidated state.
After appraisal at Williton, the loco was deemed as repairable. It was painstakingly restored by the team at The D&EPG, then went to Brush Traction in Loughborough for a traction motor change and underframe repair in 2010. The loco then moved to Cranmore Traincare & Maintenance Services on the East Somerset Railway for bodywork repairs, returning to Williton in April 2011 resplendent in original two-tone green livery with small yellow warning panels at each end.
D6575 entered service on the WSR in 2012 and after a period of overlap during which her reliability was proven, she took over as the primary duty locomotive to allow sister D6566 to be withdrawn from service for a much needed overhaul. For the next six years, D6575 hauled service trains, engineering trains and (stage 1) Diesel Driver Experience Courses, until joined again by sister D6566 in 2018. The two locomotives now share the bulk of the day-to-day operational duties on the WSR.
Technical Specification
Engine: Sulzer 8LDA28 8-cylinder in-line turbocharged diesel
Transmission: 4 x Crompton Parkinson traction motors
Weight: 73 Tons
Length: 51 ft
Output: 1,550 hp at 850 rpm
BR Power Rating: Type 3
Speed: 85 mph
Fuel Capacity: 800 gallons
Wheels: Bo-Bo
History
Manufacturer: Birmingham Railway Carriage & Wagon Co (BRCW)
BR Class: 33
Introduced 1960
Number Built 98
Role: Mixed Traffic
Read about sister locomotive D6566 (33 048)
Go to the Locomotive Status page