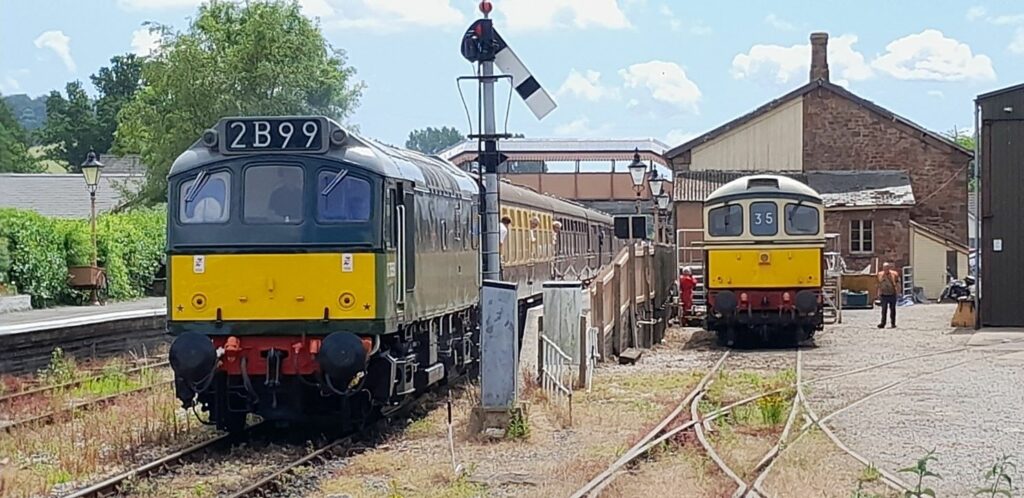 Visiting Class 25 D7659 (25 309, 25 909) was out and about on Saturday 24th and Sunday 25th June, working the diesel diagram of the BLUE timetable from Minehead. Pictured alongside Class 33 'Crompton' D6575 (33 057) at Williton on the 24th by Jon Tooke © CC BY-NC 3.0
The weekend diesel diagram of the BLUE timetable was covered in style by visiting Class 25 D7659 (25309, 25909) from the Waterman Railway Heritage Trust at Peak Rail in Derbyshire, making the most of its last few days on WSR metals before moving to the Gloucestershire Warwickshire Steam Railway (GWSR) in time for their diesel gala that takes place between 7th and 9th July. This loco has been a very popular and reliable performer during its brief stay on the WSR, so it will no doubt be welcome to visit again, some time in the future.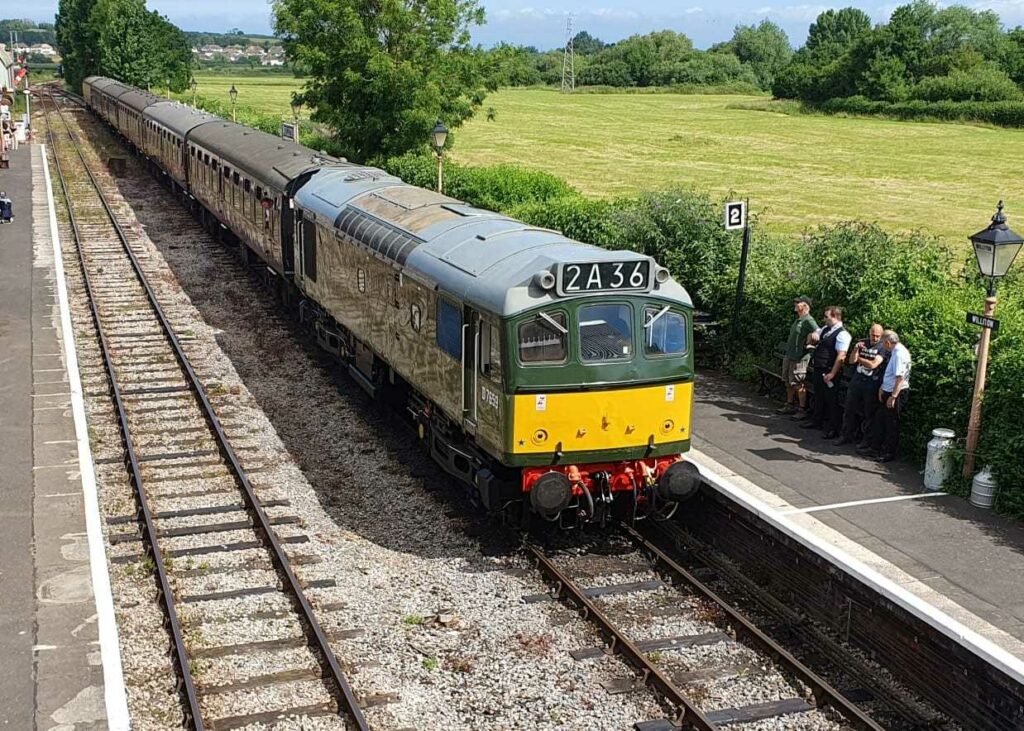 Class 25 D7659 (25309, 25909) was pictured from the footbridge at Williton Station on Saturday 24th June as she waited for the 'down' train to pass. The loco is evidently in pristine condition. Photo by Paul Clark © CC BY-NC 3.0
This weekend, Class 35 'Hymek' D7017 will be at work on the BLUE TIMETABLE on both Saturday 1st and Sunday 2nd July, so come along if you can and enjoy some 'Maybach Music' on this 80-mile diagram!
See our DIESEL RUNNING DATES page for details of public diesel-hauled services this year. This page is updated several times per week and is kept as accurate as we can make it. The loco allocations are subject to availability (of course), but we do try to field the allocated loco wherever possible. Click on the banner below to go to the website page:


The DIESEL RUNNING DATES pages is supplemented by our DIESELGEN bulletin service which captures non-public running such as special trains and engineering workings (where we have sufficient notice to publish such workings). Sign up for DIESELGEN emails or keep an eye on our website homepage.
LOCO NEWS:
Class 52 D1010 'WESTERN CAMPAIGNER' – work continues on this loco in preparation for the removal of her cooler groups and 'A' transmission, a task which requires the hire of a road crane because our fixed 10-tonne crane is out of action and anyway would require a major shunt affecting other groups to get the loco correctly positioned. The massive cardan shaft that provides the drive from the transmission to the final drive gearbox was slackened by Colin F, Geoff and Tim while Leroy disconnected the pneumatic services. The cooler groups had previously been disconnected by Gordon and Leroy and are ready to lift out, after which they will be overhauled in the loco shed by Tony. The work was further complicated by the oily mess caused by a leaking hydrostatic pump on the cooling fan circuit, which will also be overhauled while the transmission is out of the way.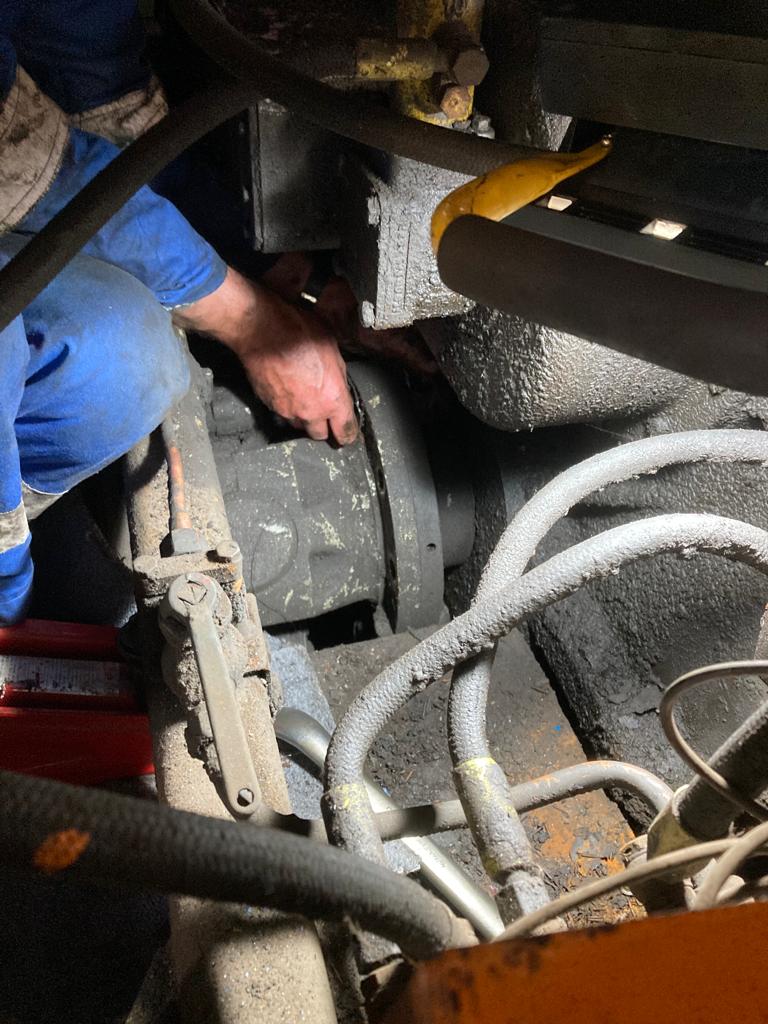 D1010 – the 'A' transmission has been disconnected (as much as possible while the cooler group remains in place) although the work was difficult in the cramped and oily conditions. Pictured at Williton on Tuesday 27th June by Tim Zilkha © CC BY-NC 3.0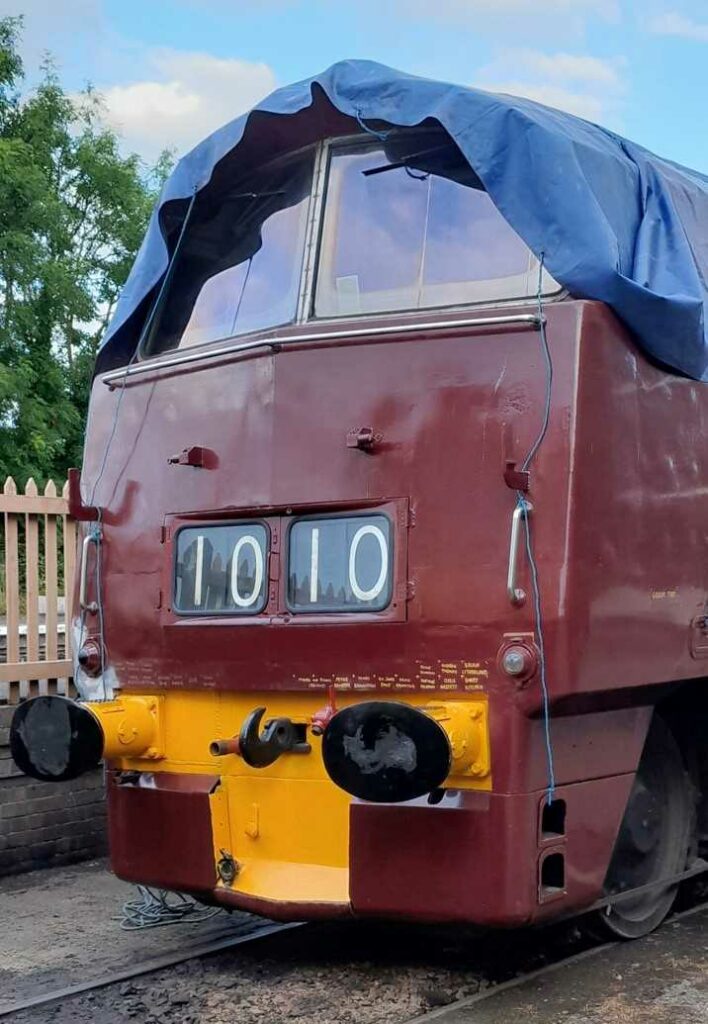 D1010 – the 'A' end of the loco has been the focus of attention during the last few weeks, as Ian F and Gary worked on the bodyside finish while the rest of the team worked inside the loco in the hot and sticky weather conditions. Pictured at Williton on Saturday 24th June 2023 by Jon Tooke © CC BY-NC 3.0
Having the loco outdoors generated quite an interest in our SPONSOR A PATCH scheme, with several more patches being marked up with their sponsor's names or messages during the gala, for engraving at our next opportunity. This initiative remains the single most successful fund-raising activity and has allowed us to make significant progress with the restoration work. PLEASE CONTINUE TO HELP US FUND THIS PROJECT.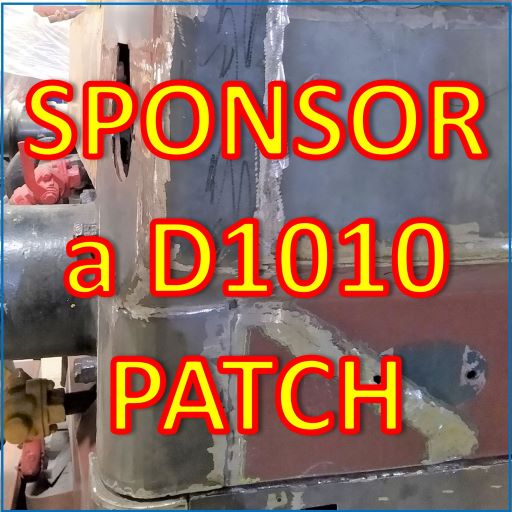 Photographs and certificates of sponsorship will be sent out to all who have sponsored the restoration work, and we are applying more resources to catch up with this obligation and deliver the documents. Click the image below to sponsor a patch. Thank you in advance for your support !
See our CAMPAIGN for CAMPAIGNER web page for more details. We still have a lot of work to do on this massive locomotive, so PLEASE DO COME ALONG AND HELP IF YOU CAN !


Class 33 D6566 (33 048) – this loco was in use on Sunday 25th June to haul the last service of the day from Bishops Lydeard to Minehead, taking over from the Class 25 which remained at Bishops Lydeard ready for road transport collection.
Class 33 D6575 (33 057) – this loco is stabled at Williton and is also fully operational and available for use at short notice. While at the yard, preparation was made to swap one of the buffers for a spare that was obtained from now-scrapped sister loco 33046 (D6564).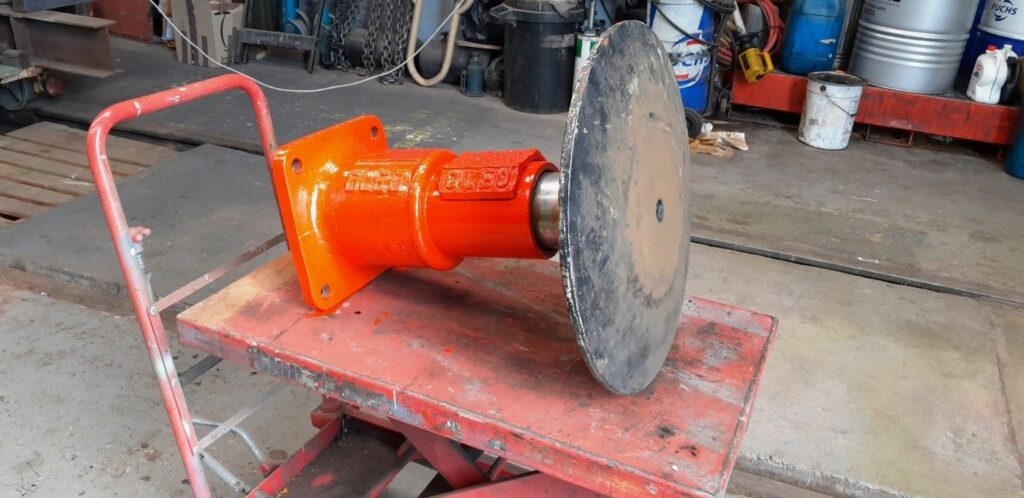 D6575 – one of the spare OLEO hydraulic shock-absorbing buffers previously carried by sister loco 33046 (D6564) was cleaned up and made ready for fitting to D6575 on Saturday 24th June 2023. Photo by Jon Tooke © CC BY-NC 3.0
Class 35 'Hymek' D7017 – this loco is stabled at Minehead in anticipation of her booked workings on Saturday/Sunday 1st/2nd July under the BLUE timetable. See our DIESEL RUNNING DATES page for information about this season's diesel-hauled services.
Class 35 'Hymek' D7018 – investigations into her Mekydro hydraulic transmission control block have yielded some good clues that need to be followed up before taking the next steps. The spare transmissions will be used to verify the correct setup of the control block before the engine is run again. This is a careful step-by-step process to make progress while preventing damage to irreplaceable components.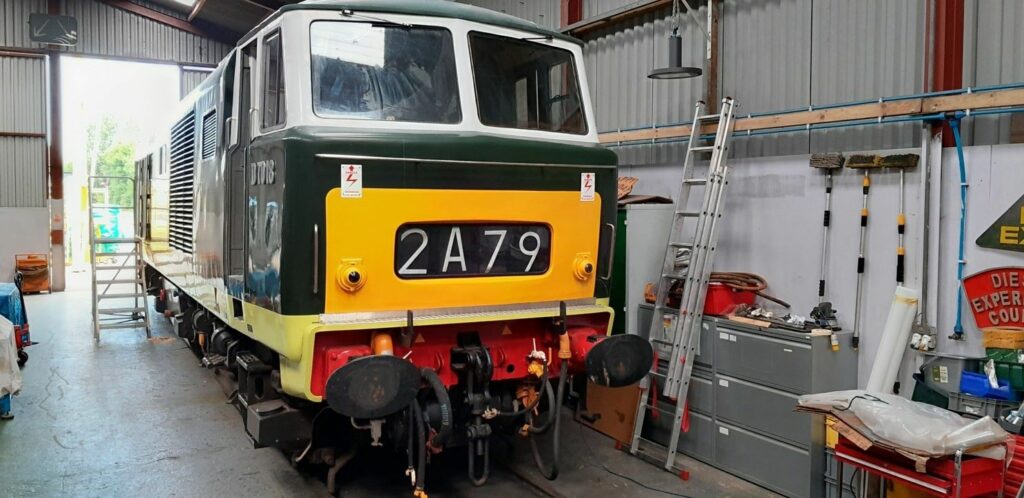 D7018 – currently residing in the loco shed while work proceeds on her transmission control block, the loco was subjected to testing which in turn led to some additional investigative steps. Pictured at Williton on Saturday 24th June 2023 by Jon Tooke © CC BY-NC 3.0
Class 14 'Teddy Bear' D9518 – work continued on the dismantling of the power controller that fits within the driver's desk. On most locomotives, this sturdy piece of 1960s Brush Electrical Engineering kit is mounted vertically in the form of a pedestal, but in the Class 14 it is mounted horizontally. The commonality with many of our other locos was useful because one of the contact 'fingers' had broken and was easily replaced from our Class 47 spares stock. Meanwhile, we took delivery of a brand new safety bow assembly for the engine cardan shaft, made by Somerset firm SFM Technology to Paul Clark's revised and strengthened design – and it definitely looks like a very sturdy piece of work !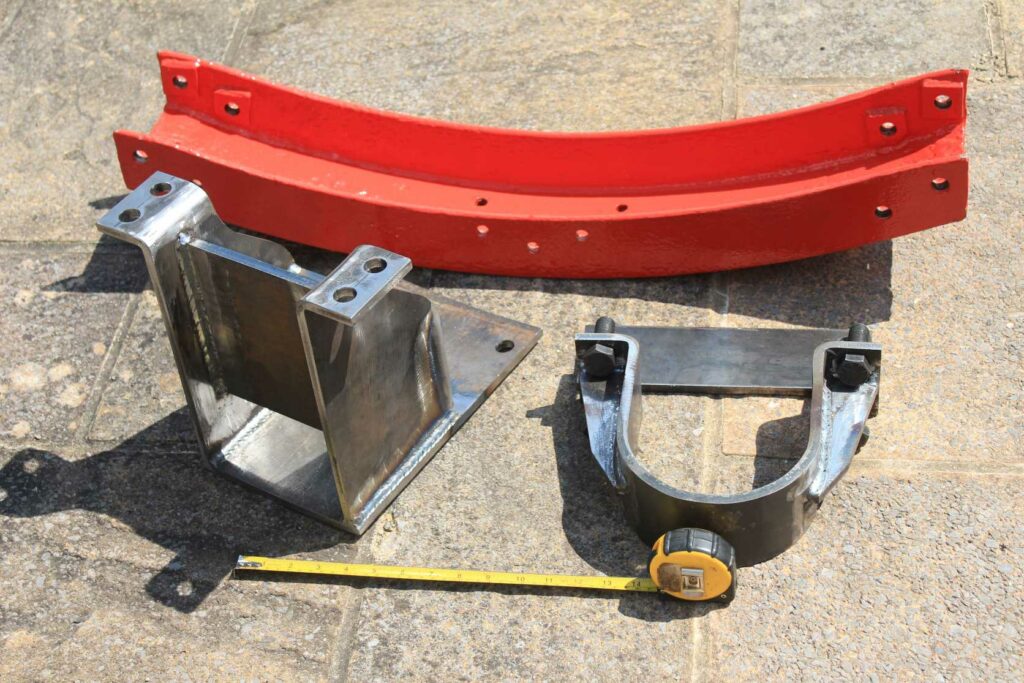 D9518 – the new safety bow assembly delivered by Somerset firm SFM Technology replaces a safety-related part that was missing from the loco. This new assembly attaches to the red-painted cross member, pictured on 21st June 2023 by Terry Deacon © CC BY-NC 3.0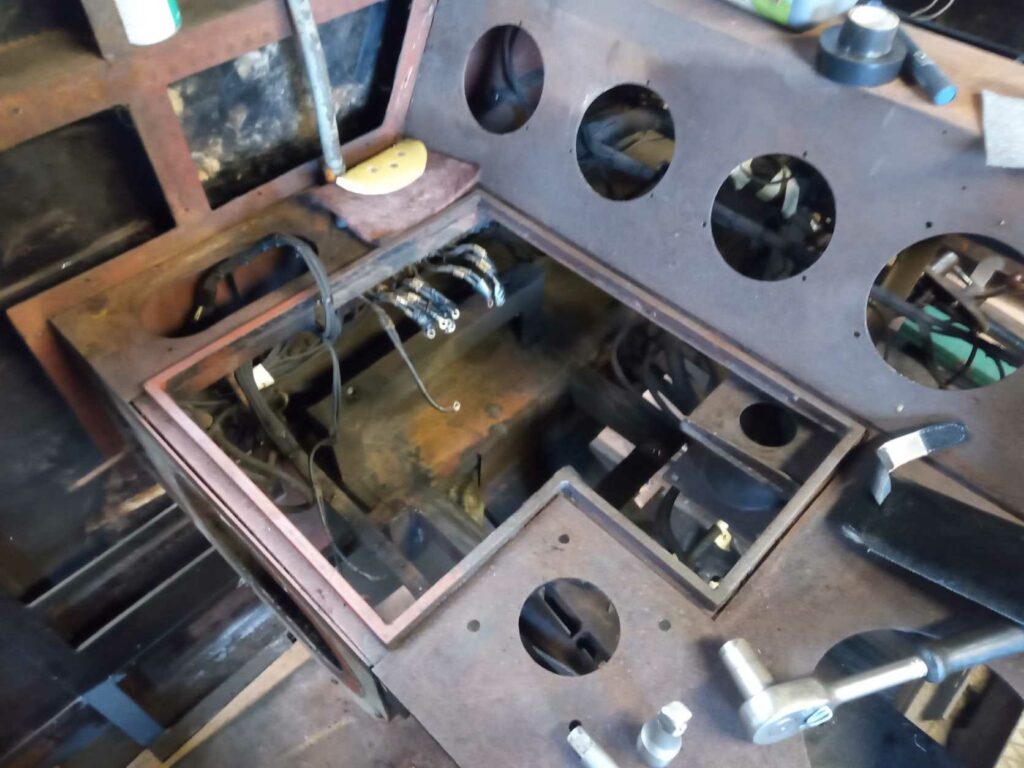 D9518 – the vacant space in the driver's desk where the power controller assembly normally fits, pictured before restoration at Williton on 24th June 2023. Photo by Colin Girle © CC BY-NC 3.0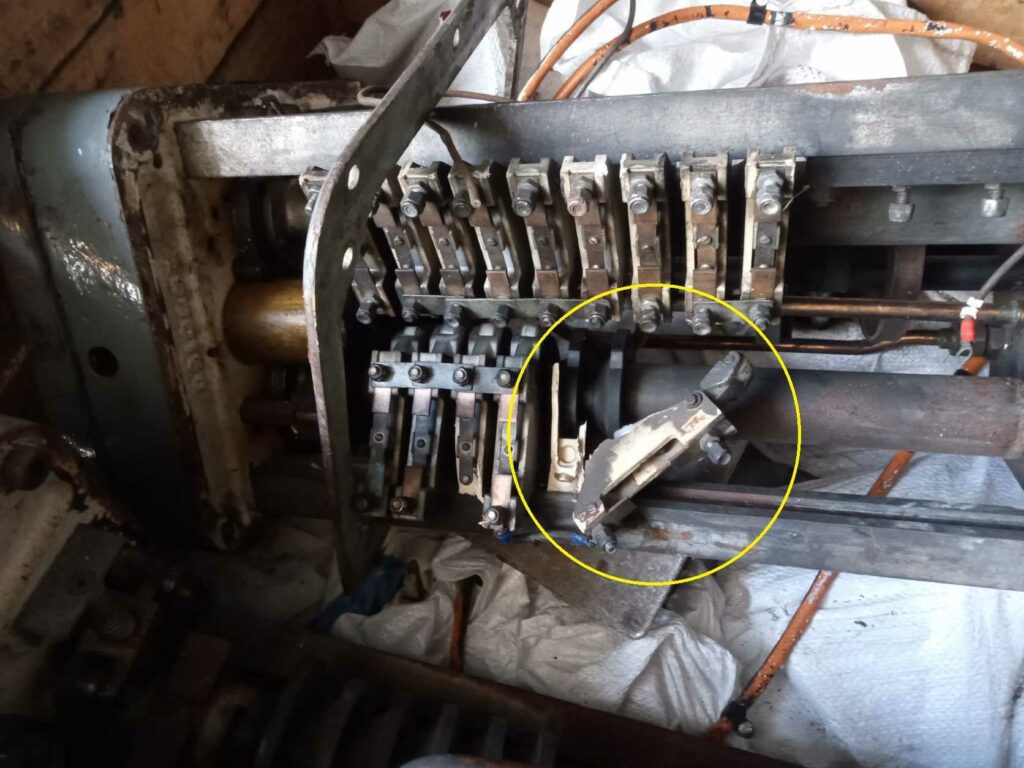 D9518 – the broken finger contact within the Brush power controller is highlighted by the yellow circle in the photo taken at Williton on 24th June 2023 by Colin Girle © CC BY-NC 3.0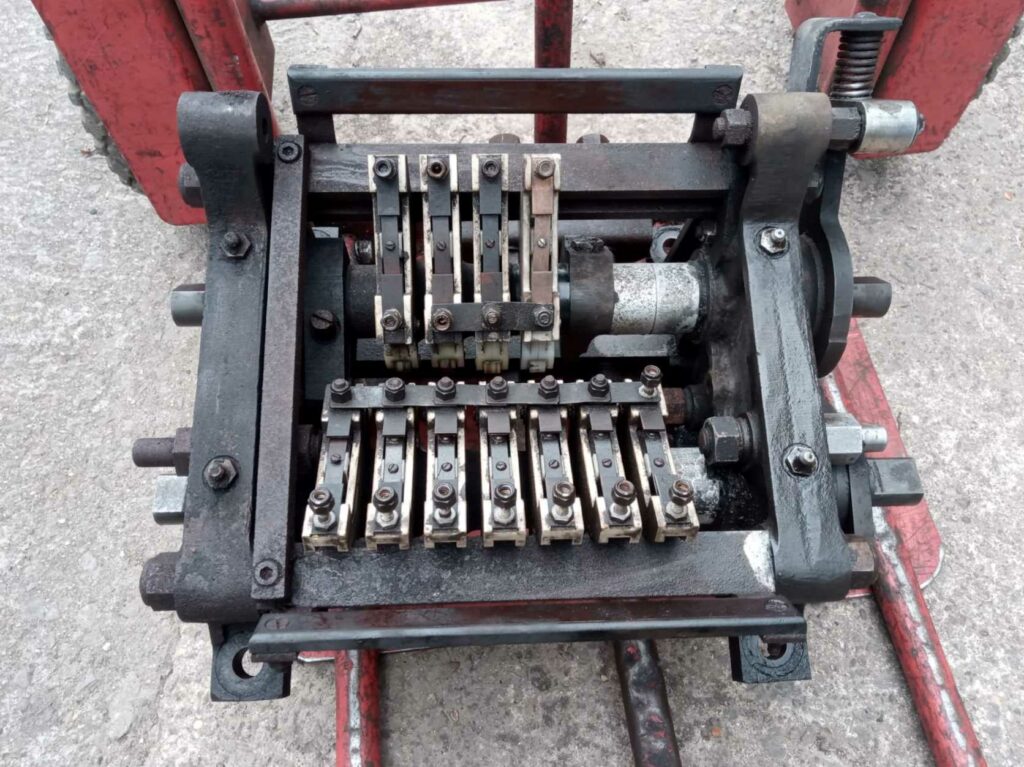 D9518 – the Brush power controller assembly has been fitted with a spare contact finger taken from Class 47 spares stock and is now ready for overhaul at Williton. Pictured on 24th June 2023 by Colin Girle © CC BY-NC 3.0
This loco is the subject of a fundraising appeal so please follow this link to find out more. We need your help ! In addition to funds, we also need plenty of HANDS. If you love the 'Teddy Bears' and you are not already a member of the DEPG, please join us so that you can become one of the team that is going to return D9518 to fully operational condition as 'NCB No. 7'.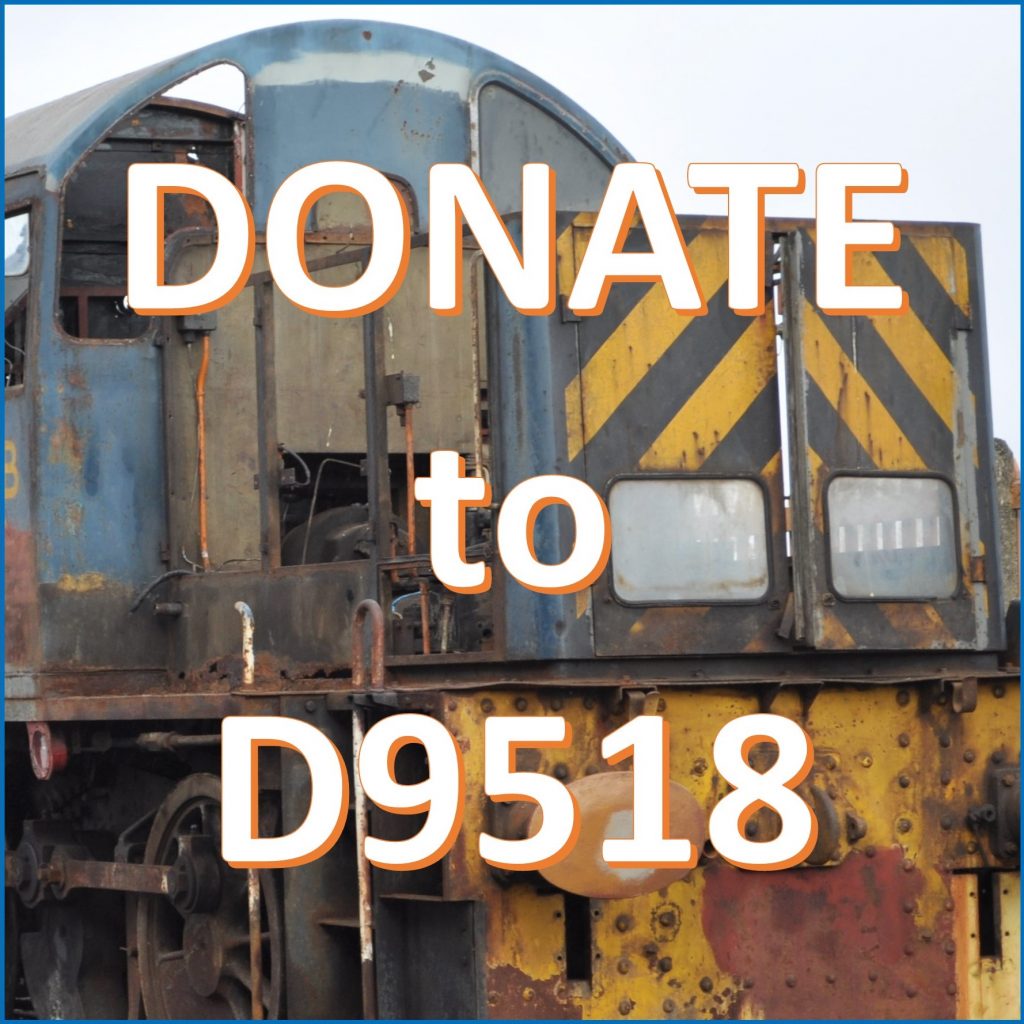 Class 14 'Teddy Bear' D9526 – this loco is fully serviceable and ready for use as soon as suitable opportunities arise. The loco had moved to Bishops Lydeard to cover for Class 09 shunter D4107 (09 019) while that loco was temporarily out of action, but has since returned to Williton. We hope to be able to use D9526 in support of the DMU on some of the YELLOW timetable services during the summer. See our DIESEL RUNNING DATES page for additional running dates, as they get released.
Class 47 47077 'NORTH STAR' – this loco is undergoing a cylinder head overhaul at Grosmont Works on the North Yorkshire Moors Railway after a fracture was found in one of her cylinder head bolts. Our Ian Robins has visited this week and reports that all of the cylinder heads have been removed for cleanup and inspection. Hopefully we will have his photographs to feature next week.
Andrew Barclay 0-4-0DH 578 – this loco is in full working order and is stabled in the South Yard, ready for action. The opportunity has been taken to start work on a cab internal repaint, the first step for which is corrosion control on the 51-year old loco. The work will be carried out by well-known WSR and DEPG volunteer Jon Tooke, who has kindly provided many of the photographs this week. Well done JT !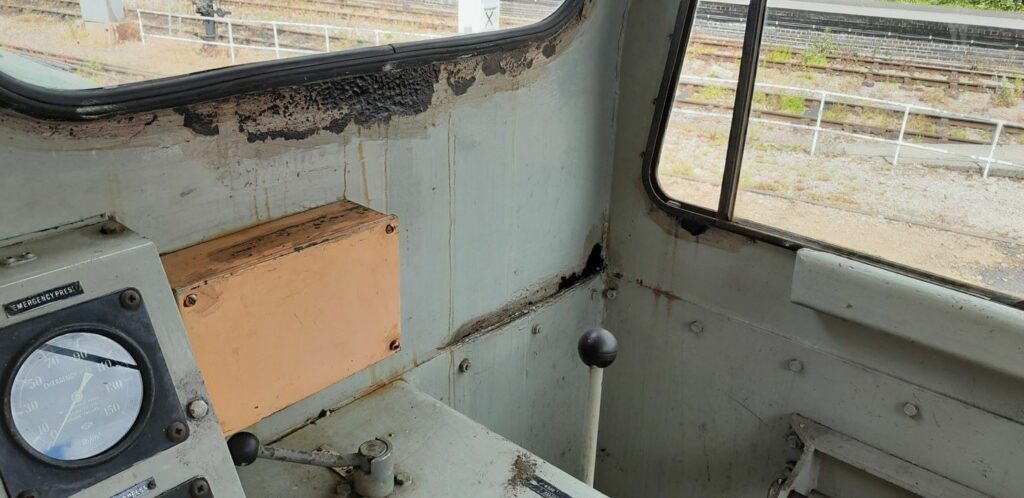 Barclay 578 (ROF1) – the cab interior is in need of some attention and JT is the right man for the job! The corrosion below the window seals on this 51-year-old loco is apparent. Pictured at Williton on 24th June 2023 by Jon Tooke © CC BY-NC 3.0
If you can help by donating your time to any of these projects, then please JOIN US and come along to the depot for an introduction to what we do and how we do it. We currently have people on site from Saturday through to Tuesday and we can open on other days if we can be sure of getting at least two volunteers on site at all times, so there is plenty of scope. We have tasks of all types to suit most capabilities, both skilled and unskilled.
Many thanks to all of our volunteers who give up so much of their time to work on the cleaning, painting, maintaining, restoring, managing and fund raising for our fleet of heritage locomotives !