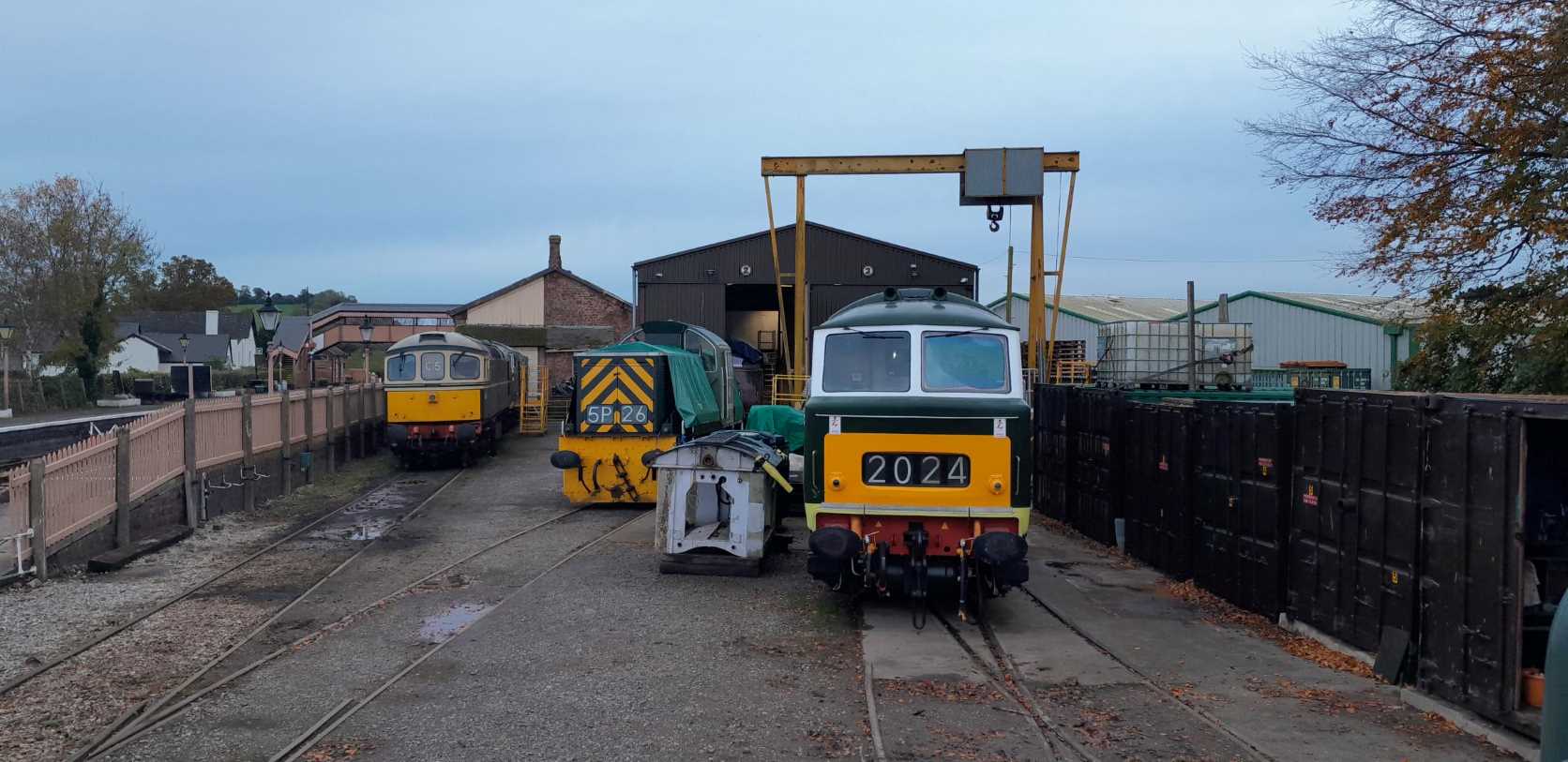 The autumn line-up at Williton comprises Class 33 'Crompton' D6575 (33 057) on number 1 road with Class 35 'Hymek' D7017 hiding behind, then Class 14 'Teddy Bear' D9526 in the middle on number 2 road, and 'Hymek' D7018 on number 3 road. Pictured on Saturday 11th November 2023 by Jon Tooke © CC BY-NC 3.0 
LOCO NEWS:
Class 52 D1010 'WESTERN CAMPAIGNER' – the bodywork was left alone this week as the effort moved to the revision of the plans to lift the loco from her bogies so that the suspension components and brake rigging can be overhauled. Being no stranger to hard work, Gordon made a start on cleaning 50 years worth of dirt and grime from the bogie frame at 'A' end, his efforts revealing just how much work is involved in just the preparation for the overhaul. PLEASE COME ALONG AND HELP US WITH THE WORK ON THIS LOCO. Simply use the CONTACT FORM on our website if you can lend a hand.
The re-assembly of the 'A' transmission is making very good progress, with the new bearings being fitted and the oilways checked as the work proceeds. In parallel, Steve continues to work diligently on the wiring in the 'B' cab and Tony has been pressure testing all of the radiator elements and now has a small pile requiring repair and a much larger pile that are fit for further service. The 'A' end cooler group frame has also been the subject of his attention and has now swapped positions with the 'B' frame so that he can assess the repairs that need to be made to the corroded areas. The photos below show the progress: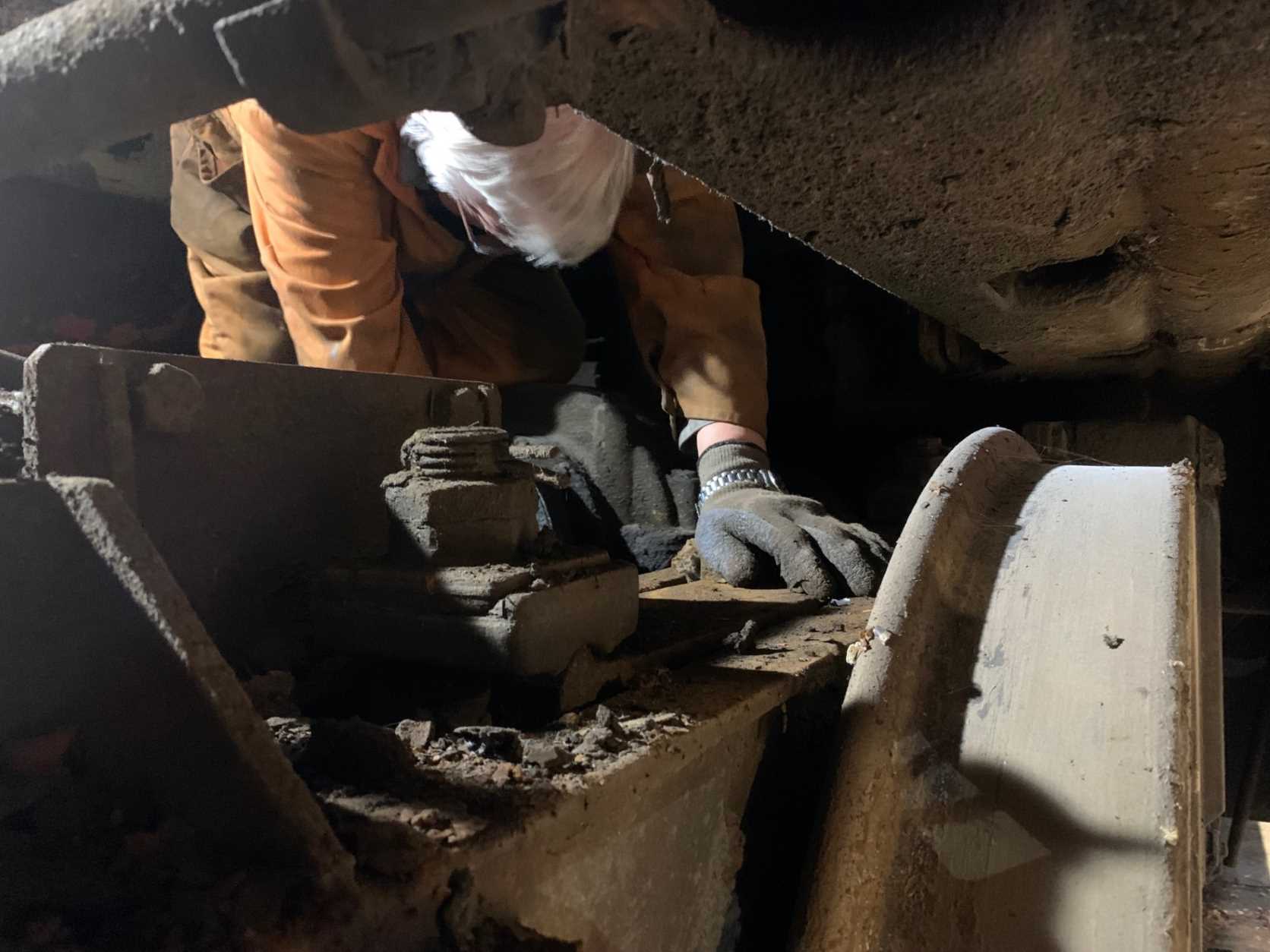 D1010 – Gordon was working in the space that is normally occupied by the transmission at 'A' end, to make a start with scraping off the 50-years-worth of dirt and grime that has accumulated since the loco was last lifted from its bogies. Pictured at Williton on Saturday 11th November 2023 by Andy Royal © CC BY-NC 3.0 
D1010 – Gordon stands aside to let the camera capture an image looking down on the bogie at 'A' end. Two of the six brake cylinders are clearly visible along with one of the two cardan shafts that connect the final drive gearboxes of the three axles in the bogie. Pictured at Williton on Saturday 11th November 2023 by Andy Royal © CC BY-NC 3.0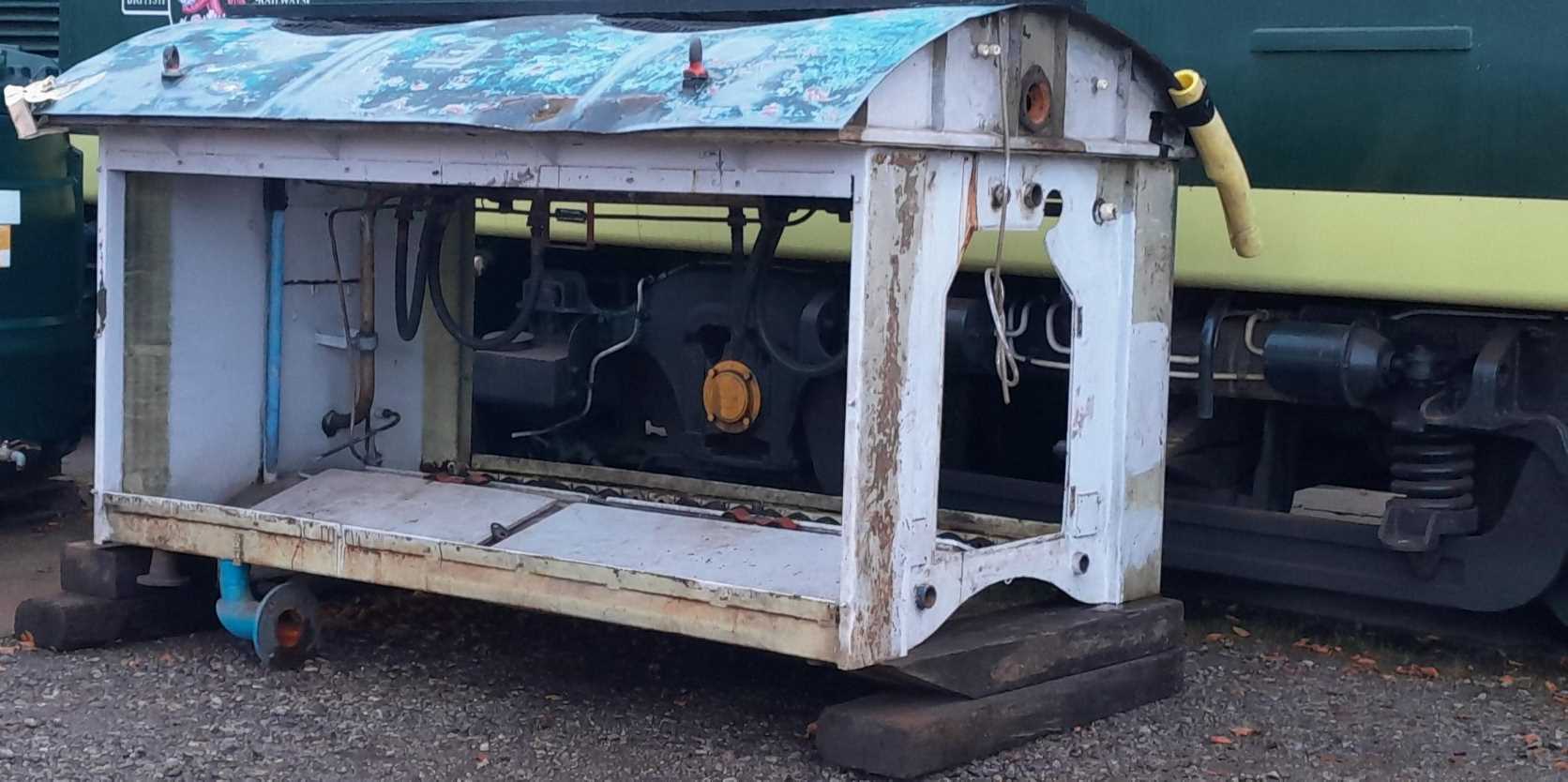 D1010 – The cooler group frame from 'A' end has now been moved into the yard to await repairs to the corroded and in some places distorted metalwork. Pictured at Williton on Saturday 11th November 2023 by Jon Tooke © CC BY-NC 3.0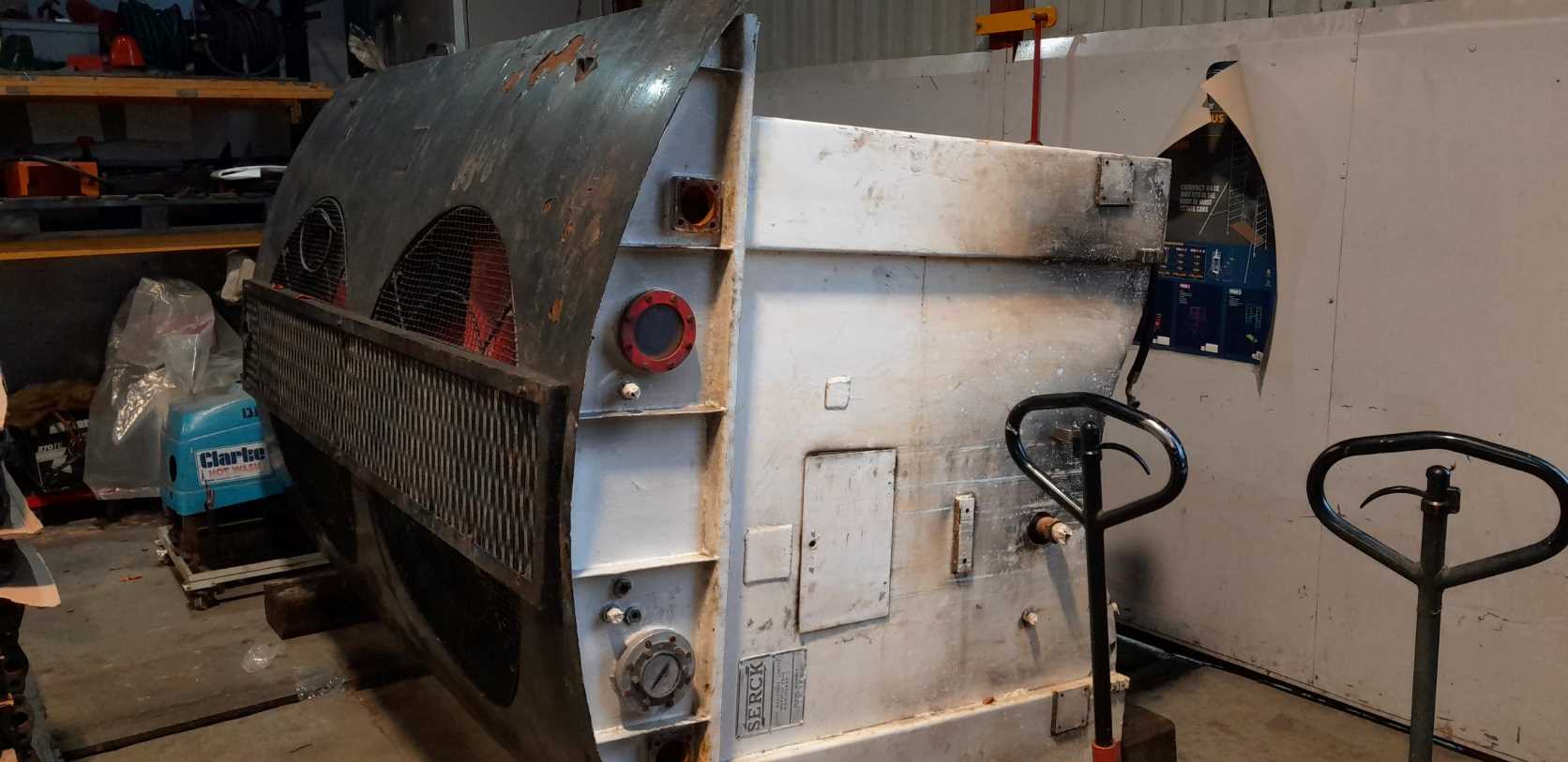 D1010 – The cooler group frame from 'B' end has now moved into the loco shed to allow repair assessment work to take place. Pictured at Williton on Saturday 11th November 2023 by Jon Tooke © CC BY-NC 3.0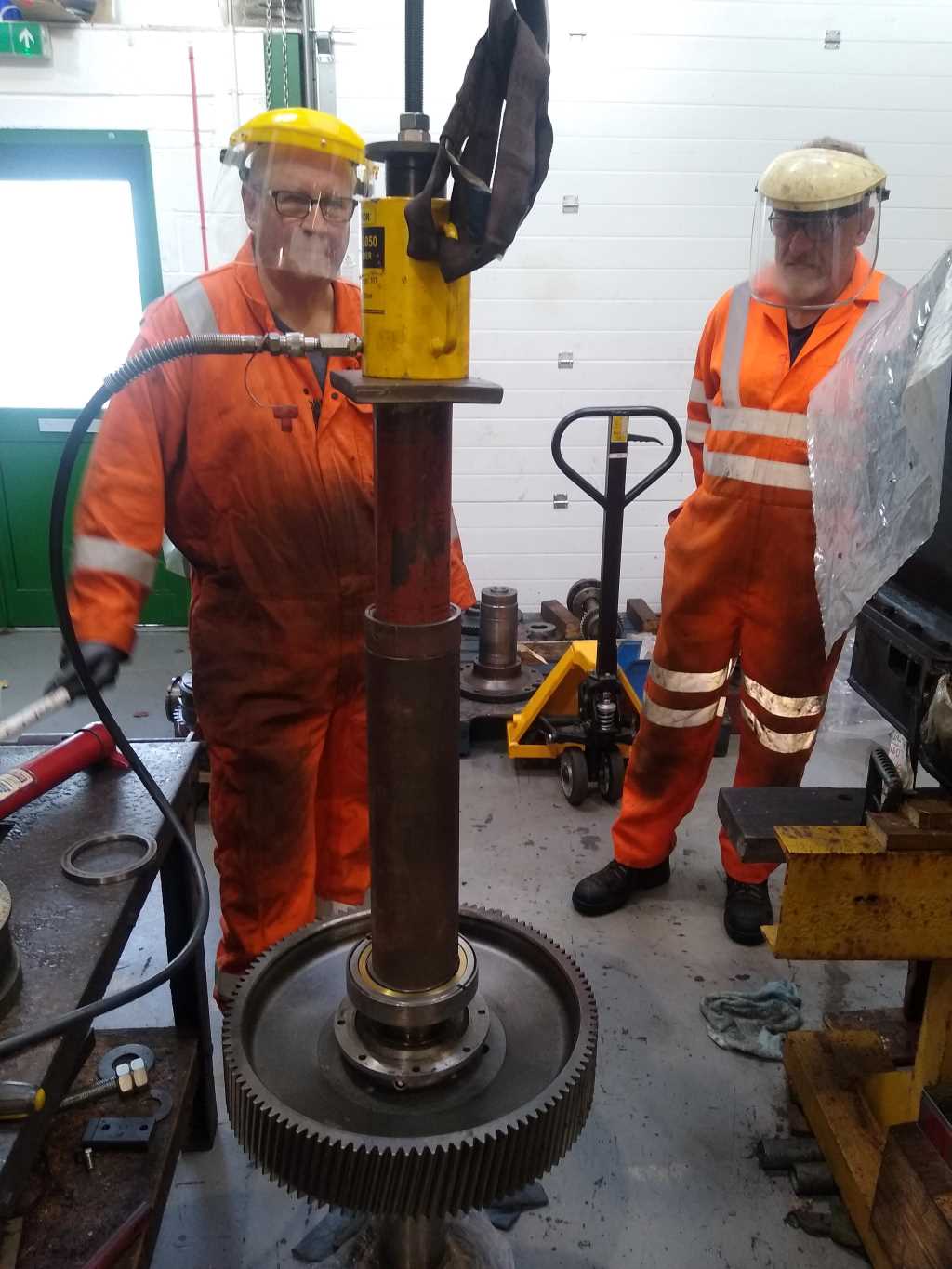 D1010 – Geoff was pictured at Williton on Monday 6th November 2023 with Tony observing the fitting of the new bearing on the input shaft of the 'A' transmission. Photo by Colin Foxhall © CC BY-NC 3.0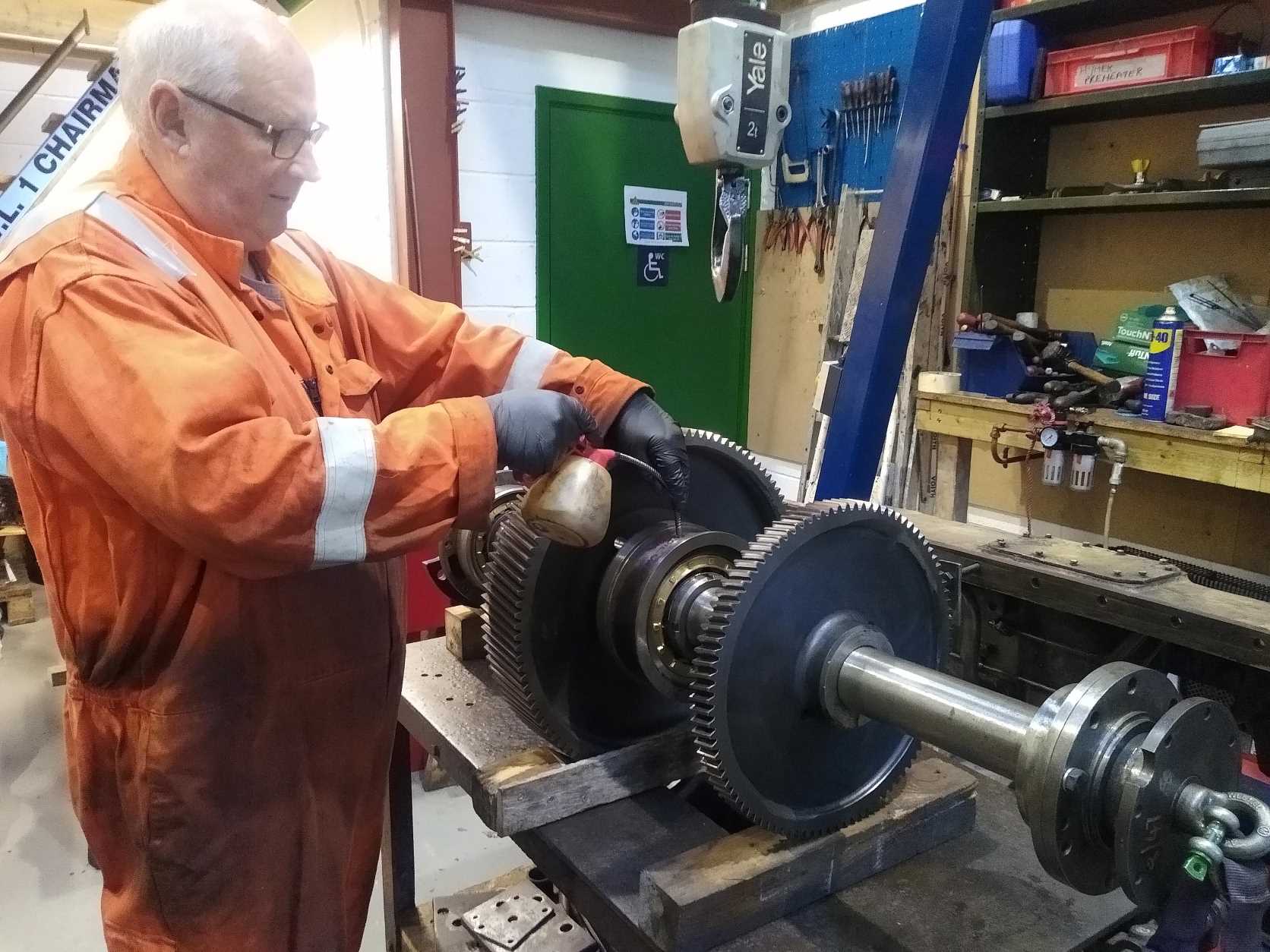 D1010 – Geoff continued with the rebuild of the input shaft and was pictured at Williton on Monday 6th November 2023 while testing the alignment of the oilways that keep the bearing lubricated. Photo by Colin Foxhall © CC BY-NC 3.0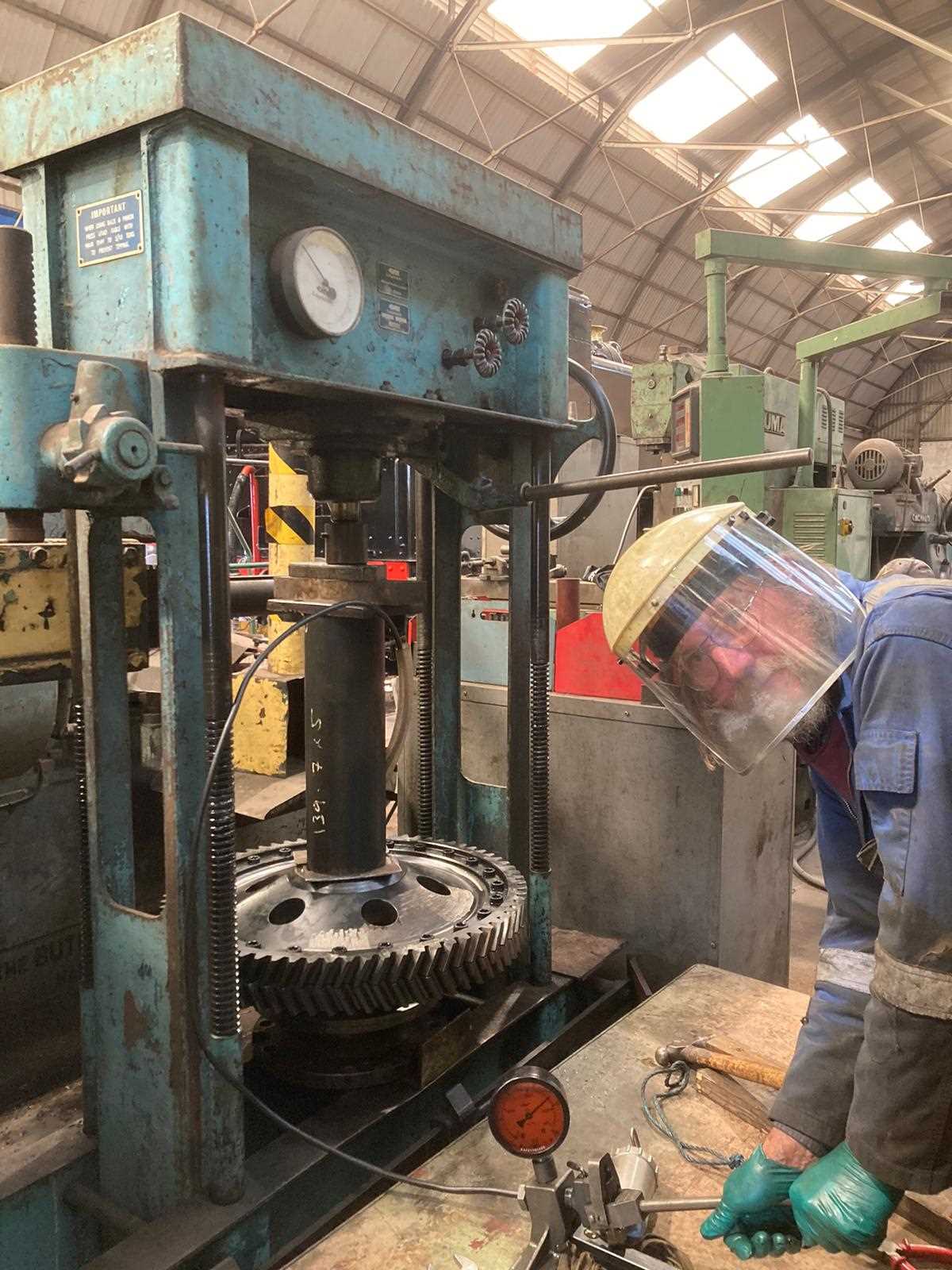 D1010 – a rare photo featuring Colin F as he applies oil injection pressure to achieve the correct taper fit position for the massive output gear wheel of the 'A' transmission. Pictured at Williton on Wednesday 7th November 2023 by Tim Zilkha © CC BY-NC 3.0 
We engraved another 20 patches on the 'B' side of the 'B' end of the locomotive last Saturday and we still have another 46 patches to engrave on the loco this coming weekend. There is still plenty of new metal to be marked and we certainly need the funds to continue with the pace of progress, so please keep up this amazing level of support and help get D1010 back to working order ASAP. Many thanks to those who placed their orders during the last few weeks.
Photographs and certificates of sponsorship will be sent out to all who have sponsored the restoration work, but we are still short of volunteer resources and have not yet been able to catch up with this obligation and deliver the documents. Apologies for the delay, we will get it done ASAP. Click the image below to sponsor a patch. Thank you in advance for your support and your patience!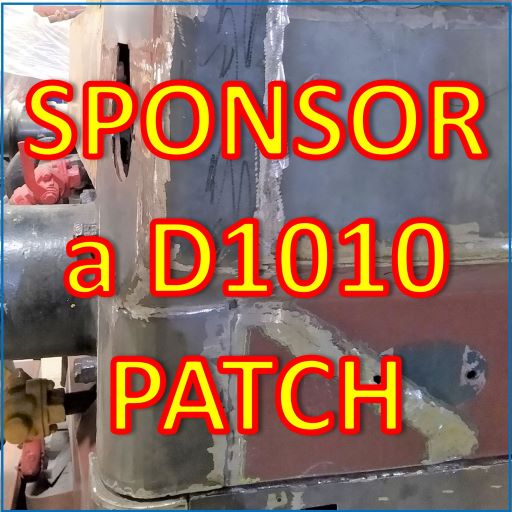 See our CAMPAIGN for CAMPAIGNER web page for more details. We still have a lot of work to do on this massive locomotive, so PLEASE DO COME ALONG AND HELP IF YOU CAN !


Class 33 D6566 (33 048) – this loco is now stabled at Bishops Lydeard to take on the role of 'Duty Loco' and will be covering the 'WINTERLIGHTS' services that start on Friday 24th November. Test runs for staff training will be carried out on 22nd and 23rd November.
Click here or on the ticket icon below to go to the WSR's 'WINTERLIGHTS' page: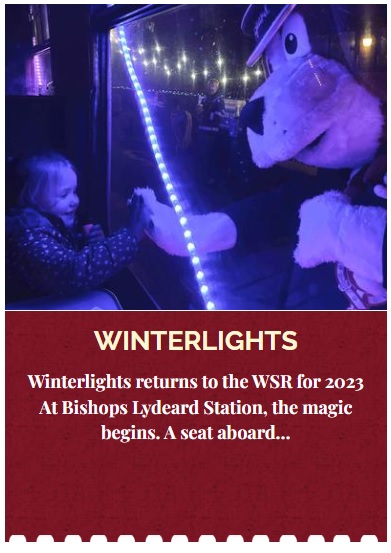 Class 33 D6575 (33 057) – this loco returned to Williton on Saturday 21st October to undergo winter maintenance, including an overhaul of her exhaust system. The loco will remain available for service until December and is scheduled to go into the loco shed on 23rd December, and will probably remain there for two months while the work is being done.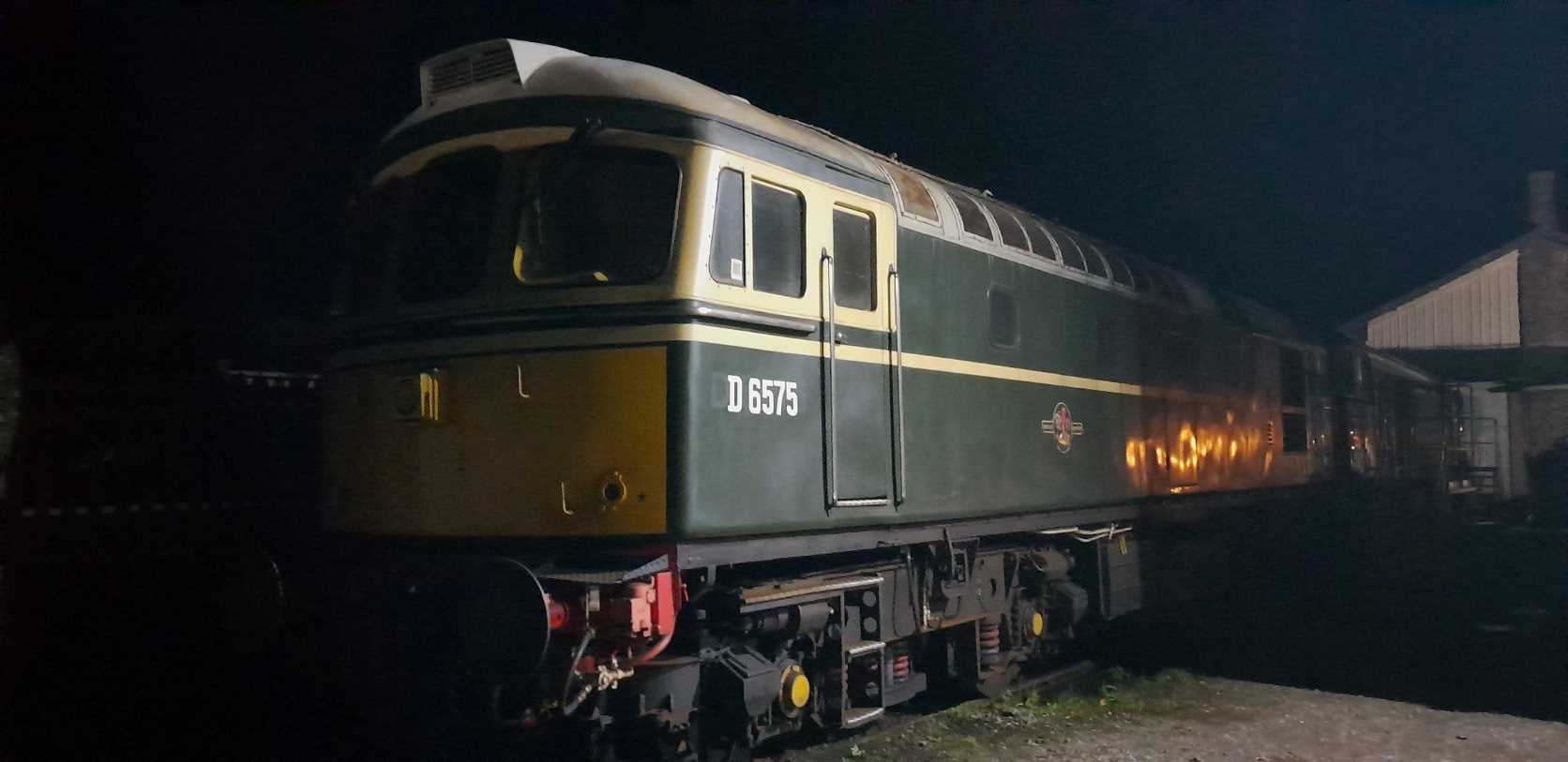 D6575 (33 057) – a night photoshoot at Williton on Friday 10th November 2023 caught this sturdy and reliable 1961-vintage machine in the yard on number 1 road, alongside the platform. Photo by Jon Tooke © CC BY-NC 3.0 
Class 35 'Hymek' D7017 – apart from some minor details that will be sorted out during the coming weeks, this loco is ready for action and will be sent out for a loaded test run as soon as possible when the line re-opens in the spring. Meanwhile, the loco will be 'winterised' to protect her from the elements, as far as possible, while she rides out the winter in the yard at Williton.
Class 35 'Hymek' D7018 – the Root Cause Analysis has identified several probable causes for the uncommanded engagement of the torque converter and each has been ranked for probability, based on the available evidence. Some additional testing will need to be performed to focus in on the most probable cause. Meanwhile, several other maintenance tasks are outstanding on this locomotive and will be progressed during the winter.
Class 14 'Teddy Bear' D9518 – the focus has switched to the restoration of the cab assembly, to allow the re-installation of the electrical control cubicle to take place. There is a lot of work involved in this complex assembly, much of which takes place in the background, but we will try to keep the photographs coming as each sub-assembly reaches completion.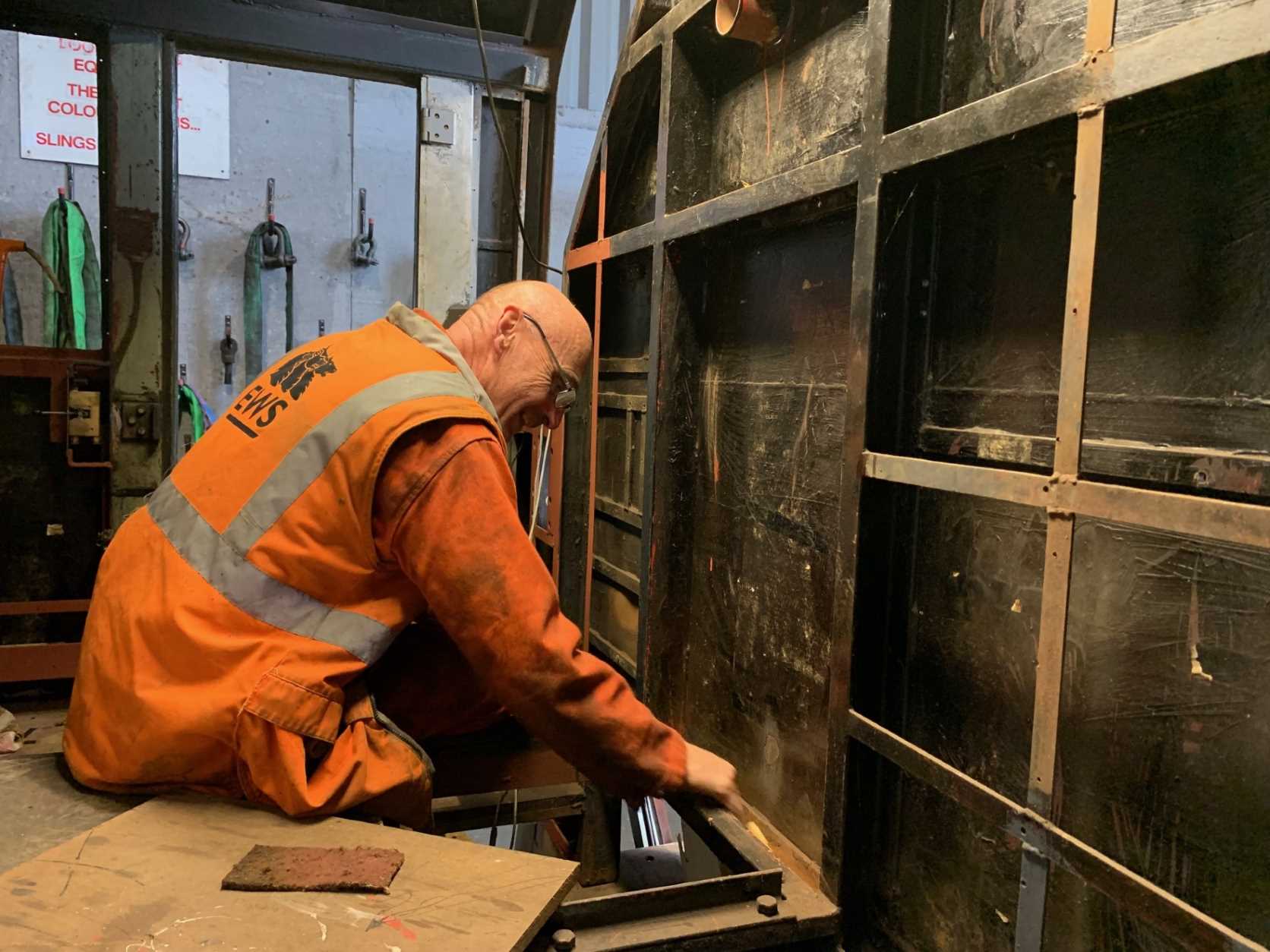 D9518 – Colin G was hard at work at Williton on Saturday 11th November 2023, preparing to paint the metalwork in the cab so that the electrical control cubicle can be fitted into place, in turn allowing the re-wiring work to continue. Photo by Andy Royal © CC BY-NC 3.0
This loco is the subject of a fundraising appeal so please follow this link to find out more. We need your help ! In addition to funds, we also need plenty of HANDS. If you love the 'Teddy Bears' and you are not already a member of the DEPG, please join us so that you can become one of the team that is going to return D9518 to fully operational condition as 'NCB No. 7'.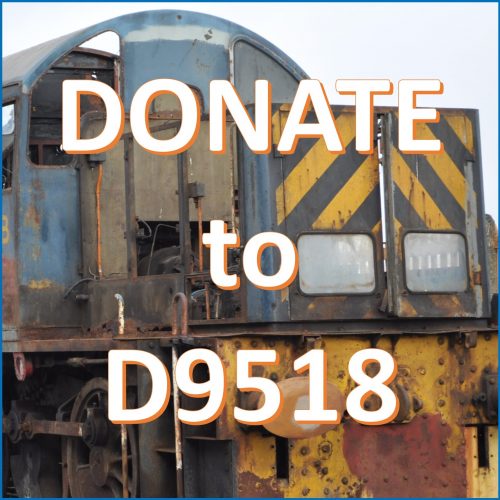 Class 14 'Teddy Bear' D9526 – this loco is stabled at Williton and is available for service, if called upon.
Class 47 47077 'NORTH STAR' – this loco is undergoing a 'top end' engine overhaul at Grosmont Works on the North Yorkshire Moors Railway. The progress on 'NORTH STAR' continues in between having to work on the other diesel locos in their care. We look forward to her being back out and about again.
Andrew Barclay 0-4-0DH 578 – the internal cab repaint being carried out by 'JT' has progressed well, but he is keeping us in suspense and not providing photos until he has finished the job. It is already apparent from the outside view below that the cab is looking so much brighter and cleaner, so we look forward to seeing the internal photos in the near future. Thanks Jon !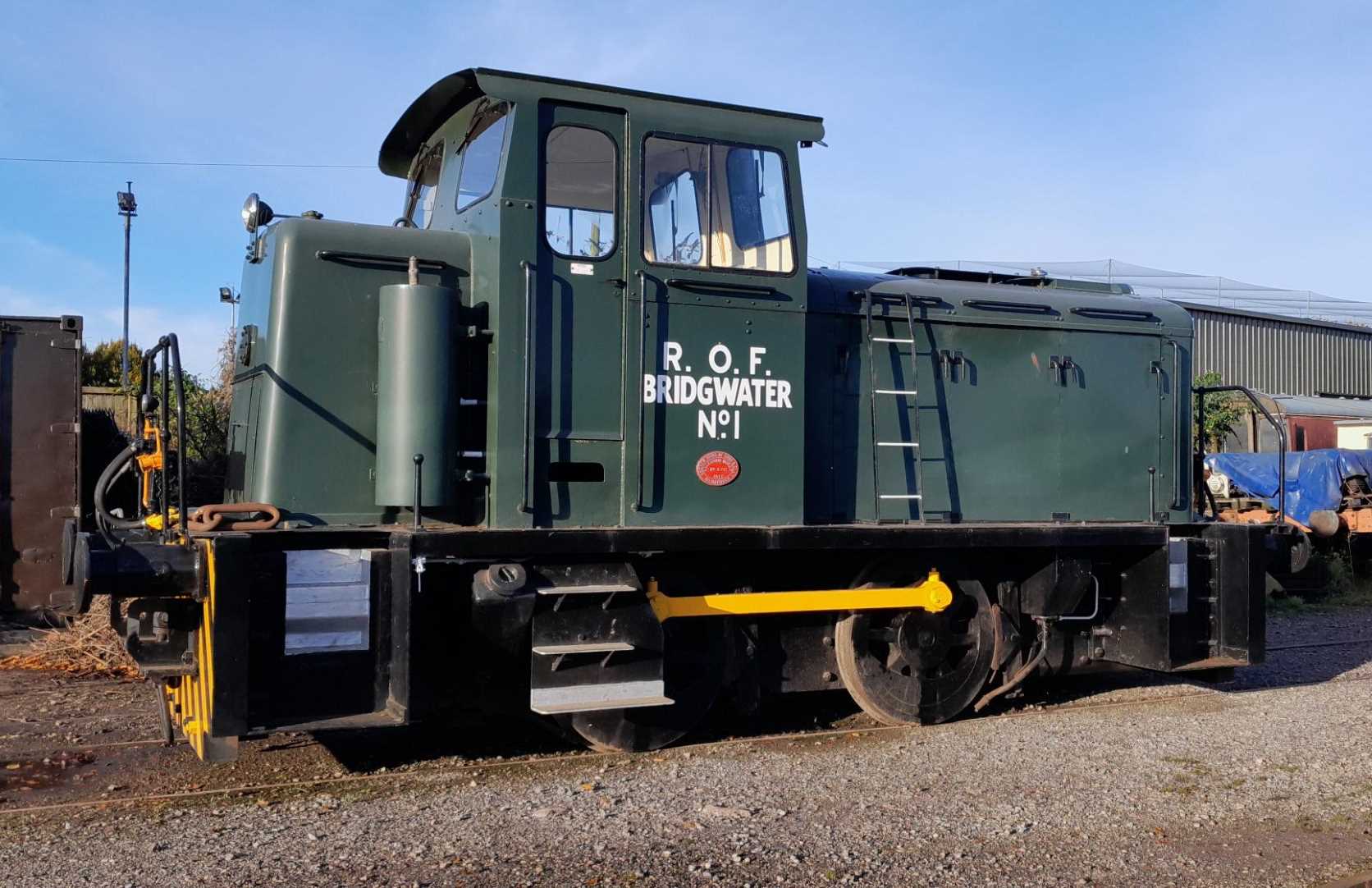 Barclay 578 (ROF 1) – Pictured in the autumn sunshine in the yard at Williton on Saturday 11th November 2023, this loco has been benefiting from an internal cab repaint in the careful hands of 'JT'. Photo by Jon Tooke © CC BY-NC 3.0
If you can help by donating your time to any of these projects, then please JOIN US and come along to the depot for an introduction to what we do and how we do it. We currently have people on site from Saturday through to Tuesday and we can open on other days if we can be sure of getting at least two volunteers on site at all times, so there is plenty of scope. We have tasks of all types to suit most capabilities, both skilled and unskilled.
Many thanks to all of our volunteers who give up so much of their time to work on the cleaning, painting, maintaining, restoring, managing and fund raising for our fleet of heritage locomotives !