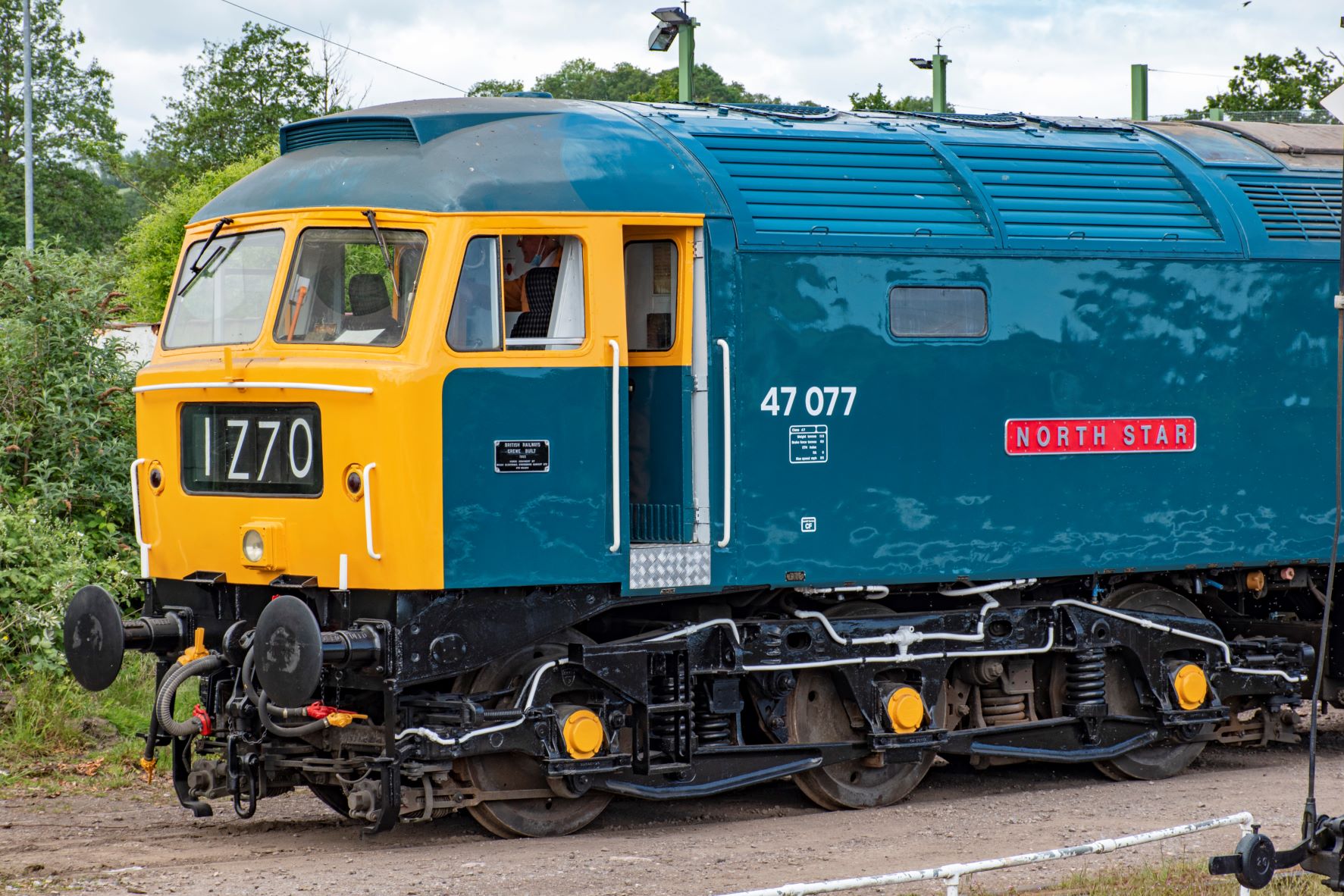 Our 'celebrity' Class 47 is famous for a number of reasons – first, she was one of a small number of 'standard Type 4' locomotives that were adorned with names by the Western Region of BR in March 1965. Later, when repainted in BR corporate blue livery, she continued drawing attention to herself by carrying a non-standard version of that livery throughout a period when anything 'non-standard' was being eliminated.
The loco started life in two-tone green with small yellow warning panels, as was her livery in recent times when working on the WSR as D1661. In 1973, when she was repainted from green to blue by the staff at Old Oak Common, the BR 'double arrow' logo was not applied. This strange omission carried on for several years of running and was still not corrected at a subsequent repaint. However, the following year (1976) saw her brought back into line with the standard livery applied. If you have photos from this period, please reply to this email or contact us because we are trying to build a gallery of photos for this loco and would welcome your help.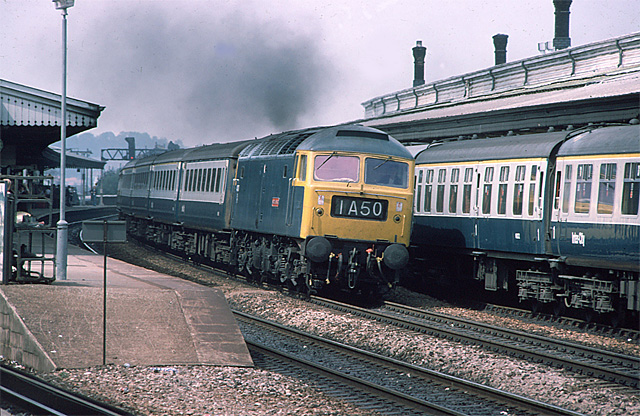 Class 47 number 47077 'NORTH STAR' in blue livery without the BR logo is seen powering through Reading towards Paddington on 1st September 1975. Photo by Martin Addison © CC BY-NC 3.0
There are several photos on the Class47 website, but not enough to be able to determine the exact dates of the livery changes. Here's a link to the gallery on the Class47 website: http://class47.co.uk/c47_photos_1.php??index=6&jndex=2&kndex=61&s_loco=1661
Another reason that our loco is famous is because she was chosen to haul the very last scheduled loco-hauled cross-country service on 19th August 2002, the 1M56 08:46 from Penzance to Manchester, paired with 47 847. The event was filmed by Locomaster Profiles and is available on DVD via this link: https://www.videoscene.co.uk/north-star-south-west-47840-penzance-birmingham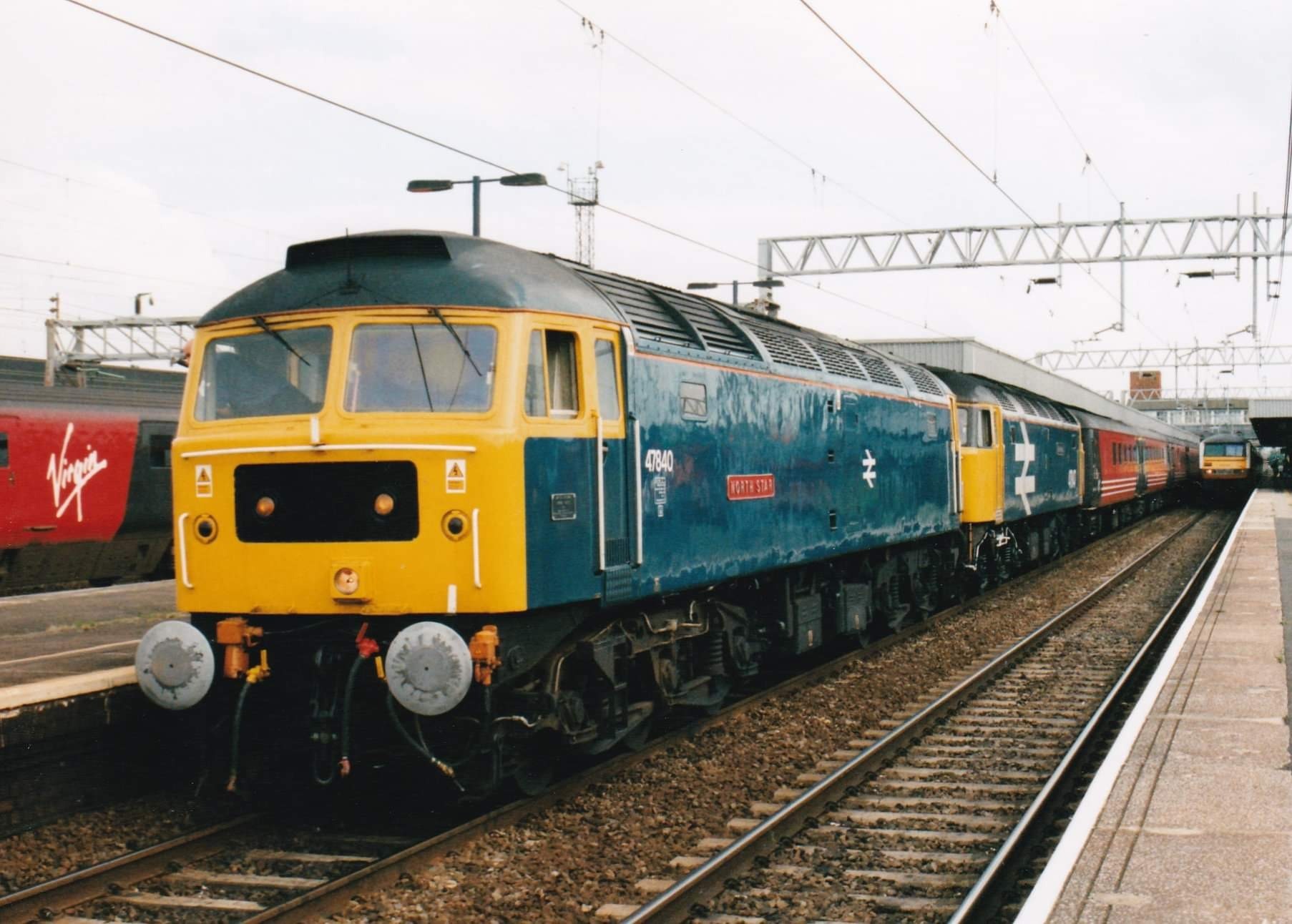 Class 47 D1661/47077/47613/47840 'NORTH STAR' leading 47847 on the very last scheduled loco-hauled cross-country service, the 1M56 from Penzance, seen pausing at Stafford en route Manchester on 19th August 2002. Photo by Julien Weston © CC BY-NC 3.0
Our loco has carried four running numbers during her time in mainline service. Introduced as D1661 in February 1965, she was named 'NORTH STAR' on the 20th March 1965 at a ceremony at Paddington by the then Minister of Labour, Ray Gunter. The loco then departed for Bristol where sister loco D1662 (who would work the train back to Paddington) was named 'ISAMBARD KINGDOM BRUNEL', surely the outright winner of the "longest ever nameplates award", were there to be such a thing ? No, believe it or not, that title went to one of her sister locos, D1664 'GEORGE JACKSON CHURCHWARD'.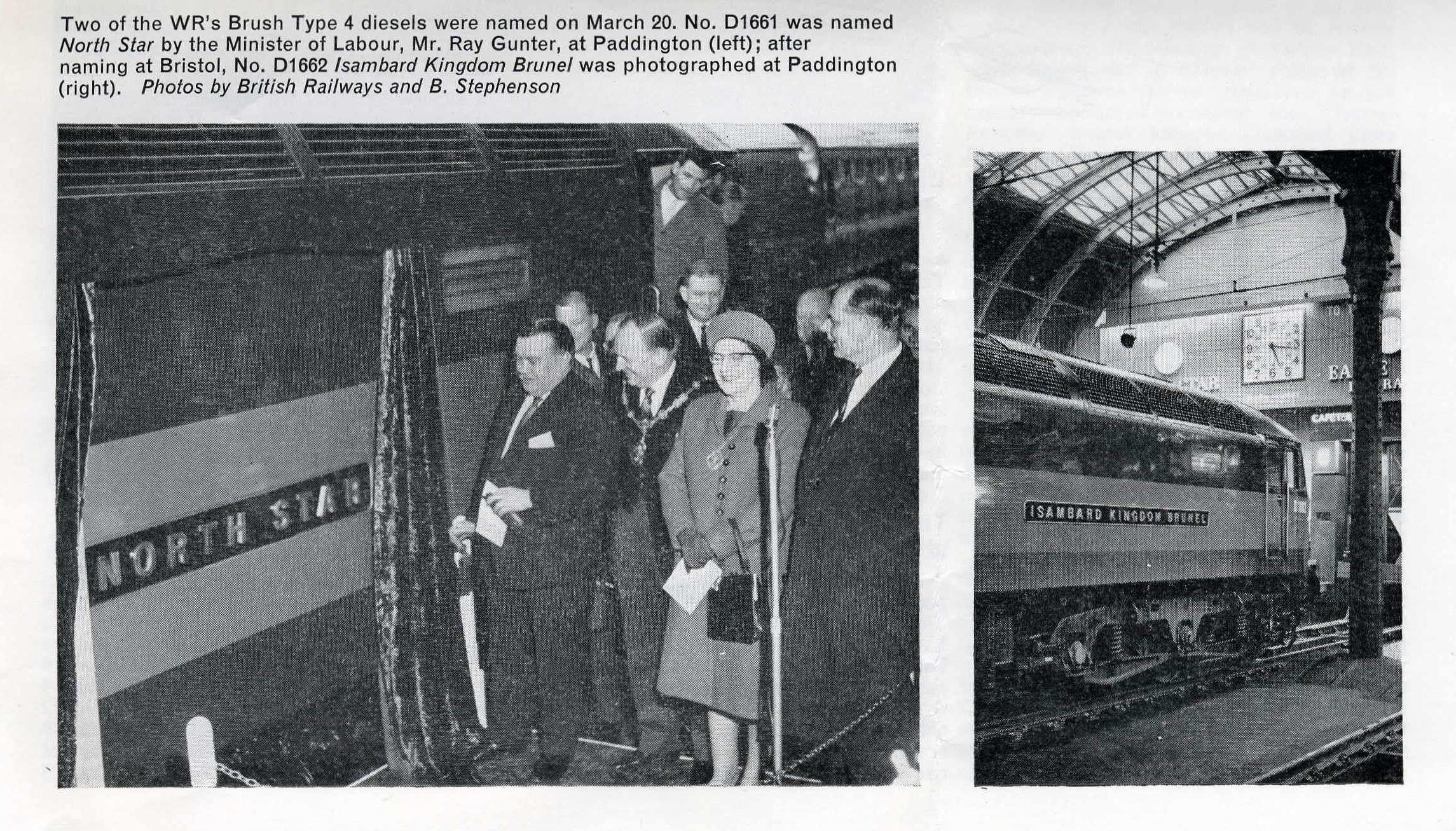 An extract from 'Modern Railways' magazine dated May 1965 shows two locomotives that received their names on 20th March 1965. This was in the tradition of the Great Western Railway but a somewhat defiant gesture that was in opposition to the developing corporate image of the new 'British Rail'. Photos by BR and B Stephenson, courtesy of Ian Allan Publishing.
After naming, the new 'NORTH STAR' worked to Bristol along the very line that had been conceived and built by IKB and worked by the original 'NORTH STAR', the first steam loco to operate on the Great Western Railway. This famous loco had been built by Robert Stephenson & Co. in 1837 and modified for the broad gauge under the direction of Daniel Gooch (later Sir Daniel Gooch), the 20-year old 'Superintendent of Locomotive Engines' that had been recruited by Brunel from Stephenson's own firm !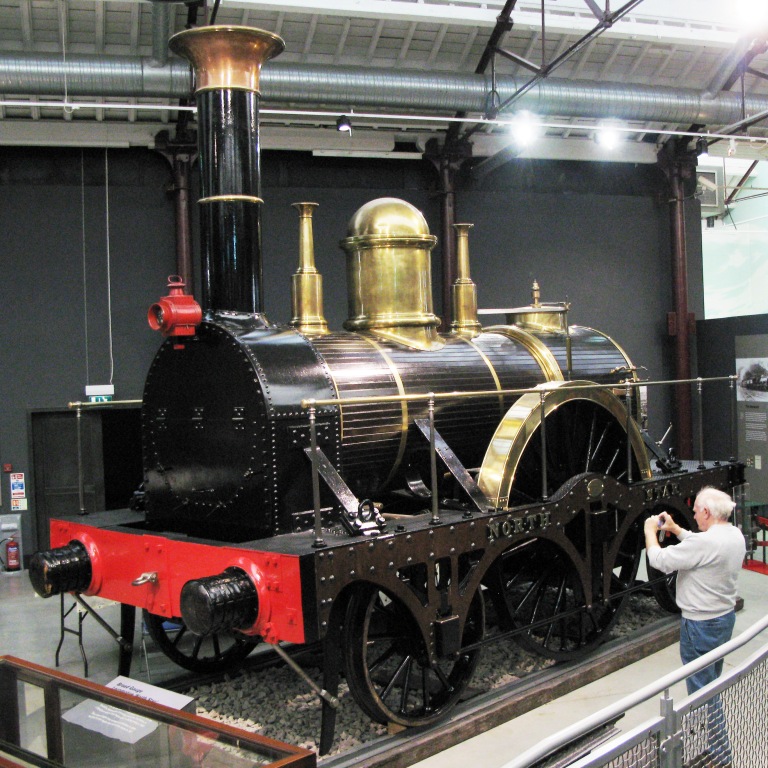 A replica of 2-2-2 'NORTH STAR' of 1837, built in 1923 from some parts from the original locomotive and now on display at the STEAM museum in Swindon. The original loco nameplate and worksplate is also depicted. Photos by Geof Sheppard © CC BY-NC 3.0
Then, after the end of steam on BR in August 1968, the 'D' prefix became redundant and locos across the country starting having their 'D' prefixes peeled off or painted out. Our loco became '1661' with new-style 'Rail Alphabet' lettering while still green and continued to carry that number when first repainted into BR blue. Then, in February 1974, our loco became 47077 under the new TOTAL OPERATIONS PROCESSING SYSTEM (TOPS) that was being introduced to bring BR into the computer age.
This changed to 47613 in 1984 when our loco was fitted with Electric Train Heating (ETH, ETS) to be able to power the air-conditioned coaches of the day. The final change was to 47840 in November 1989, after being fitted with long range fuel tanks to facilitate cross-country working on the full length of the northeast-southwest route. Here's a link to a photo that was taken immediately after conversion from steam-heat to electric-heat capability: https://www.flickr.com/photos/marcusgilmour/32839886990/in/photostream/
After completing 43 years of mainline service, 'NORTH STAR' was acquired by the DEPG and was refurbished by Brush in Loughborough before working a mainline charter from Derby to Minehead on the 28th May 2007, culminating in a handover ceremony that took place on the platform at Minehead station.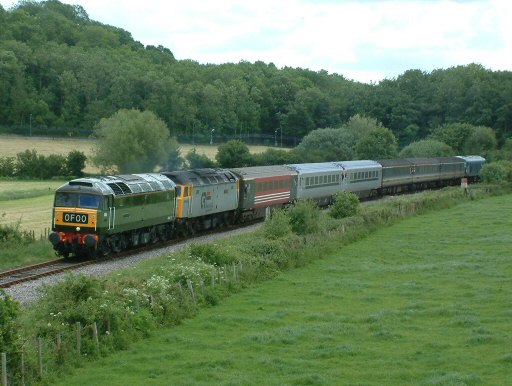 The DEPG's celebrity Class 47 D1661 'NORTH STAR' on WSR metals at Longlands Bridge for the first time on 28th May 2007 as she heads towards Minehead and preservation! Pictured with 47828 and 45112, the motive power that will return the charter to Derby later in the day. Photo by Steve Edge © CC BY-NC 3.0
After eleven years of work on the WSR, the loco was suffering from severe corrosion in several areas of her roof, resulting in water leaks that resulted in damage to her bodywork, so she was 'stopped' in 2018 and underwent a significant roof rebuild and bodywork restoration that lasted three years (partly due to lockdown). She emerged in her new heritage-era identity as 47077 on 5th June 2021.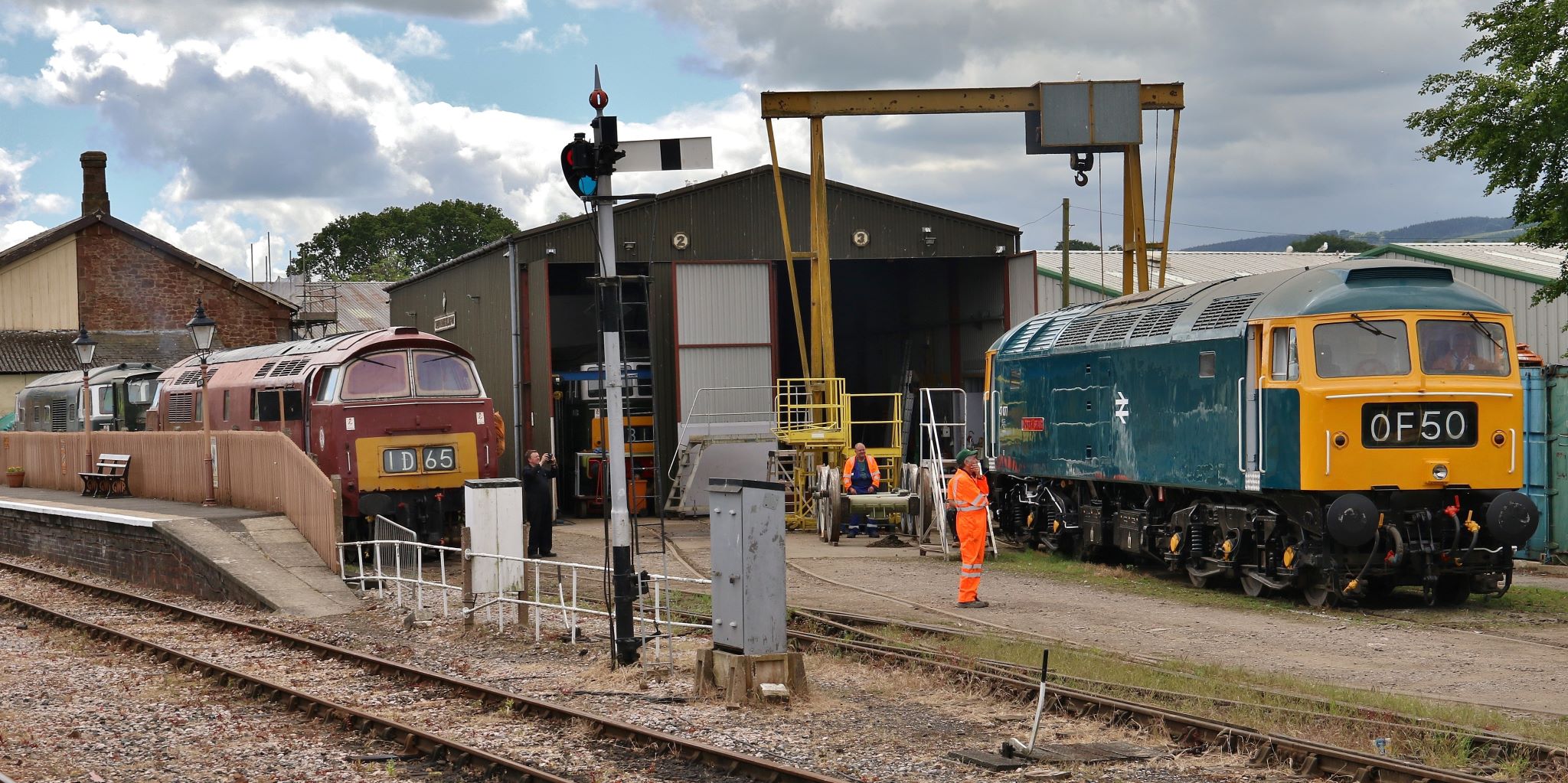 On 5th June 2021, a depot shunt took place so that 47077 'NORTH STAR' could be released from the loco shed and swap places with D1010 'WESTERN CAMPAIGNER'. Photo by Lee Robbins © CC BY-NC 3.0
Another chapter in the history of this 'celebrity' locomotive opened in January 2022 when she moved from Bishops Lydeard on the West Somerset Railway to Pickering on the North Yorkshire Moors Railway (NYMR) on contract hire, to support the expansion of diesel-hauled services on the NYMR. After a lengthy period at Pickering due to line closure at Goathland, the loco eventually reached Grosmont where her overhaul was completed and the loco entered service on the NYMR on 19th Jul 2022, quickly becoming a regular member of the DEPG fleet.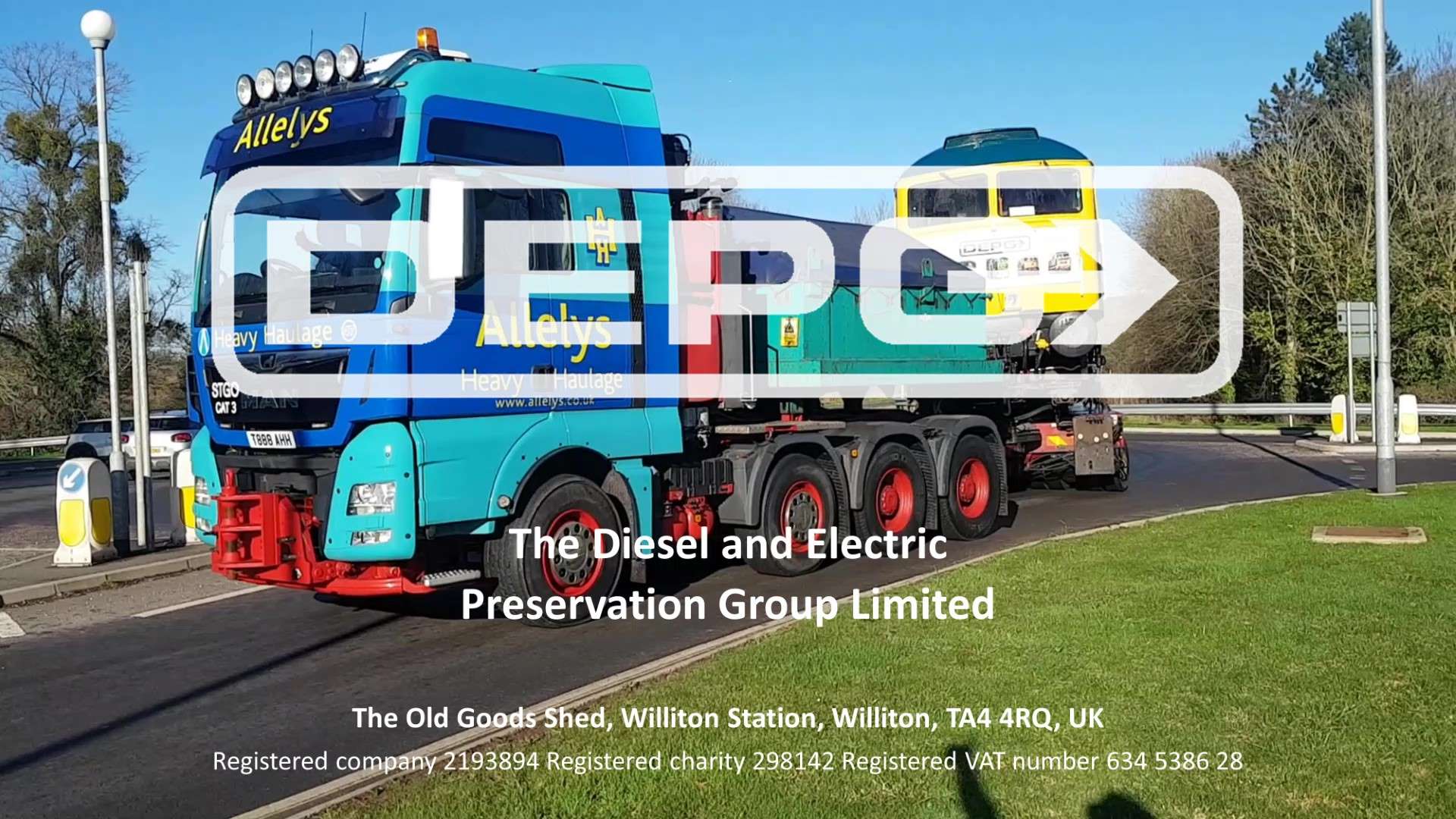 DEPG video of 47077 (D1661 47613 47840) 'NORTH STAR' departing Bishops Lydeard on 16th January 2022 for Pickering on the NYMR. Click here or on the image above to watch the video on our DEPG YouTube channel.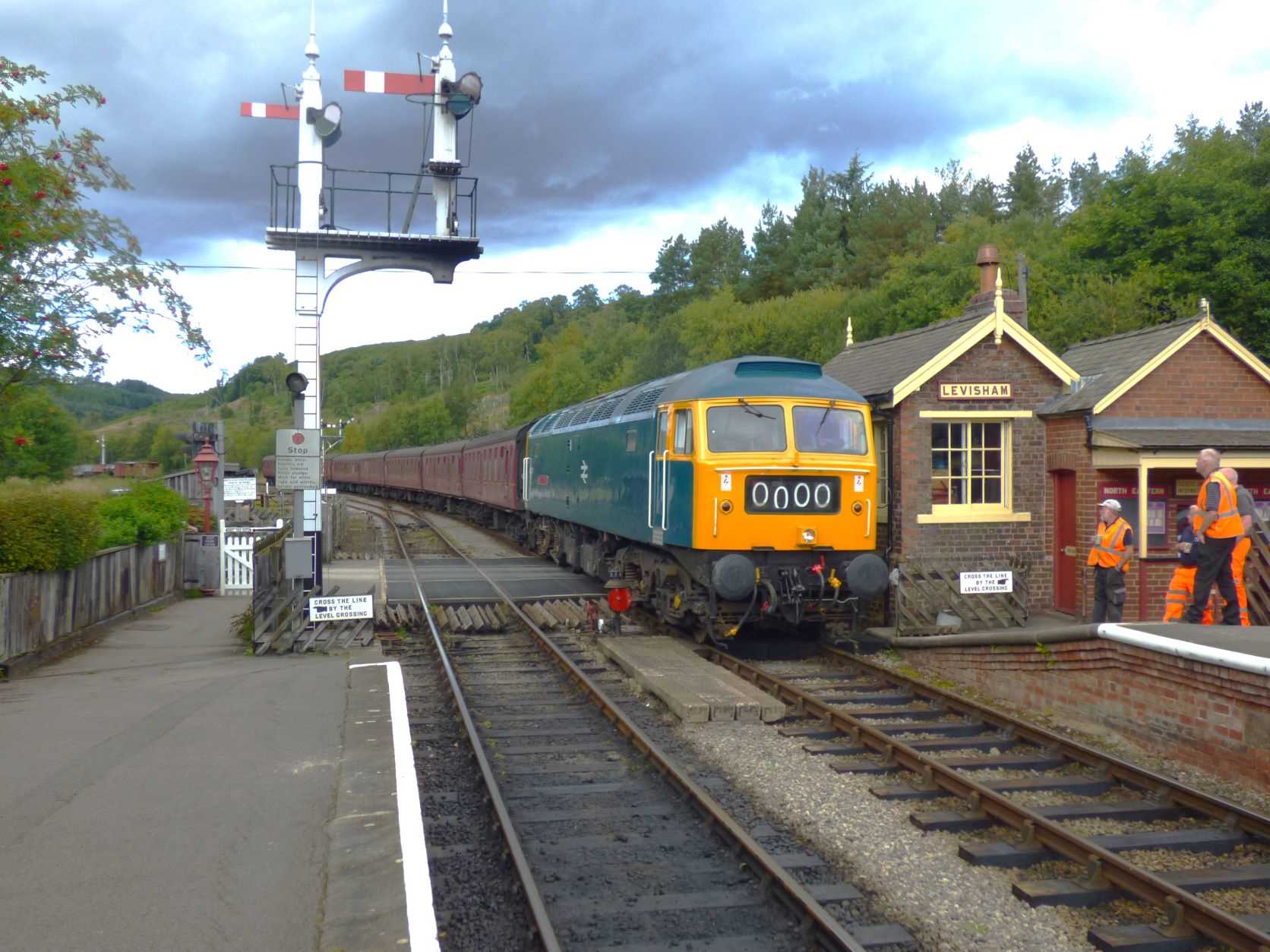 47077 (D1661 47613 47840) 'NORTH STAR' hauls her train into Levisham in the direction of Pickering on the NYMR on 27th August 2022. Photo by Martin Fisher © CC BY-NC 3.0
Go to the Locomotive Status page