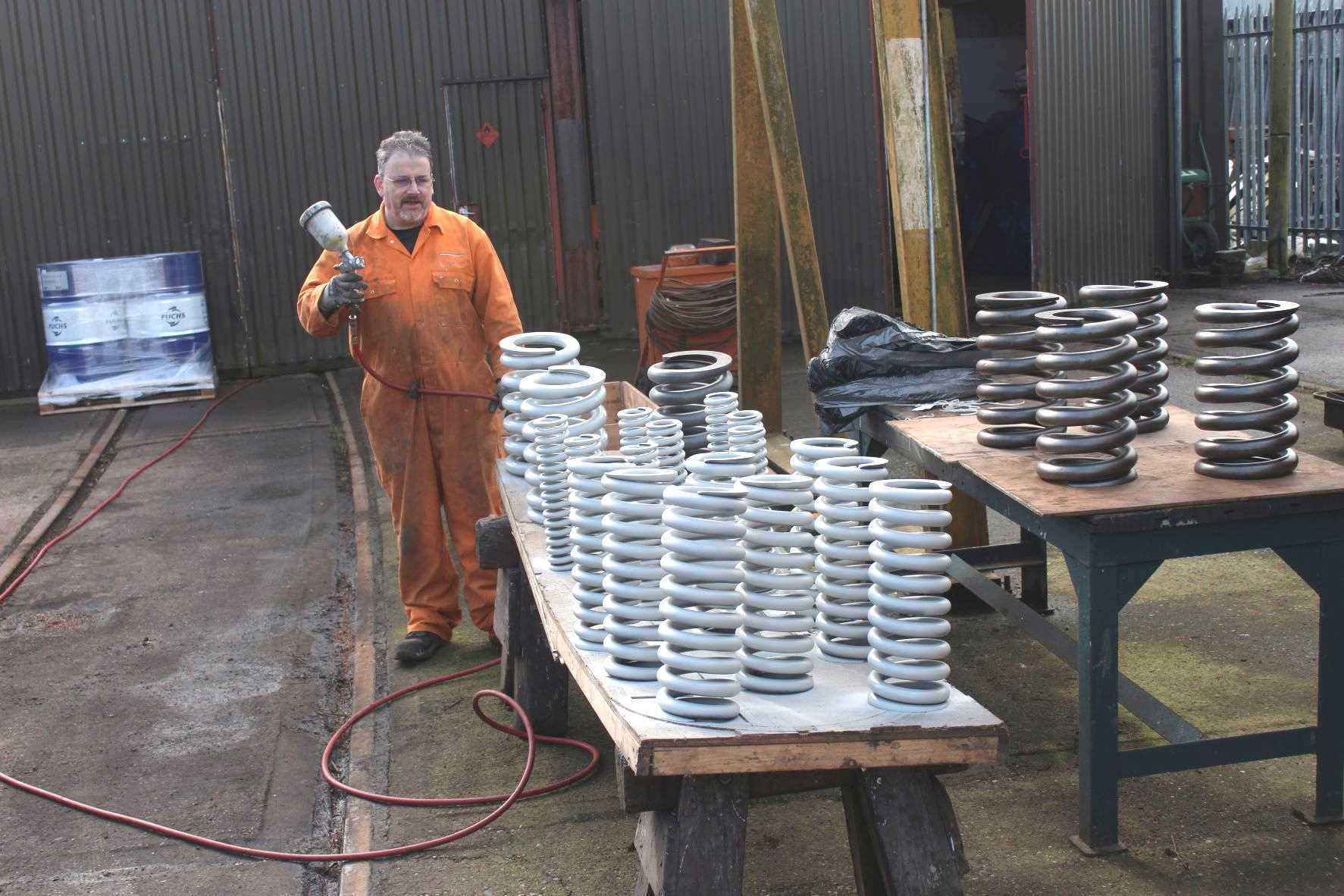 The brand new primary suspension springs for D7017 were treated to a coat of primer by Graham at Williton on Saturday 12th March 2022. D7017 will soon be going into the WS Restorations 'Swindon Shed' for attention. Photo by Terry Deacon © CC BY-NC 3.0
We are delighted to announce that our Class 35 'Hymek' D7017 is about to enter the WS Restorations 'Swindon Shed' at Williton so that her complete set of suspension springs can be replaced. The loco last worked in 2019 and was then 'stopped' for attention to a degraded elliptical leaf spring that was causing the loco to lean slightly. Ironically, it is a spring that was changed in the 'nineties – the rest of the set date back 50+ years to BR service days and are all OK.
Thanks to the donors for the funds that were raised in 2019 and 2020, a complete new set of 24 primary coil springs was purchased and a spare pair of secondary elliptical springs has been refurbished to allow the work to go ahead. The coil springs are being changed because it would be short-sighted to only change the leaf springs when the bogies have to be dismantled either way.
The loco needs to be lifted from her bogies to allow this work to be done. The delay caused by Covid was made worse by the very high workload in the Swindon Shed and the need to have access to the set of four 25-ton lifting jacks that came from Bristol Bath Road depot, the original home of D7017 and D7018 from their date of entry into service, just over sixty years ago.
The work will be done by the team at WS Restorations with the support of DEPG volunteers. Upon completion in a few weeks' time, the loco will be able to resume its duties in time for the busy 2022 running season. If time and funding allows, the bodywork will also be tidied up, but this will depend entirely on the availability of resources at WS Restorations because the DEPG loco shed is fully occupied with the two major restoration projects that are running on D1010 'WESTERN CAMPAIGNER' and Class 14 'Teddy Bear' D9518.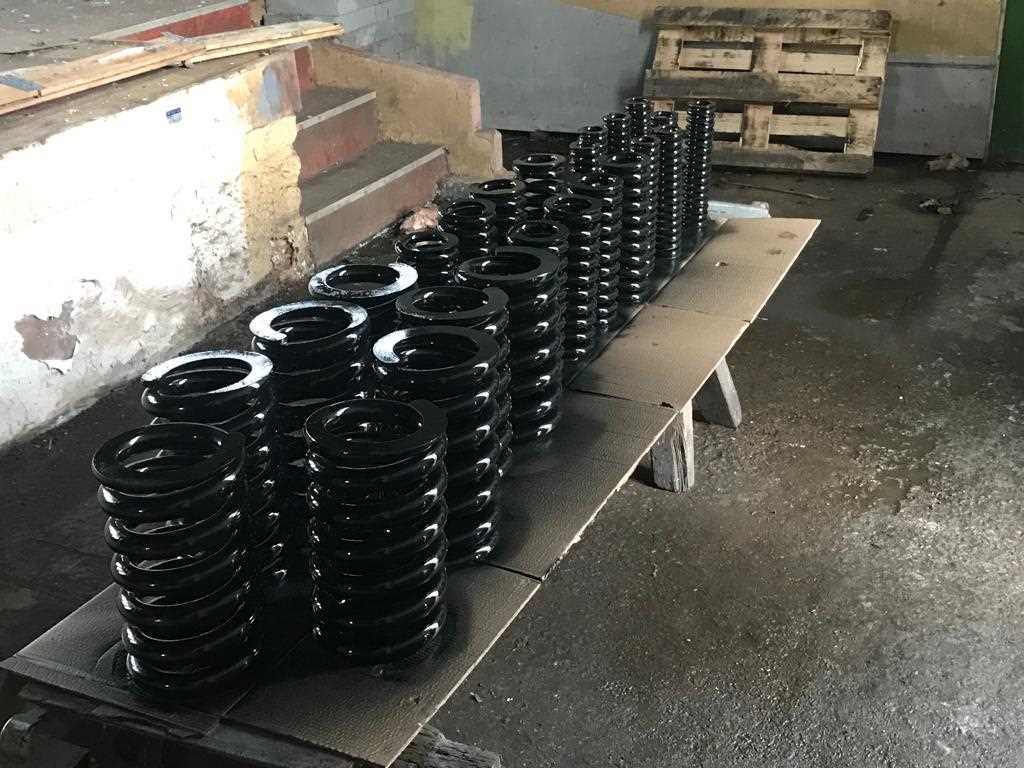 The coil springs for D7017 were undercoated then glossed at Williton on Sunday 13th March 2022 and are now ready for installation into the loco. Photo by Graham Perry © CC BY-NC 3.0
VERY IMPORTANT DATES FOR YOUR DIARY – the WSR's 2022 DIESEL GALA will take place from Thursday 9th through Saturday 11th June 2022, so keep these dates free and make a plan to attend ! Click this link to the WSR website to view the dates for other WSR events that are planned for 2022.
LOCO NEWS:
Class 52 D1010 'WESTERN CAMPAIGNER' – our CAMPAIGN for CAMPAIGNER has got off to a great start with £2660 raised including a fantastic £1010 donation from a long-term DEPG member. Each donor will have their name or a message of their choosing engraved on the loco, along with a reference location, in a way that will allow donor names to remain visible on the base metal even after future repaints. The photo below shows the first of many engravings on the newly-welded steel repair patches that adorn the locomotive, this one being at 'B' end on 'A' side: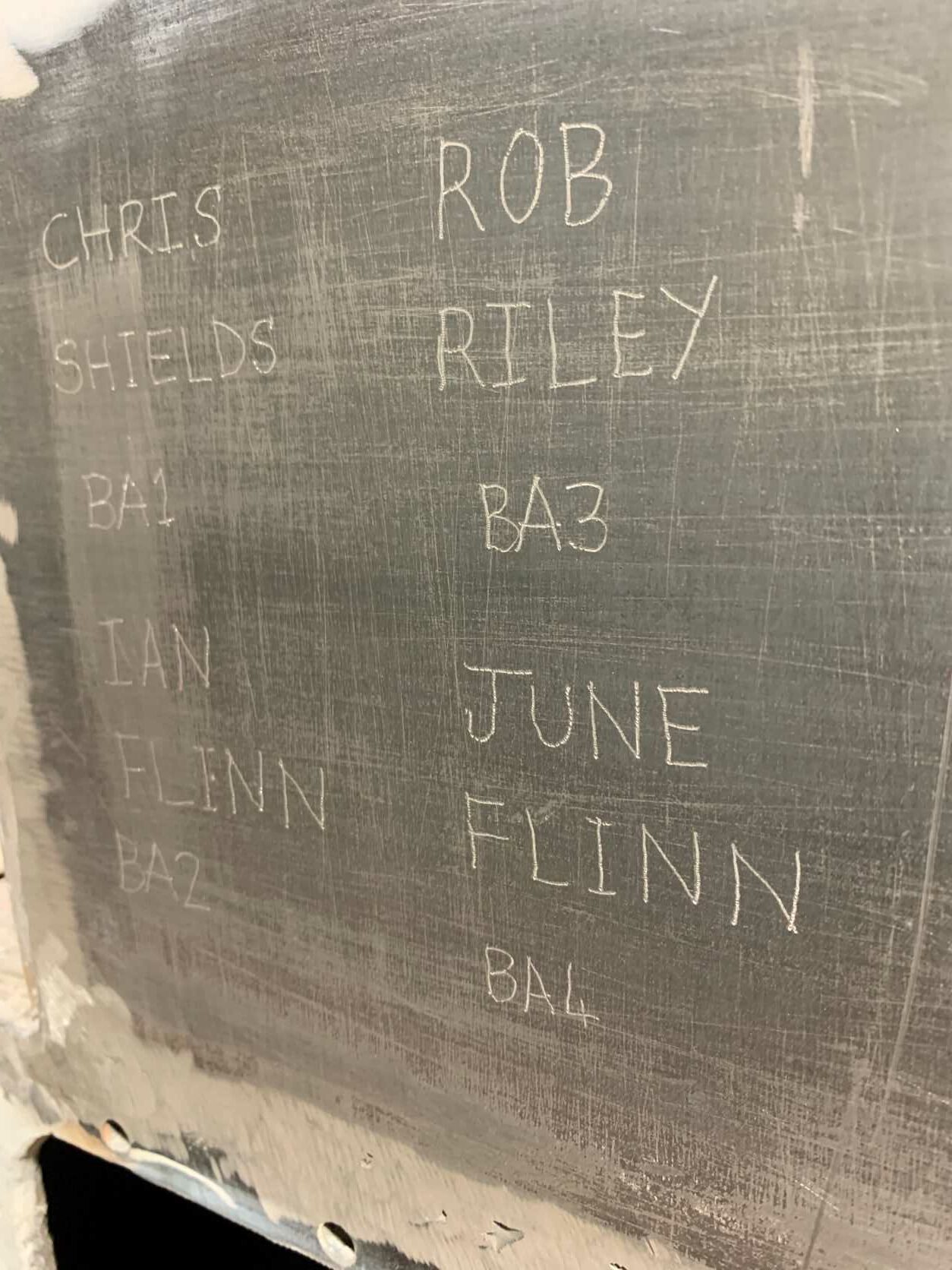 With this kind of support, we can maintain the pace and keep the restoration program moving along, so THANK YOU VERY MUCH to all who have donated. We have also set up a campaign on JustGiving and will be developing that trusted and familiar platform to run in parallel with our own online store. Click on the images below for more details: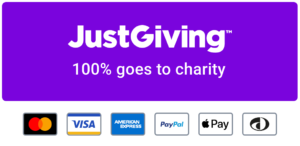 In parallel with the fundraising activity, the work continues on the locomotive, as evidenced by the many photos below: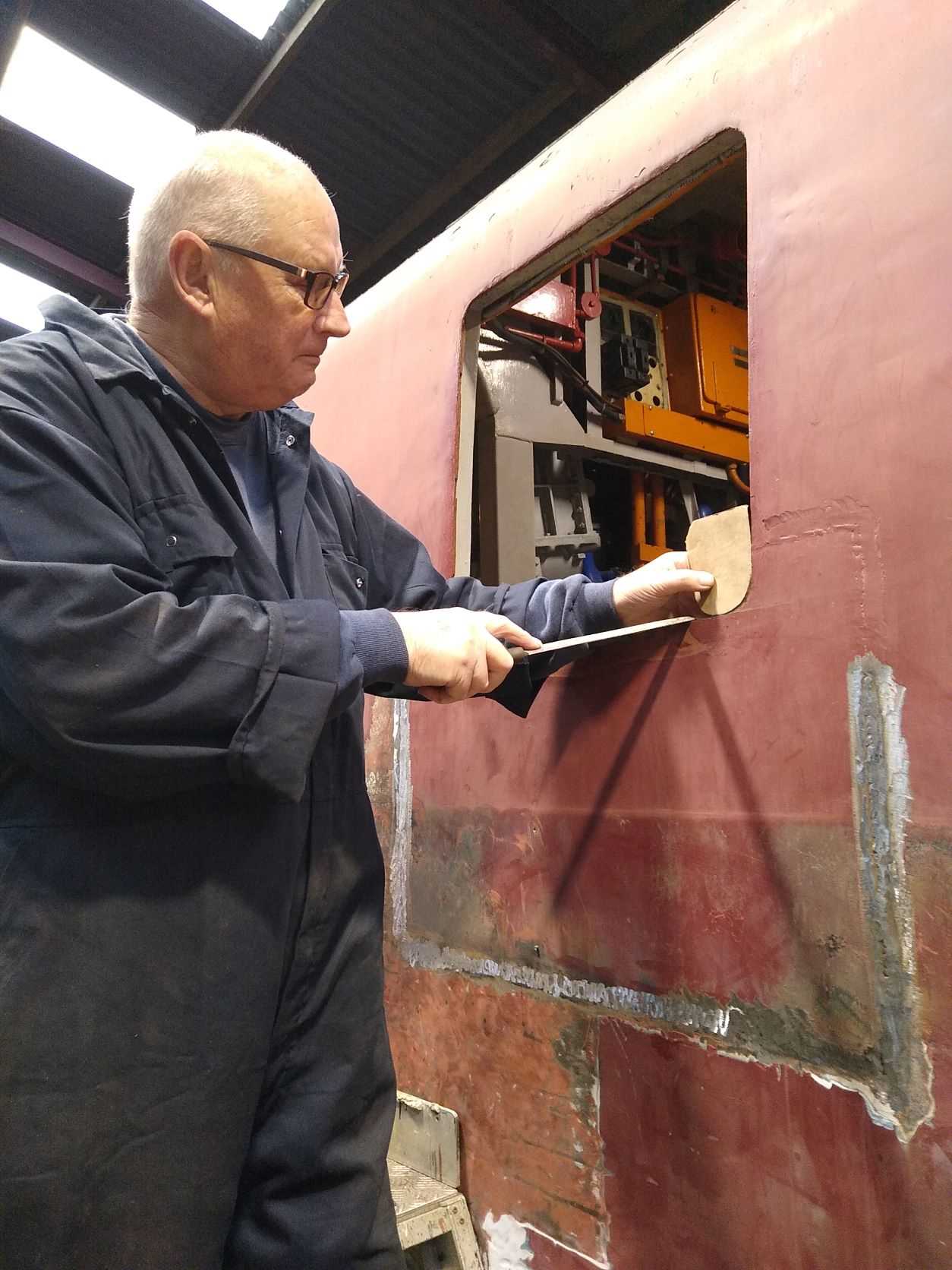 D1010 – an old repair around the centre window on the 'B' side was adjusted by Geoff to ensure that it will make a better seal with the window. Pictured at Williton on Tuesday 8th March 2022 by Colin Foxhall © CC BY-NC 3.0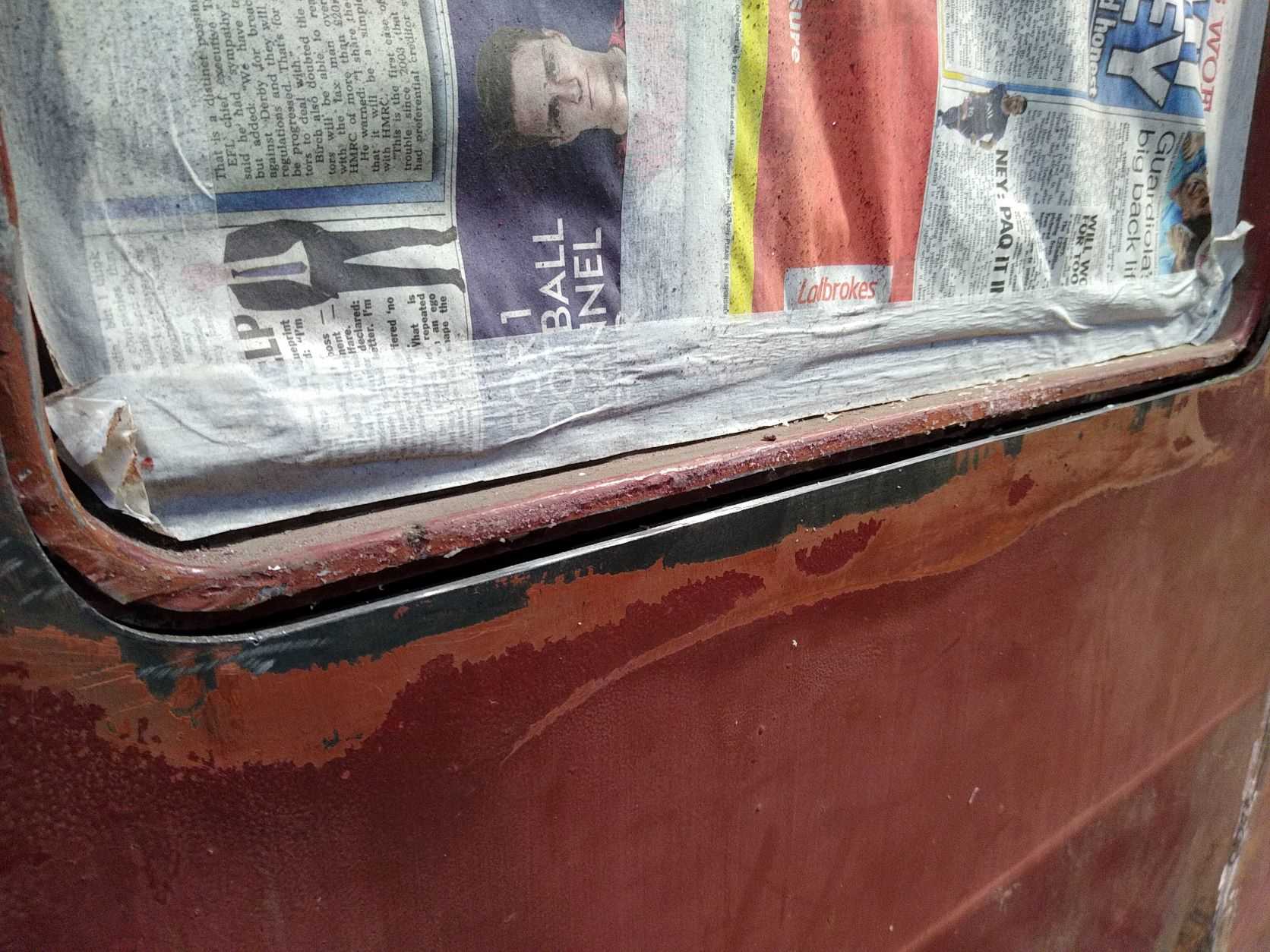 D1010 – the centre window on the 'B' side is now ready for re-installation and sealing. Pictured at Williton on Tuesday 8th March 2022 by Colin Foxhall © CC BY-NC 3.0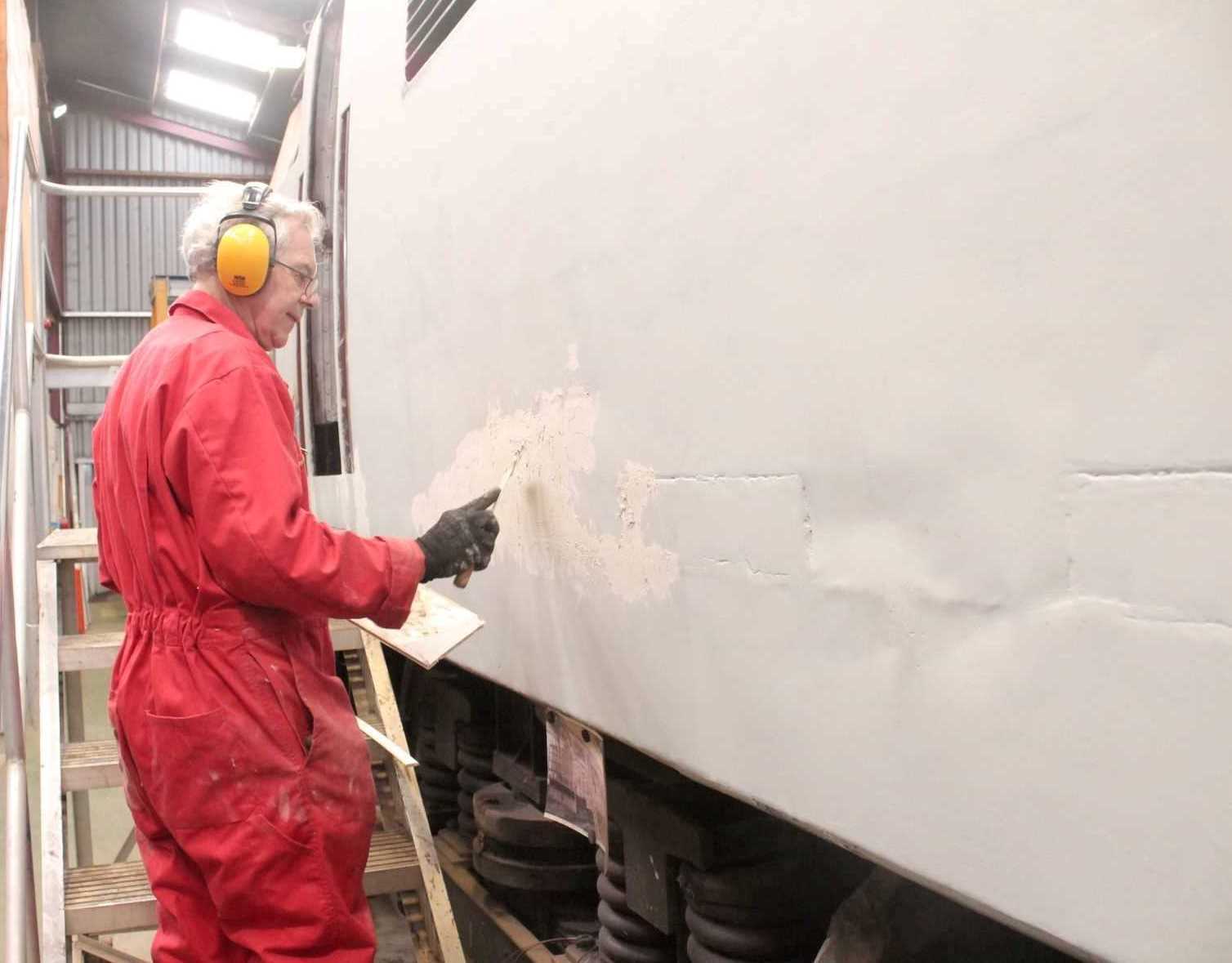 D1010 – the evidence of the repair of the side-swipe damage from 1972 is being covered over by the careful use of filler. Volunteer Ian F applies the filler in thin layers at Williton on Saturday 12th March 2022. Photo by Terry Deacon © CC BY-NC 3.0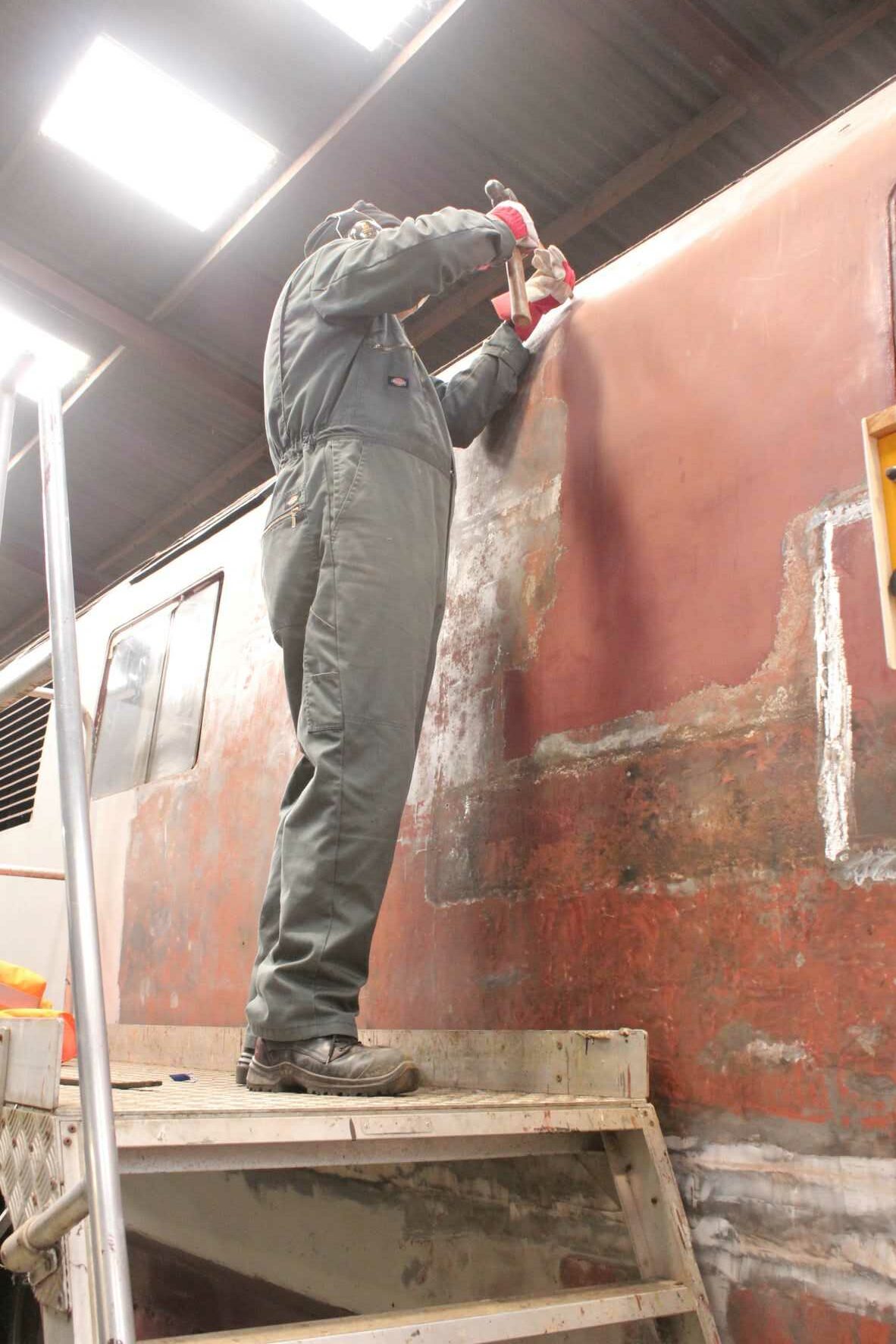 D1010 – more careful work by Chris as he removes the many layers of old paint and filler on 'B' side at Williton on Saturday 12th March 2022. Photo by Terry Deacon © CC BY-NC 3.0
D1010 – the sill of the access grille for the compressor at 'B' end on 'A' side had to be replaced and the new metal is clearly visible at Williton on Sunday 13th March 2022. Photo by Colin Foxhall © CC BY-NC 3.0
In parallel with the work on the bodyside of the loco, significant progress has been made on the transmission of the loco that failed back in 2018. The turbines have now been separated from the shafts and the kit of parts was returned to Williton last week in three pallet loads, all of which were carried for us by WRINGS TRANSPORT. We are very grateful for this support and we will engraving a suitably large area of the loco accordingly.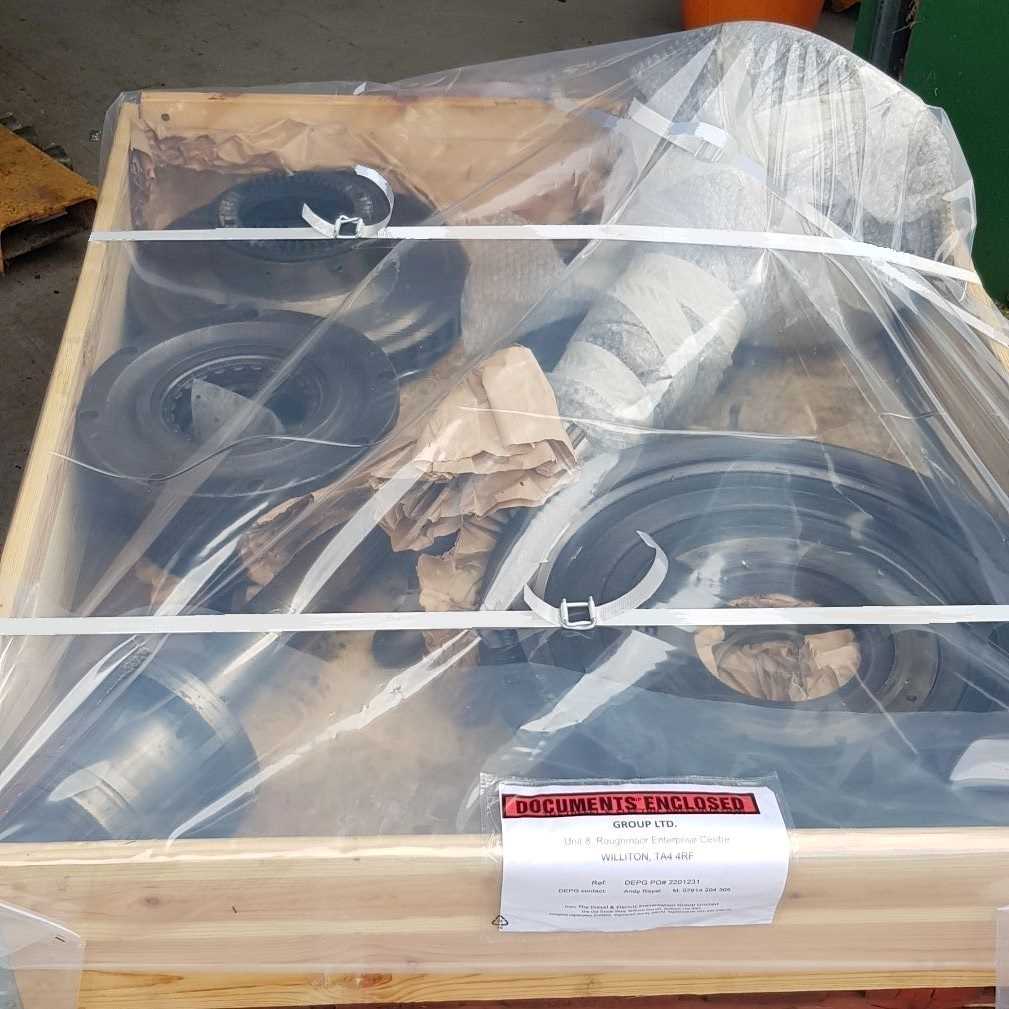 D1010 hydraulic transmission torque converter components separated and awaiting inspection and measurement at Williton on Tuesday 8th March 2022. Photo by Emma Powell © CC BY-NC 3.0
To support the work that is progressing in multiple areas on D1010, we launched our CAMPAIGN for CAMPAIGNER by offering 'SPONSOR A PATCH' where you can donate in support of the bodywork repairs that are taking place on D1010 'WESTERN CAMPAIGNER' and HAVE YOUR NAME ENGRAVED ON THE SPONSORED PATCH or PART.
For the sum of £25, this scheme offers you a chance to sponsor the restoration of this much-loved locomotive, with your personal contribution being recorded and documented on a set of drawings that will be made available at our Williton depot on running days and open days. For those who prefer to remain anonymous, a unique reference number will be allocated and engraved instead.
See our CAMPAIGN for CAMPAIGNER web page for more details !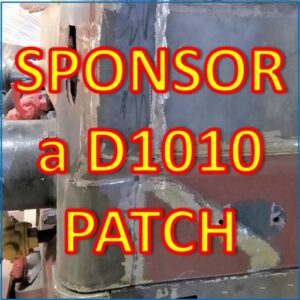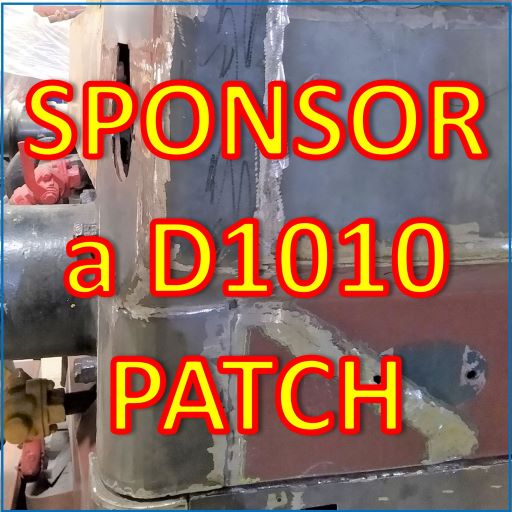 NOTE: EVERYONE WHO HAS ALREADY DONATED £25 OR MORE SINCE JULY 2021 WILL BE RECOGNISED and will be allocated an appropriate area on one of the patches or parts that have already been applied to the loco. Donations of smaller sums that accumulate to £25 are also eligible, so donate what you can when you can, and we will keep track of your total donations. Use our CONTACT FORM if you want to register your previous donations to D1010 for this campaign.
Class 33 D6566 (33 048) – this loco is currently at Williton and is ready to move to Bishops Lydeard later this week. We will issue a DIESELGEN bulletin during the next few days.