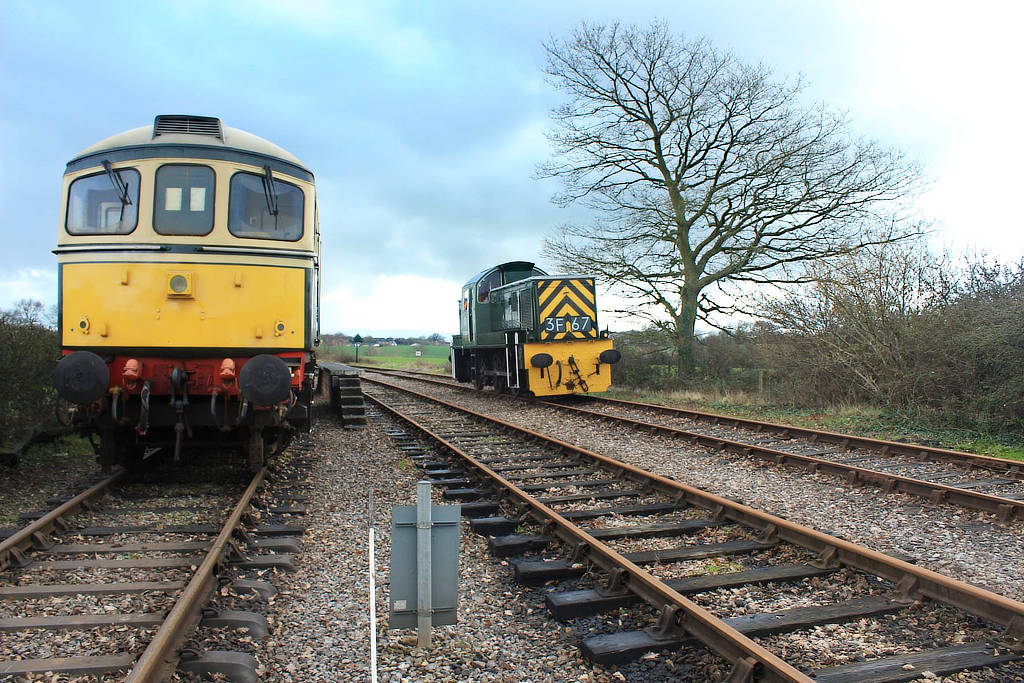 Class 33 'Crompton' D6575 (33 057) was pictured while stabled at Westridge Carriage Sidings, just south of Bishops Lydeard, on Saturday 18th March 2023 as Class 14 'Teddy Bear' D9526 returned from Norton Fitzwarren on a driver refresher turn. Photo by Terry Deacon © CC BY-NC 3.0
The first two weekends of the 2023 running season have run to plan and the railway is now gearing up to prepare for two full weeks of almost daily running as we approach the Easter holiday period. Our Class 33 'Crompton' D6575 (33 057) will be working the 10:00 Minehead diagram under the BLUE timetable on Friday 7th April then again on Sunday 9th and Monday 10th. The timings of these services are as follows:
     Depart Minehead at 10:00 arrive Bishops Lydeard at 11:30
     Depart Bishops Lydeard at 12:30 arrive Minehead at 13:50
     Depart Minehead at 14:30 arrive Bishops Lydeard at 15:55
     Depart Bishops Lydeard at 16:35 arrive Minehead at 18:00
The 'Crompton' will also be covering this same working on Sunday 16th April although this working was previously allocated for Class 14 D9526 haulage. The reason for the change is that the Class 14 has a haulage limit of 4 coaches to maintain time on the long gradients of the WSR and the services that we had planned for the 'Teddy Bear' will now be formed of 6 or 7 coaches due to the commercial success of the 'Fish and Chip' and the 'Cream Tea' services which will take them beyond the haulage limit for the 650hp locomotive, therefore needing Class 33 or Class 35 haulage instead.
While disappointing for our Class 14 followers and volunteers, we cannot risk damaging the loco, so we will be working with the WSR to find suitable services that can be operated with 4 coaches or less and we will be publishing those dates as soon as possible. Meanwhile, our DIESEL RUNNING DATES page has been updated to reflect the changes.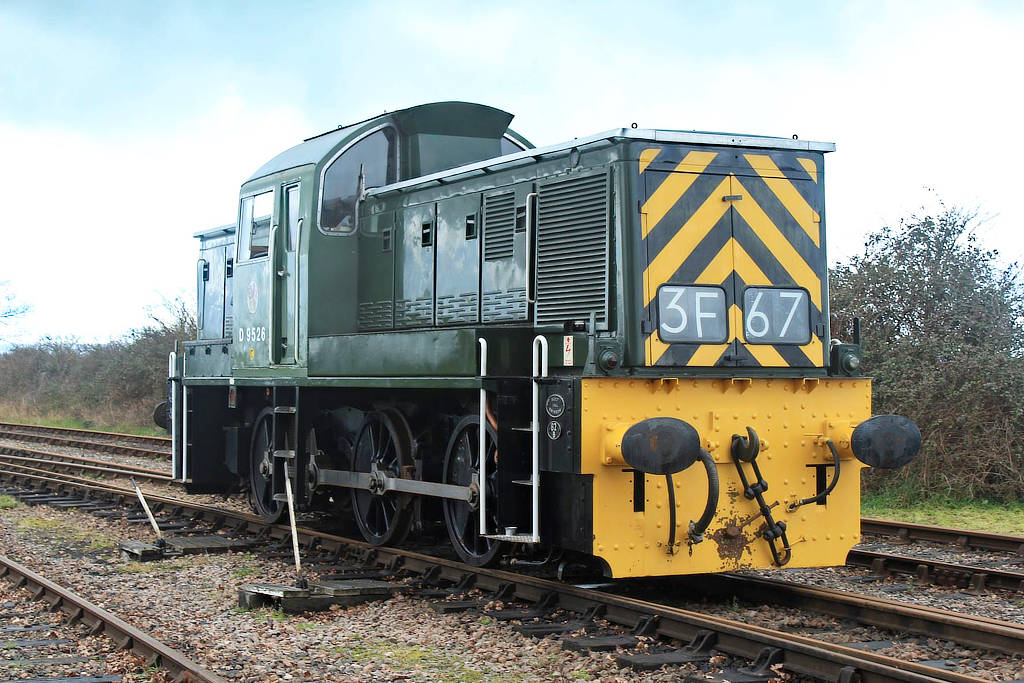 Class 14 'Teddy Bear' D9526 has been and is currently running on 'green diesel' or more accurately Hydrotreated Vegetable Oil (HVO) and has been starting easily and running with a clean exhaust. Although more expensive per litre, the benefits for a small loco such as the Class 14 are well worth considering. Pictured at Westridge, Bishops Lydeard on Saturday 18th March 2023 by Terry Deacon © CC BY-NC 3.0
2023 TIMETABLE NEWS:
The first scheduled diesel-hauled service for 2023 is booked for Friday 7th April and will feature haulage by Class 33 'Crompton' D6575 (33 057). Keep an eye on the DIESEL RUNNING DATES page and mark the days that interest you on your calendar, so that you can make a plan to come along and ride behind your favourite type of locomotive. Click on the banner below to go to the page on our website:

LOCO NEWS:
Class 52 D1010 'WESTERN CAMPAIGNER' – continuous effort on this loco is helping us make visible progress on multiple fronts, while detailed planning is also taking place in the background to arrange the major activities that will support the restoration plan, details of which will be provided in a future edition of 'roundup'. Meanwhile, the photos give just a taste of the various tasks that are being tackled at Williton: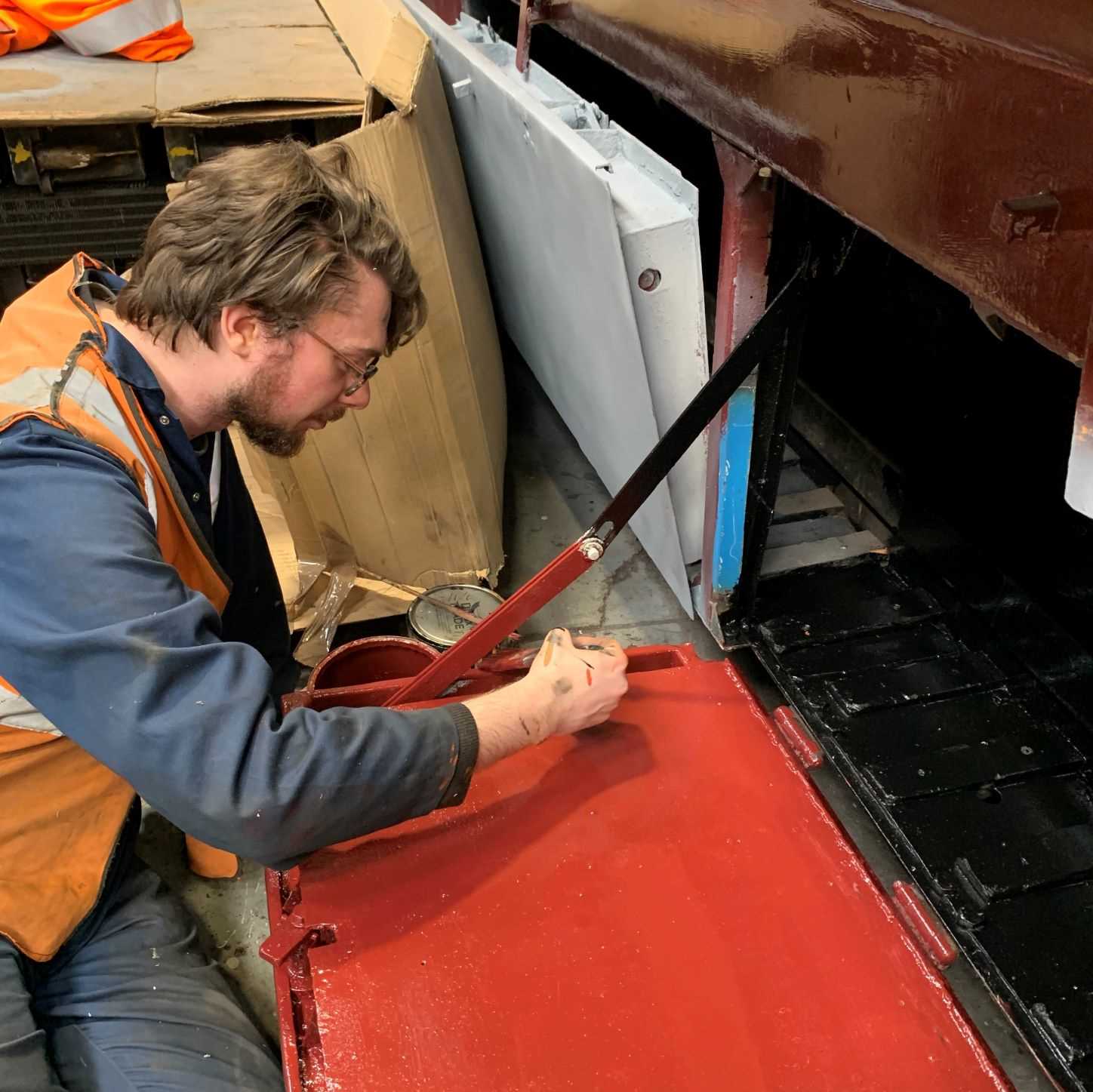 D1010 – the inside surfaces of the battery compartment doors on 'A' side were given a coat of paint by Karl at Williton on Saturday 25th March 2023. Photo by Andy Royal © CC BY-NC 3.0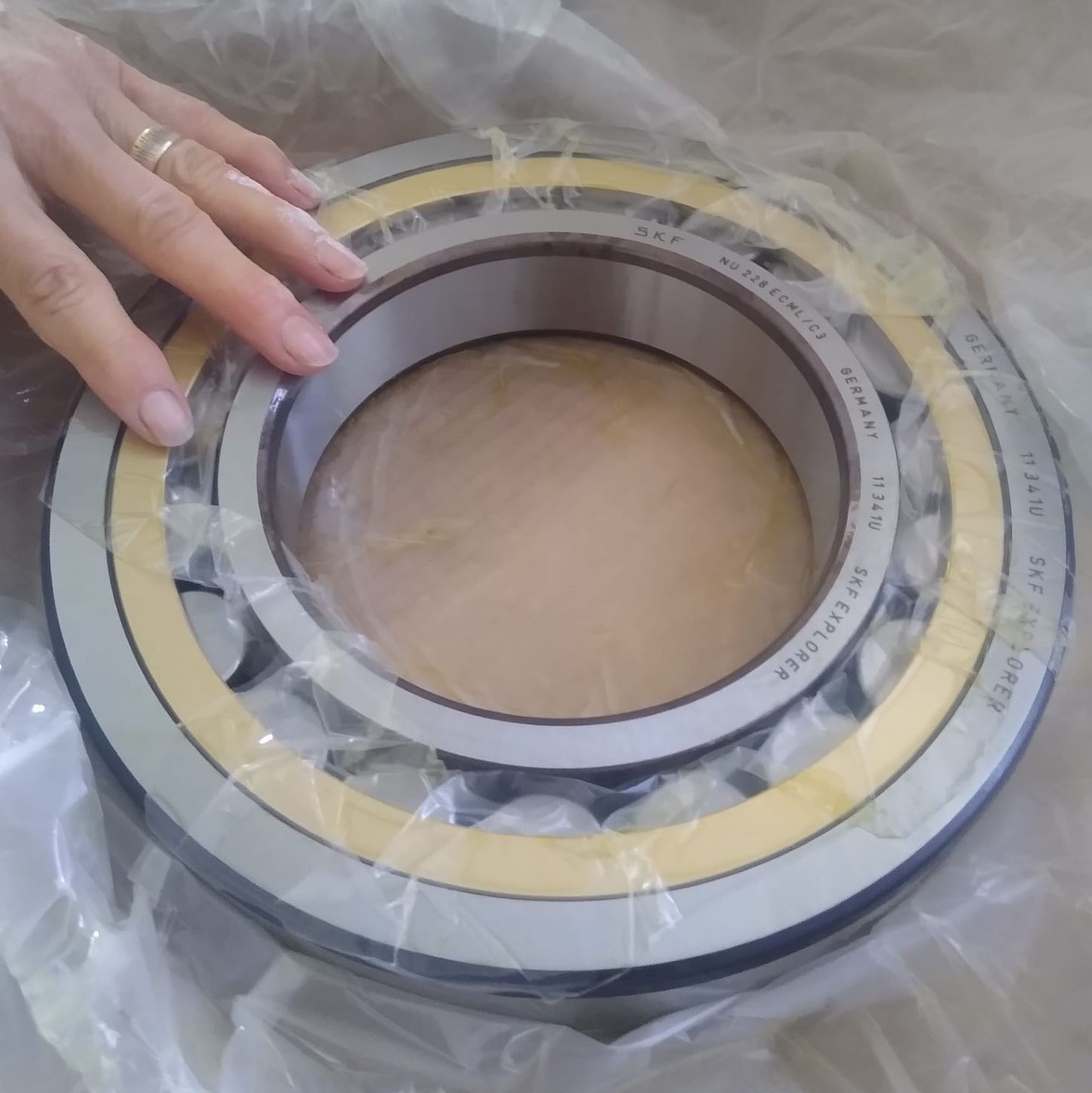 D1010 – one of the set of brand new (and very expensive!) bearings that have just been delivered to Williton to allow the completion of the work on the 'B' transmission. This part has an outside diameter of 250mm (almost ten inches). Pictured on Saturday 25th March 2023 by Colin Foxhall © CC BY-NC 3.0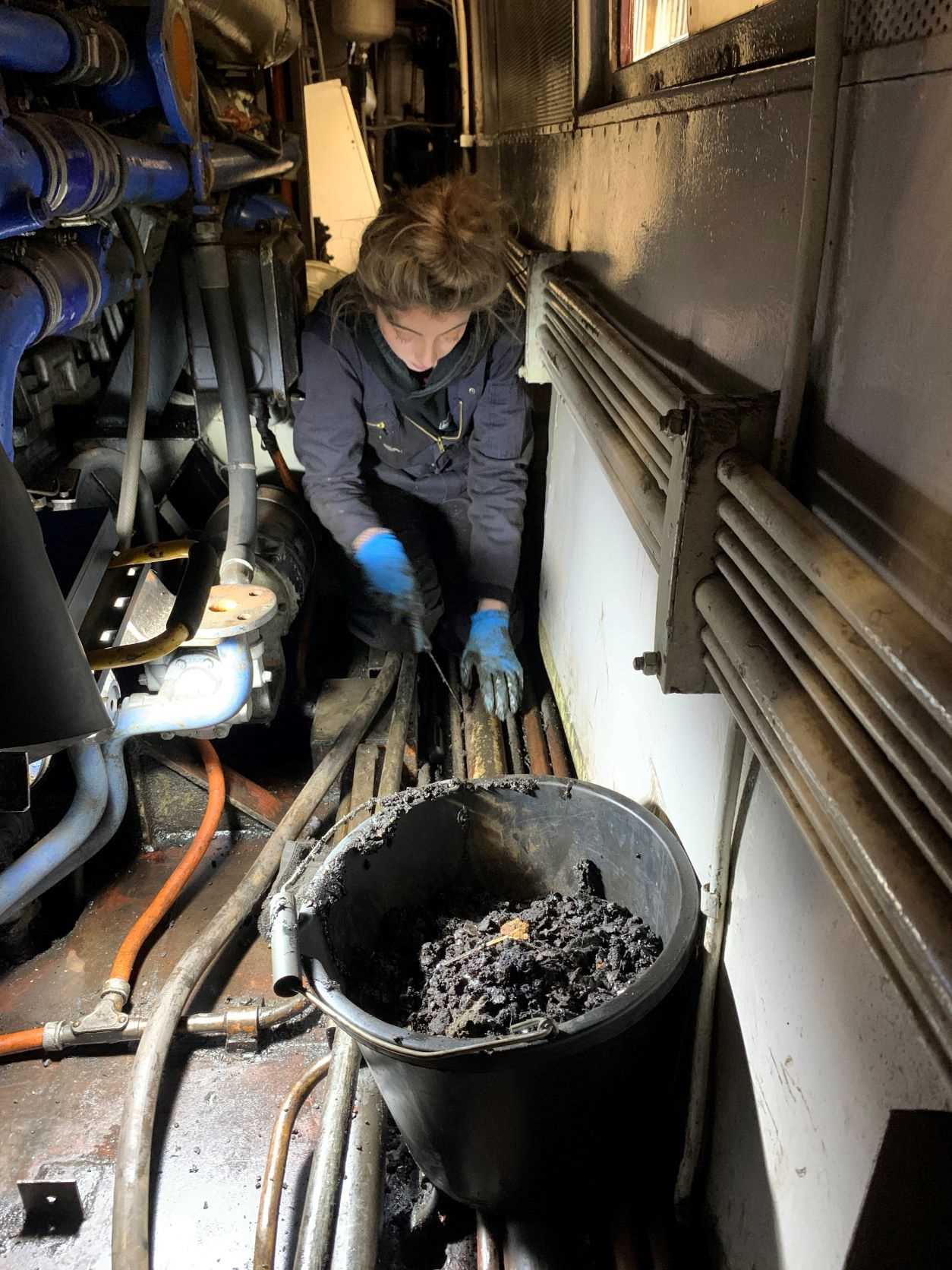 D1010 – Natalie progressed with the cleanup of the pipes and conduits underneath the gangway plate on the 'B' side of the locomotive alongside 'B' engine on Saturday 25th March 2023. The objective is to allow inspection to be performed so that any corroded or damaged pipes or wiring can be scheduled for replacement. Photo by Andy Royal © CC BY-NC 3.0
To continue our rate of progress requires FUNDING and we give our thanks to everyone who has supported D1010 by sponsoring or donating during these difficult times. If you are able to do so, please SPONSOR A PATCH because there is plenty of recently-added metal that still needs engraving. Photographs and certificates of sponsorship will be sent out to all who have sponsored this phase of the restoration work, and we are applying more resources to catch up with this obligation and deliver the documents. Click the image below to sponsor a patch. Thank you in advance for your support !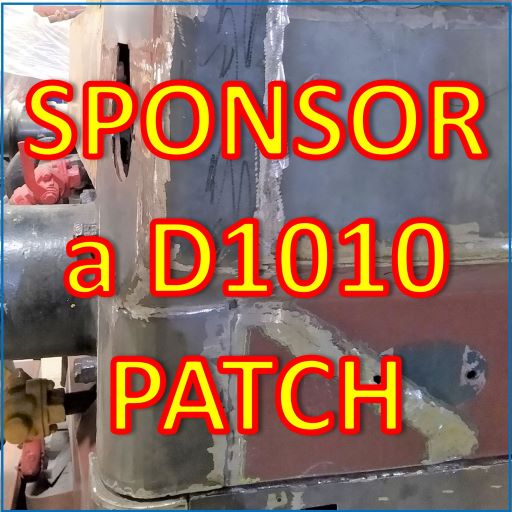 See our CAMPAIGN for CAMPAIGNER web page for more details. We still have a lot of work to do on this massive locomotive, so PLEASE DO COME ALONG AND HELP IF YOU CAN !


Class 33 D6566 (33 048) – this loco is now inside the paint tunnel in the Swindon Shed at Williton for a paintwork refresh in the hands of WSR Restorations. This loco is expected to be out of traffic until late April.
Class 33 D6575 (33 057) – this loco is currently the Duty Loco at Bishops Lydeard and will be moving to Minehead on Monday 3rd April to be in position for her BLUE timetable duties from Friday 7th April onwards.
Class 35 'Hymek' D7017 – the review of the oil samples resulted in a decision being taken to change the engine oil and return the loco to service, so this work will be arranged during the next few weeks. This loco is scheduled to work the BLUE timetable on the weekend of 13/14th May.
Class 35 'Hymek' D7018 – this loco is awaiting attention to a short list of issues that were identified during the loaded test run that took place in December 2022. Work is expected to start on this loco in late April, after completion of sister loco D7017 and the issues addressed in time for the Diesel Gala on June 8th through 10th.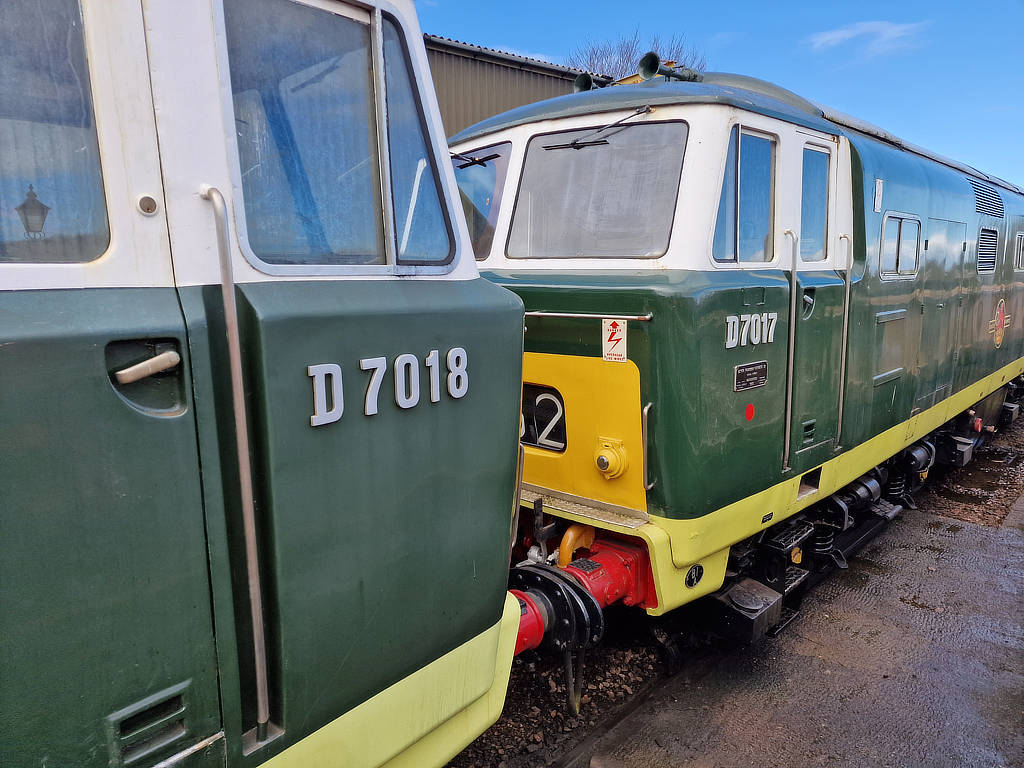 D7018 was pictured on number 1 road at Williton on Saturday 18th March 2023 with sister loco D7017 next in line. The effects of four years outdoors has robbed D7018 of her gloss and she is now being outshone by her slightly older sister. Photo by Brenden Hill © CC BY-NC 3.0
Class 14 'Teddy Bear' D9518 – the team have been hard at work on this loco and have progressed several tasks in parallel while also taking the time to participate in the annual meeting of the Class 14 Owners Group, which is an important forum at which to share information and knowledge, aimed at keeping the whole UK-wide fleet in good condition and in work for the long-term. Here below are some photos of the progress made during the last few weeks: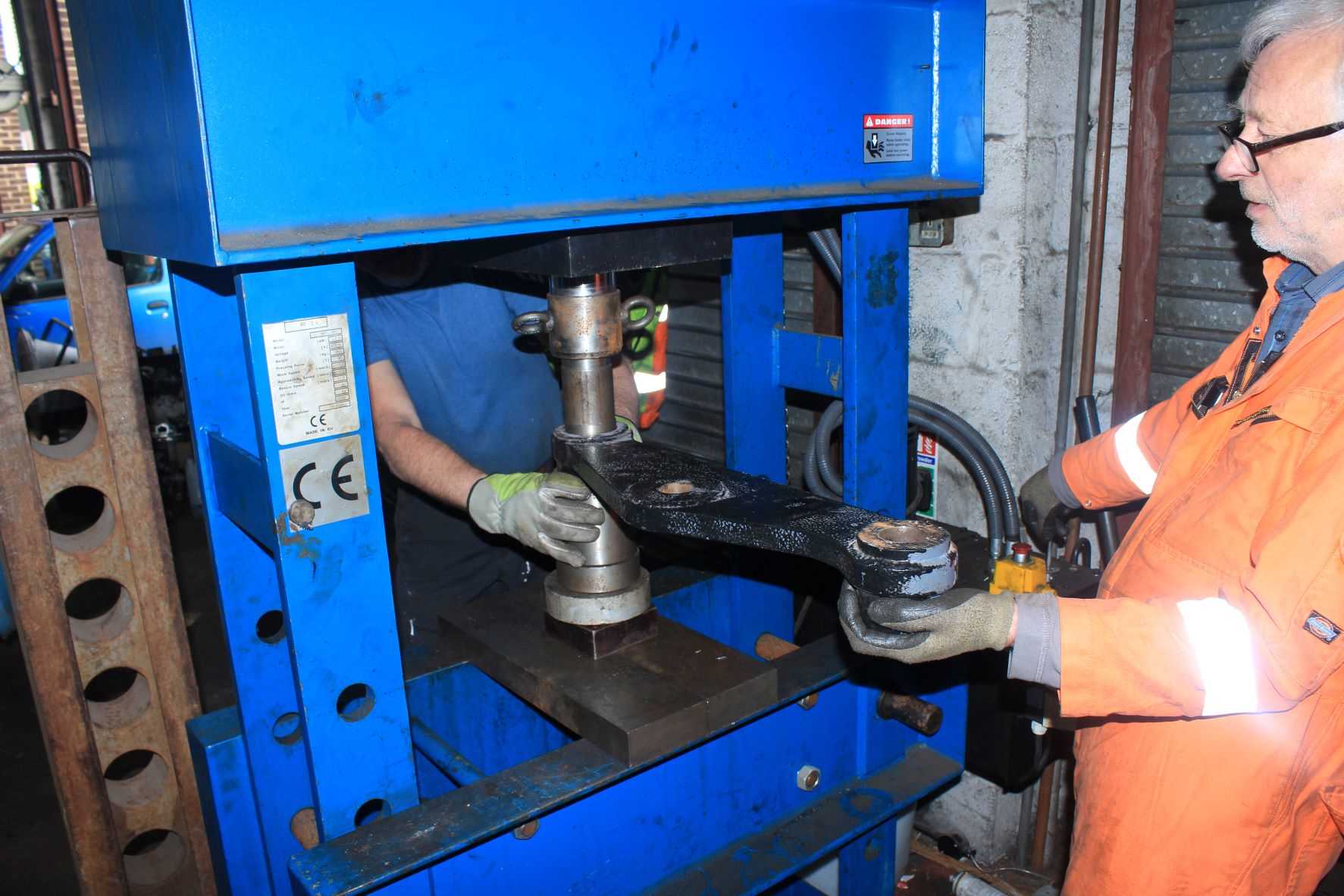 D9518 – Terry, Nick and Tony attended at the Yeovil Hydraulics facility on Tuesday 21st March 2023 to use their press to install the new bushings into the brake hangers. The bushings had been made by Yeovil Hydraulics who kindly offered the use of their press so that we could install the new parts. Photo by Terry Deacon © CC BY-NC 3.0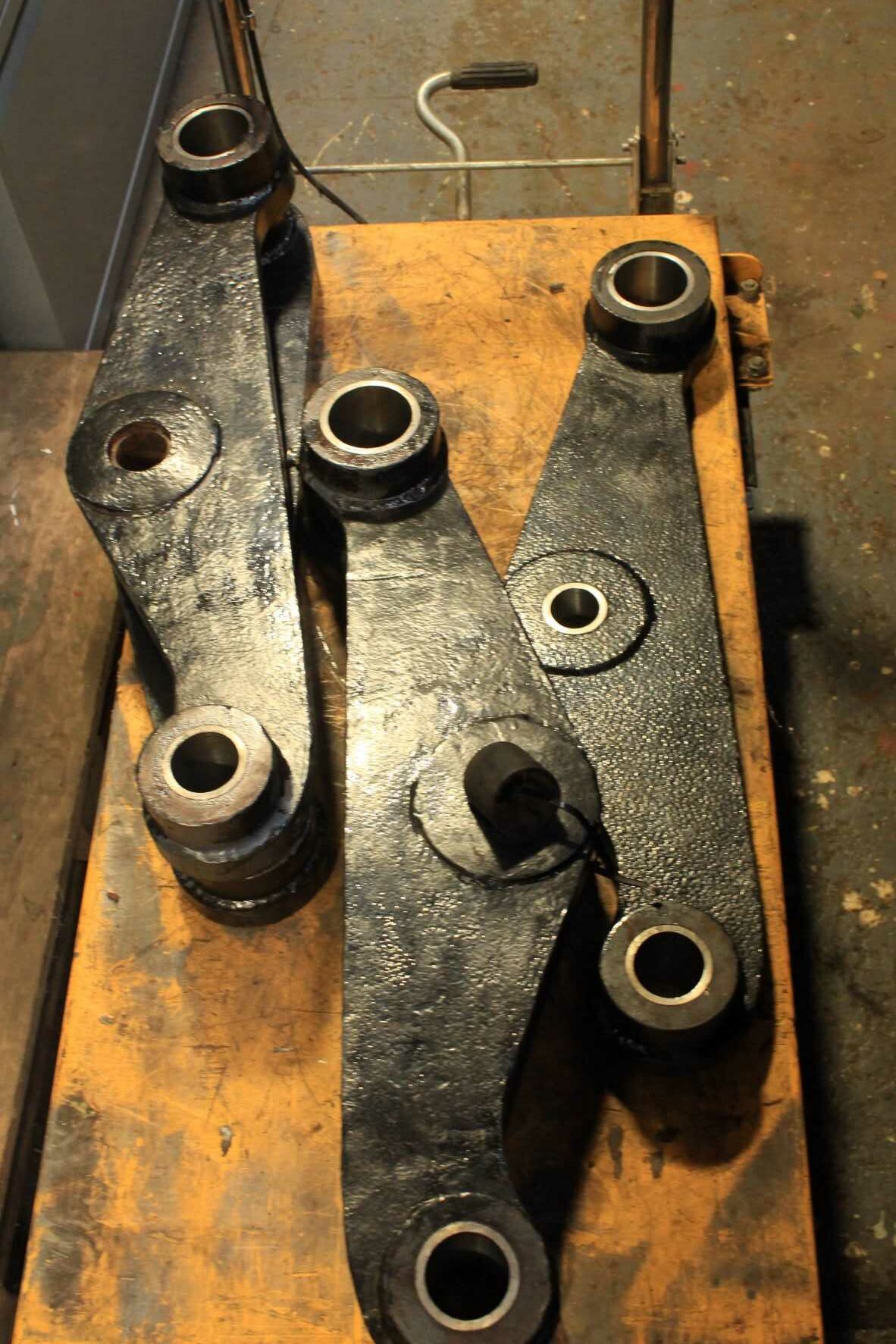 D9518 – the brake hangers were pictured complete with their new bushings upon return to Williton on Tuesday 21st March 2023. The new bushings were made by Yeovil Hydraulics who also made new pins that will feature in next weeks' update. Photo by Terry Deacon © CC BY-NC 3.0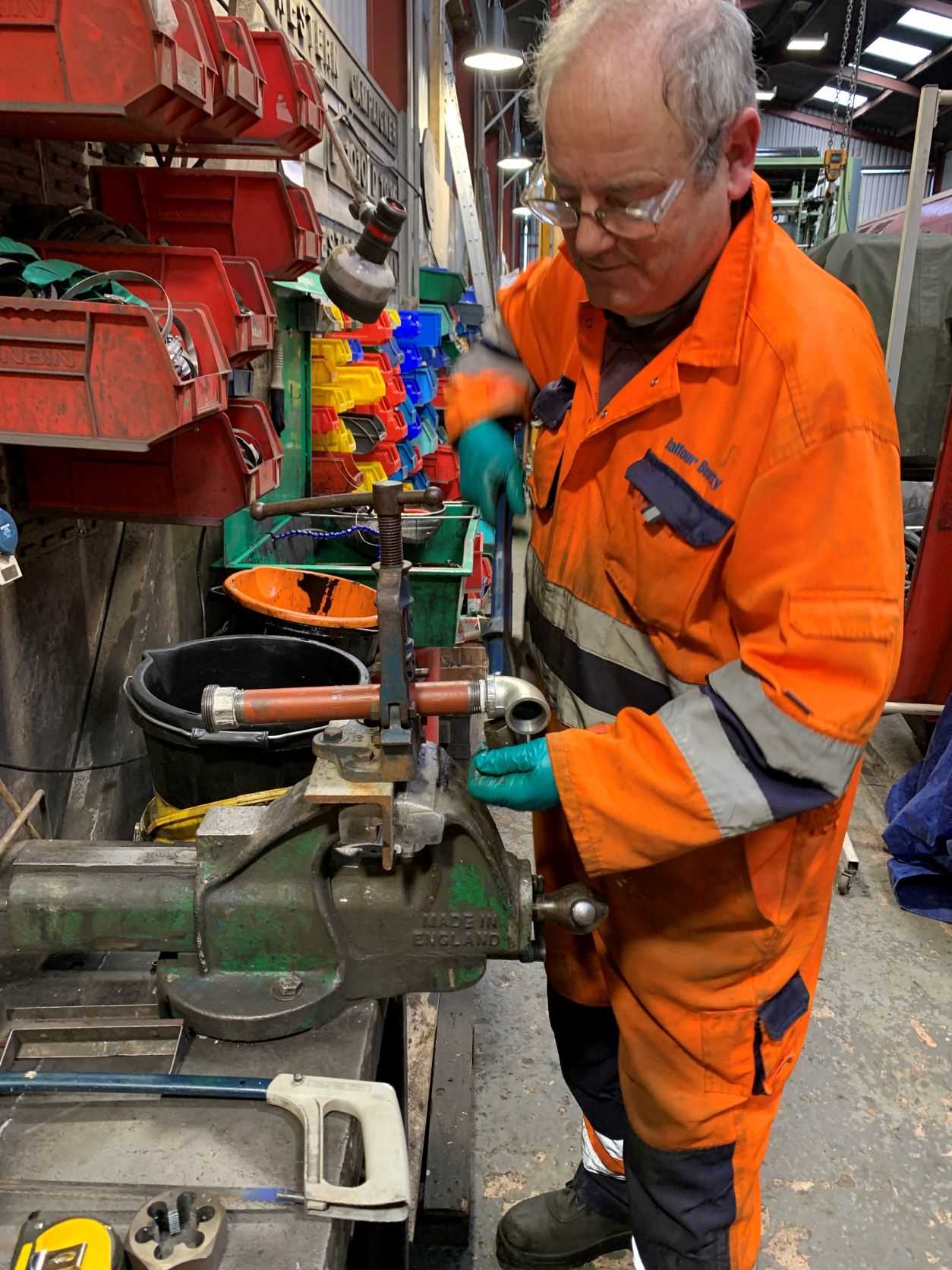 D9518 – Terry was pictured at Williton on Tuesday 14th March 2023 while making new pipework sections for the braking system. Next week's roundup will show these new sections in place on the loco. Photo by Andy Royal © CC BY-NC 3.0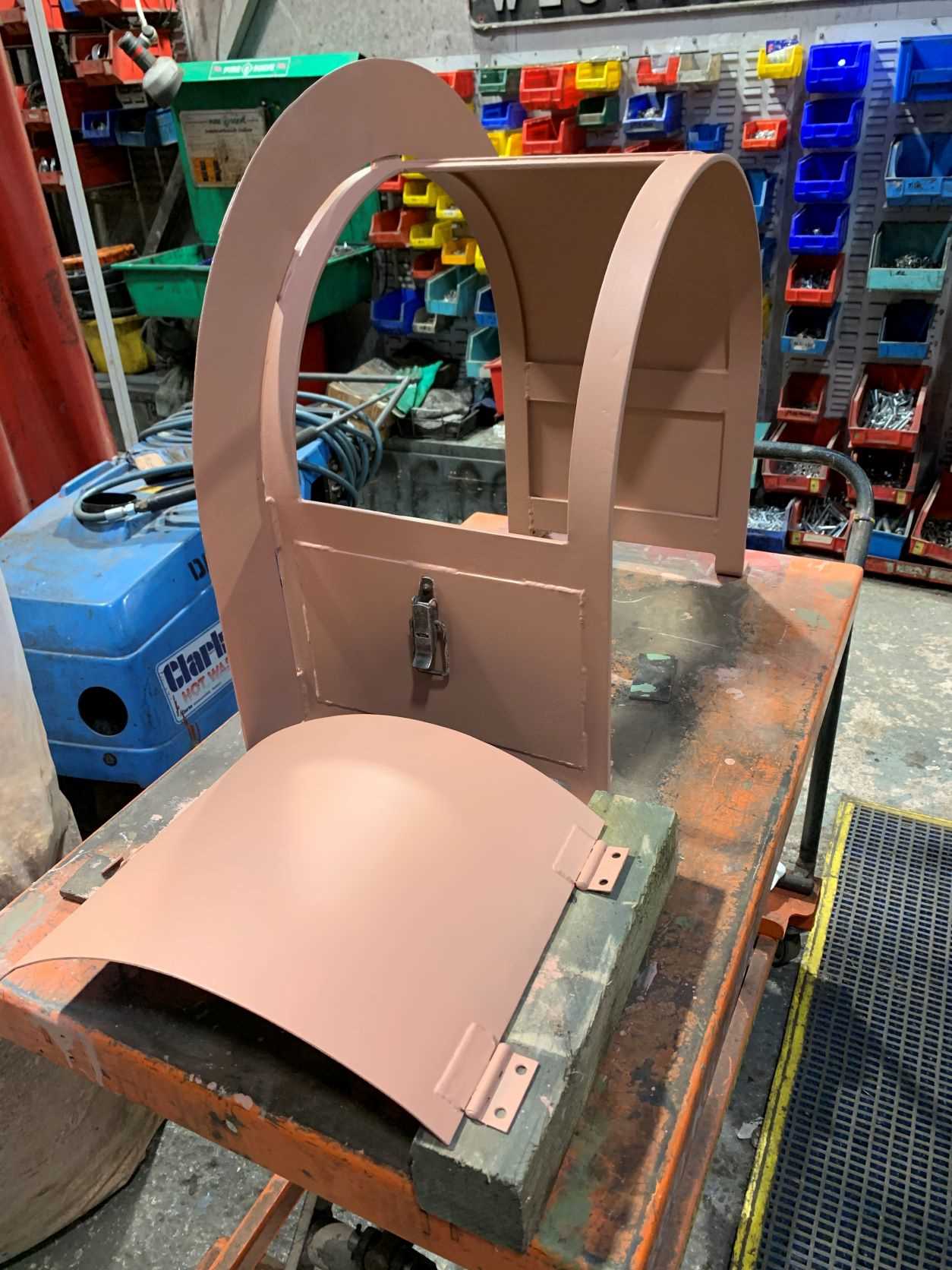 D9518 – the transmission tunnel has been painted in primer after being carefully restored by Andy P and is now ready for the final paint layers before re-installation on the loco frames. Pictured at Williton on Saturday 25th March 2023 by Andy Royal © CC BY-NC 3.0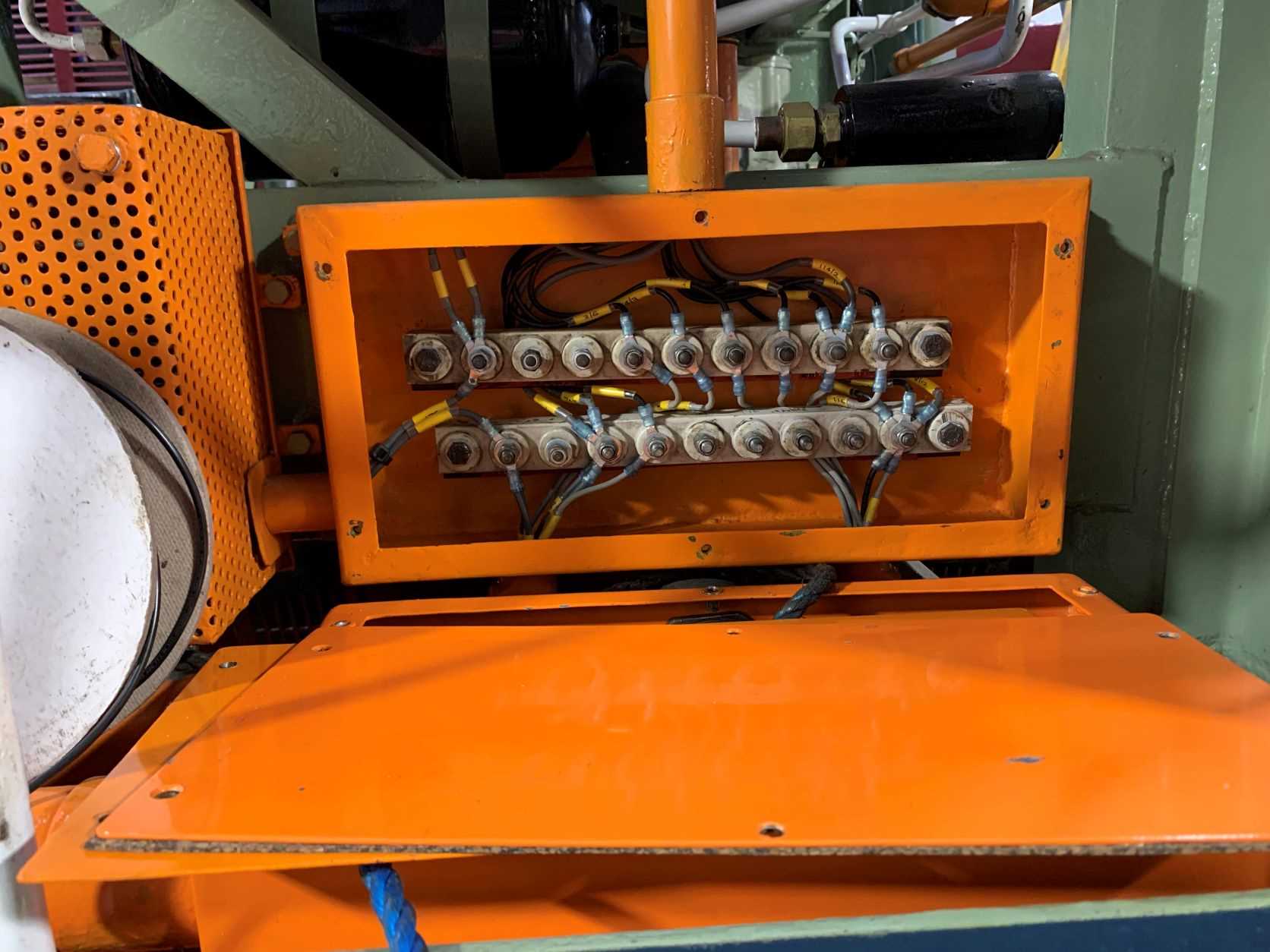 D9518 – in parallel with the other activities, John continued his work on the reinstatement of the loco wiring, with every wire being clearly labelled. Pictured at Williton on Saturday 25th March 2023 by Andy Royal © CC BY-NC 3.0
This loco is the subject of a fundraising appeal so please follow this link to find out more. We need your help ! In addition to funds, we also need plenty of HANDS. If you love the 'Teddy Bears' and you are not already a member of the DEPG, please join us so that you can become one of the team that is going to return D9518 to fully operational condition as 'NCB No. 7'.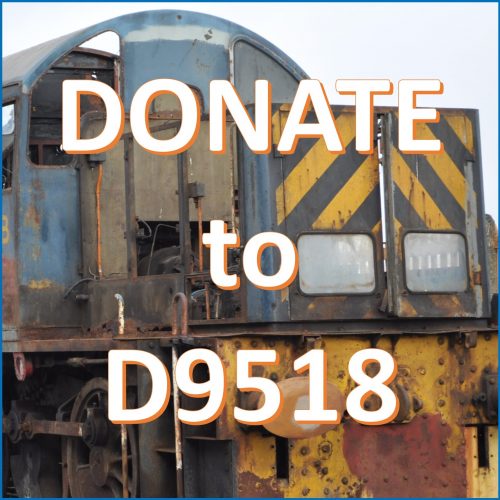 Class 14 'Teddy Bear' D9526 – as stated previously, the haulage turns that were allocated to this loco have had to be cancelled due to the need to haul 6 or 7 coaches on those days. This is the result of the commercial success of the WSR's 'Fish and Chip' and 'Cream Tea' specials which require the full length rake of coaches. We are in discussion with the WSR about suitable alternative dates where the Class 14 could be loaded with no more than 5 coaches and we will send out a DIESELGEN bulletin as soon as we have that information.
Class 47 47077 'NORTH STAR' – this loco is currently stabled at Grosmont on the North Yorkshire Moors Railway and has been in use recently, but more on this in the next edition of roundup.
Andrew Barclay 0-4-0DH 578 – the engine was started up on Tuesday 21st March 2023 and run for a short time to check that everything was OK. The loco was started again, later in the day, after attending to an issue with the battery isolator switch, which although brand new and suitably rated, did not last the course and was removed and scrapped. The sub-standard new part will be replaced with an old but reliable part that has been recovered from some redundant equipment.
Congratulations and many thanks to Tony for his excellent work on getting this very useful loco back into running condition and ready to undergo her Vehicle Inspection and Brake Test (VIBT) so that she can resume duties. The short video clip below shows the second engine run, made before attending to the governor settings. Click here or on the image below to launch the video: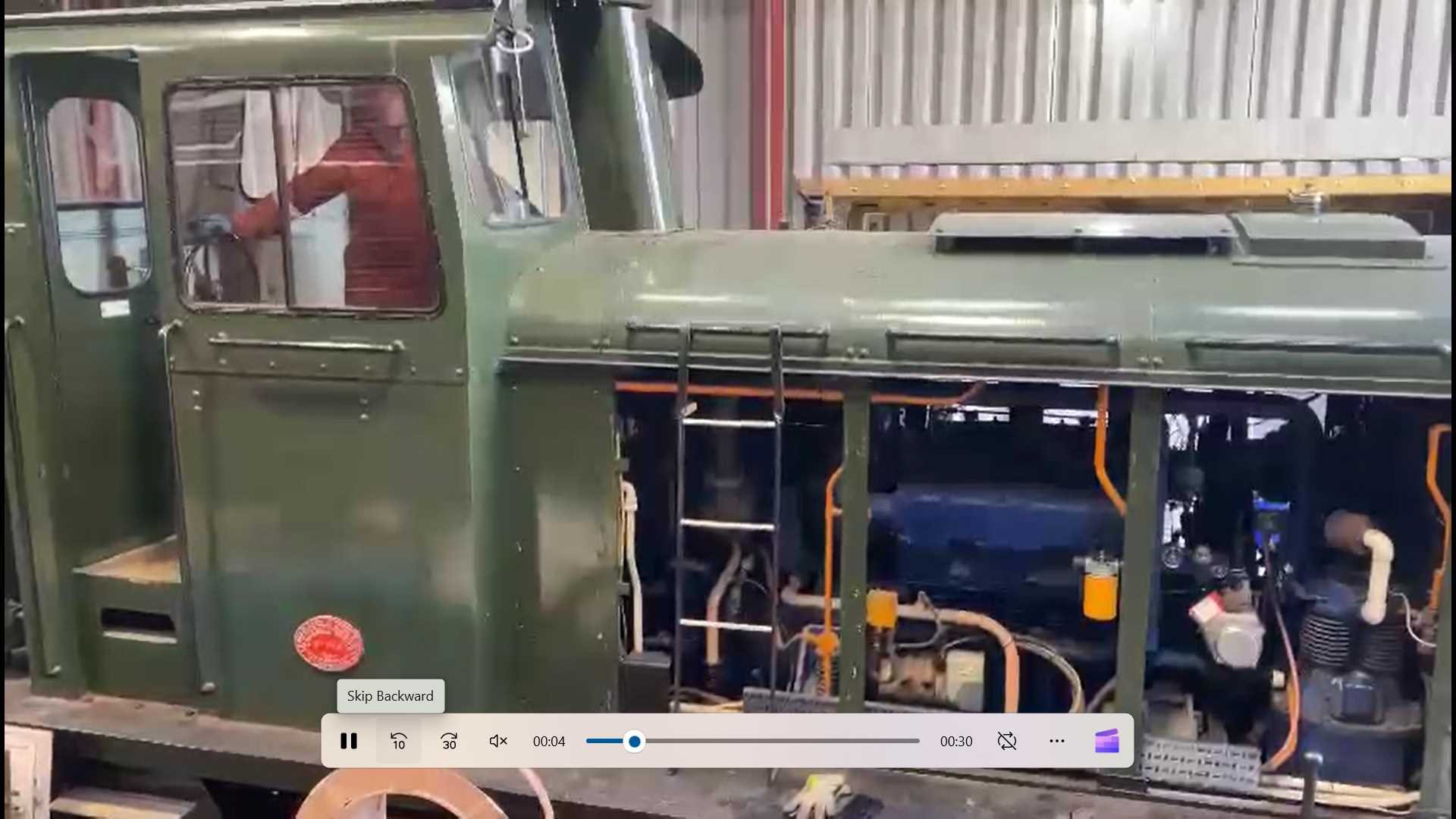 Barclay 578 (ROF 1) – Tony performed an engine start at Williton on 21st March 2023. Video clip by Natalie Royal © CC BY-NC 3.0
If you can help by donating your time to any of these projects, then please JOIN US and come along to the depot for an introduction to what we do and how we do it. We currently have people on site from Saturday through to Tuesday and we can open on other days if we can be sure of getting at least two volunteers on site at all times, so there is plenty of scope. We have tasks of all types to suit most capabilities, both skilled and unskilled.
Many thanks to all of our volunteers who give up so much of their time to work on the cleaning, painting, maintaining, restoring, managing and fund raising for our fleet of heritage locomotives !