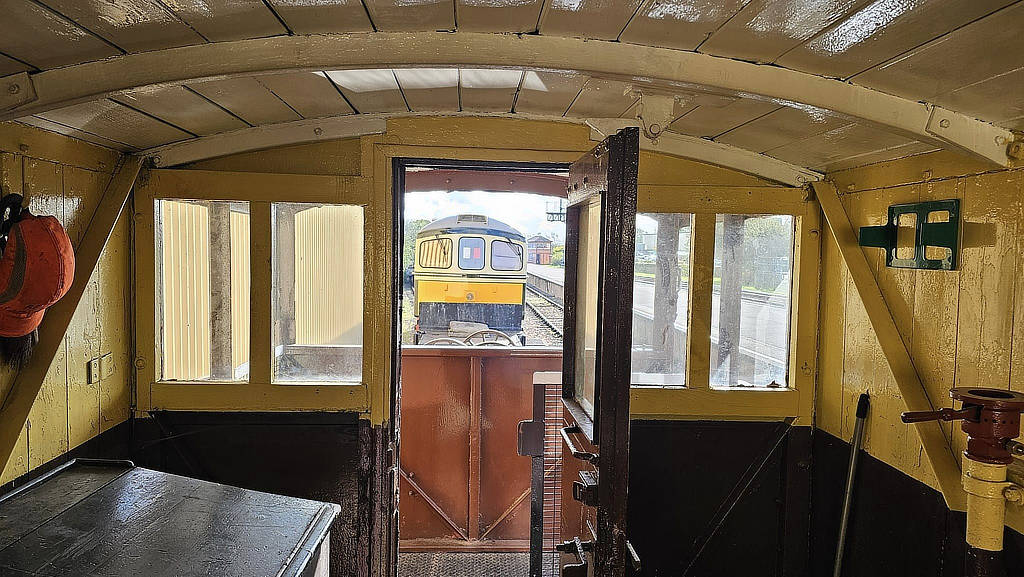 Class 33 'Crompton' D6566 (33 048) worked a short freight train from Minehead to Williton on Saturday 14th October 2023. This very unusual view was captured from within the brake van while the consist was being prepared at Minehead. Photo by Seb Welsh © CC BY-NC 3.0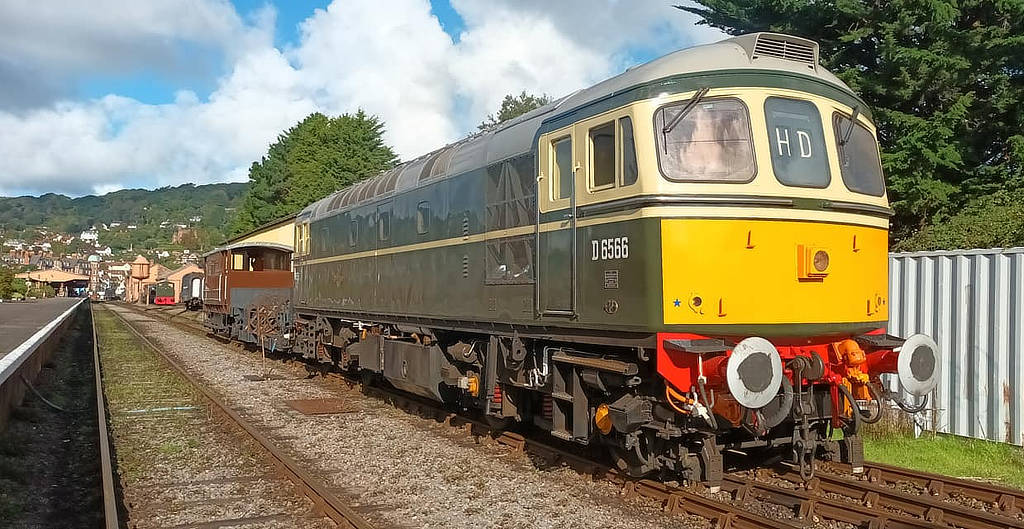 Class 33 'Crompton' D6566 (33 048) was put to work on Saturday 14th October 2023 to move a flat wagon loaded with tender wheelsets from Minehead to the Swindon Shed at Williton for restoration. This photo was taken by secondman Tom Courtney while the train was being prepared at Minehead. © CC BY-NC 3.0 
Although the scheduled diesel running of the 2023 season is behind us, there are still occasions when our diesels are in use, such as last Saturday 14th October, when a flat wagon loaded with steam loco tender wheelsets needed to be moved from Minehead to Williton. As we needed the loco back at Williton to support the planned test running of Class 35 'Hymek' D7017 and Class 14 'Teddy Bear' D9526 (Saturday 21st October, see our DIESELGEN posting), the obvious choice for the job was Class 33 'Crompton' D6566 (33 048) and several interesting photos resulted from this working, two of which are above. Follow this link to wsr.org.uk for more photos of this and other October workings.
LOCO NEWS:
Class 52 D1010 'WESTERN CAMPAIGNER' – further progress on the overhaul of the 'A' transmission has allowed the team to move on to the reverser assembly, where condensation and the subsequent corrosion damage have rendered the large diameter and very expensive bearings as beyond further use. This was expected and had been budgeted, but we had been hoping for some good luck to conserve funds. Several ideas have come forward to find ways of preventing or reducing internal condensation and extending the lives of the new bearings that are now being fitted, and all such ideas will be thoroughly evaluated.
Elsewhere on the loco, Ian F continues his painstaking work on filling and smoothing the bodysides of this giant loco. His quiet and careful approach has resulted in significant progress and he can justly feel great satisfaction with the work that he been doing. Thank you Ian !
Steve has been busy in 'B' cab with the overhaul of the driver's desk and associated wiring, while Gordon has been working on the auxiliary shafts and has been dismantling the universal joints of the cardan shafts to find out why they were feeling 'sticky'. Some of the needle roller bearings were found to be well past their best and will need to be replaced. These shafts are difficult to get at when in normal use, so now is the time to overhaul them, while access is easy.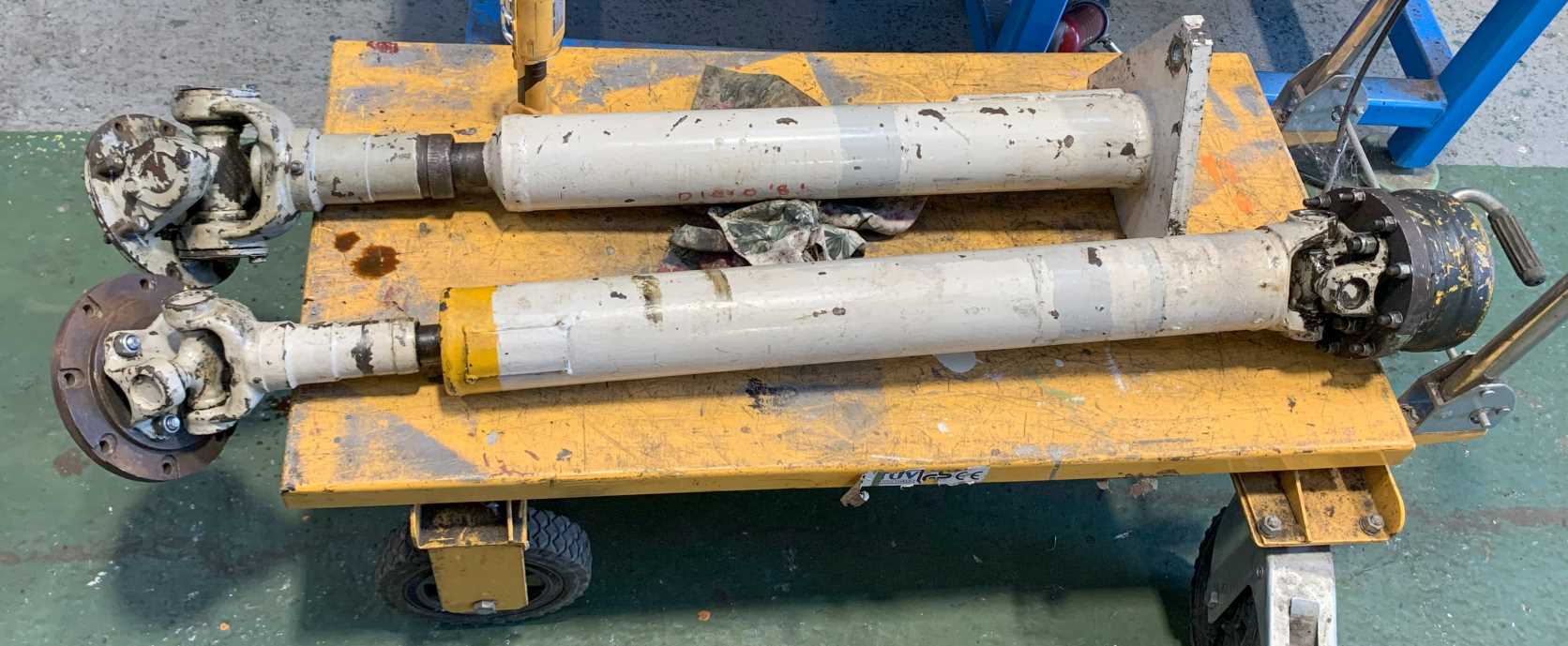 D1010 – the auxiliary cardan shafts from the 'B' end were retrieved from the container and will be stripped down for cleaning and inspection. Pictured at Williton on Saturday 14th October 2023 by Andy Royal © CC BY-NC 3.0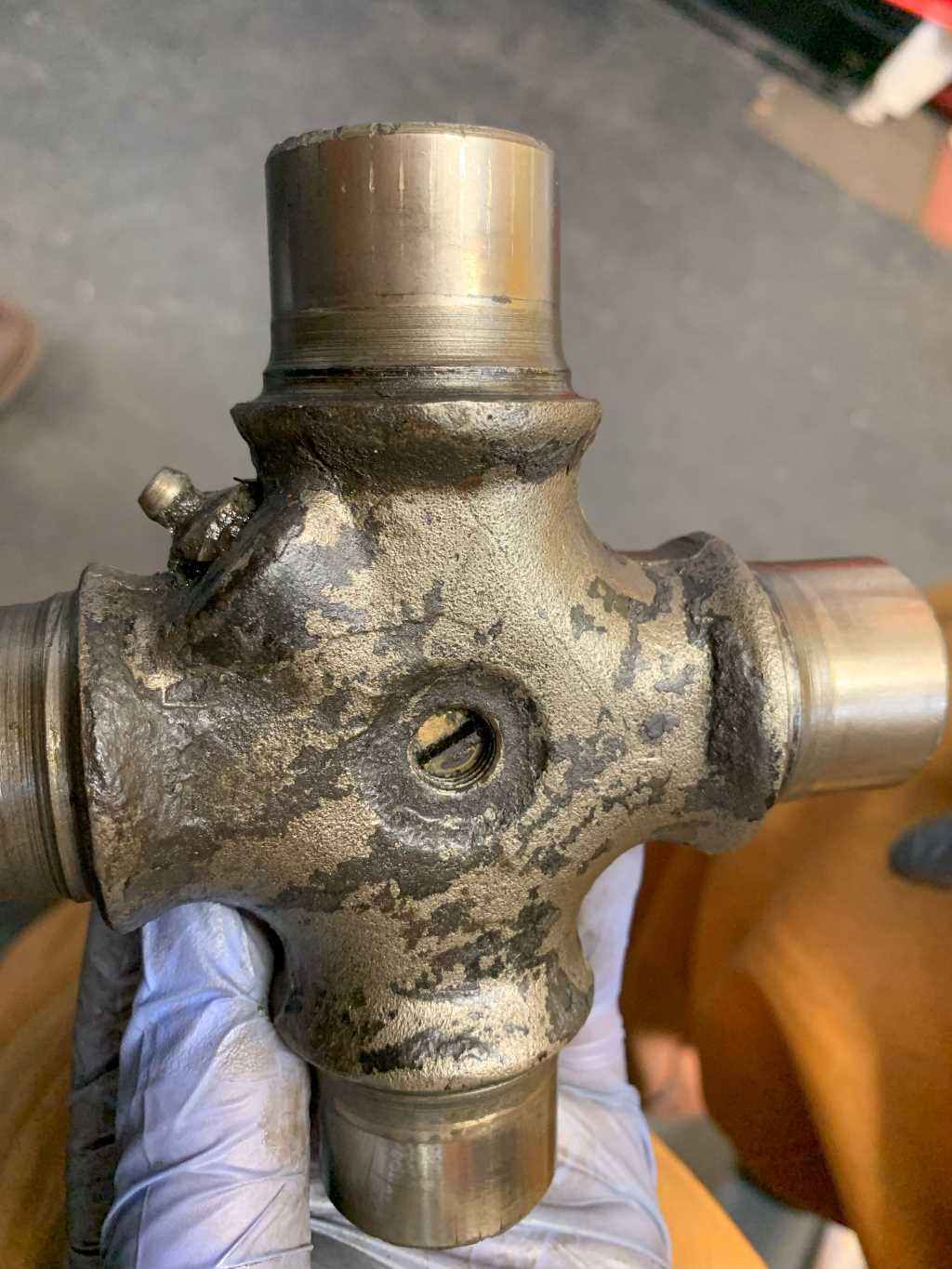 D1010 – the disassembly of the 'A' end auxiliary cardan shafts by Gordon revealed that the universal joints were not fit for further service and will need to be replaced. Pictured at Williton on Saturday 14th October 2023 by Andy Royal © CC BY-NC 3.0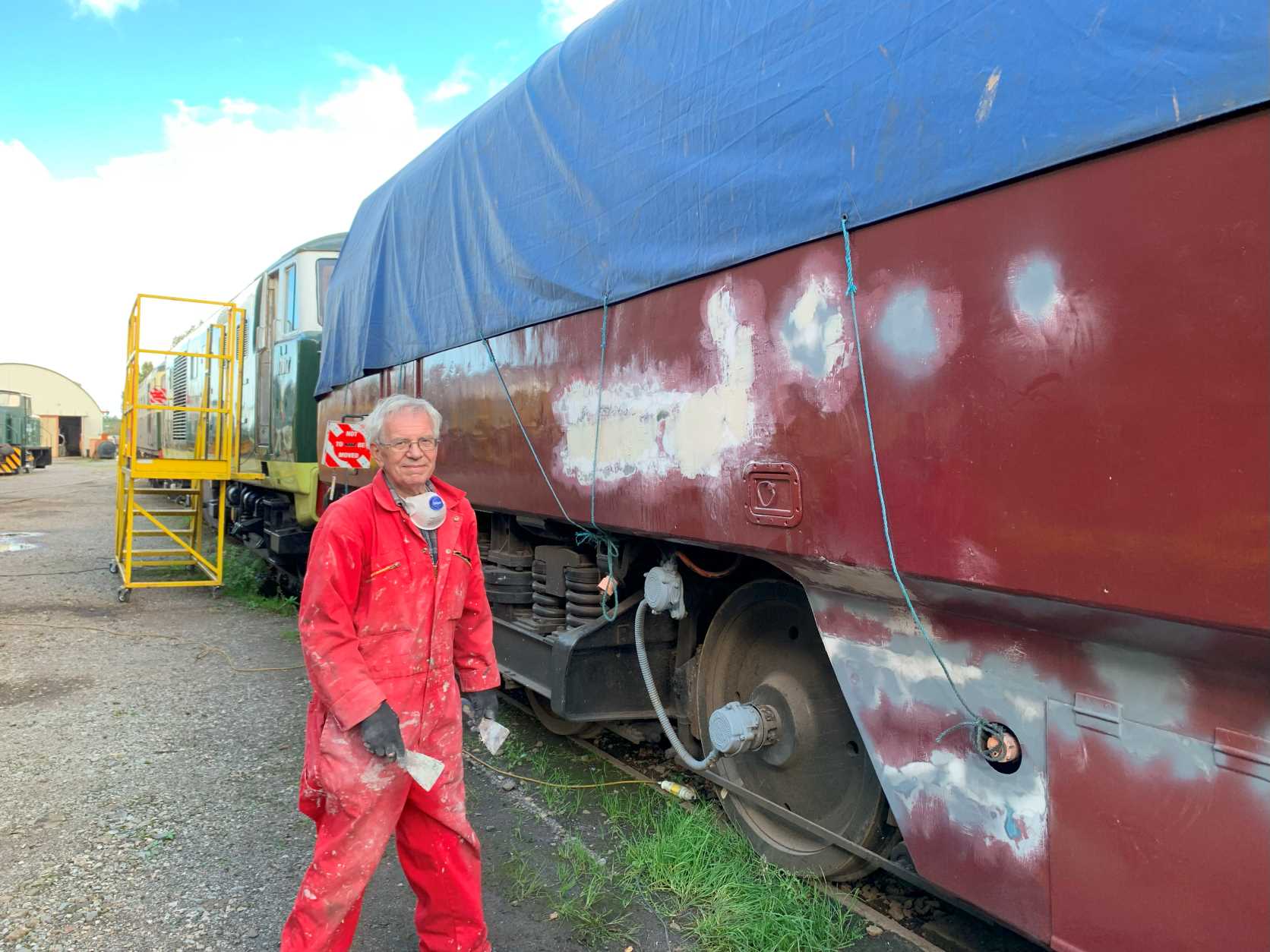 D1010 – Ian F, the volunteer who has done most of the work on the surface finish of this giant loco, was pictured while filling and smoothing at Williton on Saturday 14th October 2023. Photo by Andy Royal © CC BY-NC 3.0
There are still some patches waiting for sponsors at the 'B' end of the loco, so GET IN QUICK TO HAVE YOUR NAME ENGRAVED before Roy and Ian reach this end. Many thanks to those who placed their orders during the last few weeks.
Having the loco outdoors has generated an increased interest in our SPONSOR A PATCH scheme, with several more patches being engraved with their sponsor's names or messages. This initiative remains the single most successful fund-raising activity and has allowed us to make significant progress with the restoration work. PLEASE CONTINUE TO HELP US FUND THIS PROJECT.
Photographs and certificates of sponsorship will be sent out to all who have sponsored the restoration work, but we are still short of volunteer resources and have not yet been able to catch up with this obligation and deliver the documents. Apologies for the delay, we will get it done ASAP. Click the image below to sponsor a patch. Thank you in advance for your support and your patience!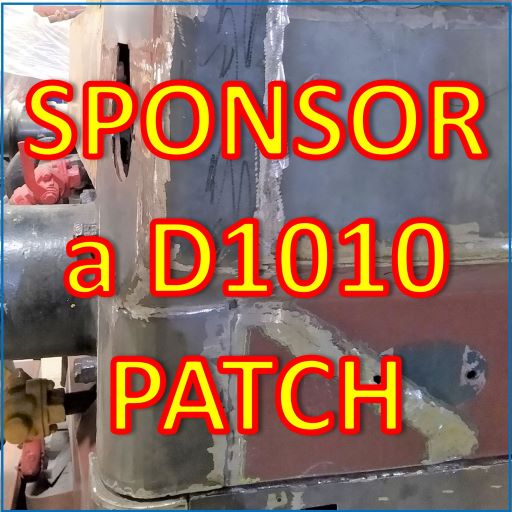 See our CAMPAIGN for CAMPAIGNER web page for more details. We still have a lot of work to do on this massive locomotive, so PLEASE DO COME ALONG AND HELP IF YOU CAN !
Class 33 D6566 (33 048) – this loco is currently stabled at Williton but will move to Bishops Lydeard on Saturday 21st October to cover the Christmas workings.
Class 33 D6575 (33 057) – this loco will move to Williton on Saturday 21st October to undergo winter maintenance, including an overhaul of her exhaust system.
Class 35 'Hymek' D7017 – a test run has been arranged for this loco on Saturday 21st October. See our DIESELGEN posting for details.
Class 35 'Hymek' D7018 – this loco is waiting patiently for work to be completed on sister D7017.
Class 14 'Teddy Bear' D9518 – work continues on the restoration of the cab assembly and the replacement of the electrical wiring loom that runs inside the driver's 'desk'. The Class 14 team is currently sharing its time between this project and the 1000-hour service on sister D9526, so we would welcome additional help to keep both sets of tasks moving along. Just respond to this email if you feel that you could help. Thanks !
This loco is the subject of a fundraising appeal so please follow this link to find out more. We need your help ! In addition to funds, we also need plenty of HANDS. If you love the 'Teddy Bears' and you are not already a member of the DEPG, please join us so that you can become one of the team that is going to return D9518 to fully operational condition as 'NCB No. 7'.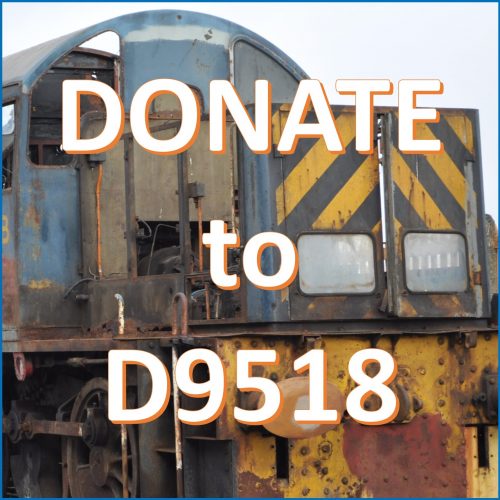 Class 14 'Teddy Bear' D9526 – this loco is inside the shed at Williton where work on the 1000-hour service has now been completed. The loco will undergo inspection at Williton on Saturday 21st October and will then go out on a test run to Bishops Lydeard and back, to bed in her new brake blocks and ensure that everything is as it should be.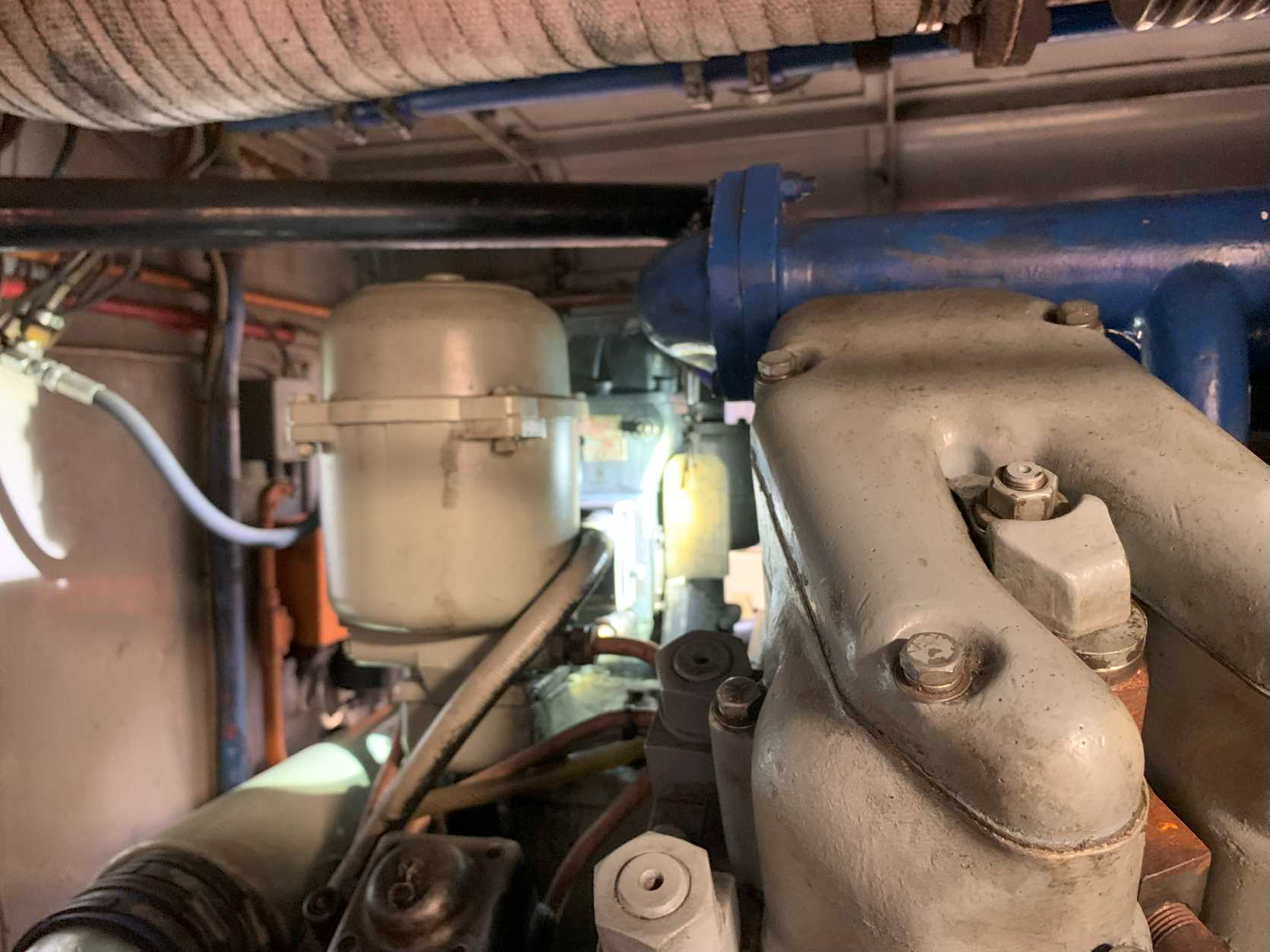 D9526 has had a 1000-hour service performed and is now ready for a test run. Attention was being given to replacing a cable conduit on the governor assembly (the brightly lit region) while inside the loco shed at Williton on Saturday 14th October 2023. Photo by Andy Royal © CC BY-NC 3.0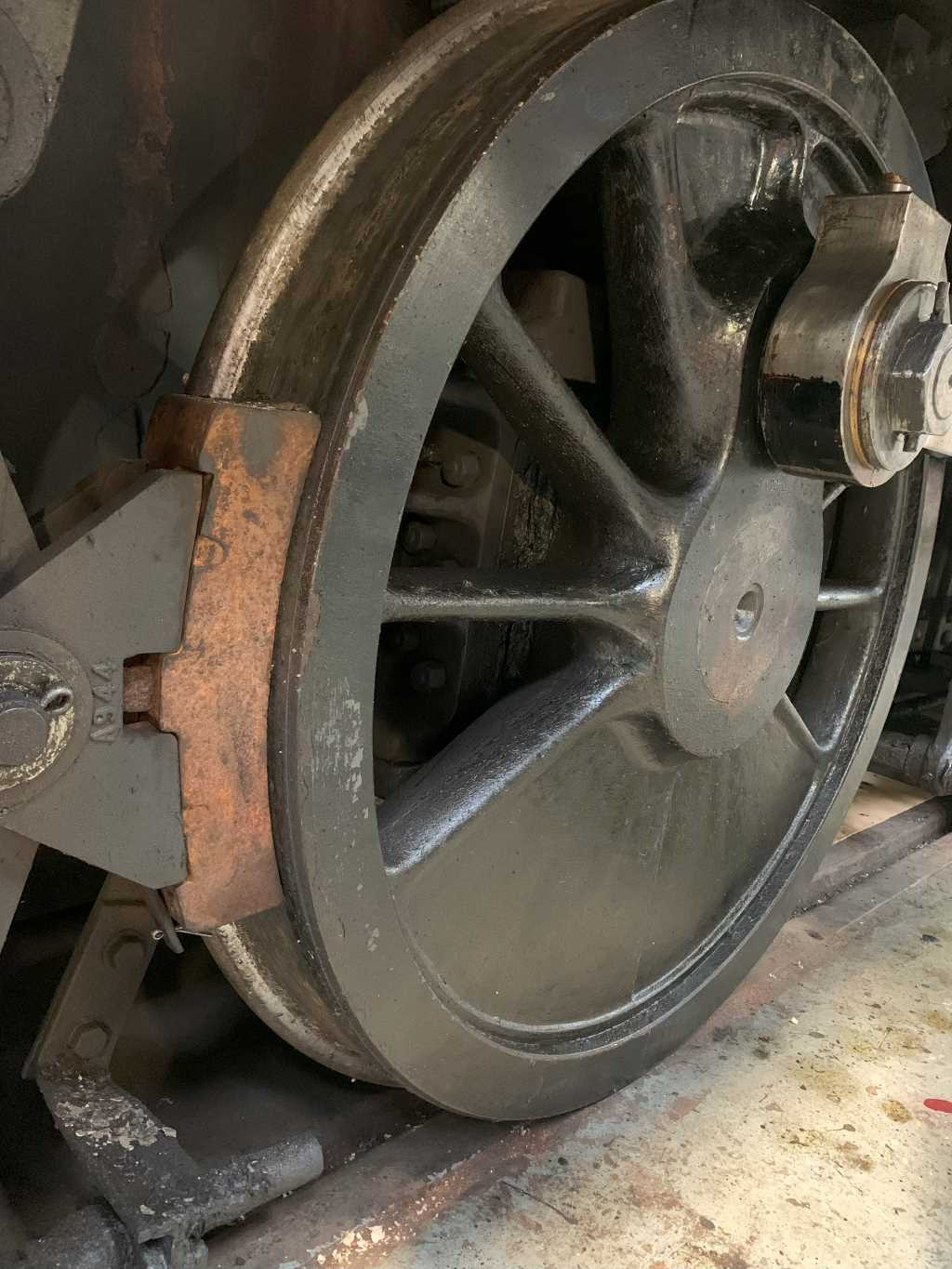 D9526 has been fitted with a set of new brake blocks while undergoing her 1000-hour service at Williton. Pictured on Saturday 14th October 2023 by Andy Royal © CC BY-NC 3.0
Class 47 47077 'NORTH STAR' – this loco is undergoing a 'top end' engine overhaul at Grosmont Works on the North Yorkshire Moors Railway. Photos will be provided ASAP.
Andrew Barclay 0-4-0DH 578 – this loco is currently undergoing an internal cab repaint in the hands of volunteer Jon Tooke. Photos will be provided ASAP.
If you can help by donating your time to any of these projects, then please JOIN US and come along to the depot for an introduction to what we do and how we do it. We currently have people on site from Saturday through to Tuesday and we can open on other days if we can be sure of getting at least two volunteers on site at all times, so there is plenty of scope. We have tasks of all types to suit most capabilities, both skilled and unskilled.
Many thanks to all of our volunteers who give up so much of their time to work on the cleaning, painting, maintaining, restoring, managing and fund raising for our fleet of heritage locomotives !