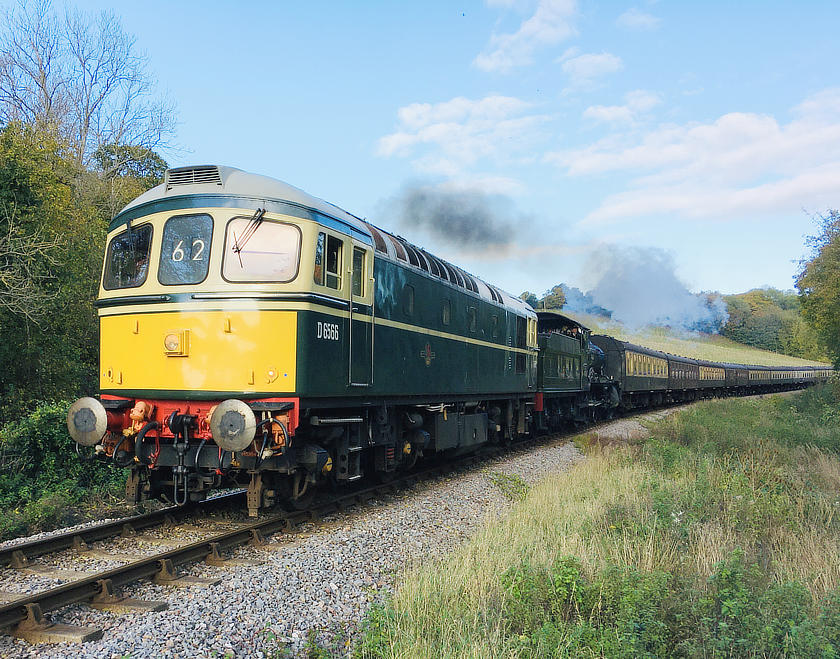 Current Status: OPERATIONAL
See our  page for planned service running dates.
D6566 is a member of a class of 98 "Type 3" locomotives, later known as "Class 33", that were designed and built by the Birmingham Railway Carriage & Wagon Company (BRCW) in Smethwick, West Midlands in the period 1960 to 1962. Our locomotive entered service on the Southern Region (SR) of BR in August 1961. The locomotive class is of diesel-electric design concept and was the first design to incorporate dual braking (air and vacuum) and Electric Train Heating (ETH) as standard equipment.
D6566 worked mixed traffic on the SR for 34 years until withdrawal in 1995, and after a two-year period in store, was condemned as surplus to requirements in 1997. Acquired almost immediately by one of the D&EPG founder members, the locomotive arrived at Williton in May 1997 and worked her first train on the WSR in October of that year, marking the first use of a (subclass) Class 33/0 in preservation.
D6566 was stopped for overhaul in 2013 after 16 solid years of service on the WSR. The overhaul included engine work and major bodywork repairs and the locomotive returned to service in 2018, resplendent in original two-tone green livery but with the small yellow warning panel at each end. This popular and reliable locomotive continues to serve the WSR as its primary duty locomotive, equally at home on service trains, engineering trains or (stage 1) Diesel Driver Experience Courses.
Technical Specification
Engine: Sulzer 8LDA28 8-cylinder in-line turbocharged diesel
Transmission: 4 x Crompton Parkinson traction motors
Weight: 73 Tons
Length: 51 ft
Output: 1550 hp at 850 rpm
BR Power Rating: Type 3
Speed: 85 mph
Fuel Capacity: 800 gallons
Wheels: Bo-Bo
History
Manufacturer: Birmingham Railway Carriage & Wagon Co (BRCW)
BR Class: 33
Introduced 1960
Number Built 98
Role: Mixed Traffic
Read about sister locomotive D6575 (33 057)
Go to the Locomotive Status page
Ilfracombe Adventure by Ian Robins