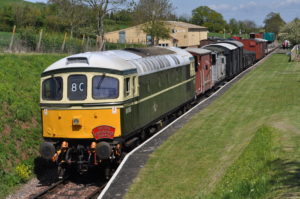 The West Somerset Railway offers driver experience courses for both steam and diesel traction. The steam courses are arranged in a series of levels that build on experience gained on the starter courses, details of which can be found on the WSR website by following this link.
The diesel courses are of a single level and are usually operated by one of our Class 33 'Crompton' locomotives. Occasionally, we offer a course using one of our Class 35 'Hymeks' or a Class 14 'Teddy Bear' for participants who have already completed a course on a Class 33.
The courses are run by the WSR but the DEPG provide locomotives and crews (two drivers are always provided because of the increased workload of supervising others while operating safely).
Click here or on the image below to read an article written by a course participant: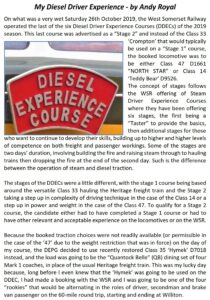 At present (October 2022), the WSR are not advertising any diesel driver courses and are fulfilling obligations from pre-Covid bookings.
When the 2023 courses are announced, this page will be updated accordingly.
The link to the relevant WSR website section is as below:
---
Social media channels: