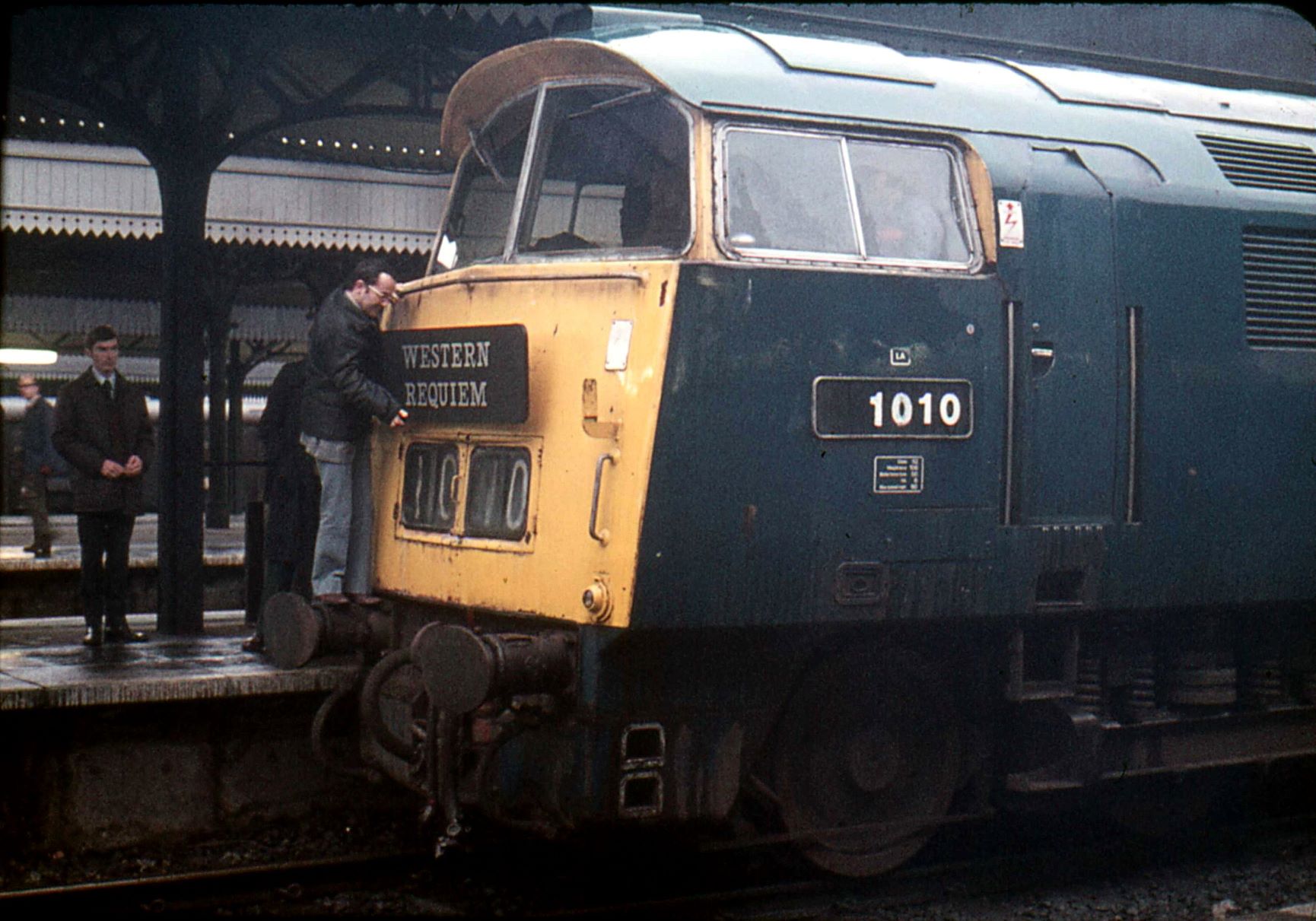 D1010 'WESTERN CAMPAIGNER' prepares to depart from Paddington Station witthe RPPR "WESTERN REQUIEM" railtour on Sunday 20th February 1977. Tour organiser John Vaughan is seen positioning the headboard that had to be handed over to 37179 then to sister loco D1023 'WESTERN FUSILIER' in South Wales later in the day, after D1010 suffered an engine shutdown en route. Photo by Barry Lewis via Wikimedia © CC BY-NC 3.0
45 years ago, on Sunday 20th February 1977, our D1010 'WESTERN CAMPAIGNER' departed from Paddington at 08:23 with the 1Z08 'WESTERN REQUIEM' railtour, heading for Cardiff via Gloucester with the intention of repeating the route to the heads of the valleys of South Wales, as she had done exactly one week before. However, this was not to be her finest moment, because her 'B' engine suffered a water leak soon after leaving Paddington and subsequently shut down. The loco battled on with one engine and a trailing load of 10 Mark 1 coaches, each filled to capacity with fans hoping to get one last run behind a 'Western', but was 43 minutes behind schedule when she arrived at Cardiff Central Station.
The decision was taken to change the loco at Cardiff, where D1010 was replaced by a Class 37 from the small number of boiler-fitted locos that were part of the huge fleet of Class 37s that were maintained at Cardiff Canton depot. With 37179 in charge, the railtour departed from Cardiff Central 55 minutes late, heading for Pontypridd and onward to three of the valleys in turn, while in the background, D1023 'WESTERN FUSILIER' was despatched from Old Oak Common to take over the tour for the return leg from Pontypridd. The railtour eventually arrived back at Paddington at 22:50, almost two hours late, but I somehow doubt that any of the passengers complained about it, their ears ringing with 'Maybach Music' as D1023 worked hard to recover some of the lost time. This was, after all, the antepenultimate railtour of the BR diesel-hydraulic era ('Western Lament', D1048, 24-Feb-77 and 'Western Tribute' D1013+D1023, 27-Feb-77).
The swansong of D1010 had in fact already taken place the previous Sunday on the 'relief' railtour, when she had performed faultlessly throughout. The story of that day is told by Neale Long in our booklet 'D1010 – FROM MEREHEAD to MINEHEAD', available from our online store.
VERY IMPORTANT DATES FOR YOUR DIARY – the WSR's 2022 DIESEL GALA will take place from Thursday 9th through Saturday 11th June 2022, so keep these dates free and make a plan to attend ! Click this link to the WSR website to view the dates for other WSR events that are planned for 2022.

This week, we are launching our CAMPAIGN for CAMPAIGNER and we are starting by offering 'SPONSOR A PATCH' where you can donate in support of the bodywork repairs that are taking place on D1010 'WESTERN CAMPAIGNER' at the moment and HAVE YOUR NAME ENGRAVED ON THE SPONSORED PATCH or PART.
For the sum of £25, this scheme offers you a chance to sponsor the restoration of this famous locomotive, with your personal contribution being recorded and documented on a set of drawings that will be made available at our Williton depot on running days and open days. For those who prefer to remain anonymous, a unique reference number will be allocated and engraved instead.
See our CAMPAIGN for CAMPAIGNER web page for more details !
Please help us keep up the momentum and get this loco back into working order as quickly as possible.
NOTE: EVERYONE WHO HAS ALREADY DONATED £25 OR MORE SINCE JULY 2021 WILL BE RECOGNISED and will be allocated an appropriate area on one of the patches or parts that have already been applied to the loco. Use our CONTACT FORM if you want to register your previous donations to D1010 for this campaign.
LOCO NEWS:
Class 52 D1010 'WESTERN CAMPAIGNER' – this week, we have put a lot of effort into the new CAMPAIGN for CAMPAIGNER which we will soon be rolling out via social media and JustGiving. For the roundup this week, we will let the pictures tell their own stories:
D1010 – after receiving the necessary training from Colin F, Leroy takes over the welding of the replacement door frame strip at Williton on Sunday 13th February 2022. Photo by Colin Foxhall © CC BY-NC 3.0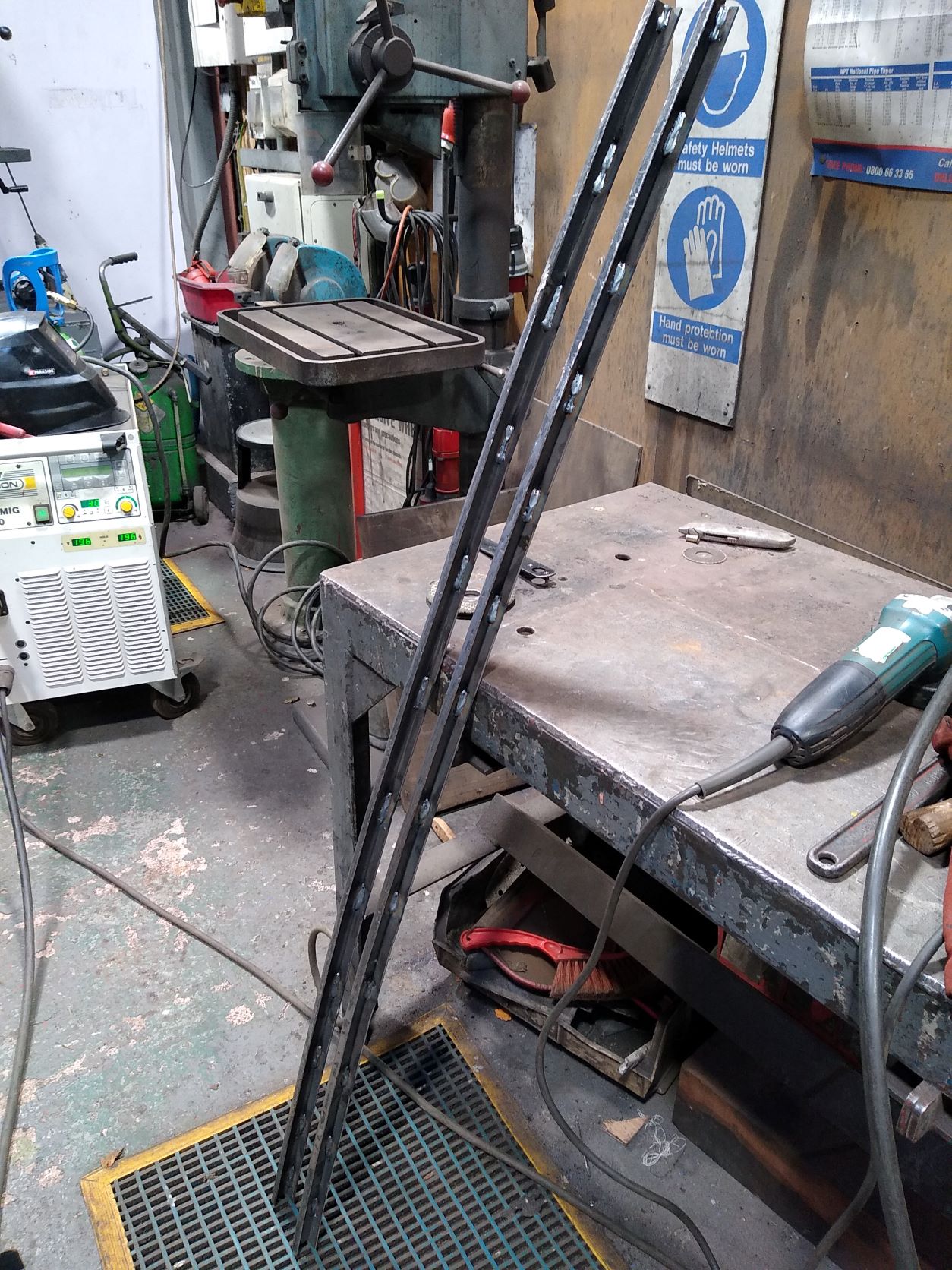 D1010 – two more replacement door frame strips were fabricated at Williton on Sunday 13th February 2022, complete with just the right amount of curvature to match the body profile of the locomotive. Photo by Colin Foxhall © CC BY-NC 3.0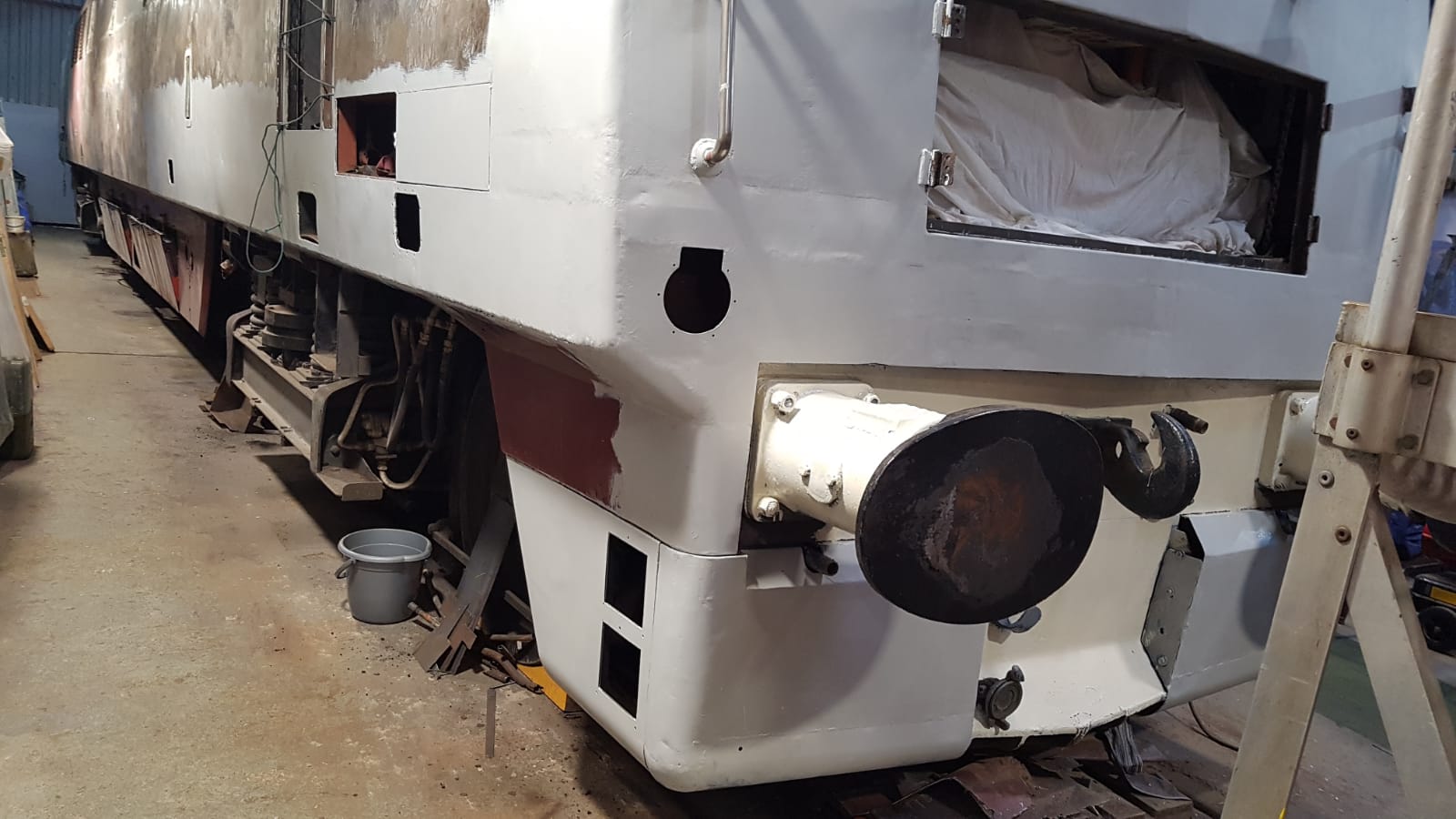 D1010 – what a difference a coat of paint makes ! The bare metal at the 'B' end of the loco was painted with anti-corrosive primer by Roy on Saturday 19th February 2022. This will allow the areas that need further rubbing down and filling to be identified more easily. Photo by Martin Howard © CC BY-NC 3.0
D1010 – the remnants of the badly corroded horn enclosure from the cab roof at the 'B' end gives evidence about the ineffectiveness of the rainwater drain in this area. Pictured at Williton on 20th February 2022 by Colin Foxhall © CC BY-NC 3.0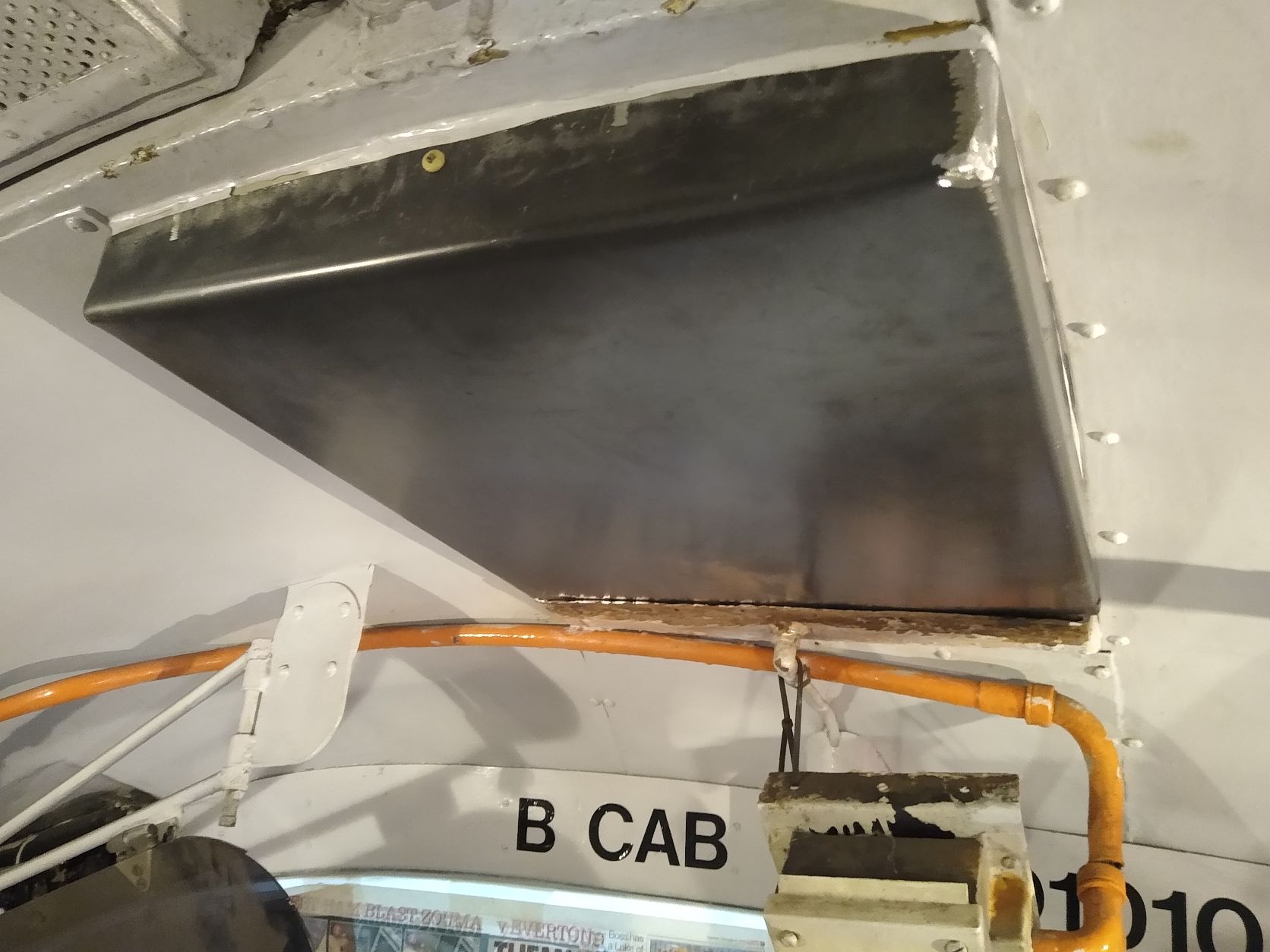 D1010 – the horn enclosure in the cab roof at the 'B' end has been trial-fitted with a newly fabricated steel tray. Pictured at Williton on 20th February 2022 by Colin Foxhall © CC BY-NC 3.0
This loco is the subject of a new fundraising appeal so please follow this link to find out more. We need your help ! In addition to funds, we also need plenty of HANDS. If you love the 'Westerns' and you are not already a member of the DEPG, please join us so that you can become one of the team that is returning D1010 to full operational condition.
Class 33 D6566 (33 048) – this loco is currently at Williton and is being prepared to take up duties as a standy loco for the WSR.
Class 14 'Teddy Bear' D9526 – this loco is currently based at the Kent & East Sussex Railway where she has racked up so many hours that she is now undergoing a 250-hour inspection and service before getting back to work on the K&ESR. At the request of the K&ESR, the hire agreement for D9526 has been extended to the end of May 2022. The income being earned by the loco will include an allocation for future overhaul costs that will result from such frequent use, but ultimately it is better for the loco to be in use than just be kept on standby.
Andrew Barclay 0-4-0DH 578 – this loco is currently in the Swindon Shed at Williton receiving attention from the WSR Restorations team who are performing a partial repaint that will then allow the loco to be stabled in the yard for the rest of the winter. The loco is currently wearing undercoat and will receive a coat of MOD deep bronze green gloss when weather conditions allow.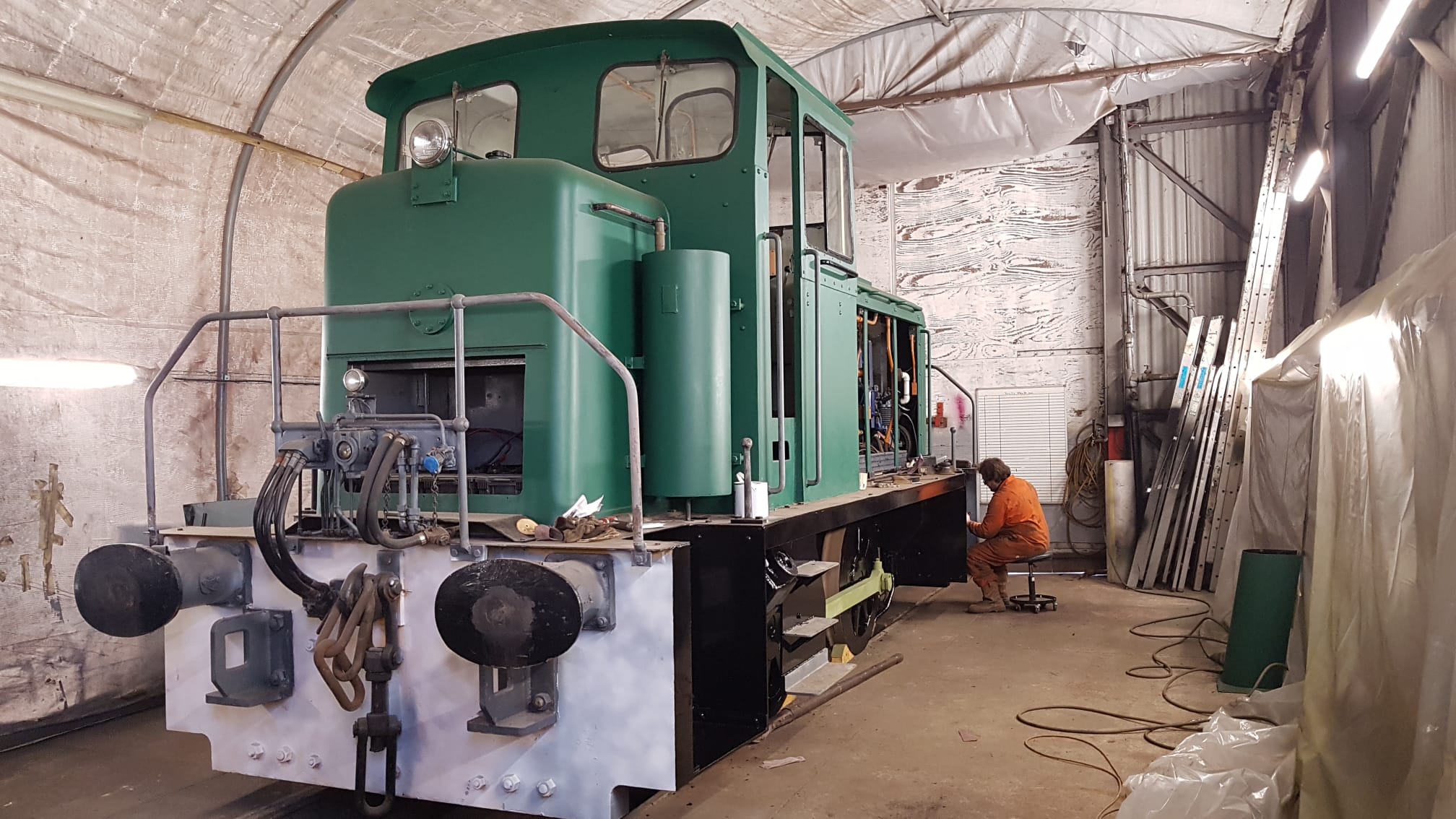 Andrew Barclay 0-4-0 DH number 578 (ROF 1) is seen in the WSR Restorations paint shop at Williton receiving attention from Harry in his own time on Saturday 19th February 2022. What an excellent job he is doing ! Photo by Martin Howard © CC BY-NC 3.0
If you can help by donating your time, then please JOIN US and come along to the depot for an introduction to what we do and how we do it. We currently have people on site from Saturday through to Tuesday and we can open on other days if we can be sure of getting at least two volunteers on site at all times, so there is plenty of scope. We have tasks of all types to suit most capabilities, both skilled and unskilled.
Many thanks to all of our volunteers who give up so much of their time to work on the cleaning, painting, maintaining, restoring, managing and fund raising for our fleet of heritage locomotives !
Go to previous Depot News page