D9518 is an unrestored example of the 56-strong class of BR-Swindon 'Type 1' 650 hp diesel-hydraulic 0-6-0 single-cab diesel locomotives, known later as Class 14 'Teddy Bears',  that were introduced to service on BR between1964 and 1965.
D9518 was built at BR-Swindon works in 1964, entering service at Cardiff Canton depot on 30th October 1964 and being put to work on 'trip freight' workings centred around Radyr yard in North Cardiff, the gateway to the valley of the River Taff. However, the work that the locomotive was designed for was fading away because of the social and economic changes of the time, and the whole class had a very short life on BR, all having been withdrawn from service by the end of 1969.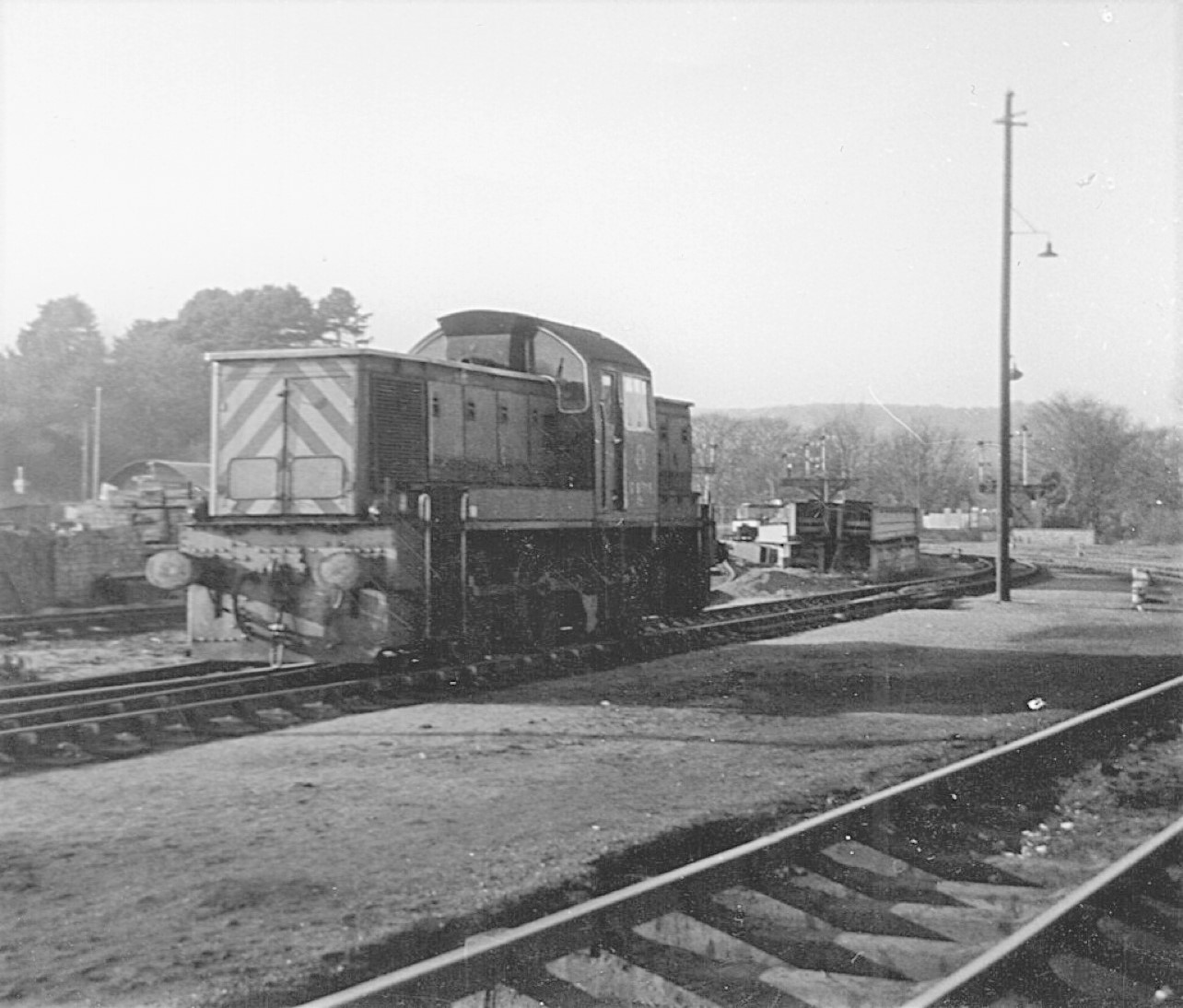 Class 14 'Teddy Bear' D9518 is seen at Radyr yard in the northwest of Cardiff on 8th March 1969. This loco holds the distinction of being the last of the class to operate on BR, working trip freight between Radyr and several other yards in the city until Saturday 19th April 1969. Photo by Alan Walker © CC BY-NC 3.0
D9518 was the last to remain operational, with her last working from Radyr Yard being on Saturday 19th April 1969 with formal withdrawal taking place at Cardiff Canton depot on 26th April 1969.
Luckily, this was not the end for this sturdy and well-built locomotive, because she was one of many that were purchased in June 1969 by the National Coal Board for use at Ashington Colliery in Northumberland, where she worked until 1984.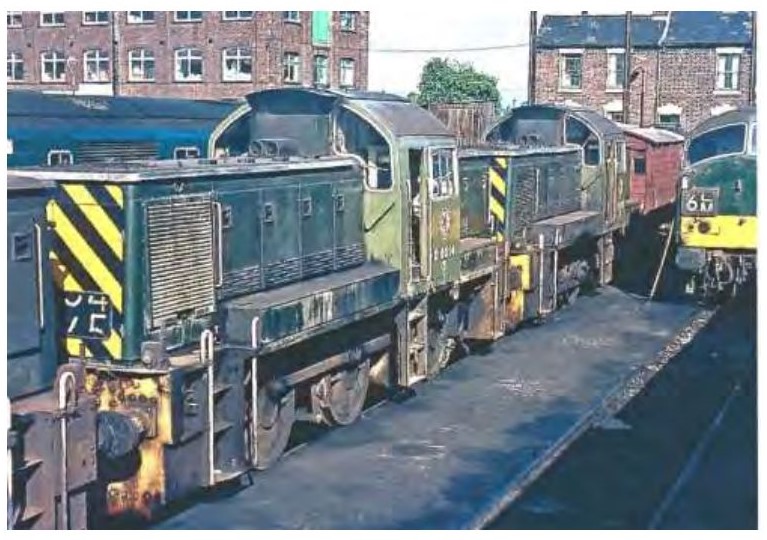 Class 14s D9527, D9514 and D9518 (L-R) pause at Gloucester Horton Road Depot on 4th July 1969 while on their journey northward to the NCB's Ashington Colliery. A blue 'Hymek' is just visible on the far left and a NBL Class 22 D63xx is on the right of the picture. Photo by the late Norman Preedy © CC BY-NC 3.0
A new life at Ashington
D9518 left Cardiff Canton depot and headed north on her 300-mile-plus journey in July 1969 in the company of two other classmates, D9514 and D9527, to join the four Class 14s that were already operating there. Within a matter of months, they were joined by five other members of the class, making 12 in total, but this number was increased later when other collieries closed and their locos were moved to Ashington, with 19 of the class having operated at the colliery by the time that the colliery ceased production in 1985.
At Ashington, D9518 took on a new livery of 'Ashington blue' (a lighter shade than the 'standard' NCB Blue) and a new identity, becoming 'NCB No. 7' and carrying Plant number 9312/95, being registered for running over BR metals and receiving Railway Executive registration plates 1430 of 1953. It was common practice to transfer plates from redundant locos to those replacing them, hence the year 1953.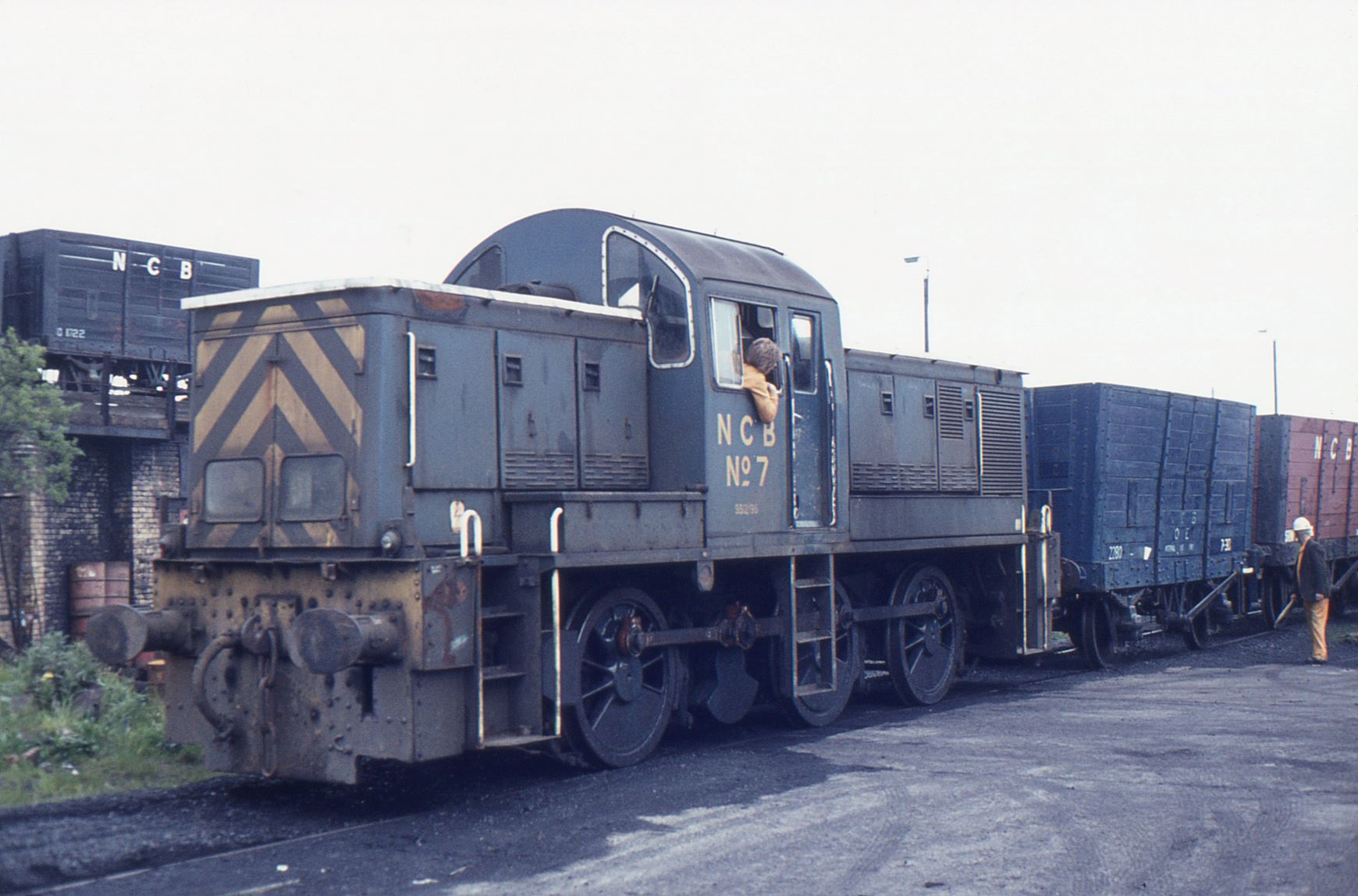 The locos had a hard life at Ashington, but the locomotive workshop on the site had developed the skills necessary to keep them in good working order and they were more successful there than they had been when working on BR.
In March 1984, after 15 years of hard labour, No. 7 stood with its engine removed in the loco shed, ready for a replacement engine to be fitted, when the year-long Miner's Strike of 1984-85 took place, after which the colliery was doomed to closure. The loco spent the final years of the colliery engineless at the rear of the loco shed.
In 1987, the loco was bought by preservationists, ostensibly as a source of spares, initially going to the Rutland Railway Museum, then the Nene Valley Railway, but remained mostly complete except for the engine.
A brighter future beckoned with the arrival of the loco at DEPG Williton in December 2011, where full restoration to working order was planned. Since then, the loco has been carefully stripped down to her frames with many parts now oerhauled and ready for future fitting. It is intended that D9526's old Paxman 6YJXL engine will be rebuilt as the long-awaited replacement engine – almost 40 years on.
This is a major project that will result in a carefully rebuilt example of Swindon's swansong locomotive design, their diesel version of the classic GWR 0-6-0 pannier tank locomotive.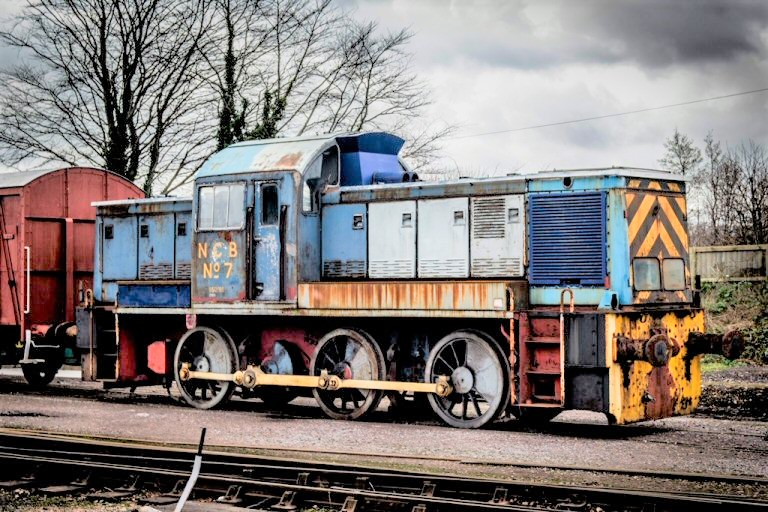 Class 14 D9518 in her unrestored guise as NCB Ashington No. 7 seen at Williton on 7th February 2013. Photo by Benjamin Robson © CC BY-NC 3.0
The Class 14 team led by Simon Purvis have reviewed their project plan for the restoration of D9518 and have concluded that there is a funding requirement of £10,000 to allow them to meet the target of the locomotive hauling its first ever passenger service on the 60th anniversary of the class entering service (D9500: July 1964).
The funding requirement breaks down as follows:
| | | |
| --- | --- | --- |
| Work package | Estimated cost £ | Main items of expenditure |
| Engine rebuild | £3,500 | Fuel pumps, injectors |
| Bodywork | £1,000 | Paint, signwriting |
| Shafts | £2,500 | Couplings and balancing |
| Re-assembly | £1,000 | Seals, gaskets, bushings |
| Contingency | £2,000 | Not yet identified |
| TOTAL | £10,000 |   |
A fundraising appeal has been set up to make sure that this project is properly supported so that it can move forward and meet its objective.
In addition to funds, we need volunteers. If you love the 'Teddy Bears' and you are not already a member of the DEPG, please consider joining so that you can become one of the team that is going to rebuild D9518 to ex-works condition.
We depend on DONATIONS to the D9518 Restoration Fund and our online shop includes several 'donation products' that can be combined and multiplied using the quantity buttons to reach the precise figure that you want to contribute. The DEPG is a registered charity so funds received into the D9518 Restoration Fund are 'restricted funds' and can only be used for the purposes of restoring D9518. You will also have the option to include Gift Aid, which is a value source of additional contrbutions that is made available by the UK Government, providing 20% additional value where the donor is a current payer of UK income or capital gains tax.
Please give generously to help us return this locomotive to full working order within the target time. THANK YOU VERY MUCH !
As an alternative to the donation 'products', we also have a PayPal account using email address donations@depg.org
We can also accept online bank payments and good-old-fashioned cheques.
Please donate as much as you can so that we can progress the restoration at a decent pace and get D9518 back to work !
Thank you very much !!!