D1010: Work continues on the clean up of the original-style valances so that they can be measured. This will then allow new parts to be fabricated.

D6566 and D6575: Both locomotives are now in the final stages of preparation for their first duty in multiple, hauling Empty Coaching Stock (ECS) and hopper wagons from Williton to Bishops Lydeard, due to take place on Monday 2nd November.
The headcodes of both locos were set to "BE" as a mark of respect for well known Class 33 enthusiast Barry Evans, who sadly died of Motor Neurone Disease on the 10th October at the age of only 51. The photograph provided by Ian Robins shows D6566 prepared and ready at Williton last weekend, displaying the "BE" code.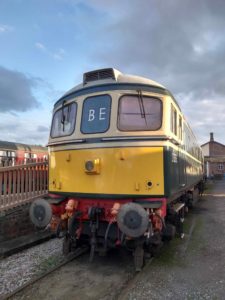 D7017: Awaiting bogie overhaul and spring replacement.

D7018: Transmission control functions are awaiting testing at Williton.

D9518: Further progress has been made, the compressor has now been re-installed in the brake frame and the pressure vessels are now in the process of being cleaned and inspected prior to re-installation.

D9526: Waiting for inspection and load testing.

47077: As the photograph (below) shows, all four of the overhauled radiator shutter assemblies are now lined up alongside the loco, waiting to be hoisted back up onto the locomotive. This loco is living up to her "celebrity" status by finding herself in demand for loan to other railways, which will have the dual benefit of allowing the DEPG to obtain an income while allowing our members and supporters to enjoy the sight and sound of "NORTH STAR" at work !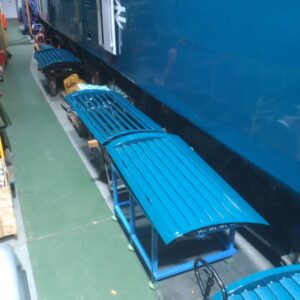 Go to previous Depot News article