D1010: We are happy to report that we have received several pledges of financial support for the repair of the valances, so this work is now progressing to the quotation stage.
D6566 and D6575: Awaiting underframe and traction motor inspection, to be performed at Westridge shed, Bishops Lydeard (BL), but now expected to take place on Monday 2nd November. The two locos will be operating in multiple and will be hauling empty stock from Williton to BL, so this may present an interesting photo opportunity, weather permitting!
D7017: Awaiting bogie overhaul and spring replacement.
D7018: Transmission control functions are awaiting testing at Williton.
D9518: Continued progress this week with more items refitted to the brake frame. The attached photographs, provided by Terry, show that the diaphragm in one of the Westinghouse brake valves is the original article from 1964 and is still fully serviceable!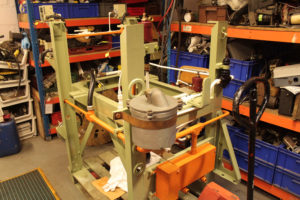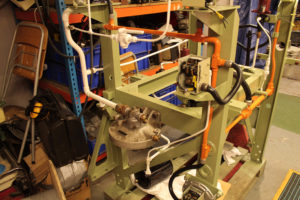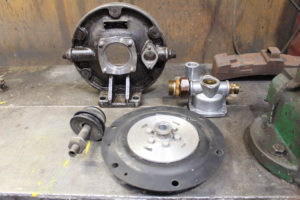 D9518's original brake valve components date stamped 1964 and still in good working order. Photographed by Terry Deacon on 14OCT20. © CC BY-NC 3.0
D9526: Waiting for inspection and load testing.
47077: All four of the radiator shutter assemblies will be completed by Monday and will then be ready to be re-installed on the loco. The internal painting is progressing and the worksplates have been re-fitted. Nameplates next !
Many thanks to all of our volunteers for their tireless work on our fleet of locomotives.
Go to previous Depot News article