Work continues on the emptying of the Old Goods Shed to allow for the scaffolding to be erected next week. We are very grateful for the assistance of WSR Infrastructure team member Matt Brewer and the WSR Road-Rail Vehicle to help with the heavy lifting of significant structures of our Class 14 number D9518, all of which have to move elsewhere in our yard until the building is repaired. The RRV is seen in the following webcam capture, with some of the Class 14 structural parts on the move, while BR(W) 4-6-0 No 7828 "ODNEY MANOR" stands at Platform 2 with a crew training special: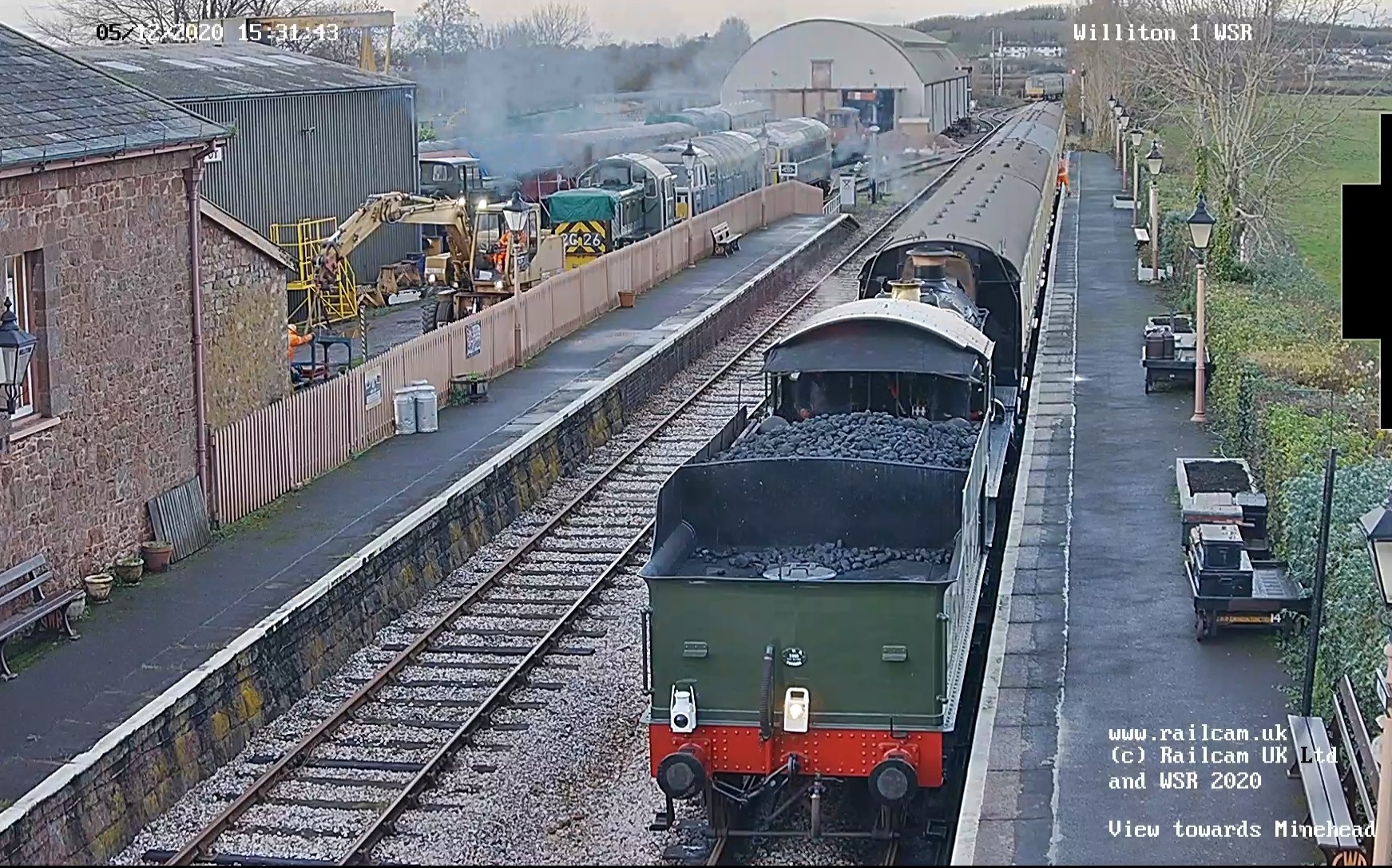 In addition to the large items, there are hundreds of small items, all of which need to be relocated. The DEPG will not be able to access the building for some considerable time as the repairs depend on a significant amount of fund-raising, so the priority at the moment is to make the building safe and prevent further deterioration. Read more about the 158-year-old Grade II listed Old Goods Shed at Williton by clicking here.
Here's another webcam image showing the RRV lifting the bonnet of Class 14 D9518 before taking it to a safe and covered location on the DEPG's "LOWMAC" wagon: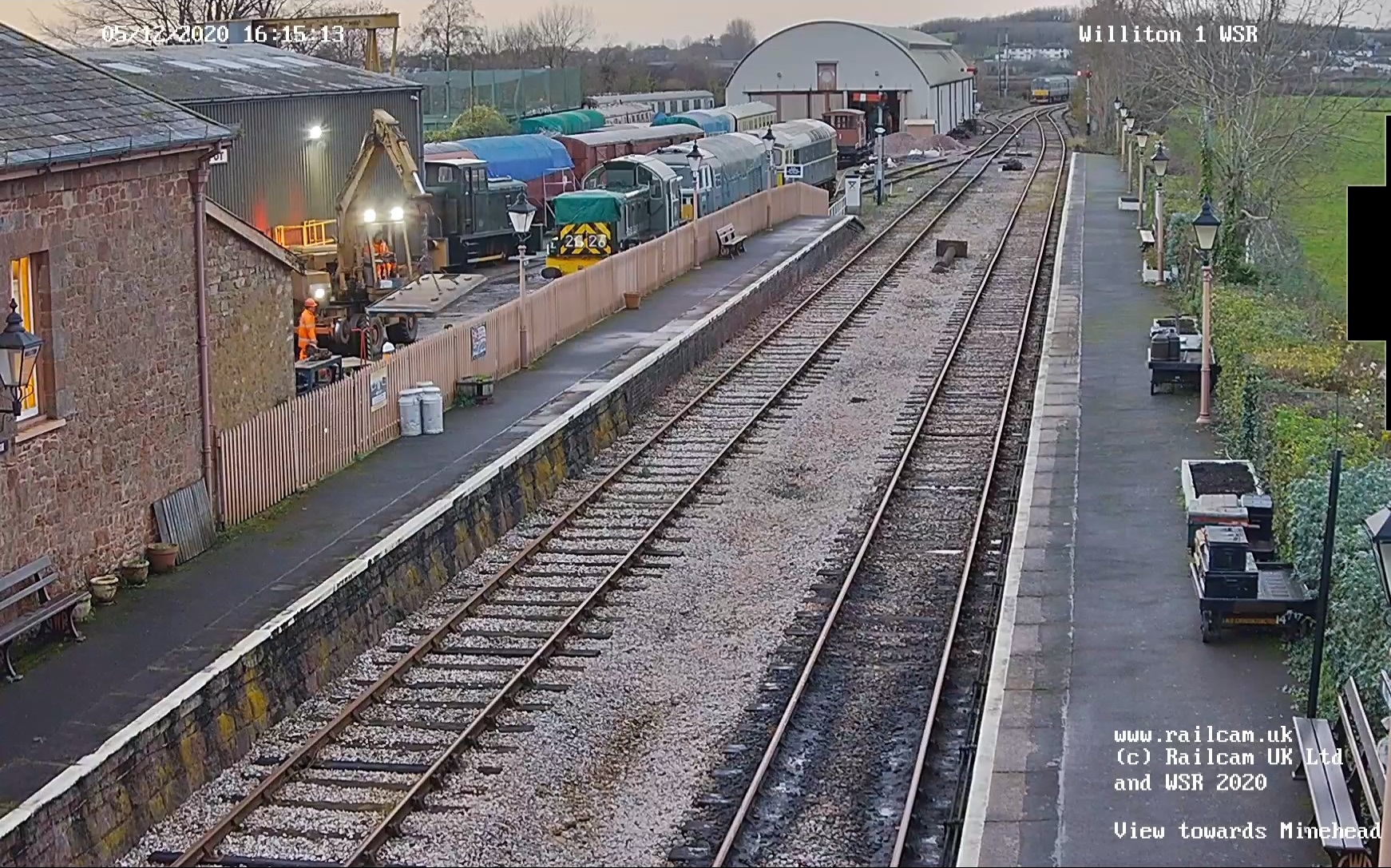 Many thanks to our volunteers for working so hard to make the building accessible for the RRV and for their tireless work on the removal and relocation of the hundreds of items. Many thanks to Railcam UK and the WSR for installing and operating these webcams.
DEPG LOCO WORKINGS: Today, Class 33 'Crompton' D6575 (33 057) was used on crew refresher training workings between Bishops Lydeard and Williton. More training services are running tomorrow, but steam only, using WSR 4-6-0 No. 7828 "ODNEY MANOR". These training services can be viewed from the webcams when they are departing from Bishops Lydeard and when "running round" at Williton. For advance notification of DEPG diesel loco workings, join the DIESELGEN mailing list.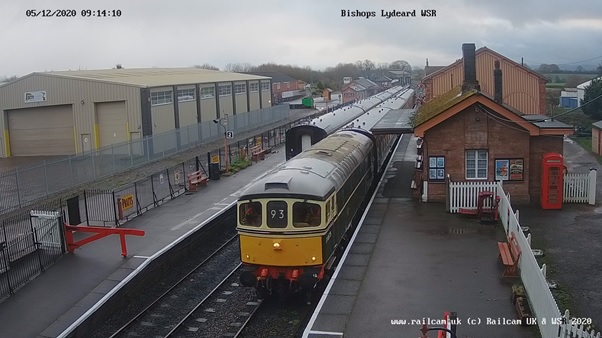 Thanks again to Railcam UK and the WSR for installing and operating these webcams. They really do help us all keep in touch with what is going on at the WSR. Links to the Railcams can be found on the wsr.ork.uk website and are also provided below:
BL: http://www.wsr.org.uk/r-cam-bl2.htm
WN: http://www.wsr.org.uk/r-cam-wn2.htm
No update about the status of our fleet this week –  this is because our focus has to be on the Old Goods Shed so all other work has been suspended. Normal activities will resume next week with a focus on the completion of the work on 47077.
Many thanks to all of our volunteers for working in cold and wet conditions to get these tasks done !
Have you signed up to our weekly news ROUNDUP e-bulletin? Get this news and more sent to your email box every weekend. To sign up, email ROUNDUP ADD to contact@depg.org
Go to previous Depot news article