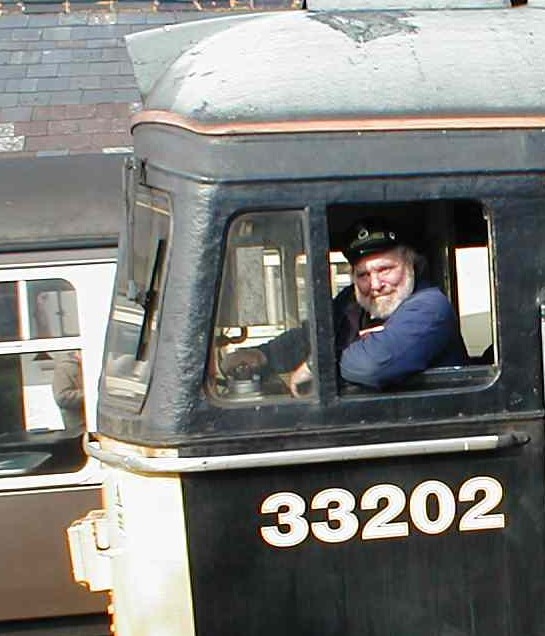 It is with sadness I have to report that long-time friend and previous DEPG member Len Renwick passed away peacefully at home on 9th March 2021.
Len, known to everyone as Lennie, was a railwayman through to the core. He started his railway career on the Southern Region of BR, initially on steam but switching to diesel fairly soon after as steam was eliminated on the region. He drove diesel and electric units and diesel locomotives on the mainline for many years and amassed a wealth of driving experience.
After finishing his career on BR and settling in Somerset, he found he could still put his mainline skills to good use on the WSR where he was often to be seen at the controls of the DMU or one of our Class 33s.
A great story-teller, he enjoyed the messroom banter almost as much as the driving itself and he would often be found keeping other DEPG staff enthralled with his stories of life on the footplate, with no profanities left out! He was also kind-hearted and unstintingly generous when passing on his traction knowledge to our own crews.
Many will recall that for many years Lennie was infamous for having a rather rotund shape and one delightful memory I have of him during this period is when he was conducting 56302 off the mainline in 2016. I was to accompany him for route-learning purposes and we were taken by car to Silk Mills to meet the loco. As soon as it stopped, Lennie was quickly up the steps before me but struggled for a moment at the top to squeeze his frame into the doorway. From down in the cess all I could see was his backside still out of the door! I remember thinking that I just hoped the handrails would hold!
Fairly soon after this Lennie retired from his work with the WSR and began a quieter period of his life. I next saw him a year or two later when he surprised me when he turned up at Williton. The small slim man who appeared before me was almost unrecognisable with his greatly reduced frame having given up the booze and hand-rolled cigarettes which had been for so long an integral part of his life. He kept in occasional touch with developments at Williton and I'm sure he was waiting to see us running again in 2021. Alas it was not to be, but I hope to arrange some kind of Class 33-based memorial for him in the near future when circumstances allow.
Len Renwick, Diesel Driver and Railwayman. RIP
Martin Howard, DEPG Chairman