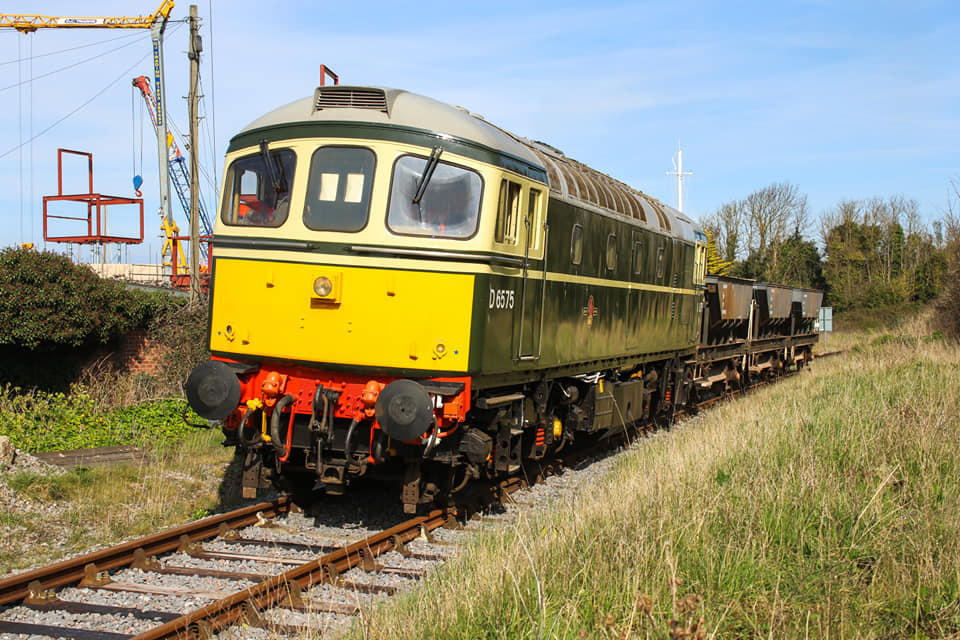 Class 33 'Crompton' D6575 (33 057) approaches Govier's Lane crossing in Watchet on 22nd March 2021 with a short train of empty 'DOGFISH' hopper wagons destined for the PW depot at Dunster. Photo by Tom Courtney © CC BY-NC 3.0
Tomorrow, Saturday 17th April 2021 at approximately 11:00 after the arrival into Williton (WN) of the steam-hauled crew training special from Bishops Lydeard (BL), Class 33 'Crompton' D6575 (33 057) will run from WN to BL light engine and stable there in preparation for some movements that have been planned by the WSR Infrastructure Engineering Department for Tuesday and Wednesday, 20-21 April.  The details are as follows (timings are approximate):
Tuesday 20th April 2021
  Off shed from BL at 09:00 to collect the engineers' train from the 'up' sidings at BL and depart for WN where sleepers and other PW materials will be loaded. Continue towards Minehead (MD) and/or other locations as determined by the Infrastructure Engineering Department.
Wednesday 21st April 2021
  Continuation of the previous days' working, the final leg of the working being to depart Minehead (MD) at an undetermined time to move a 'LOWMAC' wagon to BL where the loco will stable and remain on standby duties.
Other workings may take place. The railway is to be considered as LIVE at all times.
Please note that the stations remain closed to the public and trespassing is not allowed. During the ongoing Covid-19 pandemic, the best way to view these workings is via the webcams at BL and WN.
BL: http://www.wsr.org.uk/r-cam-bl2.htm
WN: http://www.wsr.org.uk/r-cam-wn2.htm
Many thanks to Railcam UK and the WSR for providing these webcam services.
Take care and stay safe!