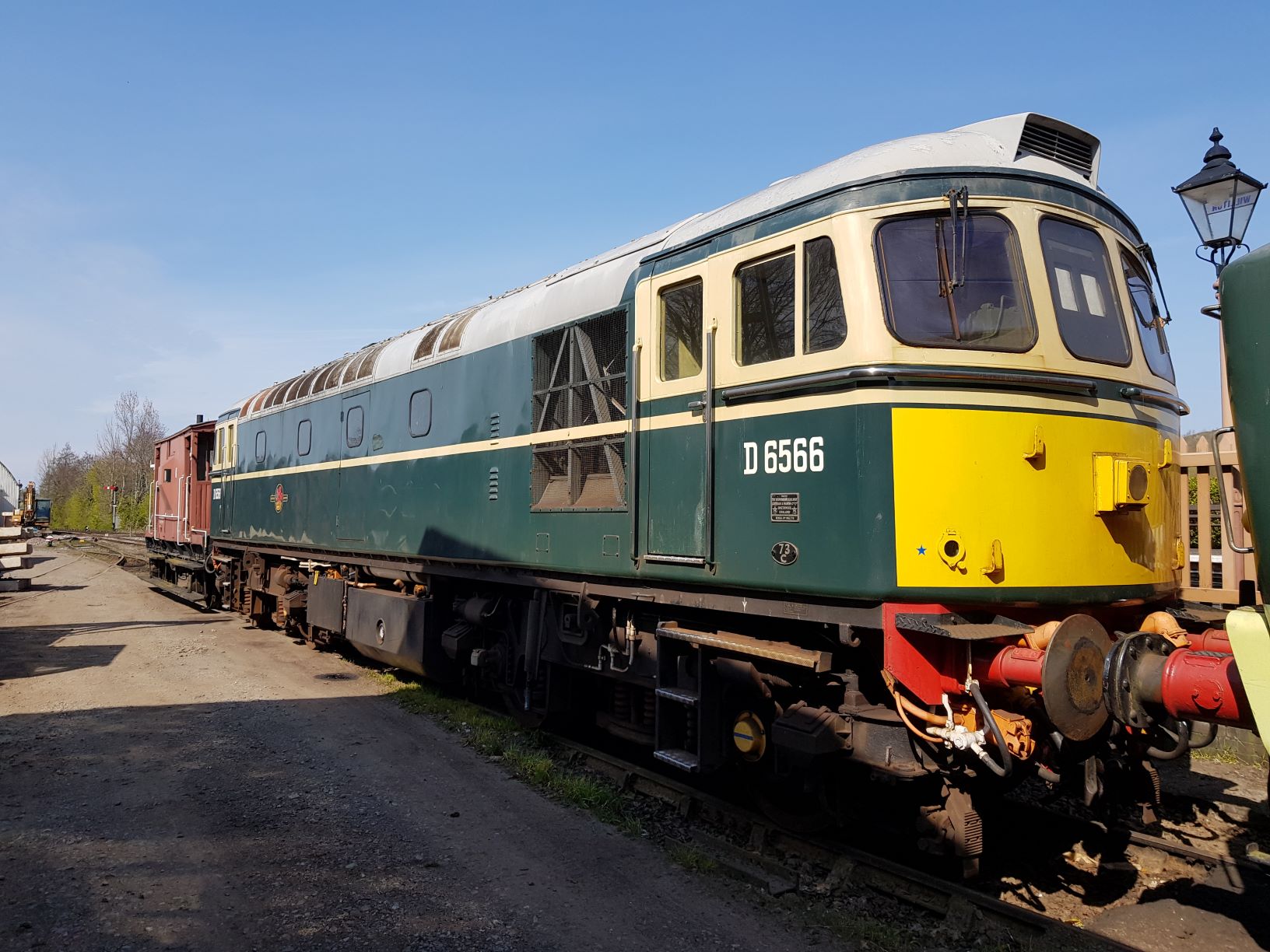 Class 33 'Crompton' D6566 (33 048) pictured while basking in the sunshine at Williton on 20th April 2021. Photo by Chris Shields © CC BY-NC 3.0
On Saturday 1st May 2021 and Sunday 2nd May 2021, there will be diesel-hauled crew training specials running between Bishops Lydeard (BL) and Williton (WN).
The first services will be hauled by Class 33 'Crompton' D6575 (33 057), but to even out the workload, D6566 (33 048) will take over from the 1420 departure on the Saturday and then run for the rest of the weekend.
The booked movements are:
     1015 BL arriving WN 1050
     1125 WN arriving BL 1200
     1315 BL arriving WN 1350
     1420 WN arriving BL 1455
Also booked for Thursday 6th May 2021, to run as lower priority to the weedspraying work that is scheduled to be carried out by a RRV along the full length of the line that day, is the following Empty Coaching Stock (ECS) move (timings are approximate):
     0900 BL to Minehead (MD) arriving approx 1030 (D6566 plus 2 coaches)
     1200 MD arriving BL approx 1330 (D6566 plus 7828 'ODNEY MANOR' plus 3 coaches)
Other workings may take place. The railway is to be considered as LIVE at all times.
Please note that the stations remain closed to the public and trespassing is not allowed. During the ongoing Covid-19 pandemic, the best way to view these workings is via the webcams.
BL: http://www.wsr.org.uk/r-cam-bl2.htm
WN: http://www.wsr.org.uk/r-cam-wn2.htm
After a long absence, we are pleased to note that the Crowcombe Heathfield webcam is back online. Here's the link:
http://www.wsr.org.uk/r-cam-ch1.htm
Many thanks to Railcam UK and the WSR for providing these webcam services.
Take care and stay safe!