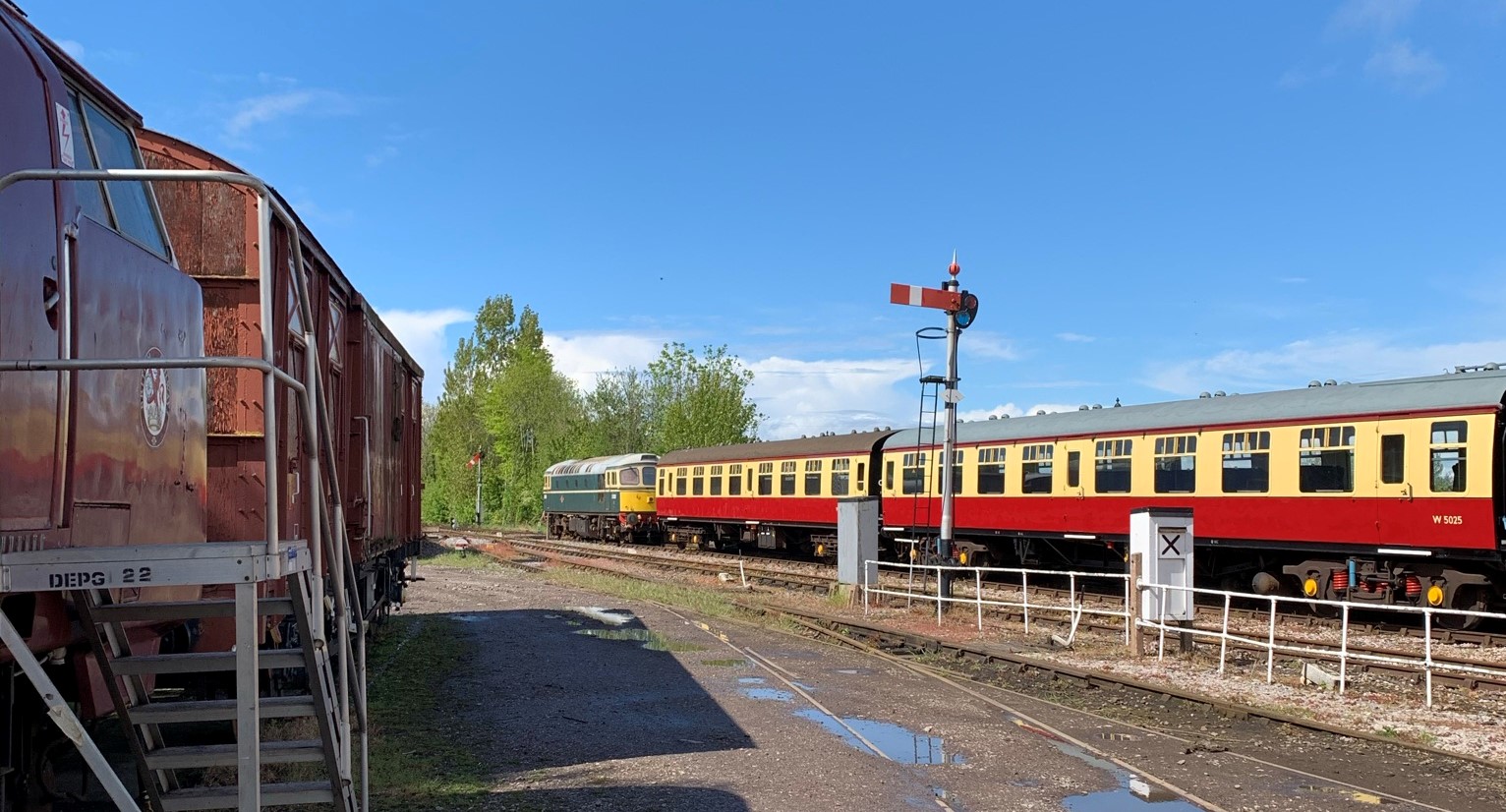 Class 33 D6566 (33 048) detaches from the stock of the 1510 crew refresher training service from Bishops Lydeard to Williton on Sunday 16th May 2021 while Class 52 D1010 'WESTERN CAMPAIGNER' watches from number 3 road in the South Yard. Photo by Andy Royal © CC BY-NC 3.0
On Tuesday 25th, Wednesday 26th and Friday 28th May 2021, Class 33 'Crompton' D6566 (33 048) will operate between Bishops Lydeard and Dunster covering special workings in support of the extension of public services towards Watchet and Blue Anchor. Here's the OUTLINE details:
TUESDAY 25th May 2021
     1140 BL arriving WN 1215 with the Hawksworth Saloon then onwards to Dunster (DR) light engine (LE) to work ballast hoppers as required.
WEDNESDAY 26th May 2021
     Work ballast hoppers as required, then return to WN LE
FRIDAY 28th May 2021
     0930 WN to DR with Hawksworth saloon for route refresher workings, then return to WN.
Trains may depart early. Timetabled workings and other workings may take place. The railway is to be considered as LIVE at all times.
The webcams provide a very good way of watching the action from afar. Here are the links:
BL: http://www.wsr.org.uk/r-cam-bl2.htm
CH: http://www.wsr.org.uk/r-cam-ch1.htm
WN: http://www.wsr.org.uk/r-cam-wn2.htm
BA: http://www.wsr.org.uk/r-cam-ba1.htm
Many thanks to Railcam UK and the WSR for providing these webcam services.
You can join the DIESELGEN mailing list at any time by emailing contact@depg.org with DIESELGEN ADD as the subject.
Have you considered joining the WEEKLY ROUNDUP e-newsletter list? Click here for details.
Take care and stay safe!