Top billing again this week goes to the work that will allow our BR-Brush Type 4 Class 47 number 47 077 'NORTH STAR' to hitch a long ride northbound to spend some time working on the NORTH YORKSHIRE MOORS RAILWAY. The hire agreement is close to being finalised and we expect that it will be signed in the coming week. The loco will move as soon as practicable thereafter and will work on the NYMR for a period of at least two years, providing the DEPG with an income stream at this difficult time when our normal operations have been severely curtailed by the impact of Covid-19. The loco remains under DEPG ownership but will be maintained to mainline standard by the NYMR and may see occasional use on the Network Rail route to Whitby.
Last Saturday saw the careful execution of a well-planned depot shunt that released the '47' from her captivity in the loco shed and allowed Class 52 D1010 'WESTERN CAMPAIGNER' to go into the shed so that her bodywork repairs can commence.
Here are some of the excellent photos that were taken last Saturday (many thanks to the photographers!):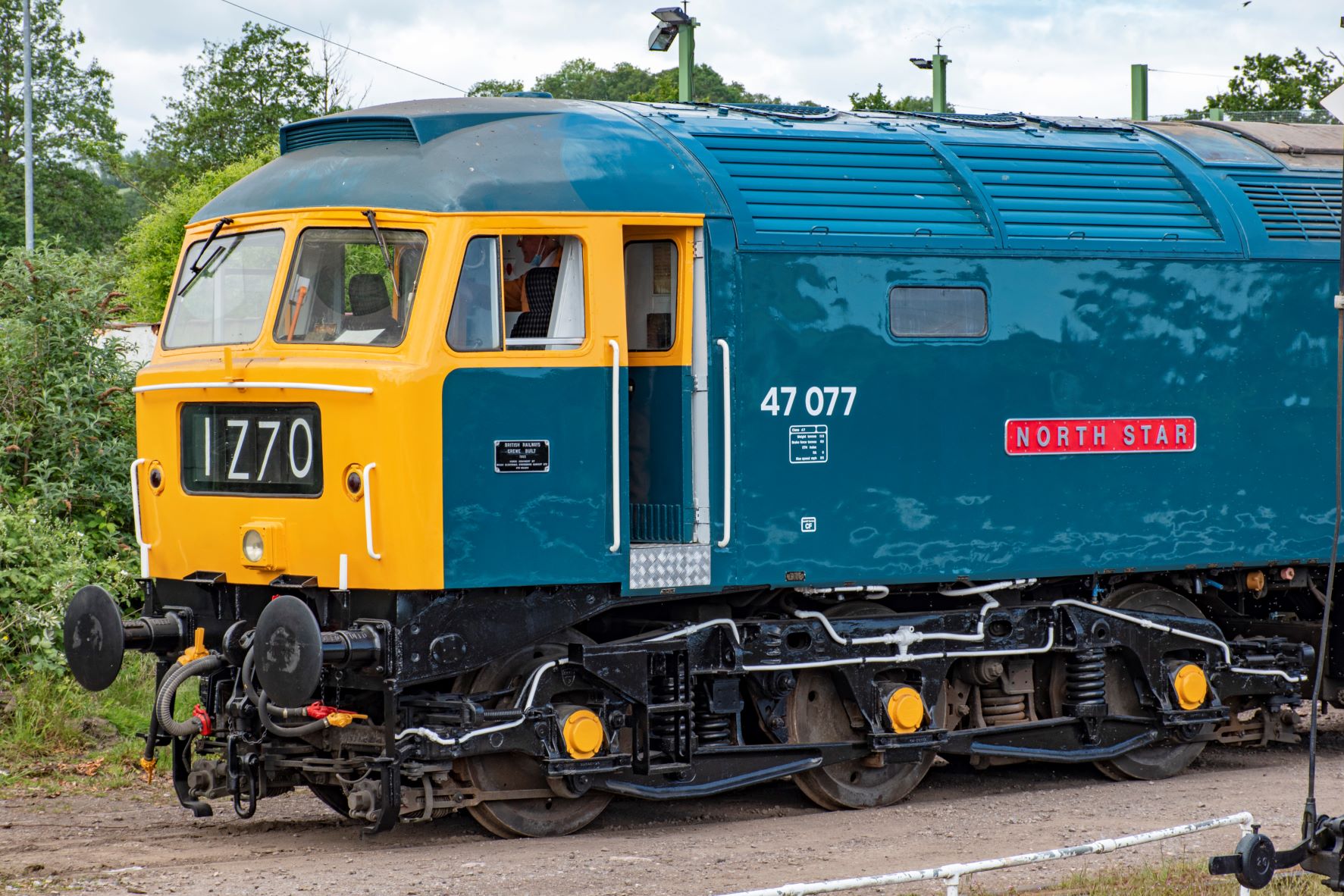 On 5th June 2021, 47077 'NORTH STAR' made her first heritage-era appearance in BR blue with red backing to her nameplates, recreating her late-1970s look. The liberal coating of dust on parts of her roof hints at her 19-month imprisonment in the shed at Williton. Photo by Jon Aroussi © CC BY-NC 3.0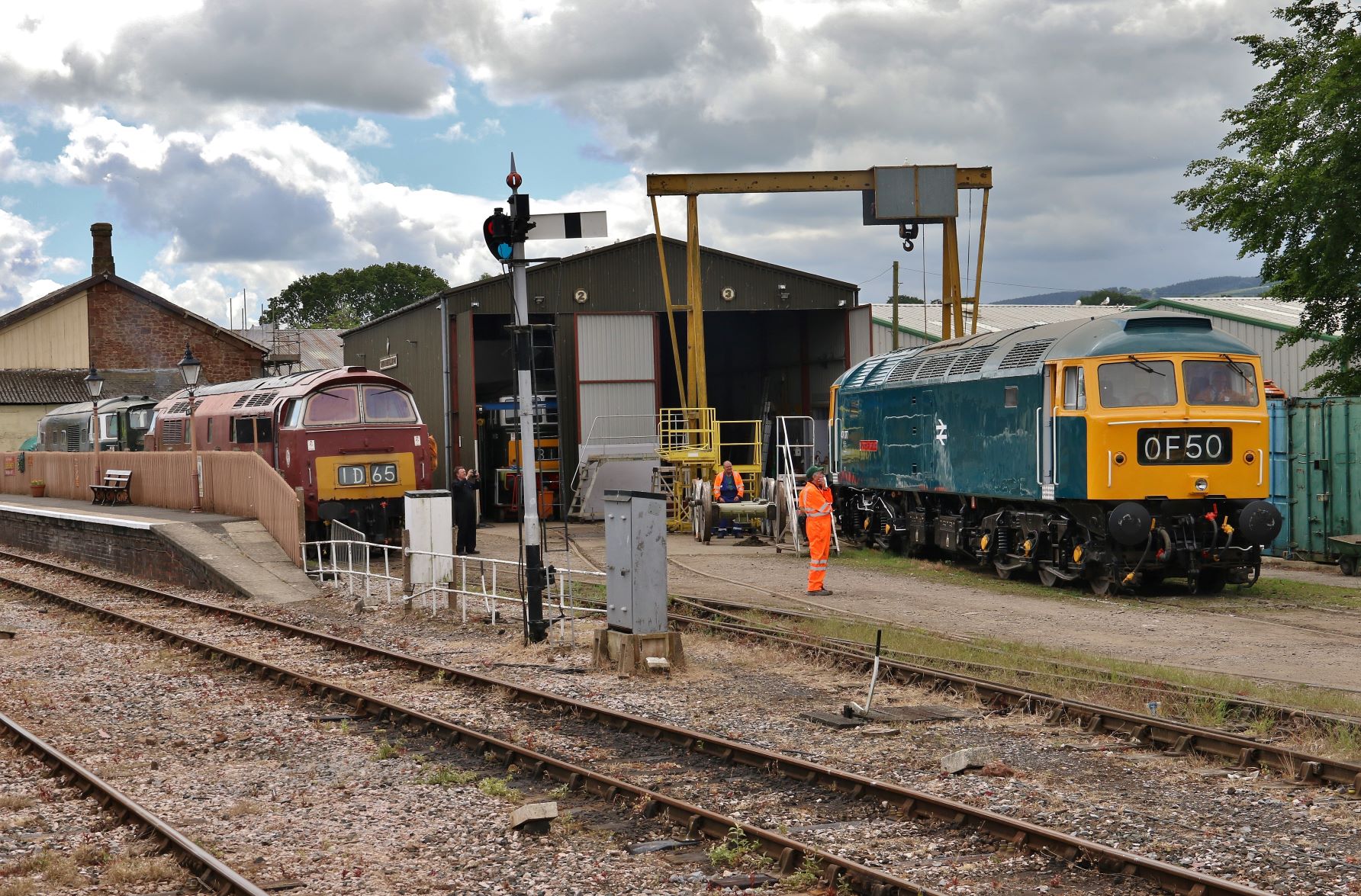 On 5th June 2021, a depot shunt took place so that 47077 'NORTH STAR' could be released from the loco shed and swap places with D1010 'WESTERN CAMPAIGNER'. Photo by Lee Robbins © CC BY-NC 3.0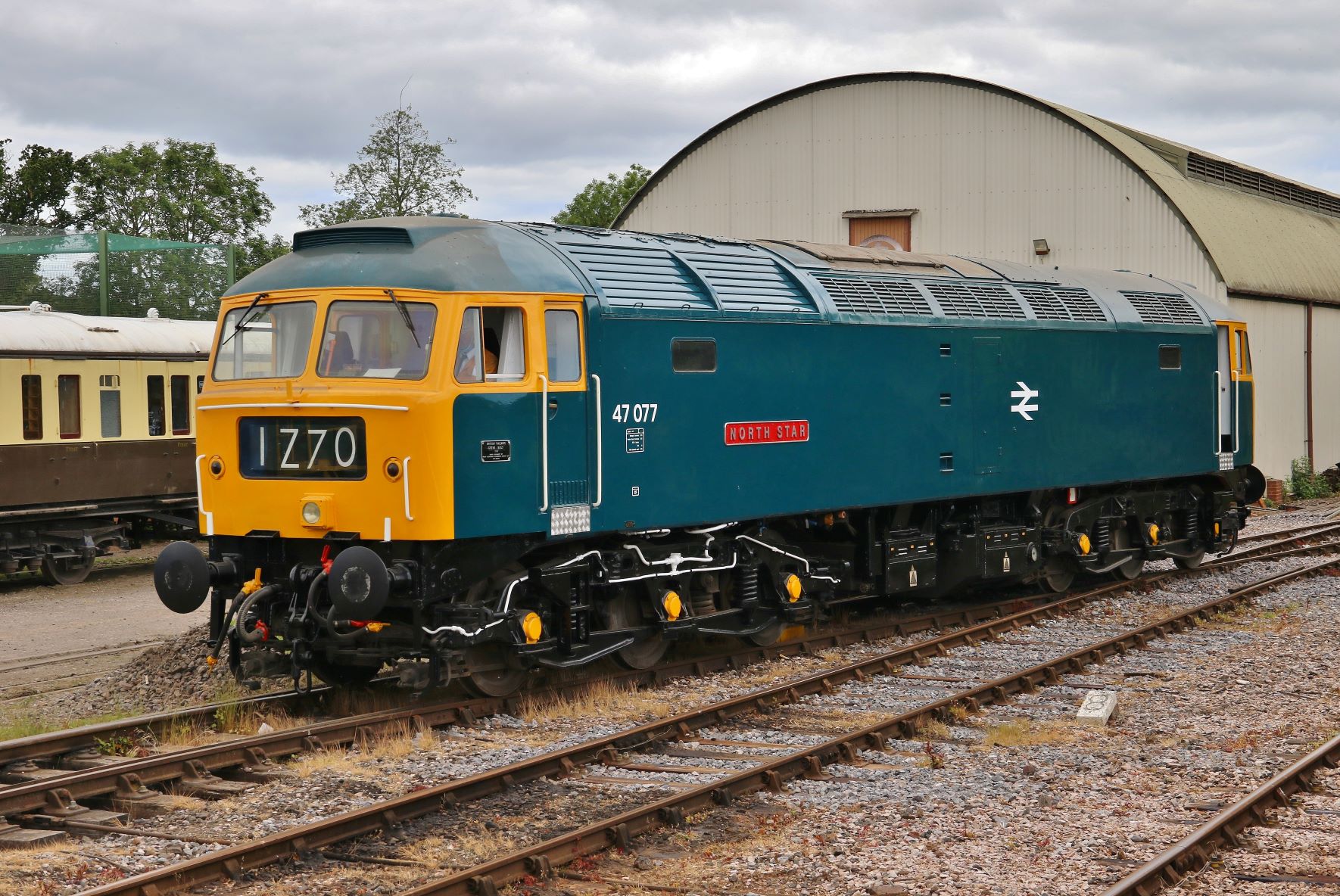 A fine study of DEPG 'celebrity' 47077 'NORTH STAR' as she repositions to number 1 road at Williton Diesel Depot on 5th June 2021. Photo by Lee Robbins © CC BY-NC 3.0
'NORTH STAR' had been hidden away inside the loco shed since October 2019 which is when she was moved from the WSR Restorations paint shop in the North corner of the 'Swindon Shed' at Williton after being repainted into BR blue, in a style that she carried in the late 1970s when she was based at Cardiff Canton depot.
The '47' last worked on the WSR in 2017 and always performed well, but corrosion had set in to her roof and the resulting water leaks caused damage to some internal compartments as well as several areas of her bodywork. In the summer of 2018, the roof was removed for extensive repairs that were undertaken by DEPG and Growler Group member Mark Stanley (well known for his fine work on English Electric Class 37 D6948) and Mark also carried out the corrosion repairs on the bodywork before handing the loco over to WSR Restorations for a repaint. The loco changed from two-tone green to BR blue before going into the DEPG loco shed for completion of the repair work.
During the last 19 months (much of which was lockdown), work has focused on the rebuild of the Serck Hydrostatic radiator shutters that had long since failed to work properly. In fact, the photos from when she first worked on the WSR in 2007 show that some of the louvres were not working back then! All four assemblies were removed and rebuilt using new rotating parts designed by DEPG member Paul Clark and the 28 aluminium louvres were renovated by Graham Perry before being reassembled by the Williton team. The resulting work will give good service for many years to come.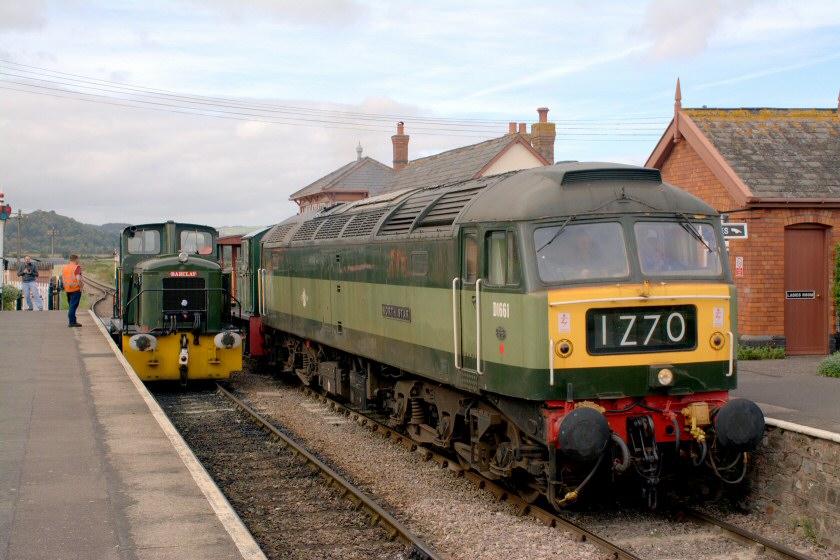 Class 47 D1661 'NORTH STAR' arrives at Blue Anchor on 4th October 2017 while Ex-ROF Barclay 0-4-0 number 579 waits for the road to Minehead. The malfunctioning radiator louvres are obvious in this photo by Malcolm Garner © CC BY-NC 3.0
On Saturday 12th June 2021, a team comprising Jon Tooke, Leroy and Darren gave the loco a much-needed wash to remove the layer of dust that had accumulated during her time inside the shed. The result is a gleaming loco that might even win the 'temporary' approval of those who dislike the livery of the BR corporate era.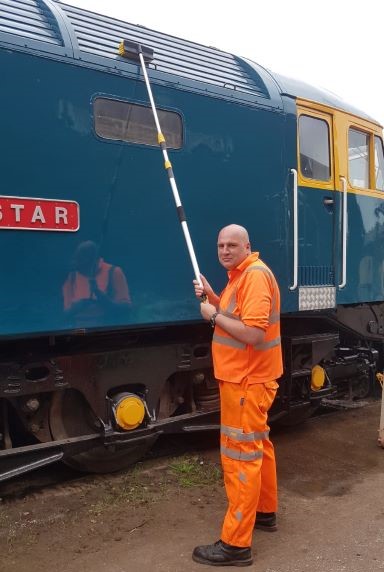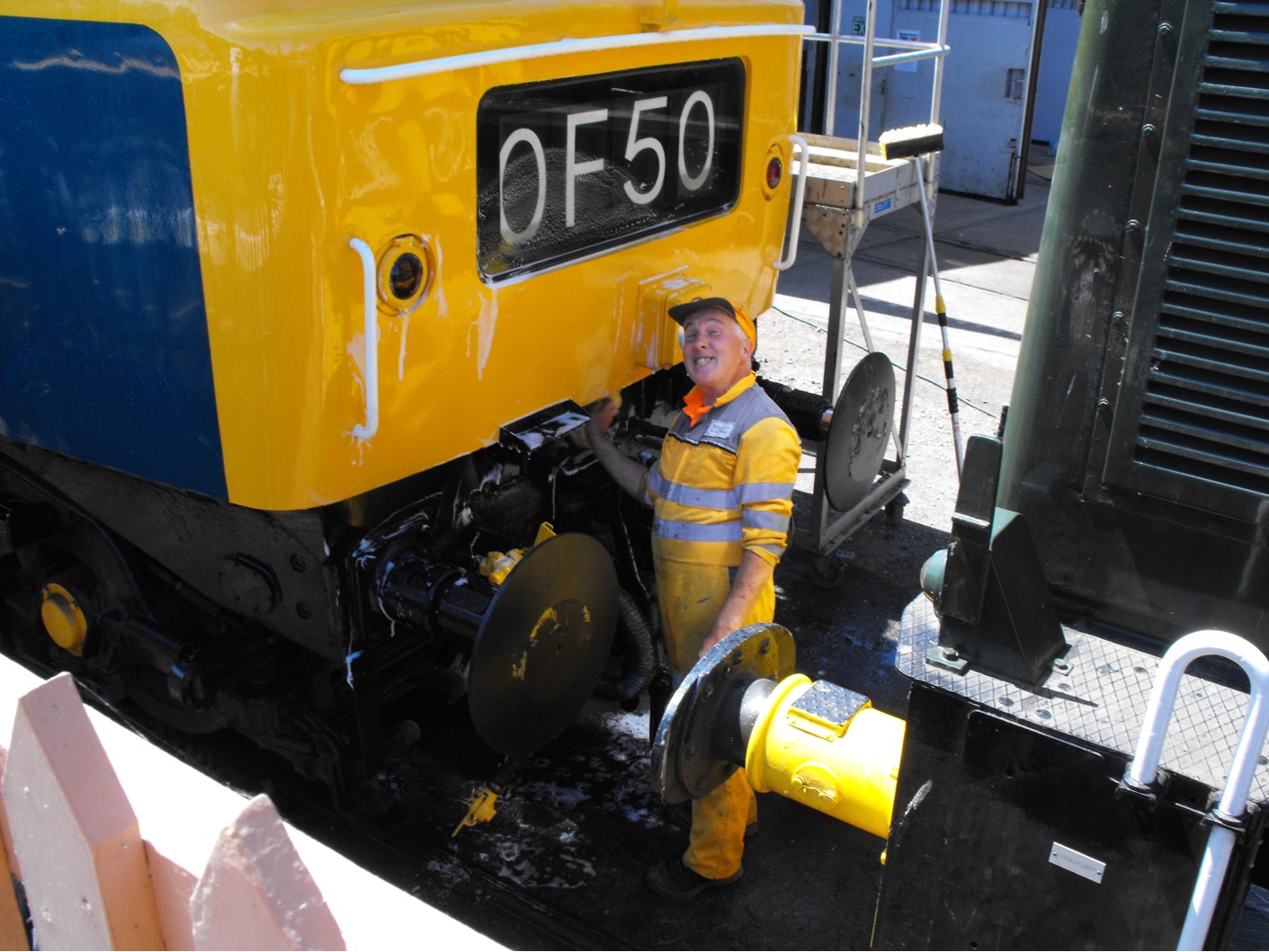 A classic image of DEPG volunteer Jon Tooke as he provides some TLC to 47077 'NORTH STAR' at Williton on 12th June 2021. Photo by Darren Hill © CC BY-NC 3.0
OTHER LOCO NEWS:
Class 33 'Crompton' D6566 (33 048) was busy again, covering the route refresher training turns for the drivers, guards and secondmen that will be involved in the extension of services to Dunster and Minehead (via bus link) under the RED timetable, starting on 16th July 2021. These special workings involve propelling the WSRA's Hawkworth-designed Taunton Inspector's Observation Saloon W80976W from Williton to Dunster with multiple stops at points of interest along the route so that the trainees can refresh their knowledge. The return run is a quiet affair because the trainees have to sit a written exam while the loco hauls the saloon back to Williton at a leisurely pace. These training runs repeat again on Monday and Friday this week – see our DIESELGEN bulletins for detailed information.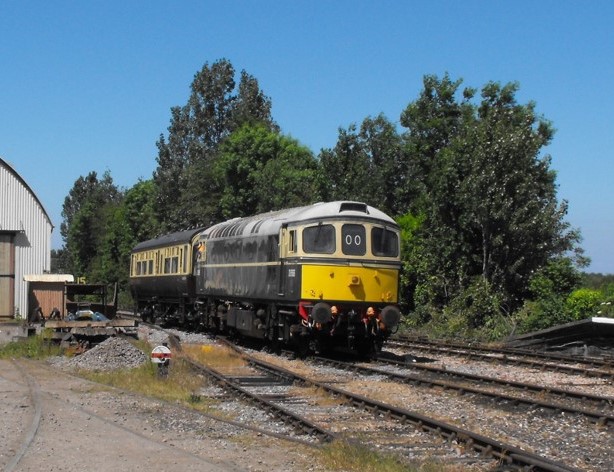 The route refresher training special to Dunster departs from Williton on Saturday 12th June 2021 with Class 33 'Crompton' D6566 (33 048) propelling the Hawksworth Saloon under the careful control of driver John Leach. Photo by Jon Tooke © CC BY-NC 3.0
Class 33 'Crompton' D6575 was the subject of remedial work to her fuel supply system last week so the opportunity was taken on Saturday 5th June to run to Crowcombe Heathfield and back in the company of sister loco D6566 (acting as both a test load and as insurance). The run went well so D6575 is now available for duty as required.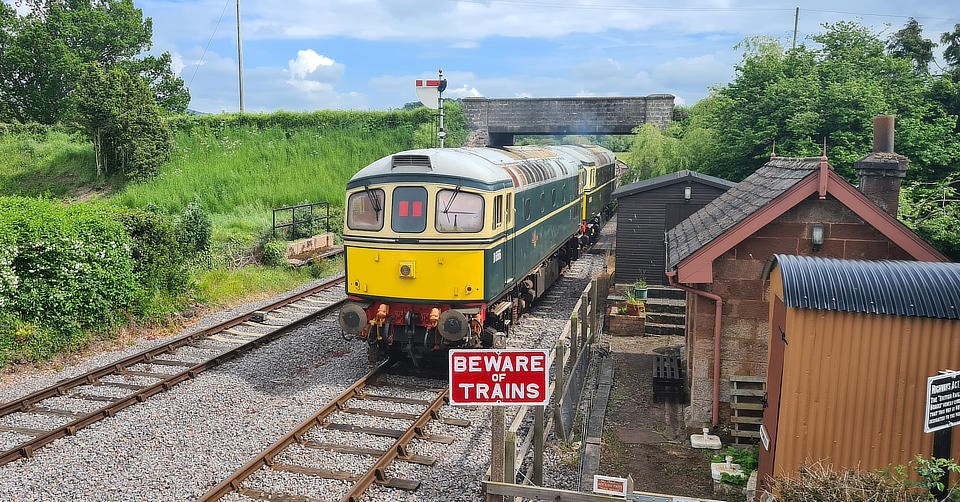 Class 33 pair D6566 (33 048, trailing) and D6575 (33 057, leading) head off towards Crowcombe Heathfield from Williton on a test run on 5th June 2021. Photo by Brenden Hill © CC BY-NC 3.0
Class 52 D1010 'WESTERN CAMPAIGNER' – this loco now resides in the loco shed on number 3 road and will remain there for the duration of her bodywork repairs. Apart from some localised corrosion damage around the windows, the level of repair required for the main body of the locomotive is limited to removal and replacement of the 'Prestolith' filler that was applied when new to smooth out the surface distortions caused by welding the outer skin panels to the framework beneath. The 'Westerns' have the same stressed skin design as the 'Warships' and both are more akin to aircraft structures than conventional locomotive structures. This gave the benefit of light weight but introduced some difficulties that had to be overcome by development of suitable repair techniques. The cab sections are a different situation and are likely to need extensive renovation. This loco is the subject of a fund-raising campaign that commenced with the publication of our new booklet "D1010 WESTERN CAMPAIGNER – FROM MEREHEAD TO MINEHEAD". All of the revenue from the sales of this booklet will go into the D1010 restoration fund, along with revenue from sales of pre-owned books, so please help the fund grow by buying from our online store. Thanks !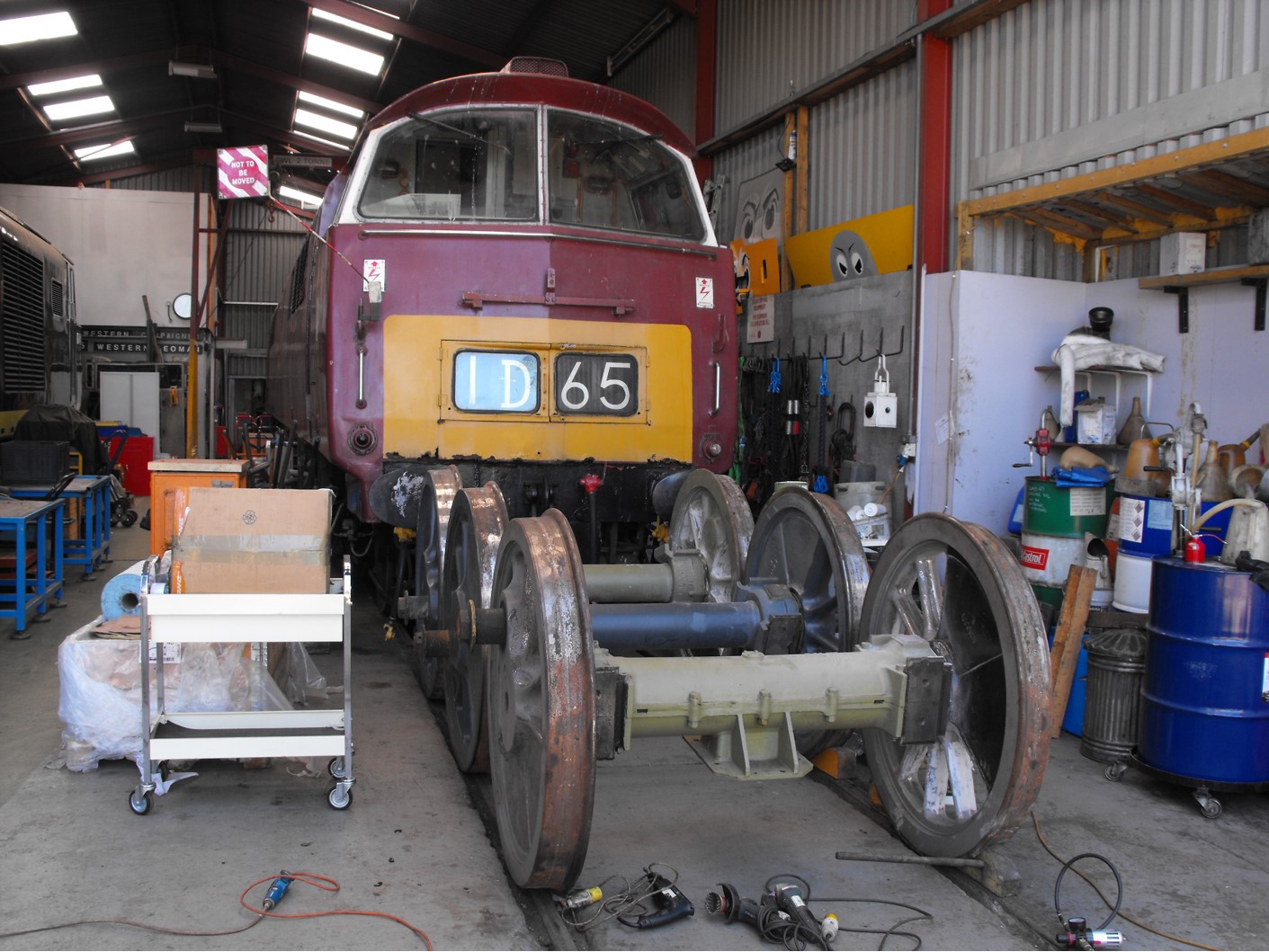 Class 52 D1010 'WESTERN CAMPAIGNER' is now back inside the loco shed at Williton as pictured on 12th June 2021 along with the wheelsets from Class 14 D9518. Photo by Jon Tooke © CC BY-NC 3.0
Class 35 'Hymek' D7017 – no change this week.
Class 35 'Hymek' D7018 – no change this week.
Class 14 'Teddy Bear' D9518 – the 'Tuesday team' have been working on creating a new and authentic set of steps to replace the set that is missing. When completed, the team will move on to tackle the cab, which is a major piece of superstructure that will keep them busy for quite a while! 
Class 14 'Teddy Bear' D9526 – this loco is currently the subject of a hire request from another heritage railway, although the discussions are at early stages and the hire is subject to agreement. If this goes ahead, the loco will be away until October but will be earning valuable income for the DEPG in our time of need.
Andrew Barclay 578 (ROF 1) – as announced last week, this 1972-vintage 0-4-0 diesel-hydraulic shunting loco has just been taken under the wing of the DEPG for a 10-year period during which the DEPG will restore and maintain the loco and use it as the "Williton Depot Pilot". This loco is one of a pair that were introduced at the Royal Ordnance Factory (ROF) in Puriton, near Bridgwater in 1972 as replacements for existing lower-powered locomotives that were unable to haul works trains over the bridge that had been built over the brand new M5 motorway, just north of junction 23. Both locomotives were loaned to the WSR by BAE Systems when the works closed and ownership has subsequently transferred to the WSR.
ROF 1 (works number 578) is now going to be based at Williton and ROF 2 (works number 579) has already been restored and has been in regular use at Minehead for many years (see previous photo with D1661 dated 4th October 2017).
The below photo shows number 578 (ROF 1) with some temporary protective paint patches that were applied to the worst of the rust spots during the recent period of bad weather, but a deep bodywork restoration will soon commence and will bring a shine back to this useful little locomotive.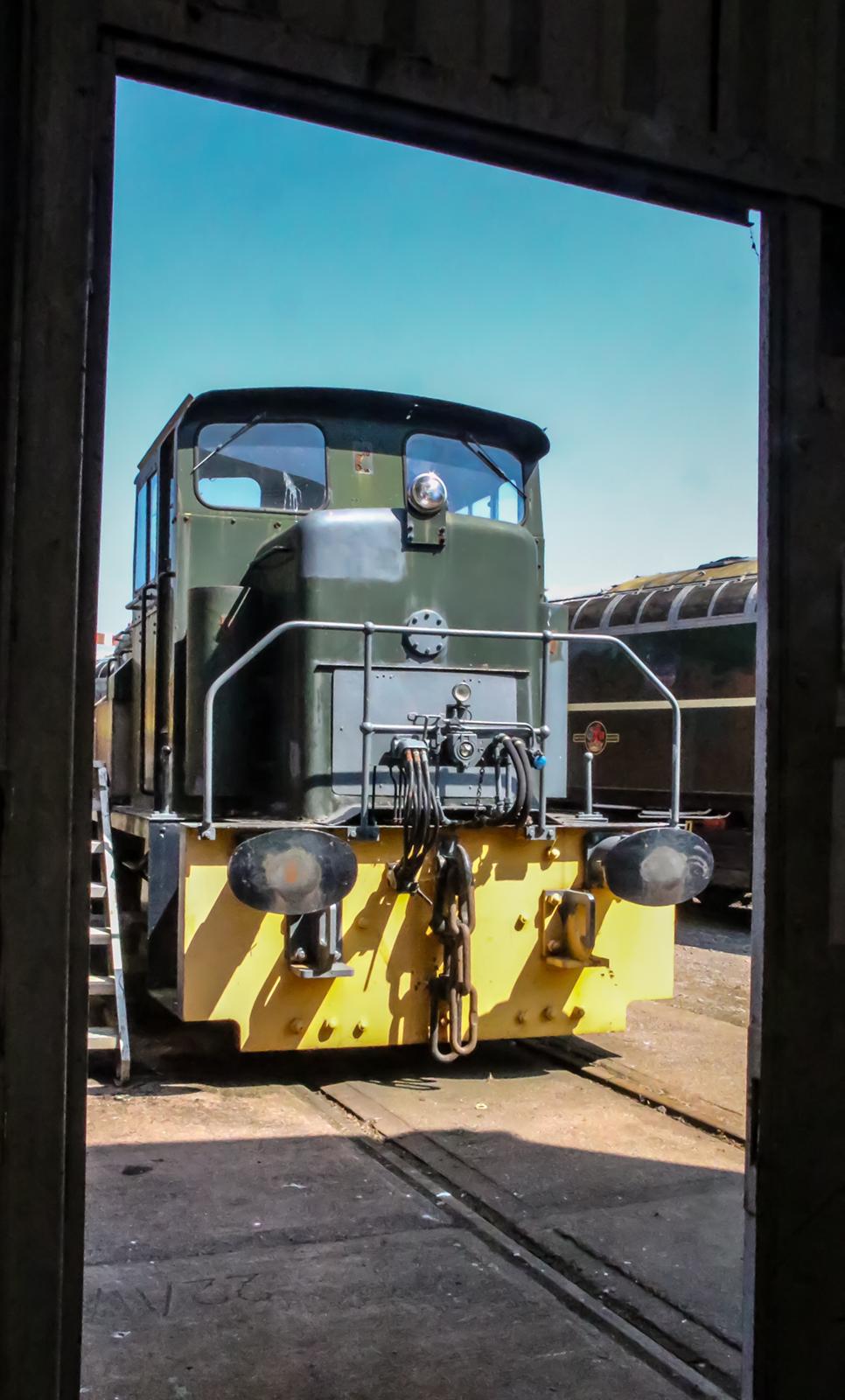 Andrew Barclay 0-4-0 diesel-hydraulic number 578 (ROF 1) basks in the sunshine in the yard at Williton on 31st May 2021. Photo by Natalie Royal © CC BY-NC 3.0
Many thanks to all of our volunteers who are hard at work cleaning, painting, maintaining, restoring, managing and fund raising for our fleet of heritage locomotives !
BOOK REVIEW – this week we feature another book by well-known author and photographer Roger Geach entitled 'Back to the Old Days WESTERNS'. This 2010 publication comprises 80 printed pages filled with photographs of the famous Class 52 'WESTERNS' at work in locations ranging from West Wales to Chesterfield, in addition to the usual locations in the south-west. Many of the photos are taken by the author and are accompanied with interesting captions that add to the detail that is visible in the photographs. This book is out of print, but the author has donated a copy for sale in support of the D1010 restoration fund.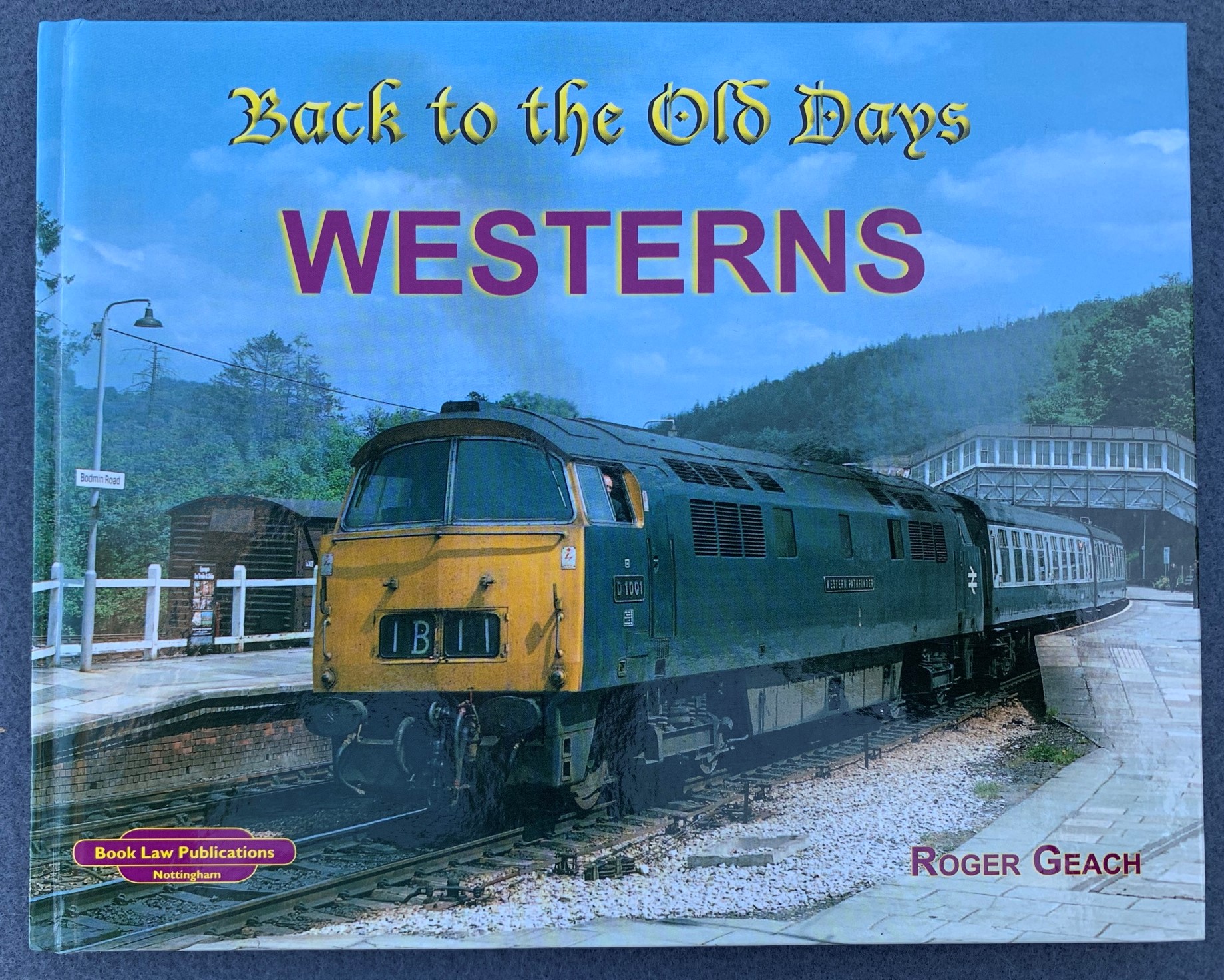 In the typical way of most things 'Western', the book was sold within minutes of being offered via our weekly ROUNDUP email newsletter. The entire proceeds from sales of this title will go into the D1010 restoration fund and we are very appreciative of the support being offered by the author.
This is a new book, but remember to also take a look at the pre-owned books on our DEPG ONLINE STORE, the entire proceeds of which will go to the D1010 restoration fund.
To help our sales of pre-owned books, please let us know if you have railway books that you want to donate to us. Contact us by replying to this email or by using this contact form so that we can work out an economic way of getting them from you. We appreciate your efforts to give us more items to sell to raise funds for the DEPG fleet.
ON SHED: Last week, we featured a photo by Barry Gay showing three 'Warships' passing through Exeter St Davids on their way to Plymouth Laira shed. That rare sighting showed 842 'ROYAL OAK' towing 808 'CENTAUR' towing 868 'ZEPHYR' and was captured by Barry Gay on 14th April 1971. Does anyone have any knowledge of that movement and the reasons for it?
Staying with 'ROYAL OAK', here's a photo of 842 taken two months later, also at Exeter St Davids and by Barry Gay:
North British Class 43 'Warship' 842 'ROYAL OAK' arrives at Exeter St Davids on 15th June 1971 with the 2B99 service from Barnstaple. Photo by Barry Gay © CC BY-NC 3.0
Many thanks to Barry for sharing his photographs with us all.
DEPG NEWS: As mentioned last week, the DEPG and the WSR have been working on opportunities for diesel running under the RED (high season) timetable. Last week's roundup contained an error in the dates that were being planned for 'Hymek' D7018 and the corrected dates are as follows:
17 July
31 July
14 August
25 September
In addition, we hope to run both Class 33s in multiple on 21 August as a tribute to the 60th birthdays of the pair.
As stated last week, we will be making a big effort to promote these services to make sure that they run at a profit. This is what we must do to ensure that we can get more running days. More patronage equals more income equals more opportunities; it is as simple as that.
The best way to keep informed is to watch our website home page or SIGN UP FOR DIESELGEN email bulletins.
The June edition of the DEPG member's Newsletter is in the works and is planned for distribution before the end of this month. It will be mailed to all members who are registered and current at the time of mailing, so THIS IS A GREAT TIME TO JOIN US and be certain of getting your copy !
DEPG WEBSITE: Our ONLINE SHOP IS NOW LIVE so go ahead and visit our store!
Our website will be updated to carry all of the news and all of the donated pre-owned books, just as soon as we can get to it. The focus of our voluntary efforts remains on 47077 until she heads northwards (and on the Newsletter!).
WSR NEWS: The WSR have successfully restarted public services to Blue Anchor so we now need to support these services by buying tickets to ride!

The Chairman of the WSR has announced a major campaign for fundraising with a target of ONE MILLION POUNDS to secure the railway through to the 2022 operating season. Such numbers sound incredible, but the railway has to balance its books like any other organisation and when income is hit as hard as it has been by Covid-19, then the money has to come from somewhere else.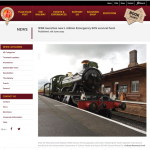 Read more on the WSR appeal page by clicking this link.
All members of the WSR family have to do what we can to help and one easy way is to make a donation via the WSR website. Another way is to ensure that the timetabled services are a commercial success, so please buy a ticket if you can.
Go to previous Depot News post