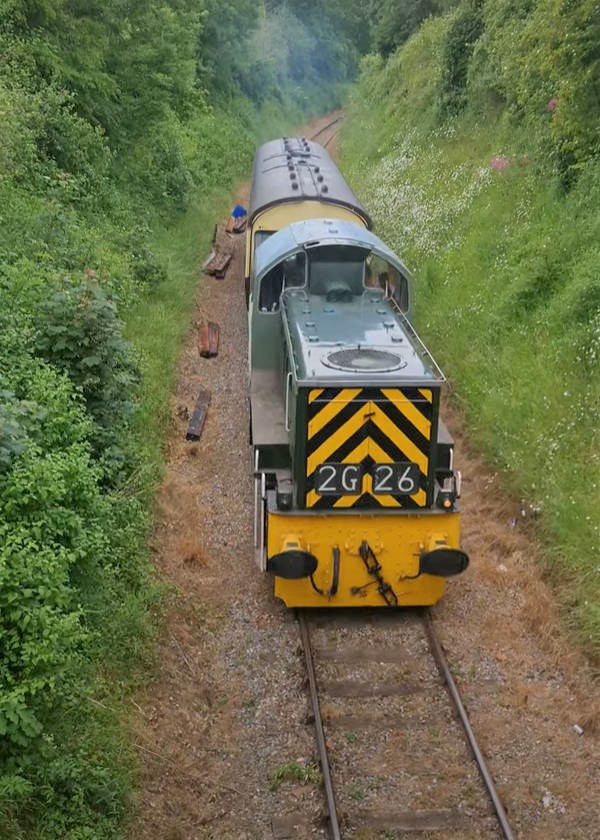 Class 14 'Teddy Bear' D9526 climbs the 1 in 65 section of Washford Bank with the route refresher special on 18th June 2021. Photo by Mark Ireland © CC BY-NC 3.0
This is a short-notice bulletin to let you know that Class 14 D9526 is lined up to perform a loaded test run between Williton and Bishops Lydeard today, with our Class 33 'Crompton' pair D6566 (33 048) and D6575 (33 057) in tow. 
Planned movements are as follows:
Saturday 26th June 2021
     1315 WN to BL (passing CH at 1340) arriving 1352
     1420 BL to WN (passing CH at 1435) arriving 1455
Following completion of the Route Refresher workings yesterday, Class 33 D6575 (33 057) will move the WSRA's Hawkworth-designed Taunton Inspector's Observation Saloon W80976W to BL on Monday and will remain at BL in support of WSR operations.
Planned movements are as follows:
Monday 28th June 2021
     1100 WN to BL and stable at BL (timings are approximate)
Other workings (scheduled or otherwise) may take place. The railway is to be considered as LIVE at all times.
The webcams provide a very good way of watching the action from afar. Here are the links:
BL: http://www.wsr.org.uk/r-cam-bl2.htm
CH: http://www.wsr.org.uk/r-cam-ch1.htm
WN: http://www.wsr.org.uk/r-cam-wn2.htm
BA: http://www.wsr.org.uk/r-cam-ba1.htm
Many thanks to Railcam UK and the WSR for providing these webcam services.
You can join the DIESELGEN mailing list at any time by emailing contact@depg.org with DIESELGEN ADD as the subject.
Have you considered joining the WEEKLY ROUNDUP e-newsletter list? Click here for details.