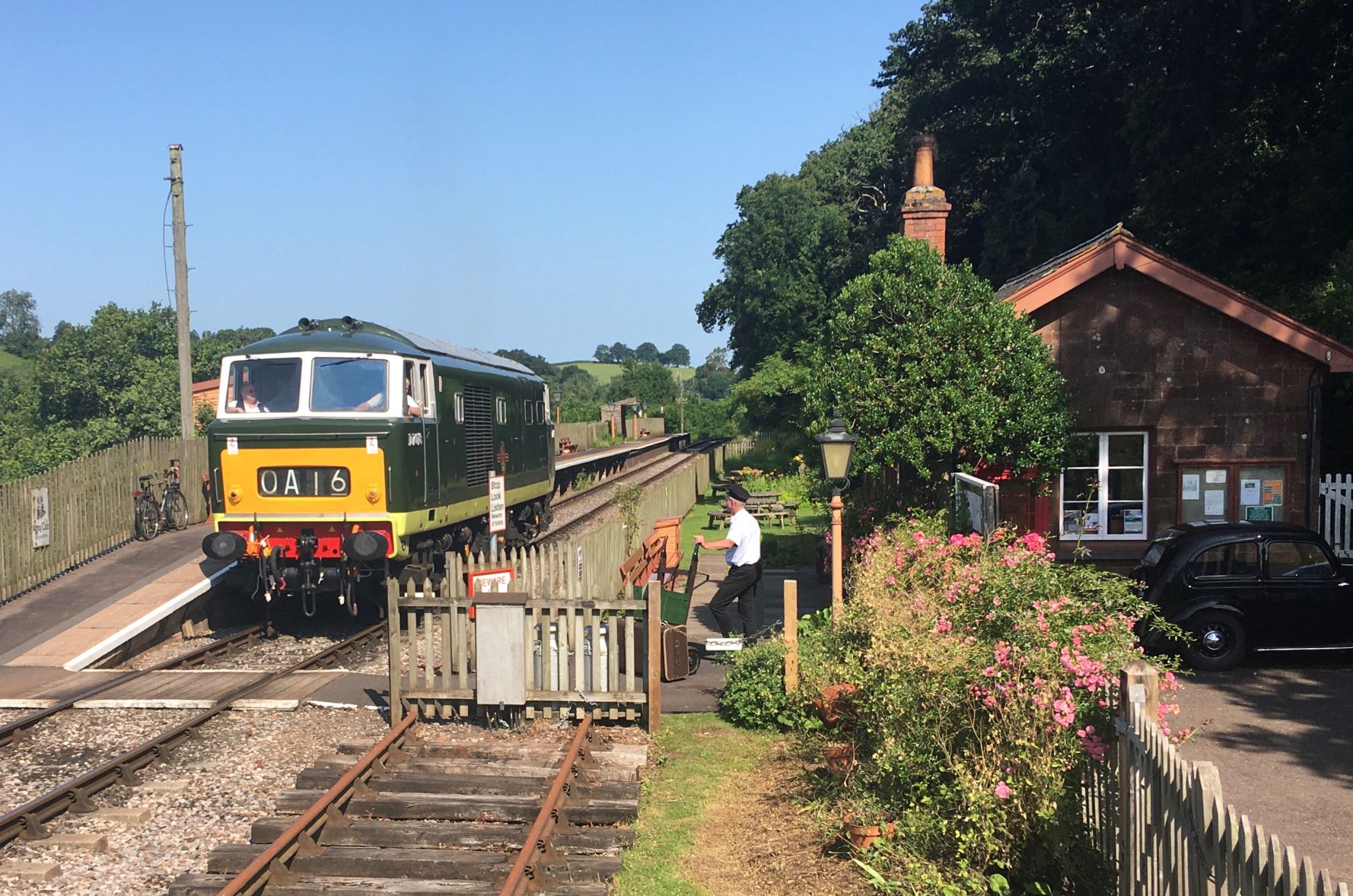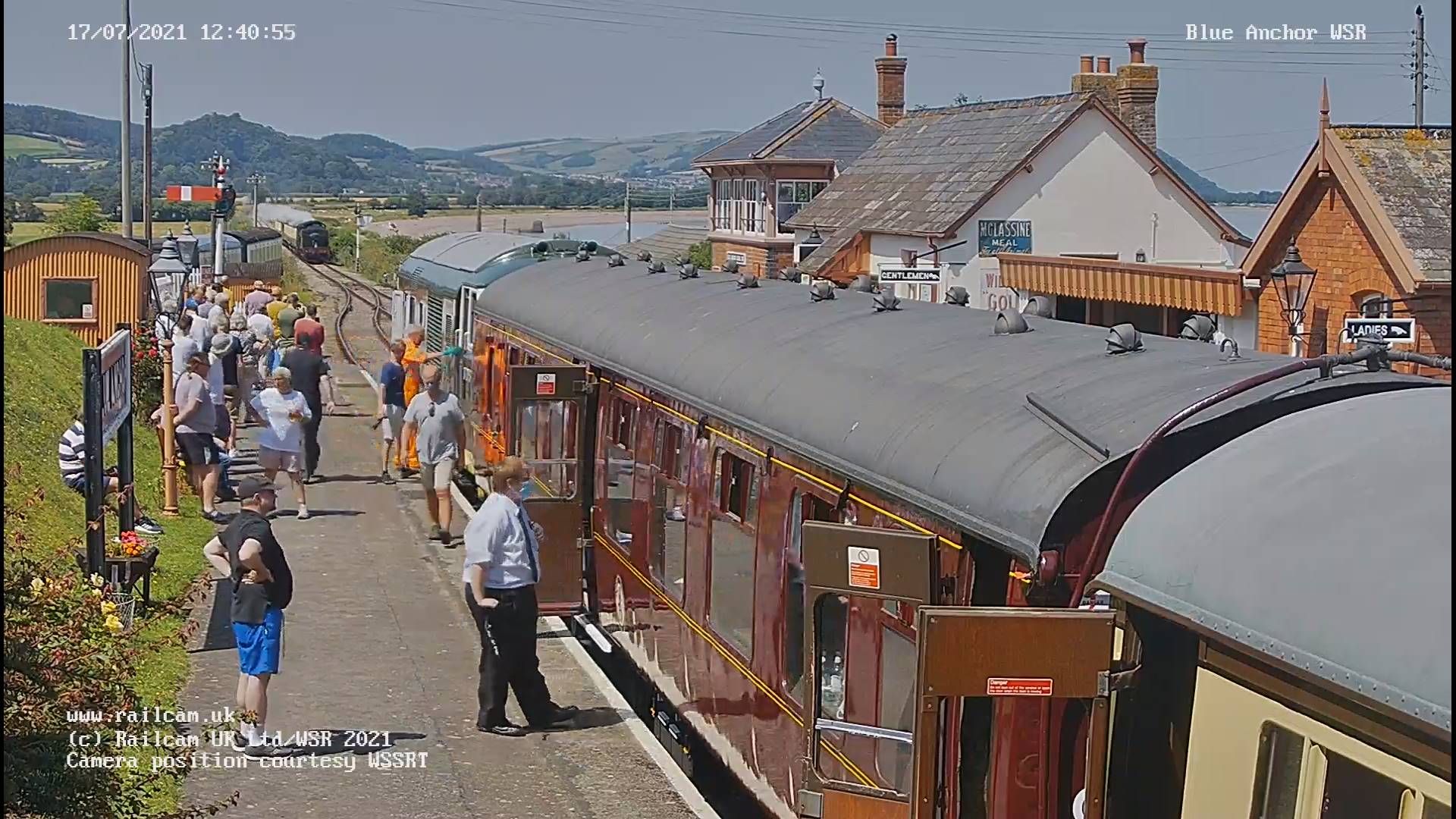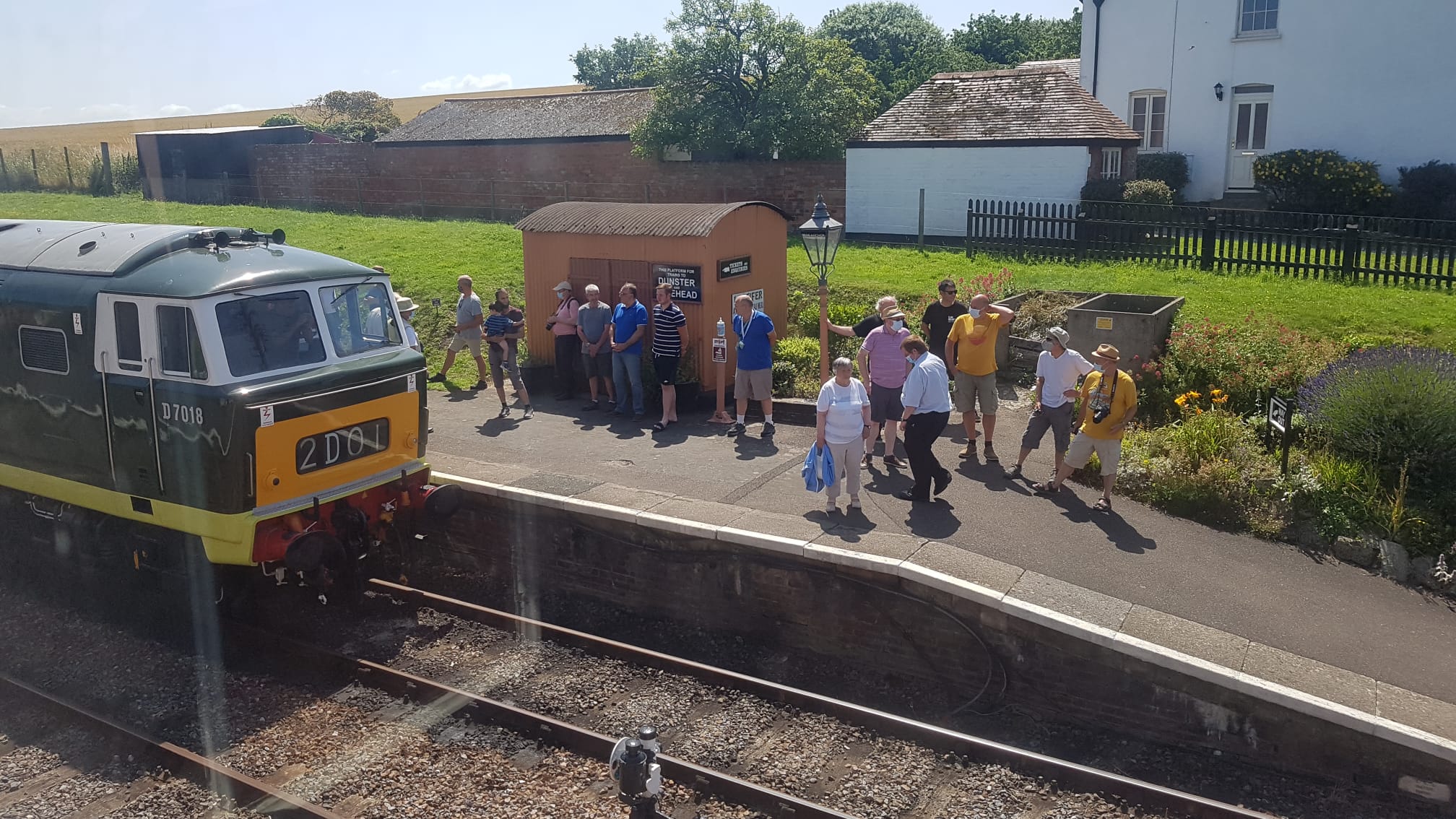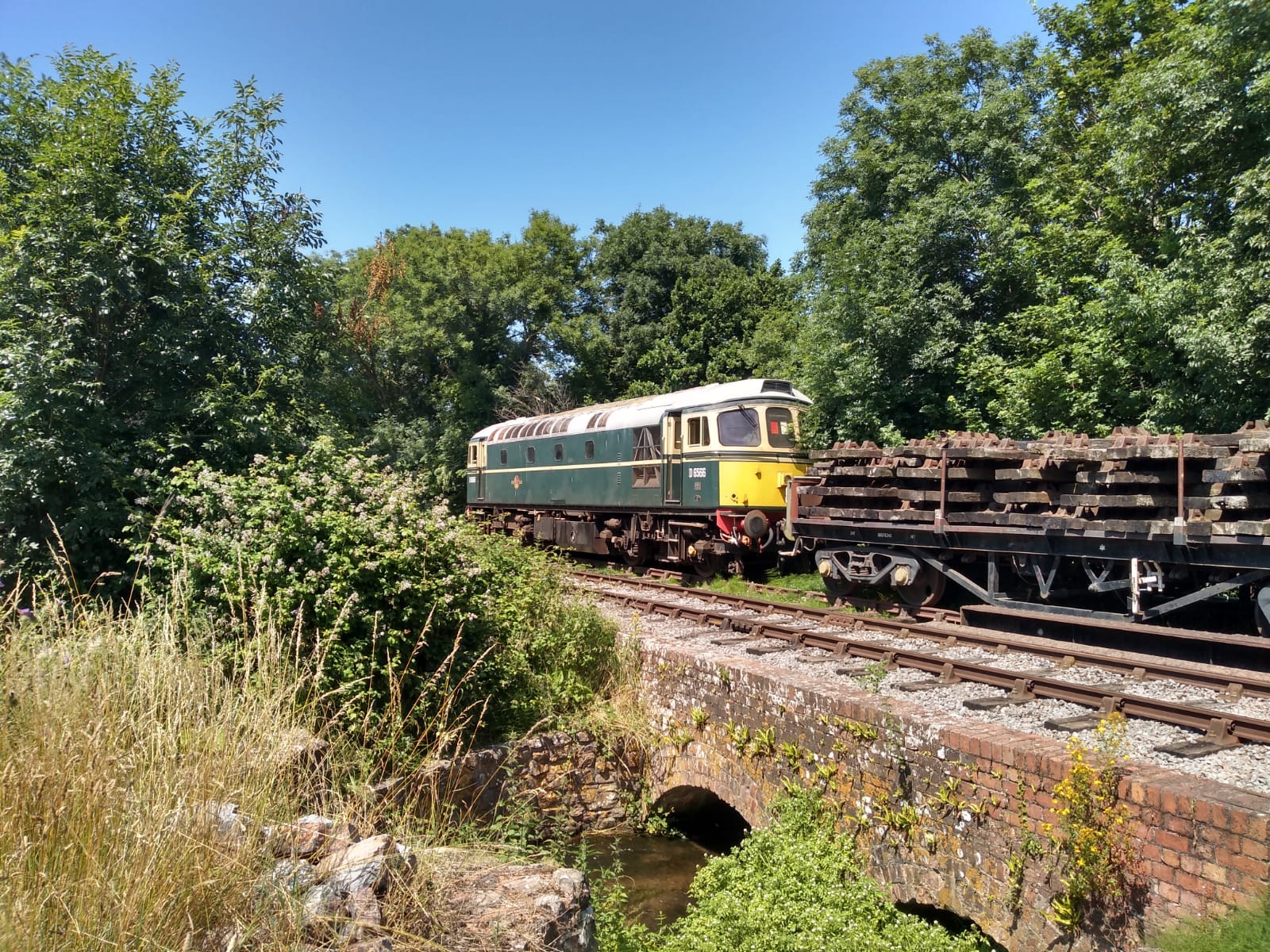 Class 14 'Teddy Bear' D9526 – also on Saturday 17th July, volunteer Class 14 loco manager Simon, along with Colin G and Terry went to visit their 'baby' to see how she had settled into her new surroundings while on hire to the KENT & EAST SUSSEX RAILWAY. The loco was in action on Sunday 18th July while covering for the BR(WR) 0-6-0PT steam loco number 1638 that was rostered but had developed a fault, so we hope to include photos in the next roundup.
Class 47 47077 'NORTH STAR' – our 'celebrity' is still marooned at Bishops Lydeard because of delays in obtaining permission for her oversize road haulage move from Bishops Lydeard to Pickering on the North Yorkshire Moors Railway. To overcome this delay, the NYMR are investigating the possibilities of a rail move, which would see our loco being towed from the WSR to the NYMR by another locomotive, possibly one of her sisters or a close relative. Prior to such a move, our loco would need to undergo ultrasonic axle testing and several other inspections (as well as removal of our banners). We will send out a DIESELGEN bulletin as soon as we know the date, time, mode and route for the move.
Class 52 D1010 'WESTERN CAMPAIGNER' – many thanks to all who have contributed to the appeal for funds to support the £100,000 restoration of D1010 – we are very appreciative of your support, which will allow quick progress on the bodyside repairs, which comprise the bulk of the first phase of the restoration work. We have had a great start but we have a long way to go, so please keep the funds rolling in !
In preparation for the cab end repairs, we are removing ancillary components and fittings to allow a full inspection to take place, so that the scope of the repair work can be established. It will be necessary to cut into the good metal to fully assess the work, so be prepared for the loco to look a lot worse before she looks better.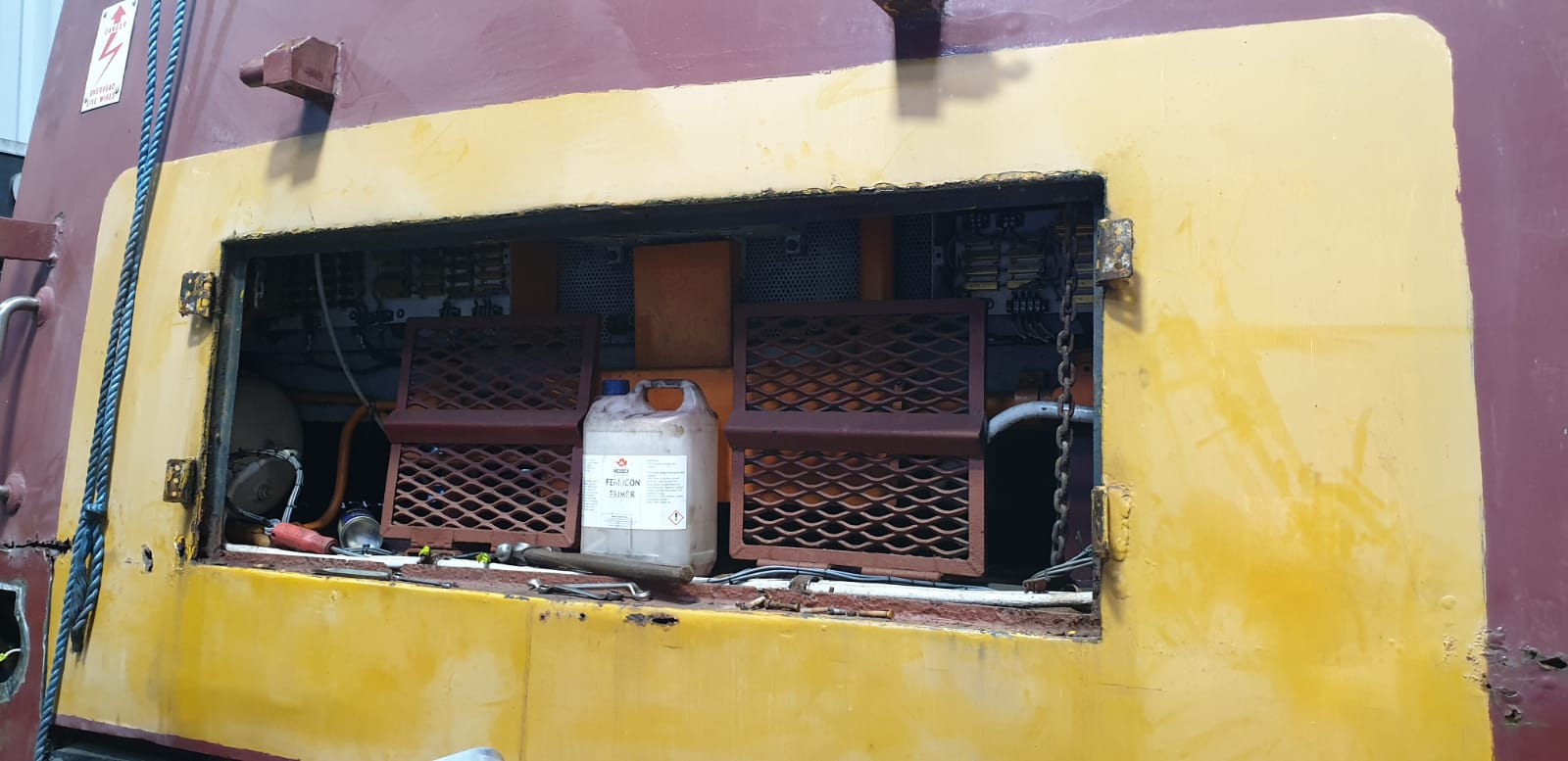 On the 17th July 2021, the headcode boxes were removed from the cab ends of D1010 and will be restored at Williton so that they are ready to be re-united with the loco at some point in the future. Photo by Leroy Ford © CC BY-NC 3.0
We intend to raise £100,000 for the whole restoration project, which is only £10 contribution from each person who has enjoyed watching this locomotive over her years in preservation. Our objectives are achievable with a little help from all 'Western' fans, wherever you are and whichever group you belong to. We are fully inclusive !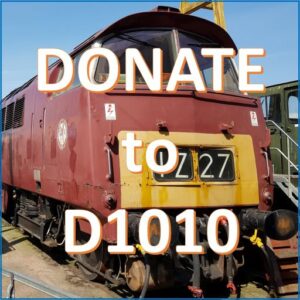 In addition to funds, we also need plenty of HANDS. If you love the 'Westerns' and you are not already a member of the DEPG, please consider joining so that you can become one of the team that is going to return D1010 to full operational condition.
Class 33 'Crompton' D6575 (33 057) – this loco is fully operational and is stabled at Bishops Lydeard for use by the WSR when required.
Class 35 'Hymek' D7017 – no change this week – this loco is waiting for its turn to go into the Swindon Shed for bogie disconnection and lifting.
Class 14 'Teddy Bear' D9518 – the photos that we shared last week showed the extent of corrosion on the battery boxes and the amount of new metal required for the repair. A significant step forward was taken last Tuesday when volunteer Colin F arrived at Williton Yard in his vintage Commer Karrier Bantam 3t truck, pictured below alongside 'Hymek' D7018, to deliver a quantity of steel plate that he was donating for use on the repairs. MANY THANKS to Colin for not only donating the plate but for also doing the repair work !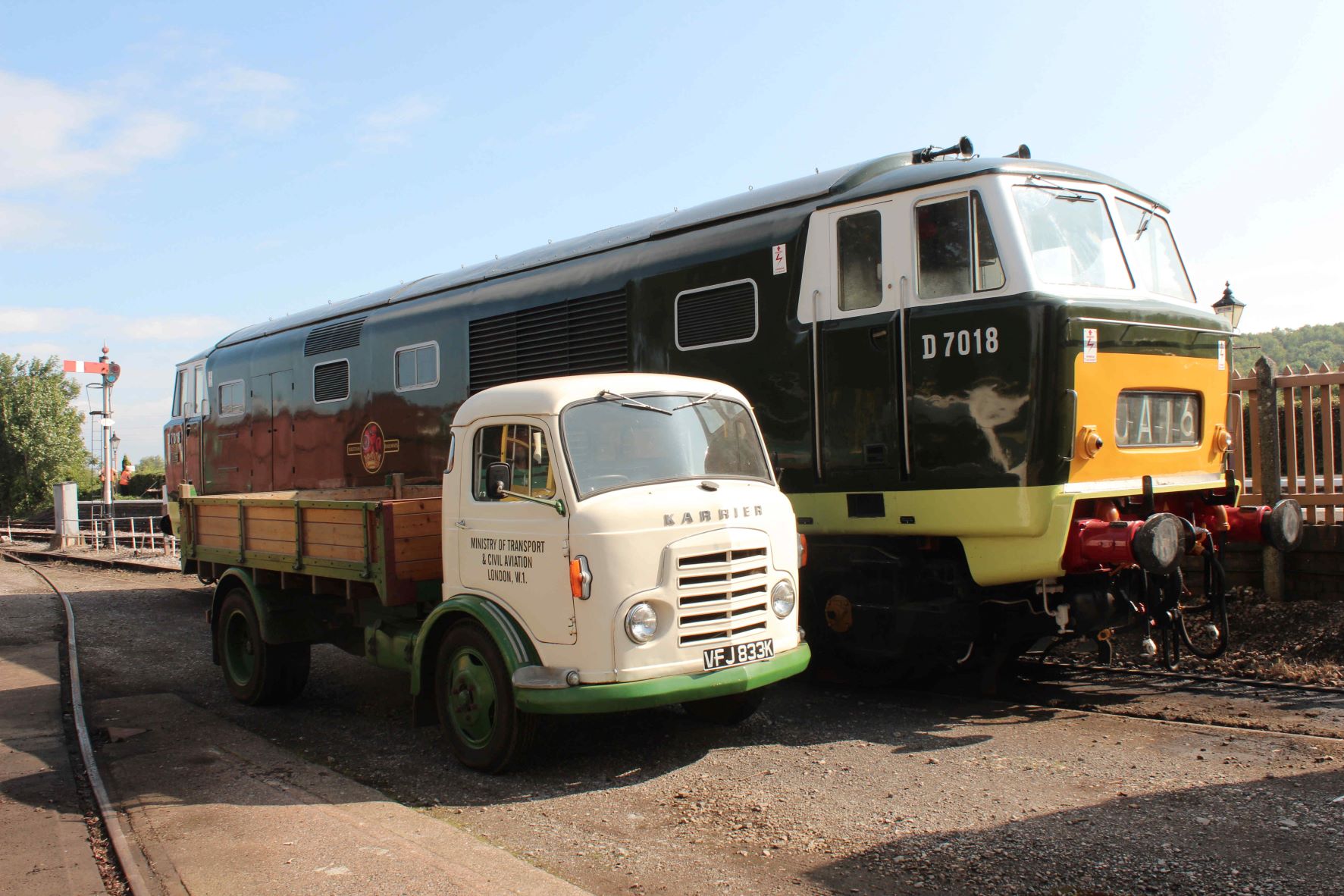 Commer Karrier Bantam dropside tipper truck pictured alongside 'Hymek' D7018 in the South Yard at Williton on 13th July 2021. Photo by Terry Deacon. © CC BY-NC 3.0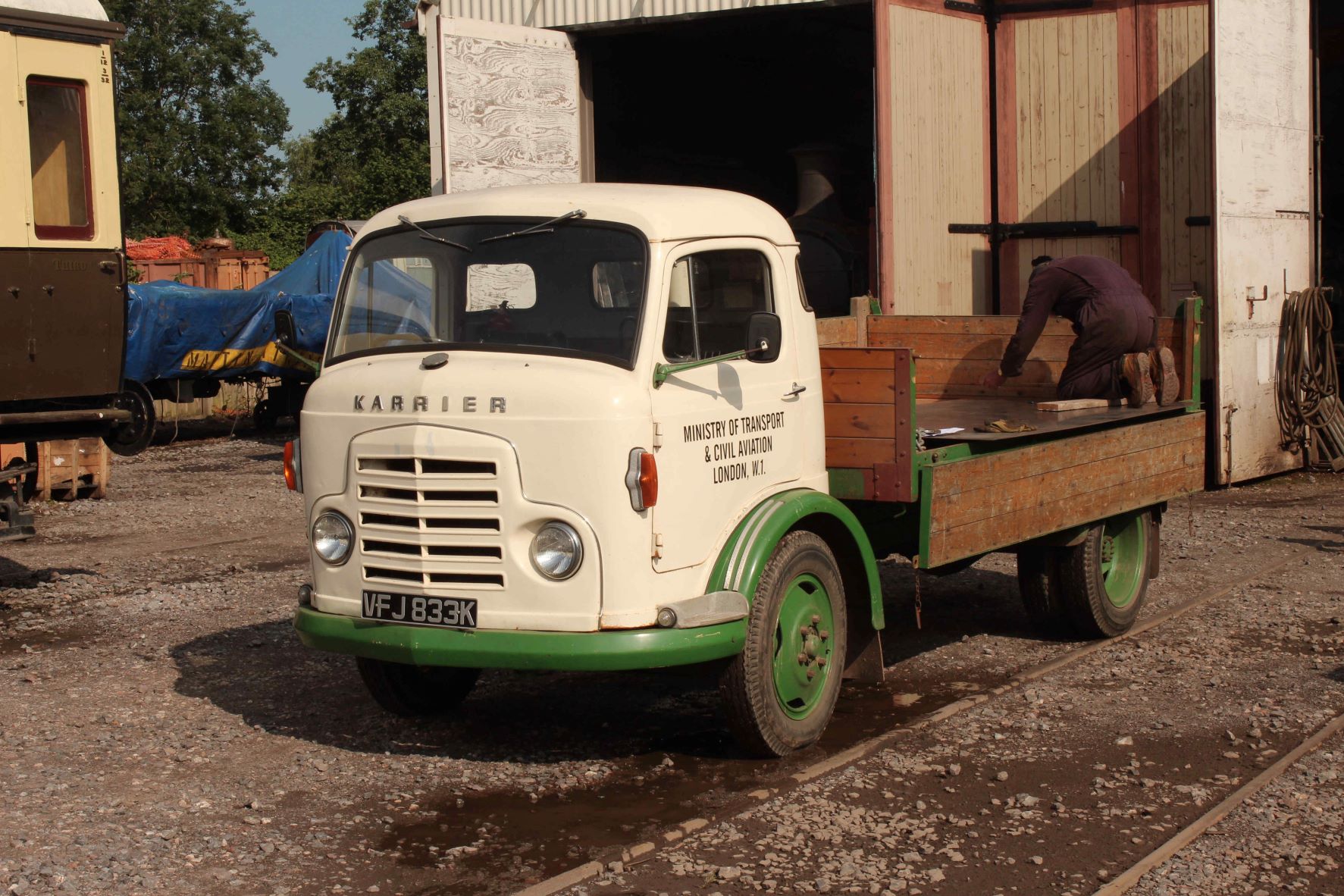 Commer Karrier Bantam dropside tipper truck stands in front of the Swindon Shed at Williton, preparing to offload the donated steel plate on 13th July 2021. Photo by Terry Deacon. © CC BY-NC 3.0
Colin built this authentic vintage dropside tipper vehicle from two rusting hulks that he acquired from a scrapyard near Exeter in 1989. Both donor vehicles had been owned from new by Exeter City Council and had been worked hard, but all of the original parts were restorable including the Perkins 4203 diesel engines, and he also has a large collection of spare parts.
This actual vehicle featured in Series 1, 2 and 3 of the Netflix series 'The Crown', as the airport baggage truck, with Colin himself as the baggage truck driver. This explains the 'MINISTRY OF TRANSPORT AND CIVIL AVIATION' graphics on the cab doors. Well done Colin on a number of counts there !
Other work carried out on D9518 last Saturday 10th July was in preparation for the frames to be re-mounted on the wheelsets. Simon and Terry worked on the brake cylinders that fit between the frames and Colin G continued his painstaking work on the wheelsets. Well done to all !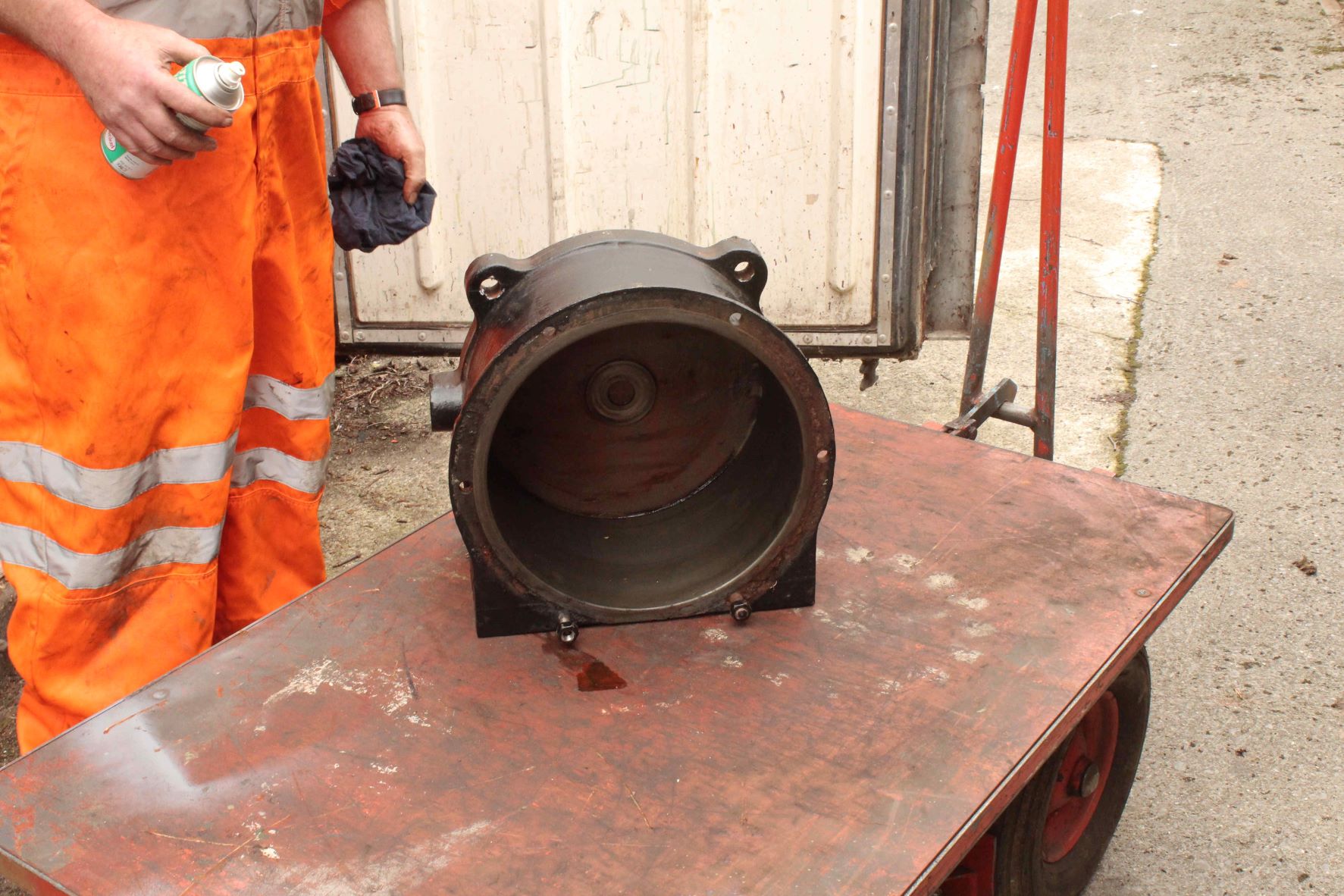 One of D9518's brake cylinders is cleaned and inspected before being refitting between the frames of the loco at Williton 10th July 2021. Photo by Terry Deacon. © CC BY-NC 3.0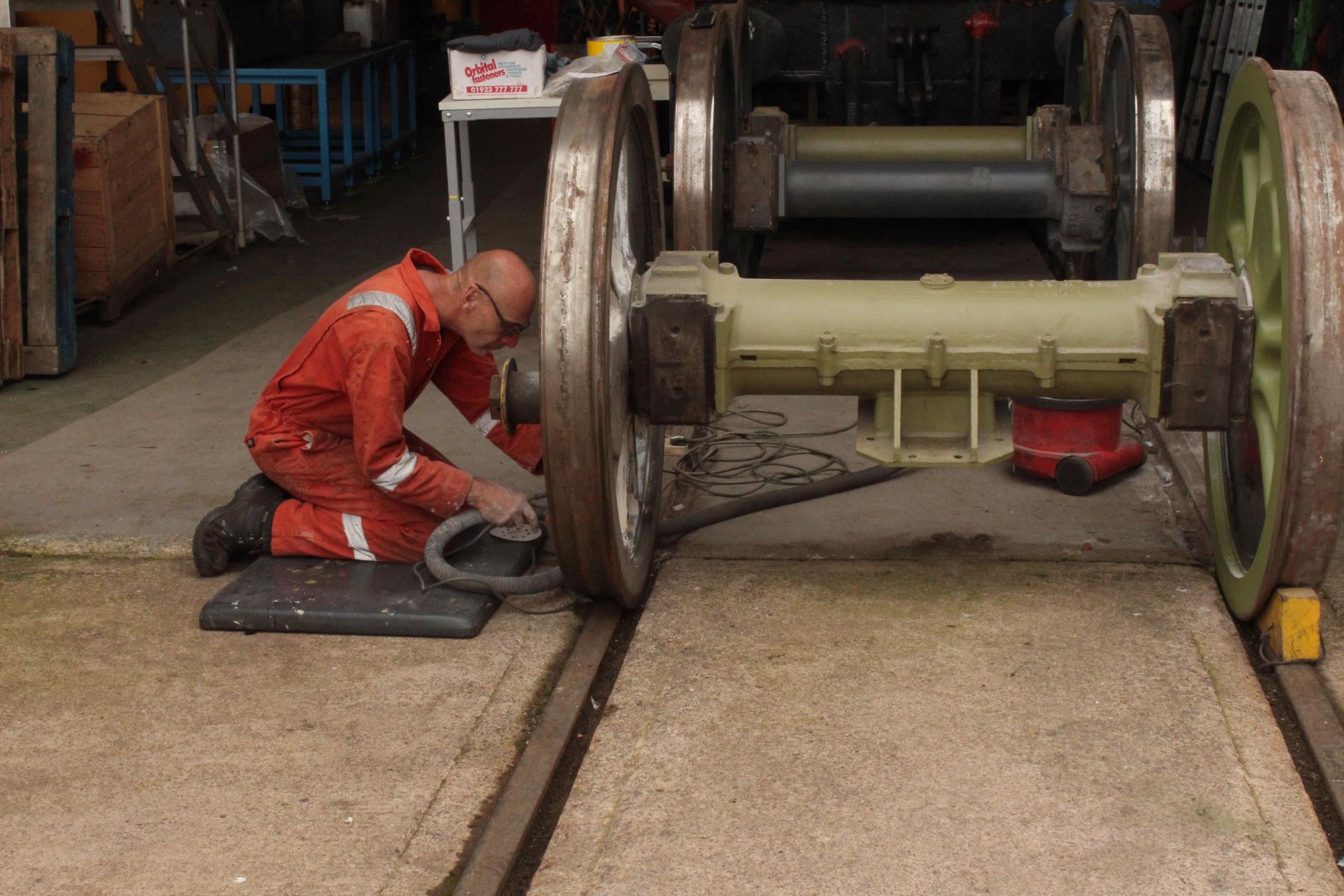 The wheelsets of D9518 undergoing very careful preparation by Colin G at Williton on 10th July 2021 before painting. Photo by Terry Deacon. © CC BY-NC 3.0
This loco is also the subject of an appeal that is shortly to be posted to our website along with restricted donation 'products' that will allow donors to select the precise value of their donations and be safe in the knowledge that their funds are only to be used for the specific purpose of restoring D9518. This online facility should be ready by next weekend.
If you love the 'Teddy Bears' and you are not already a member of the DEPG, please consider joining so that you can become one of the team that is going to return D9518 to operational condition – and see her haul passenger coaches for the first time in her life!
Andrew Barclay 578 (ROF 1) – this loco is undergoing bodywork repairs prior to priming and painting. The livery chosen for this loco will be the Government-standard (in 1972) deep bronze green that the loco carried during her days in service at the Royal Ordanace Factory (ROF) in Puriton, near Bridgwater, Somerset.
Many thanks to all of our volunteers who are hard at work cleaning, painting, maintaining, restoring, managing and fund raising for our fleet of heritage locomotives !
BOOK REVIEW – we have reorganised our books into two categories on our online store, introducing a separate category for PRE-OWNED BOOKS. All such books have been donated by members and suporters and ALL PROCEEDS from the sale of pre-owned books goes directly to the D1010 restoration fund.
We are delighted to report that Geoff Miles, a long-time DEPG member and volunteer on the original restoration of both D7018 and D1010, has donated a whole load of excellent and pristine-condition books worth approximately £1,000 for the benefit of D1010. These include some rare titles that are likely to fly off our shelves, so keep an eye on our pre-owned books section of our online store later this week. Remember, ALL PROCEEDS from the sale of these books goes directly to the D1010 restoration fund.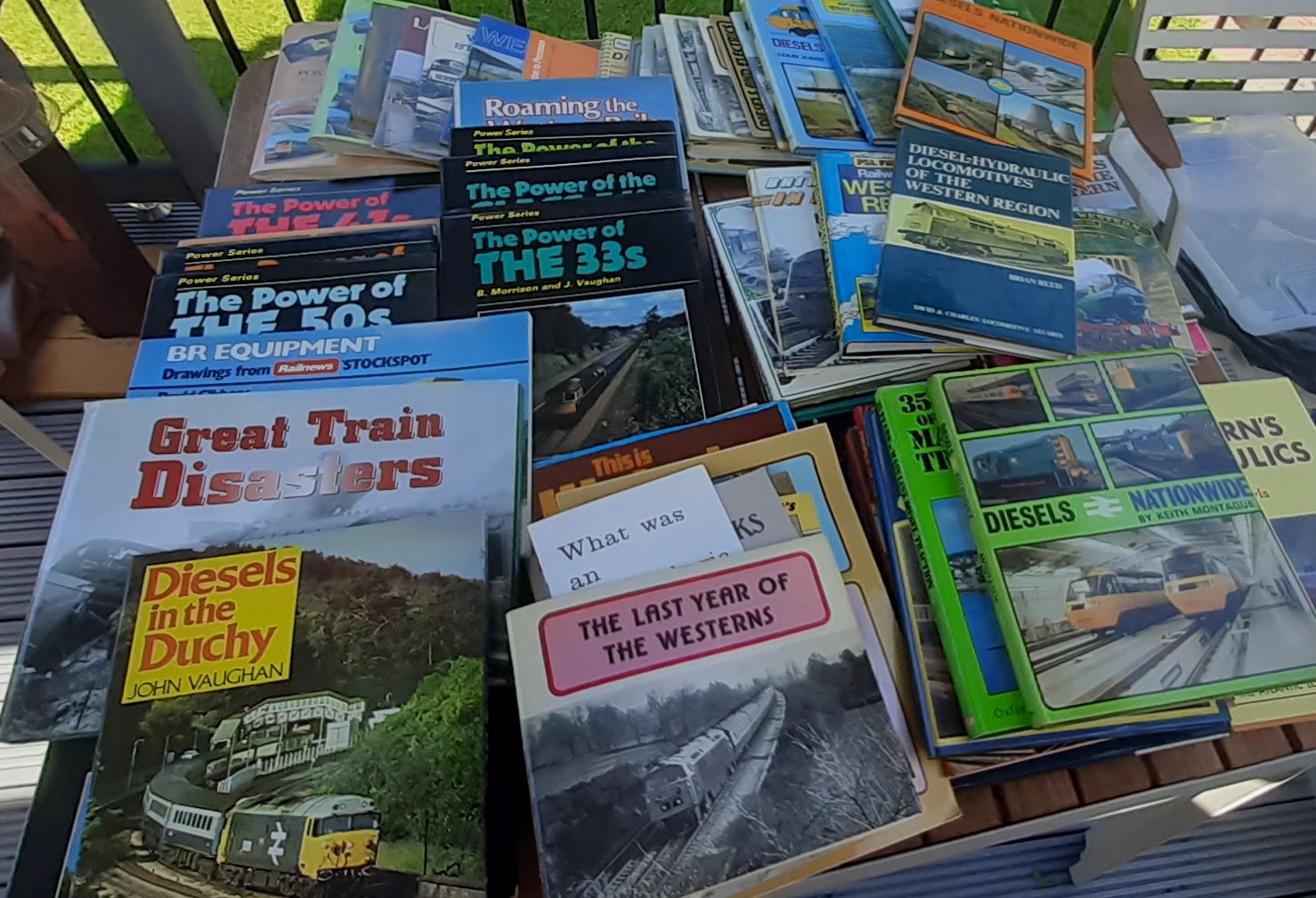 Many thanks to Geoff and to everyone who has donated books to help D1010. Please reply to this email or use our contact form if you have books that you would like to donate.
ON SHED: Continuing with photos of our 'Hymek' D7018 when based at Didcot Railway Centre we see the loco in the mid '80s, carrying her original livery before the addition of the yellow warning panel. The loco was only in service for three weeks in 1962 before having to go to Swindon for attention, during which time the yellow warning panel was applied. Many thanks to Jon Tooke for sharing this photo with us all.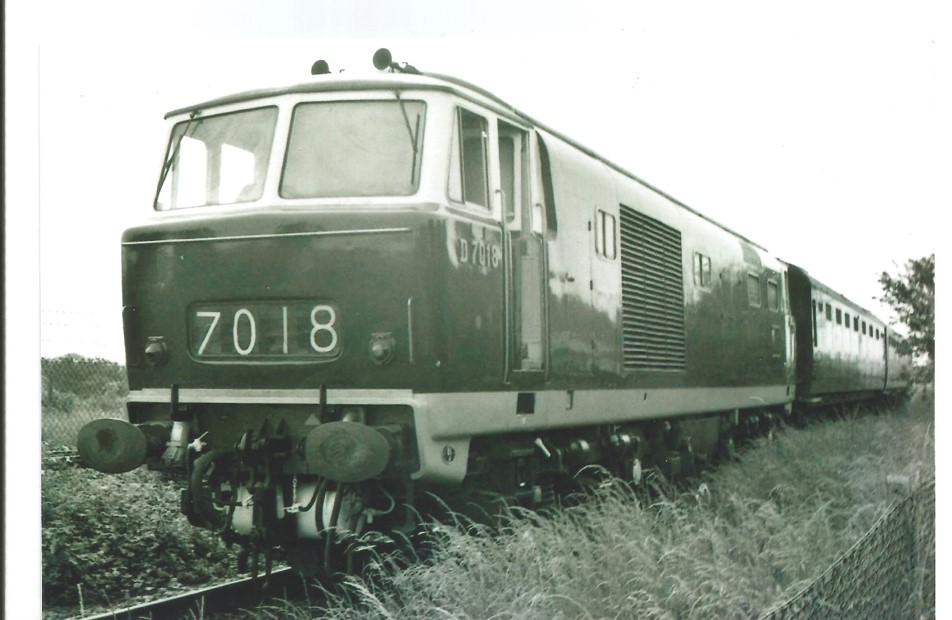 D+EG Class 35 'Hymek' D7018 at Didcot Railway Centre in the mid 1980s carrying her original livery without the yellow warning panel. Photo provided by Jon Tooke © CC BY-NC 3.0
DEPG NEWS: Following the success of the first run of 'Hymek' D7018 we can now focus on selling tickets for the next run, which takes place on Saturday 31st July.
A reminder of the running days follows (all are Saturdays):
31 July              – 'Hymek' D7018
07 August        – 'Hymek' D7018, with an extension to Norton Fitzwarren
21 August        – Crompton pair, top and tail, celebrating their 60th birthdays!
25 September  – 'Hymek' D7018, with an extension to Norton Fitzwarren
The ticketing links for these services are as below (these are links to the WSR website):
IN ADDITION TO THE ABOVE, we have been advised that our diesels will be in use for the MIXED TRACTION WEEKEND on 17-18 September, the timetable for which has not yet been released. This new running opportunity will feature an extension to Norton Fitzwarren to provide both additional mileage and additional interest from this little-used section of the line. We will send out a DIESELGEN bulletin as soon as we have firm details. Mark the date in you diary !
OTHER DEPG NEWS: The DEPG Board Meeting 03JUL21 synopsis is now available in PDF format as part of the initiative to share information as soon as possible after the meetings.
As a REMINDER – the date for the next Annual General Meeting is set for the afternoon of Saturday 4th September. Formal notices will be sent to all registered paid-up members during August.
DEPG WEBSITE: Our ONLINE SHOP IS NOW LIVE so go ahead and visit our store!
Our website now carries details of the appeal for the RESTORATION OF D1010 and we are working on the additional pages need for the appeal for D9518, with special donation 'products' already added to support fundraising. The shop has been reorganised to introduce product categories and now includes a new category for PRE-OWNED BOOKS, the proceeds from which go directly to the fund for D1010.
WSR NEWS: The WSR are now operating public services to Minehead via a connecting bus service between Dunster and Minehead, so please support these services by buying tickets to ride!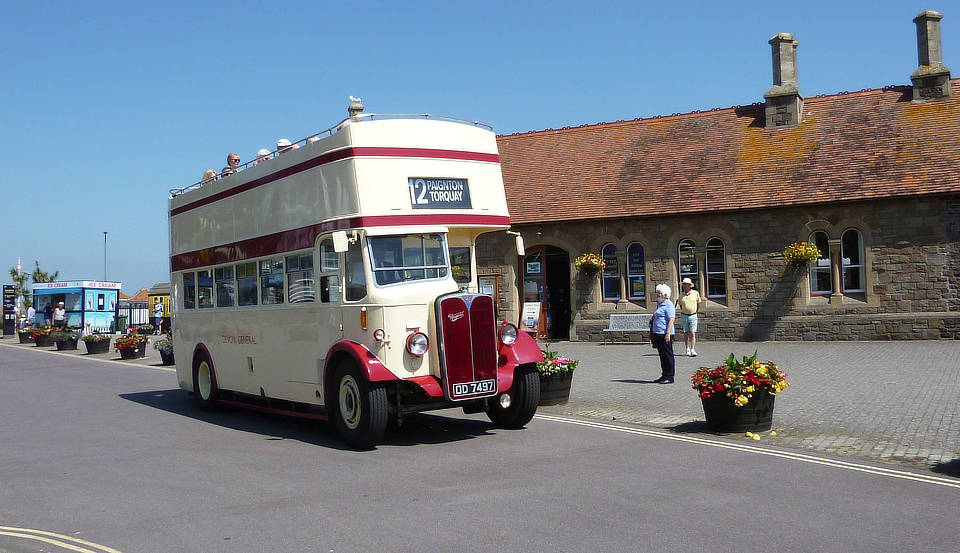 The first vintage open-top bus from Dunster, an AEC 'Regent' is seen arriving at Minehead Station on 16th July 2021. The bus service is included in the excursion ticket and an accessible bus is also operating. Photo by Alan Grieve © CC BY-NC 3.0
Don't forget to read about the WSR appeal by clicking this link – this appeal also needs our support because we need a thriving railway to run on !
All members of the WSR family have to do what we can to help and one easy way is to make a donation via the WSR website. Another way is to ensure that all of the timetabled services are a commercial success, so please buy a ticket if you can.
Go to previous Weekly Roundup post
---