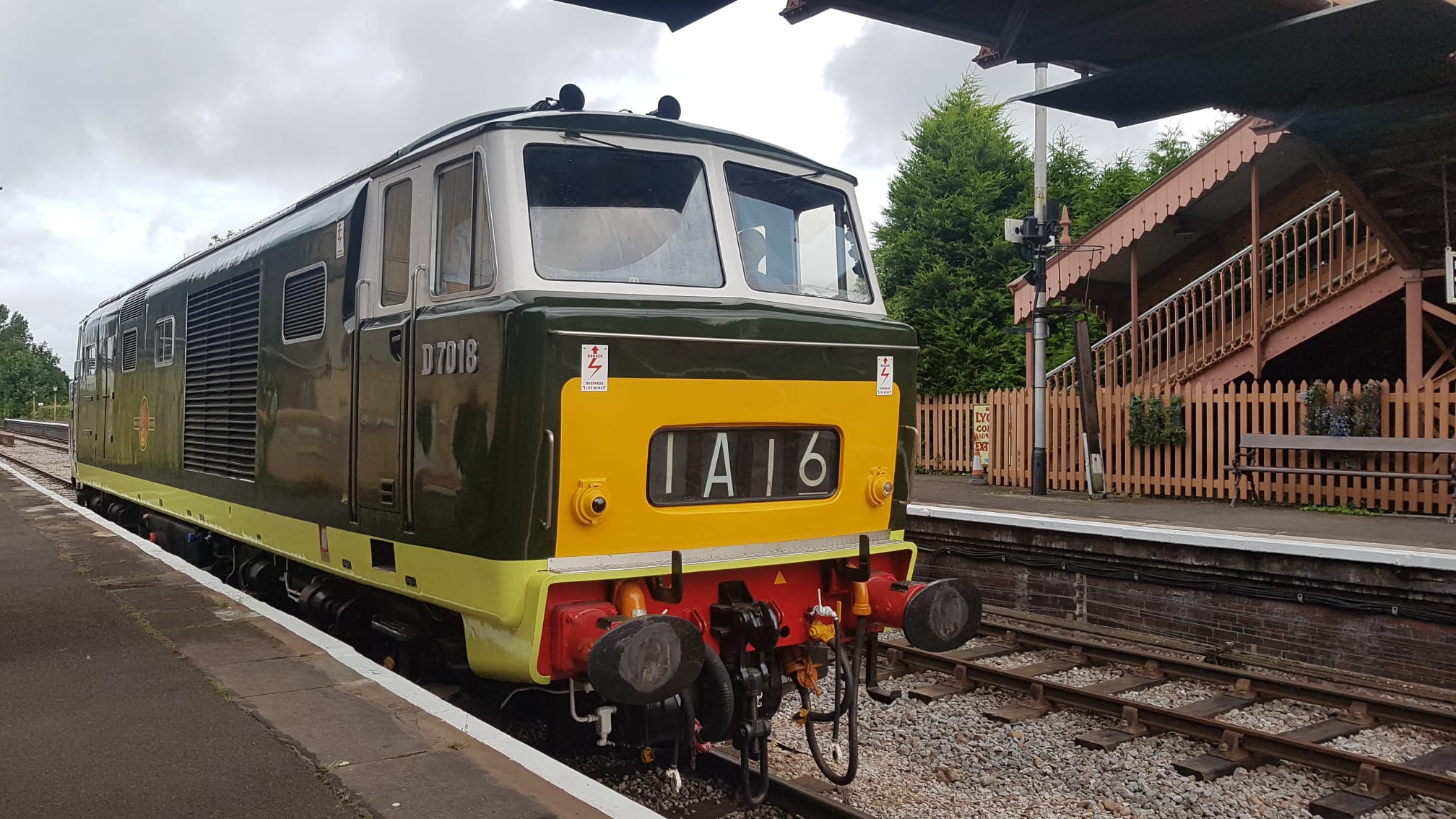 Class 35 'Hymek' D7018 prepares to depart from Williton to Bishops Lydeard to pick up her train on the morning of 31st July 2021. Photo by Martin Howard © CC BY-NC 3.0
Beyer-Peacock 'Hymek' D7018 is the booked locomotive for this Saturday's diesel-hauled excursion from Bishops Lydeard to Dunster and back plus an extension to Norton Fitzwarren on the return journey. This gives a total running distance of 42 miles, departing from Bishops Lydeard at 11:35 and returning from Norton Fitwarren at 15:25.
Advance bookings on this service are looking strong so BOOK NOW to ensure that you get a chance to ride and enjoy the 'Maybach Music' !
Space will be allocated for walk-up passengers on the day, but BOOK NOW to make sure that you don't get left behind.
The remaining diesel running days for 2021 will be as follows (both are Saturdays):
21 August        (Crompton pair, top and tail, celebrating their 60th birthdays!)
25 September  ('Hymek' D7018, with extension to Norton Fitzwarren)
Please try to support these diesel running days as a way of showing your support for running diesels on the WSR. Thanks !
IN ADDITION TO THE ABOVE, we have been advised that our diesels will be in use for the MIXED TRAFFIC WEEKEND on 17-18 September, the timetable for which has not yet been released but promises to be diesel-action-packed on both days. This event will feature an extension to Norton Fitzwarren to provide both additional mileage and additional interest from this little-used section of the line. We will send out a DIESELGEN bulletin as soon as we have firm details. Meanwhile, mark the date in you diary and buy a ticket using the link below !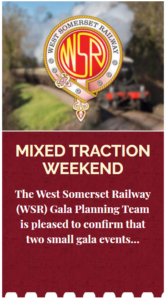 If you are unable to attend, the webcams provide a very good way of watching the action from afar. Here are the links:
BL: http://www.wsr.org.uk/r-cam-bl2.htm
CH: http://www.wsr.org.uk/r-cam-ch1.htm
WN: http://www.wsr.org.uk/r-cam-wn2.htm
BA: http://www.wsr.org.uk/r-cam-ba1.htm
Many thanks to Railcam UK and the WSR for providing these webcam services.
Have you considered joining the WEEKLY ROUNDUP e-newsletter list? Click here for details.
---