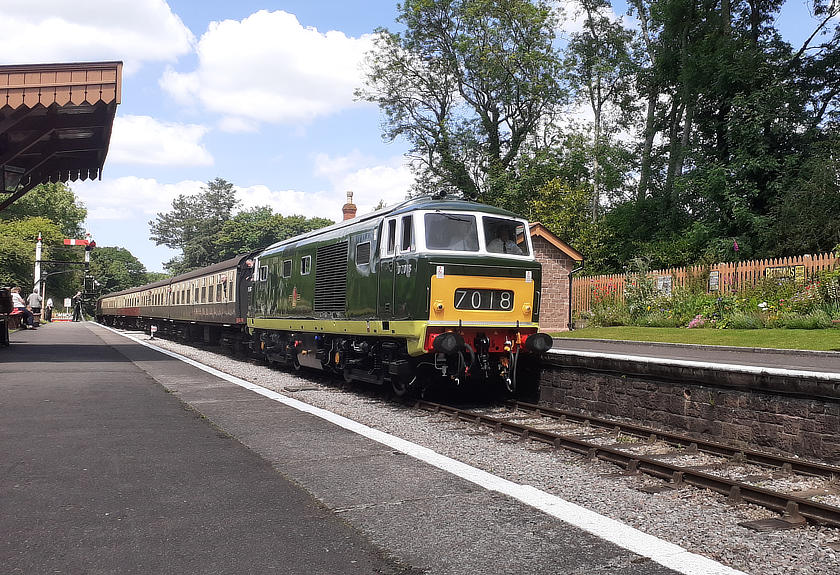 Class 35 'Hymek' D7018 arrives at Crowcombe Heathfield on 22nd June 2019 during the 'Diesels to the Seaside 2019' event on the West Somerset Railway. Photo by Josh Brinsford © CC BY-NC 3.0
The Gala Planning Team have now released the detailed timetables covering the MIXED TRACTION WEEKEND of Friday 17th and Saturday 18th September and we can now share these details with our members and supporters.
The working timetable for FRIDAY 17th SEPTEMBER 2021 is: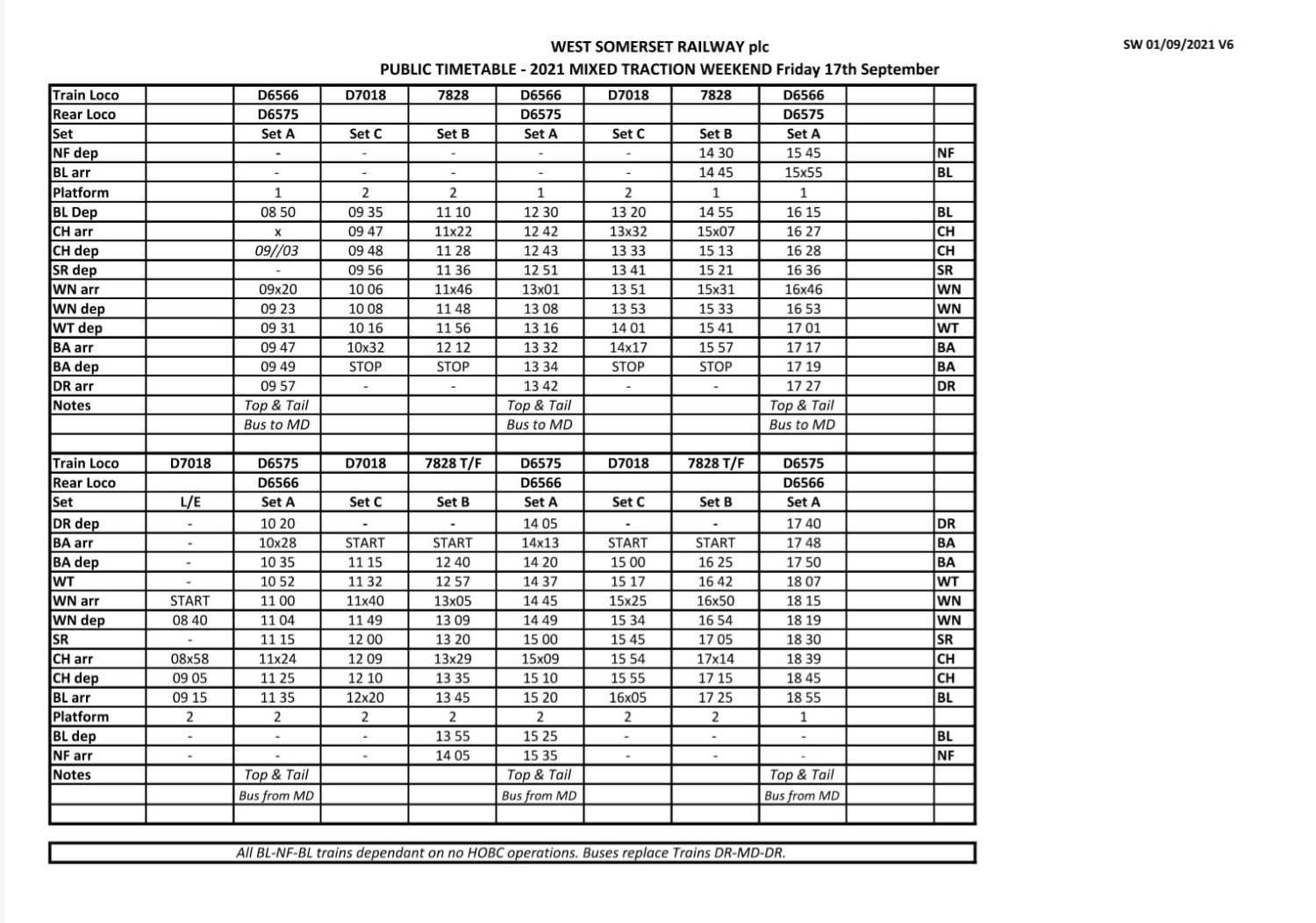 The working timetable for SATURDAY 18th SEPTEMBER 2021 is: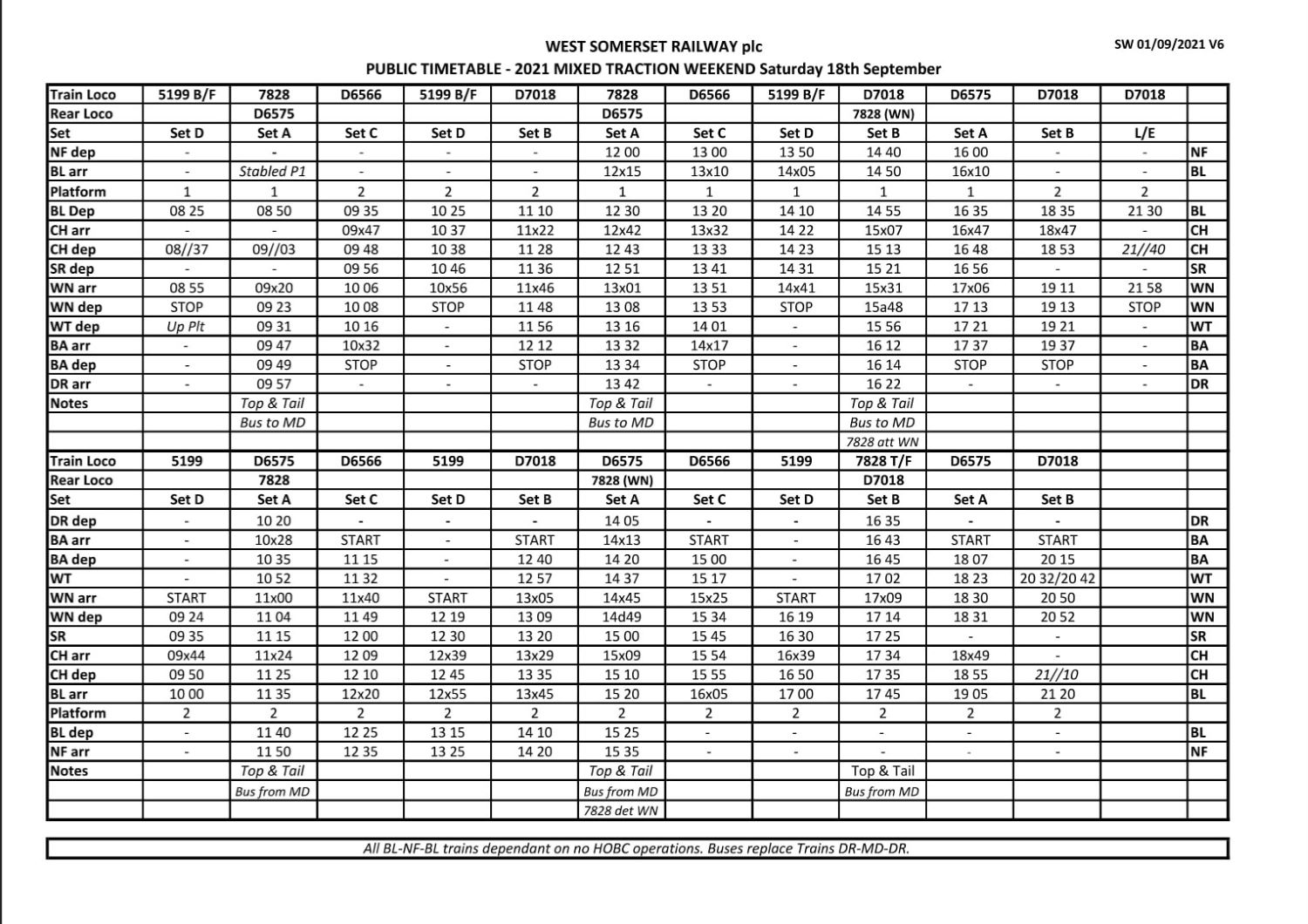 Note: L/E refers to Light Engine – these are not public services.
Note: B/F and T/F refer to 'Bunker First' and 'Tender First' in the case of the steam locos.
The DEPG locos rostered for the event are Class 35 'Hymek' D7018 and Class 33 'Cromptons' D6566 (33 048) and D6575 (33 057).
The 'Cromptons' work to Norton Fitzwarren on the Friday afternoon and all three locos get their chance to work in that interesting section on the Saturday, all subject to their being no High Output Ballast Cleaner (HOBC) operations from Network Rail at that time (none are planned at the current time). 
Additional photo opportunities are provided by running the last train of the day after sunset on the Saturday.
Please do your best to attend to support both the DEPG and the WSR at this event. We look forward to seeing you. Thanks in advance!
Both pre-booked and walk-up tickets are available for this event.  
If you are unable to attend, the webcams provide a very good way of watching the action from afar. Here are the links:
BL: http://www.wsr.org.uk/r-cam-bl2.htm
CH: http://www.wsr.org.uk/r-cam-ch1.htm
WN: http://www.wsr.org.uk/r-cam-wn2.htm
BA: http://www.wsr.org.uk/r-cam-ba1.htm
Many thanks to Railcam UK and the WSR for providing these webcam services.
Have you considered joining the WEEKLY ROUNDUP e-newsletter list? Click here for details.
---