Friday 17th and Saturday 18th September saw the return of gala-style running on the West Somerset Railway during the MIXED TRACTION WEEKEND that involved our 'Hymek' D7018 plus our two Class 33 'Cromptons D6566 (33 048) and D6575 (33 057) along with steam in the form of BR(W) 4-6-0 7828 'ODNEY MANOR' and GWR 2-6-2T 5199 operating an intense timetable that kept the line busy and brought back the feel of previous galas.
Each day included trips along the full length of the line, from Norton Fitzwarren (the junction with the Bristol to Exeter main line) to Minehead, some 23 miles distant, but with the last mile and a half being operated by a fleet of heritage buses (some open top, some accessible). The last section of the line is currently closed due to upgrading of the Seaward Way level crossing, so to keep the schedule brisk during these two days, each train serving Dunster was 'top-and-tailed' to allow a quick turnaround.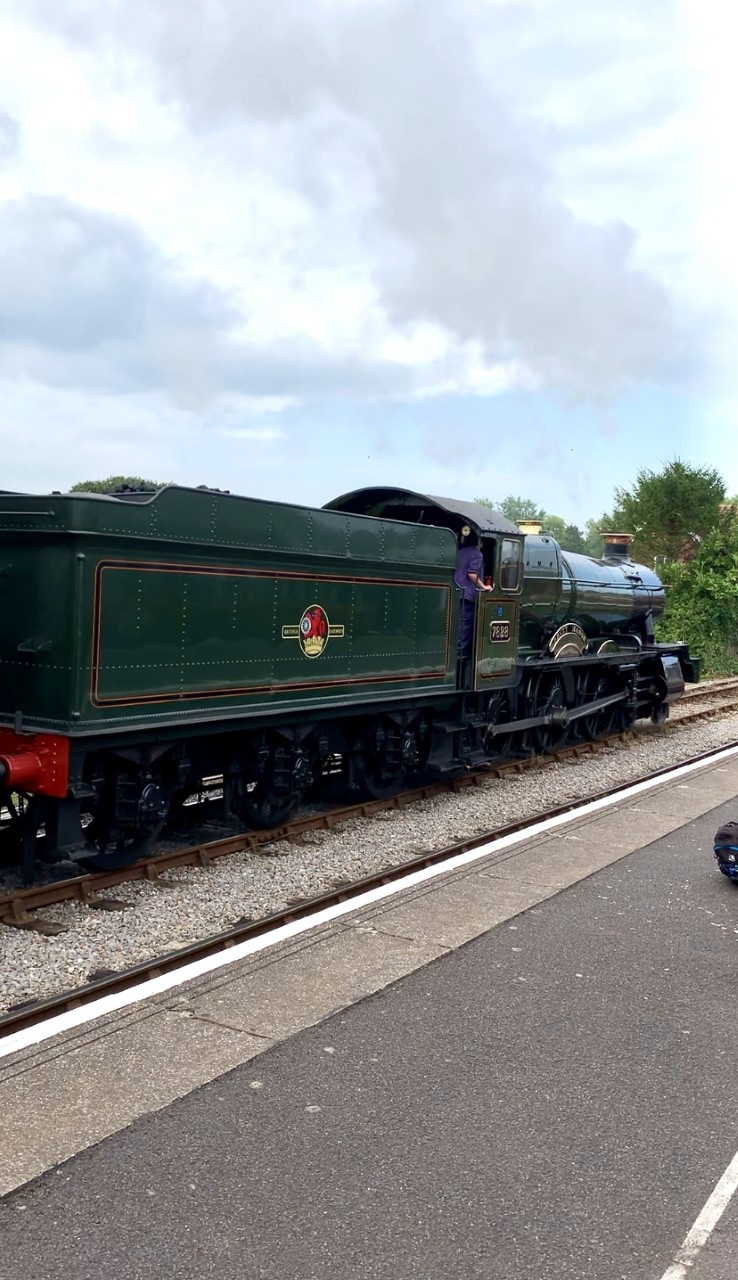 BR(W) 4-6-0 7828 'ODNEY MANOR' at the head of the 1230 departure from Bishops Lydeard to Dunster which will then connect with a heritage bus service to Minehead. Photo by Andy Royal © CC BY-NC 3.0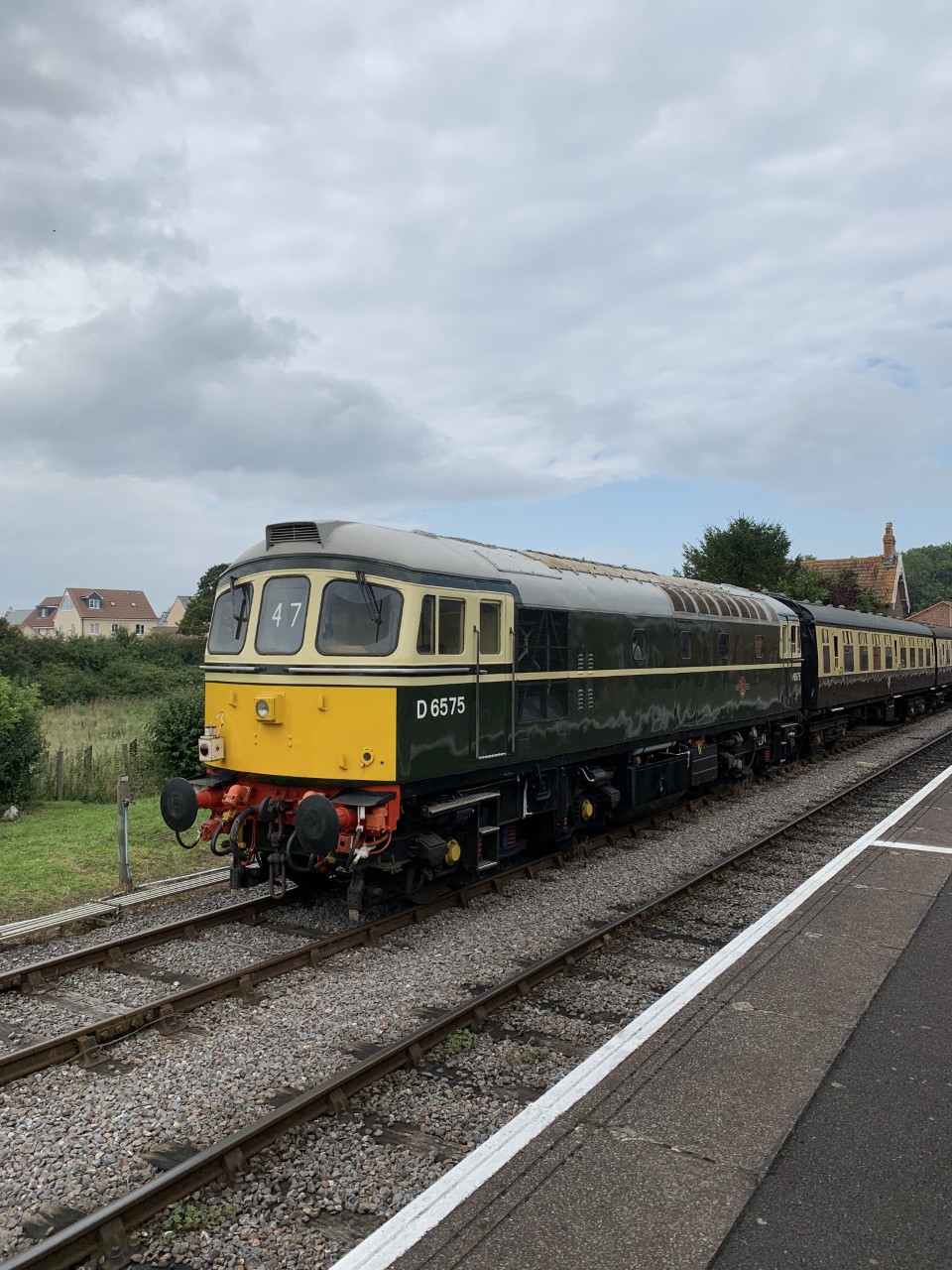 Class 33 'Crompton' D6575 (33 057) at the tail of the 1230 departure from Bishops Lydeard to Dunster to allow a quick turnaround at Dunster. Photo by Andy Royal © CC BY-NC 3.0
The 'Top-and-Tailed' services provided plenty of photo opportunities for locos to be side by side at the platforms – here are some of those unusual views: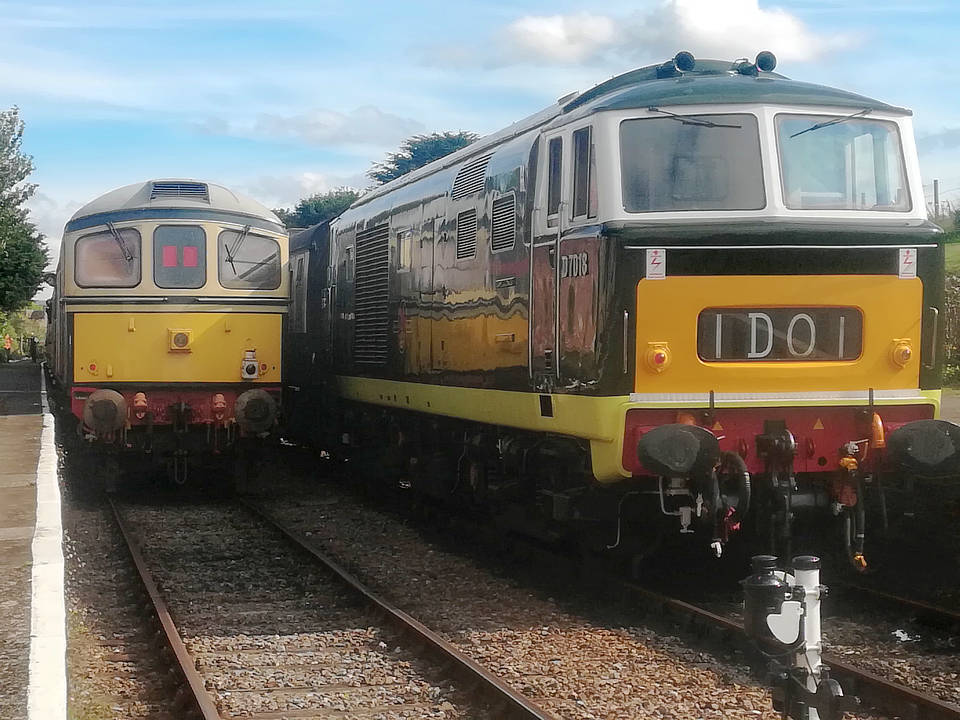 A 'Type 3' gathering with Class 33 'Crompton' D6566 (33 048) on the left (the 'up' direction towards Bishops Lydeard) and Class 35 'Hymek' D7018 on the right (the 'down' direction towards Minehead) at Blue Anchor on 17th September 2021. Photo by Barrie Childs © CC BY-NC 3.0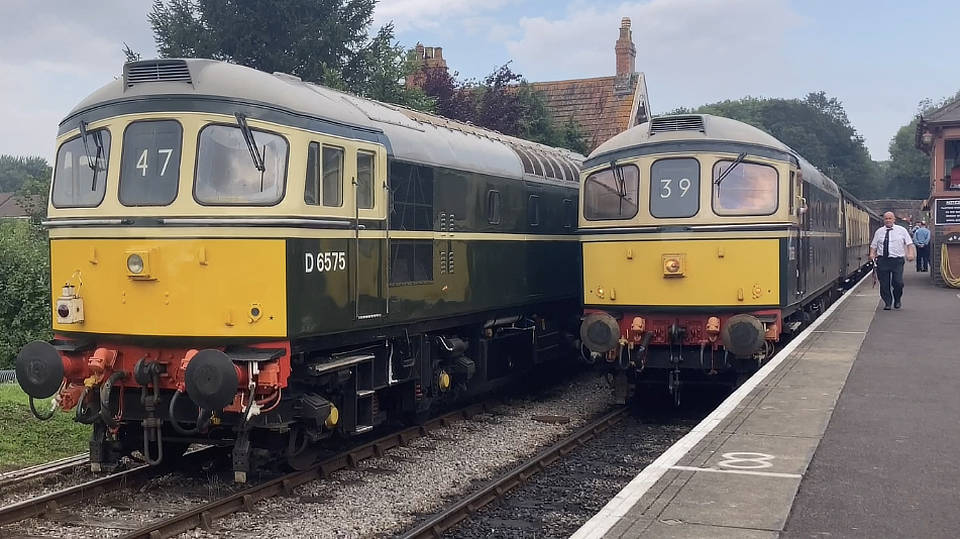 Class 33 'Crompton' D6575 (33 057) is at the tail end of the 1230 service to Dunster on Saturday 18th September 2021 as sister loco D6566 (33 048) prepares to depart with the 1225 service to Norton Fitzwarren. Photo by Josh Brinsford © CC BY-NC 3.0
The services that were not 'top and tailed' did not go beyond Blue Anchor, thereby allowing the train loco to run around to haul the train back toward Bishops Lydeard, and in most cases continued to Norton Fitzwarren where the loco again detached to run around using the East Chord (marked as 'East' in the diagram below):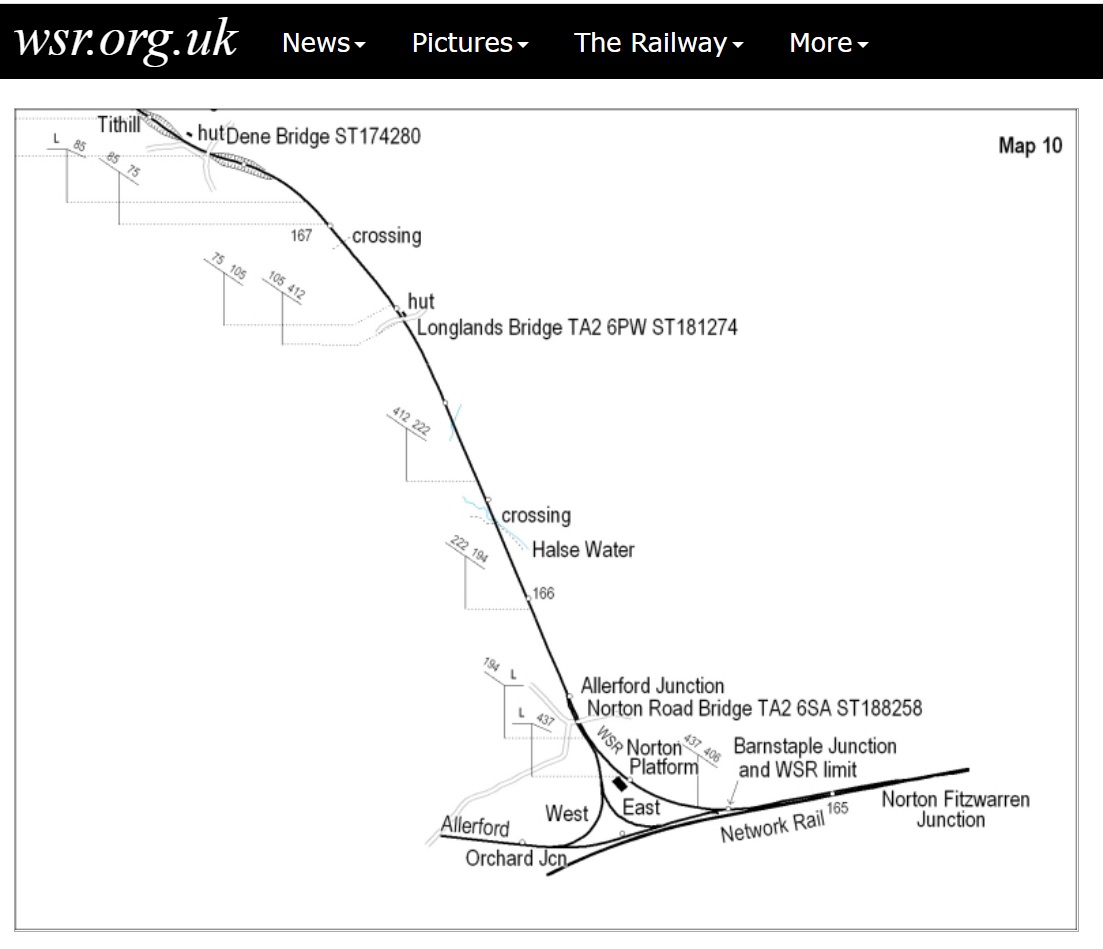 Beyer-Peacock Class 35 'Hymek' D7018 leaves the platform at Norton Fitzwarren to run around her train via Barnstaple Junction then the East Chord to Allerford Junction then back on to her train at the platform on 18th September 2021. Photo by Josh Brinsford © CC BY-NC 3.0
For more pictures from this event, follow this link to the wsr.org.uk website picture page: http://cgibin.wsr.org.uk/cgi-bin/gallery.cgi?h=The+Mixed+Traction+Weekend+2021&t=mtw2021pix
The webcams were very heavily patronised during the two day and we were very pleased to have the guys from RAILCAM UK along with us for both days, providing live streaming video (where 4G signal strength allowed it) and capturing video for the whole length of the line (from Norton Fitzwarren to Dunster) using their lamp-bracket-mounted camera, visible in the photograph below: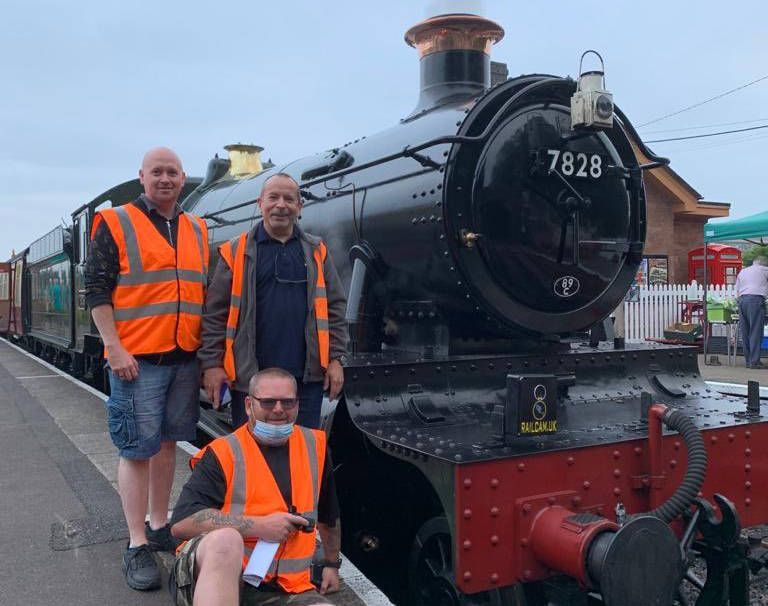 The RAILCAM UK team Jamie, Andrew and Mike (clockwise from the left) alongside their remote-controlled camera that was mounted on the lamp bracket of BR(W) 4-6-0 7828 'ODNEY MANOR' for the journey from Bishops Lydeard to Dunster on 18th September 2021. Photo by Andy Royal © CC BY-NC 3.0
The RAILCAM UK team travelled the length of the line on Friday and Saturday and also visited the engineering facilities at Minehead and Williton. Their work was live streamed to thousands of people, many of whom were not able to visit the event in person but were able to participate via the Railcam YouTube channel: https://www.youtube.com/c/RailcamUKLive
Go to their channel and scroll down to see the multitude of videos of the event that have been posted, some with more than 10,000 views already ! This is excellent exposure for the WSR and has ensured that tens of thousands of people will be aware of the work that has been and is being done to bring the WSR back to the forefront of the heritage railway sector. Many thanks to all who helped to make their visit a success !
DID YOU KNOW that the RAILCAM UK operation is entirely funded by subscribers, with no corporate sponsorship at all ? These webcams have to be bought, installed, maintained, managed and in many cases, the internet data service has to be provided as well, so hats off to these guys and their colleagues for making it all happen. JOIN THEM and subscribe to help them expand their activities for our further enjoyment.

WELL DONE to all who planned, prepared and delivered this excellent and enjoyable event, which ran ON TIME and without any technical hitches. Thanks also to those who bought a ticket or merchandise and in doing so contributed to the success of the event !
Now for the sad news – last week, we announced that we changed the date of the next 'Hymek'-hauled service from Saturday 25th September to Saturday 16th October to prevent a clash with the return to mainline running of the Diesel Traction Group's Class 52 D1015 'WESTERN CHAMPION' on a PATHFINDER RAILTOURS special from Eastleigh via Gloucester to Kingswear and return.
Sadly, this magnificent machine developed engine trouble that resulted in an engine seizure after successfully hauling a cement train on a test run on the mainline between Avonmouth and Gloucester, the sight of which was an absolute treat in itself.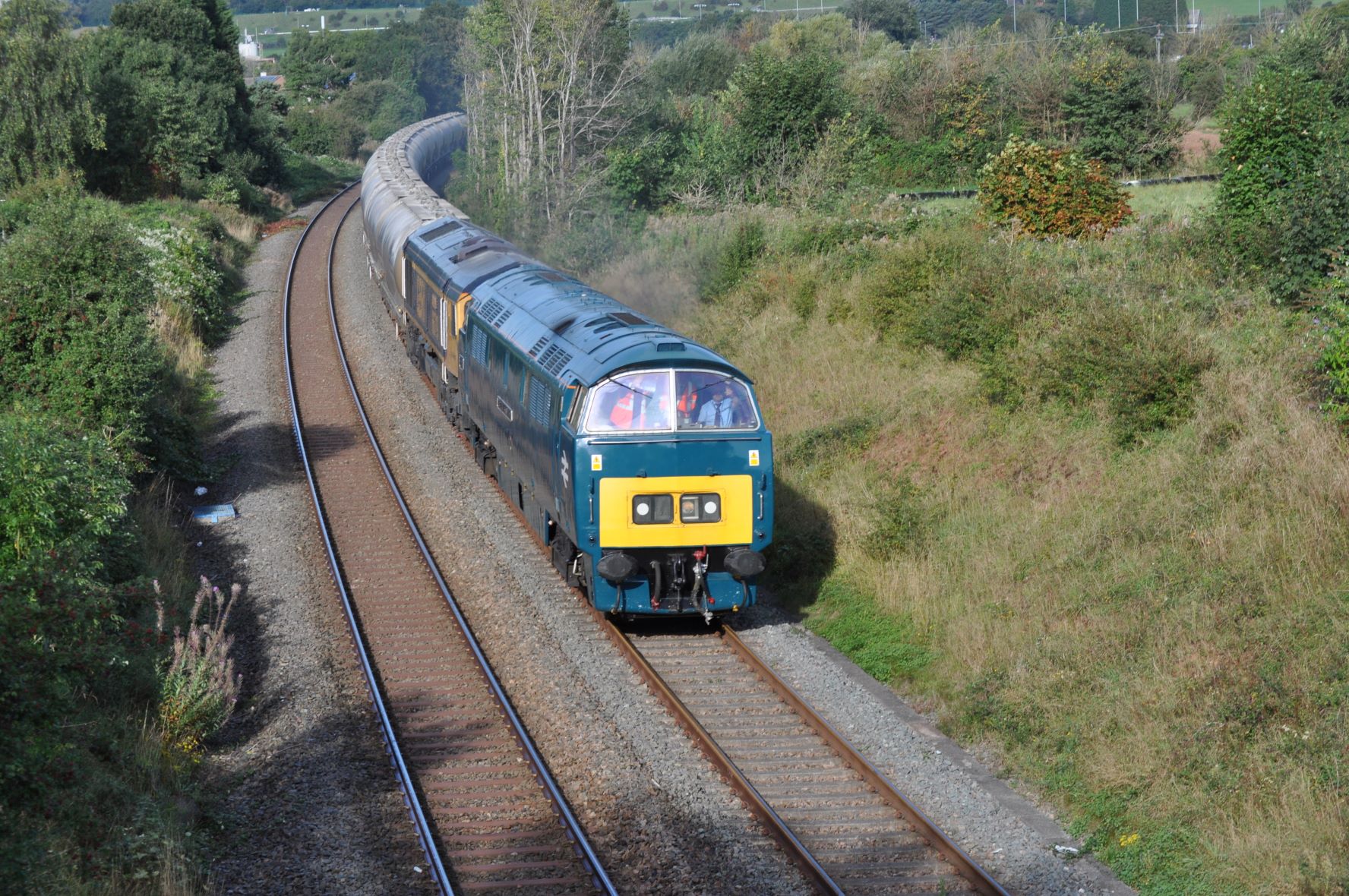 Class 52 D1015 'WESTERN CHAMPION' leading a GBRf Class 66 (66719) on the climb at Brentry Bank, Bristol when working the 6M42 0920 Avonmouth to Penyffordd cement working on 16th September 2021 as part of a mainline test run which sadly resulted in damage to one of her Bristol-Siddeley Maybach MD655 engines. The Class 52 worked the freight as far as Gloucester. Photo by Graham Perry © CC BY-NC 3.0
The DEPG joins with 'Western' and 'hydraulic' fans all over the country in expressing our support for all of our friends at the DTG who must be going through agony after suffering this setback. We feel their pain – but we all need to look beyond this, to look forward to the day when we see D1015 in her rightful place, back out on the mainline once again.
LOCO NEWS:
Given the efforts of the last few days, we won't have time for a detailed roundup of loco news this week, but we will be back to normal format in time for next weekend. Rest assured that progress is still being made in the background.
BOOK REVIEW – As announced last week, the DEPG 2022 CALENDAR is now available and the first copies will be mailed out during this coming week. Here's a summary of the 12 high-resolution photos that have been so kindly donated by our members and supporters this year: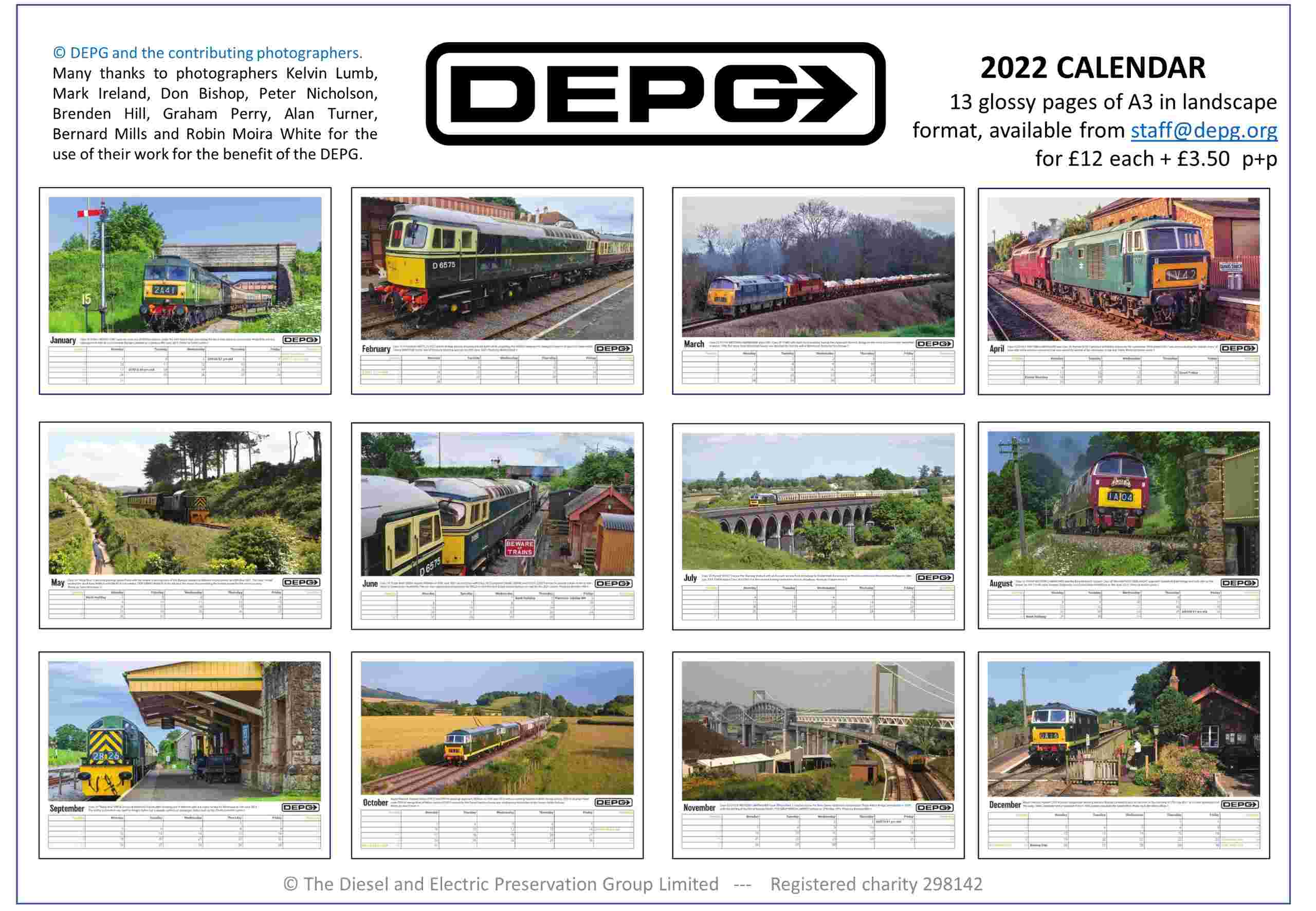 There is an animated video on our website that steps through the calendar month-by-month so CLICK HERE to view the animation.
We have been able to keep the price the same as last year, so the calendar will again cost the princely sum of £1 per month, so we think that is a bargain that is not to be missed. Click here to order your copy while stocks last.
DEPG WEBSITE: Now updated with the new 2022 CALENDAR and the newly-added PRE-OWNED BOOKS (there are plenty more yet to be added so keep an eye on this product category).
WSR NEWS: The next event that is coming up in two weeks time is the AUTUMN STEAM GALA during which we will be providing our Class 35 'Hymek' D7018 in support of the four steam locos that will be operating a 3-day gala schedule. This will be another opportunity to enjoy haulage behind D7018 before her final scheduled run of 2021 that will take place on Saturday 16th October (re-scheduled from the 25th September).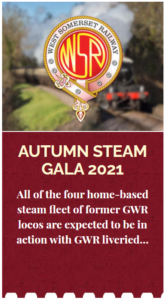 Go to previous Weekly Roundup post