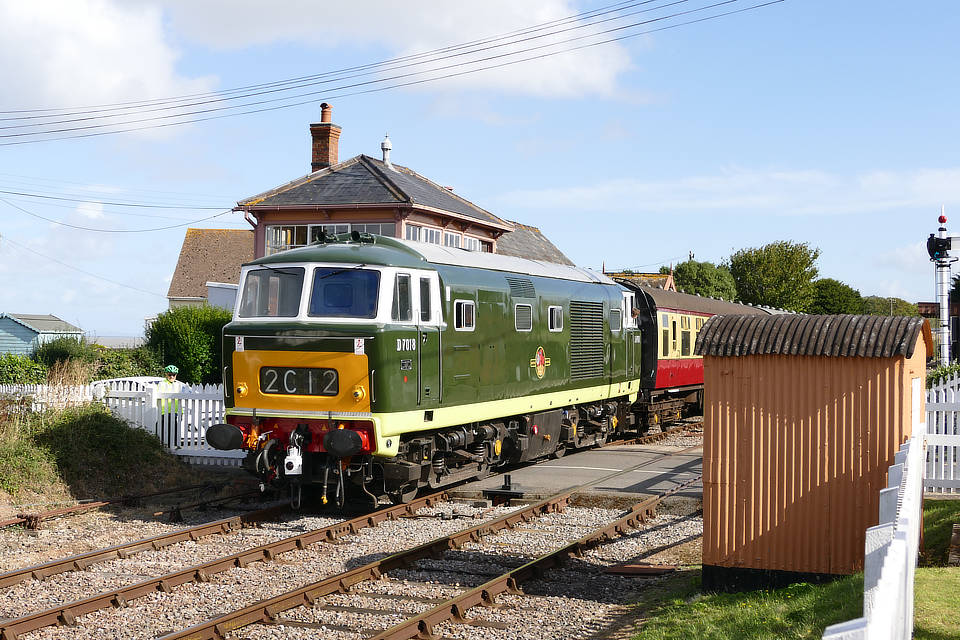 Beyer-Peacock 'Hymek' D7018 runs across Blue Anchor level crossing at the tail end of the 1405 Dunster to Norton Fitzwarren service (headed by WSR 2-6-0 'Mogul' 9351) on 1st October 2021. Photo by Steve Edge © CC BY-NC 3.0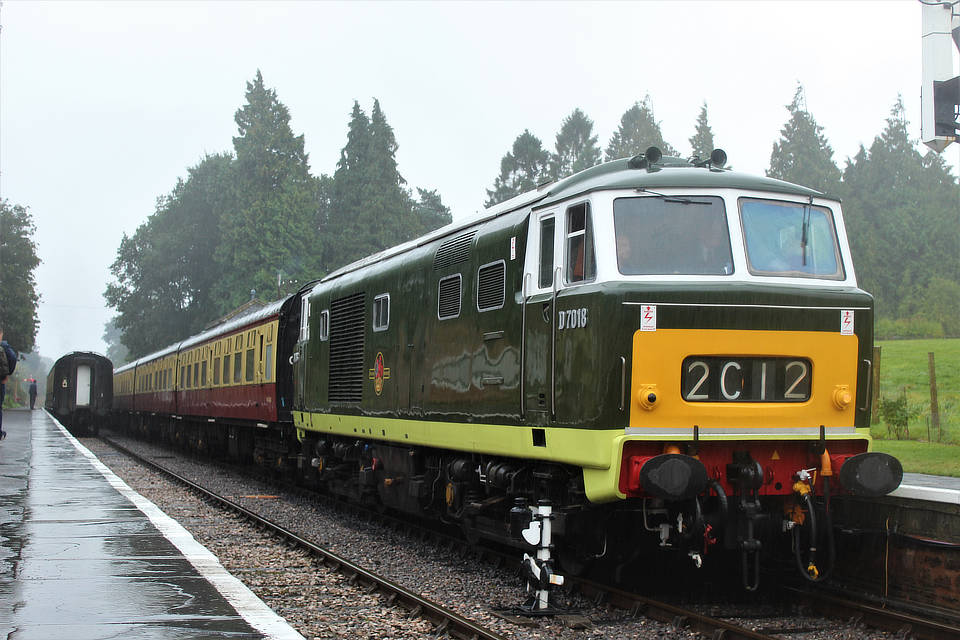 Beyer-Peacock 'Hymek' D7018 stands at Crowcombe Heathfield with the 1230 Bishops Lydeard to Dunster (for Minehead) service on the very wet second day of the Autumn Steam Gala, on 2nd October 2021. Photo by Joseph Hart © CC BY-NC 3.0
After the intensive timetable of the previous weekend, the WSR has returned to the 'RED' timetable for the remainder of October, with the addition of some 'Quantock Belle' dining services and some Steam Experience Courses. The Diesel Experience Courses will not restart until next year because the heritage freight train is stranded at Minehead until the Seaward Way level crossing is re-opened. Click here for an update on the Seaward Way project.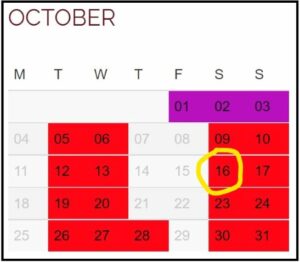 There is only one diesel-hauled 'excursion' special remaining this season, and it will run on this coming Saturday 16th October with haulage to be provided by Class 35 'Hymek' D7018 including an extension to Norton Fitzwarren on the return leg of the journey. This is going to be a great opportunity to get some diesel-hydraulic haulage and listen to that Maybach Music, so please come along and ride the 'excursion' special on Saturday 16th October.
MANY THANKS to all who have bought a ticket or merchandise during this 2021 running season and in doing so contributed to making the case for more diesel-hauled services on the WSR next year !
LOCO NEWS:
Class 52 D1010 'WESTERN CAMPAIGNER' – this week, as the depot was closed to the public, we were able to make noise and make more progress on D1010, the first task being to remove the seats from the 'B' end cab and lift the floor panels so that the sub-frame that supports the cab could be inspected. The subframe is supported by four sets of columns and the frontmost set had corroded away many years ago and had been replaced by new box-section supports. However, our inspection showed that the second-from-front row of supports have now corroded away and have to be replaced, but the third and fourth rows are OK. This is important information because it tells us how much disaasembly we have to do to be able to get at the corroded supports to perform the repairs.
The photo of the corroded support may look bad, but it is just a very small piece of metal in a very large locomotive, so it will be dealt with as soon as we can clear the area around it.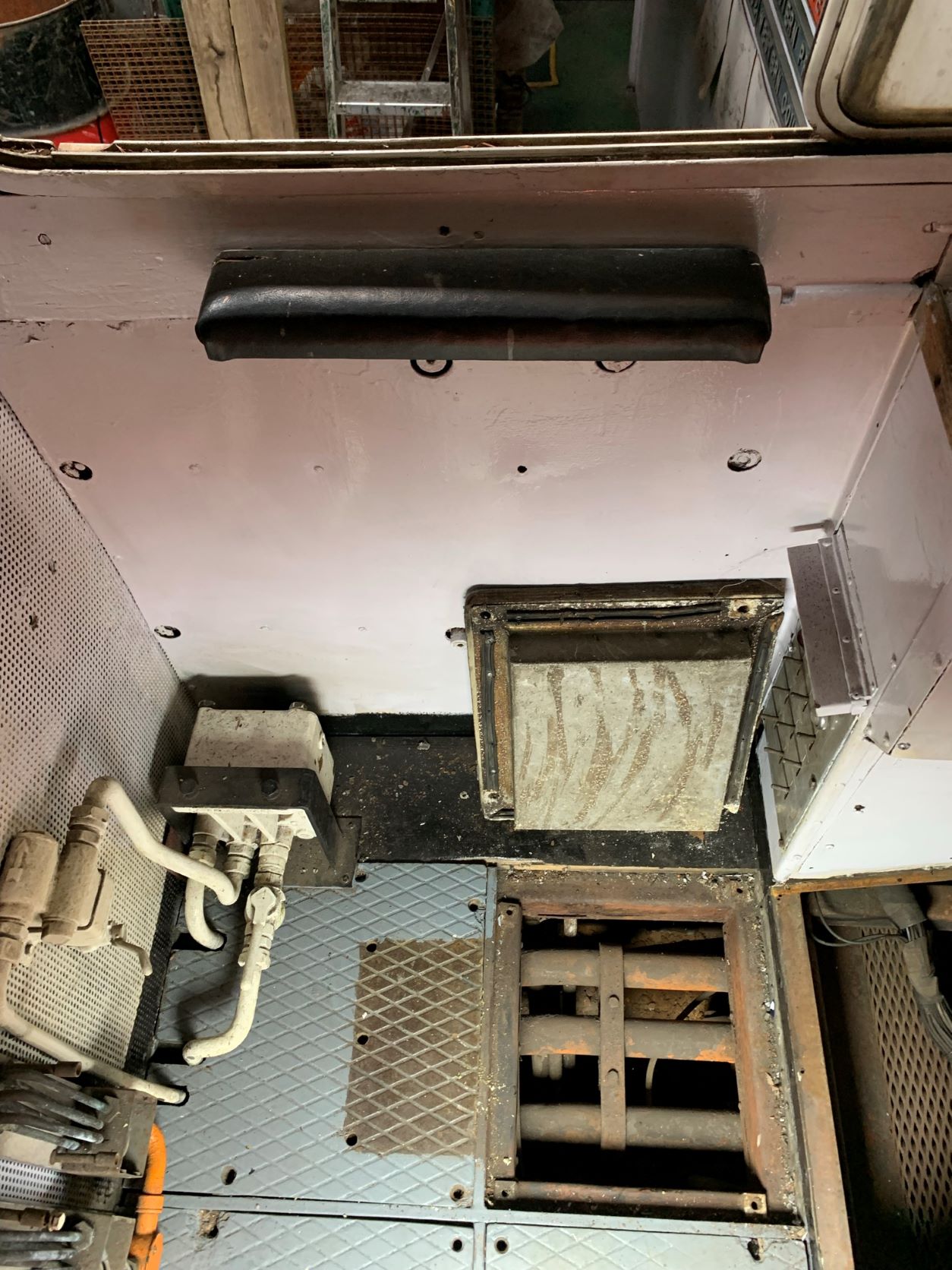 D1010 cab B driver's seat has been removed to allow the cab floor to be lifted. The lifted section is shown alongside, leaning against the cab wall. Pictured at Williton on 9th October 2021 by Andy Royal © CC BY-NC 3.0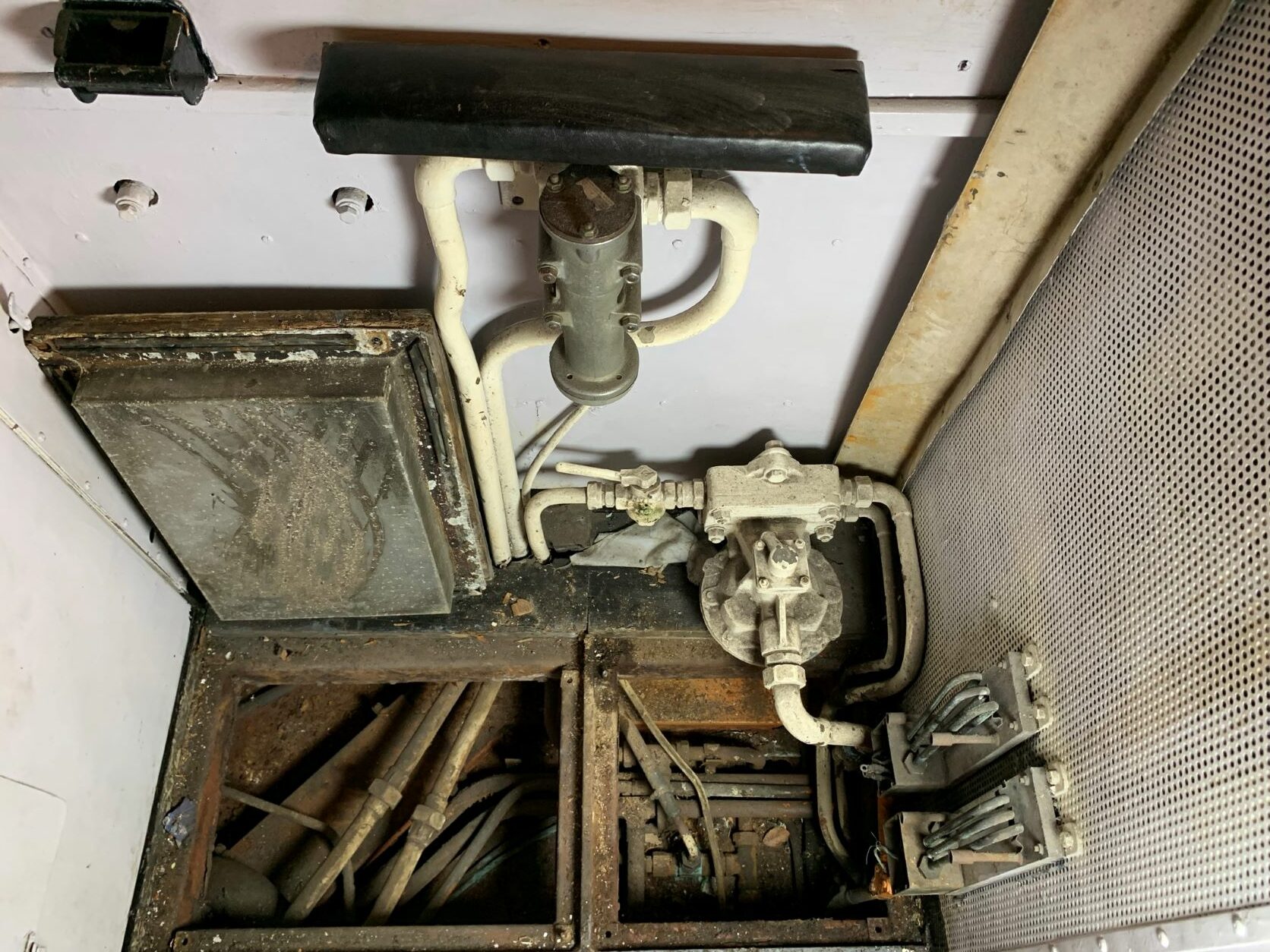 D1010 cab B secondman's seat has been removed to allow the cab floor to be lifted. One of the lifted sections is shown alongside, leaning against the cab wall. Pictured at Williton on 9th October 2021 by Andy Royal © CC BY-NC 3.0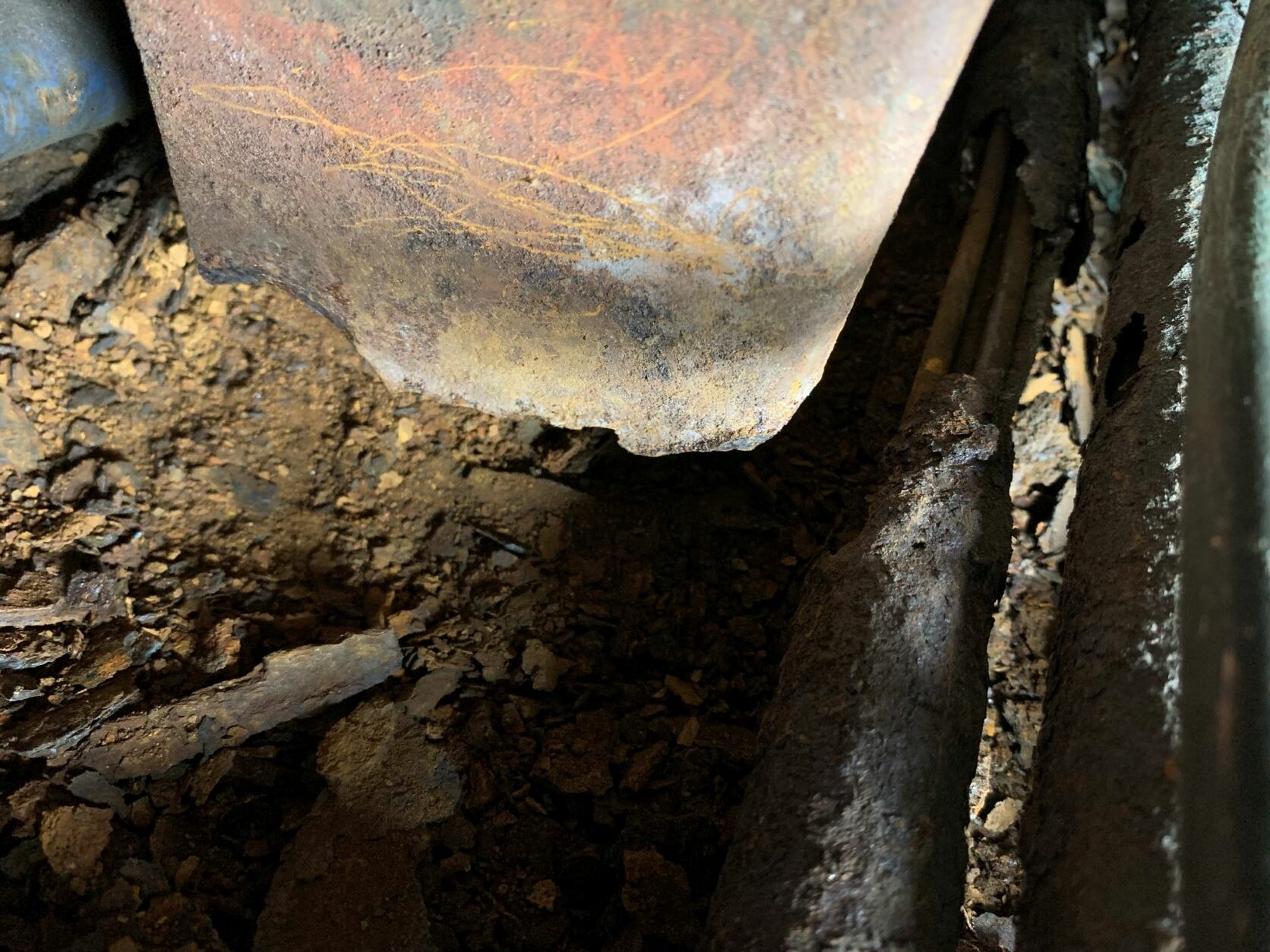 D1010 cab B second row subframe supports have been completely eaten away and will need to be replaced. To the right of the support are two electrical wiring conduits, both of which are also in the final stages of dissolving. Pictured at Williton on 9th October 2021 by Andy Royal © CC BY-NC 3.0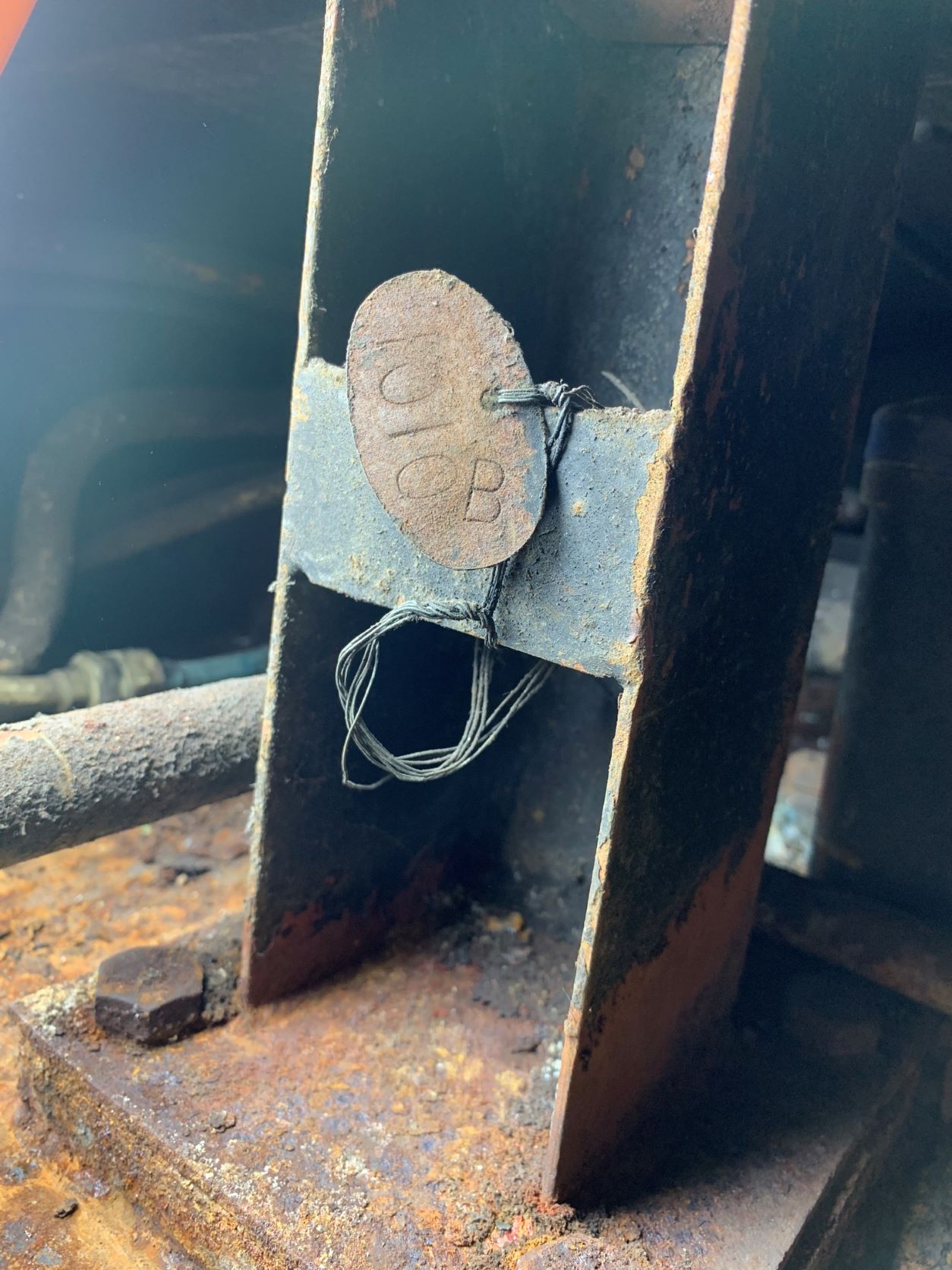 Class 35 'Hymek' D7017 – this loco is waiting patiently for her turn in the 'Swindon Shed' where she needs to go over the pit for the bogies to be disconnected before the body can be lifted. This work is pencilled-in for the 'work week' that will take place in the first week of November, subject to space being available in the 'Swindon Shed'.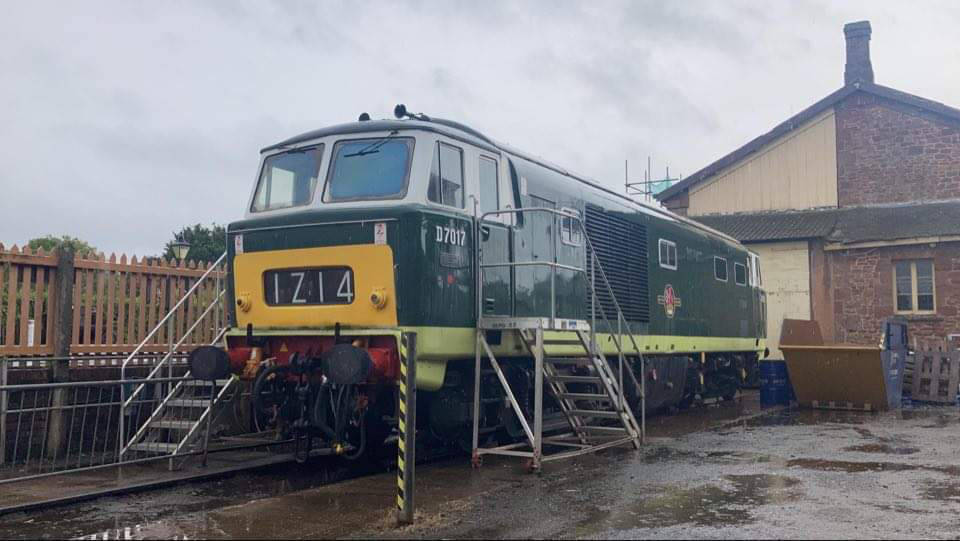 Class 35 'Hymek' D7017 was open to the public but did get many visitors during the very wet weather on the second day of the Autumn Steam Gala, 2nd October 2021. Photo by Josh Brinsford © CC BY-NC 3.0
Class 35 'Hymek' D7018 – this loco is booked and is being readied for the last 'excursion' special of the 2021 season that will run this coming Saturday 16th October and will include an extension to Norton Fitzwarren. Please do try to come along if you can. Tickets are available via this link or by clicking on the ticket graphic below (this is a link to the WSR website):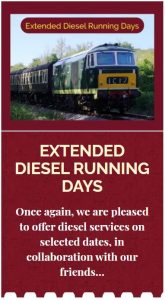 Class 14 'Teddy Bear' D9518 – we have some MAJOR progress to report on this loco this week because the team led by Ryan Pope at WSR Restorations have completed the rivetting work and the hornguides are now back in the frames and preparations are being made to re-wheel the loco. This is great news and has been made possible by the donations of the many 'Teddy Bear' supporters who have contributed to the D9518 Restoration Appeal. Thank you very much !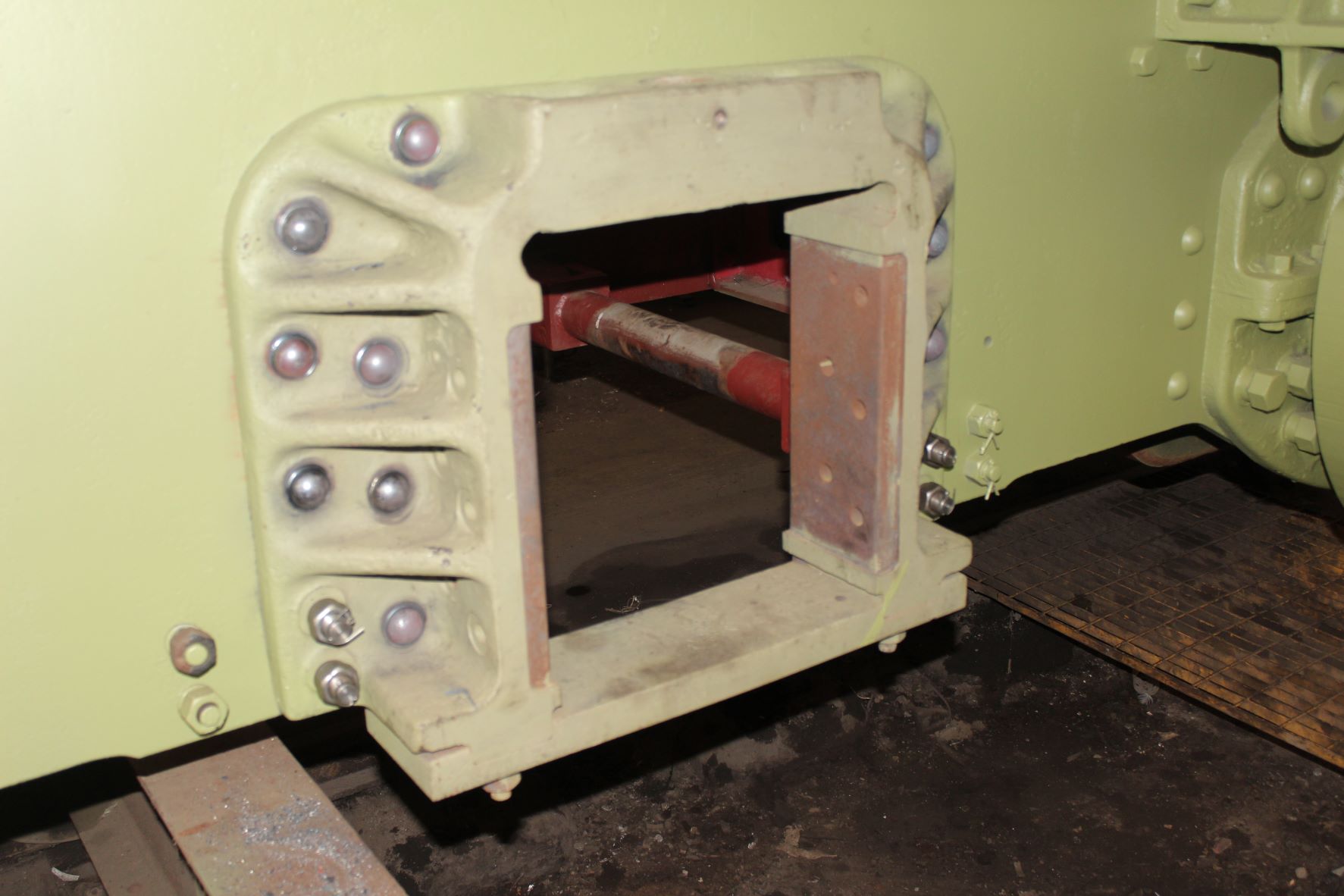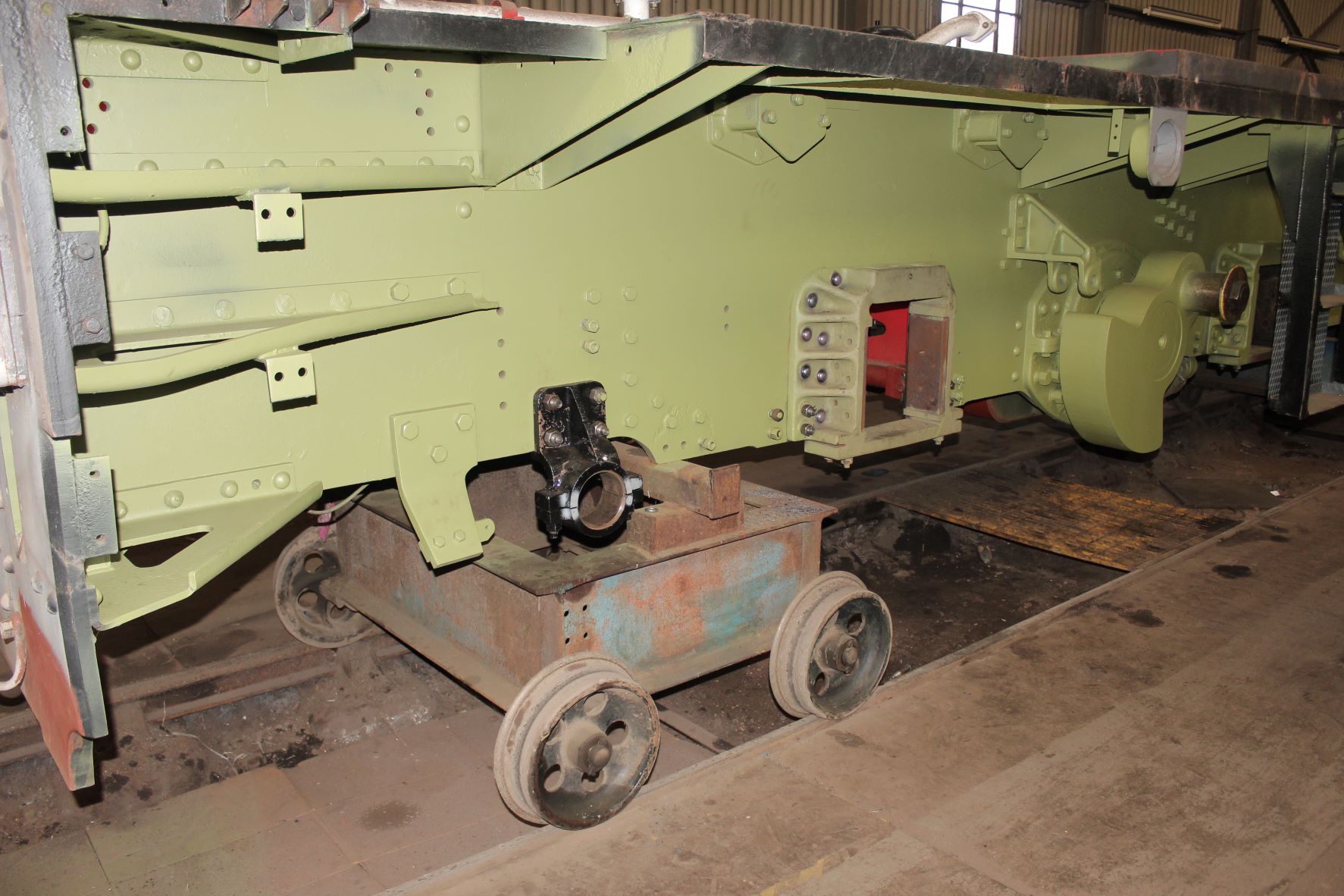 D9518 frames and hornguides being prepared for re-wheeling at the Swindon Shed in Williton. Photo taken on 9th October 2021 by Terry Deacon © CC BY-NC 3.0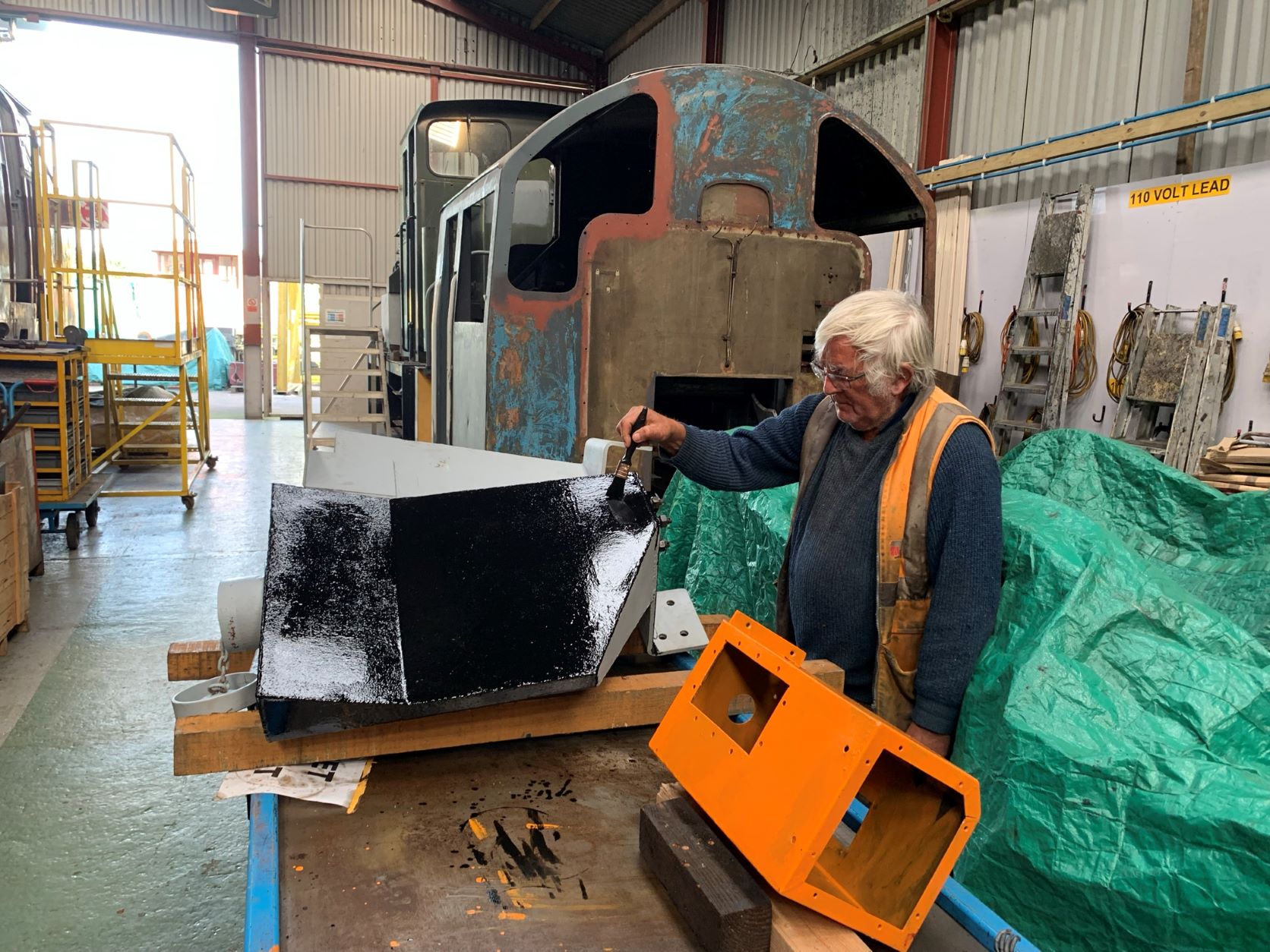 D9518 sandboxes and electrical enclosures get a coat of gloss from Roy J at Williton on 9th October 2021, with the loco cab providing the backdrop. Photo by Andy Royal © CC BY-NC 3.0
This loco is the subject of a fundraising appeal so please follow this link to find out more. We need your help ! In addition to funds, we also need plenty of HANDS. If you love the 'Teddy Bears' and you are not already a member of the DEPG, please join us so that you can become one of the team that is going to return D9518 to full operational condition as 'NCB No. 7'.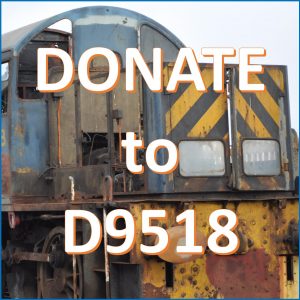 Class 14 'Teddy Bear' D9526 – this loco is based at the Kent & East Sussex Railway for the rest of this year and is expected to be back in action during this coming week after receiving attention to her engine governor.
Class 47 47077 'NORTH STAR' – this loco remains stuck at Bishops Lydeard waiting for instructions for her move to the North Yorkshire Moors Railway. Unfortunately this running season has passed us by and the loco hasn't been able to work (or earn). We really hope that this issue is resolved soon and the loco can move to the NYMR as planned.
Andrew Barclay 0-4-0DH 578 – the engine governor override lever has now been repaired by John C so attention has moved back to bodywork repairs that need to be completed while the loco is residing inside the loco shed.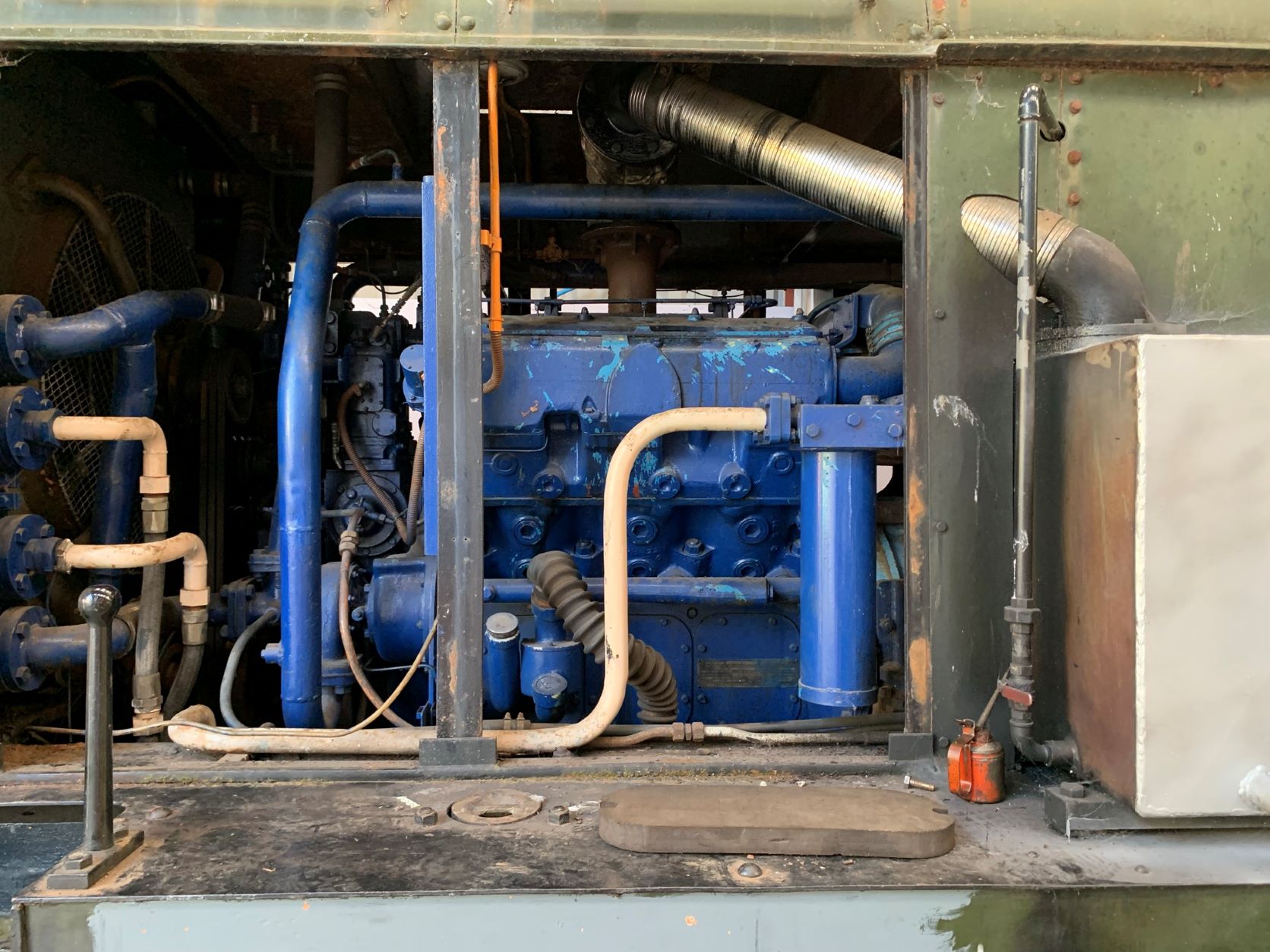 Andrew Barclay 0-4-0DH number 578 (ROF 1) with the engine doors removed to reveal the Paxman 6RPHL V6 diesel engine at Williton on 9th October 2021. Photo by Andy Royal © CC BY-NC 3.0
Many thanks to all of our volunteers who are hard at work cleaning, painting, maintaining, restoring, managing and fund raising for our fleet of heritage locomotives !
BOOK REVIEW – after covering two new books during the last two weeks, we will skip this feature this week and just use the space for a brazen plug for our 2022 calendar using this new image by DEPG Publicity Officer Mark Bladwell:
Beyer-Peacock 'Hymek' D7018 displays '2022' as a reminder to everyone to get their DEPG 2022 calendars on order while stocks last. Photo taken at Williton on 5th October 2021 by Mark Bladwell © CC BY-NC 3.0
And here it is, our DEPG 2022 CALENDAR is now IN STOCK in glossy A3 landscape format. Here's a summary of the 12 high-resolution photos that have been so kindly donated by our members and supporters this year: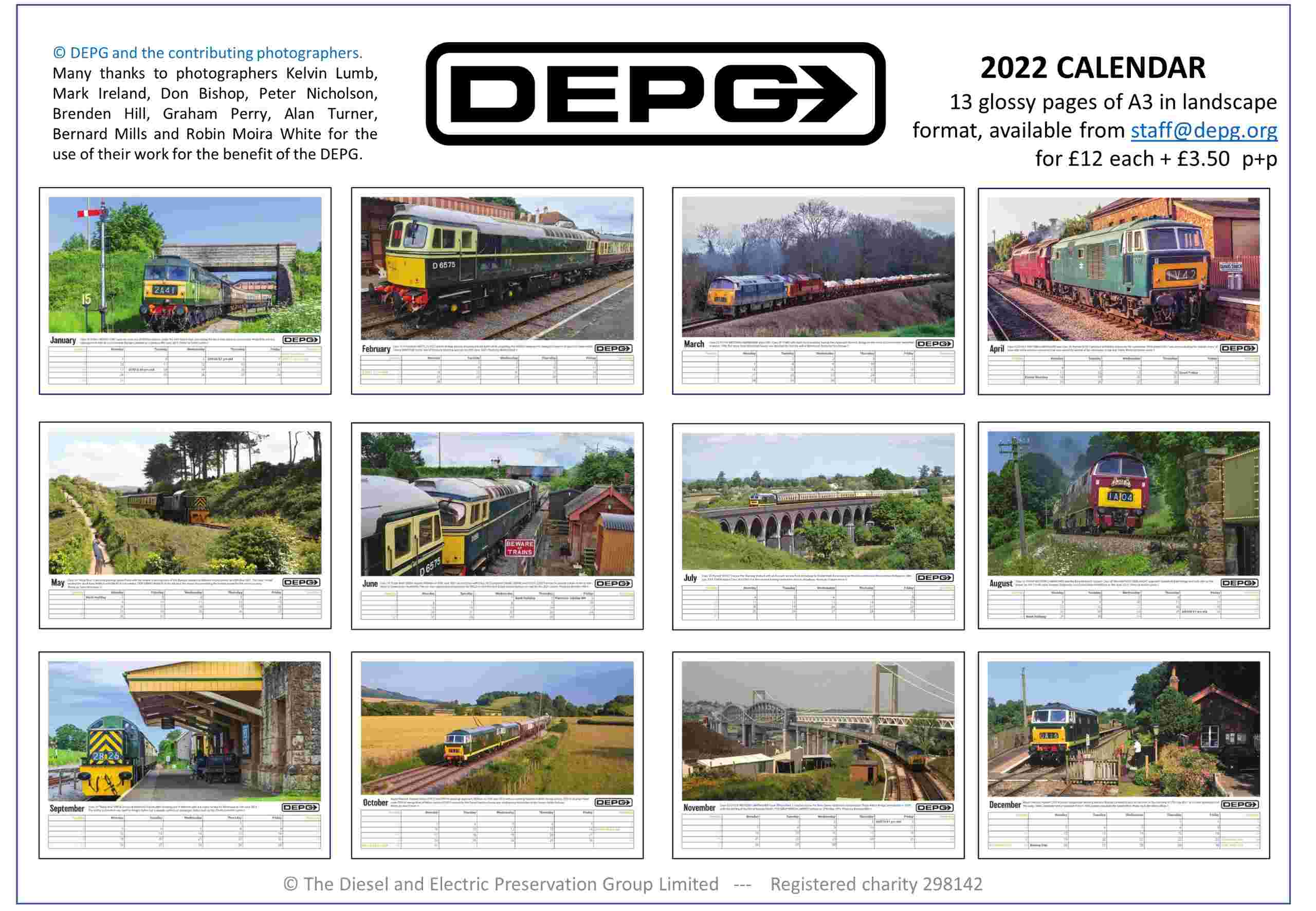 ON SHED – last week's photo of three Class 14s at Gloucester Horton Road depot on their way to Hull Dairycoates depot triggered several responses from readers who remembered the transfer of 33 Class 14 locomotives to the Eastern Region in 1967. We received this response from WSR Director of Mechanical Engineering Bob Meanley: 
"The photo of the 'Teddy Bears' at Gloucester reminds me that I saw several train loads of them passing through Tamworth whilst en route to Hull. By the time that they got to us, they were usually formed up with a couple of vans between each engine to spread the load on bridges. That wasn't always the case as I recall that we occasionally had trains of anything up to 5 light loco's coupled together on balancing turns from Saltley to Toton. The most I saw were three 9F's coupled up to two 8F's. I recall one Saturday afternoon when a train of 'Teddy Bears' came through headed unbelievably by a 'Hymek'. We did have a couple of previous occasions where 'Hymeks' got through to Derby but it was very very rare. The 'Hymek' must have been taken off at Toton, I would think, as it came back light engine some hours later."
Many thanks to Bob for sharing this information with us all. We also have a photo of a transfer move from Alan Walker, showing a Class 37 hauling a mixed goods train but with two class 14s included in the mix! Quite a rare treat for the Eastern Region photographers of the day.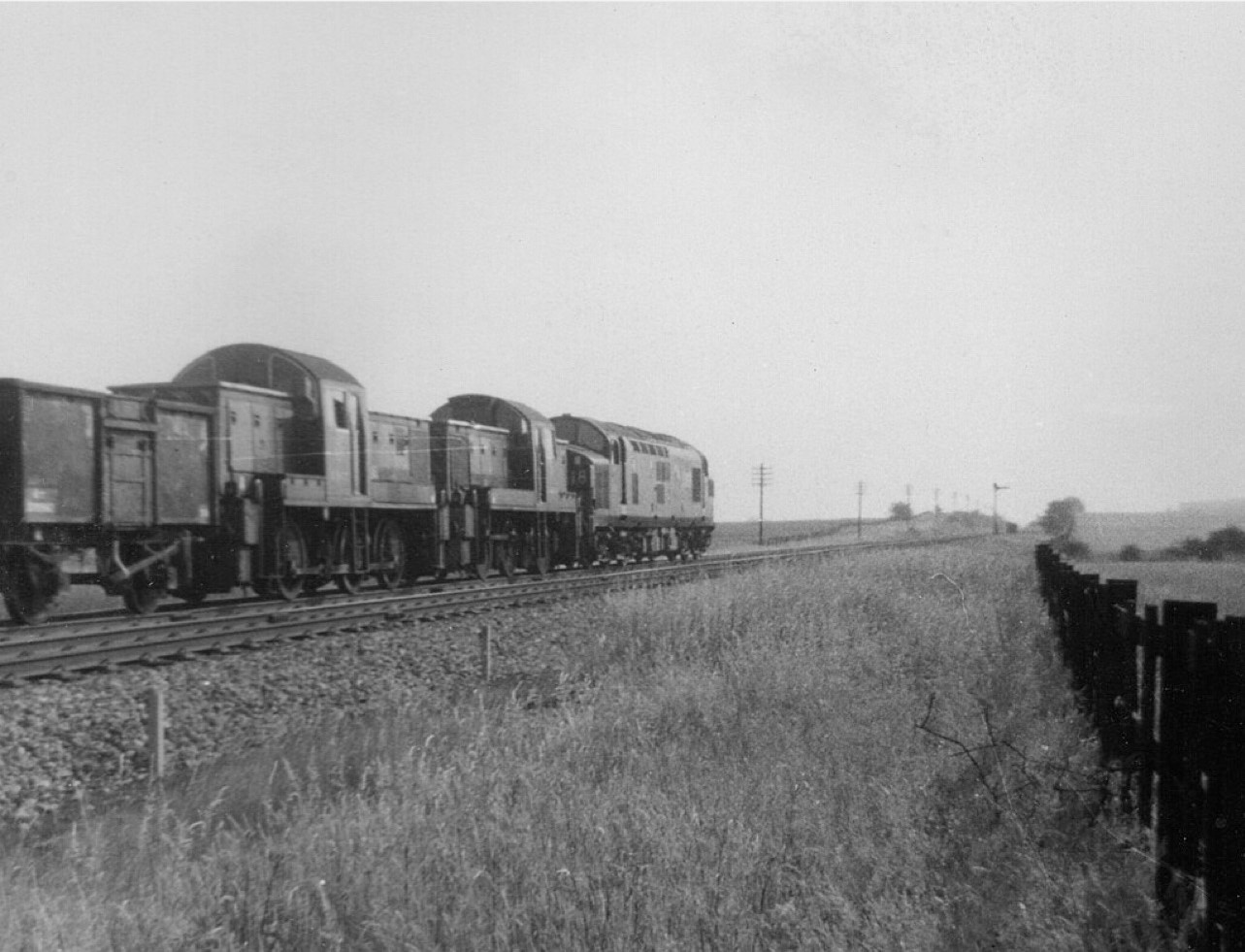 Class 37 D6736 (37036, 37507, 37605) hauls a mixed freight from Healey Mills (Wakefield) towards Hull on 5th July 1967 with two Class 14 'Teddy Bears' D9548 and D9512 en route to Hull Dairycoates depot. Photographed at Featherstone, Yorkshire by Alan Walker ©
Many thanks to Bob and Alan for sharing this information, it is much appreciated
DEPG NEWS – we continue to focus on preparing the locos and the depot for the upcoming winter period, ensuring that the right locos are in the right places for the work that is planned to take place over winter. The Autumn 'work week' starts on Saturday 30th October and runs until Sunday 7th November, so we welcome volunteers old and new to come along during that week and help us with tasks that are both loco-related and infrastructure-related. We look forward to seeing you.
DEPG WEBSITE: Please take a look at our online store – we now have our new 2022 CALENDAR and the newly-added PRE-OWNED BOOKS (there are plenty more yet to be added so keep an eye on this product category) and much more. Thanks in advance ! We intend to add DEPG beanie hats and DEPG fleece jackets soon, but please let us know if there is something else that you think we should be offering.
WSR NEWS: The unofficial WSR news and information site wsr.org.uk carries a news item giving feedback on the questions that were raised during the recent AGM of the WSR. The information has been provided by the WSR and is available by clicking this link. Many thanks to Steve Edge for his excellent website and for the work that he does to make it the go-to source for WSR news and photographs.
Go to previous Weekly Roundup post