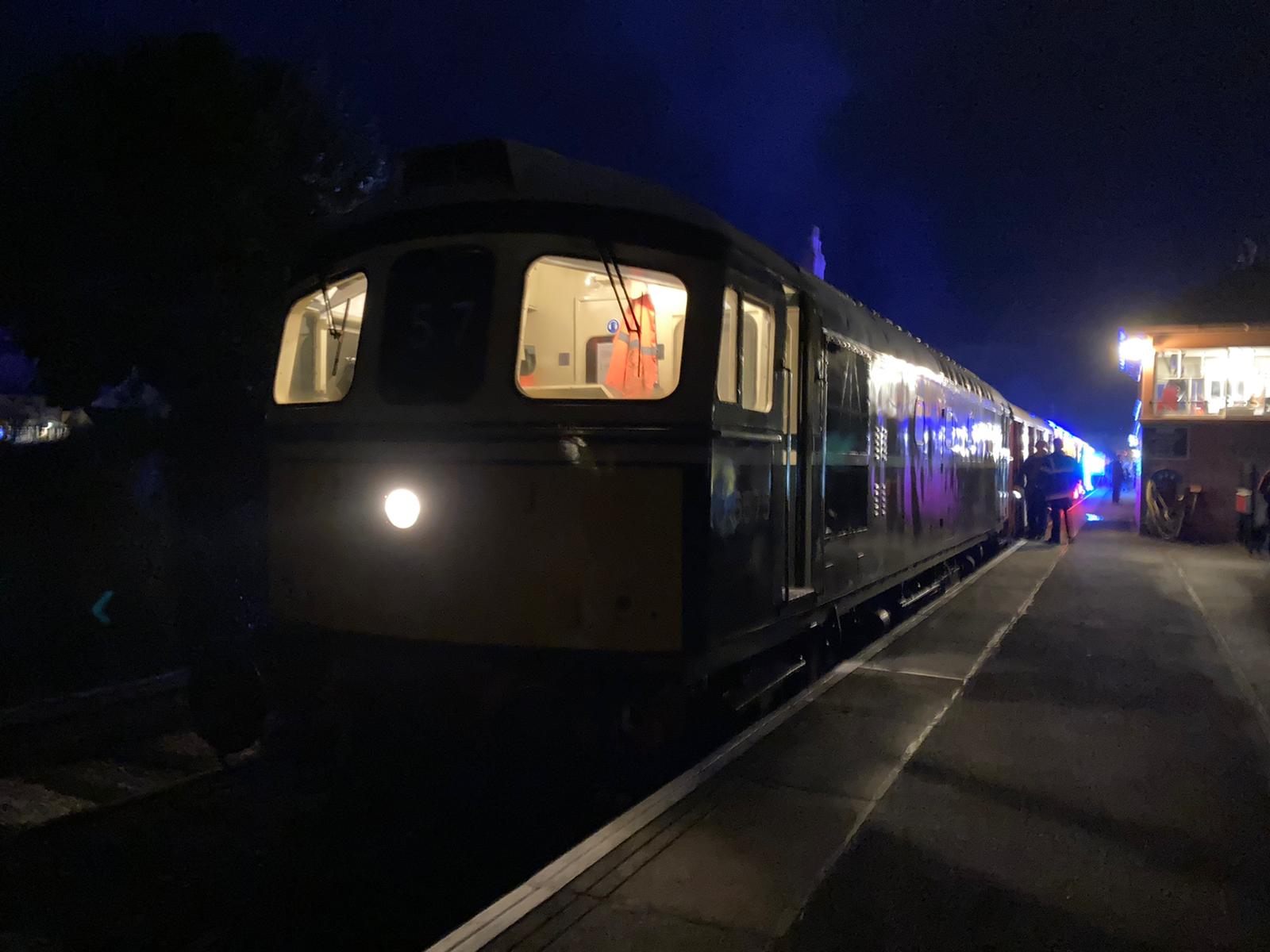 Class 33 'Crompton' D6575 (33 057) hauled the return leg of the very last 'WINTERLIGHTS' service of 2021, pictured after arriving at Bishops Lydeard on 31st December 2021, marking the end of a very succesful festive season for the WSR. Perhaps the diesel loco will also get some festive lights next year. Photo by Josh Brinsford © CC BY-NC 3.0
HAPPY NEW YEAR to all of our members and supporters ! Let's hope that it is going to be a good one for all of you and for people all around the world !
Here's a quick roundup of the last 12 months to put us in the mood for thinking about the good things that are ahead of us in 2022:
JANUARY 2021 – We vacated the Brunel-era broad gauge Goods Shed at Williton to allow a full structural survey to take place.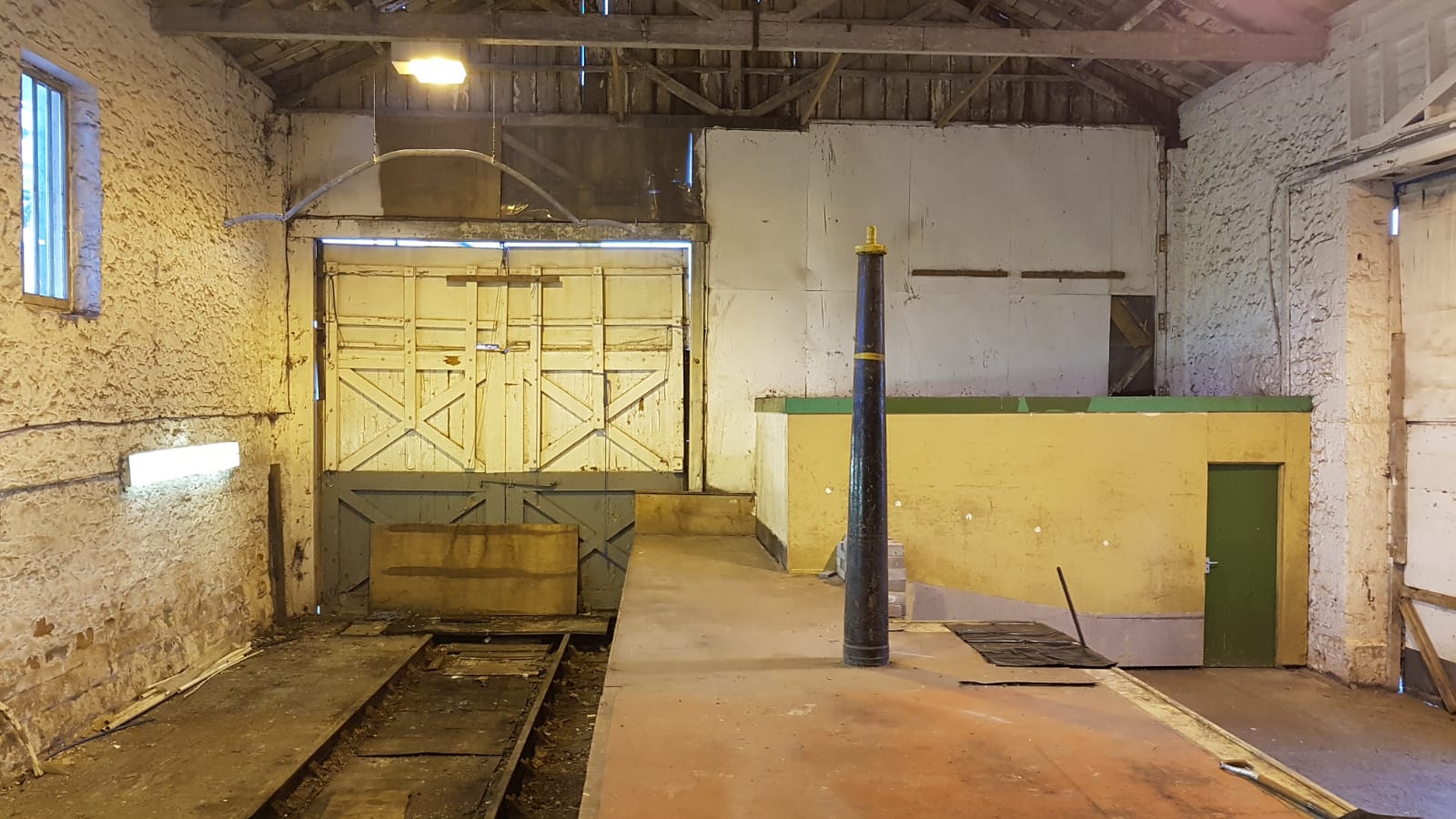 Inside south-facing view of the Old Goods Shed at Williton showing the railway siding on the left and the roadway access on the right of the central platform. The black-coloured column is the cast iron support for the goods crane. Photo by Martin Howard © CC BY-NC 3.0
FEBRUARY 2021 – Our online store went live and our first online sale was recorded !
MARCH 2021 – Both Class 33 'Cromptons' were busy working engineering trains in support of track upgrades along the length of the WSR.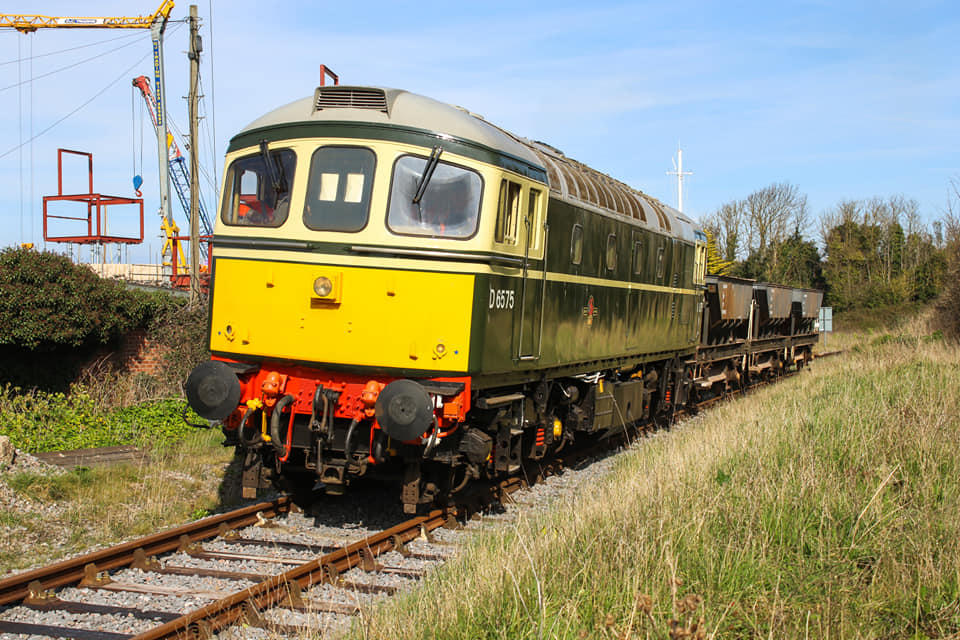 Class 33 'Crompton' D6575 (33 057) was captured at Goviers Lane Crossing at Watchet on 22nd March 2021 while in the process of returning three empty 'DOGFISH' ballast wagons to the Permanent Way depot at Dunster after the completion of track relaying work at Doniford. Photo by Tom Courtney © CC BY-NC 3.0
APRIL 2021 – We published our booklet in support of fund raising for the restoration of Class 52 D1010 'WESTERN CAMPAIGNER'.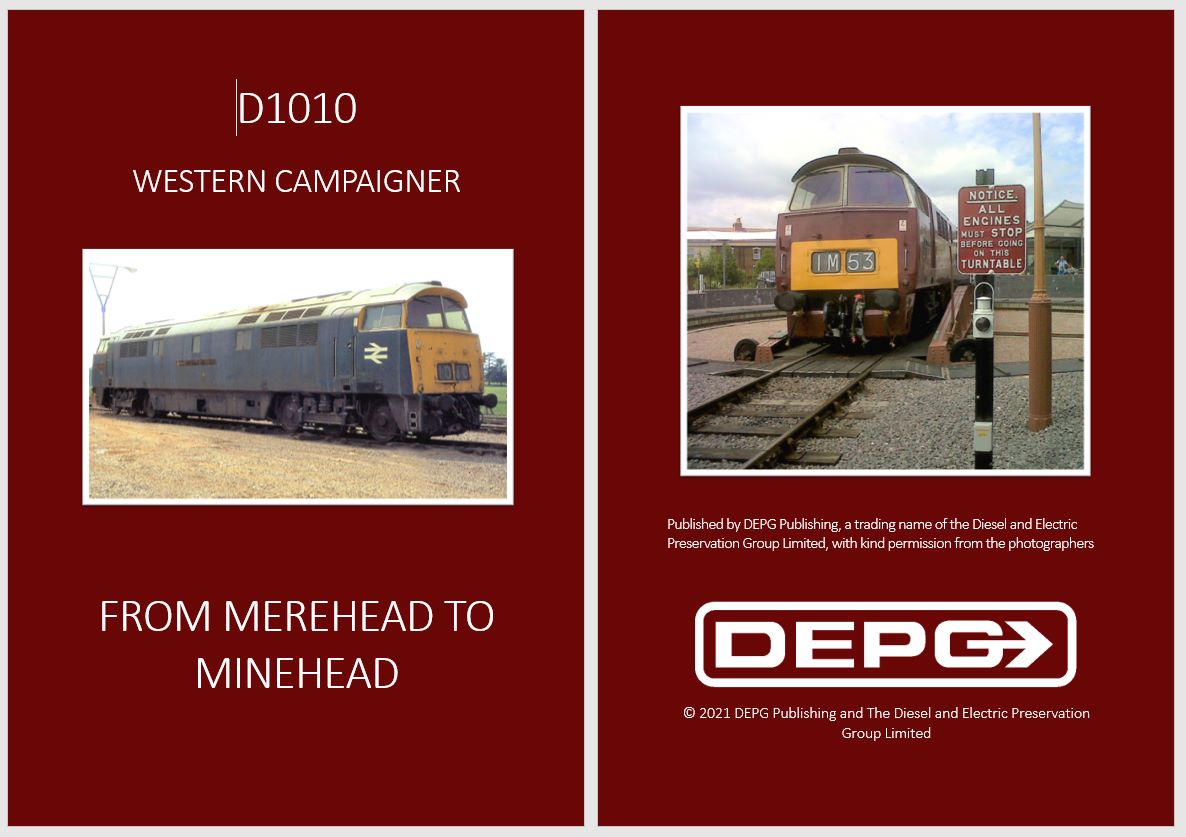 MAY 2021 – The WSR reopened for public services, the 'Cromptons' worked the crew training specials and Class 14 D9526 worked the 'Watchet Shuttle'.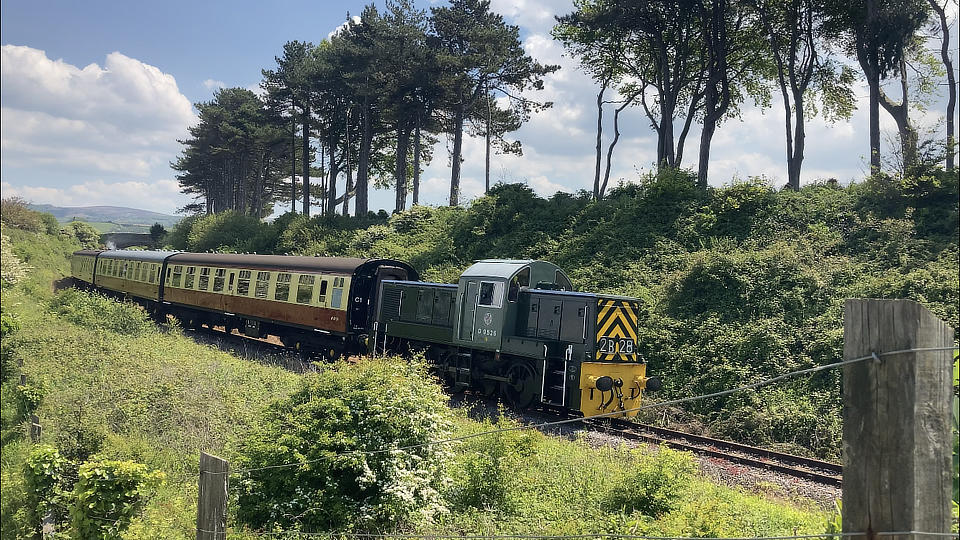 Class 14 'Teddy Bear' D9526 worked the empty stock of the 'Watchet Shuttle' public service on 29th May 2021, pictured at Splash Point by Josh Brinsford © CC BY-NC 3.0
JUNE 2021 – Class 47 47077 (D1661 47613 47840) 'NORTH STAR' emerged from bodywork repairs at Williton and ran to Bishops Lydeard.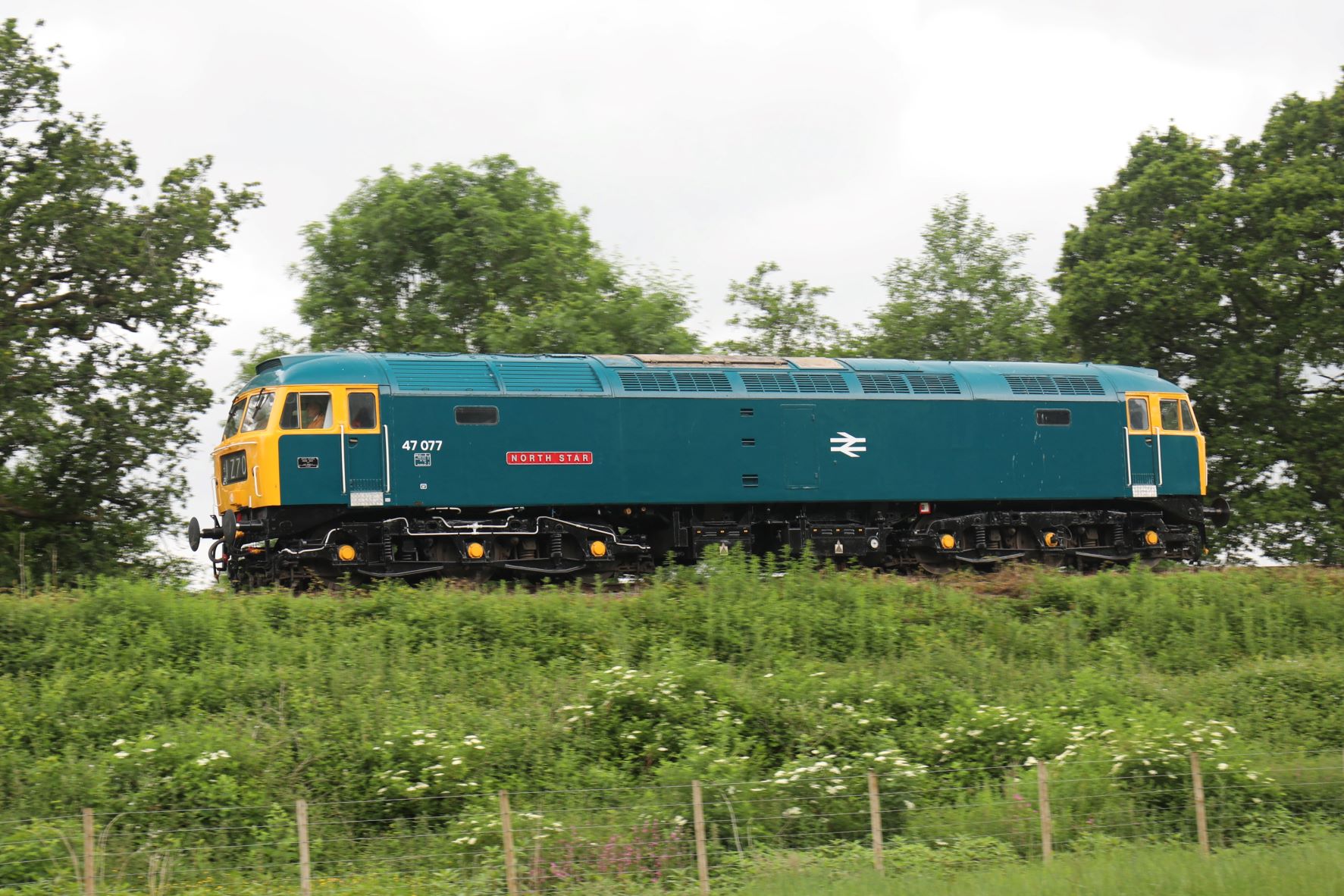 Class 47 47077 (D1661 47613 47840) 'NORTH STAR' resplendent in the late-1970s livery applied by WSR Restorations was pictured descending Watts Bank on the approach to Bishops Lydeard on 21st June 2021, her first run on the WSR since 2018. Photo by Chris Shields © CC BY-NC 3.0
JULY 2021 – Summer entertainment began with Class 35 'Hymek' D7018 in action on the Dunster 'Excursion Specials', while Class 14 D9526 moved to Kent on hire to the K&ESR.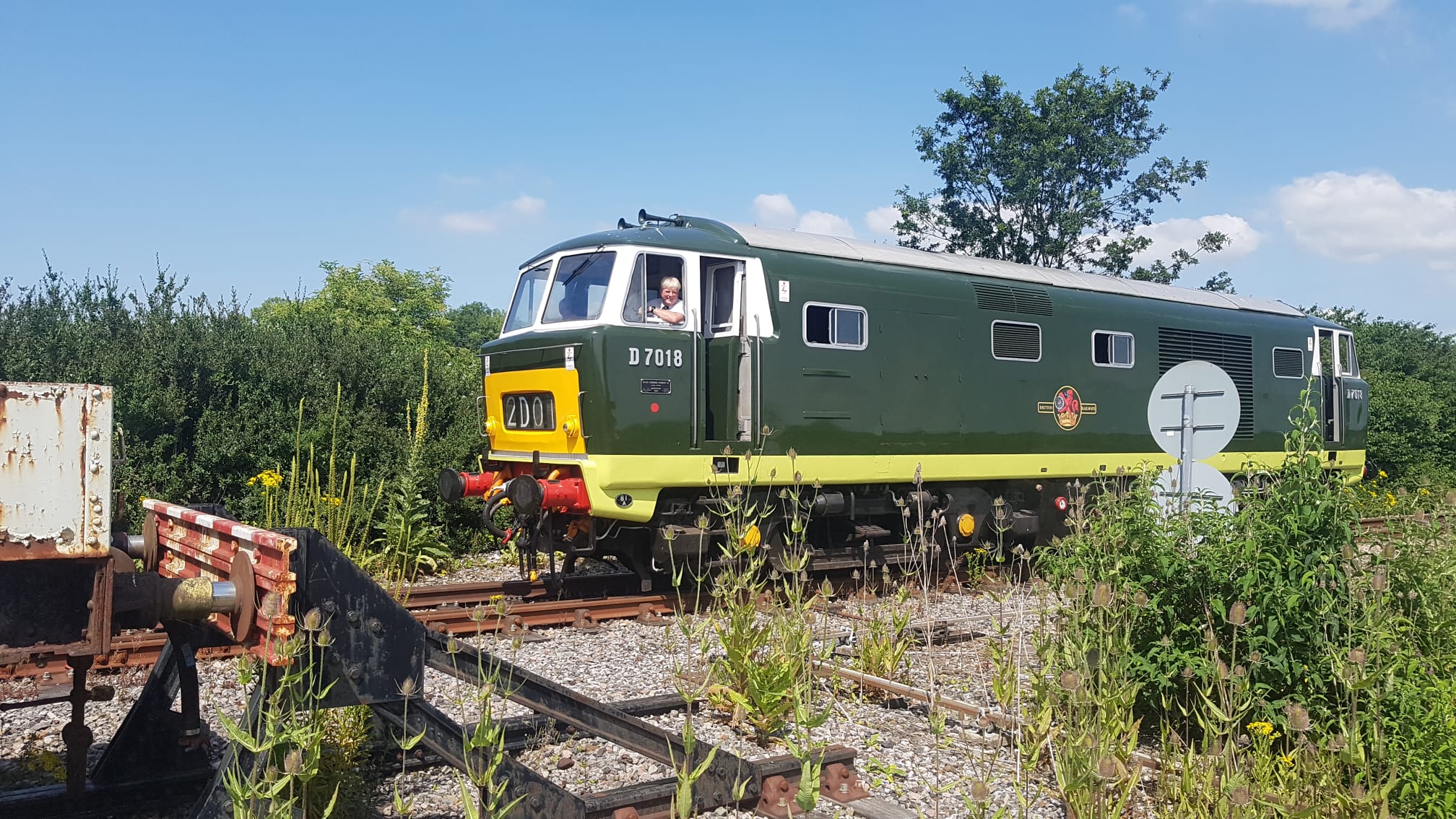 Class 35 'Hymek' D7018 was in action on the first of the 'Diesel Excursion Specials' and was pictured at Barnstaple Junction on 17th July 2021 while running around her train at Norton Fitzwarren. Photo by Martin Howard © CC BY-NC 3.0
AUGUST 2021 – Class 33 'Cromptons' D6566 (33 048) and D6575 (33 057) 'top and tailed' the 'Excursion Special' in celebration of their 60th birthdays !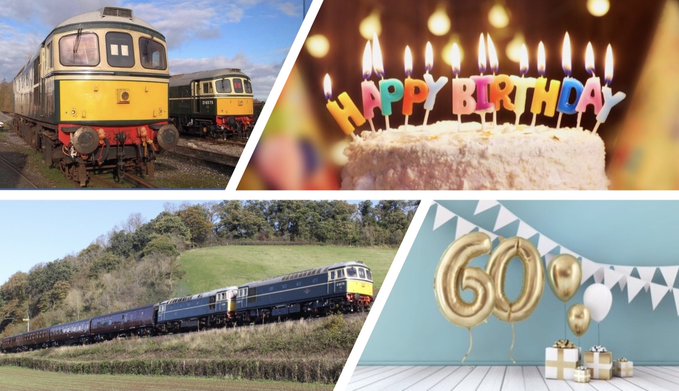 Class 33 images by Ian Robins and Peter Nicholson, card design by Natalie Royal © CC BY-NC 3.0
SEPTEMBER 2021 – The succesful and highly enjoyable MIXED TRACTION WEEKEND event took place and we hosted the RAILCAM UK team.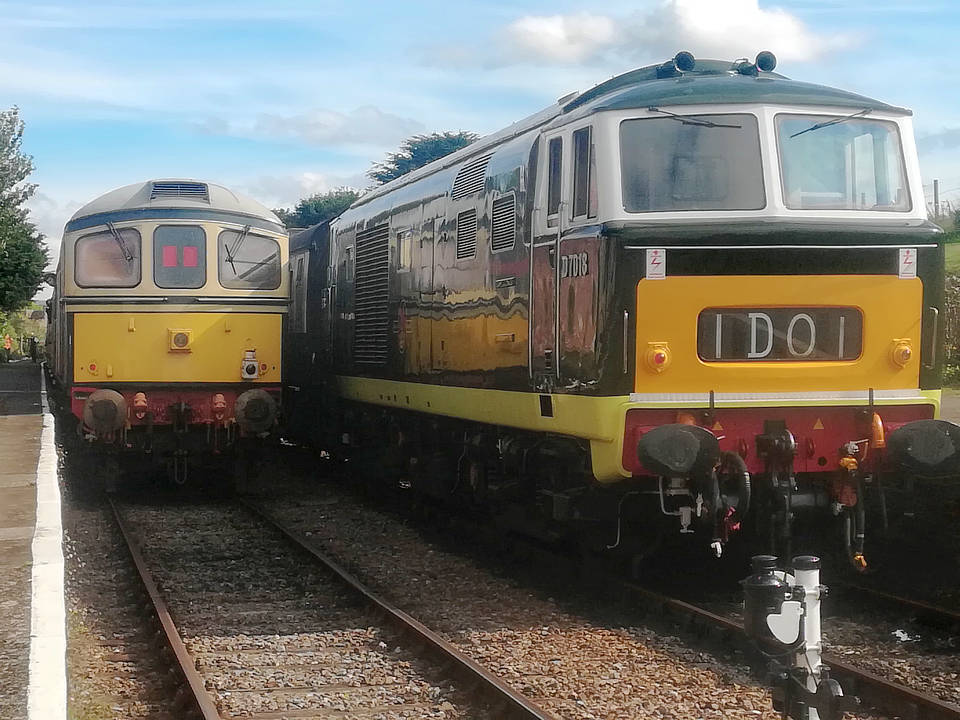 A 'Type 3' gathering with Class 33 'Crompton' D6566 (33 048) on the left (the 'up' direction towards Bishops Lydeard) and Class 35 'Hymek' D7018 on the right (the 'down' direction towards Minehead) at Blue Anchor on 17th September 2021. Photo by Barrie Childs © CC BY-NC 3.0
OCTOBER 2021 – The SEAWARD WAY LEVEL CROSSING reopened, heralding the return of through services to Minehead for the 2022 season.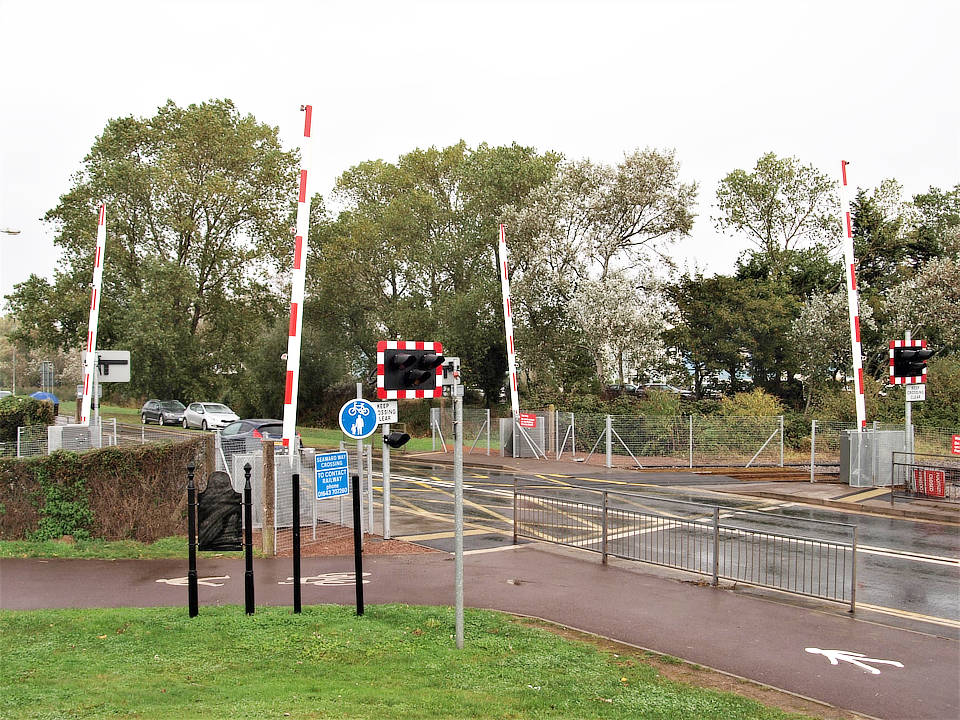 Seaward Way Level Crossing at Minehead was completely rebuilt and upgraded during 2021. Control of the crossing was handed back to the WSR Operations Department on 26 October 2021 and we are looking forward to running through to Minehead again in 2022. Photo by Richard Neal © CC BY-NC 3.0
NOVEMBER 2021 – Our annual 'WORK WEEK' saw some major steps forward with new and restored valances fitted to D1010 'WESTERN CAMPAIGNER', but even this achievement was eclipsed later in the month by the re-wheeling of Class 14 D9518 !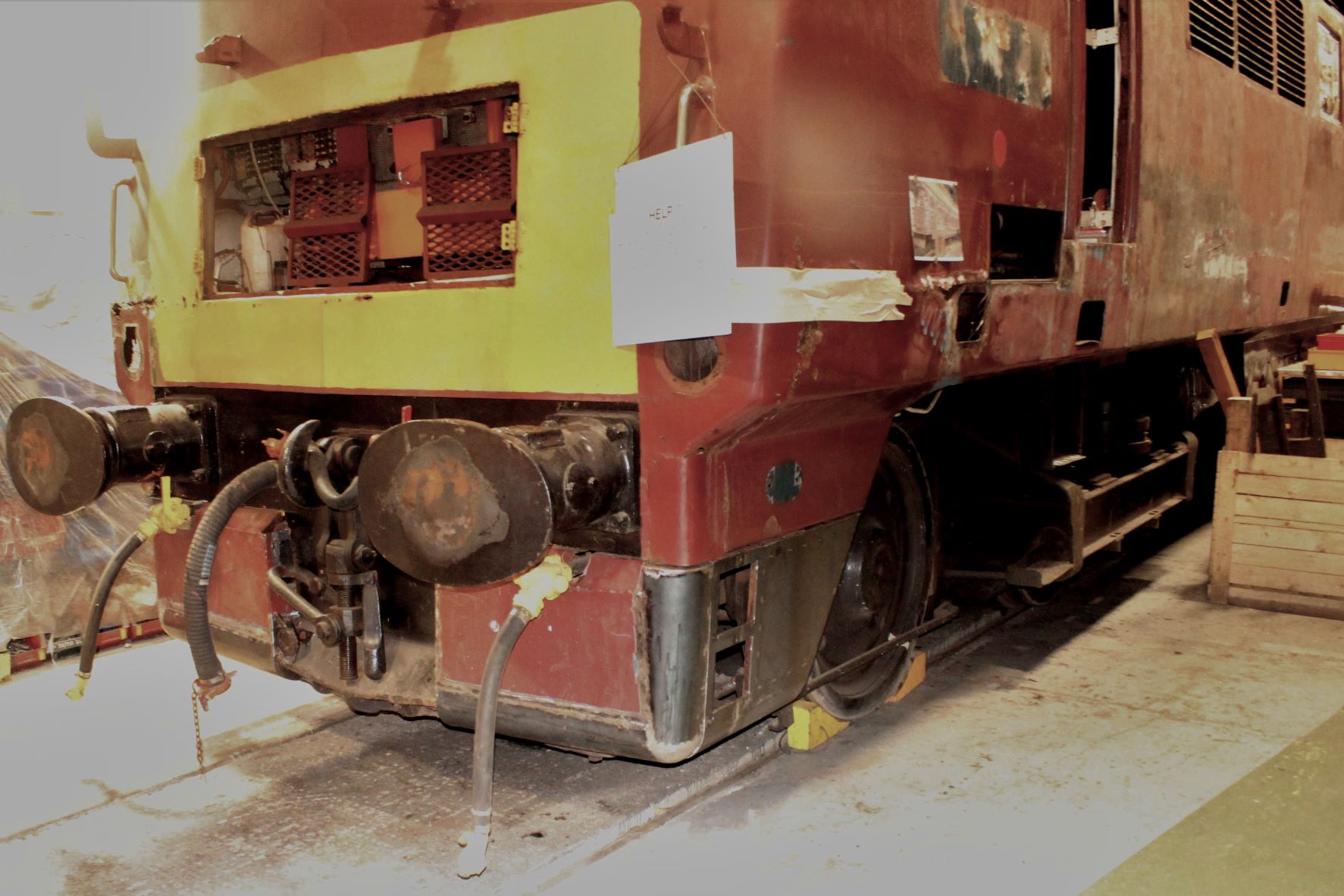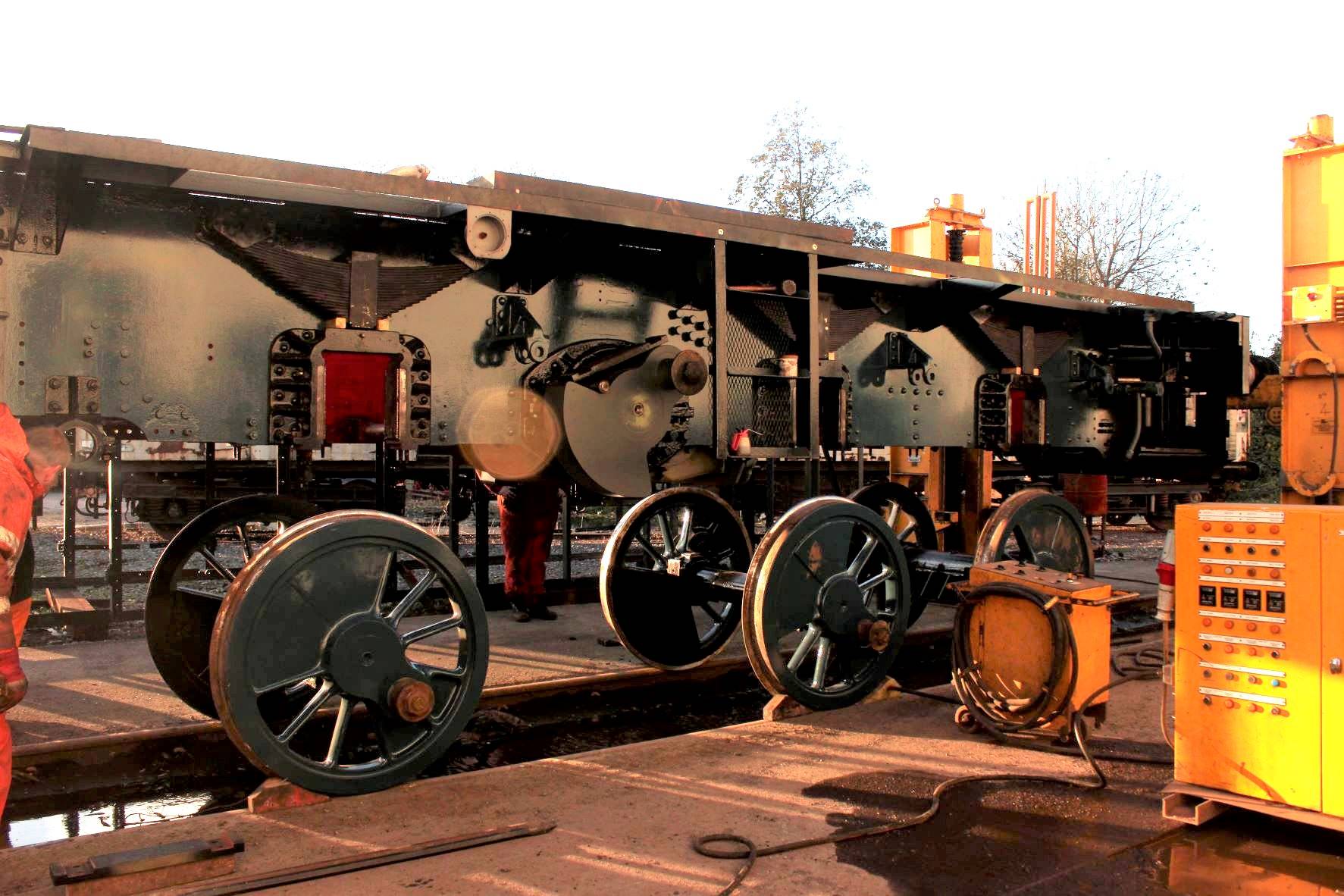 Class 14 D9518 frames in the air and ready to be lowered onto her wheels at Williton on 27th November 2021, a great achievement and an important milestone for the D9518 RESTORATION PROJECT. Photo by Terry Deacon © CC BY-NC 3.0
DECEMBER 2021 – We promoted the DEPG at the Newton Abbot show, the two 'Cromptons' and their crews worked many late nights on the 'WINTERLIGHTS' trains and OUR ONLINE STORE ENDED THE YEAR WITH MORE THAN £12,000 IN SALES which generated a massive contribution to our restoration projects !
Thank you to everyone who supported the DEPG and the WSR in 2021 ! Your help was essential and was much appreciated !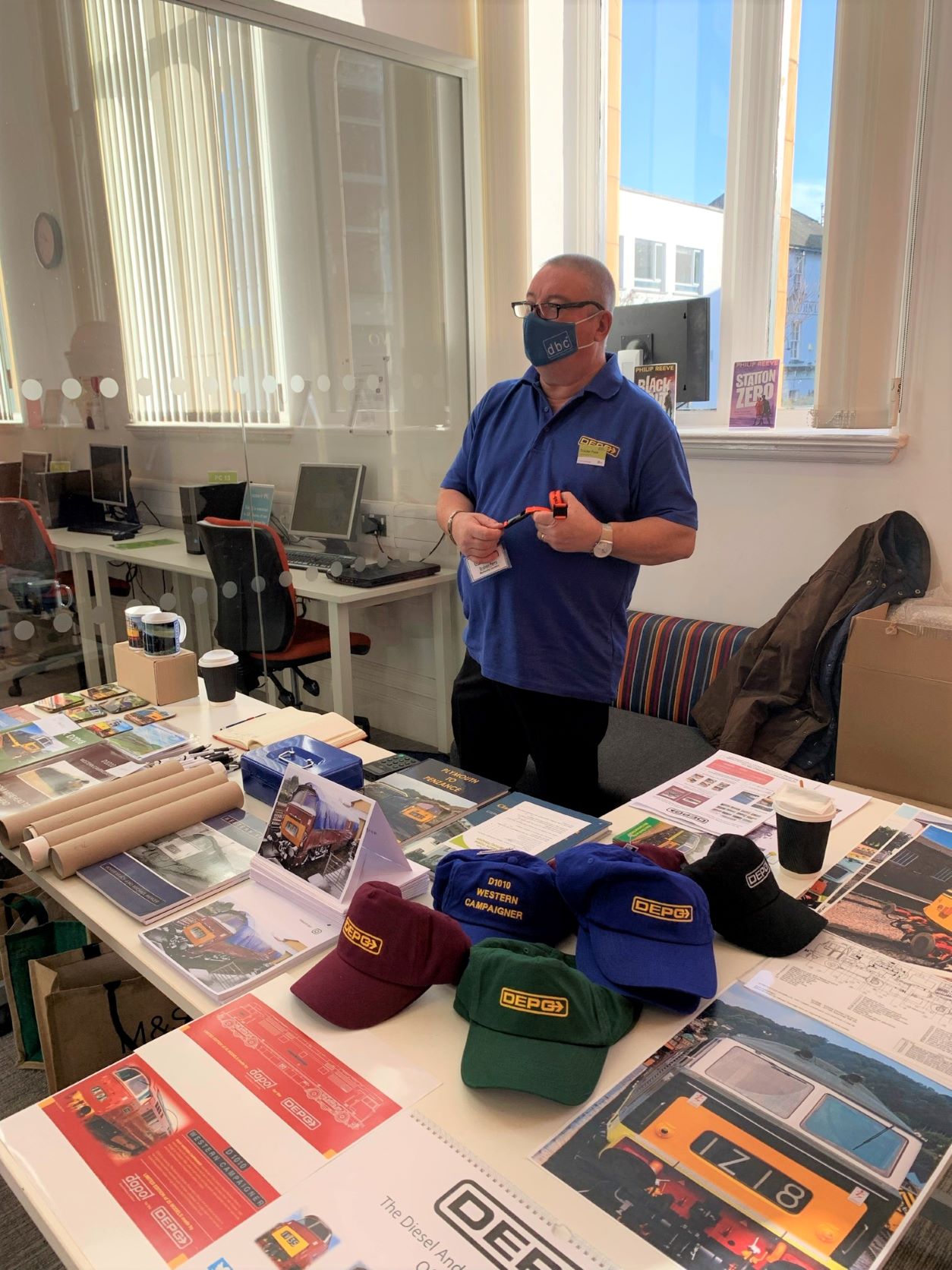 DEPG volunteer Mike Evans pictured while manning the stand at the Newton Abbot Railway Studies and Modellers Show which took place at the Passmore Edwards Library in the town on Saturday 4th December 2021. The show was a great success and helped spread the word about who we are and what we do. Photo by Andy Royal © CC BY-NC 3.0
Many thanks to all of our volunteers who are putting so much effort into looking after our fleet of heritage diesel locomotives and protecting their future !
VERY IMPORTANT DATES FOR YOUR DIARY – the WSR's 2022 Diesel Gala will take place from Thursday 9th through Saturday 11th June 2022, so keep these dates free and make a plan to attend ! Click this link to wsr.org.uk to view the dates for other WSR gala events that are planned for 2022.
Many more items of news from 2021 can be found by browsing our website. Sign up for ROUNDUP to have the news delivered to your emailbox on a weekly basis.
We will be back next weekend with the first roundup of 2022 !
Meanwhile, be sure to stay safe and stay well.