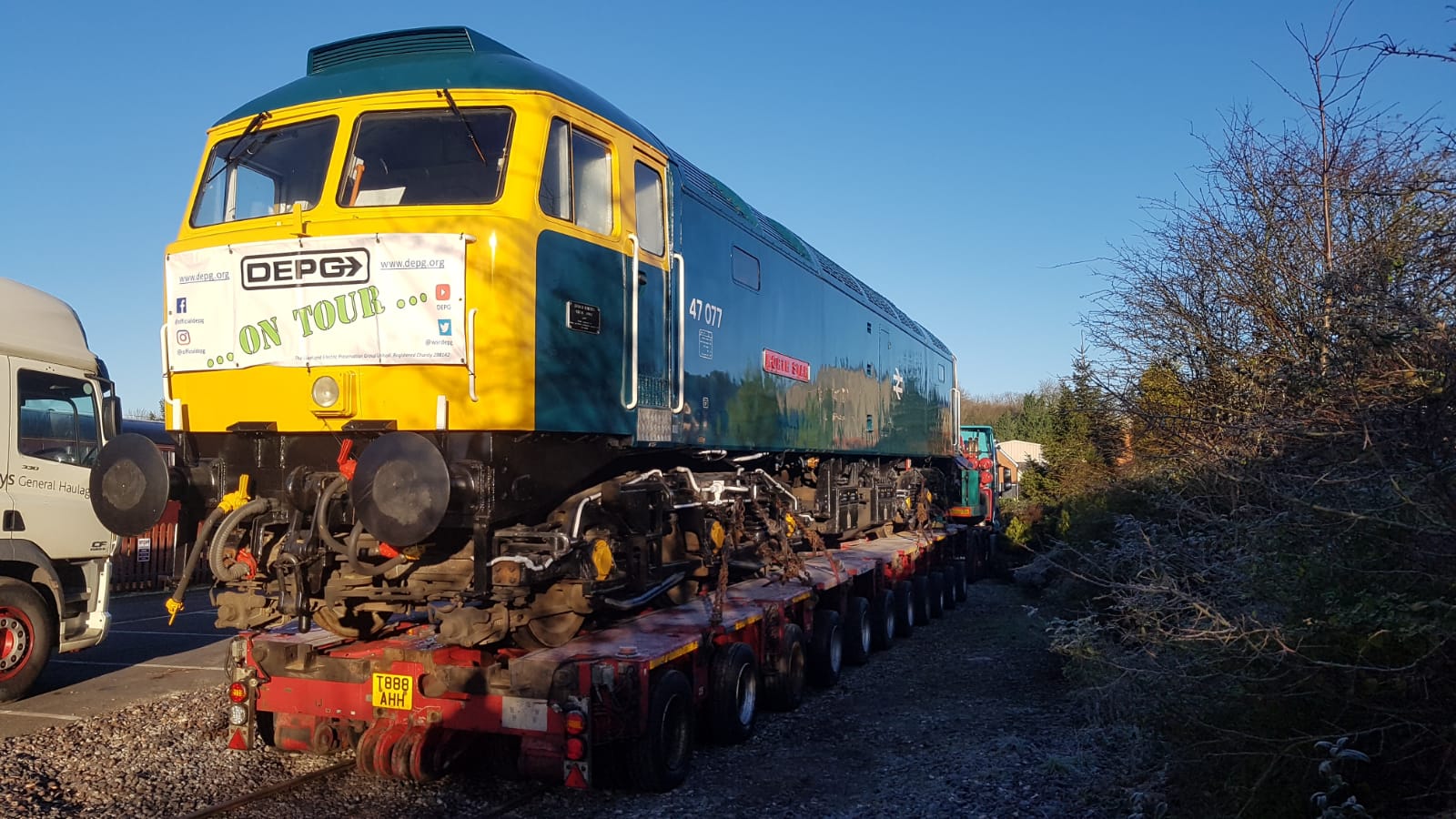 BR-Brush Class 47 47077 (D1661, 47613, 47840) 'NORTH STAR' pictured after being loaded onto an Allelys heavy transport rig at Bishops Lydeard on Thursday 13th January 2022 and soon to start her journey northward to the NYMR. Photo by Martin Howard © CC BY-NC 3.0
BR-Brush Class 47 47077 (D1661, 47613, 47840) 'NORTH STAR' pictured departing Bishops Lydeard on an Allelys heavy transport rig just before midday on Thursday 13th January 2022 at the start of her 300-mile journey northward to the NYMR. Video by Chris Shields © CC BY-NC 3.0
Our 'celebrity' BR-Brush Class 47 'NORTH STAR' is on the move, heading northwards to the NORTH YORKSHIRE MOORS RAILWAY via the following route (note the break in journey between Thursday evening and Monday morning):
A358 from Bishops Lydeard to Taunton
A3259 to A38 to the M5 northbound
M5 to Junction 22 (leave Mway due to weight restrictions on the Avonmouth bridge)
A38 to A368 to A37 to A4174 through Bristol
M32 to M4 westbound Junction 20
M4 to M5 northbound
M5 to Junction 9 (leave Mway due to route restrictions in the Tewkesbury area)
A438 to A38 to M50
M50 to M5 to ALLELYS BASE AT STUDLEY (Near Redditch, Worcs).
RESUME JOURNEY ON MONDAY 17th JANUARY
A435 to M42
A42 to M1 to M18
M62 to A1(M) to Junction 42
A63 to A19 to A64
A169 to A170 to Park Street, Pickering
Please send your photos to contact@depg.org if you get to see her en route !
Social media channels:


Thanks !