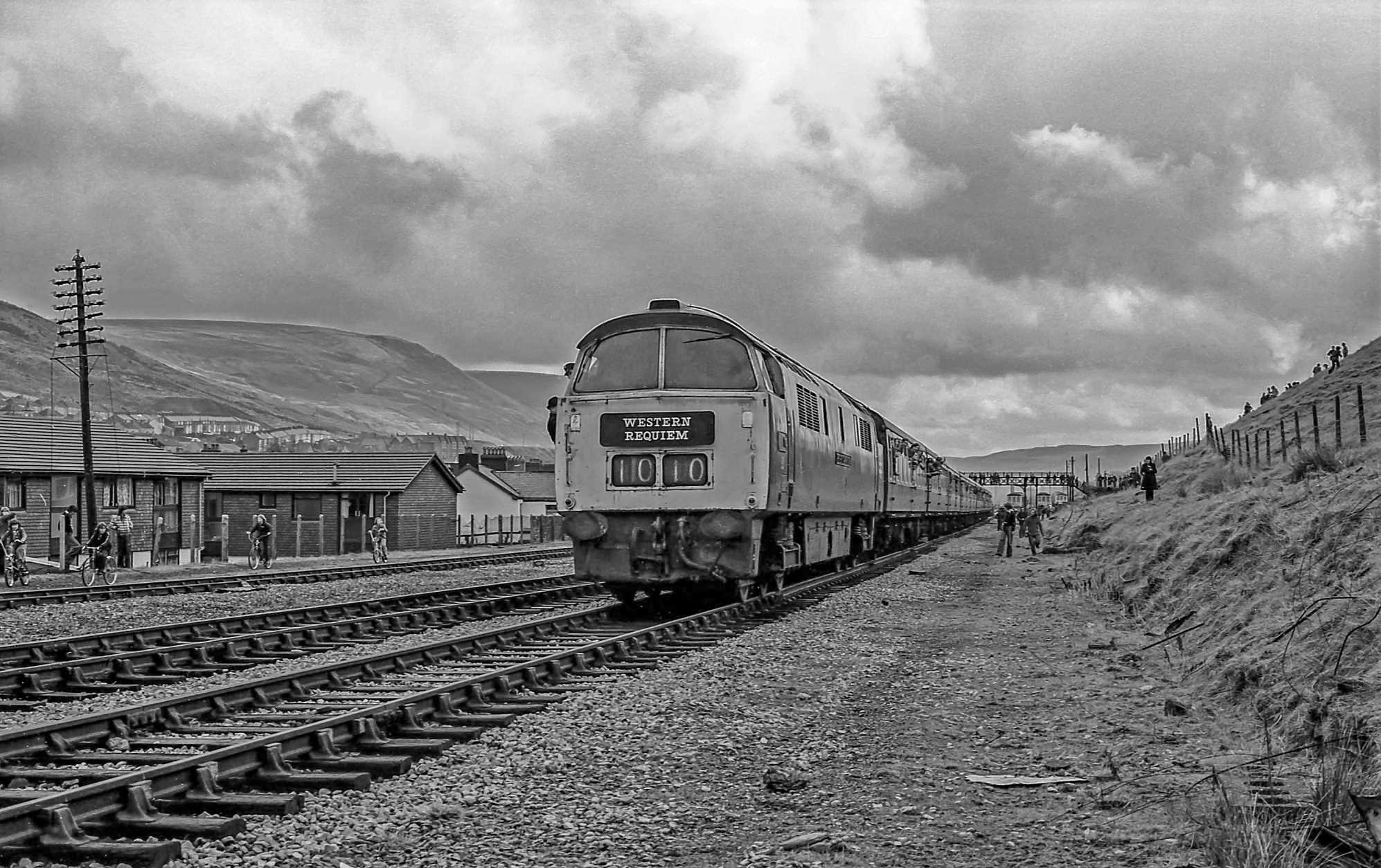 D1010 'WESTERN CAMPAIGNER' brings her train to a stand on the headshunt at Treherbert in the Rhondda Valley to uncouple and run around the RPPR "WESTERN REQUIEM RELIEF" railtour before retracing her steps to Pontypridd and then onwards to Merthyr Tydfil and later, Aberdare before returning to Paddington via Gloucester on Sunday the 13th of February 1977. Photo by Kelvin Lumb © CC BY-NC 3.0
45 years ago today, our D1010 'WESTERN CAMPAIGNER' hauled one of the last railtours of the diesel-hydraulic era when she hauled the 1Z08 'WESTERN REQUIEM RELIEF' railtour from Paddington to the heads of the valleys of South Wales. The tour was the 'relief' because the 'proper' railtour was scheduled for the following Sunday but was so heavily overbooked that the organisers, the 'Railway Pictorial Publications Railtour' (RPPR) arranged for the 'relief' to run via the same route, exactly one week prior to the main tour.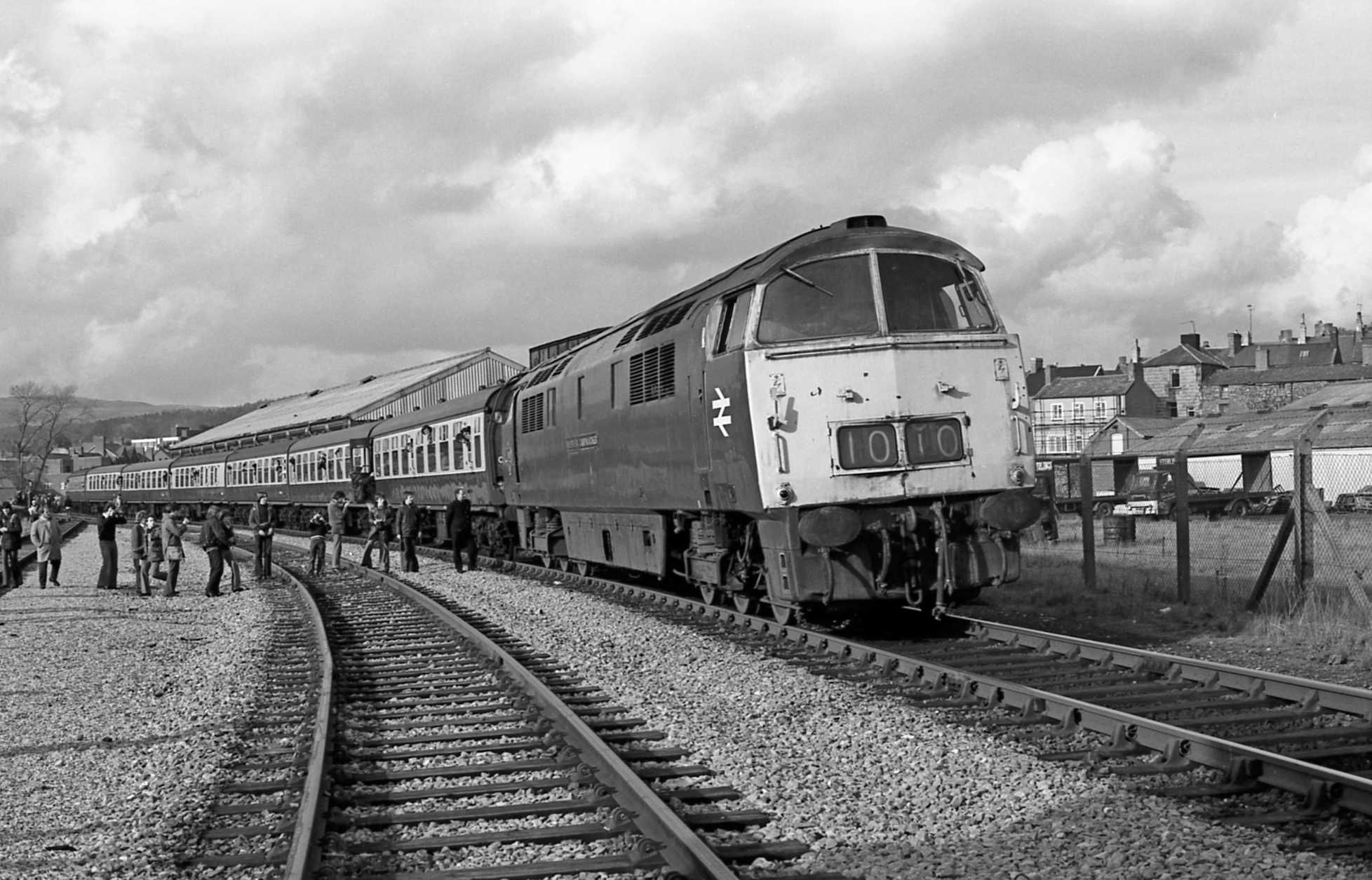 D1010 'WESTERN CAMPAIGNER' backs on to her train in preparation to depart from Merthyr Tydfil with the RPPR "WESTERN REQUIEM RELIEF" railtour, retracing her steps to Pontypridd and then to Cardiff for a one-hour stopover before heading for Paddington via Gloucester on the afternoon of Sunday the 13th of February 1977. Photo by Kelvin Lumb © CC BY-NC 3.0
The story of that most wonderful day out behind one of the last 'Westerns' still in service in that twilight period was told by Neale Long in our booklet 'D1010 – FROM MEREHEAD to MINEHEAD', available from our online store. The tour started at Paddington and routed via Stroud, Gloucester and Chepstow to Pontypridd and onward to three valley lines in turn. The return to Paddington was intended to be via the Severn Tunnel but had to be diverted via Gloucester because of a signalling fault in the tunnel, so D1010 turned up the power to recover some of the lost time and performed admirably throughout. The following week's run of the railtour 'proper' was not quite so fortuitous …. but that's a story for next week.
VERY IMPORTANT DATES FOR YOUR DIARY – the WSR's 2022 DIESEL GALA will take place from Thursday 9th through Saturday 11th June 2022, so keep these dates free and make a plan to attend ! Click this link to the WSR website to view the dates for other WSR events that are planned for 2022.
LOCO NEWS:
Class 52 D1010 'WESTERN CAMPAIGNER' – there is more more progress to report on this loco as welding work draws towards a close at 'B' end, and preparations shift to the bodyside and the 'A' end. Behind the welding work comes the sanding and priming, then more sanding and filling, then more sanding, so a 'Class M' industrial dust extractor has been purchased for use with a power sander, to ensure that our volunteers (and everything else in the shed) remains free from dust. First indications were that this setup worked very well on Saturday 12th February, which is very important because there is an awful lot of sanding to be done !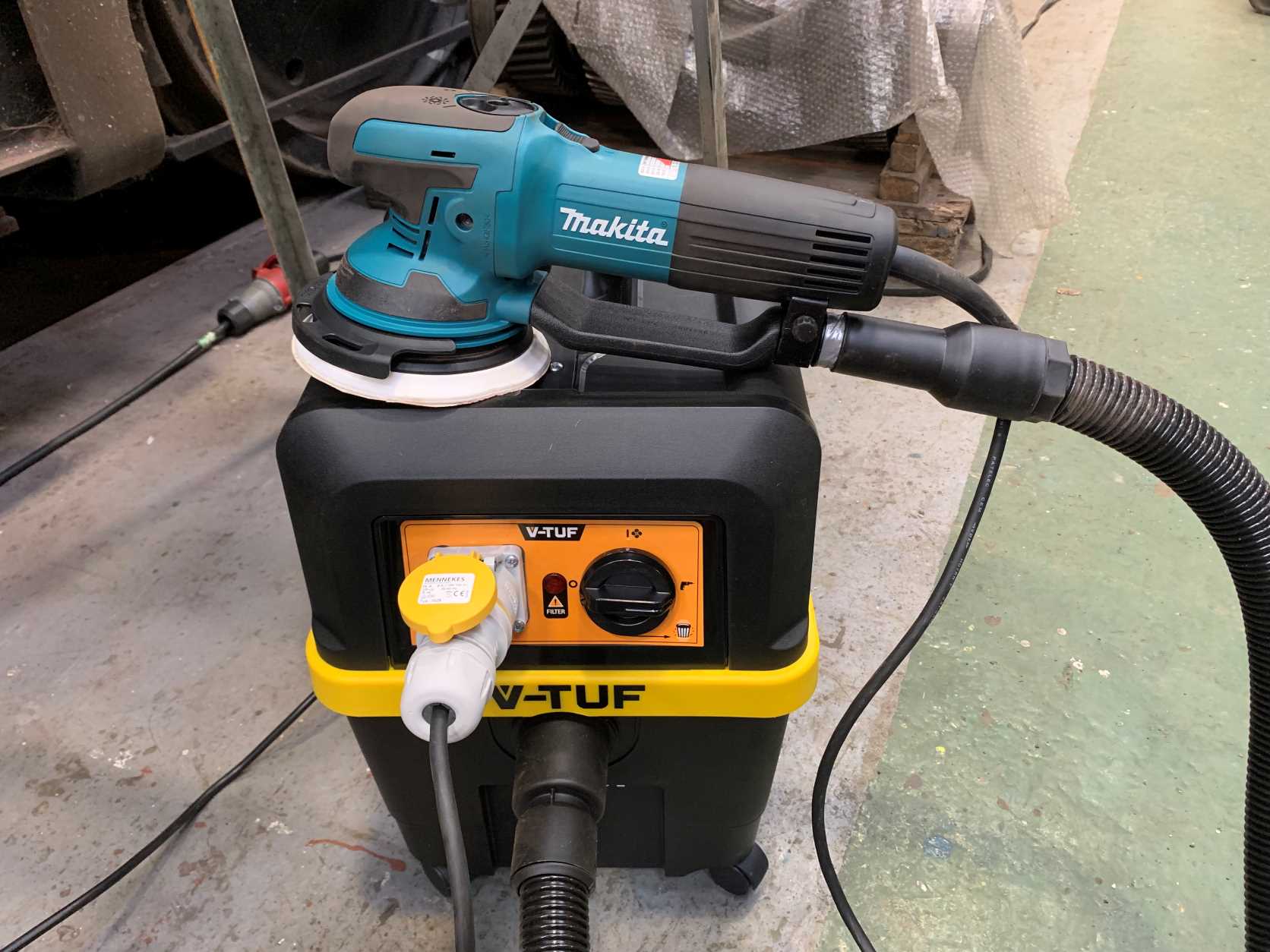 The management of fine dust is very important from a health perspective as well as for keeping the workplace clean and safe. This combination of a 150mm (6″) power sander and a 'Class M' industrial dust extractor ensures that the dust remains inside the machine. Paid for by donations to the D1010 Restoration Appeal and pictured at Williton on 12th February 2022 by Andy Royal © CC BY-NC 3.0
Here's some photos of the most recent progress on this locomotive: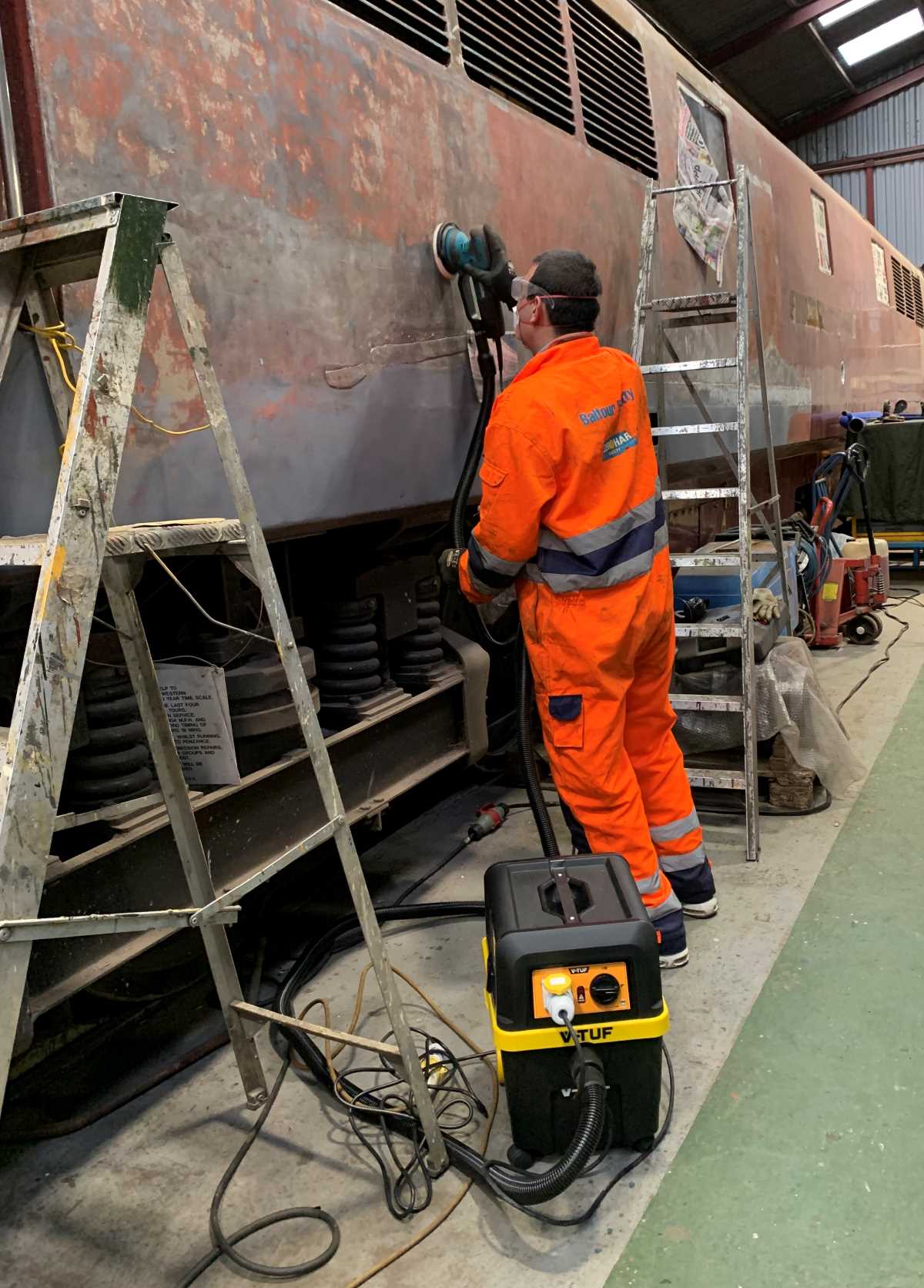 D1010 – the new dust-free sanding setup is put to the test by Leroy at Williton on Saturday 12th February 2022. The verdict ? So far so good ! Photo by Andy Royal © CC BY-NC 3.0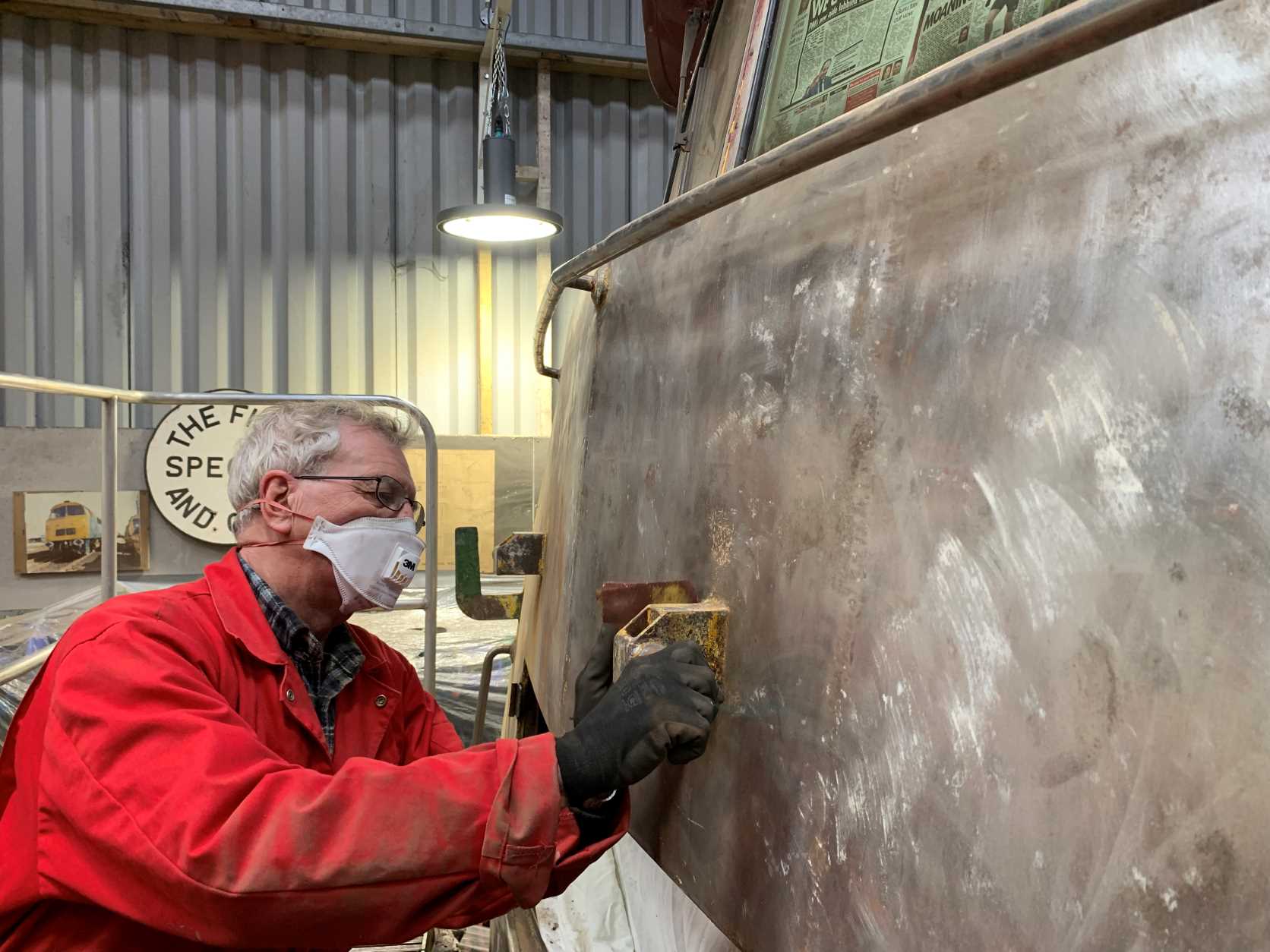 D1010 – at the 'B' end, Ian F was hard at work with the sanding block, attending to the details, in this case making sure that the headboard brackets were cleaned up and ready for painting. Pictured at Williton on Saturday 12th February 2022 by Andy Royal © CC BY-NC 3.0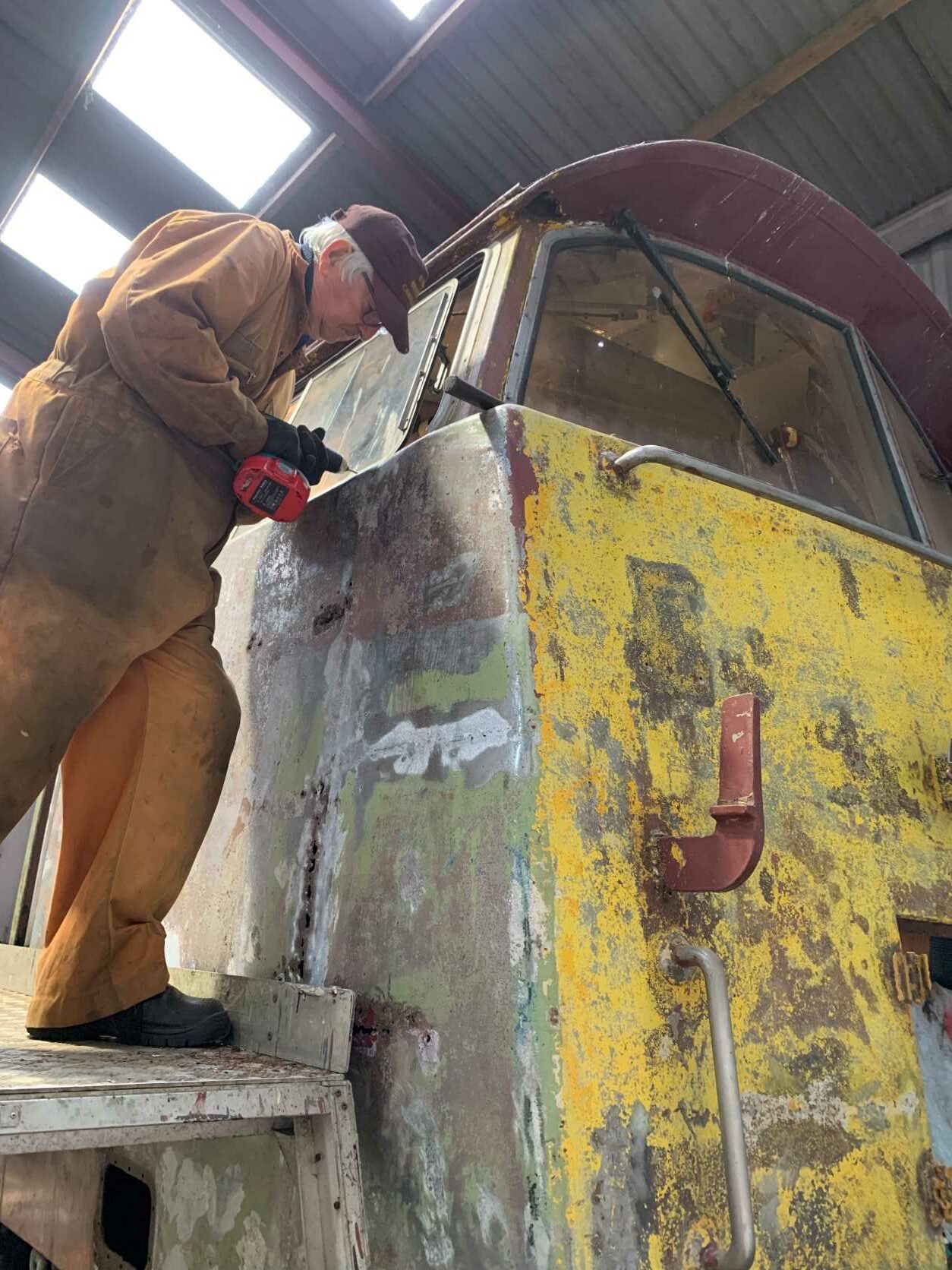 D1010 – at the 'A' end, Gordon made a start on the removal of the side windows, to allow welding work to take place around the window frames. The level of corrosion at 'A' end is generally more severe than at 'B' end, not helped by the fact that this loco had to endure three collision damage repairs at 'A' end during her 15-year life in mainline service. See our loco timeline page. Pictured at Williton on Saturday 12th February 2022 by Andy Royal © CC BY-NC 3.0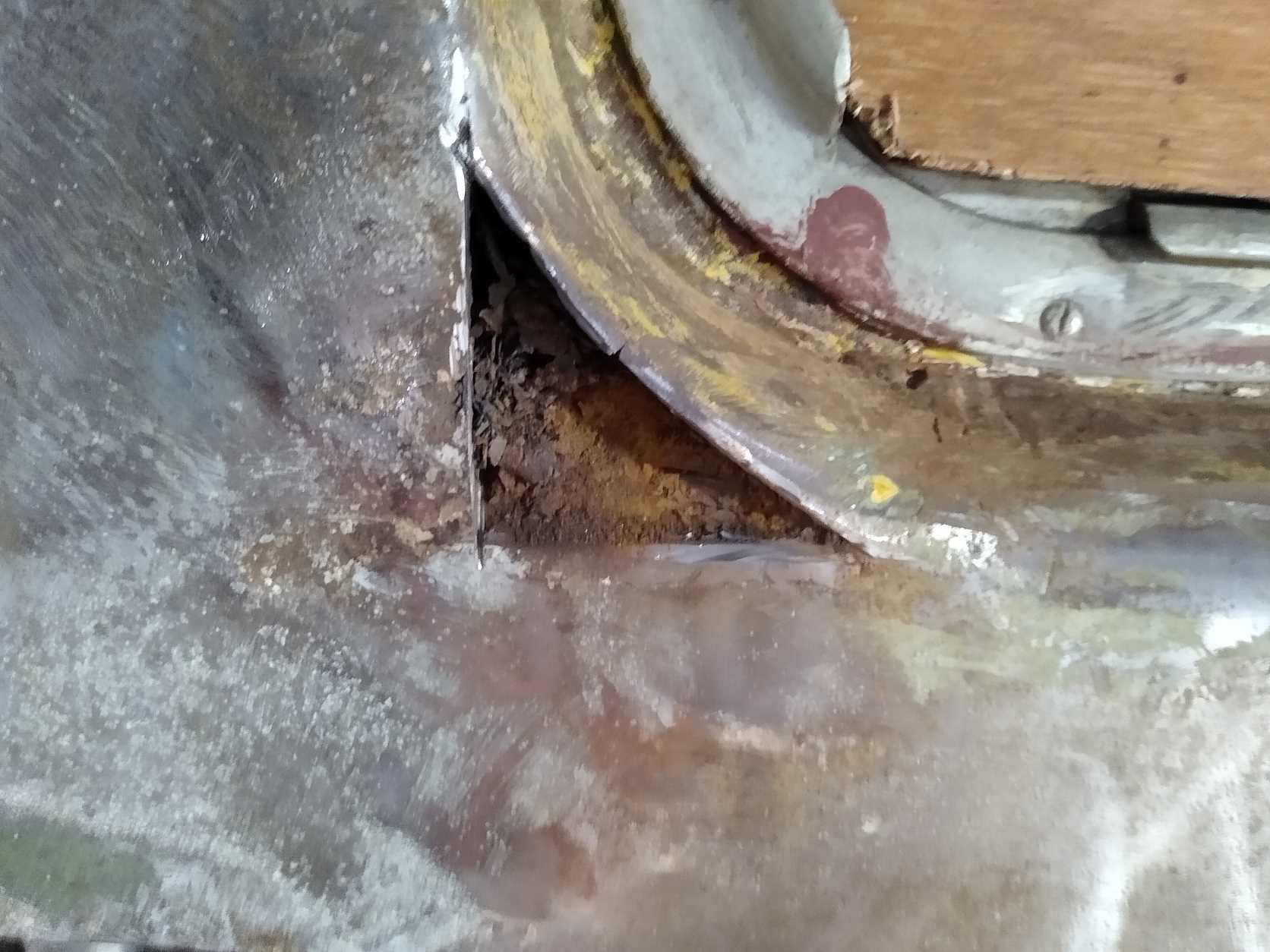 D1010 – back at the 'B' end on the secondman side, an investigation into a suspected area of corrosion revealed a collection of rusty debris that has built up and resulted in perforation of the skin. This area will be cleaned out and new metal will be welded in. Pictured at Williton on Monday 7th February 2022 by Colin Foxhall © CC BY-NC 3.0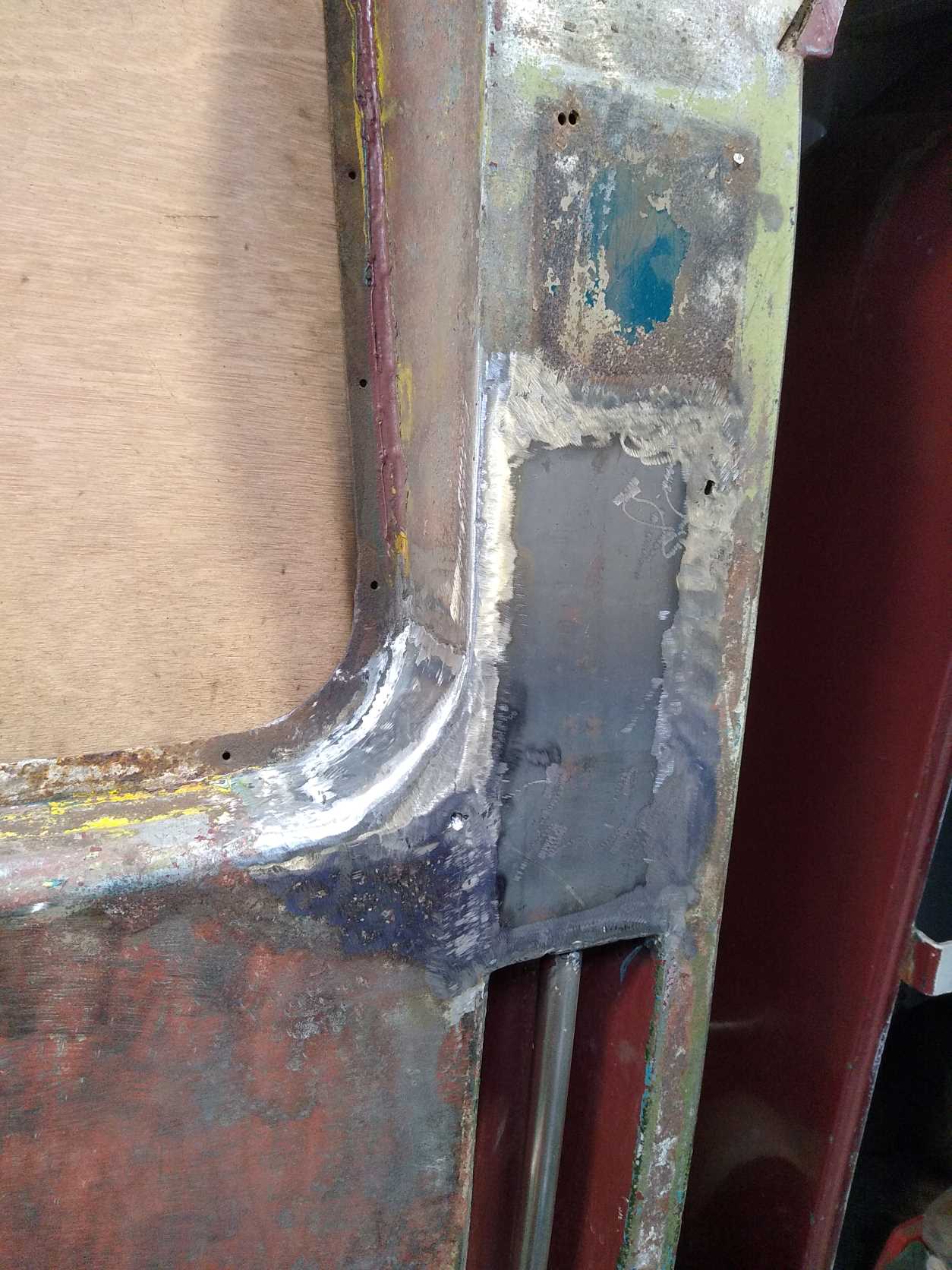 D1010 – at the 'B' end on the driver side, a similar repair has already been completed. The repairs at this end of the loco are drawing to a close, with only the horn mounting box in the roof of the cab to be dealt with. Pictured at Williton on Monday 7th February 2022 by Colin Foxhall © CC BY-NC 3.0
D1010 – Brian (our most recent recruit to the D1010 restoration effort) made a start on the battery compartment doors, of which there are eight in total. The design allows water to pool in the recesses on top of the door, which then slowly rots the metal until the water can seep inside the door and rot the bottom of the door instead. Pictured at Williton on Saturday 12th February 2022 by Brian Litherland © CC BY-NC 3.0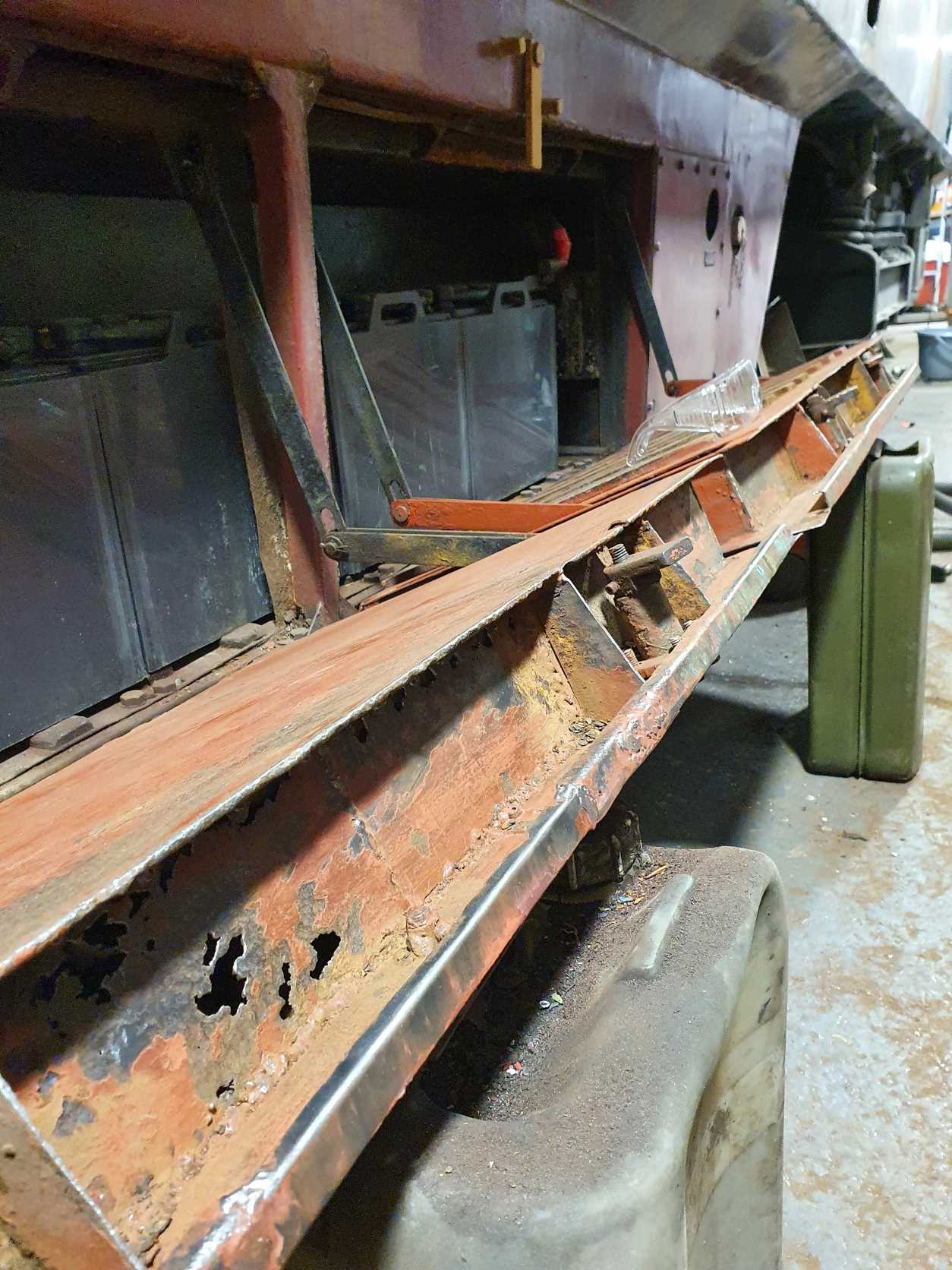 D1010 – the perforated metal has allowed water to enter the inside of the door, which has also rotted at the bottom as a result. The door will need to be removed from the loco and repaired on the bench. Pictured at Williton on Saturday 12th February 2022 by Brian Litherland © CC BY-NC 3.0
Class 33 D6566 (33 048) – after completion of the brake block change and slack adjuster change, this loco was started up on Saturday 12th February to keep the engine and batteries in good condition and to perform a preliminary brake test.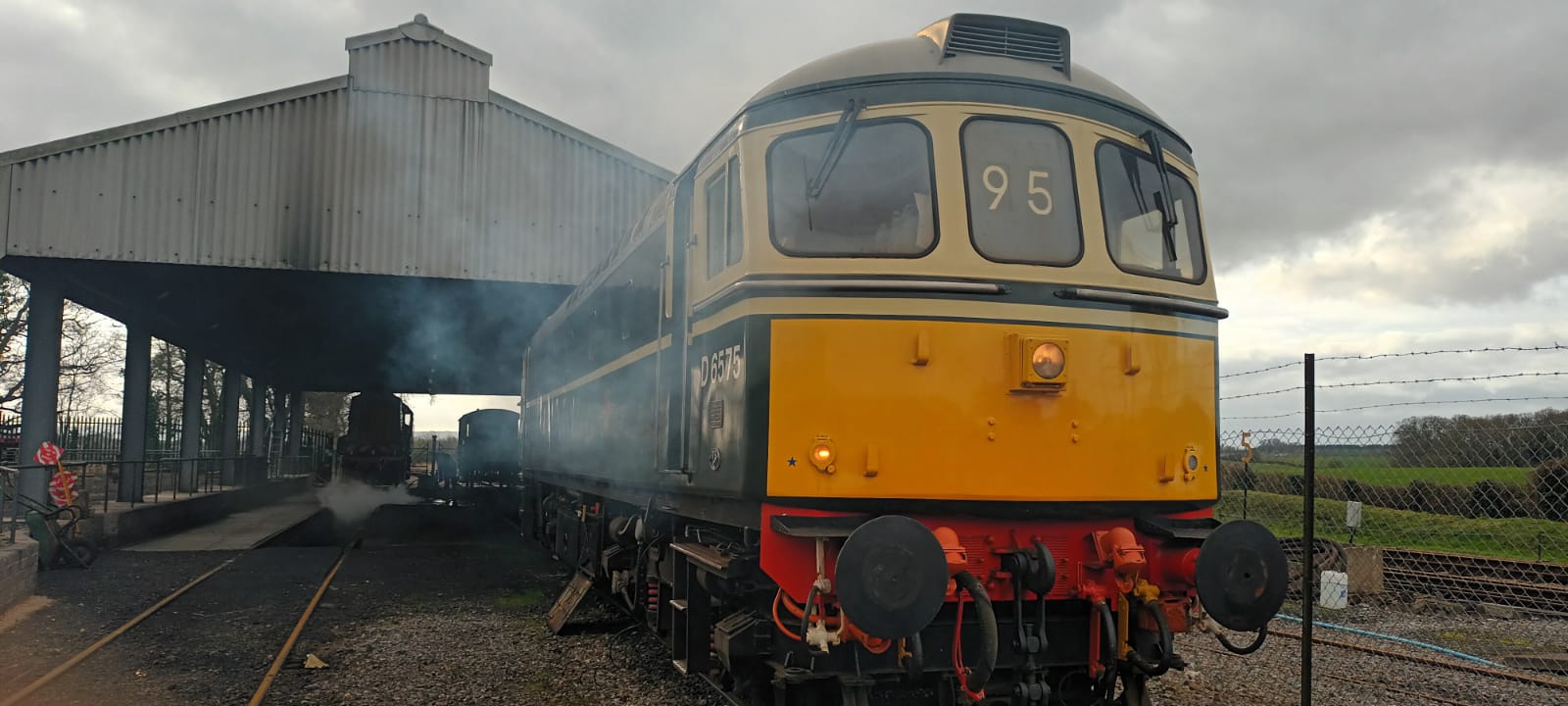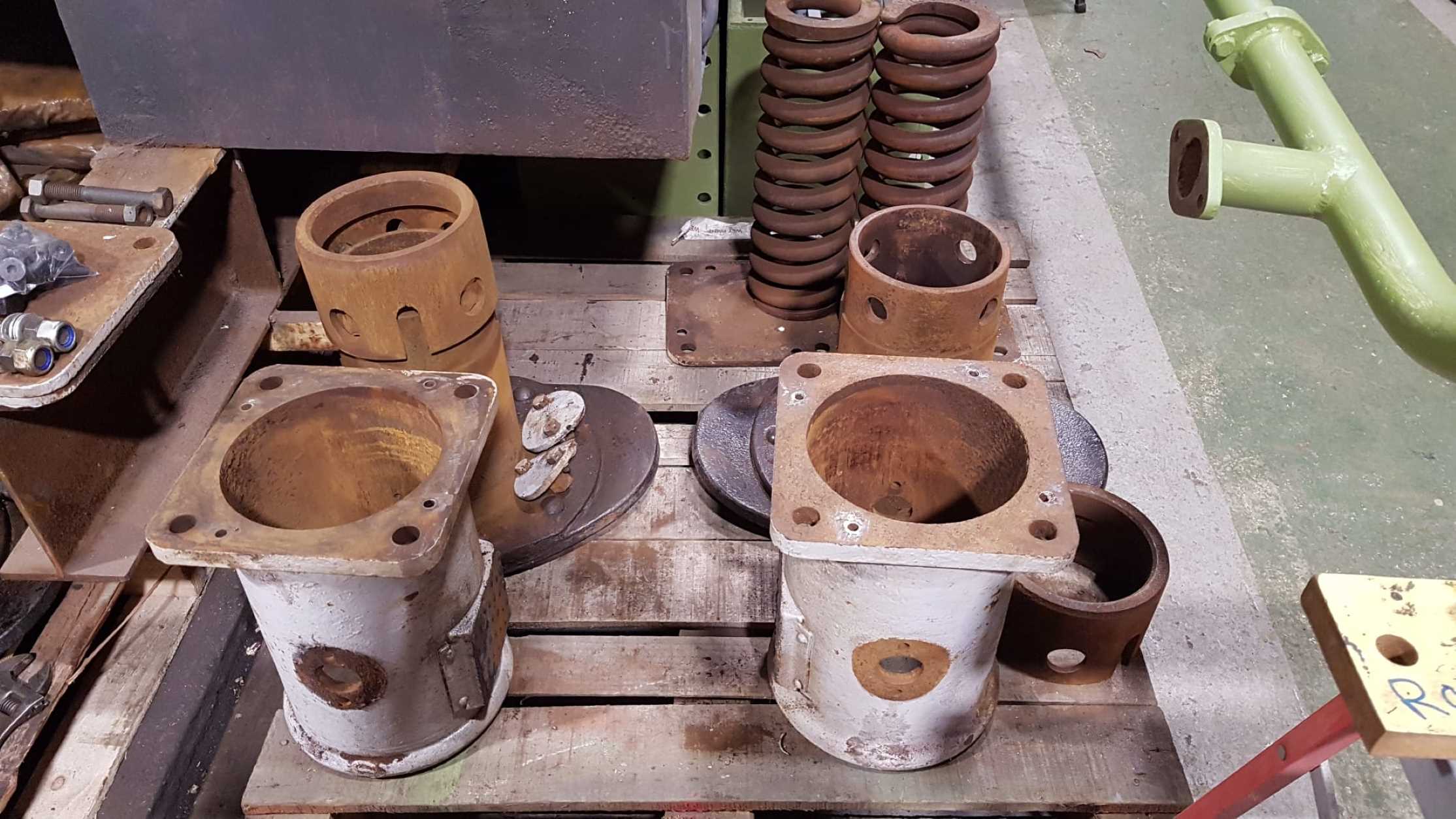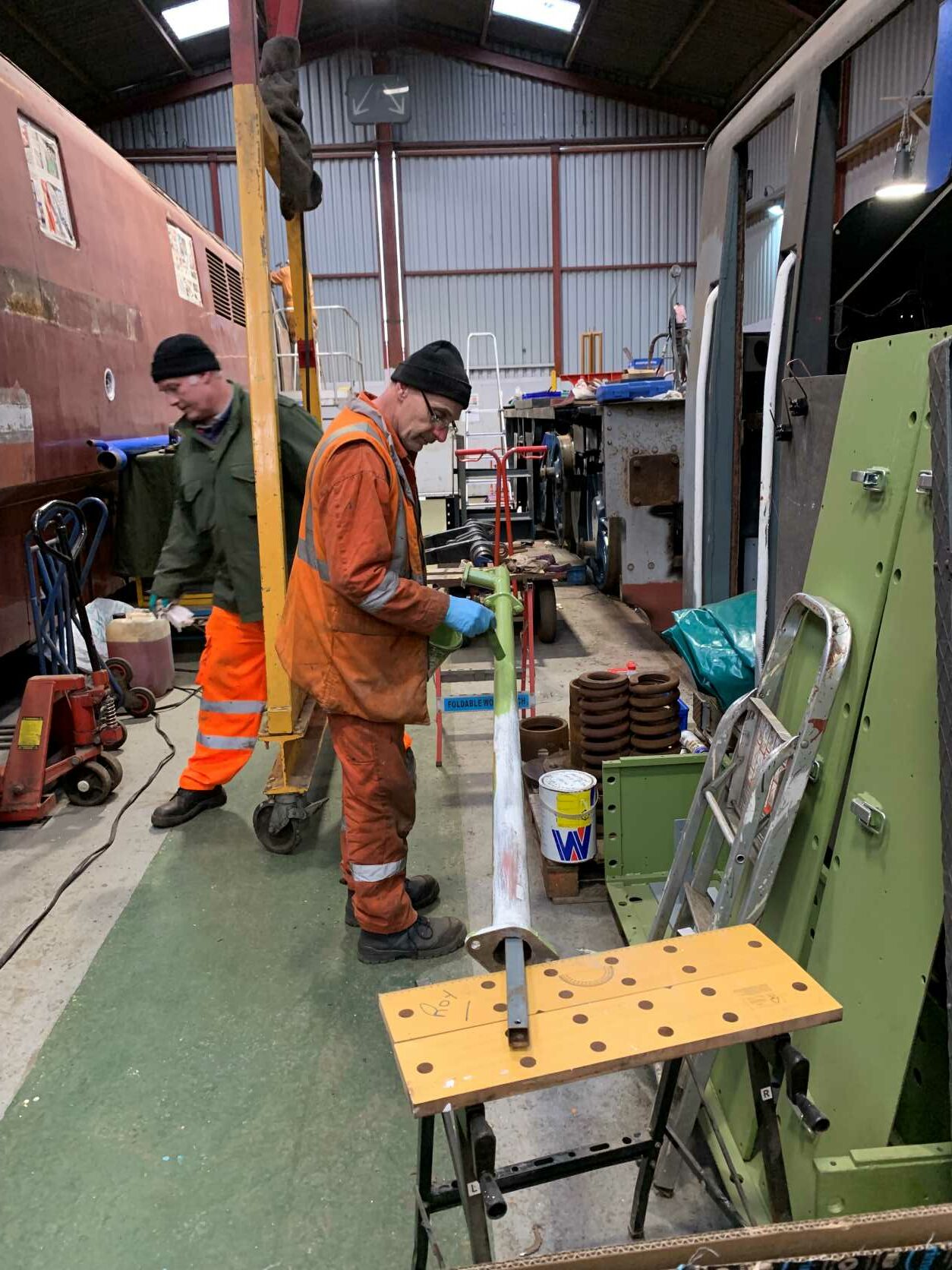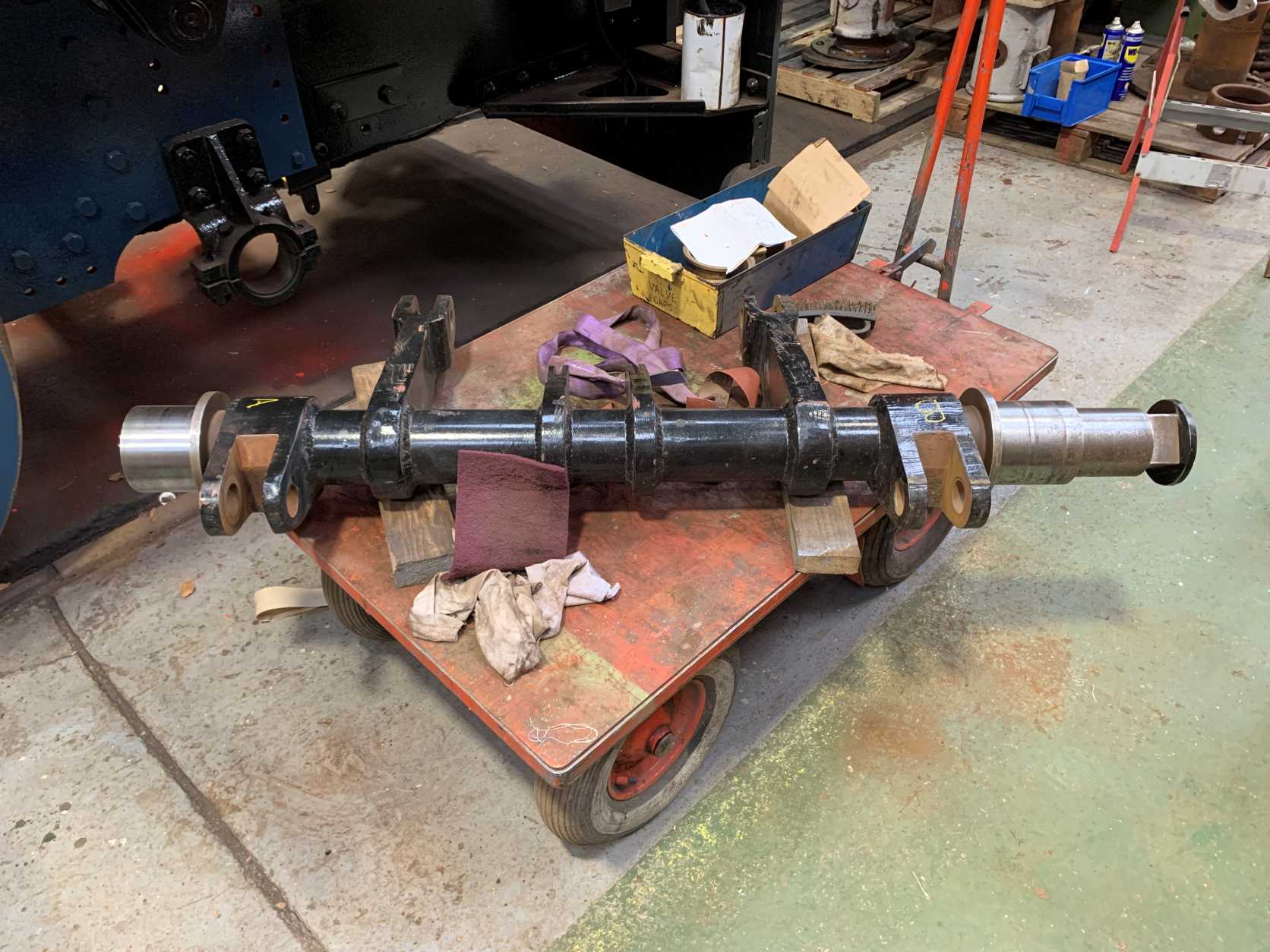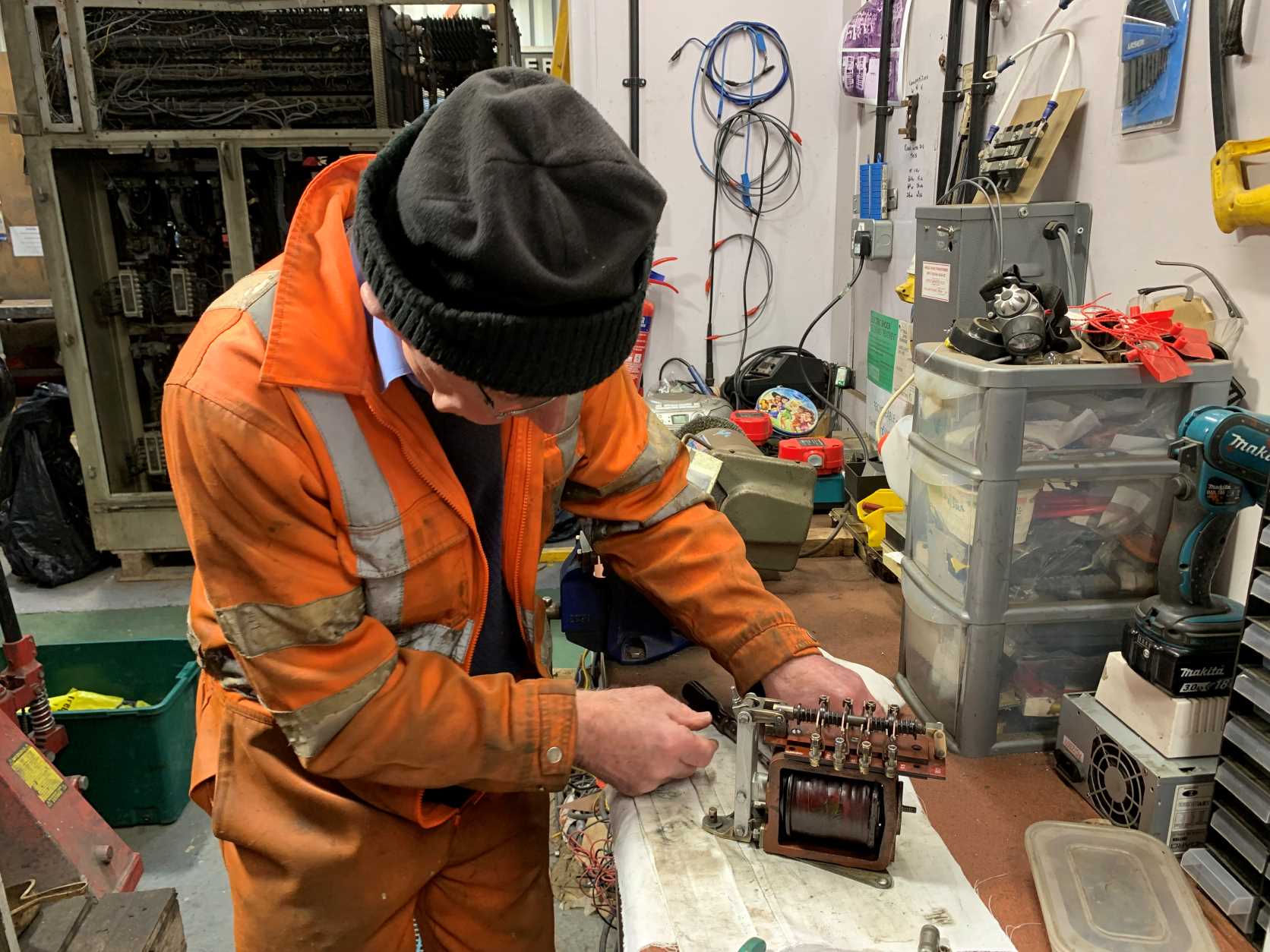 Class 14 'Teddy Bear' D9526 – this loco is currently based at the Kent & East Sussex Railway where she was in use again last weekend. This loco has racked up so many hours that she now needs to undergo a 250-hour inspection and service this week before getting back to work on the K&ESR. We look forward to seeing D9526 back at Williton in time for the WSR's 2022 Diesel Gala that takes place from Thursday 9th through Saturday 11th June 2022.
Andrew Barclay 0-4-0DH 578 – this loco is currently in the Swindon Shed at Williton receiving attention from the WSR Restorations team who are performing a partial repaint that will then allow the loco to be stabled in the yard for the rest of the winter. The loco is currently wearing undercoat and will receive a coat of gloss when weather conditions allow.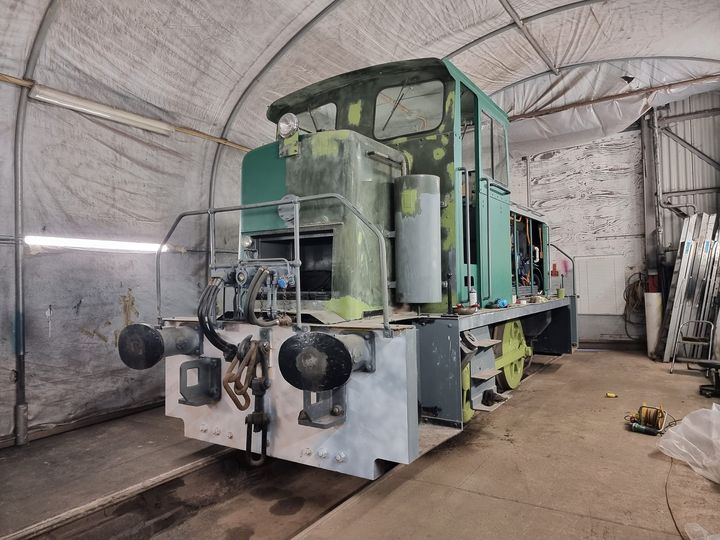 Andrew Barclay 0-4-0DH 578 (ROF 1) in the paint shop at the WSR Restorations facility at Williton on 13th February 2022. Photo by Harry Spencer © CC BY-NC 3.0
If you can help by donating your time, then please JOIN US and come along to the depot for an introduction to what we do and how we do it. We currently have people on site from Saturday through to Tuesday and we can open on other days if we can be sure of getting at least two volunteers on site at all times, so there is plenty of scope. We have tasks of all types to suit most capabilities, both skilled and unskilled.
Many thanks to all of our volunteers who give up so much of their time to work on the cleaning, painting, maintaining, restoring, managing and fund raising for our fleet of heritage locomotives !
BOOK REVIEW – this week, we have another review by regular contributor Neale Long, this time reviewing a hardback publication by Book Law entitled 'BR Early Diesels in Colour Part 1 TOPS Classes 01-35'.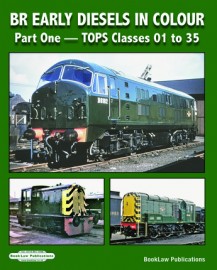 Neale writes:
  "Book Law Publications, better known for their extensive list of fine monochrome pictorial titles, do from time to time enter the hardback colour market and produce similarly fine titles such as this, consisting of 176 pages crammed full of colour images from the diminutive Barclay Class 01 to the stylish and much loved Class 35 'Hymeks'. David Allen and David Dunn are to be commended for compiling a beautiful selection of images covering all the classes which were allocated a TOPS number under the 1973 British Rail renumbering scheme. The front cover sets the tone with images of classes 08 and 21 and the really exotic North British D2700 shunting locomotives, which ironically do not have a TOPS number (volume No 2 will cover those) all in green, leaving the reader in no doubt about what will follow.
  Commencing with the small diesel shunting locomotives of classes 01-07, the album moves effortlessly on to the larger shunter classes 08-13 before moving on to the Type 1s of classes 14-17, followed by Classes 21-28 before finally ending with Classes 31-35. All the classes get good coverage although some of the rarer and lesser known types such as classes 01 and 02 understandably less so. Reproduction is generally of a high standard although the image of class 15 ADB968001 appears in a blueish tint when in fact it is green. The photographic format varies with a mixture of one-page photograph and two-page photographs, but this has no detrimental effect as this is an excellent collection of images, many of which have not been published before. The captions are crisp and accurate with the occasional opinion thrown in. Those familiar with the publisher's monochrome series 'D for Diesel' will recognise some of the caption writer's forthright opinions on the 1955 Modernisation Plan and its execution. An example being the caption to the image of D9500 at Canton in May 1969 on page 51. There are so many lovely images from this sumptuous volume, it is difficult to really choose any individual ones, but the images of D5707 at Haydon Bridge on an Ayr to Newcastle excursion, two shots of D6330 shunting the milk tanks at Hemyock and D5356 at Crianlarich are particularly good. BR Green features strongly in this album – but not to the complete exclusion of BR Blue.
  This volume of course features three classes in which the Group has a direct involvement, namely 14, 33 and 35. Of the Group's locomotives, D6575 (33 057) features on an oil train from Grain at Stoke Junction Halt in November 1961 and there is a close up image of D7018's numbers and worksplate. The Class 14 section of 11 pages has 20 photographs, the Class 33 section of 10 pages has 16 photographs and the Class 35 section has 9 pages of 17 photographs. For Class 14 enthusiasts, there are images of both BR and industrial service, two images are of particular note, namely D9522 & D9506 at Arnott Young scrapyard at Rawmarsh in 1968 and one of D9513 at Crigglestone Colliery, Wakefield in a striking orange and black livery. Class 33 enthusiasts will enjoy the image of the Uddingston-Cliffe cement empties at Doncaster behind D6562. 'Hymek' enthusiasts will enjoy the views of D7020 working the Swansea-Aberystwyth line in September 1964 and the same locomotive working an up mixed freight beside the remains of the Creech St Michael Halt in Somerset.
  Overall, David Allen and David Dunn at Book Law have done an excellent job in compiling the first of two volumes dedicated to heritage traction. This is a beautifully compiled and produced volume which will appeal to the many enthusiasts who are interested in the early diesel locomotive classes and can be wholeheartedly recommended."
Many thanks to Neale for providing us with these detailed book reviews !
ON SHED – we have another image from Barry Gay's amazing collection of views of Newton Abbot, this particular shot of the East Yard with the coal-fired power station in the background, with only weeks to go before it was demolished. Luckily, the locomotives lasted a while longer and one of them is still with us today: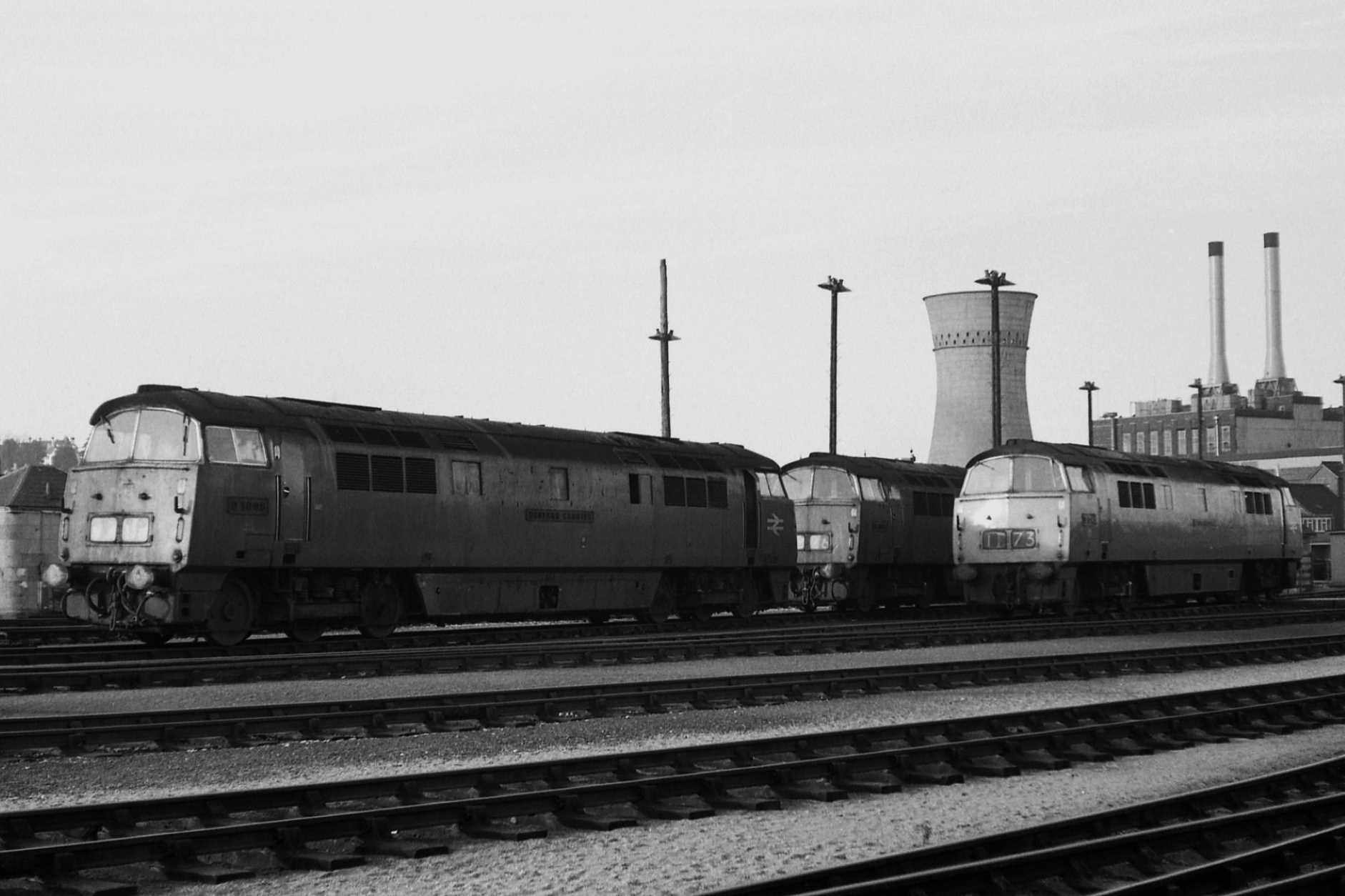 Three Class 52 'Westerns' in the East Yard at Newton Abbot on 6th January 1974. From left to right, we see 1008 'WESTERN HARRIER' then 1043 'WESTERN DUKE' then 1048 'WESTERN LADY'. The first to be withdrawn was 1008, only 10 months after this photo was taken, by which time the power station in the background had also ceased to exist. Next to go was 1043 in 1976, but 1048 survived to the very end and was rescued for preservation. This loco is currently undergoing restoration at the Midland Railway Centre in Butterley, Derbyshire. Photo by Barry Gay © CC BY-NC 3.0
Many thanks to Barry for sharing his photos with us all !
DEPG NEWS – the synopsis of the January Board Meeting has been emailed to all DEPG members for whom we hold email addresses, so if you haven't received your copy, please reply to this email and let me know. The next DEPG Newsletter will be sent out at the end of this month, so please let me know if you have any items of news or articles that you would like us to consider for publication. Meanwhile, we continue our efforts to build our membership, so if you like what we do, please JOIN US and help us do more of it !
WSR NEWS: there has been more progress on the relaying of the line between Dunster and Minehead, and on Saturday 12th February, our Chairman Martin Howard attended a WSR meeting in Minehead where the plans were drawn up for the training activities that must take place to bring all train crew members up to date with the revised signalling in that area. We look forward to being able to travel through to Minehead once again !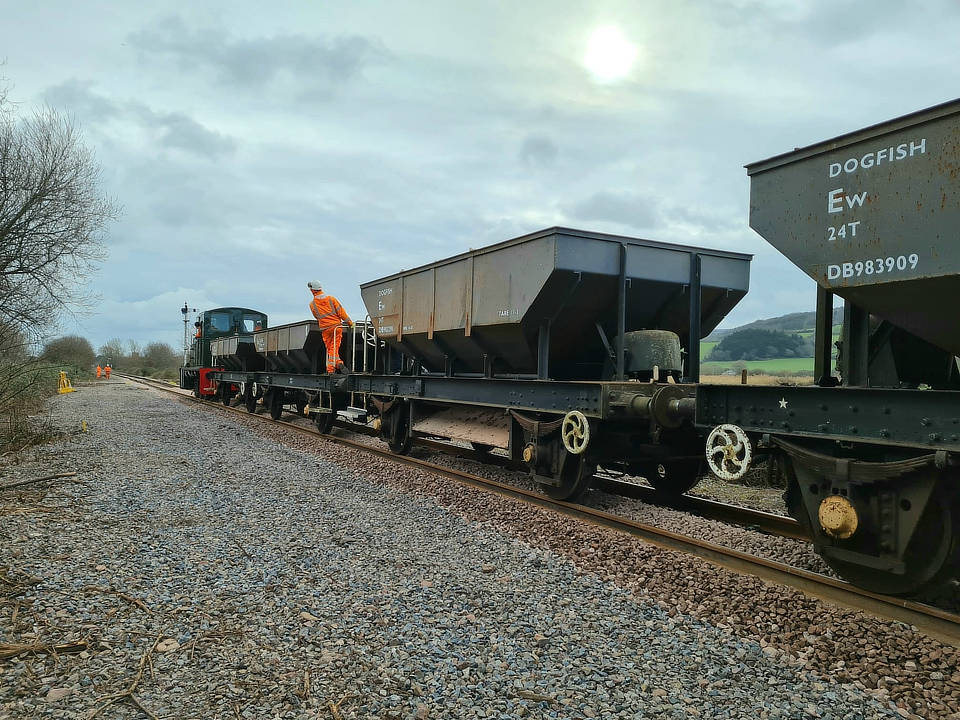 The WSR's Class 03 D2133 was the first loco to run across the brand-new section of line, with this short rake of 'Dogfish' hopper wagons which were used to deliver the fresh ballast to the work site at Alcombe, between Dunster and Minehead. Photo taken during the week ending Friday 11th February 2022 by the WSR Infrastructure Team © CC BY-NC 3.0
The WSR have published the timetables and the dates for the 2022 special events, as follows, so please make a note and ADD THESE DATES TO YOUR DEPG CALENDARS: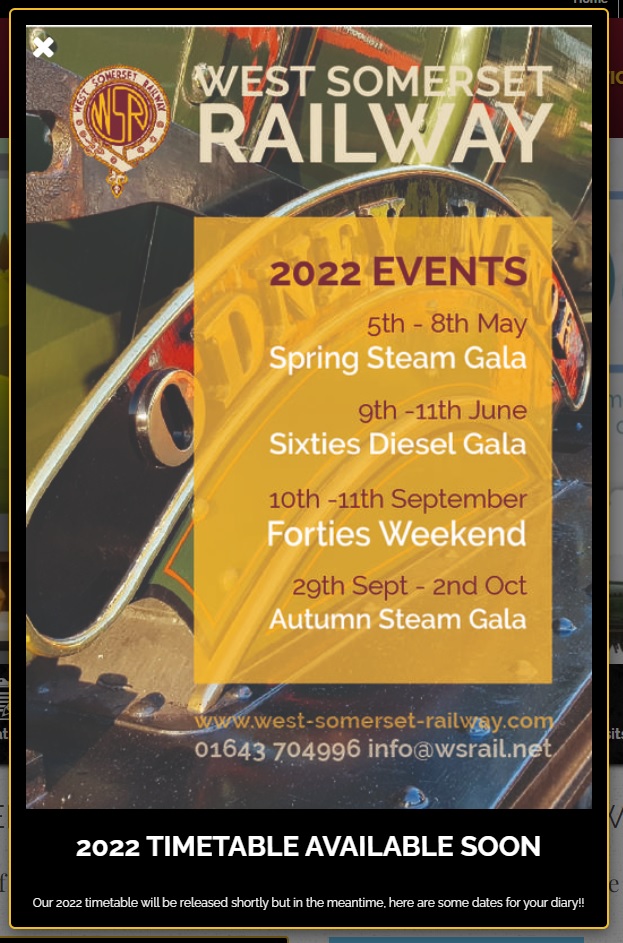 ---