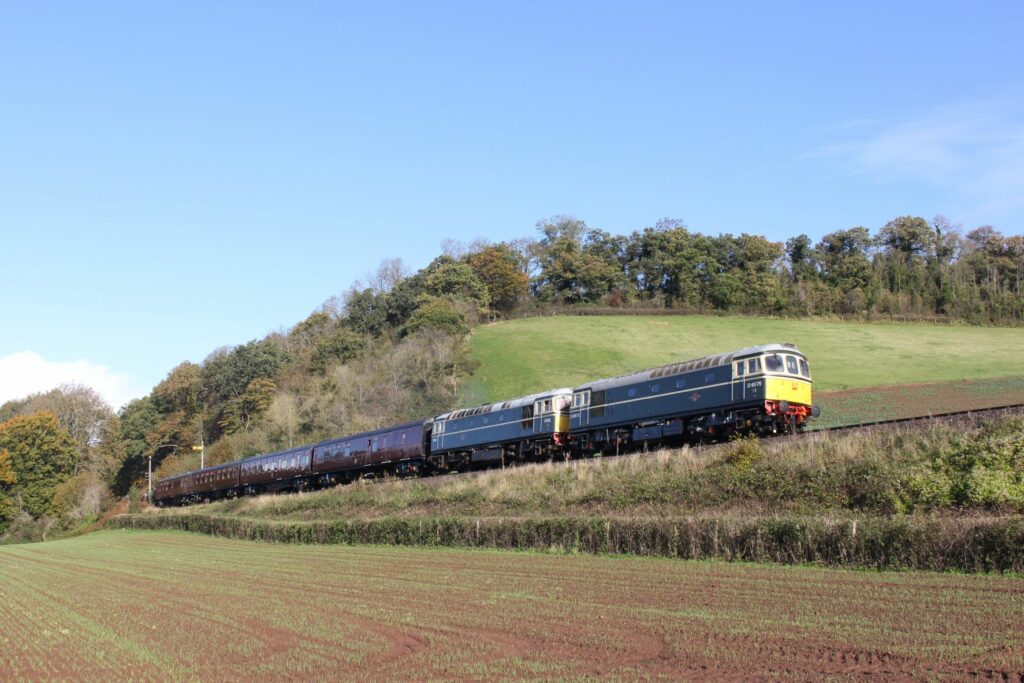 Class 33 'Crompton' D6575 (33 057) leads sister loco D6566 (33 048) up Castle Hill near Williton on an Empty Coaching Stock (ECS) move with the then newly-painted maroon 'Quantock Belle' set on 2nd November 2020. Photo by Peter Nicholson © CC BY-NC 3.0
Class 33 'Crompton' D6566 (33 048) will move from Williton (WN) to Bishops Lydeard (BL) on Wednesday 16th March by attaching to the rear of a steam-hauled Empty Coaching Stock (ECS) working from Minehead (MD) to Bishops Lydeard when it passes through Williton.
The approximate times for these movements are as follows:
     Depart MD 1230 arrive WN 1310 (steam)
     Depart WN 1400 arrive BL 1435 (steam with diesel at rear)
As this move is for operational purposes only, the timings are approximate and the movement may be delayed or postponed or cancelled as circumstances require. It may also run early.
Upon arrival at Bishops Lydeard, the coaches will be shunted to their designated stabling points in preparation for an engineering working that will run the following day Thursday 17th March 2022 between Bishops Lydeard and Crowcombe Heathfield, using both Class 33s in top-and-tail mode. This working has a booked departure time from BL of 1030 but again this may be varied according to operational needs.
The webcams provide a very good way of watching the action from afar. Here are the links:
Bishops Lydeard : http://www.wsr.org.uk/r-cam-bl2.htm
Crowcombe Heathfield : http://www.wsr.org.uk/r-cam-ch1.htm
Williton : http://www.wsr.org.uk/r-cam-wn2.htm
Blue Anchor : http://www.wsr.org.uk/r-cam-ba1.htm
Seaward Way : http://www.wsr.org.uk/r-cam-md2.htm
Minehead : http://www.wsr.org.uk/r-cam-md1.htm
Many thanks to Railcam UK and the WSR for providing these webcam services.
Have you considered joining the WEEKLY ROUNDUP e-newsletter list? Click here for details.
---