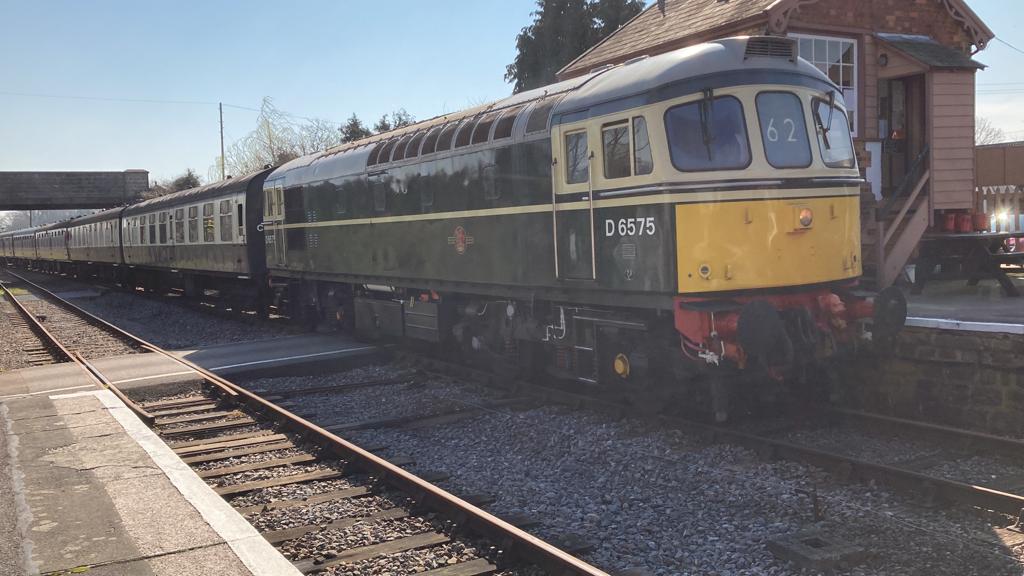 Class 33 'Crompton' D6575 (33 057) was pictured arriving at Williton on the 1230 BL-MD covering for GWR 2-6-2T 5199 on Saturday 19th March 2022. Photo by Josh Brinsford © CC BY-NC 3.0
Class 33 'Crompton' D6575 (33 057) will cover the 1230 departure from Bishops Lydeard (BL) to Minehead (MD) and the 1430 return service on Sunday 20th March 2022. The Class 33 is standing-in for GWR 2-6-2T number 5199.
The booked departure times for these services are as follows:
     Depart BL 1230 arrive MD 1350
     Depart MD 1430 arrive BL 1555
The weather forecast is good , so please do try and ride on this service if you can. Other services are also scheduled – see the WSR timetable page for details.
NOTE: for clarification, although the red timetable shows 'STEAM/DIESEL' for the midday service, the DEPG locos are unable to provide steam heating for the train so these services will normally be rostered for steam haulage throughout March and April. The DMU will take over the weekday services when it completes its overhaul.