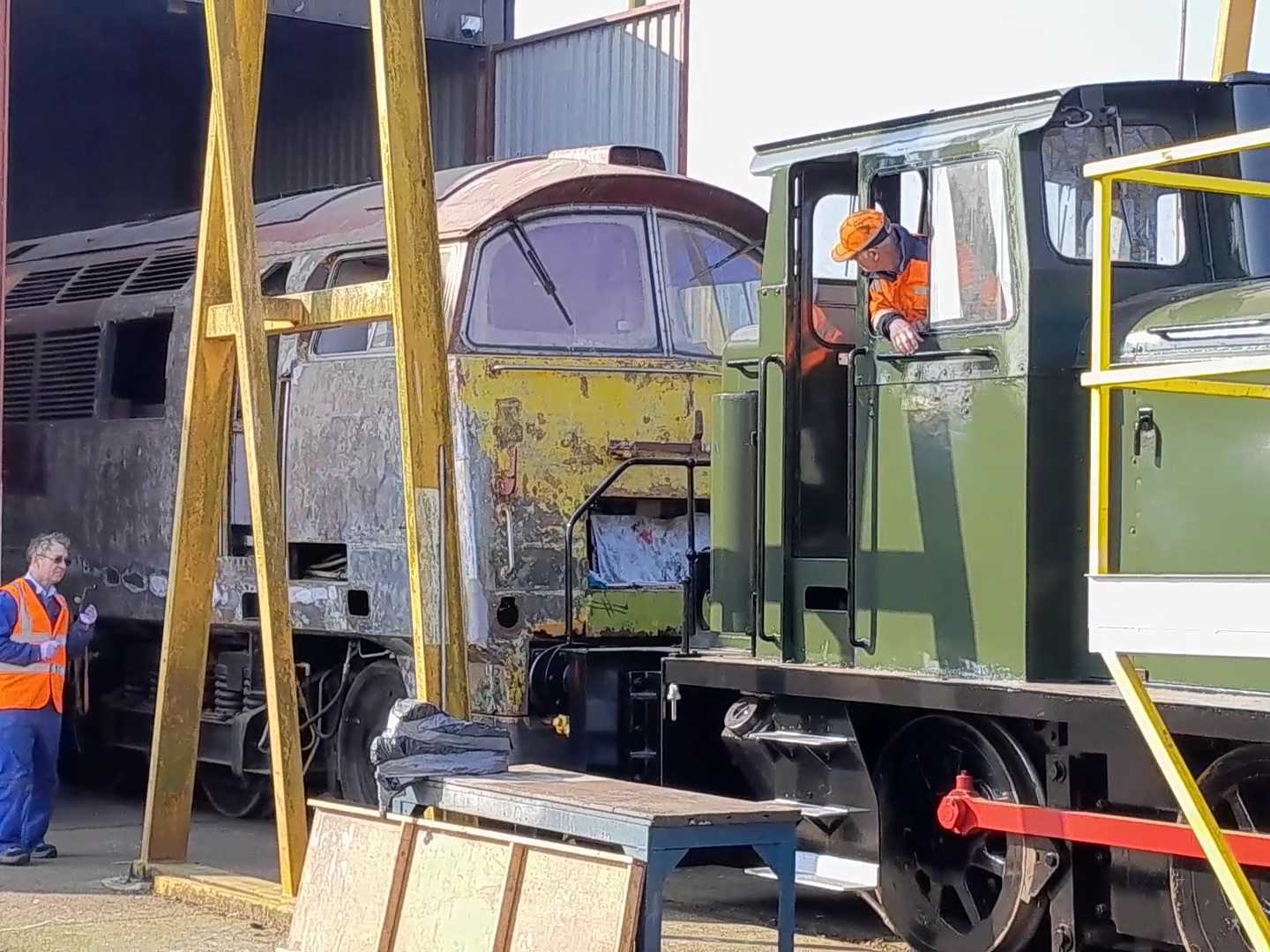 D1010 'WESTERN CAMPAIGNER' was towed outdoors by Andrew Barclay 0-4-0DH 578 (ROF 1) on a glorious Spring Saturday 26th March 2022 so that work could proceed on her bodywork overhaul. This is an image from a video clip that can be viewed in full further below. Photo by Jon Tooke © CC BY-NC 3.0
The glorious Spring sunshine of recent times has allowed our Class 52 D1010 'WESTERN CAMPAIGNER' to leave the confines of the loco shed at Williton and bask in the sunshine while her bodywork overhaul was being progressed by her dedicated team of volunteers. The repairs at 'B' end (now painted in grey primer) are almost complete and repairs along her bodyside are making very good progress – see the LOCO NEWS section below for more information.
The moment when the loco emerged from the shed was captured on video by DEPG and WSR volunteer Jon Tooke and can be viewed on our YouTube channel by clicking the image below: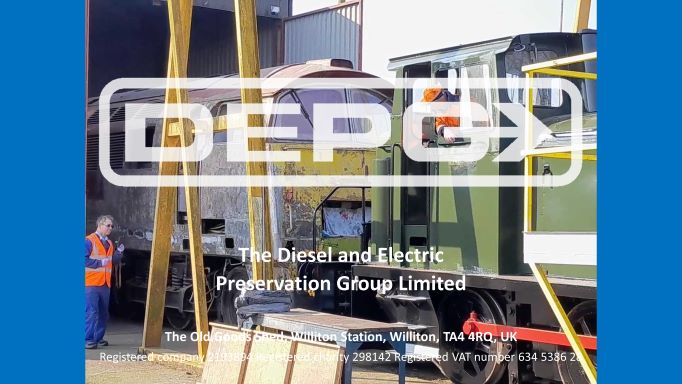 FOR THIS COMING WEEKEND, preparations are being made for the WSR's RETURN TO MINEHEAD EVENT which takes place on Saturday 2nd and Sunday 3rd April at Minehead. Here's an extract from the recent WSR publicity:
   "On both days there will be a range of stalls on the platform, representing activities on the Railway, and also representative organisations from the Minehead community. At the time of writing those booked to attend include: Minehead Lifeboat, the Regal Theatre, Minehead Museum and Minehead BID. From the Railway we expect to have representatives from Friends of Minehead Station, Foxcote Manor Group, 5199 Group, WSR Heritage Trust, West Somerset Railway Association, the DEPG and the Lynton and Barnstaple Railway.
Minehead Station shop, and the popular second hand book stall, Readers Halt, will both be open. The Turntable Cafe will be providing refreshments. Admission to the Station is free of charge, and is by way of a 'thank you' from the Railway for all the support it has received from so many people during the last couple of difficult years.
A number of special guests have been invited on the Saturday, for the official Seaward Way Level Crossing opening, which will take place at noon. The Watchet Town Band will be in attendance, as will Brunel the Beagle (from the WSR Senior Management!) and Stormy Stan from the RNLI."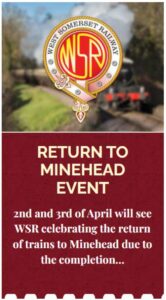 The DEPG will have a sales stand on the platform on both days, raising funds for D1010 and D9518 restoration appeals, so please do try and attend and support the event if you can. The BLUE timetable will be in operation.
NOTE: Although the 'blue' timetable shows 'STEAM/DIESEL' for the 1000 and 1430 departures from Minehead (1230 and 1635 departures from Bishops Lydeard), DEPG locos will not normally be rostered for this duty until the end of April.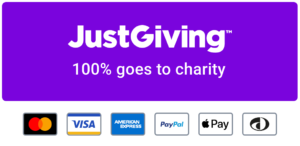 Meanwhile, work continues on multiple fronts, as evidenced by the following selection of photos:
D1010 – Plenty of volunteer activity on the bodyside overhaul at Williton on Saturday 26th March 2022, with (L-R) Gordon, Ian F and Chris in view (Leroy and Mike were also working on the loco). Photo by Barrie Childs © CC BY-NC 3.0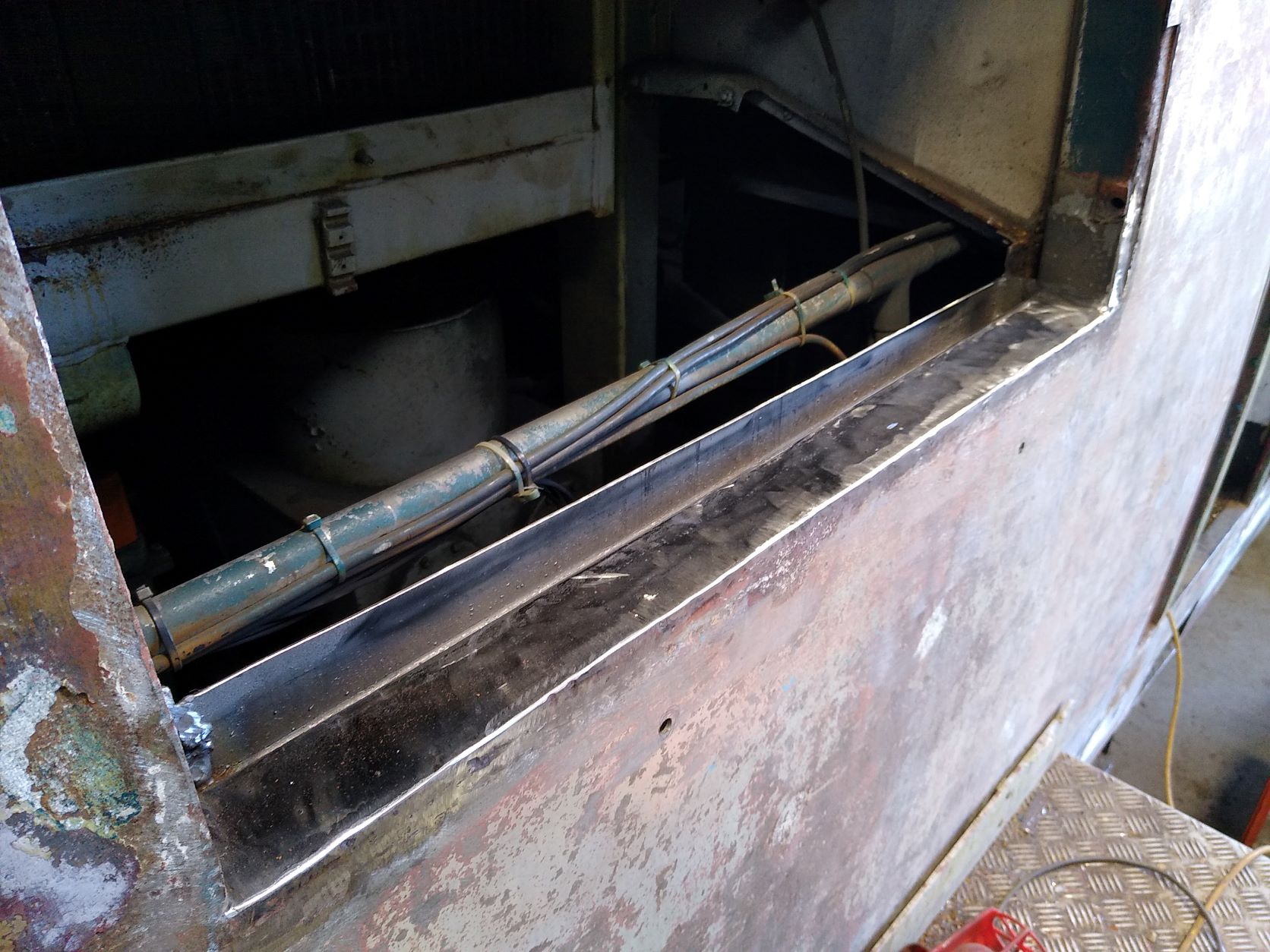 D1010 – the sill for the access grille on 'B' side was repaired by welding new steel at Williton on Monday 21st March 2022. Photo by Colin Foxhall © CC BY-NC 3.0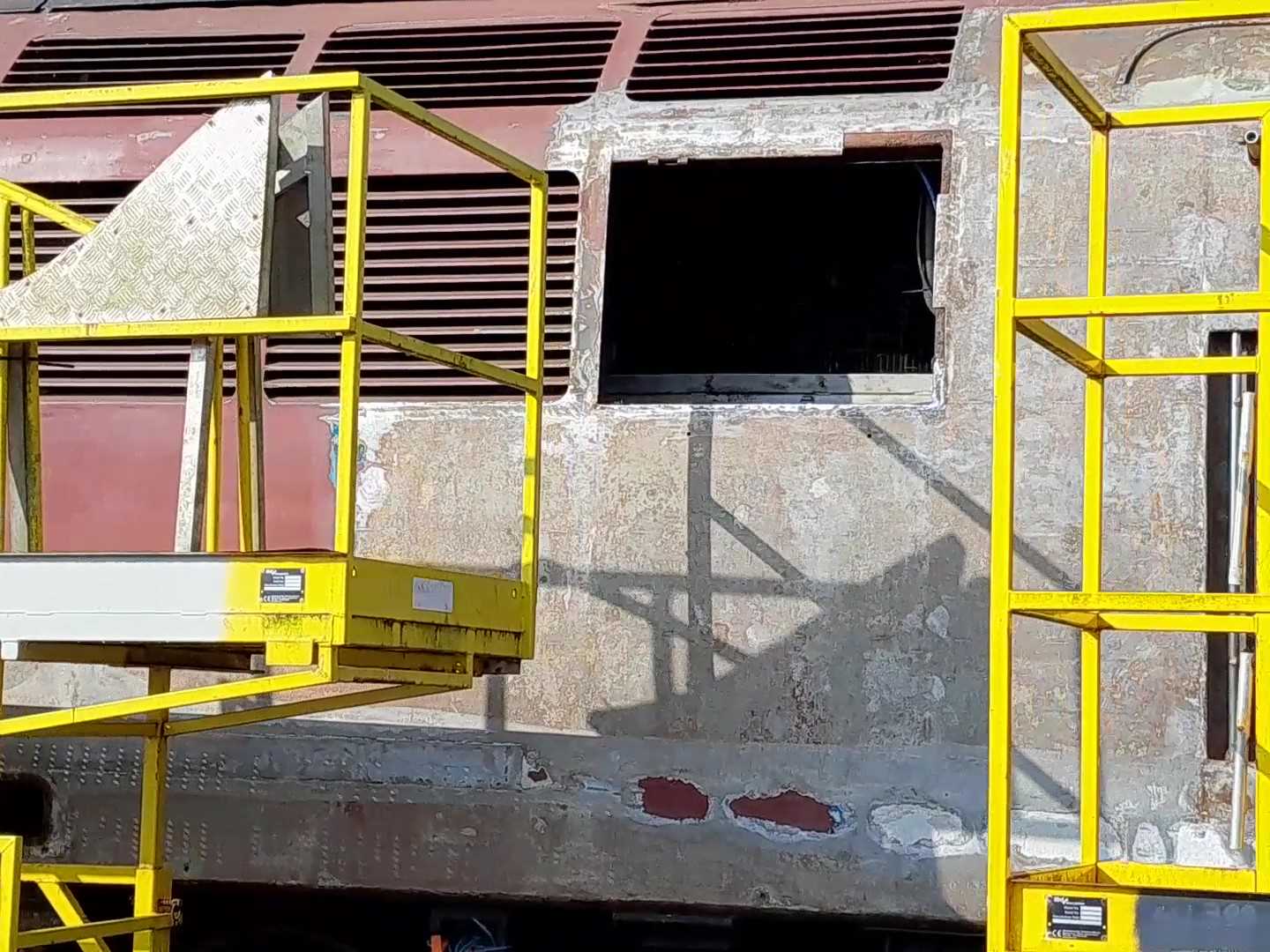 D1010 – the access grille aperture on 'B' side can be seen to be partly repaired in this view taken on Saturday 26th March 2022. Extract from a video by Jon Tooke © CC BY-NC 3.0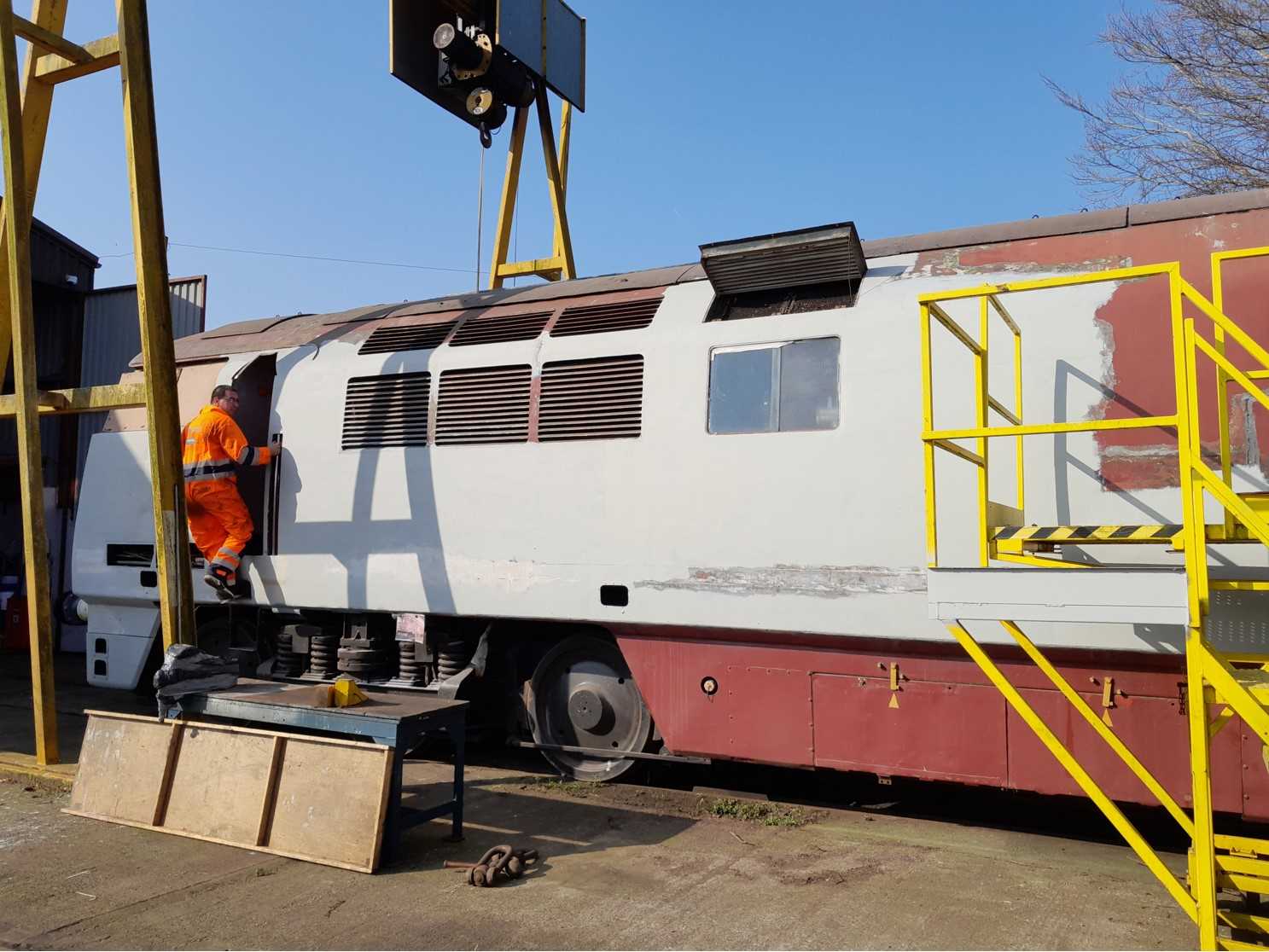 D1010 – the loco was hauled out into the sunlight to allow work to progress in multiple areas on the bodyside on Saturday 26th March 2022. The 'B' side' air intake for 'B' engine can be seen in the open or 'maintenance' position. Photo by Jon Tooke © CC BY-NC 3.0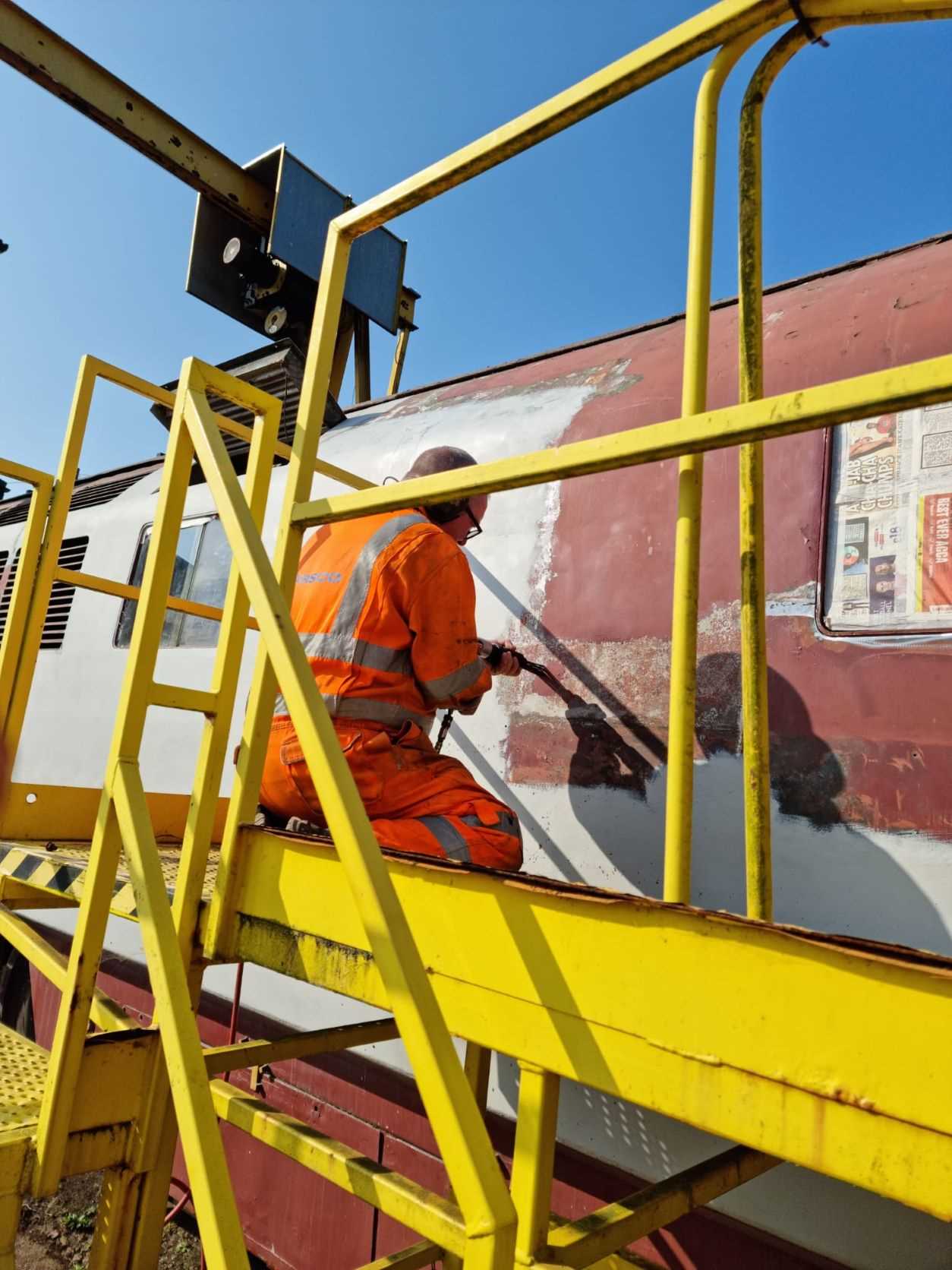 D1010 – volunteer Mike E uses the needle-gun to remove the old paint and filler on the 'B' side of the loco, to the left of the centre window. Pictured at Williton on Saturday 26th March 2022 by Andy Royal © CC BY-NC 3.0
To support the work that is progressing in multiple areas on D1010, we launched our CAMPAIGN for CAMPAIGNER by offering 'SPONSOR A PATCH' where you can donate in support of the bodywork repairs that are taking place on D1010 'WESTERN CAMPAIGNER' and HAVE YOUR NAME ENGRAVED ON THE SPONSORED PATCH or PART.
For the sum of £25, this scheme offers you a chance to sponsor the restoration of this much-loved locomotive, with your personal contribution being recorded and documented on a set of drawings that will be made available at our Williton depot on running days and open days. For those who prefer to remain anonymous, a unique reference number will be allocated and engraved instead.
See our CAMPAIGN for CAMPAIGNER web page for more details !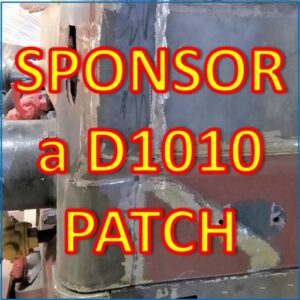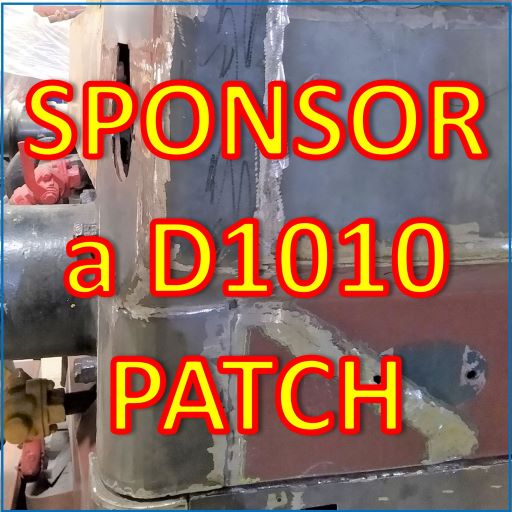 NOTE: EVERYONE WHO HAS ALREADY DONATED £25 OR MORE SINCE JULY 2021 WILL BE RECOGNISED and will be allocated an appropriate area on one of the patches or parts that have already been applied to the loco. Donations of smaller sums that accumulate to £25 are also eligible, so donate what you can when you can, and we will keep track of your total donations. Use our CONTACT FORM if you want to register your previous donations to D1010 for this campaign.
Class 33 D6575 (33 057) – this loco is the WSR duty loco and is currently based at Bishops Lydeard. This loco was in use during the previous weekend, and here's a photo of the 1961-vintage loco approaching Williton and meeting up with an even older vintage diesel machine ….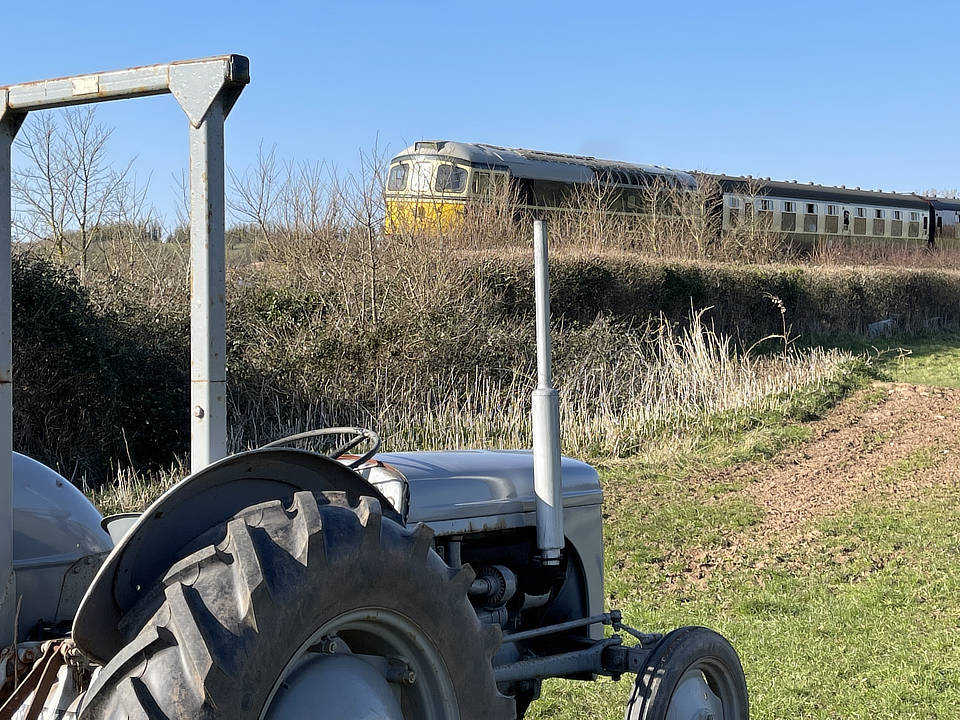 Class 33 'Crompton' D6575 (33 057) approaches Williton on 20th March 2022 and passes a Ferguson model TE20 diesel tractor that had been working in the field alongside the railway. The 72-year old machine is one of a pair that were bought by Charlie Martin from local firm J Gliddon & Son when brand new in 1950 and have worked in and around Williton ever since ! Photo by Edward Martin © CC BY-NC 3.0
Class 35 'Hymek' D7017 – now inside the WSR Restorations 'Swindon Shed' for lifting and bogie spring change (expected to take two weeks). We will be putting together a special series of posts on our website during this week to keep our members and supporters up to date with the work that is taking place on this loco.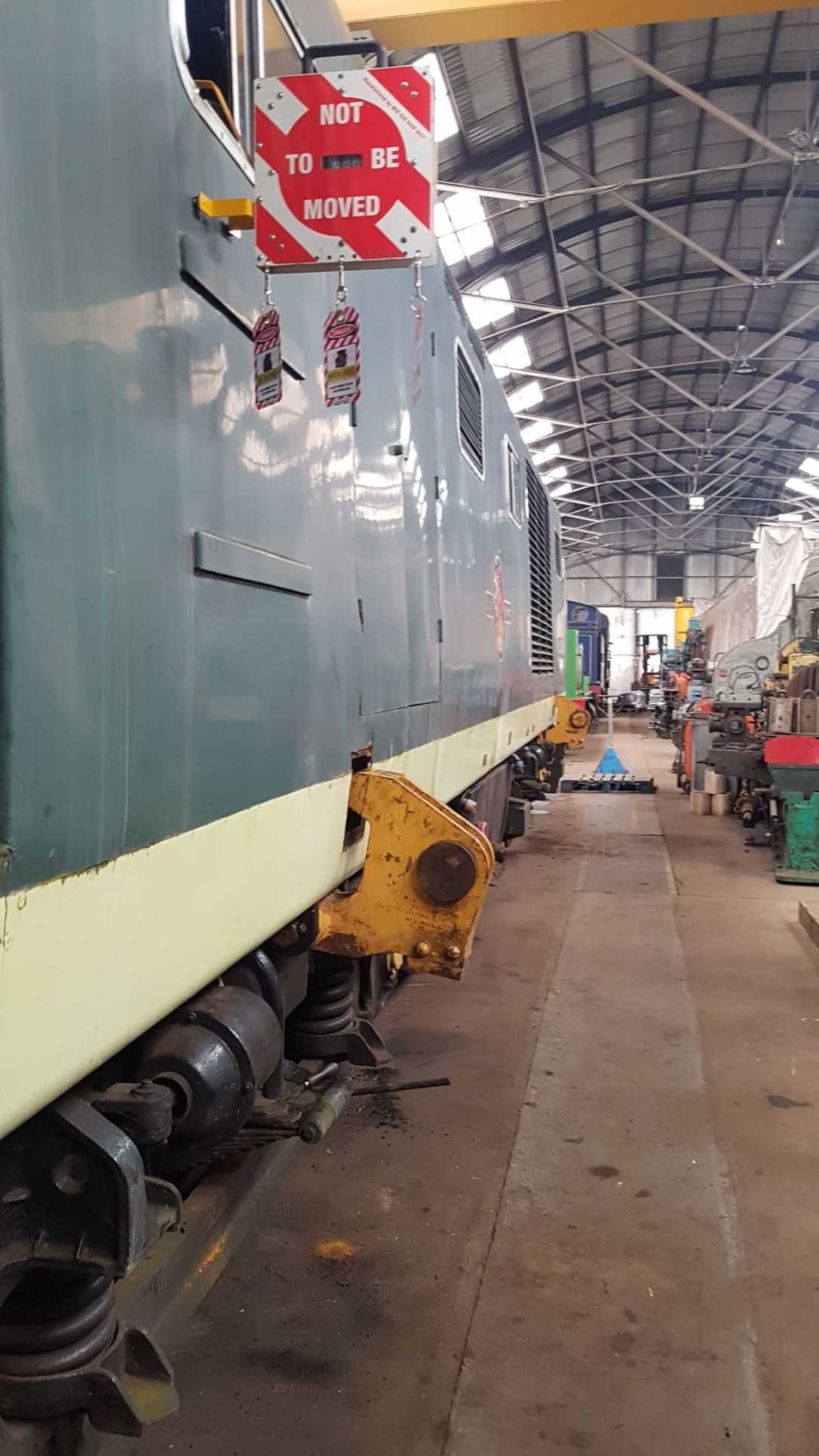 Beyer-Peacock Class 35 'Hymek' D7017 is pictured inside the WSR Restorations Swindon Shed at Williton on Monday 28th March 2022 with the lifting brackets in position, awaiting the lifting jacks. The bogies have been disconnected and the loco is ready for lifting. Photo by Martin Howard © CC BY-NC 3.0
Class 35 'Hymek' D7018 – with a good showing of volunteers last Saturday, the opportunity was taken to lavish some TLC on this loco and keep her paintwork bright and clean. When resources become available, the 'spare' transmission that last ran in D7018 back in 1995 will be cleaned up and opened up to release the control block that will then be installed in D7018 and will hopefully resolve the gear-change difficulties.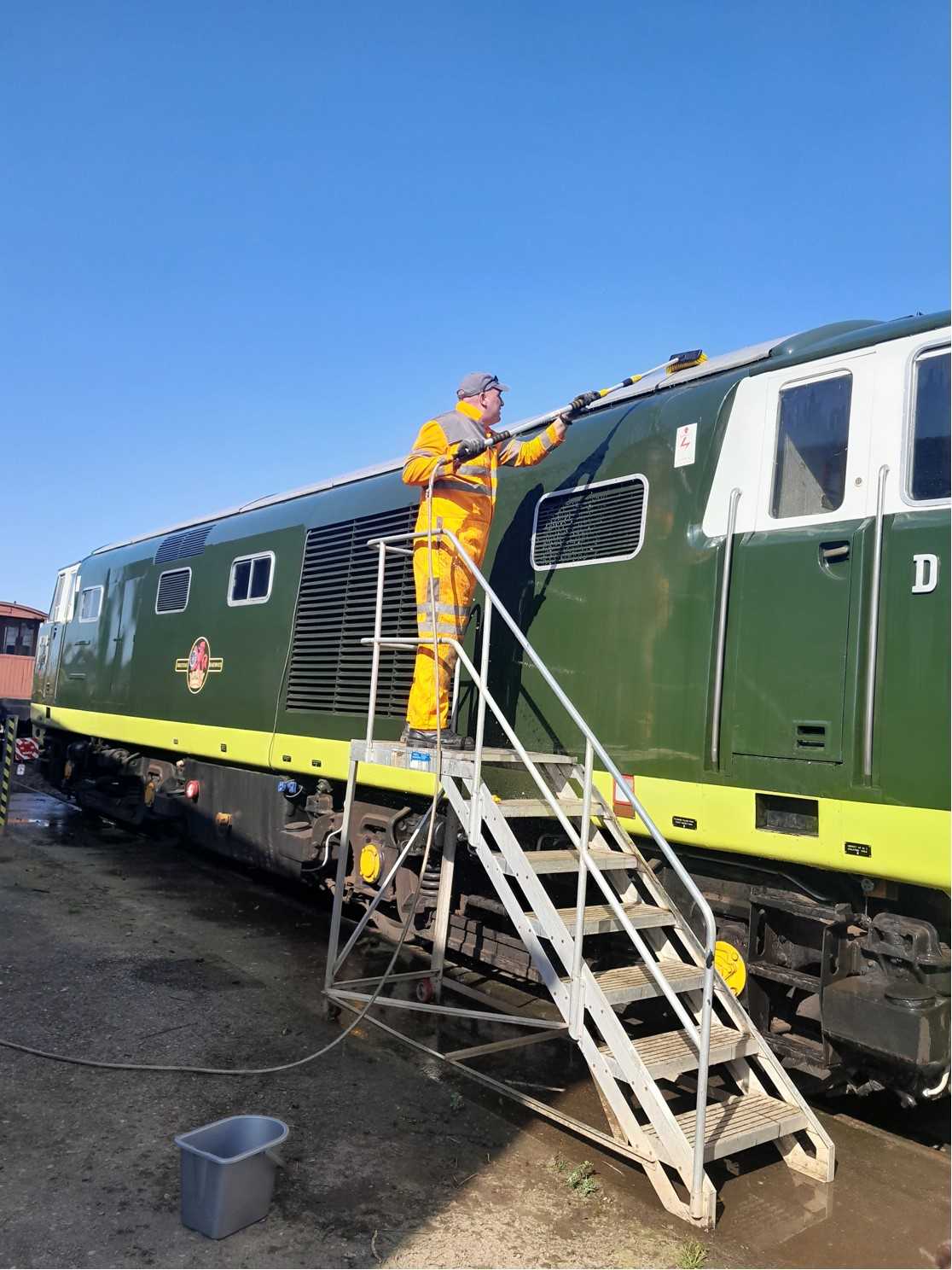 Class 35 'Hymek' D7018 enjoyed the attention of Darren and Jon at Williton on Saturday 26th March 2022, with Darren evidently able to use his height to great advantage ! Photo by Jon Tooke © CC BY-NC 3.0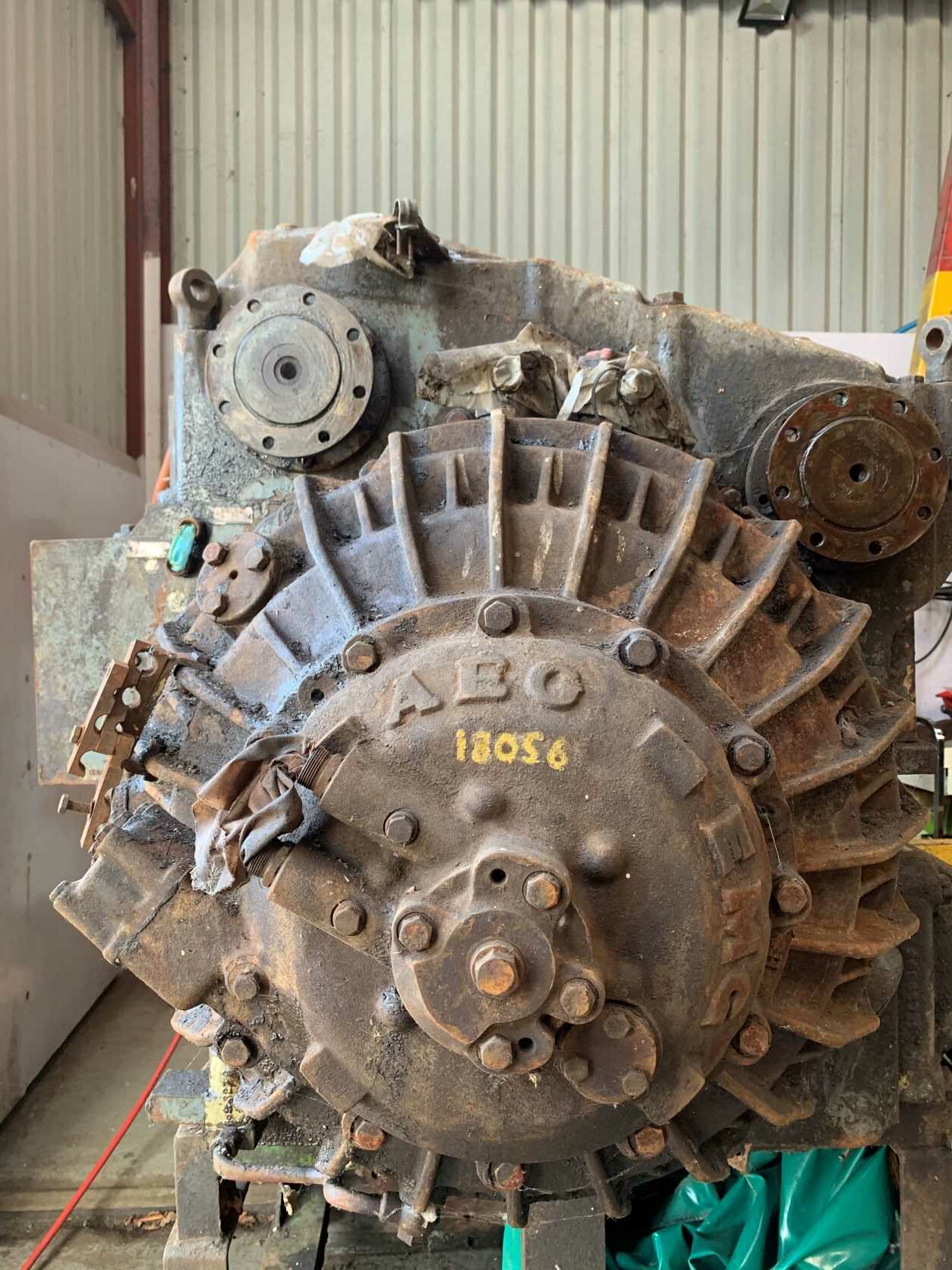 The Stone-Maybach 'Mekydro' K184 hydraulic transmission that was last used in Class 35 'Hymek' D7018 back in 1995 has been moved into the shed for cleaning. The control block will then be removed and will be fitted into D7018. Pictured at Williton on Saturday 26th March 2022 by Andy Royal © CC BY-NC 3.0
Class 14 'Teddy Bear' D9518 – plenty of progress on plenty of items this week, including some preparation work on the Voith L217 hydraulic transmission prior to it being reinstalled on the loco. The pictures tell the story: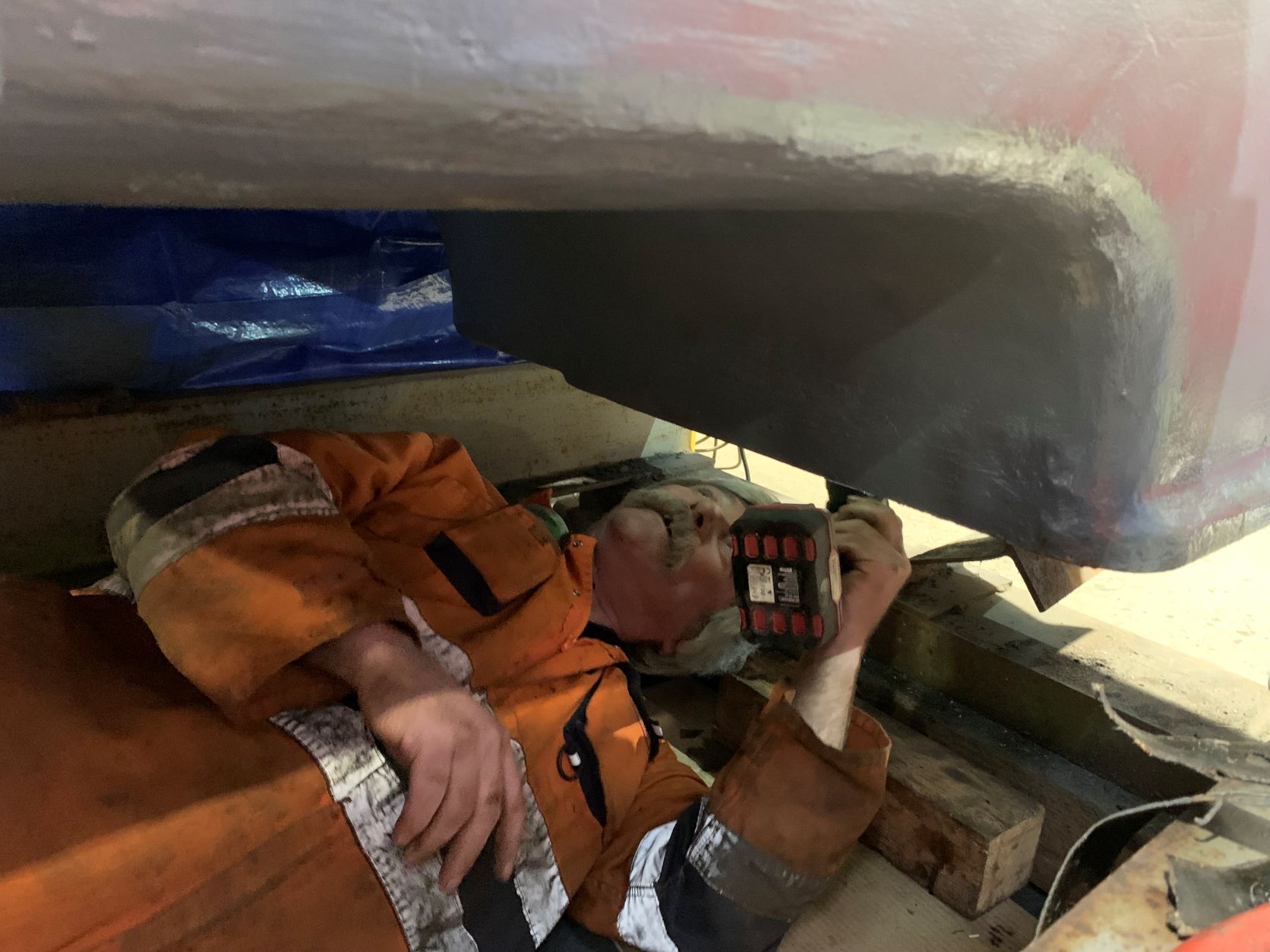 D9518 – Simon has removed the sump from the Voith L217 hydraulic transmission to change the oil filters and check for any signs of trouble. So far, so good. Pictured at Williton on Saturday 26th March 2022 by Andy Royal © CC BY-NC 3.0
D9518 – a view inside the Voith L217 hydraulic transmission (looking upward) shows that everything is 'as expected' so that is a good sign. Pictured at Williton on Saturday 26th March 2022 by Andy Royal © CC BY-NC 3.0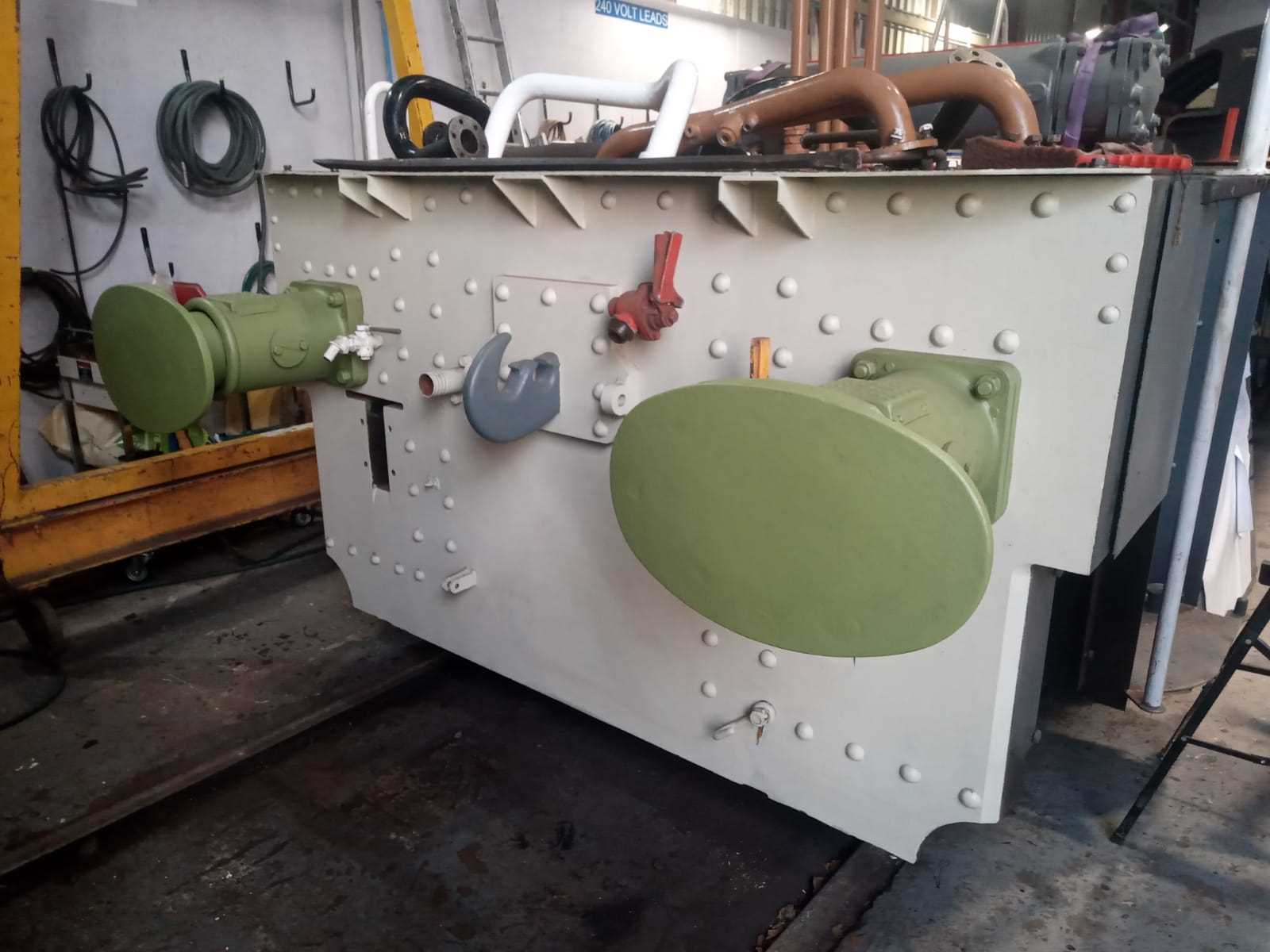 D9518 – the refurbished buffers now wear a coat of green primer. Next will be a few layers of undercoat before the gloss top coat. Pictured at Williton on Saturday 26th March 2022 by Colin Girle © CC BY-NC 3.0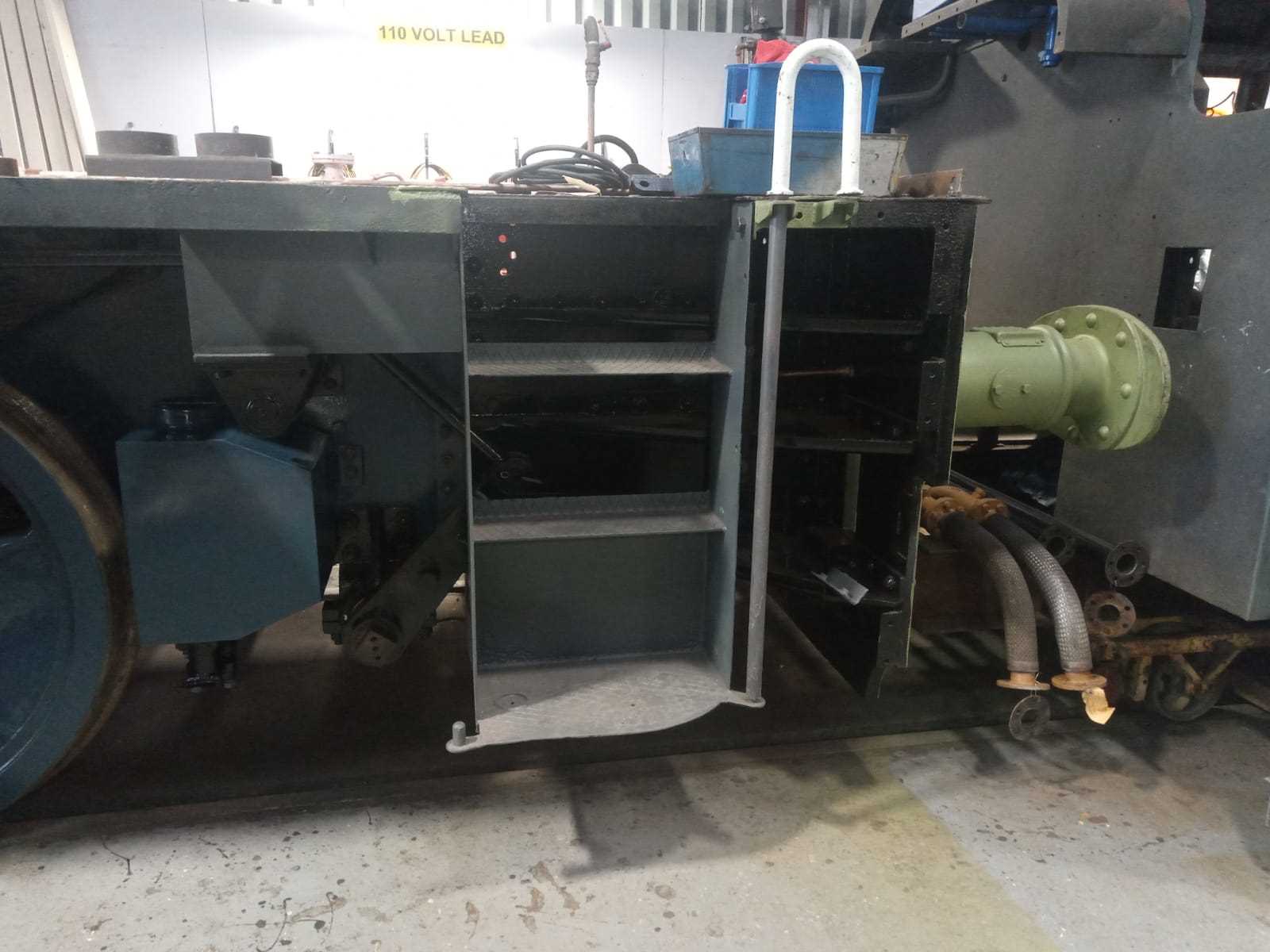 D9518 – the last set of steps have now been fitted so the loco now has her full complement of six sets. Pictured at Williton on Saturday 26th March 2022 by Colin Girle © CC BY-NC 3.0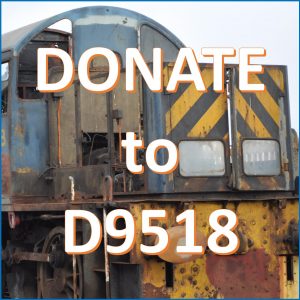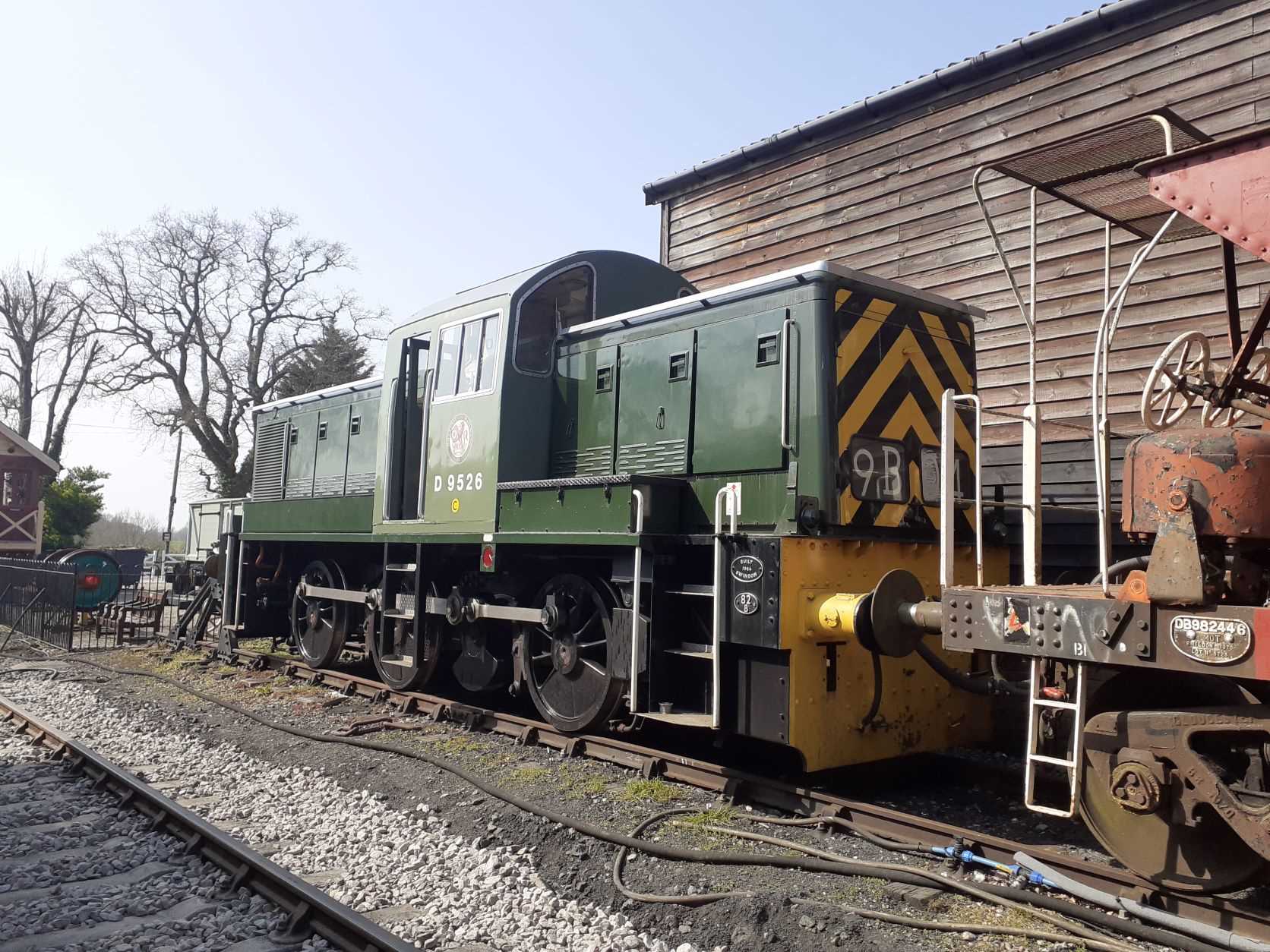 D9526 – pictured at Tenterden on Friday 25th March 2022 with a ballast train in support of the track relaying that is taking place in advance of the start of the 2022 running season. Photo by Simon Purvis © CC BY-NC 3.0
Class 47 47077 'NORTH STAR' – this loco is currently stabled at Pickering on the North Yorkshire Moors Railway, awaiting re-opening of the line so that she can move to Grosmont to enter the loco works for completion of some overhaul tasks. The loco is expected to be readied for entering service in the summer of this year.
Andrew Barclay 0-4-0DH 578 – this loco has been very busy during the last few weeks and is likely to be in use again this week for shunting in the North Yard at Williton. The loco is resplendent in her MOD bronze green paintwork and only needs some detailing such as cabside signwriting and the reinstatement of the black diagonal lines on the buffer beams to complete her return to her authentic 1972 appearance.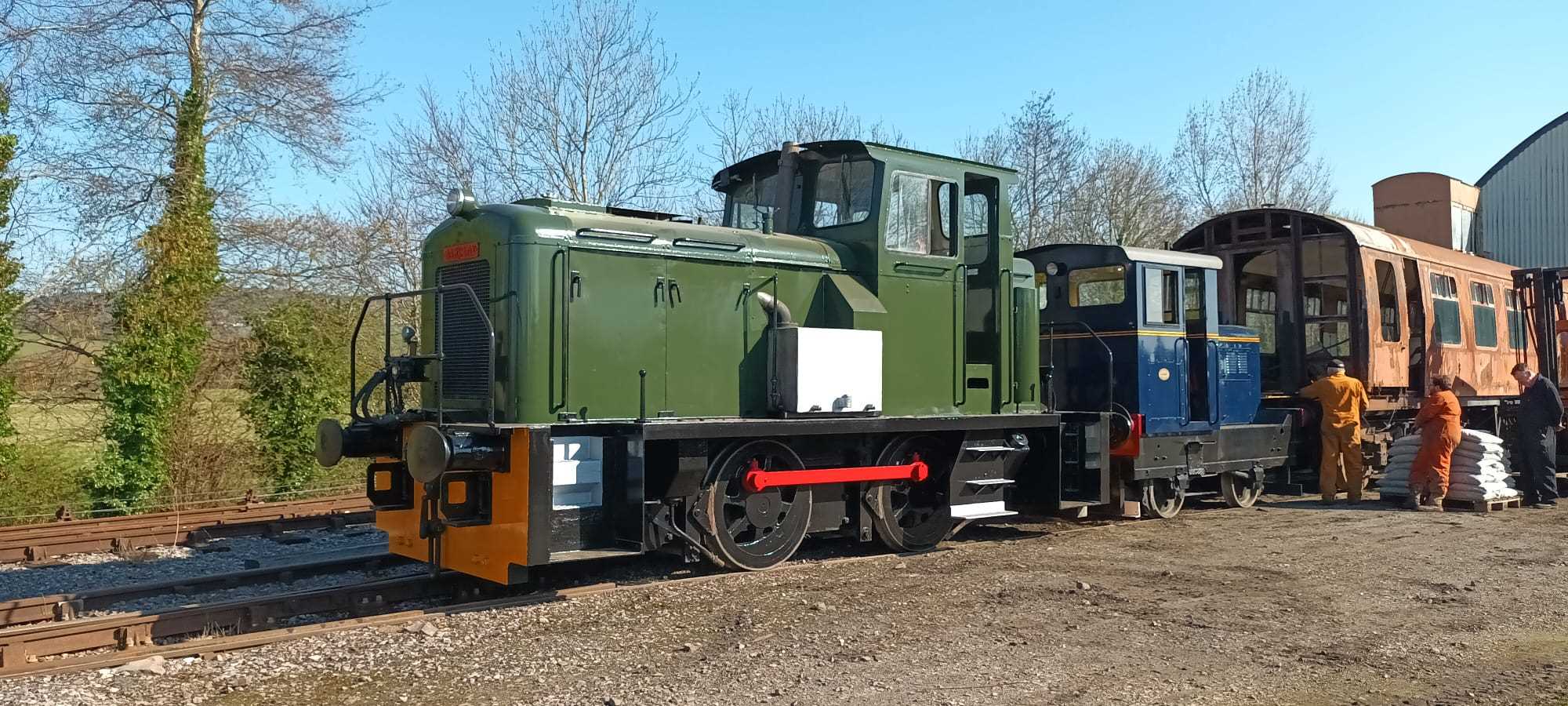 Andrew Barclay 578 (ROF 1) was pictured in the North Yard at Williton on Saturday 19th March 2022 along with the diminutive Ruston 0-4-0DM shunter 200793 and a Mark 1 coach. These two locos are extremely useful, given the wide variety of work around the Williton site. Photo by Tom Courtney © CC BY-NC 3.0
If you can help by donating your time, then please JOIN US and come along to the depot for an introduction to what we do and how we do it. We currently have people on site from Saturday through to Tuesday and we can open on other days if we can be sure of getting at least two volunteers on site at all times, so there is plenty of scope. We have tasks of all types to suit most capabilities, both skilled and unskilled.
Many thanks to all of our volunteers who give up so much of their time to work on the cleaning, painting, maintaining, restoring, managing and fund raising for our fleet of heritage locomotives !
BOOK REVIEW – we have received a detailed book review from regular contributor Neale Long covering Part 1 of the new Class 14 study by Anthony P. Sayer, but we will need a little time to set it up on our website so that we can then provide a link to this review from the roundup. The conclusion of Neale's review is positive and it sounds like Mr. Sayer has maintained his excellent track record with his most recent work, which is great news.
Please bear with us and keep an eye on our website in the meantime. Part 1 is available now (click on the image below for a link to the publisher's website) and Part 2 will be released at the end of June. Many thanks to Neale for providing the review, which will be uploaded to our website during this week.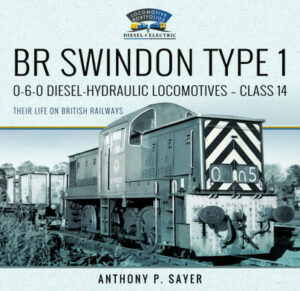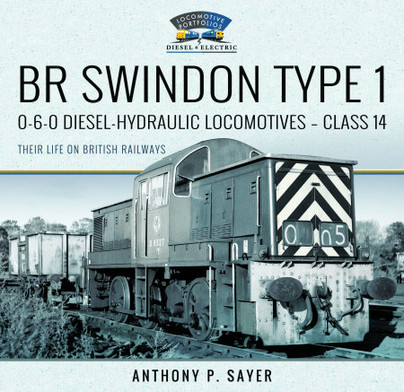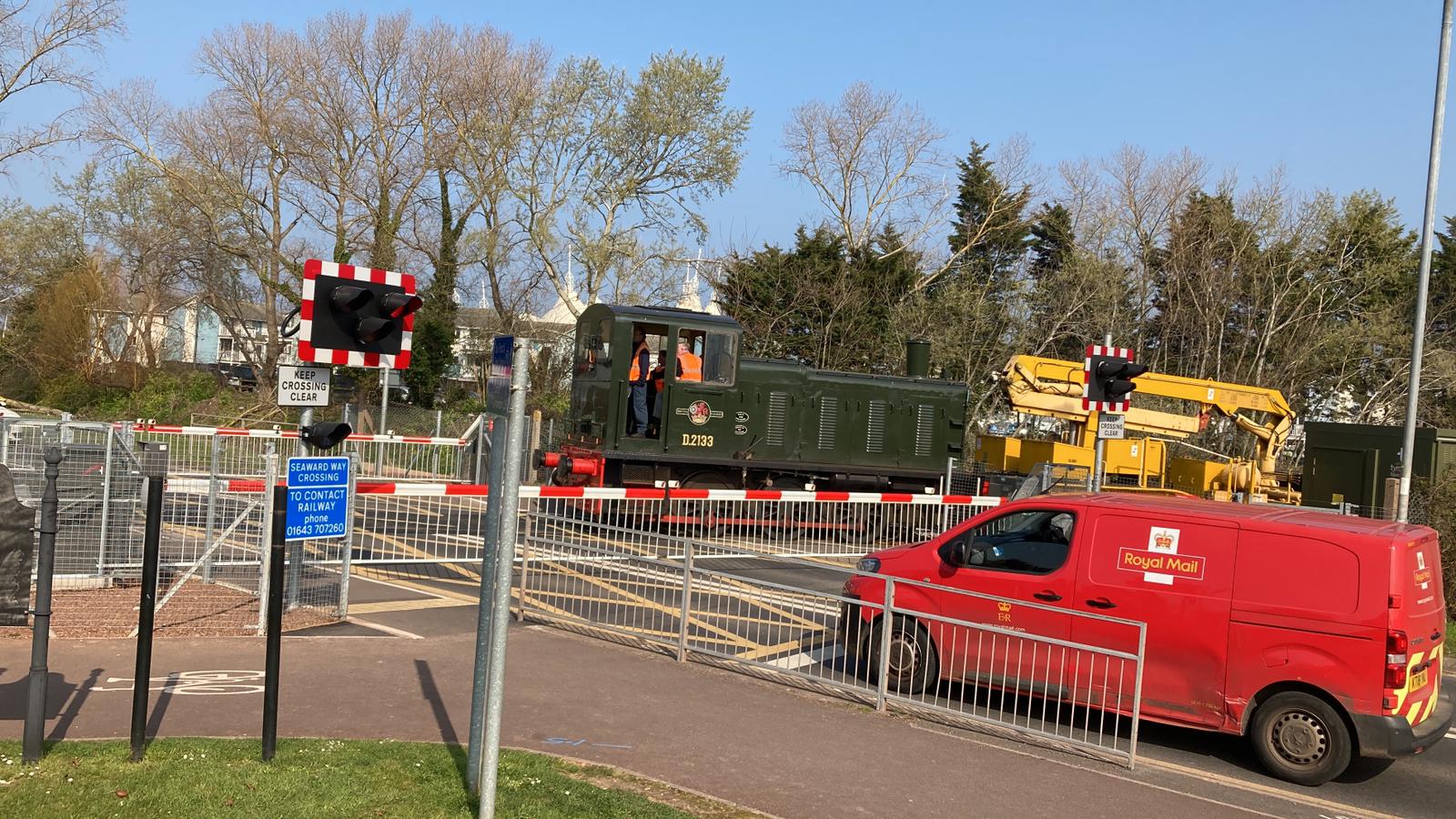 Class 03 shunter D2133 was pictured at the new Seaward Way Level Crossing on Sunday 27th March 2022 while shunting some civil engineering equipment. The official opening ceremony for this crossing will take place this coming Saturday 2nd April 2022 at 1200 midday. Photo by Josh Brinsford © CC BY-NC 3.0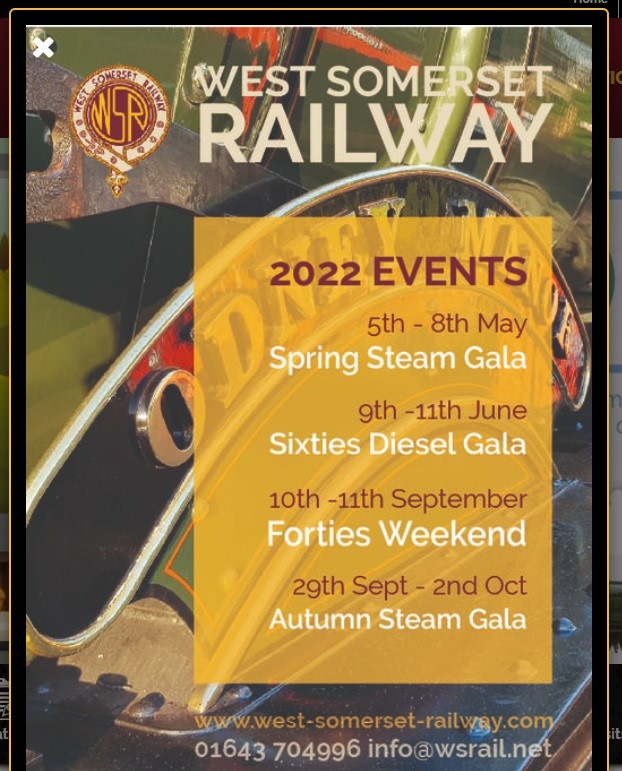 Go to previous Weekly Roundup post
---