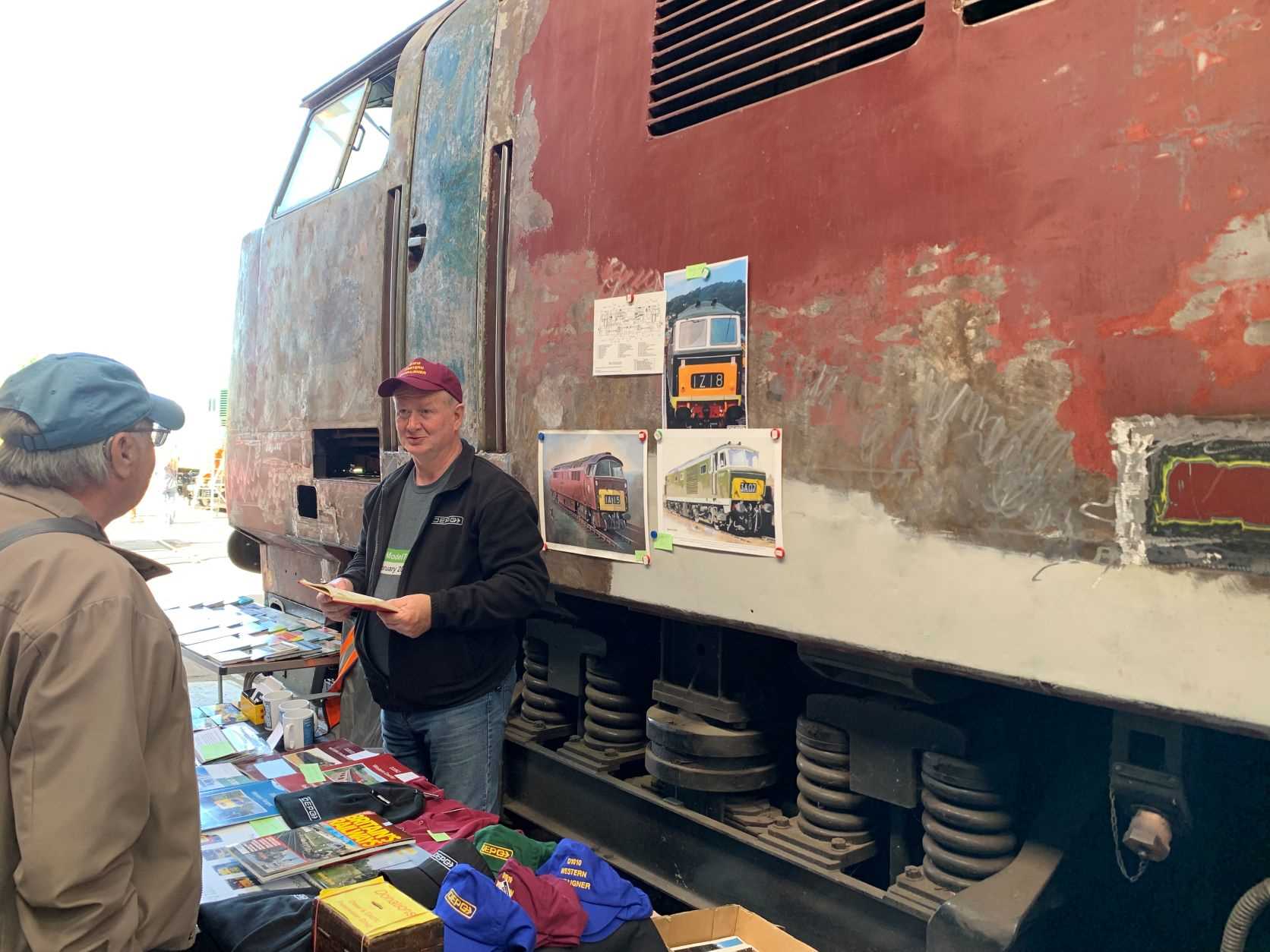 The DEPG sales stand was back in action on all four days of the Spring Steam Gala, but Chris had a prior engagement for the Saturday (something to do with a 'Deltic' …) so DEPG member Mark Ireland volunteered to man the stand and has now been inducted to the sales team. That will teach him. Well done Mark ! Pictured on Saturday 7th May 2022 at Williton by Andy Royal © CC BY-NC 3.0
The DEPG opened our Williton depot to the public on all four days of the WSR's SPRING STEAM GALA (Thursday 5th through Sunday 8th May) and attendance was good (the busiest days being Thursday and Saturday) and the event resulted in sales and donations totalling close to £500 – which is not bad at all for a STEAM gala !
Donations were boosted by the guided tours that were provided by Leroy (on all four days – thank you Leroy !) and also by Terry, and our visitors were impressed by the obvious progress on both D1010 and D9518. The dual attractions of locomotives under heavy overhaul and the Model Railways sales stand operated by Rod Saunders worked very well and is a recipe that we will be offering at the Diesel Gala as well. Many thanks to all who worked so hard to make the event such a success !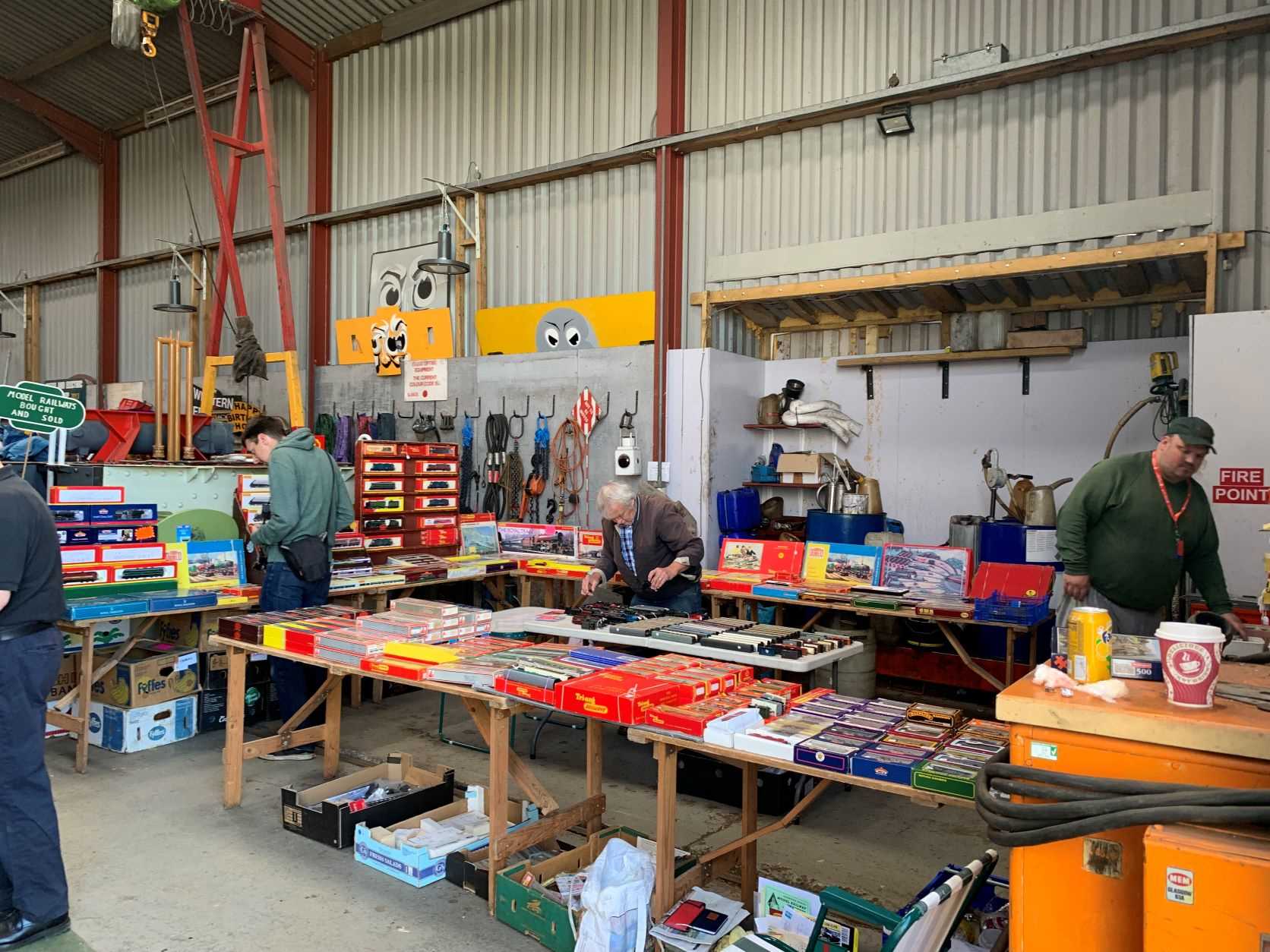 The model railway sales stand was very well patronised and brought additional visitors into our diesel depot. Similarly, most of the visitors wanting to see our locos were also attracted by the wide range of models being offered by Rod Saunders (above, centre), so it was a win-win combination. Pictured on Saturday 7th May 2022 at Williton by Andy Royal © CC BY-NC 3.0
DIESEL RUNNING DATES – We are now able to confirm the loco allocations for the diesel running days and we will be sending out a DIESELGEN bulletin to provide more details later this week. Here's the allocation for the next few weekends:
| | | | |
| --- | --- | --- | --- |
| Date | Timetable | Loco type | Mileage available |
| Saturday 14th May | Blue | Class 33 'Crompton' | 80 miles |
| Sunday 15th May  | Blue | Class 33 'Crompton' | 80 miles |
| Saturday 21st May | Blue | Class 33 'Crompton' | 80 miles |
| Sunday 22nd May  | Blue | Class 33 'Crompton' | 80 miles |
| Thursday 9th June | DIESEL GALA | Home fleet plus visitor(s) | Norton Fitzwarren extension |
| Friday 10th June | DIESEL GALA | Home fleet plus visitor(s) | Norton Fitzwarren extension |
| Saturday 11th June | DIESEL GALA | Home fleet plus visitor(s) | Norton Fitzwarren extension |
| Sunday 12th June | Blue | Class 35 'Hymek' or visitor | 80 miles |
| Saturday 18th June | Blue | Class 35 'Hymek' | 80 miles |
| Sunday 19th June | Blue | Class 35 'Hymek' | 80 miles |
The usual caveats of loco availability apply, but we will be aiming to deliver the above program of running with the locos indicated and we will provide as much advance notice of any change as possible, using our DIESELGEN and Twitter feeds, so sign up to keep up to date.
SOME VERY IMPORTANT DATES FOR YOUR DIARY – the WSR's 2022 DIESEL GALA will take place from Thursday 9th through Saturday 11th June 2022, so keep these dates free and make a plan to attend ! Click this link to the WSR website to view the dates for other WSR events that are planned for 2022. We will be opening our depot to the public on these special event days.
LOCO NEWS:
Class 52 D1010 'WESTERN CAMPAIGNER' – our CAMPAIGN for CAMPAIGNER has been boosted by the recent raffle income and by donations made at the events of the last two weekends, but we are still some way from our target so WE NEED YOUR HELP ! Click on the images below for an update of fundraising status or to make a donation. It all helps, that's for sure!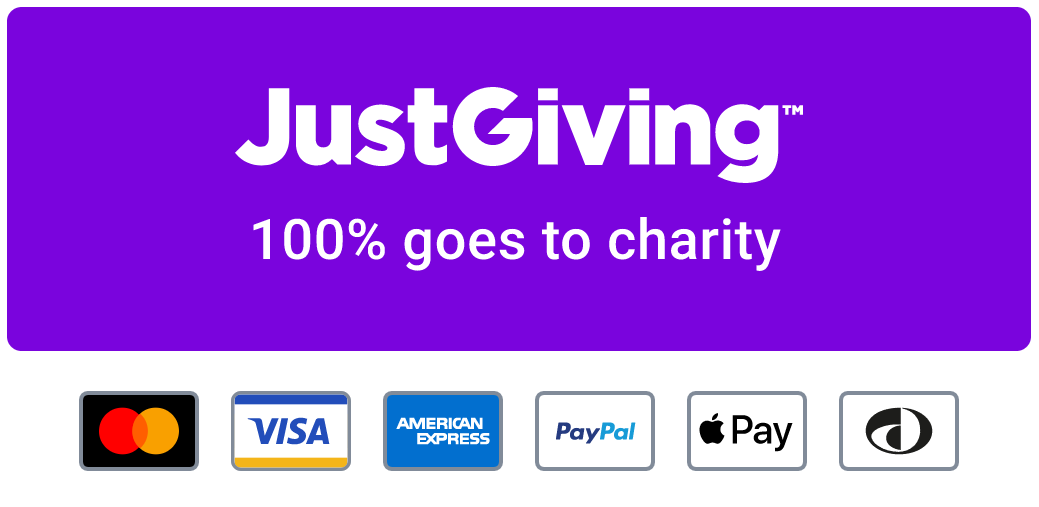 We were unable to work on the loco during the gala weekend so our team worked mid-week to make sure that the work progressed on the 'A' side at the 'A' end of the loco (nearest the main doors). As mentioned last week, the 'A' end needs a more invasive form of repair compared to the 'B' end, so progress will take the form of stops and starts as larger tasks are tackled. Here's some photos of the work that was completed last week: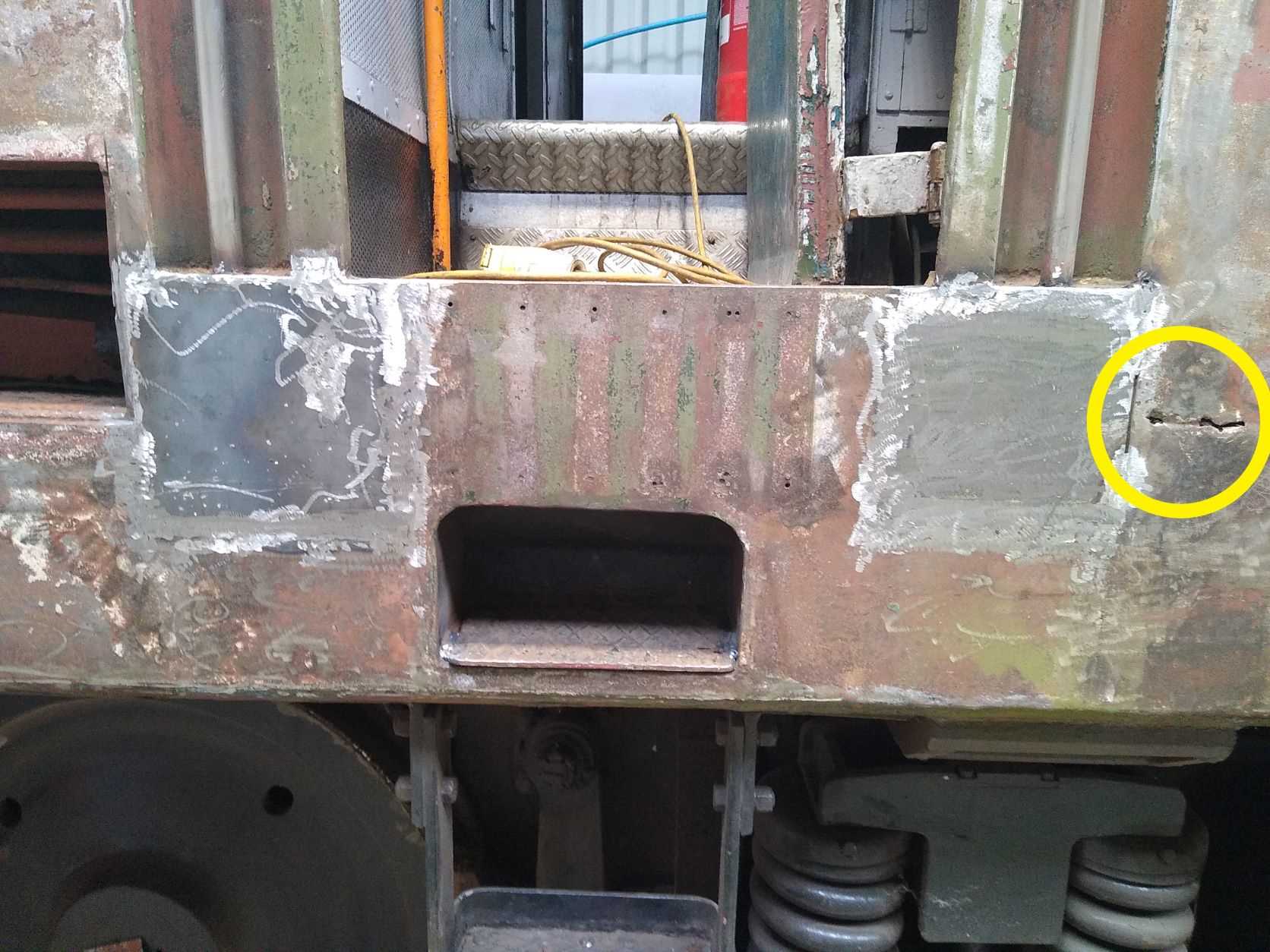 D1010 – repairs around the driver's door handrail mounts at 'A' end have now been completed except for the area shown in the yellow circle – this area will be opened up and repaired in the very near future. More patches that need sponsoring ! Pictured at Williton on Wednesday 4th May 2022 by Colin Foxhall © CC BY-NC 3.0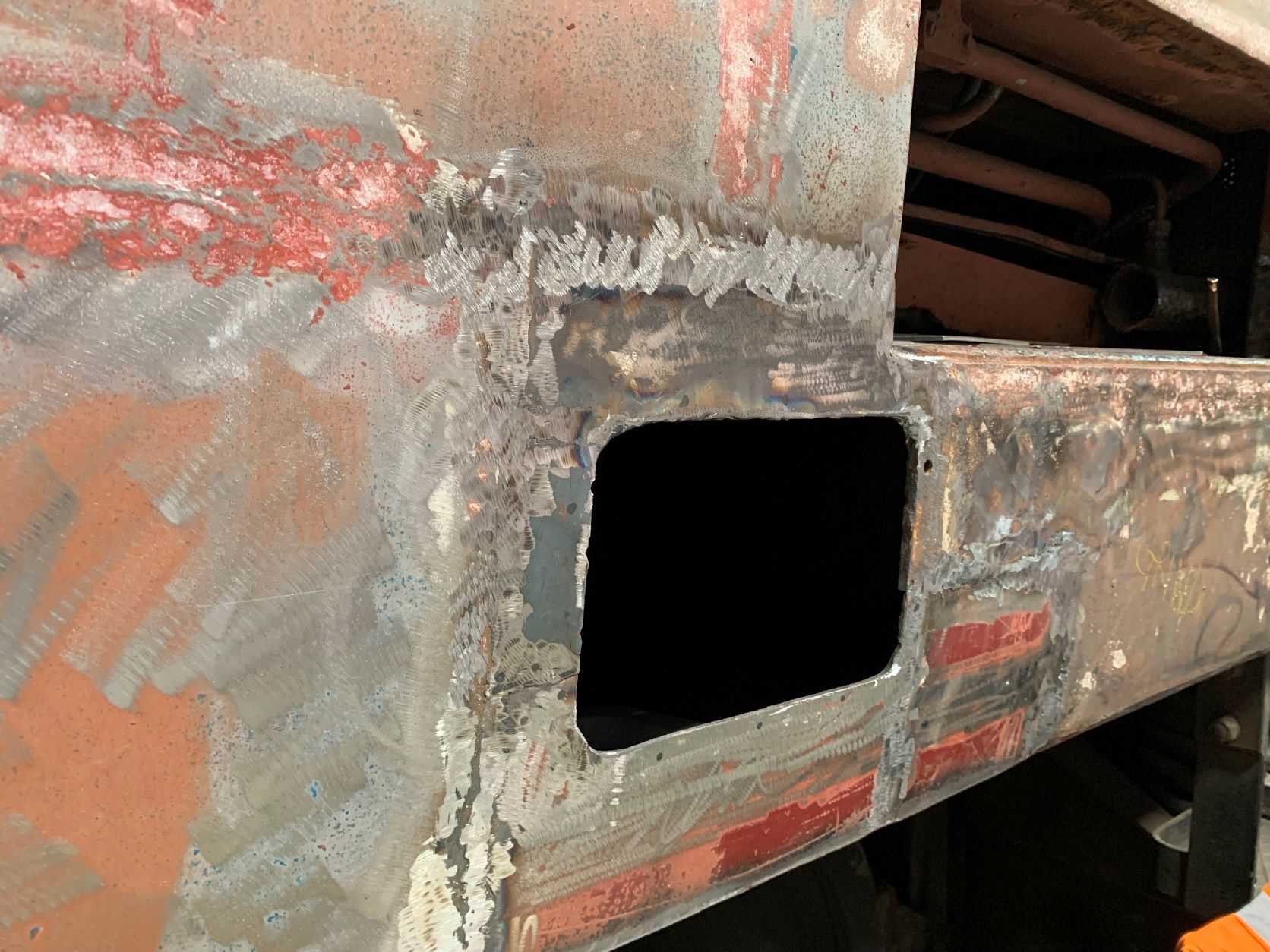 D1010 – the 'skin' around the leading sandbox porthole at the 'A' end has been extensively repaired, so much so that only one of the 10 mounting holes for the cast aluminium frame remains. The other nine holes have been marked and now need to be drilled ! Pictured at Williton on Saturday 7th May by Andy Royal © CC BY-NC 3.0
To support the work that is progressing in multiple areas on D1010, we launched our CAMPAIGN for CAMPAIGNER by offering 'SPONSOR A PATCH' where you can donate in support of the bodywork repairs that are taking place on D1010 'WESTERN CAMPAIGNER' and HAVE YOUR NAME ENGRAVED ON THE SPONSORED PATCH or PART.
For the sum of £25, this scheme offers you a chance to sponsor the restoration of this much-loved locomotive, with your personal contribution being recorded and documented on a set of drawings that will be made available at our Williton depot on running days and open days. For those who prefer to remain anonymous, a unique reference number will be allocated and engraved instead.
See our CAMPAIGN for CAMPAIGNER web page for more details !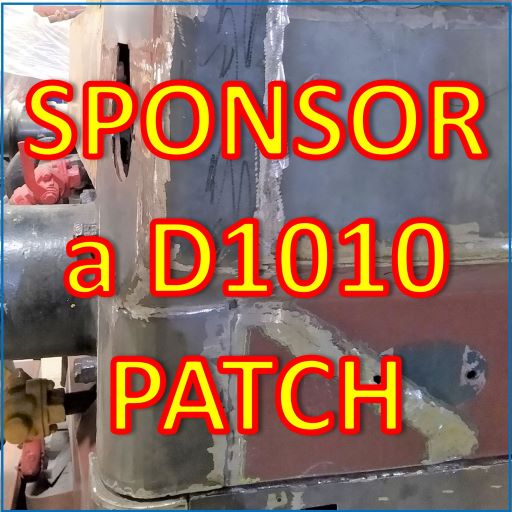 NOTE: EVERYONE WHO HAS ALREADY DONATED £25 OR MORE SINCE JULY 2021 WILL BE RECOGNISED and will be allocated an appropriate area on one of the patches or parts that have already been applied to the loco. Donations of smaller sums that accumulate to £25 are also eligible, so donate what you can when you can, and we will keep track of your total donations. Use our CONTACT FORM if you want to register your previous donations to D1010 for this campaign.
Class 33 D6566 (33 048) – this loco is now outstationed at Minehead and is rostered for use this coming weekend under the blue timetable as per our recent DIESELGEN bulletin.
ADVANCE INFORMATION – the 10:00 Minehead diagram will be hauled by Class 33 'Crompton' D6566 (33 048) on Sat/Sun 14/15 May and 21/22 May. The BLUE TIMETABLE offers 80 miles of diesel-haulage with two return trips starting at Minehead. Keep up to date about future diesel running via DIESELGEN.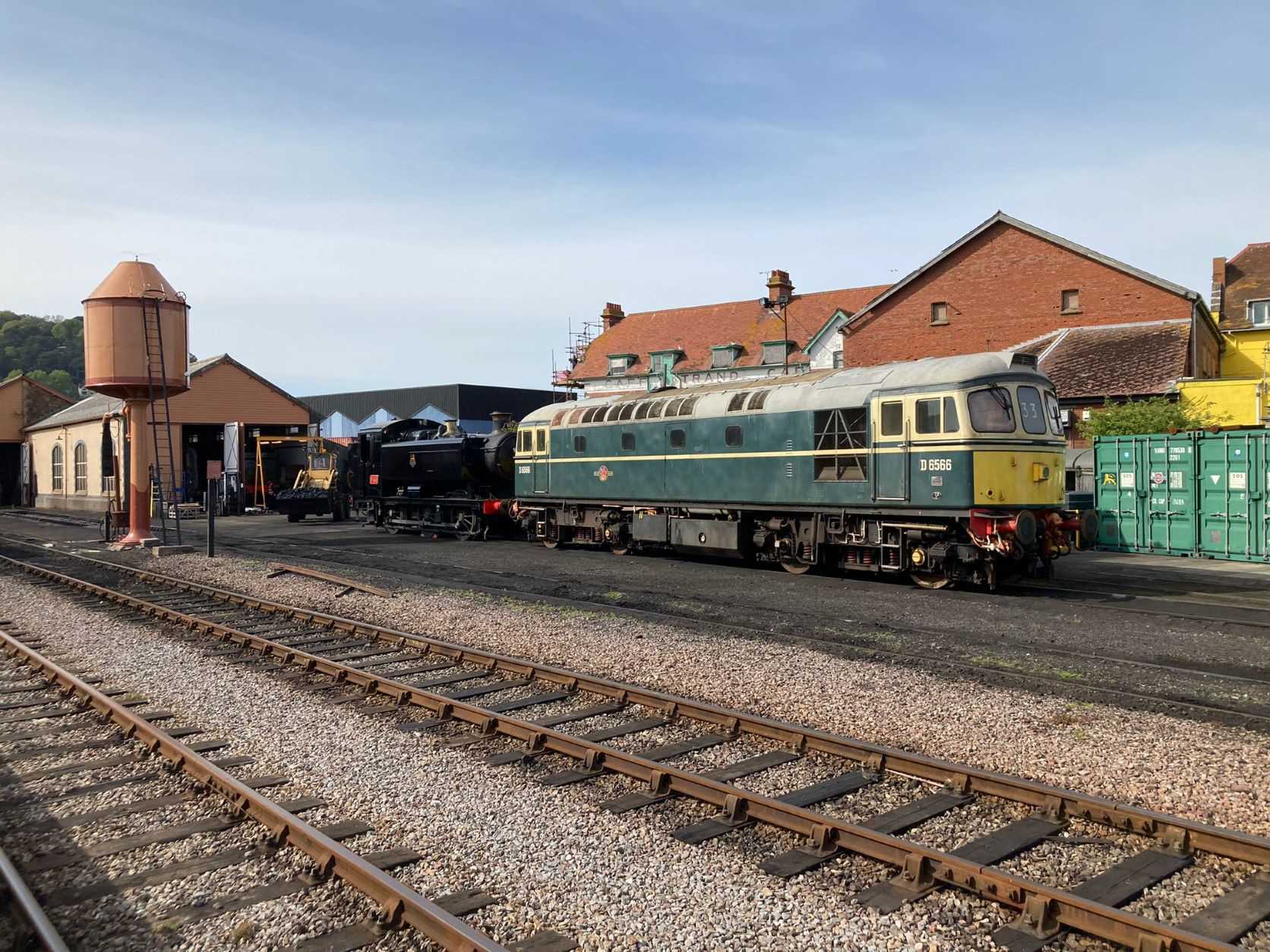 Class 33 'Crompton' D6566 (33 048) is now outstationed at Minehead to cover the weekend workings that originate at Minehead. This loco is booked to work the 10:00 departure for two return trips (80 miles) on each day of the next two weekends. Pictured on Thursday 5th May 2022 at Minehead in the company of BR(W) 0-6-0PT 9466 by Josh Brinsford © CC BY-NC 3.0
Class 33 D6575 (33 057) – this loco is based at Bishops Lydeard and was treated to an 'A' exam on Saturday by Ian and Tom, and they also took the opportunity to replace the vinyl numerals that had conveniently decided to peel themselves off. This was only convenient because they were the wrong font and needed to be replaced by the authentic font anyway, as can be seen from the picture below: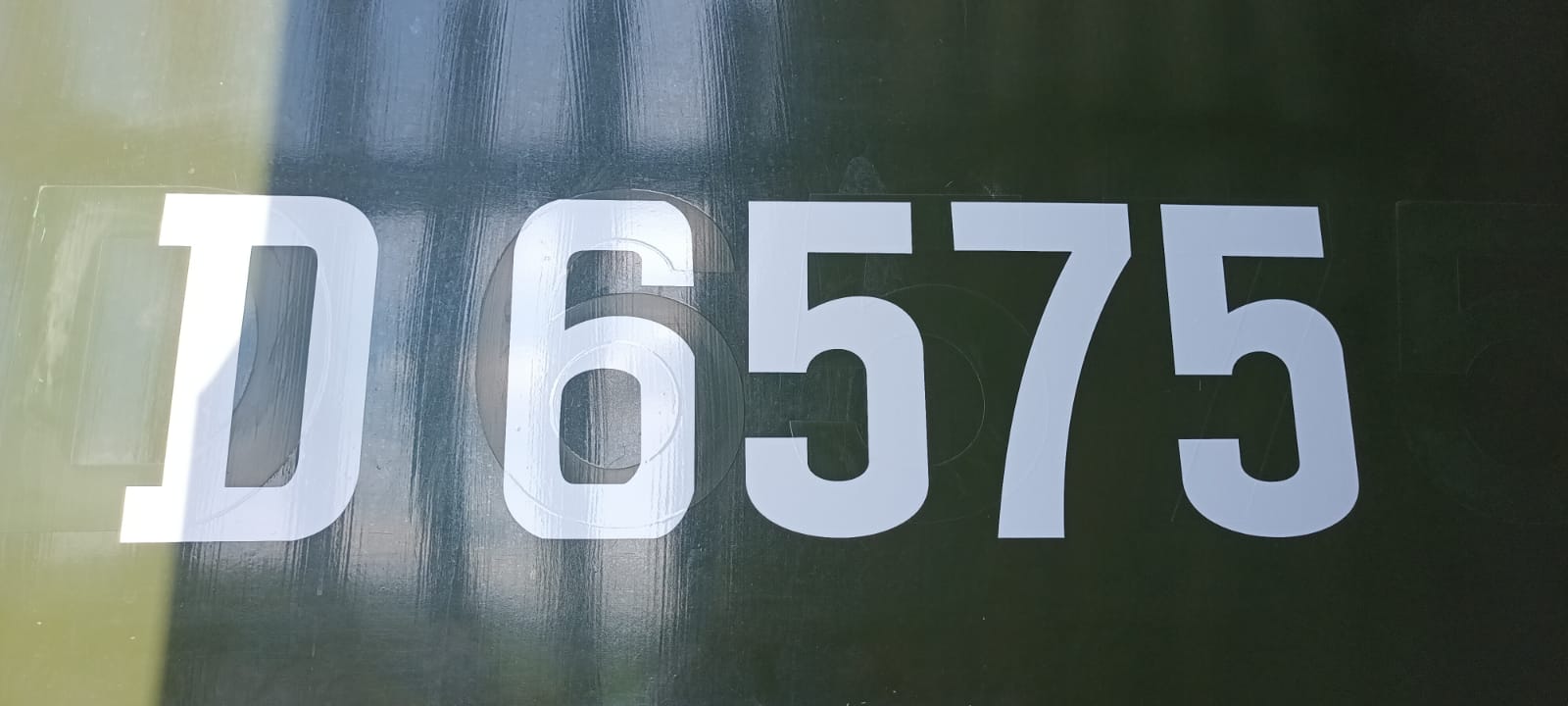 BRCW Class 33 'Crompton' D6575 (33 057) was treated to a new set of 'proper' numerals on Sunday 8th May 2022 after her corporate-era 'Rail Alphabet' font numerals decided to detach themselves from the loco ! © CC BY-NC 3.0
Class 35 'Hymek' D7017 – this loco is now receiving attention for a fairly short list of tasks that need to be dealt with before she can be returned to service. The plan is well under way to get the loco into a presentable external condition in time for the Diesel Gala that takes place between 9th and 11th June.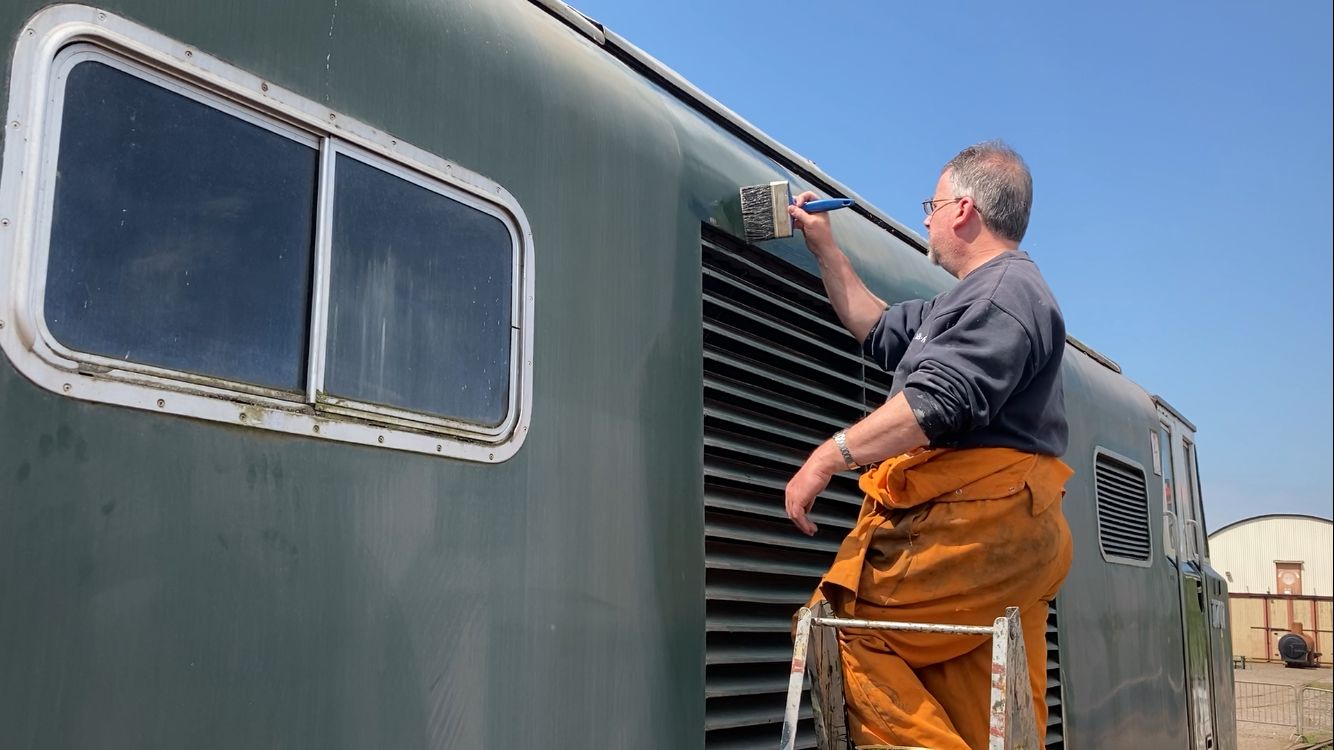 Class 35 'Hymek' D7017 received attention from Graham's paintbrush with a coat of varnish that will get her through the season in style. This loco will be subjected to a full repaint next year, after attention to some small areas of corrosion. Pictured at Williton on 8th May 2022 by Josh Brinsford © CC BY-NC 3.0
BOOK REVIEW – this week, we have a book review from regular contributor and DEPG member Neale Long, covering Part Two of the Book Law Publications title 'BR Early Diesels in Colour' as follows: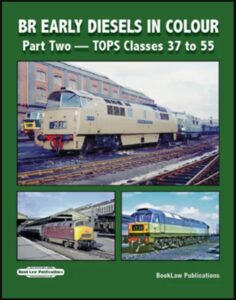 BR Early Diesels in Colour – Part Two – TOPS Classes 37 to 55 published by Book Law Publications
     "This is the accompanying volume to 'Part One – TOPS Classes 01 to 35' published earlier this year. Using the same format at Part One, this second volume continues its survey of all early BR diesels, with another gorgeous collection of full colour images, which like the previous volume does full justice to the subject matter. This second volume covers classes 37, 40, 41, 42, 43, 44, 45, 46, 47 50, 52, 53 & 55 and various designs that did not receive any TOPS classification such as various shunters built by North British, Ruston & Hornsby, Hunslet and Barclay; the prototype 'DELTIC' and the SR 1-Co-Co-1. The volume ends with some truly spectacular views over the more scenic lines in the North of England with the Settle & Carlisle and Oxenholme to Shap featuring classes 17, 25, 28, 37, 40, 47 and 50.
     Book Law publishing have continued their good work in this second volume full of sumptuous colour images of many much-loved classes, the vast majority of which have not been published before. With a high standard of reproduction, thoughtful and informative captions, this splendid publication with surely appeal to not only heritage traction enthusiasts in particular, but also to railway historians and modellers who seek to learn more about this fascinating period in Britain's railway history.
     From the Group's perspective, the volume covers two classes with which it has a direct involvement, namely classes 47 and 52 and both classes are well covered in this volume. Pride of place must surely go to the superb side profile image of a green livered D1661 'NORTH STAR' traversing the line between Worcester Foregate Street and Worcester Shrub Hill on what one presumes is a Hereford to London service. From the diesel-hydraulic perspective, there are several fascinating images; – namely D601 'ARK ROYAL' at Taunton on the up 'Mayflower' and D845 'SPRIGHTLY' and an unidentified sister at Teignmouth on the Paignton to Bradford 'Devonian' service.
     Class 52 enthusiasts won't be disappointed either, with an interesting if somewhat rare image of D1013 'WESTERN RANGER' in maroon with small yellow panels rather that the more common image of her in BR blue. But perhaps the most interesting image is that of a brand new D1058 'WESTERN NOBLEMAN' on a Cardiff-Portsmouth Harbour service at Keynsham, this author at least has never seen a photograph of a Class 52 on one of these services.
     Of the diesel-electrics, again there are so many fascinating views, but the photograph of a class 37 at Cargo Fleet (Teeside) on the inaugural molten metal torpedo train from Middlesborough to Consett is worthy of mention, images of Class 37s with brake tenders in the Northeast similarly so. Great to see an image of a Class 40 at Wiske Moor water troughs, replenishing her boiler water tanks. Enthusiasts of all the generic 'Peak' classes will not be disappointed although the original split box locomotives only figure right at the end of the volume but amazingly illustrates a unique yellow warning panel which extends to the one headcode box.
     Overall, this is a beautifully produced volume which is the perfect accompaniment to the excellent Part One in the series. A must for all lovers of heritage traction, this volume can be recommended without hesitation."
Many thanks to Neale for this book review.
Another very interesting publication this month is the June edition of RAILWAYS ILLUSTRATED which carries a four-page article on the WESTERN LOCOMOTIVE ASSOCIATION (WLA) as they approach their celebration of 45 years of preservation of their two Class 52 locomotives, D1013 'WESTERN RANGER' and D1062 'WESTERN COURIER'. This article is a credit to the WLA and their achievements and is well worth a read.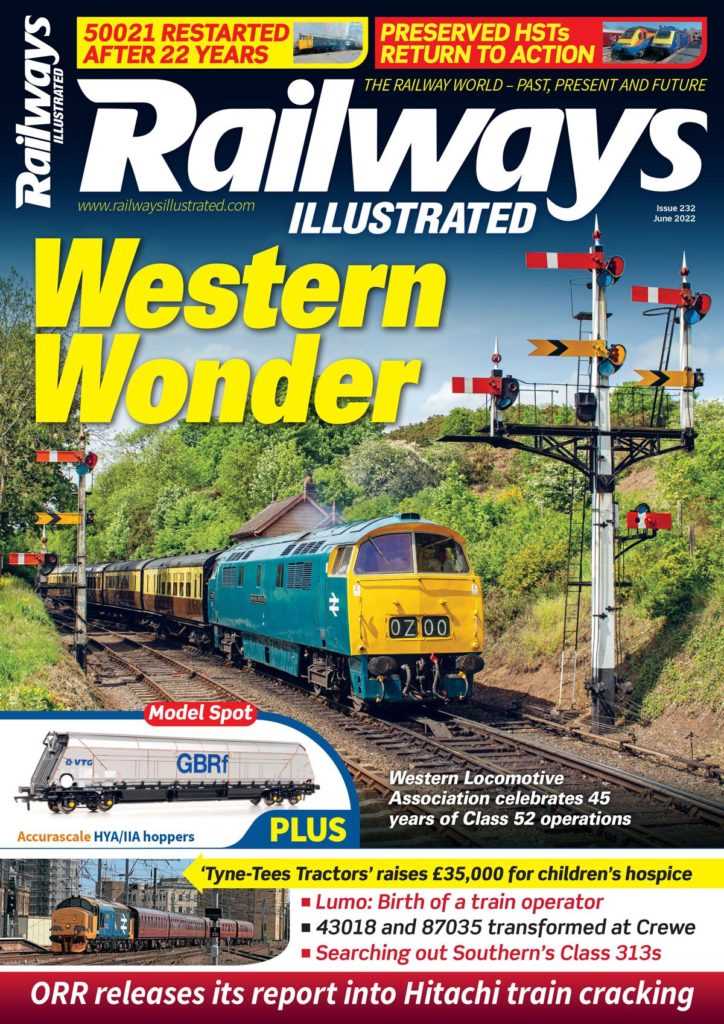 ON SHED – this week, we have a rare photo of our very own D1010 'WESTERN CAMPAIGNER' at Exeter St. Davids, fresh from an engine change and a repaint at Laira depot, being put to work on a Paddington service almost exactly 47 years ago today. This is another shot from Devon-based photographer Barry Gay and we are very grateful to Barry for permission to use his work. The detail that he provides with each of his photographs is amazing. Thank you Barry !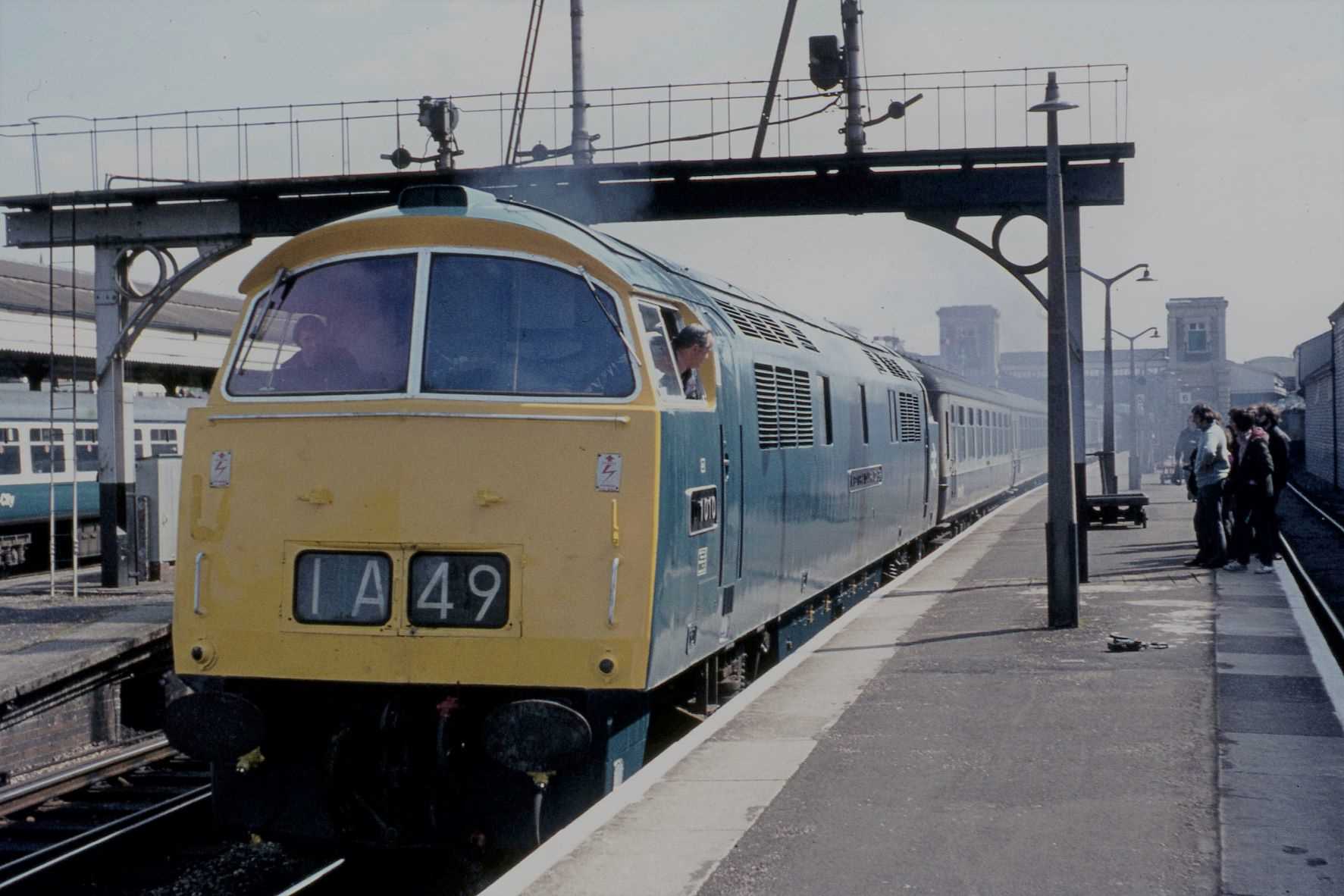 This photograph shows D1010 'WESTERN CAMPAIGNER' departing from Exeter St. Davids with the 1A49 12:05 Penzance to Paddington on 11th May 1975. The gleaming loco worked the train from Plymouth, having just emerged from Laira depot with two reconditioned engines and a full repaint. Photo by Barry Gay © CC BY-NC 3.0
DEPG NEWS – the synopsis of the most recent Board Meeting has been prepared and will be emailed during the next day or two to all members for whom we hold a valid email address.
The synopsis will show that the Board has approved the lease of Unit 9 Roughmoor Business Centre (adjacent to our Williton depot) as a means of providing sufficient covered and clean working space to allow the further disassembly and subsequent repair of the 'B' transmission from D1010 'WESTERN CAMPAIGNER'. The DEPG already leases the adjacent Unit 8 but since the loss of use of the Old Goods Shed at Williton Station, Unit 8 is too crowded to permit further disassembly of the turbine rail. Indications are that we should be able to move into the additional space later this month.
WSR NEWS: the next event will be the 'SIXTIES DIESEL GALA' that takes place from Thursday 9th through Saturday 11th June when the DEPG facility at Williton will again be open to the public. Please make a plan to come along to this important event in support of both the WSR and the DEPG. Timetables for this gala have not yet been published but are expected soon and will be shared via our DIESELGEN email bulletin service.
The dates for the 2022 special events are as follows, so please make a note and ADD THESE DATES TO YOUR DEPG CALENDARS: