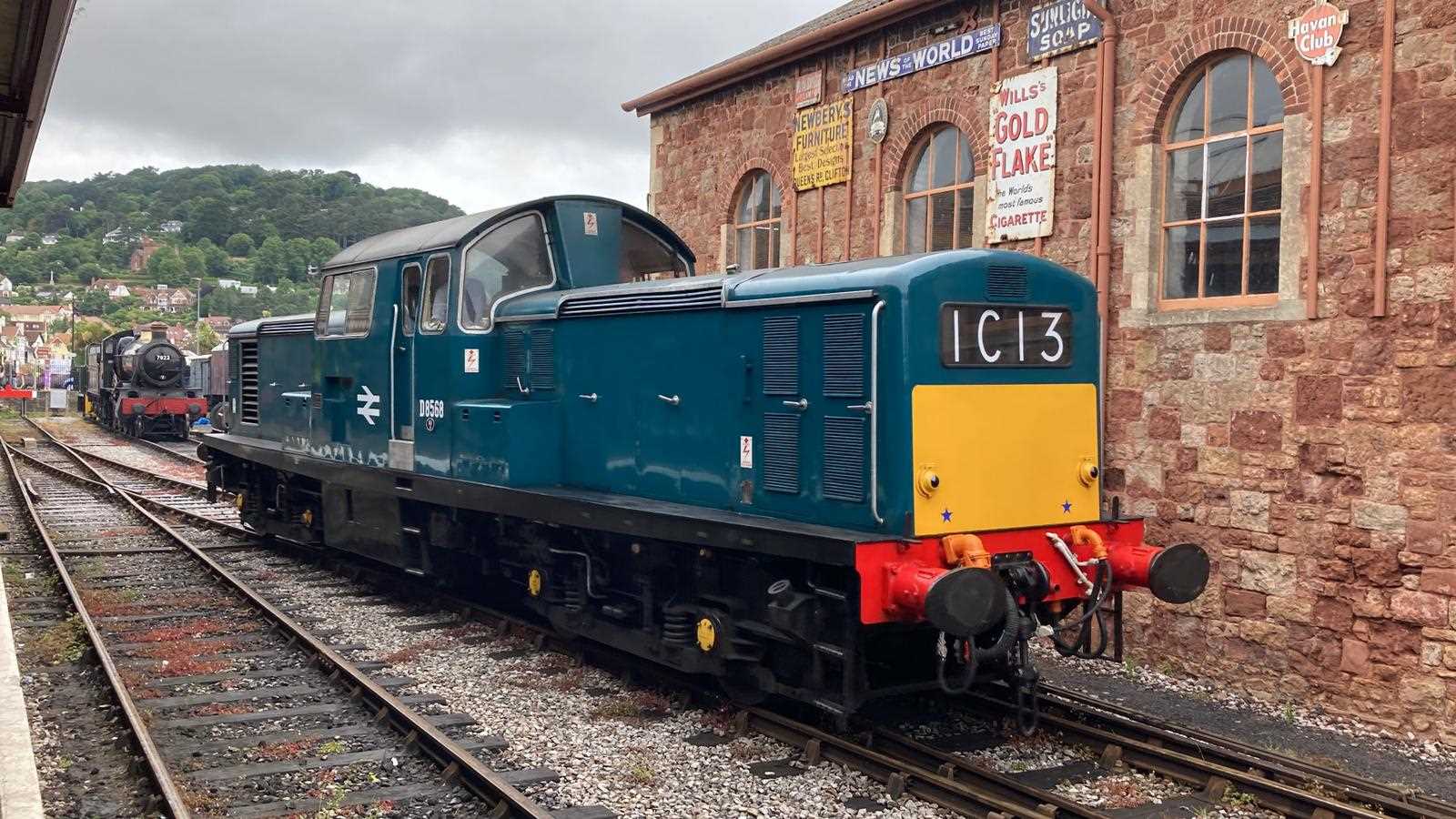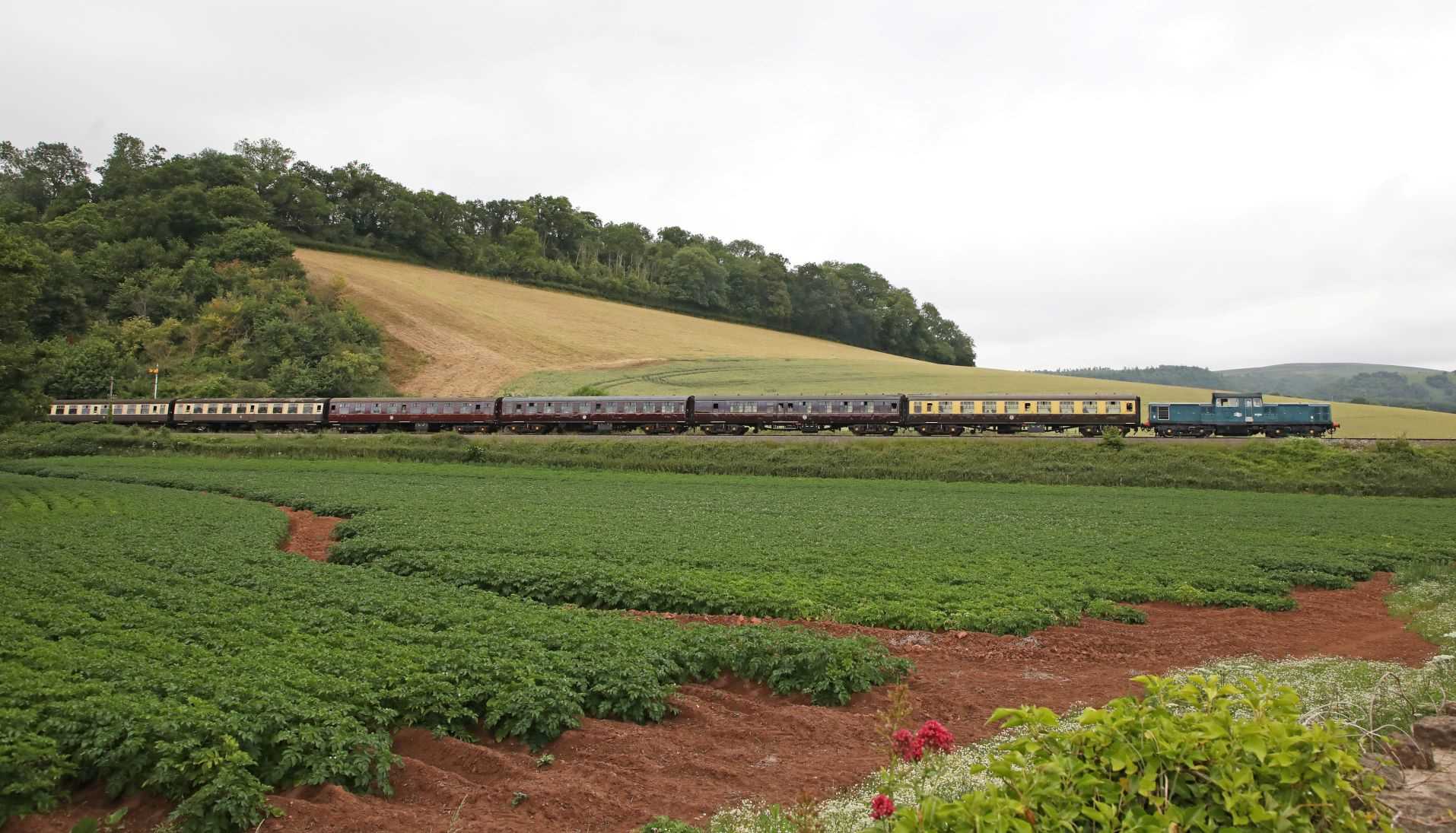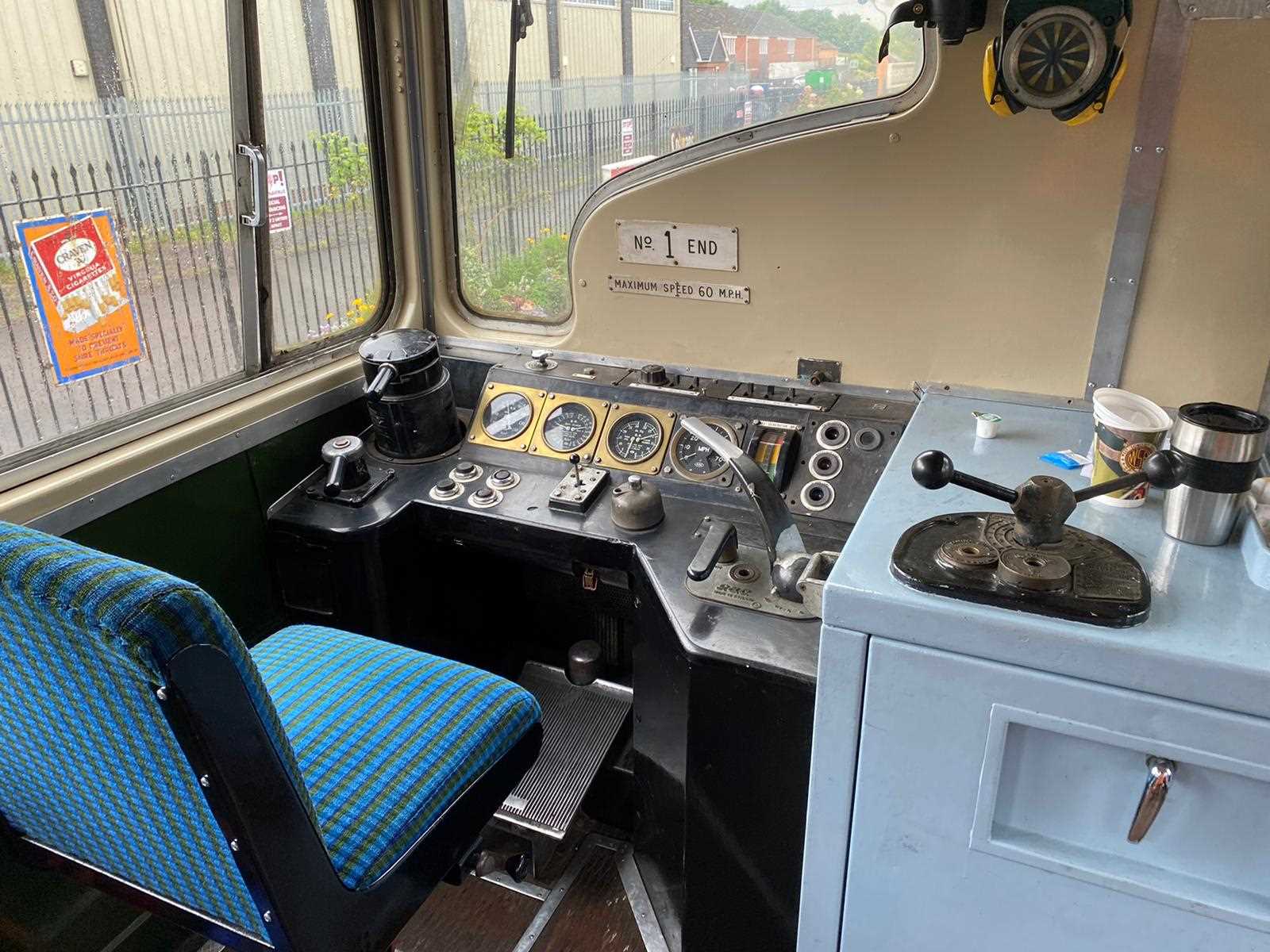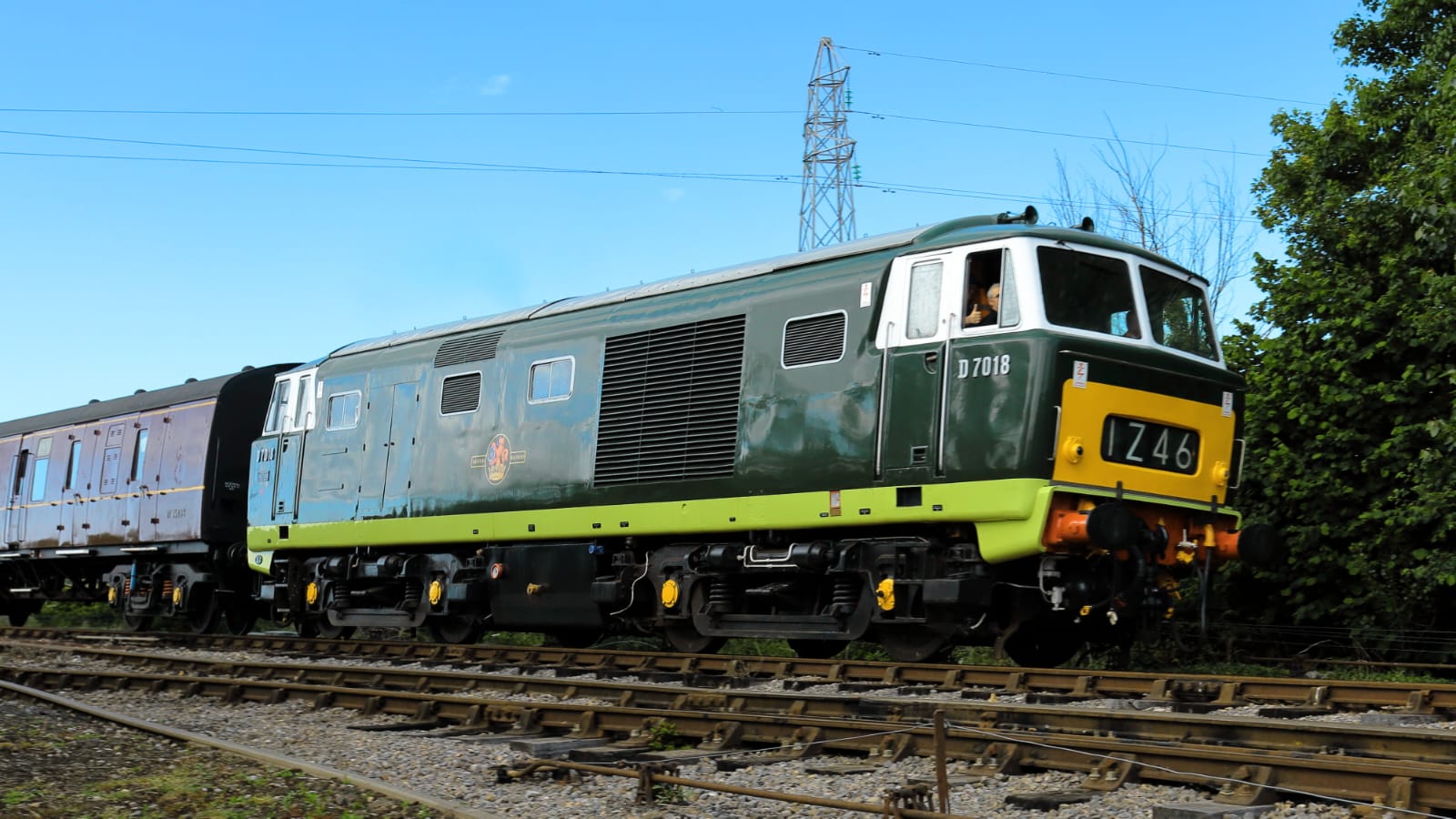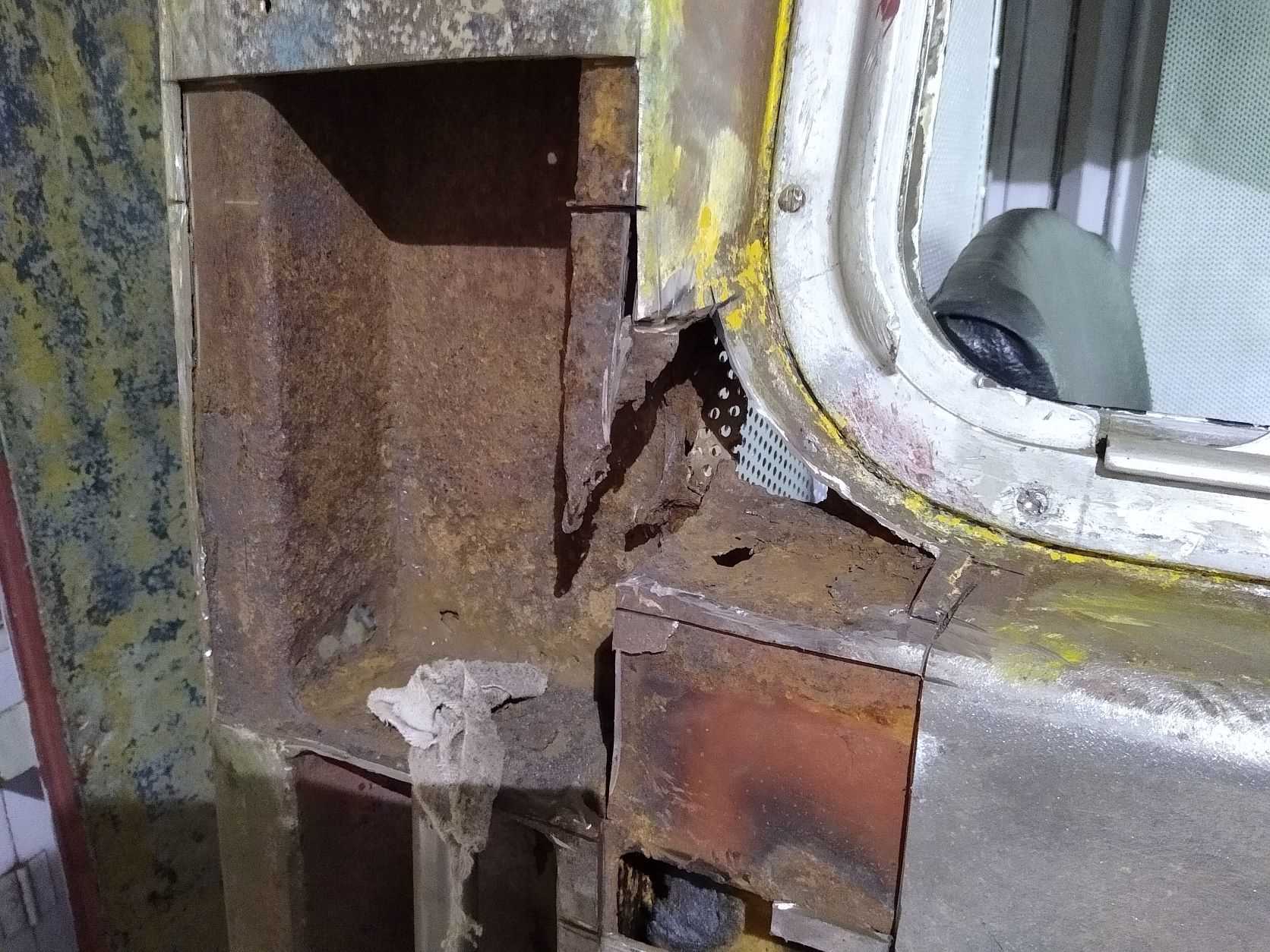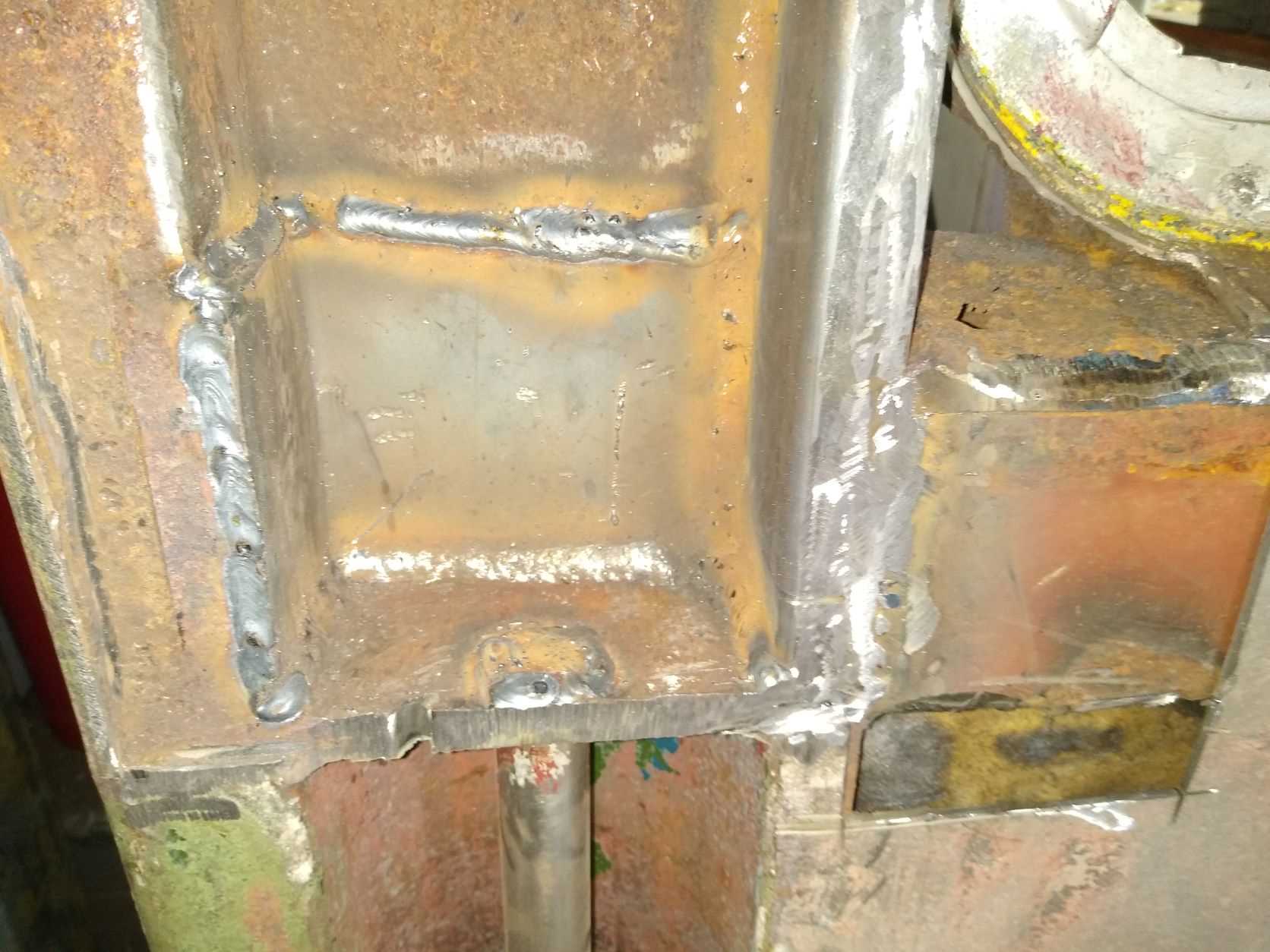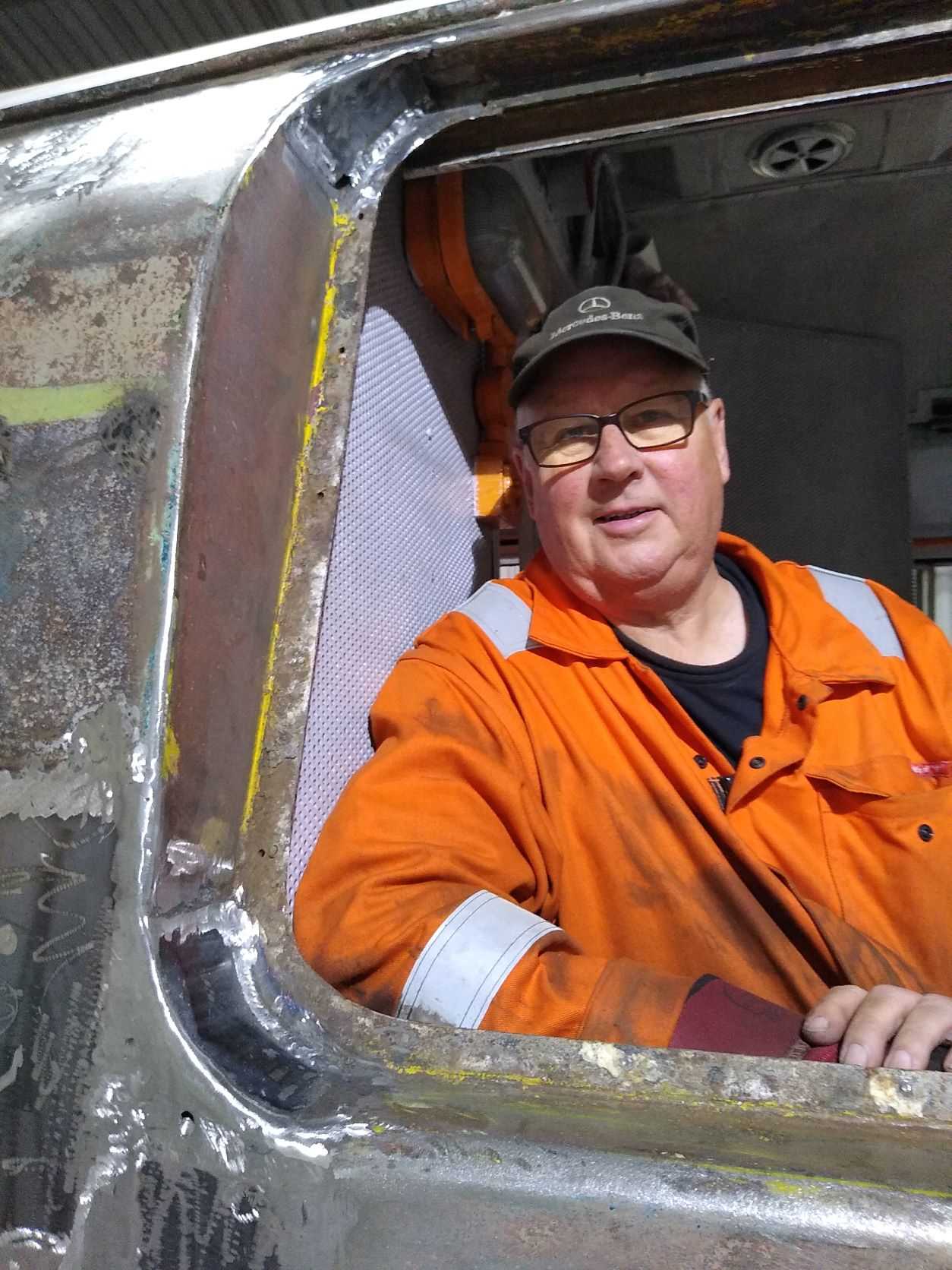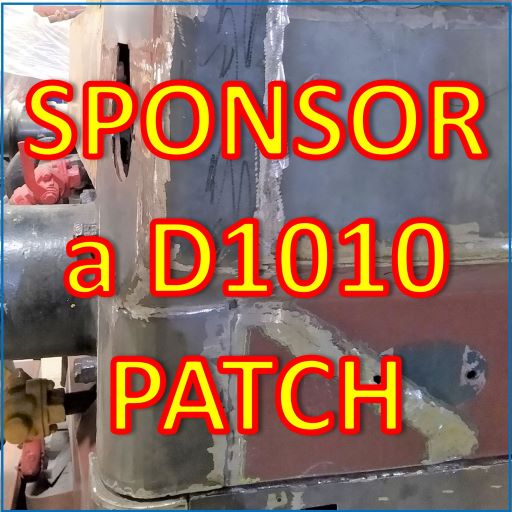 Class 33 D6566 (33 048) – this loco spent the weekend at Williton where she was subjected to an 'A' exam after accumulating 50 hours of running since her previous exam. The exam involves inspection and testing and the loco also benefited from an engine room cleanup, thanks to John C, Tom and Ian. This loco will tow 'Hymek' D7018 to Minehead on Thursday and will then move to Bishops Lydeard to take up the role of standby locomotive and will also be used to provide a training platform for three qualified steam locomotive drivers who want to add the Class 33 diesel to their driving portfolios.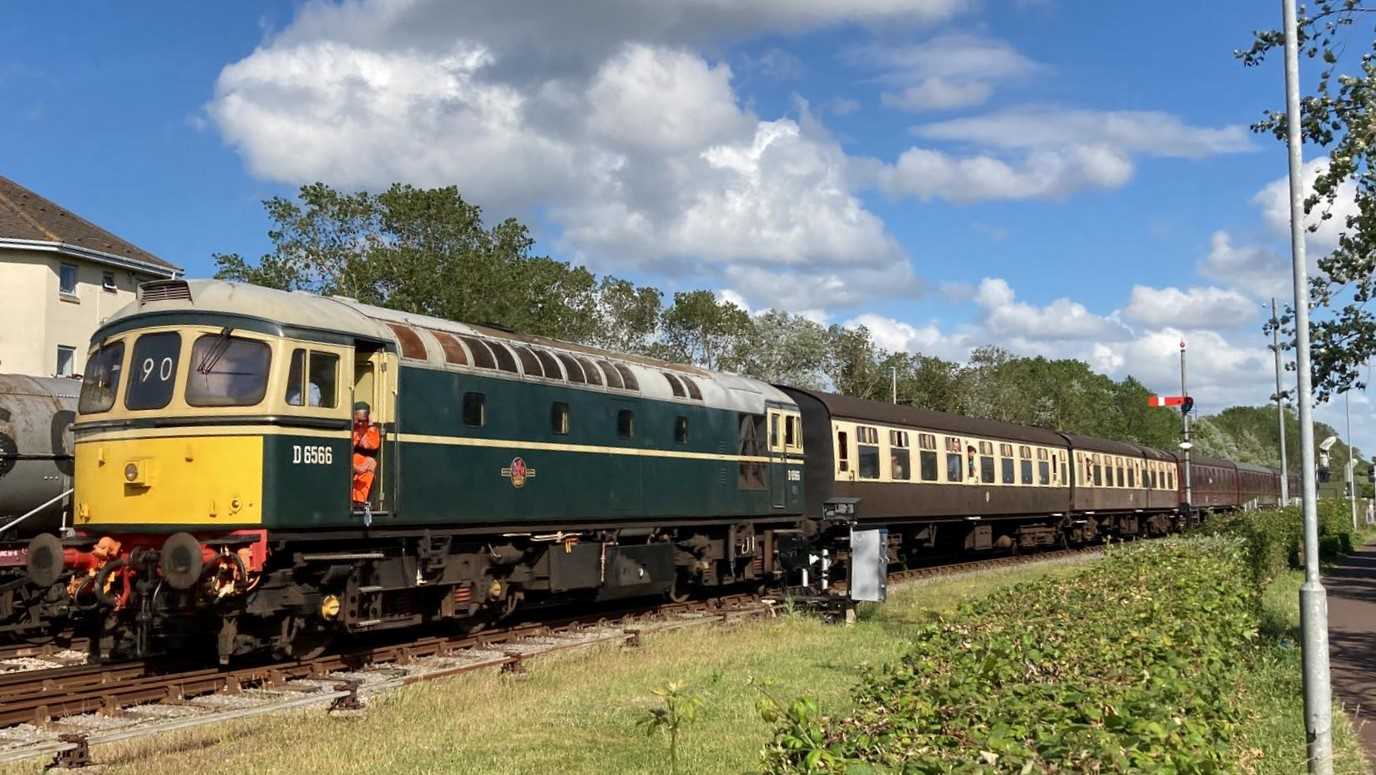 Trainee secondman Mark B holds the token at the ready as Class 33 'Crompton' D6566 (33 048) approaches the signal box at Minehead with the 11:10 service from Bishops Lydeard on Saturday 11th June 2022. Photo by Josh Brinsford © CC BY-NC 3.0
Class 33 D6575 (33 057) – this loco is currently at Bishops Lydeard but will move to Williton on Thursday for an 'A' exam to be performed and to undergo replacement of one of her exhauster contactors. The loco is currently running with only one exhauster operational, so additional time is needed to release the vacuum brake on the train after a station stop (normally, the second exhauster is used to boost the rate of vacuum creation at peak demand times). Ian has already arranged a spare part and will perform the repair during the coming weekend, to allow the loco to be available for service if required.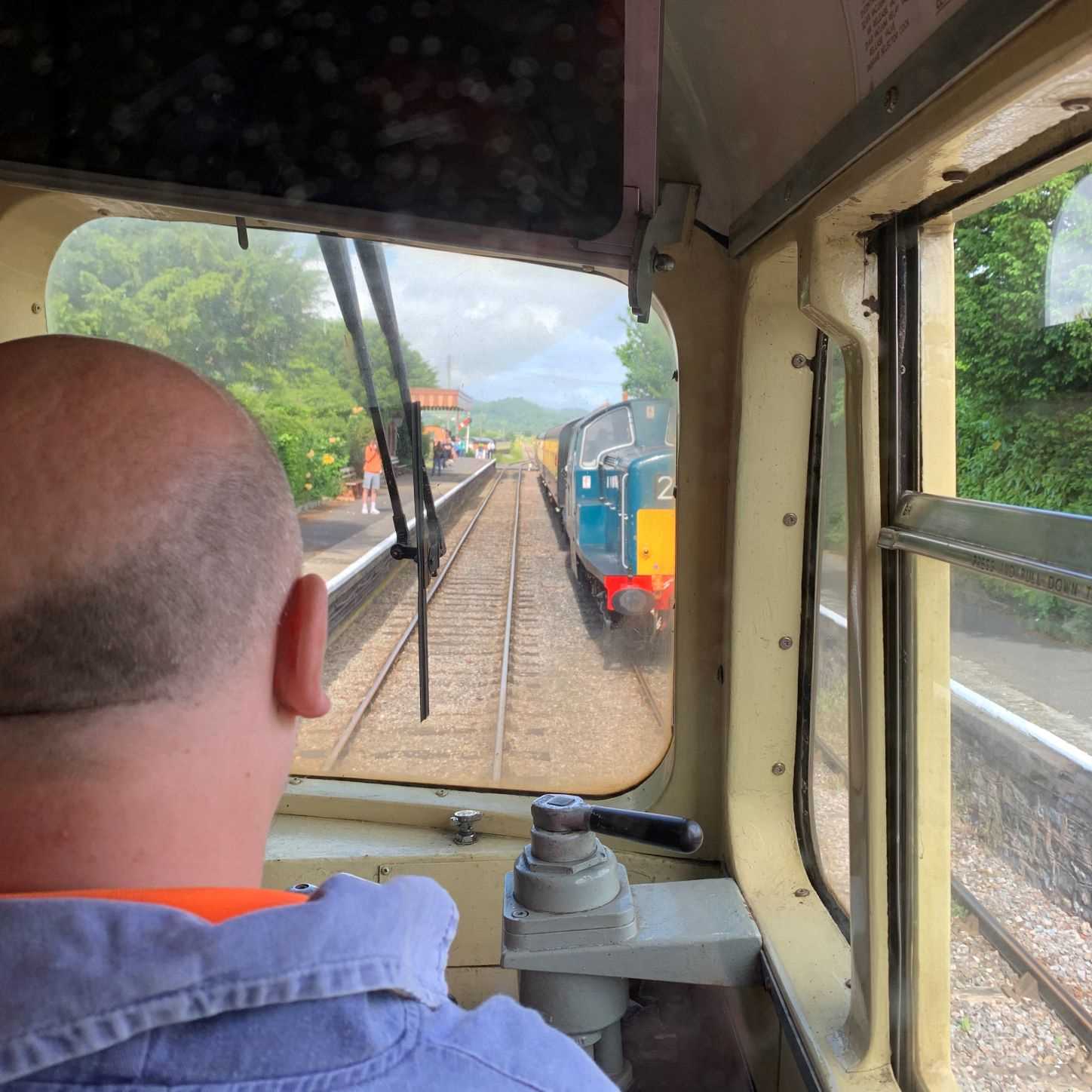 Trainee DEPG secondman Warren has the best view as Class 33 'Crompton' D6575 (33 057) enters Blue Anchor station where it will cross with the 09:35 Minehead to Norton Fitzwarren service that is headed by Class 17 'Clayton' D8568. Photo taken on Saturday 11th June 2022 by Andy Royal © CC BY-NC 3.0
Class 35 'Hymek' D7017 – work has begun on gaining access to the number 1 cylinder head so that the joint ring can be replaced and any other issues attended to. The work involves draining the coolant into a storage container for re-use at a later date, then removal of the roof section, the intercoolers and air intake ducting, the cambox and finally the errant cylinder head. More news on this next week.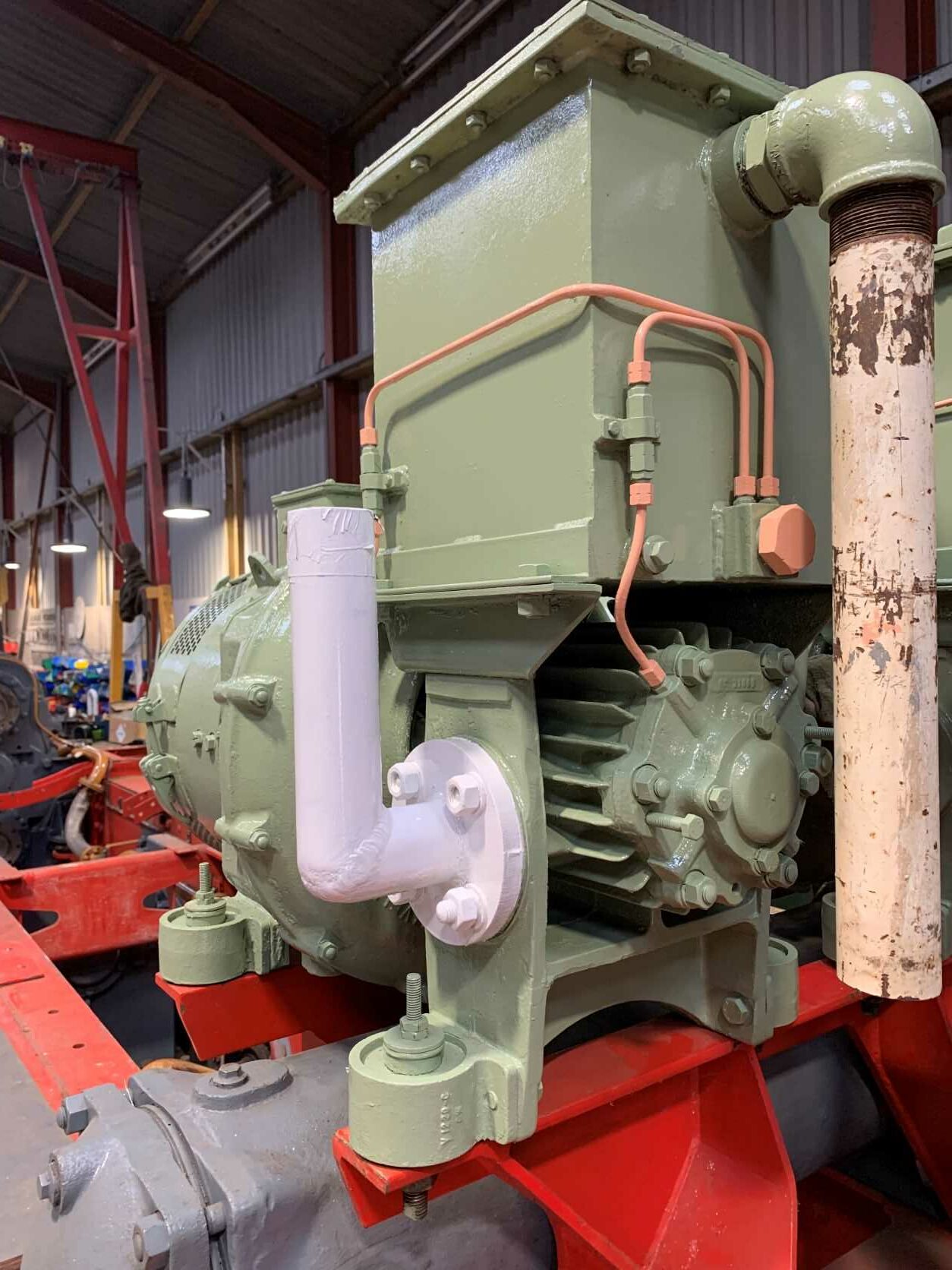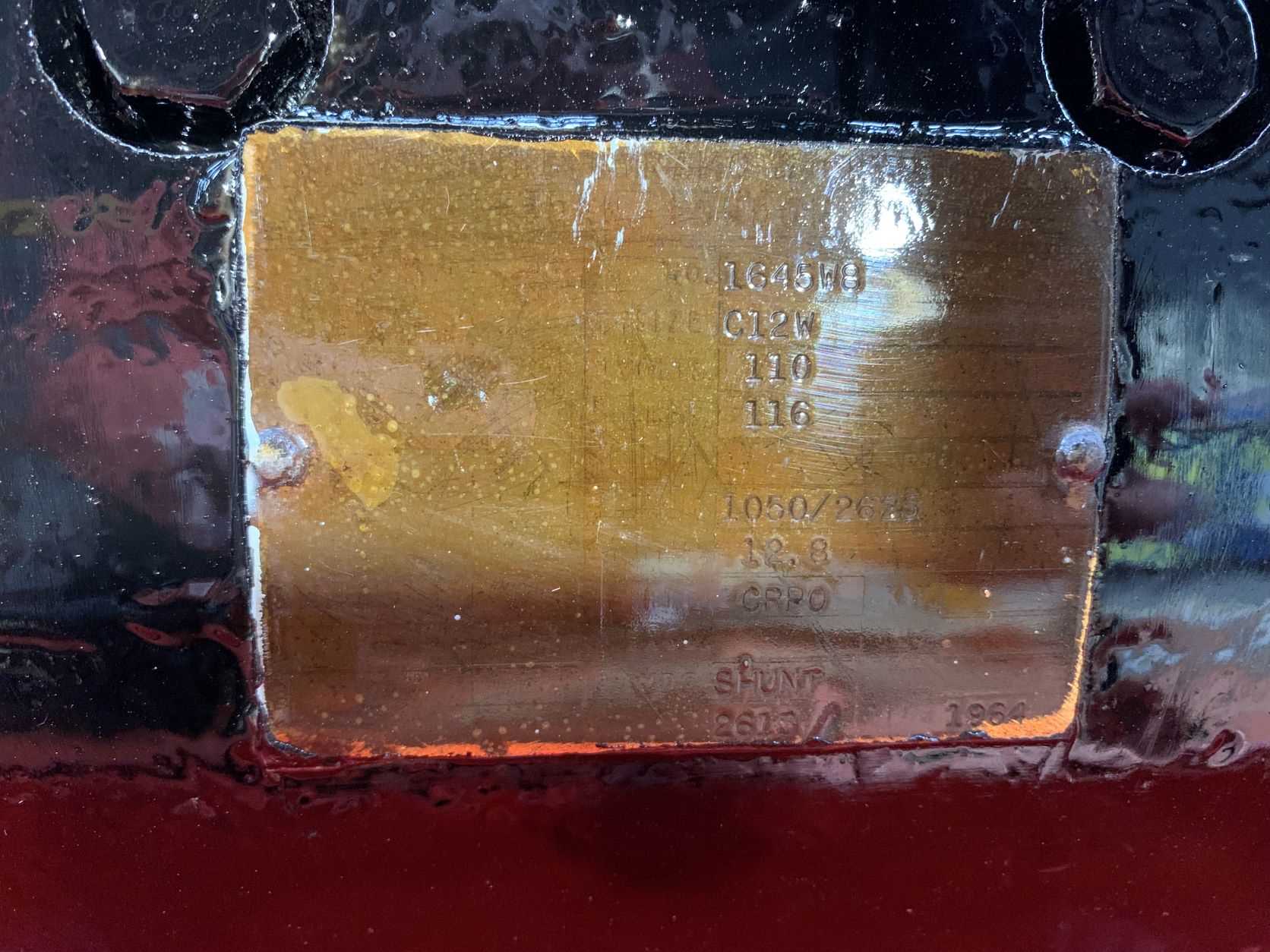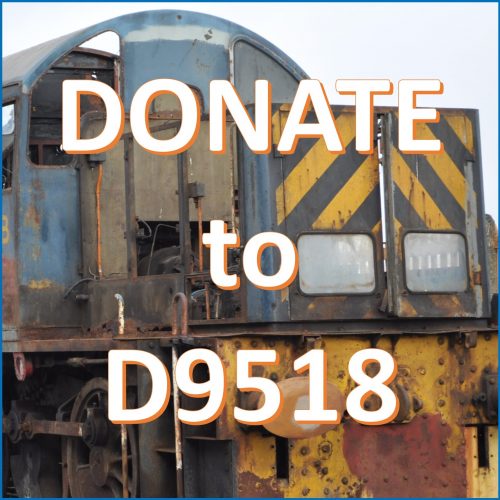 BOOK REVIEW – Volume 2 of the Class 14 study by Anthony P. Sayer has now been released and we have copies available for sale at £27 per copy. We also have the excellent Volume 1 of the study available at the same price. We have received a book review from regular contributor Neale Long and we have created a page on our website to do it justice. Click here for Neale's book review.
Many thanks to Neale for taking the time to prepare a detailed book review for us.
All profits from the sale of the above two books will go to the D9518 Restoration Fund
ON SHED – the recent visit of Class 17 'Clayton' D8568 has created a wave of interest in the class and we have received some very interesting photos as a result. Here's one from regular contributor Barry Gay, taken at a time when the whole class had been withdrawn from service and were in store, awaiting a decision about their future. In the end, all except D8568 were cut up for scrap; some were only three years old.
This photograph shows four Class 17 'Claytons' in the old steam shed at Ardrossan Harbour, approximately 35 miles southwest of Glasgow. The picture is dated 8th July 1972 and the photographer counted 22 of the Class in store at that location on that day, all waiting for a decision on their future. In the end, all except D8568 were cut up for scrap. Photo by Barry Gay © CC BY-NC 3.0
DEPG NEWS – the Board will meet at Williton on Saturday 25th June at a slightly later time than usual because some Board members will be working the first leg of the 'Hymek'-hauled service out of Minehead that morning. The synopsis of the previous meeting has been overlooked in all of the excitement of the diesel gala, but will be sent out in a separate email to all members for whom we hold a valid email address. Hard copies will be included in the next Newsletter mailing (August).
AN IMPORTANT NOTE FOR YOUR DIARY – the Annual General Meeting (AGM) of the DEPG is scheduled to take place on the afternoon of Saturday 3rd September 2022, at Williton. All members have been advised via the May Newsletter mailing. The AGM document package will be sent out in August along with the next Newsletter.
The DEPG will host a visit from the WELLS RAILWAY FRATERNITY on Wednesday 22nd June 2022 when approximately 25 members of that group will tour our depot as part of their visit to the WSR. We look forward to meeting them and showing them around our depot.
WSR NEWS: the next event will be the 'FORTIES WEEKEND' that takes place from Saturday 10th through Sunday 11th September when the DEPG facility at Williton will again be open to the public, complete with ROD SAUNDERS model railway sales stand. Please make a plan to come along to this event in support of both the WSR and the DEPG. Timetables for planned diesel running are now being published via our new DIESEL RUNNING DATES page and any updates will be shared via our DIESELGEN email bulletin service.
The timetables and the dates for the 2022 special events are as follows, so please make a note and ADD THESE DATES TO YOUR DEPG CALENDARS:
Go to previous Weekly Roundup post
---